Amazon's "smart work" called smartphone "Fire Phone" finally ceased sales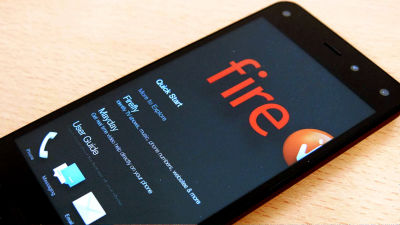 High-performance smartphone developed by Amazon "Fire Phone"Although it appeared in 2014, sales were sluggish, also called" failed work ". Although it was a Fire Phone that had repeated price cuts, it is finally seen that Amazon says that Amazon has canceled selling, as it is indicated as "Currently unavailable" on the official Amazon sales page.

Amazon finally stops selling the Fire Phone, as company adjusts its hardware strategy - GeekWire
http://www.geekwire.com/2015/amazon-finally-stops-selling-the-fire-phone/

The Fire Phone announced in June 2014 was a big topic such as having six cameras in front and behind and realizing naked eye 3D display. You can see what kind of terminal the Fire Phone was from the following article.

The power of smartphone "Fire Phone" turning real world into Amazon showcase revealed - GIGAZINE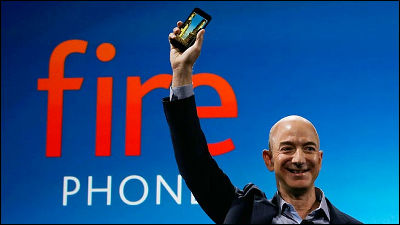 It was obvious at first that it was equipped with high-end SoC of the time, Snapdragon 800, 2 GB memory, high-performance 13 million pixel camera, the technical level of hardware was high,While high performance and ingenious functions are being evaluated, it is said that it is not "buying", The sales were not sorted. Initially Fire Phones, which had been sold for 200 dollars (about 24,000 yen) with a contract and sold for 650 dollars (about 66 thousands yen) on a standalone basis, then lowered prices again, 99 cents with a two-year contract It was sold for $ 99 or Amazon $ 99 (about 12,000 yen) Amazon Prime was sold for 60 dollars (about 7200 yen) with a benefit of becoming free for 1 year, but it can be reworked It seems there was not.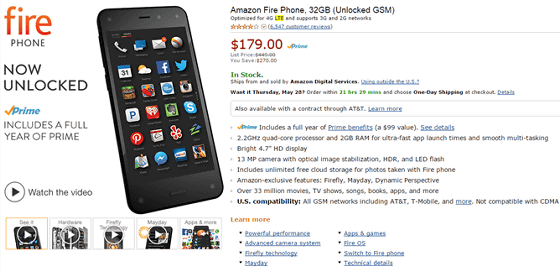 And one year and two months after the appearance August 26, 2015,Wall Street JournalReports that tens of engineers who develop Fire Phone are temporarily dismissed at Amazon research and development period "Lab 126". It was seen as reducing the hardware strategy.

Currently, looking at the Fire Phone sales page on Amazon, both 32 GB and 64 GB are displayed as "Currently unavailable" (currently unavailable).

Amazon Fire Phone - 13 MP Camera, 32 GB - Shop Now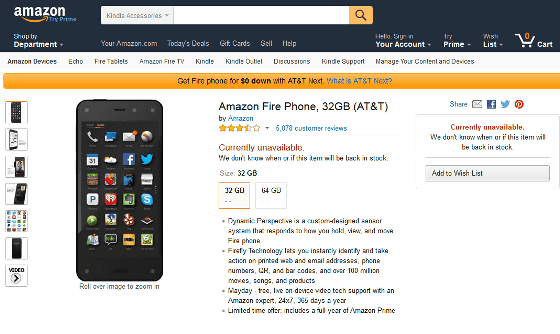 According to Amazon Public Relations, Fire Phone has sold all stocks in August 2015. Until now Amazon hardware has disappeared from the sales page, many new terminals have already been sold or have been selling, but in view of the above circumstances Amazon can again sell smartphones The sex is considered to be thin.

The number of sales in the 14 months since it was released in 2014 isAbout 10,000 are estimated to 3,000.