Amazon 's CEO Jeff Bezos Why did "Fire Phone" get in touch?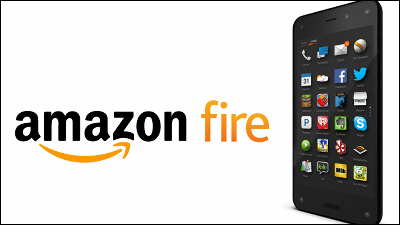 Amazon'sJeff BezosAmazon's smart phone smartphone which CEO got through with extraordinary enthusiasm and succeeded in development and release "Fire PhoneAlthough it was, sales are bad, and it is the ending that can be cited as a big point as one of the big causes of the Amazon large deficit. Why failed the Fire Phone, who said that Bezos had great confidence and expectation,Fast CompanyWe are considering based on interviews with development staff.

The Real Story Behind Jeff Bezos's Fire Phone Debacle And What It Means For Amazon's Future | Fast Company | Business + Innovation
http://www.fastcompany.com/3039887/under-fire

With the rapid popularization of mobile terminals such as smartphones and tablet terminals, the giant Internet retailer · Amazon never missed the fact that people around the world enjoy online shopping from mobile terminals, not from PC, without having to miss Fire Phone Development was a proposition that could be said to be the most prominent proposition for Amazon.

For Amazon, Google's former CEO Eric Schmidt continued to expand its power in the IT industry to battle competitiveness by saying "a powerful rival," Amazon and end users to Apple and Google with smartphone hardware and software The fact that we have the point of contact with our customers (customers) has been unacceptable.

Amazon's development of a dedicated smartphone is also very reasonable from the viewpoint that Internet shopping can be made more familiar, and it is already reasonable for Amazon's track record in Kindle series of e-book terminals and Kindle Fire series of tablet terminals So, as for smartphones rumored to be under development, attention was gained as high as leakage information overflowed before formal announcement.

Amazon's original smartphone 'Amazon Phone' will have six cameras around - GIGAZINE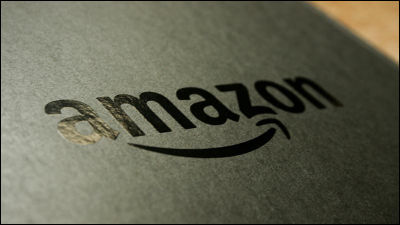 Amazon smartphone adopts "naked eye 3D display", it is reported that it will be released in the fall of 2014 - GIGAZINE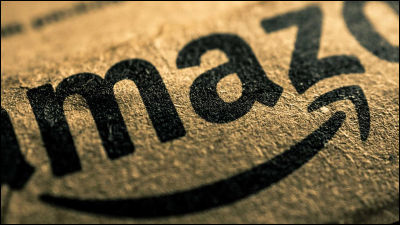 Amazon announces its own smartphone, photos considered as a terminal also leaks - GIGAZINE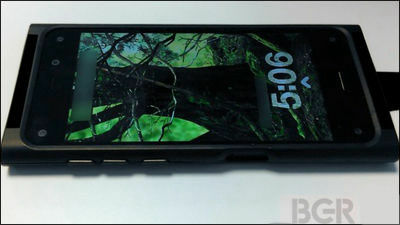 And in June 2014 CEO Bezos made a presentation on Amazon's smartphone "Fire Phone" to be announced extensively.

The power of smartphone "Fire Phone" turning real world into Amazon showcase revealed - GIGAZINE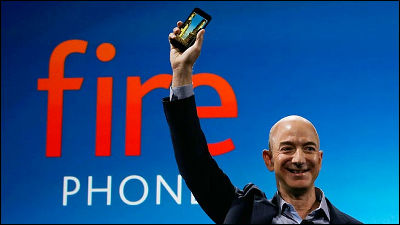 When the Fire Phone shipped, major American media posted evaluation reviews all together, but the evaluation was generally "highly functional and high", but not "buying".

Reports that impress high performance with the release of Amazon's smartphone "Fire Phone" appear one after another - GIGAZINE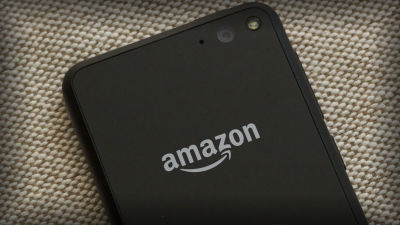 The Fire Phone is equipped with high-end SoC at that time, Snapdragon 800, 2 GB memory, a high-performance 13 million pixel camera, instantly judging the items taken by the camera, jumping to Amazon shopping site or playing "Firefly" function that distinguishes contents from music and movie images of movies and instantly access streaming information, and by changing the image displayed on the display by judging the position of the face with the four motion tracking cameras and viewing angle Although advanced technologies not included in other smartphones such as the "dynamic perspective" function that can be viewed stereoscopically are included, it was obvious that the technical level itself of the hardware itself was high, but these high-performance for the first time It was not highly appreciated by major media.

And mostly it did not sell in most of the market, initially it was 199 dollars (about 24,000 yen) subject to the mobile line contract for 2 yearsPrice down to $ 0.99 (about 120 yen)Selling strategy got behind the scenes, and it was somewhat downgraded from unpopular handling to "forgotten existence". And Amazon made the biggest deficit in the third quarter of 2014 in the past 14 years, which is $ 437 million (about 52 billion yen). One of the major factors isSluggishness of the Fire Phone business which posted an extraordinary loss of $ 170 million (about 20 billion yen)It is obvious that there is, Fire Phone's reputation has been lost to such an extent that it is no longer possible to be "not doing".

Regarding the reason why the Fire Phone failed, the view that its "high price" became a bottleneck is dominant. AmazonWe continued to sell it even if we sold some Kindle Fire series if we sold it, the more deficits go outIn addition, "Since Fire Phones are surprisingly inexpensive to sell even for Fire Phones, as Fire Phones have also provided low-cost terminals with a strategy of" taking long in the long term, even if they lose in the short term " There were many voices that I expected to be? However, in fact it was pricing from $ 649 (about 77,000 yen) (note: now it is changed to $ 449 (about 54,000 yen)), so "(for Amazon's smartphone) too It is too expensive ", it has been disappointed.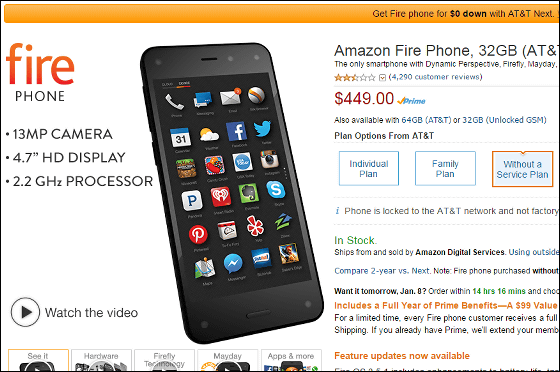 However, Amazon's development team that developed Fire PhoneLab 126It is clear from the story of the members that it was not planning to develop the Fire Phone as a high-end high-spec machine of the function full bloom at the beginning.

The development of Fire Phone started around 2010 when iPhone 4 was released from Apple. At that time, the Amazon-made smartphone project named codename "Tyto" started at the Lab 126 design office of Cupertino, California, developed as a "sophisticated smartphone" that simplified the functionality to the limit following the success of Kindle It was planned to do. However, CEO Bezos said he did not promise the familiar terminal of "righteousness", but strongly called for development members to "creativity that customers want to dare to buy Amazon phones instead of iPhones".

Bezos' intentions, which intensely motivate Amazon's smartphone development, were often reflected in a way that was against the design team's opposition. For example, it seems that the rear camera, which was developing at 8 million pixels, was changed to 13 million pixels with a crane of Bezos' CEO. One designer who was developing at Lab 126 says Bezos CEO as "a super product manager" that transcends product managers, and all decisions were managed by Bezos. " Regarding the situation at the time, "I did not think about people who use smartphones, but developed products considering only Bezos CEO."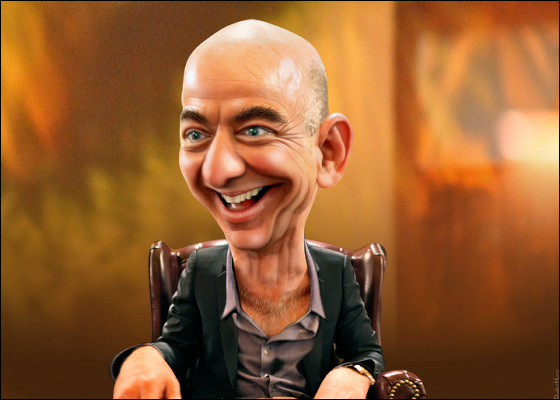 ByDonkeyHotey

Many members of the design team who questioned the judgment of Bezos said that it was impossible for anyone to comment on Bezos as one. However, it announced that it increased the sales of Amazon.com even further as a result of carrying out the policy despite the sharp opposition of shareholders who launched the "free shipping" policy, and to embark on cloud service business Despite the cold criticism of experts as soon as I was "to devote myself to the core business", I stepped up in the storm steadily and now it is up to billions of dollars (hundreds of billions) big business It may be impossible if you think of the achievements of the Australian and well-known genius executive Bezos who brought up AWS.

Among other options, in particular Bezos was brought down, it was a dynamic perspective to realize the naked eye 3D mentioned above. To Bezos CEO who is enthusiastic about naked eye 3D technology, development members of Lab 126 needed to devote more human resources if they were to develop dynamic perspectives, and it was known that the development deadline was expected to be postponed Nevertheless, he said that he could not say "I can not find any content that can utilize that technology at all". As a result, Lab 126 pushed forward to seek "uniqueness to make a distinction from other smartphones" required by Bezos CEO for naked eye 3D development which should be called "waste of technology". As a result, it was the high-spec smartphone Fire Phone that was born that was not much different from the iPhone series and the Nexus series.

Although it is a Fire Phone concluded as "failure" at the present moment about 7 months from the sale, for 21 years, while continuing the deficit management without generating profits, it constantly invests huge amounts of money repeatedly, every time it is surprising As he made a leap forward, he advanced to various fields as well as net retailers, rejected all his rivals companies, and since he was CEO Bezos who has built up a major "Amazon Empire", the failure of the Fire Phone "is still going on. It is enough to think that you are planning a counterattack while thinking that it is just a stroll. Either way, when considering the explosive growth of mobile terminals, it can be said that Amazon can not abandon its option of "having a smartphone made in-house", and Bezos will leave the fire phone in the future I am paying attention to whether it is raising up.

· Continued
Really Amazon Sumaho "Fire Phone" Is a Failed Work What You Try About About a Week - GIGAZINE