Reports that impress high performance with the release of Amazon smartphone "Fire Phone" appear one after another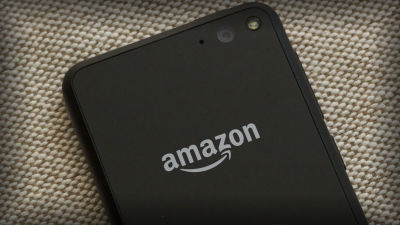 From July 23, 2014 Amazon's smartphone "Fire PhoneShipment started, arriving at the hand of the user who had been booked, use reports are steadily increasing one after another. Impression on the application "Firefly" which induces all the things in the eyes developed to make the position of the champion of online shopping unshakeable, to the item page of Amazon and the unique 3D display technology "Dynamic Perspective" is like this is.

Review: Amazon's Fire Phone offers new gimmicks, old platform growing pains | Ars Technica
http://arstechnica.com/gadgets/2014/07/review-amazons-fire-phone-offers-new-gimmicks-old-platform-growing-pains/

Hands On With The Amazon Fire Phone | TechCrunch
http://techcrunch.com/2014/07/22/hands-on-with-the-amazon-fire-phone-2/

Like the Kindle Fire HDX (right), Fire Phone (left) is equipped with Amazon's own OS "FireOS 3.5.1" customized Android 4.2.2.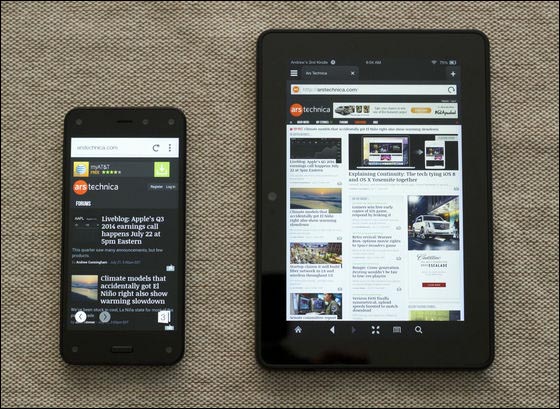 The display size of the Fire Phone (left) is 4.7 inches and the screen size and resolution are inferior to those of Nexus 5 (center) and HTC One M8 (right) with 1280 x 720.5 inch resolution. However, it is said that IPS liquid crystal display of Fire Phone has good viewing angle and color development.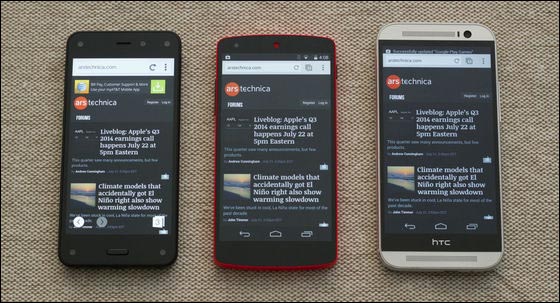 From the left Fire Phone, Nexus 4, iPhone 4 S. Fire Phone adopts glass material on the back, simple design with only black logo as Amazon logo.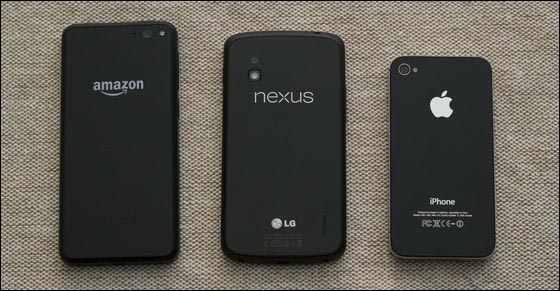 The Fire Phone is equipped with a "Dynamic Perspective" function that allows you to display stereoscopic images using the four cameras on the front. TechCrunch forecasts that although applications that correspond to Dynamic Perspective are still few, there is little application, 3D drawing can be easily done simply by changing the angle of looking at the smartphone, so it will show great power in the product display of online shopping.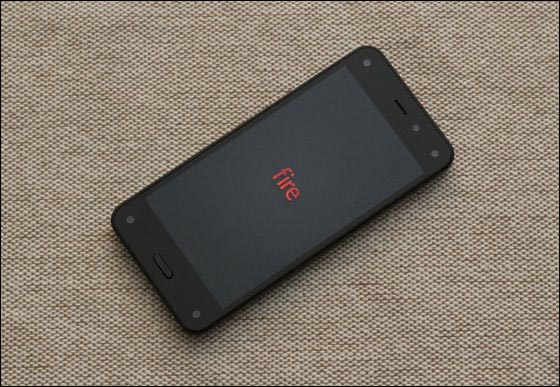 It is an infrared sensor that is located at the same position as the camera in the corner and shines in purple, it is used for night tracking of the face, light can not be seen with the naked eye. According to Ars Technica, four face tracking cameras malfunctioned when recognizing the face of multiple people.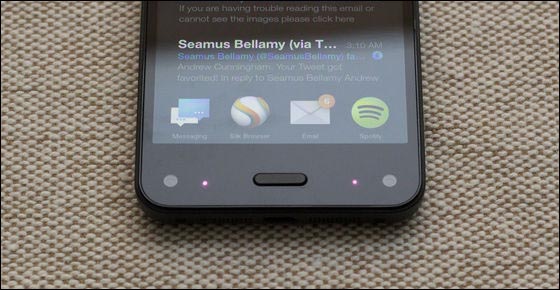 Along with Fire Phone face tracking type 3D view, Fire Phone 's eyebrows technology is able to get various information just by turning the camera to the real' Firefly '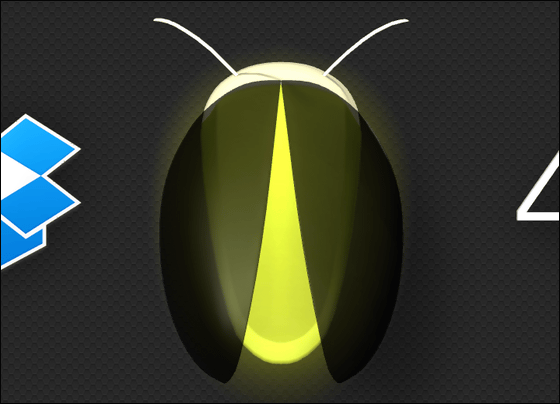 You can check how you actually try Firefly function in the following movie.

Amazon Firefly Hands-On - What Is It? - YouTube


Firefly can be launched easily by pressing and holding the camera shutter button beside the volume button and getting information in just seconds when you align the camera to books, games, serials, Of course there are Amazon sales pages as well.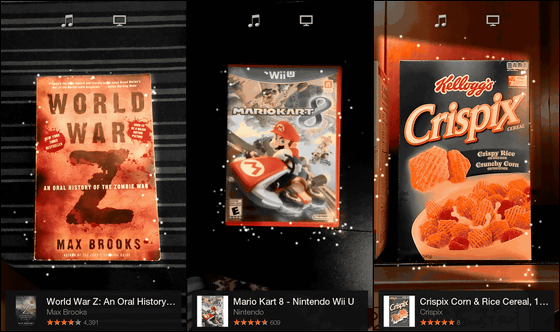 Not only planar and rectangular but also labels of bottles can be recognized. Even if you are an unfamiliar prepaid SIM card holder you can find it. Of course it is also possible to find the Fire Phone itself. According to Ars Technica, it was also possible to obtain phone number information from business card and call.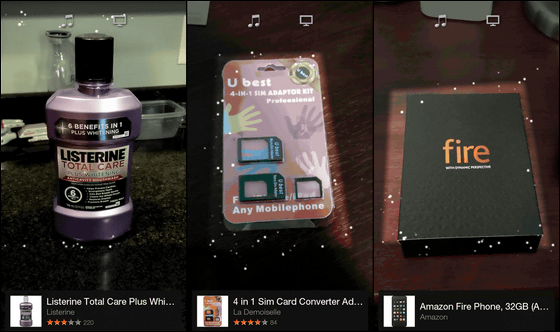 Firefly not only recognizes with the camera, it can also recognize video and sound. It is possible to identify a movie from the sound flowing in BGM and to identify an album CD.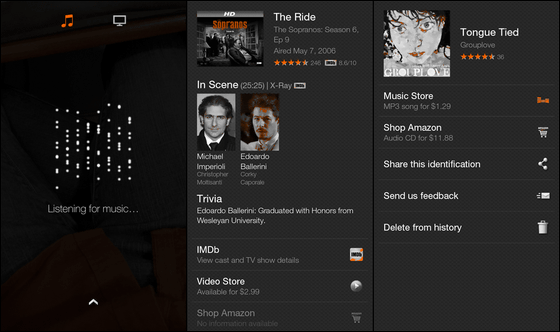 Also, streaming movie being played on the Fire Phone is recorded as STB "Fire TV"X - Ray" function that can be played on a large screen TV connected, you can play streaming movie from the middle of the viewing anytime and anywhere.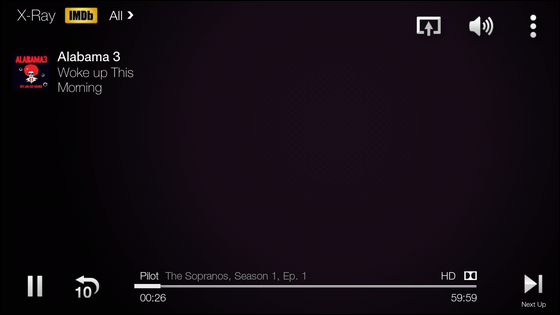 The rear camera of Fire Phone 13 million pixels · F value 2.0 has excellent image quality.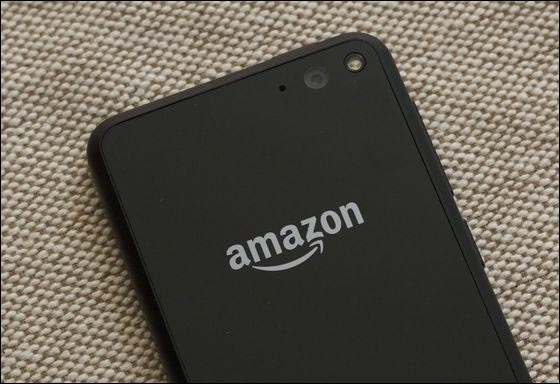 Especially the auto shooting mode is very good.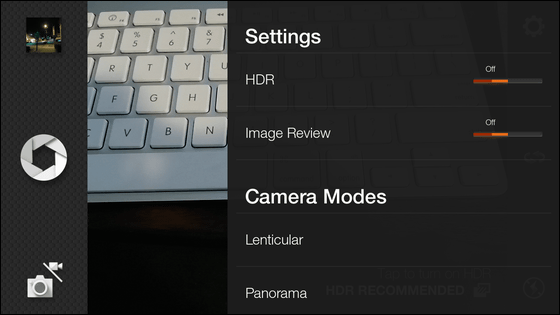 All of the pictures below compare photos taken with Fire Phone (left) and iPhone 5s camera. You can see that Fire Phone can shoot photos that are comparable to iPhone 5s, which is known for its excellent camera performance.





In addition, there are many photo editing functions such as brightness / contrast adjustment and various filters.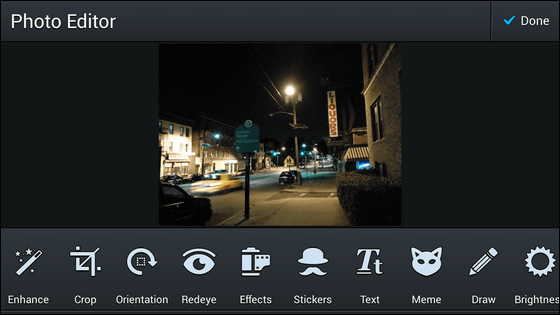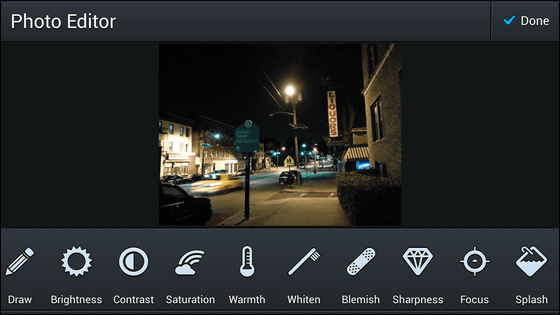 The Fire Phone UI, at the topCarousel panel(Left) and the home screen (right) below it.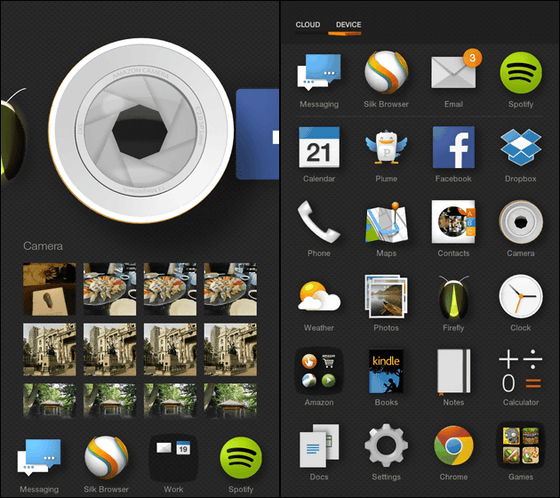 The carousel panel is instantly accessible to various applications, for example, you can delete it after reading not only new mails but also new mails.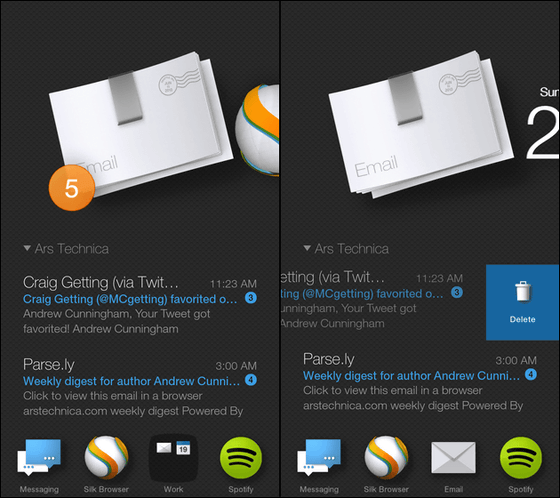 Since Fire Phone adopts Amazon's proprietary OS FireOS, it is a big disadvantage of a small application. The map application is made by Nokia, but it is inferior to Google Maps.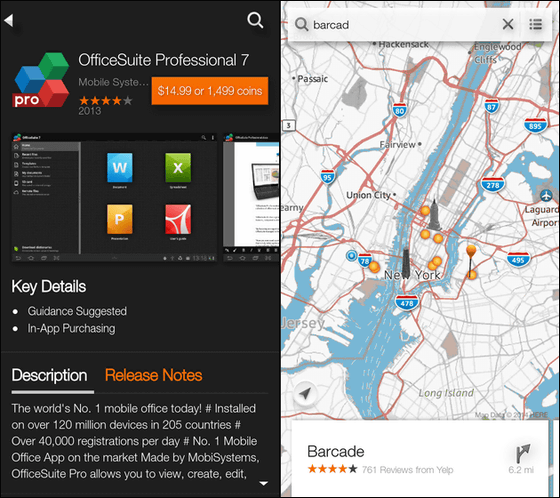 According to Ars Technica, although the accuracy of the voice recognition function itself is very high, at the present stage, the number of voice commands that can be used is small.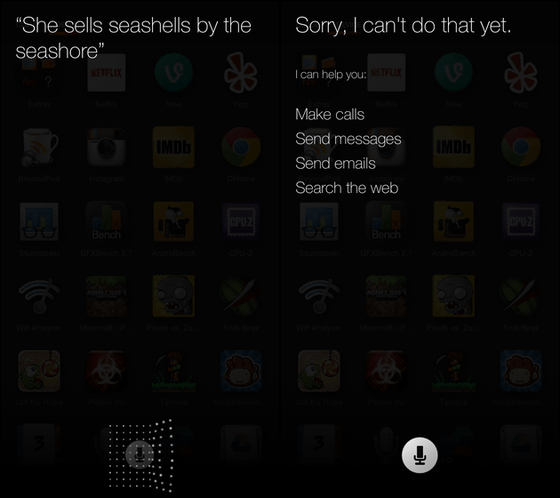 Benchmark softwareGEEKBENCH 3.1The result is this street. The Fire Phone with Snapdragon 800 (2.15 GHz) and 2 GB memory on SoC, the benchmark per core does not go to iPhone 5s, but in multicore it is the result of iPhone 5s or more.




GFXBench 2.7The results of the benchmark of the graphic by the following are as follows, and this is also comparable to the high-spec smartphone made by another company.




Also, in the battery endurance test by browsing, the Fire Phone has the best result.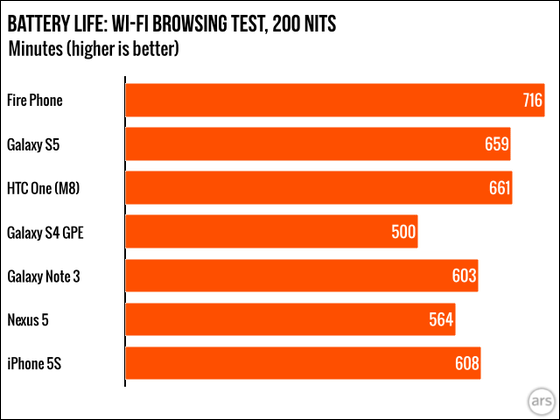 Not only the high performance of the Fire Phone but also unique features such as Dynamic Perspective and Firefly have gained a good reputation with actual machine review by various media. However, since Amazon neglects to update the OS with the tablet terminal "Kindle Fire series" already on sale, it is still unclear whether the update by the update will be added by the Fire Phone or not, Ars Technica points out that if you think about the price of 6,000 yen) you will have to be cautious about purchasing.