"Chicken Ramen Dumpling Tomato & Cheese" Tasting Soup-flavored Chicken Ramen Over Plenty of Powdered Cheese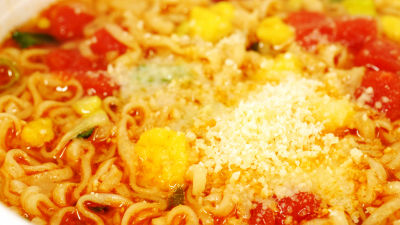 Nissin Foods has a lot of windHot and sour soupWe developed a chicken ramen arrange recipe series that can enjoy deliciousness, such as wind, which is enjoyable, but as a third step, the fresh flavor of tomato and the flavor of powdered cheese complement the taste of roasted soy sauce of chicken stock "Chicken noodles bowl bamboo tomato & cheeseWe are selling it from August 10th. Following Chinese food, I was wondering how Italian Chicken Ramen was finished, so I actually bought it and tried it.

"Chicken Ramen Bowl Tomato & Cheese" (released on August 10) | Nissin Food Group
https://www.nissin.com/jp/news/4429

This is the "chicken ramen bowl tomato & cheese" package. It contains red, white and green Italian flag lines.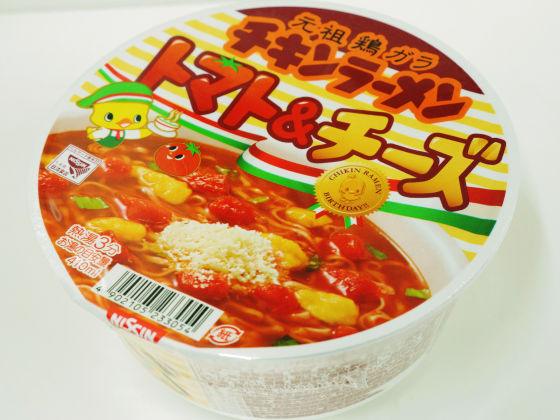 Calories are 404 kcal per 93 g per serving.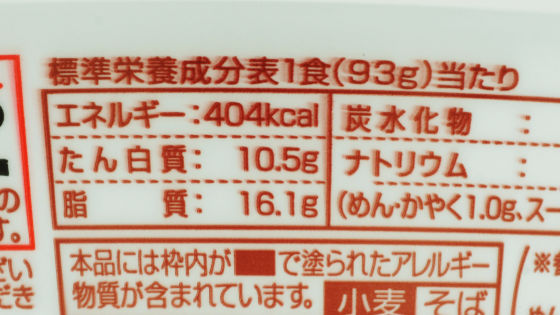 Looking at the raw material name, Western-style ingredients such as tomato paste, cheese, rosemary, etc. are mixed in chicken ramenish material with fried soup, soy sauce and chicken extract.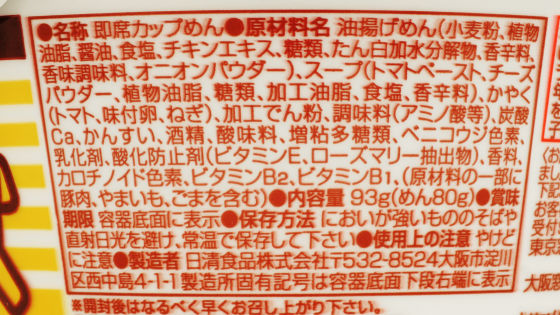 When opening the lid with Periperi ......, there was a recipe on the back side of the lid that can reproduce chicken ramen tomato & cheese even with usual bag noodles. Chicken ramen bowl Tomato & cheese is limited time sale, but with this recipe you can reproduce the taste of Italian even after the end of sale.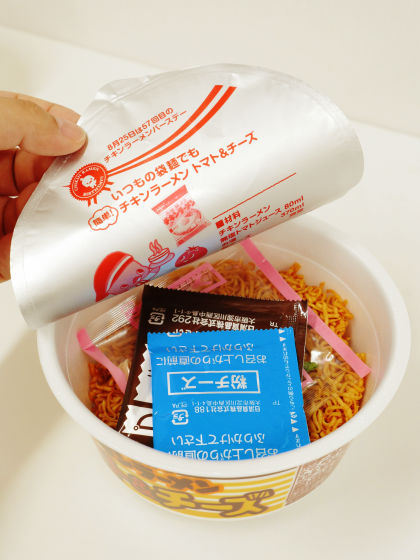 In the cup, liquid soup, besides milk powder cheese was contained.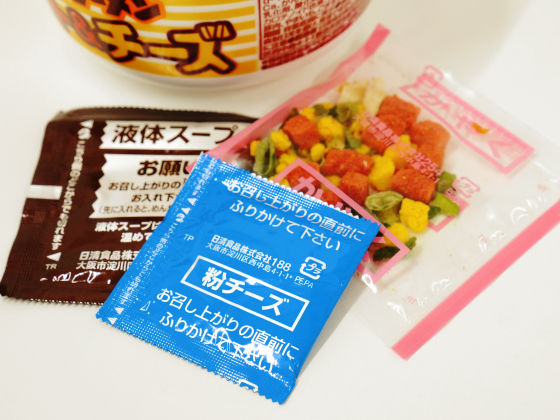 So, when you open the cup quickly, freeze-dried such as tomatoes, eggs and green onions that are cut to a large extent appears. Especially it seems that meat etc is not included.



Pour the hot water with just putting it in quickly ... ...



Wait for 3 minutes while warming the liquid soup above the lid.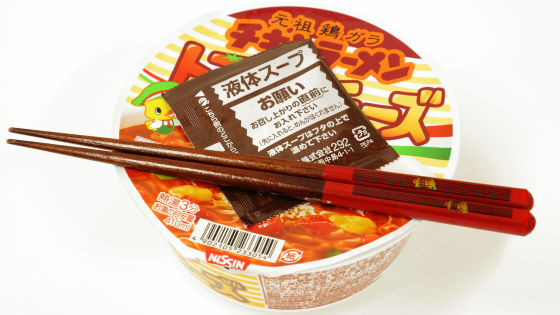 After 3 minutes, opening the lid, the soup is still a clear color like a usual chicken ramen. I will introduce a liquid soup like a boiled ketchup here.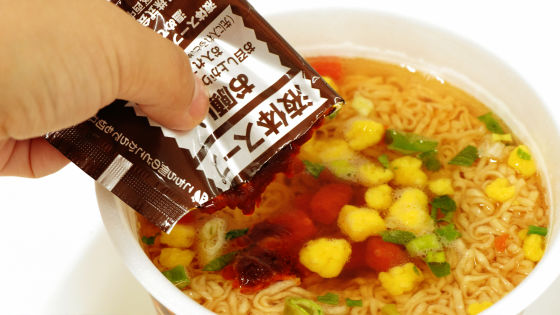 When it was mixed round and round, it gradually got dyed red as tomato.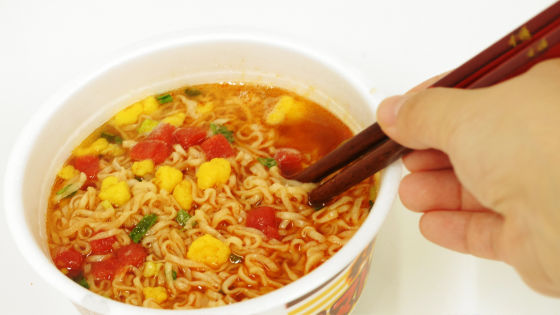 Finally when sprinkling powder cheese ...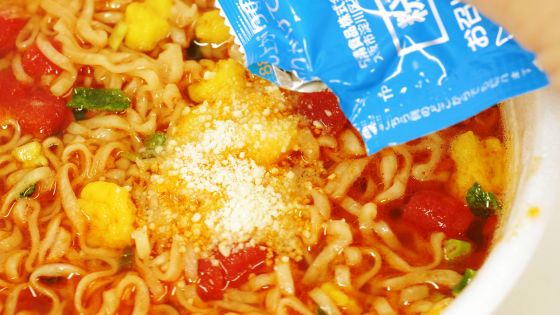 done.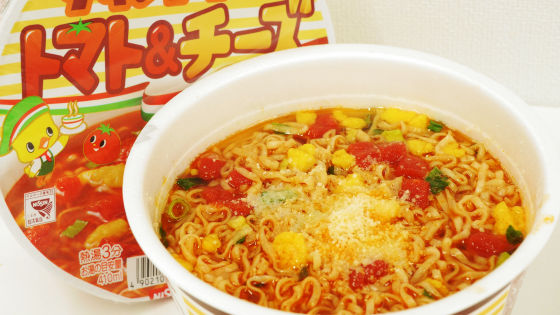 It looks like tomato red, green on green, cheese white and looks like tomato soup pasta rather than chicken ramen.



So I tried munching noodles with cheese. I wondered whether "Chicken ramen and cheese will match ......" When I tried it, the taste, richness and acidity of cheese match more than expected with chicken ramen soup. When asked by ants or pears, it is completely ants, especially finish that seems to be like women.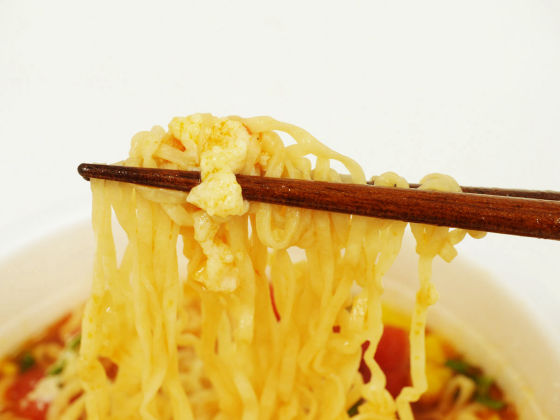 The freeze dried tomato felt slightly the taste of tomatoes, the eggs were fluffy.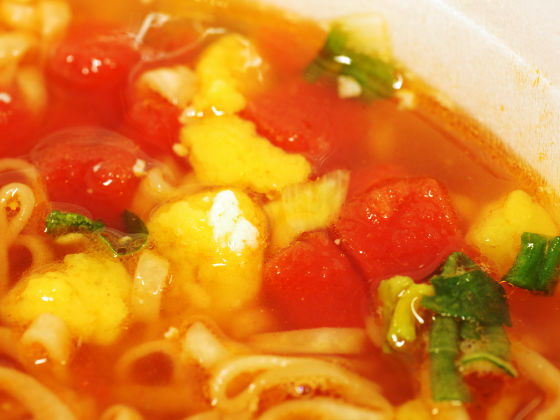 When I tried drinking soup, the presence of chicken noodles is still alive although there is a moderate tomato flavor. It was a chicken soup with sour and sweetness plus a bit, so it was a bitter impression than usual.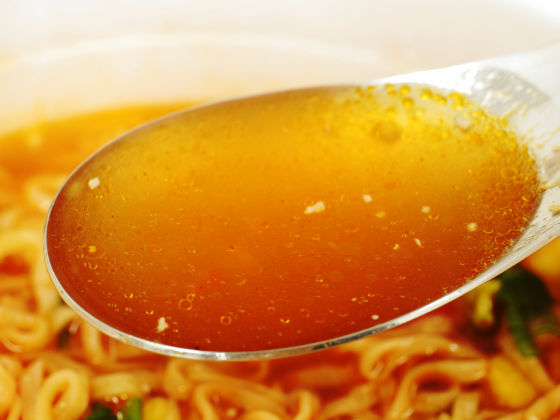 In addition, the price of chicken ramen bowl tomato & cheese is 180 yen per tax.