Bacon × 2 cheese exquisite "Chicken Ramen Big Cup Bacon & Cheese" Tasting Review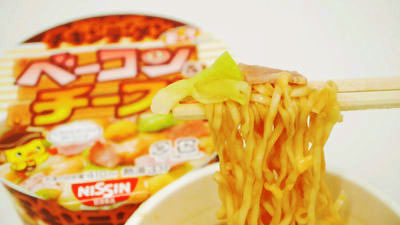 Nissin choked ramen with bacon and cheese "Chicken Ramen Big Cup Bacon & CheeseWe are selling it from the beginning of March. The cheese used is cheddar cheese and mozzarella cheese, which means scrambled egg, cabbage and carrots are included in addition to bacon, so I bought it and ate it and tried it.

"Chicken Ramen Big Cup Bacon & Cheese" (released on March 2) | Nissin Food Group
https://www.nissin.com/jp/news/4019

"Chicken Ramen Big Cup Bacon & Cheese" is a vertically long cup and it is written as "Bacon & Cheese" greatly.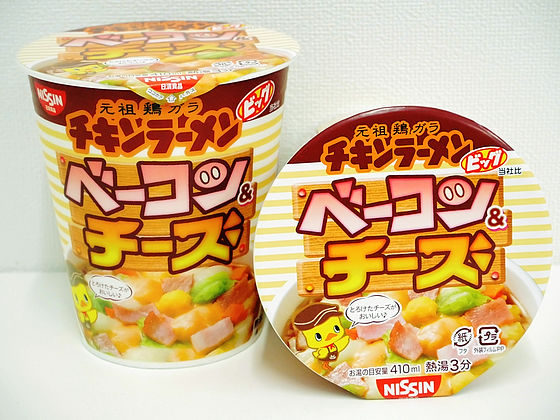 Hiyoko-chanAlso "comfortable cheese is delicious ♪" comment.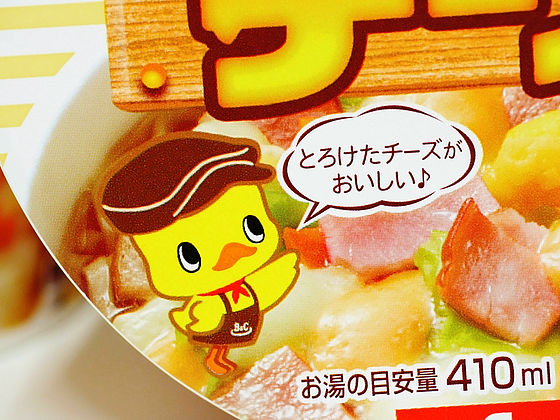 "The compatibility of bacon and cheese is perfect!"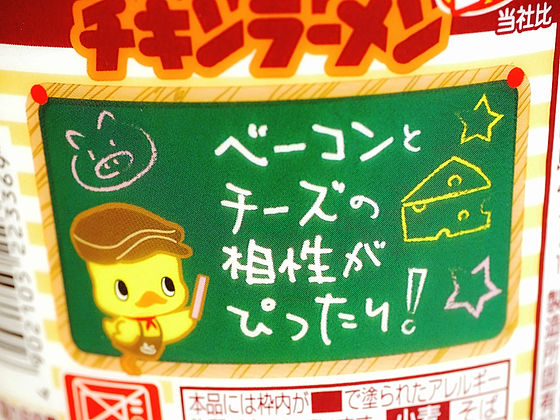 Ingredients are fried tofu, milk, processed starch, condiments, Ca carbonate, polysaccharide, polysaccharide thickener, antioxidant, emulsifier, carbonate Mg, paprika pigment, vitamin B 2, vitamin B 1, gardenia pigment, carotenoid pigment.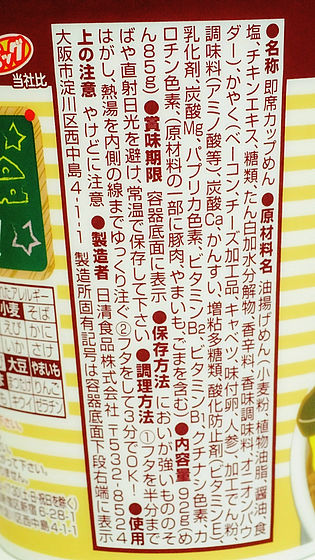 The calorie is 416 kcal per serving (92 g)Chicken noodles bowlCalories (370 kcal) of calories are somewhat higher compared to the calories (370 kcal).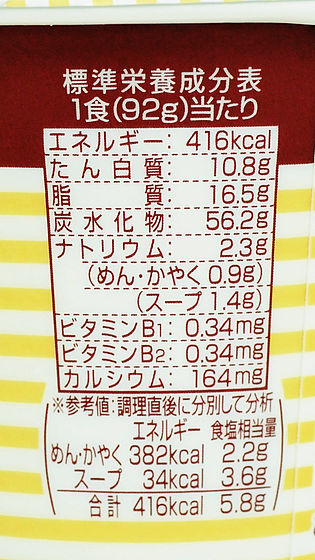 When opening it, dry noodles that made a unique color of chicken ramen appeared.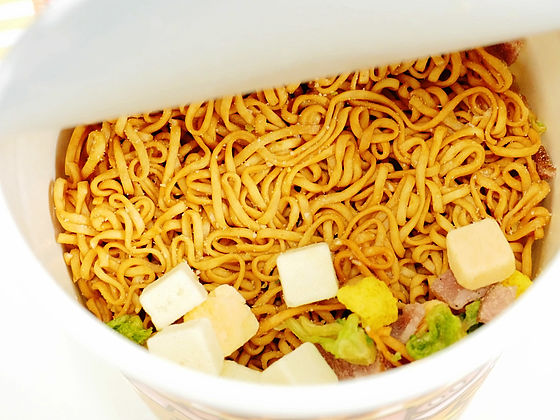 You can check things like fine cheese in chicken noodles.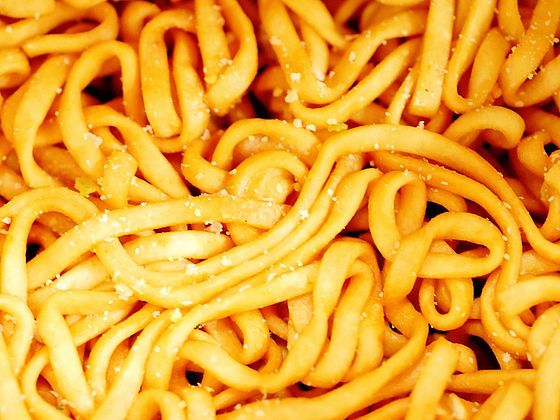 Cheddar cheese is an orange sexy cube and mozzarella cheese is a white cube.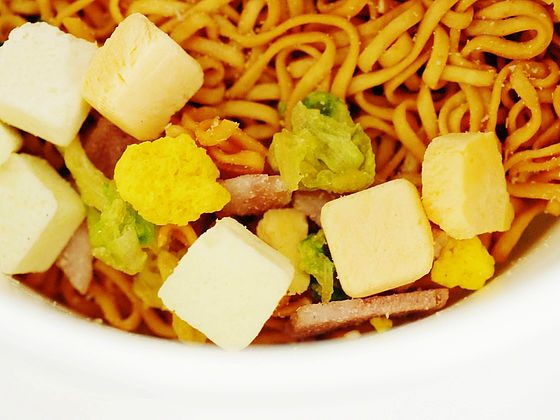 Immediately put hot water to cook ramen.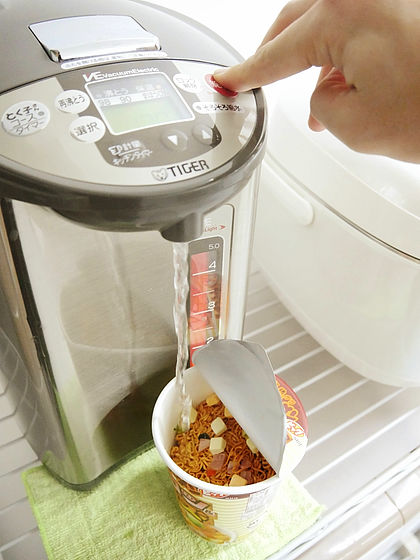 We only wait for 3 minutes.



When I opened the lid after 3 minutes, the scent of cheese and chicken noodles spread swiftly.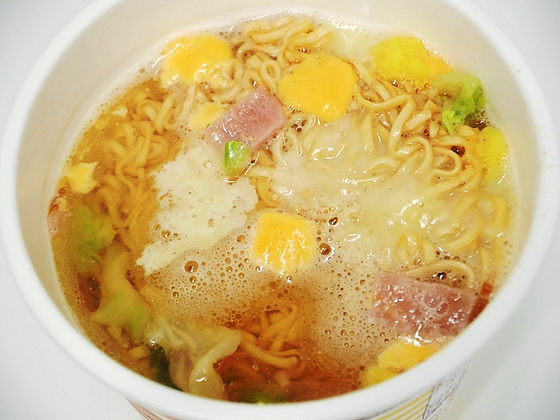 Cheese is lazy.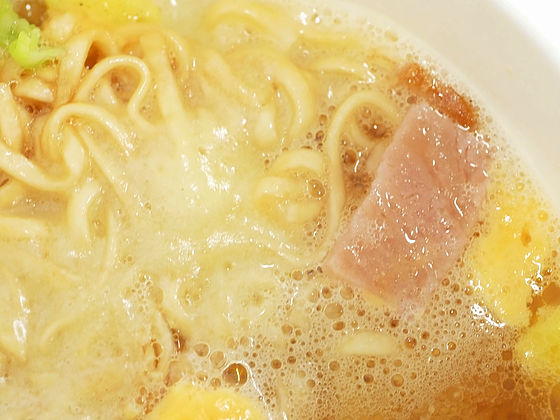 Chicken noodle soup is as clear as usual brown.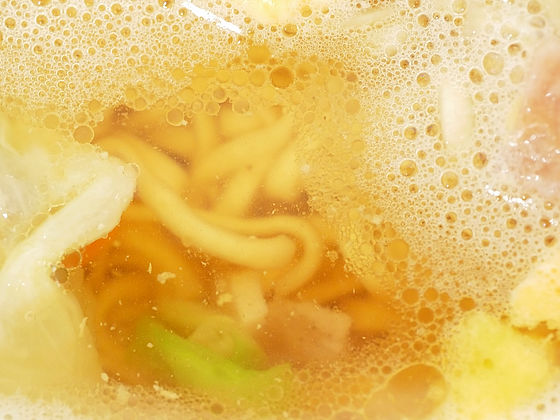 As soon as you sip noodles, Chicken Ramen's fragrant soy sauce flavor adds cheese richness and bacon umami and smoky aroma and it's good. The soup peculiar to chicken ramen is well entangled with the soup, and it feels the peculiar flavor of fried fish.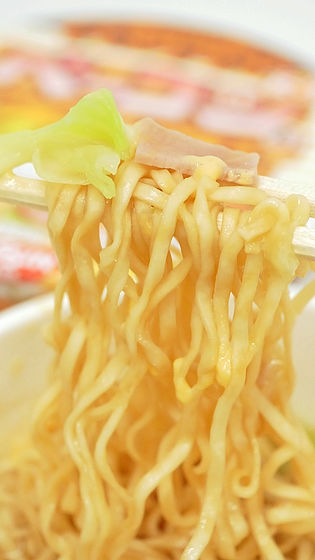 Since there are various vegetables, there is sweetness and it seasoned seasonably easy to eat. Before eating it was a combination that was hard to imagine, but with cheese and bacon entering it was a Western style flavor of chicken noodles.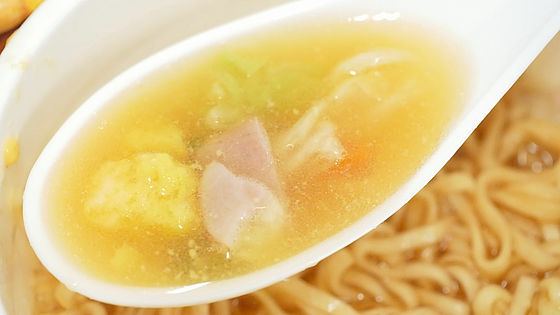 The price of chicken ramen big cup bacon & cheese is 205 yen per tax.