Mozzarella cheese · cheddar cheese · cheese cheese cooked cheese cooked "Chicken Ramen Big Cup 3 Types of Cheese" Tasting Review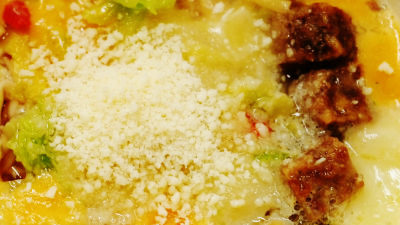 Speaking of chicken noodles, gingerSankame noodlesAndrice ballAlthough limited-time products such as are sold, cheese came in from Monday, March 17 "Chicken Ramen Big Cup Three Cheese"Was sold. "Is cheese called ramen with ants? Because it sprinkles spaghetti with powdered cheese it is the same noodles, so will it fit your price?", I bought and tried it.

Chicken noodles with 3 kinds of cheese! "Chicken Ramen Big Cup 3 Types of Cheese" New release on March 17, 2014 (Monday)
http://www.nissinfoods.co.jp/com/news/news_release.html?nid=3398&yr=2014&mn=3

Chicken Ramen Big Cup Three cheeses are set with powdered cheese.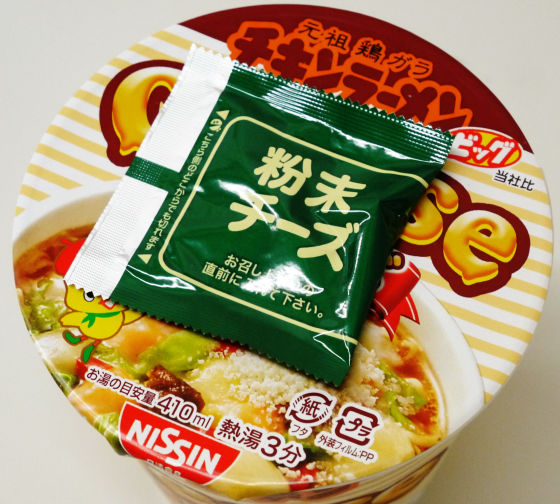 The atmosphere of the package is basically the same as the design based on orange and yellow in chicken noodles.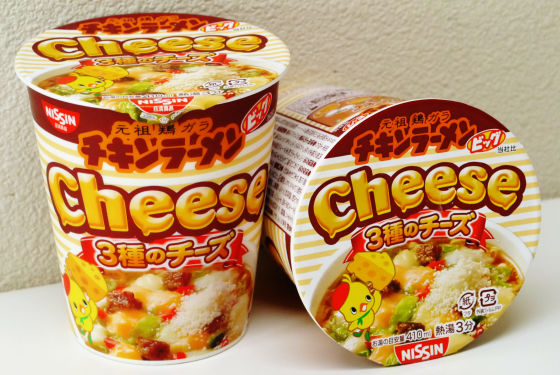 Chicken noodle characterHiyoko-chanHas cheese, you can check cheese on the image picture as well.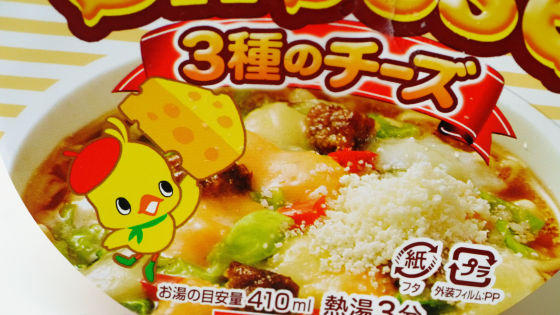 Mozzarella cheese·Cheddar cheese·Gouda cheeseThree kinds of are used, it is full-fledged feeling.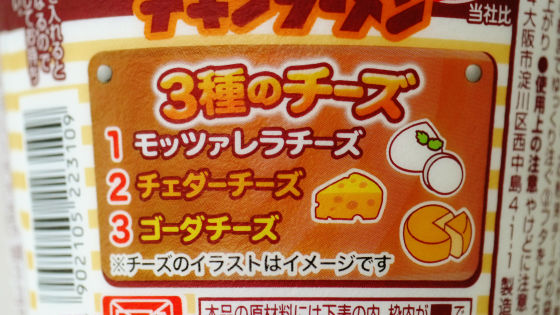 Raw materials include fried noodles, chicken extract, milk (cheese processed, cabbage, flavored pig mince, red belle pepper), sprinkle (cheese), etc.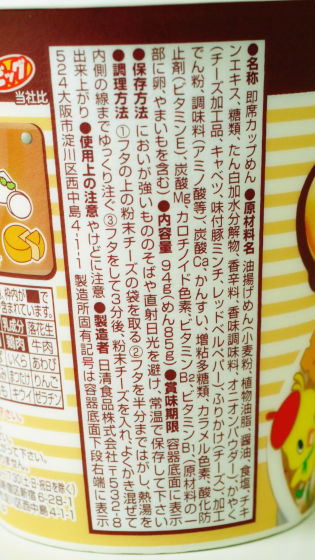 Calories are 418 kcal, slightly more calorie than chicken ramen bowl (370 kcal).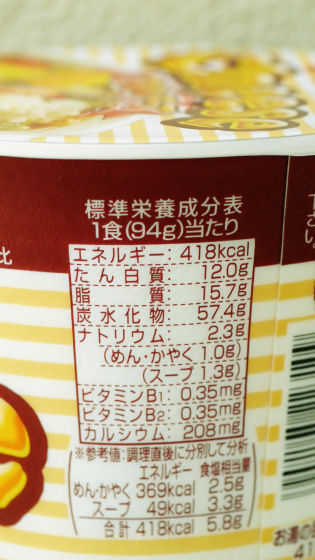 When opened, you can check like flavored pork minchi, cheese, cabbage, red belle pepper and the like similar to those in cup noodles.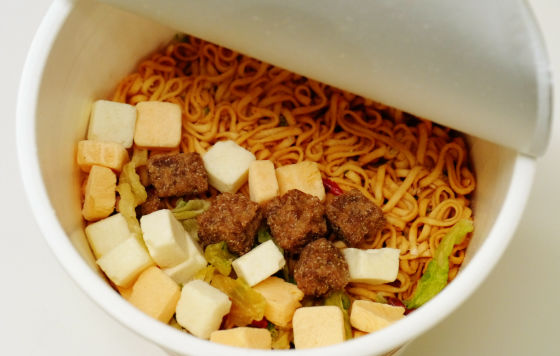 The cooking method is the same as ordinary cup ramen, put hot water into the inner line ......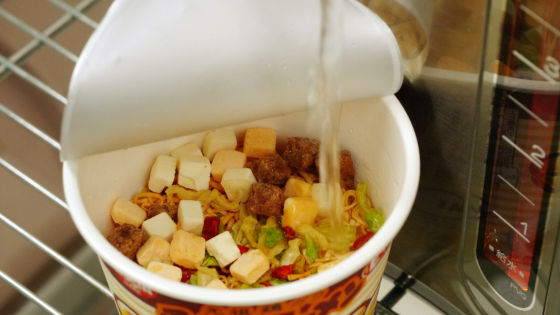 Wait 3 minutes.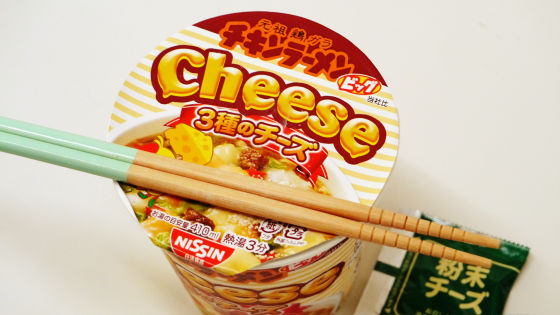 After 3 minutes, open and place the powdered cheese.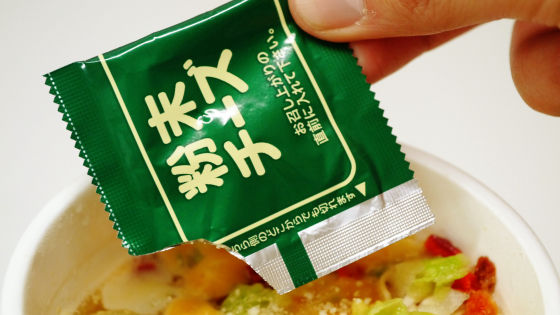 If it mixes it is completed, but before mixing it is like this. You can see several cheeses are included.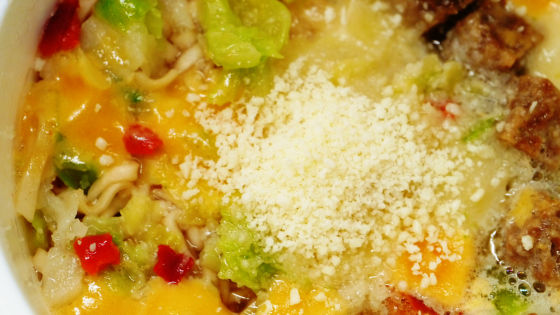 I thought that the cheese was backed with hot water as a tortoise.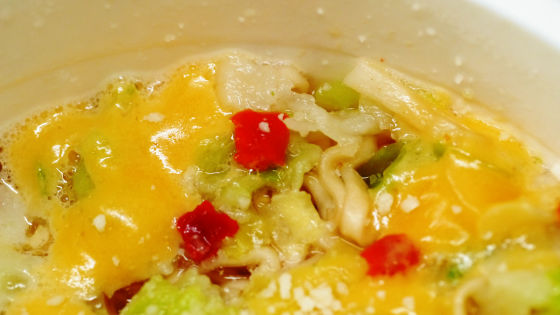 Seasoned pork minced is the same atmosphere as cup noodles.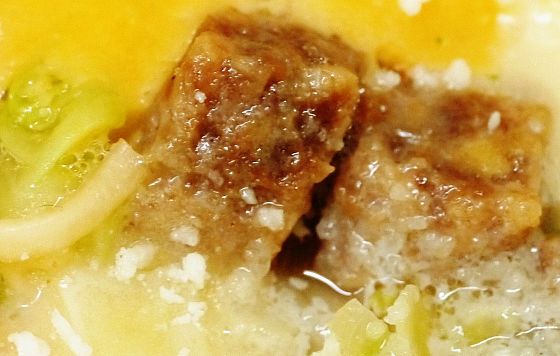 When mixed, the color of the soup was almost the same color as chicken noodles. I will eat it.



The taste of rich cheese surprisingly matches to soup like burnt soy sauce of chicken noodle. The combination of "soy sauce and cheese" has discomfort before eating, but it is in particular harmonious without feeling uncomfortable. The flavor of cheese is also not bad, it entangles with noodles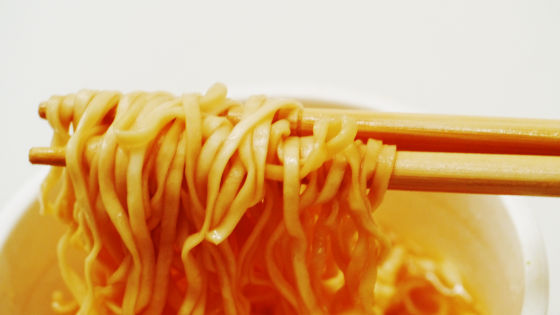 After a while, the cheese melted in soup and turned into muddy color. Cabbage is sweet and well-matched to soup.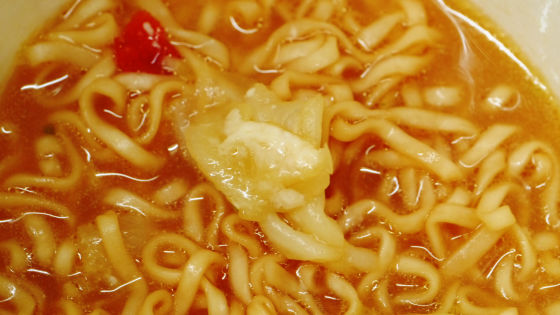 The flavored pork minchi was slightly salty, and it was good with the mellow taste of cheese. The product name is "Big", but I ate the other dayBejibuta King"There is not much quantity, compared with a cup ramen with a little capacity.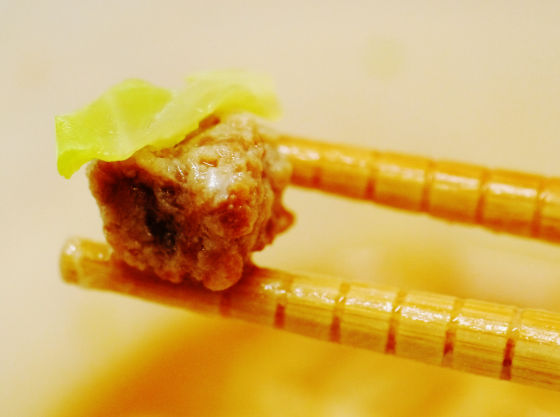 Chicken Ramen Big Cup Three cheeses are tax included 199 yen. It is recommended for those who like chicken noodles.