"Mission: Impossible / Rogue Nation" press conference that Tom Cruise showed off his back story hanging on an airplane with an embarrassment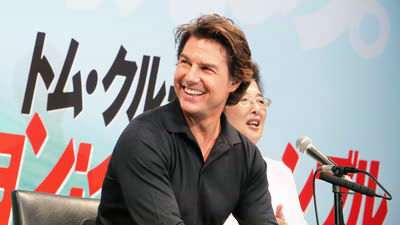 The 5th film in the series "Mission: Impossible / Rogue Nation"Was released on August 7, 2015, Tom Cruise who played legendary spy Ethan Hunt and director Christopher McCulley visited Japan and held a press conference. At a press conference, I was revealed a story behind the scenes that clung to military aircraft that took off with no stunt and strong thoughts on Tom Cruise's movies.

"Mission: Impossible / Rogue Nation" official site
http://www.missionimpossiblejp.jp/

Interview site established in Tokyo.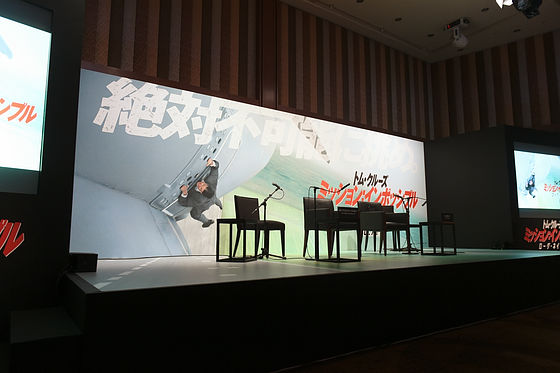 Firstly, Director Christopher McCully will be on the stage.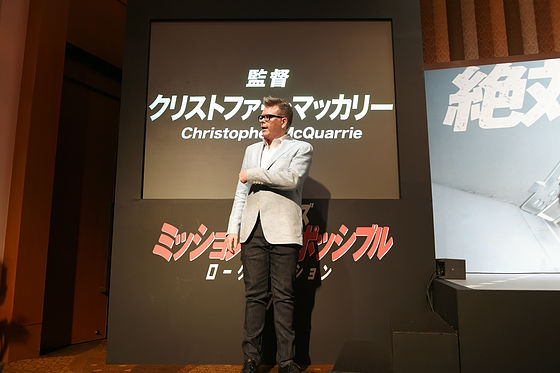 Tom Cruise starring starring appeared.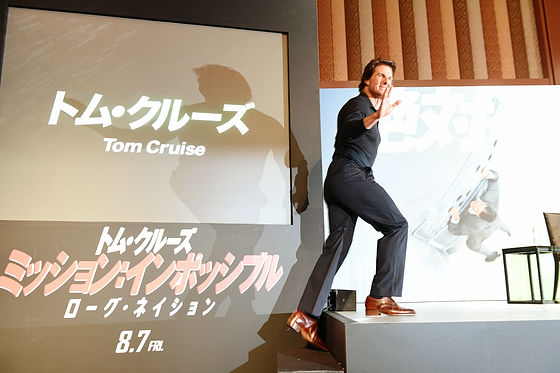 Tom Cruise (Tom):
I am very glad that I could come to Japan again. It is an honor for me to be in a wonderful country like Japan. Actually, "Mission: Impossible / Rogue Nation" has just been completed two weeks ago, and it is really exciting for all of us to see this wonderful work. In spite of the fact that the dialogue was changed at the last minute, I made a lot of thought for translation Natsuko Toda, but I am very grateful.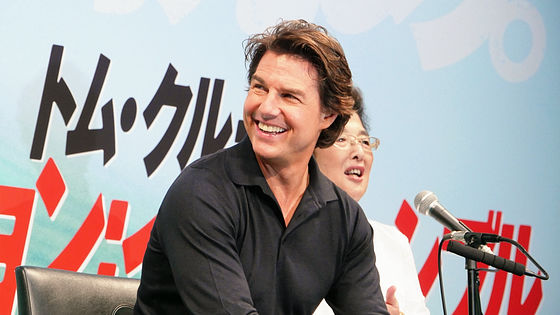 Christopher McCully (Director):
I am really happy to be back in Japan. Japan is a favorite place and I am very glad that you always have a warm welcome.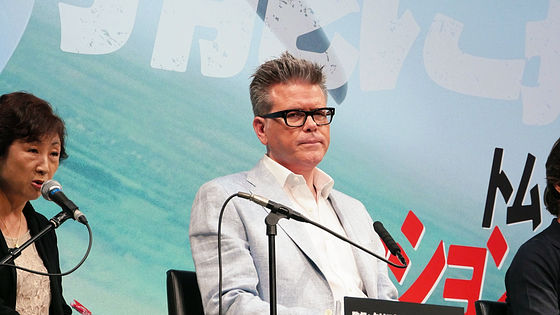 Q:
This series is amazing the world with various challenges every time, but what is the finish of this work? Thank you for your response.

directed by:
This work is the fifth work that I worked with Tom. Every time is an experience of learning, I work in the process of pouring various things I learned last time into the next work, that is, this work, but I am extremely satisfied with the work of this work. People who saw the movie think that I can feel the various knowledge and experiences I have learned with Tom.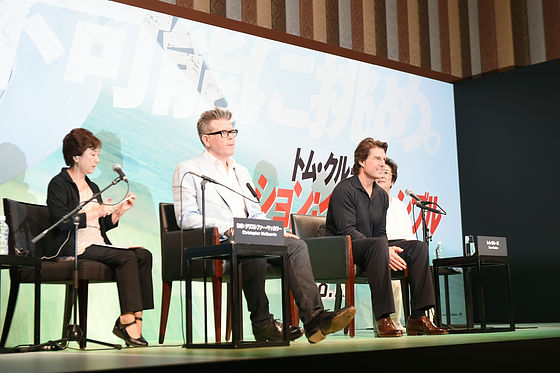 Tom:
I think the same way as the director. Every time I am involved in a movie, I am feeling like being a student and I am constantly learning something. Thinking about the audience who watches movies first, I try to deliver high-quality entertainment to everyone by pouring in the knowledge and technology as far as I know. Regardless of the genre of the movie, this feeling does not change all the time.

Chris is a really amazing director, he has plenty of scripts and filmmaking knowledge and learned so many things. Even in this work, military aircraftAirbus A400MHanging on cars, car chases with automobiles and motorcycles, and actions that dived underwater. I tried free diving in the action scene underwater. Supporting the action scenes is a wonderful staff and experts specializing in that field and I learned a lot from those staff. However, we do not recommend hanging on airplanes to everyone (laugh)

Q:
In the United States, it was released on July 31 and recorded the best performance of 20.3 million dollars (about 2.5 billion yen) in the series on the first day and it was the best start.

Tom:
I think that it is a very wonderful result and the officials are really pleased. I worked really hard at work, so I am very happy to see the customers enjoying it.

Q:
There was a lot of scenes that I really hang out when I saw the movie, such as scenes clinging to the plane, stunts in the water, car chase scenes. Is there anything scary about Tom who challenges such a horrible scene to this extent?

Tom:
I am going to shoot by telling myself to say "I do not feel fearful". The scene of Airbus was taken in preparation for months, and I will explain in a bit. In filmmaking, what I keep in mind is about stories and entertainment. Danging from Airbus was a director's idea, and I had a story from the director.

directed by:
Actually I meant as a joke (laugh)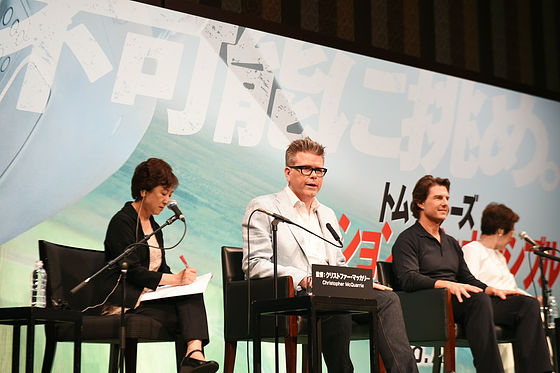 Tom:
Haha. But when I heard the story I thought it would be very interesting. At first, we had meetings with Airbus's test pilot for months and decided on shooting methods and so on. I shot it with two kinds of cameras, but in order to install the camera on the outside of the fuselage, since gravity is applied, it is necessary to adjust the speed of the airplane. It was also a difficult point to have to think about the angle of the camera that reflected the ground on the background of the scene where I hang. Is it also a matter of not having goggles, do you know what will happen if you try to open your eyes with 250 knots (450 km / h) coming out?

To solve it, I wore a contact lens covering the whole eye. With a contact lens, you can open your eyes even if you are running at 250 knots, and you can also prevent dust from entering your eyes.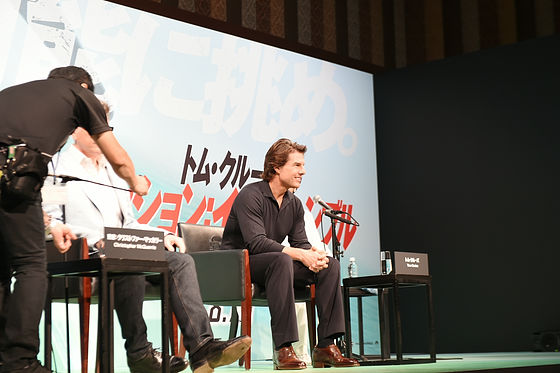 Another problem is that I said "I would like to wear a suit," this is a directive by Alfred Hitchcock's "Take the road in the north and northwestIt is also a tribute to. But in London where I took a picture, it was extremely cold, and as the altitude got higher, the temperature also fell, so it was unbelievable cold. After that, since the portion I'm stuck with the airplane is just behind the engine, I will smoke the exhaust gas from the engine. Because I have experience of pilot, I knew in advance to breathe exhaust gas, but I did not tell anyone. Because I wanted to keep the problem as small as possible. Bird strike was also a fearing problem.

I arrived in London the night before shooting, but the airbus for photography that was in the airport was lighted up from under the aircraft. I also remember that the lighted up looked like a monster because of the fog out (lol)

When shooting began and Airbus began to run, it was colder than I imagined. Moreover, because it is tied to an airplane, once you take off, even if a problem occurs in shooting you could not stop unless you landed. I remember talking with the director who was watching the monitor on the plane just after the shooting of the runway scene first.

directed by:
After I finished shooting, I went to talk to Tom to check various things, but Tom was doing a thick contact lens and ear plugs so it was almost in a state of not being able to communicate. When I saw Tom's appearance outside the machine, I noticed that Tom was really in a severe situation. I wore many clothes and wore boots, but it was still very cold. You can tell how much Tom Tom wearing suits was cold. Later, when I stood behind the engine I found out that I can hardly breathe. So, I wanted to get back inside the plane as soon as possible (lol) Before I return to the airplane, Tom, who is tied to the aircraft, screams, "Do not cut as it seems that I am panicking as it is acting!" I tell him. So, during shooting it was not possible to tell whether Tom was really panicking or just acting.

Tom:
During shooting it is necessary to keep your feet properly on the scaffold while clinging to the airplane. I was thinking about making a dangling leg when the plane took off. When shooting began, it was really hard to have feet on the scaffolding even for scenes where the plane runs on the runway. Every time speed came up I thought "Was it really wrong?" Although Airbus' scenes had a total of 8 retries, I think that it was finished in a scene that everyone can enjoy photographing safely.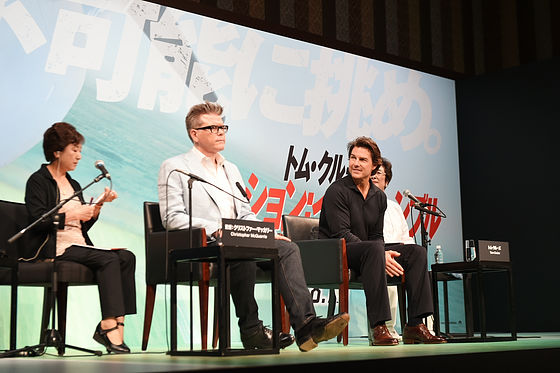 The situation of shooting of a scene hanging on an airplane that Tom Cruise challenged without a stuntman can be confirmed from the following movie.

Mission: Impossible Rogue Nation - Stunt Featurette - YouTube


Nippon Television ZIP Ishiyama:
Tom is the 21st visit to Japan, is there anything you like in summer in Japan?

Tom:
This time is the hottest, is not it? But I am fine. I do not have anything scary (lol) What I like in summer in Japan .... It's a hot place (laugh) I like hot days. I lived in various places with lots of moving, and I used to work part-time in newspaper deliveries in the morning and evening, so I am used to it being hot. I also did a lot of other part-time jobs. Later, the city looks really beautiful in Japan. People are also wonderful.

NTV PON movie writer Syntani:
Although the action scene of this work had a wonderful thing, as a fan, it is very worrisome what the person who did this alone will challenge the next. Do you have any missions that you want to make impossible including age matter?

Tom:
We have a lot. Actually I'm talking about what kind of story I am talking about and about the next script. But, I'm sorry, but I can not talk yet.

directed by:
I will be careful not to say a very strange joke (laugh)

Pier Agata:
Please also tell us why the series has continued for such a long time, as the series also lasted for 20 years with the fifth work and there is also a plan for the next work.

Tom:
My first producer was "Mission: Impossible". "TapsAlthough I got a role for the first time in a movie called "a movie", I was young and still newcomers, I did not go to the theater school or movie school, so I studied everything in the movies everyday in the studio. I also learned about the work of the producer there.

As for the producer, I feel like I was waiting for confidence that I can do for myself properly. When I went to Paramount, I thought that the aircraft was ripe and challenged the producer. Mission: Impossible was originally a TV series, a work I liked very much. I was told various things by making the TV series into a movie.

One of the greatest fun things to do with collaborating with staff in making movies. I love the stuff so much and it is honorable that the series continues so much. Making a movie involves a challenge, but it gives you a wonderful experience and privilege. I like all kinds of work related to movies, and I can come to Japan like that as a privilege.

directed by:
This work is a work that wishes as an individual. Ethan Hunt can fly in the sky, climb rocks and become transparent. But Ethan is not superhuman. I am doing superhuman but not a superman. So it is important to create a situation where Ethan must do and impossible. This is a very difficult task to write a script. Talking with Tom with two people, I am planning a clear plan, but often the plan changed during shooting. So, sometimes we did not know where we were going and targeting during shooting. But the good side that the plan is changed one by one is that we are also amazed like the audience.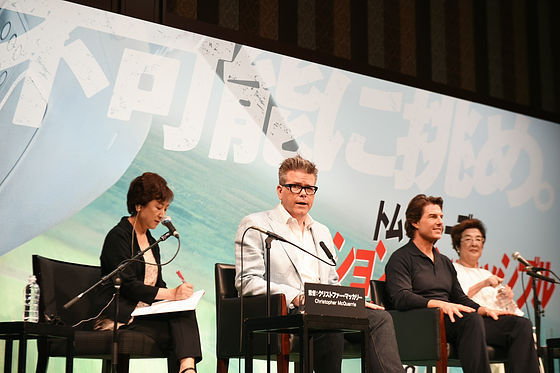 Q:
Are you planning on setting the stage for Japan with "mission: impossible" in the future?

Tom:
I want to do someday. It looks very interesting. However, I shoot a lot of roads in shooting. In film shooting, selecting a location is very hard. Since it is necessary to obtain permission from the country and the community, we have to clear various things, such as how many roads can be blocked if we shoot in Japan, how many buildings we can jump and so on.

directed by:
If shooting in Japan, I want to avoid the summer in spring or autumn (laugh)

All About:
Please tell me what Tom is paying attention to to keep it being the top star of the movie world for so long, what kind of mind skills are said in Japan.

Tom:
I had a dream that I wanted to take a movie for the first time when I was 4 years old and wanted to travel around the world. I have been keeping intellectual curiosity and passion for my life and movies all my life. I am very thankful that my dream has come true now and I will never forget that feeling. I love movies and I really appreciate the staff. That's why I have never been late for shooting. Creating a movie is a tremendous amount of pressure. But the pressure is like privilege for me. It is a privilege to be able to entertain people by hitting themselves to the limit with the pressure.

This is the end of the press conference.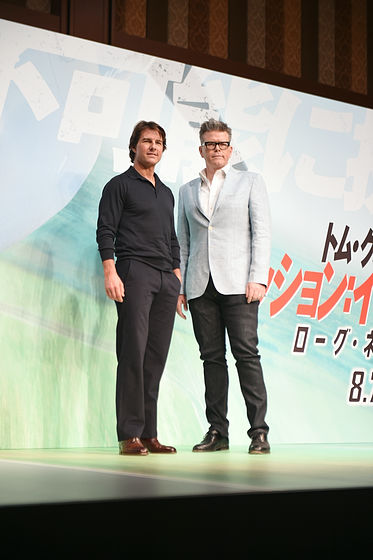 ◆ "Mission · Impossible / Rogue · Nation"
August 7 (Fri) National Road Show
Distribution: Paramount Pictures Japan
Official site:http://missionimpossiblejp.jp/
© 2015 Paramount Pictures. All Rights Reserved.