Apple Watch said "It's a wonderful start" and recordable good-luck Apple, each device sales volume was like this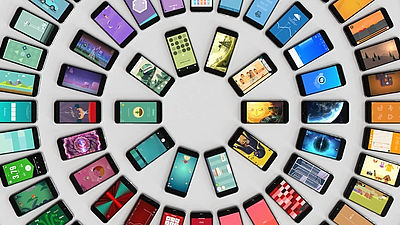 On July 21, 2015 Apple announced the third fiscal quarter (April to June) settlement of accounts. Although it is clear that both sales and net profit exceeded market expectations, it is clear that it is a very strong performance, but with respect to Apple Watch, it stated as saying "I got a great start", and as for the specific sales number I did not make it clear.

Apple - Press Info - Apple Reports Record Third Quarter Results
https://www.apple.com/pr/library/2015/07/21Apple-Reports-Record-Third-Quarter-Results.html

Apple posts another record quarter, with over $ 1 billion in Apple Watch sales | The Verge
http://www.theverge.com/2015/7/21/9010797/apple-q3-2015-earnings

According to Apple's announcement of the third quarterly financial report, sales were $ 49.65 billion (about 6.1 trillion yen) and net income was $ 10,677 million (about 1.3 trillion yen) The profit was 1.85 dollars (about 230 yen). Apple will allocate a dividend of $ 0.52 per share (approximately 64 yen), reflecting favorable results beyond market expectations.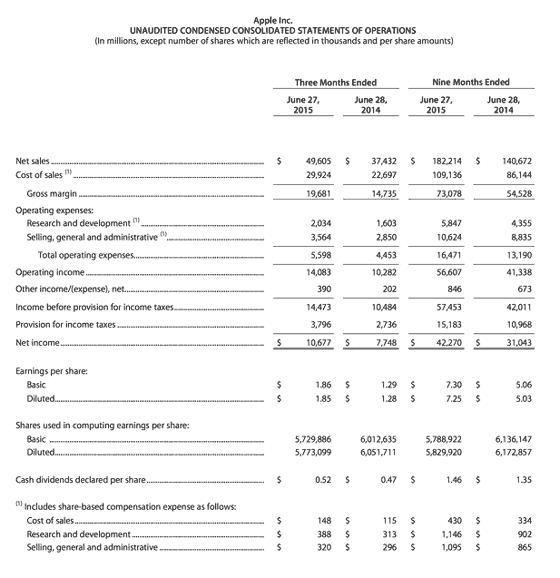 The change in sales of Apple is like this. You can see that the profit has greatly increased in Q1 (October to December) when the iPhone series is released, and the profit declines from Q4 (July to September). However, the Q3 settlement in 2015 is overwhelmingly profitable even when compared with Q3 settlement of accounts, and it shows the large success of iPhone 6/6 Plus.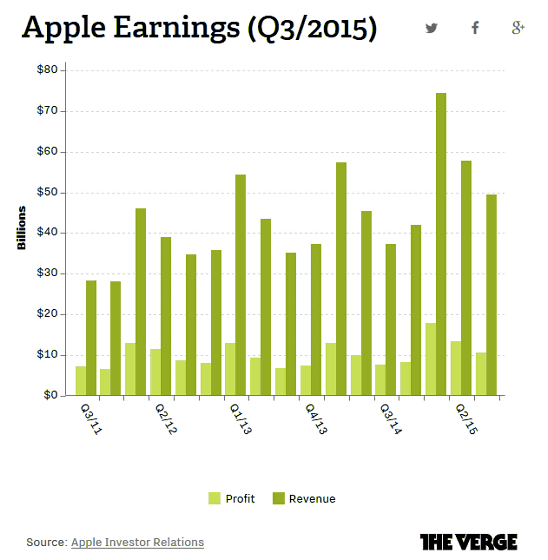 A graph showing sales trends of the three pillars of 'iPhone', 'iPad' and 'Mac', which greatly contributes to Apple's revenue, looks like this. Sales of iPhones are explosively increasing compared to the same quarter of the previous year for Macs with almost no change in sales volume.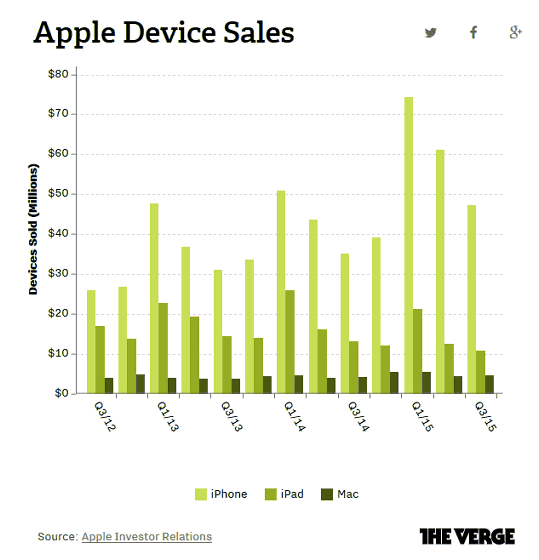 Below is a graph showing the trends in sales of iPhone and iPad sold by Mr. Benedict Evans tweeted. For the iPhone which accelerated acceleration with the iPhone 6, it is clearly understood that the iPad gradually decreased the sales volume in recent years.

A tale of two curvesPic.twitter.com/cax7fH0w9v

- Benedict Evans (@ BenedictEvans)2015, July 21
The iPhone sales volume in the third fiscal quarter (April to June) rose by 35% to 47.53 million units for the iPhone, 9.93 million units down by 18% for the iPad, 980% for the Mac, 480 Million units. However, Apple Watch's "Other Products" does not show concrete sales figures.




Apple has never disclosed any specific sales numbers for Apple Watch, but will not be announced in this closing settlement. It is Apple Watch who made a debut as rumor as a new product of Apple's first death after devoting promotion to that extent, but there is something special reason to not thoroughly clarify the sales volume, very It is a place to become. According to the forecast of Canalys, although the grounds are unknown to what extent it is close to the reference levelAbout 4.2 million Apple Watch shippedIs not it? It is anticipated that this is in fact the top position in the wearable industry if it is the case.

Also, in the fall of 2015 Apple Watch enhanced the various functions "WatchOS 2As it is scheduled to release, there are also possibilities to announce numerical values ​​indicating "momentum" such as actual unit sales and sales to that point in that case.

Set your favorite pictures as watch faces · Present new OS "watch OS 2" for Apple Watch full of new features such as e-mail reply, Available in the fall of 2015 - GIGAZINE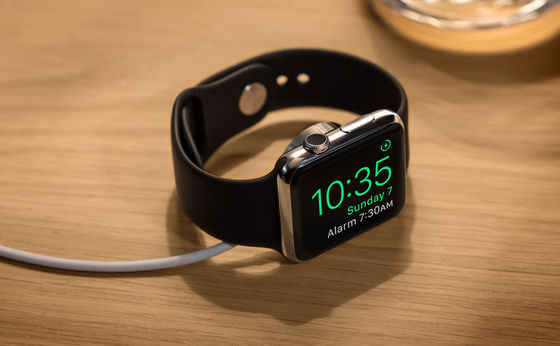 Apple seems to sell Apple Watch as much as possible, and as quickly as I can say, "Apple Watch can be used like this in such a situation" on the Official Apple channel of YouTube.

Apple Watch? Goals - YouTube(Set goals and goals for fitness exercise)


Apple Watch? Closer - YouTube(Keeping the relationship between parent and child close)


Apple Watch? Beijing - YouTube(It is always worn and useful for traveling overseas)


Apple Watch? Berlin - YouTube(Useful for traveling abroad)


Regardless of Apple Watch's sales trends, Apple's announcement in the fourth quarter reveals that sales from $ 49 billion (about 6 trillion yen) to $ 51 billion (6.3 trillion yen), gross margin It is expected that the incredibly high profit will continue as the rate is 38.5% to 39.5%.