IPhone unit sales reached record high Apple's 2017 Q1 settlement also updates sales record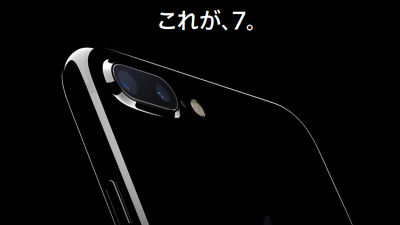 Apple announced the settlement of the first quarter of fiscal 2017 (October to December 2016). The iPhone sales volume, which accounts for the majority of Apple sales, recorded a record high with the arrival of iPhone 7, which is the first time in one year to increase compared to the same period last year.

Apple Reports Record First Quarter Results - Apple
http://www.apple.com/newsroom/2017/01/apple-reports-record-first-quarter-results.html

Apple sets revenue and iPhone sales records in Q1 of 2017 | Ars Technica
https://arstechnica.com/apple/2017/01/apple-sets-revenue-and-iphone-sales-records-in-q1-of-2017/

Apple's 2017 Q1 sales (from October 2016 to December 2016) increased 3% to 78.351 billion dollars (about 8.3 trillion 830 billion yen), a record high. Operating income is 23,359 million dollars (about 2.6 trillion yen), and earnings per share is 3.38 dollars.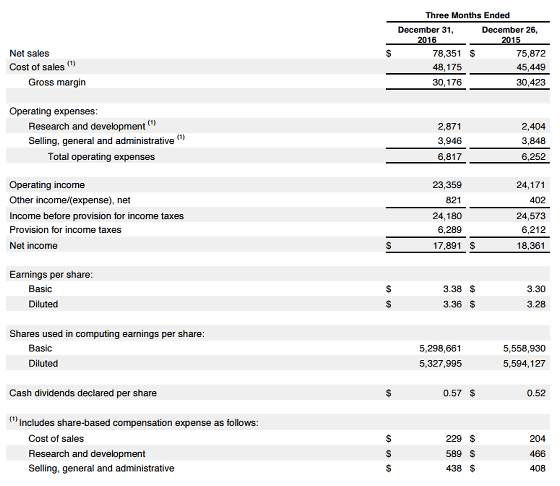 Breakdown of sales is as follows. The iPhone which recorded the highest number of record sales of 78.29 million units was 54.378 billion dollars (about 6.2 trillion yen), up 5% from the same period last year. Service areas such as Mac and iOS increased by 7% and 18%, respectively, while iPad was down 22% and down. By the way, "Other products" including Apple Watch also decreased by 8%.




The breakdown of each product in Apple 's profit is as follows. The iPhone, which accounts for about 70% of the total profit, is still in the dollar box state, and you can see the structure that iPhone's grades are directly linked to Apple accounts.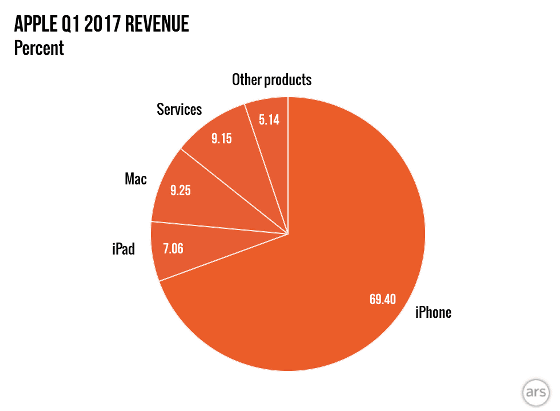 Graph of increase / decrease in iPhone unit sales shows a significant increase in Q1 (October to December term) of the fiscal year immediately after the release of the new model appearing in September of the year.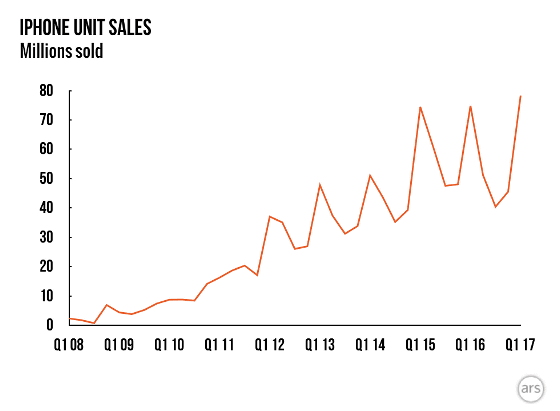 The number of iPad sales that are sluggish is on a downward trend.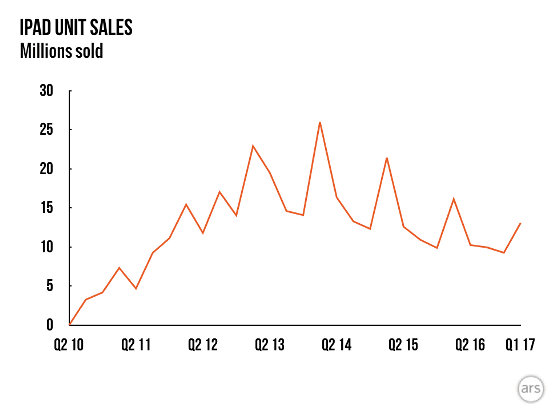 By region, sales in the US were 31.968 billion dollars (about 3.24 trillion yen), up 9% from the same period last year, whereas China is down 12% to $ 16.233 billion (about 1.8 trillion yen) As a result, the depression continues to be overtaken by Europe, which sold $ 18,521 million (about 2.87 trillion yen). The Japanese market has increased by 20% to 5,766 million dollars (about 650 billion yen).




In addition, CEO Tim Cook said on the settlement of Q1 in 2017, "iPhone recorded the largest sales volume ever, iPhone · service · Mac, Apple Watch sales were also the highest ever."