Apple will achieve record-high sales at the first settlement of account after the release of the 'iPhone XS' series, but stock prices will decline, from the next fiscal year we will cancel sales announcement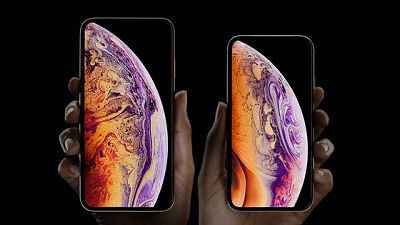 Apple announced the settlement of accounts for the fourth quarter of 2018 (September quarter). Immediately after the launch of iPhone XS / XS Max, sales reached 62 billion dollars (about 7.1 trillion yen) , a record high of 20% compared with the same period last year, and sales of remarkable growth in service-related sales are also about the highest ever US $ 10 billion (About 1.3 trillion yen), but Apple's stock price marked a 4% decline at a time due to overtime transactions, as it was sluggish than the market forecast. Also, from the announcement of the first quarter of 2019, it is announced that it will not announce individual sales volume of iPhone, iPad, Mac product.

Apple Reports Fourth Quarter Results - Apple
https://www.apple.com/newsroom/2018/11/apple-reports-fourth-quarter-results/

In the fourth quarter (Q4) of Apple's tax accounting period, the settlement of accounts for the period ending September 2018 (red frame) shows sales of US $ 62.9 billion (approximately 7.1 trillion yen) and net income of approximately 11,520 million dollars 1 trillion and 290 billion yen), EPS (earnings per share) is a record high of 2.91 dollars (about 328 yen). In addition, total sales (blue frame) of 2018 amounted to 265.595 billion dollars (about 30 trillion yen), and profit was 59.531 billion dollars (about 6.7 trillion yen).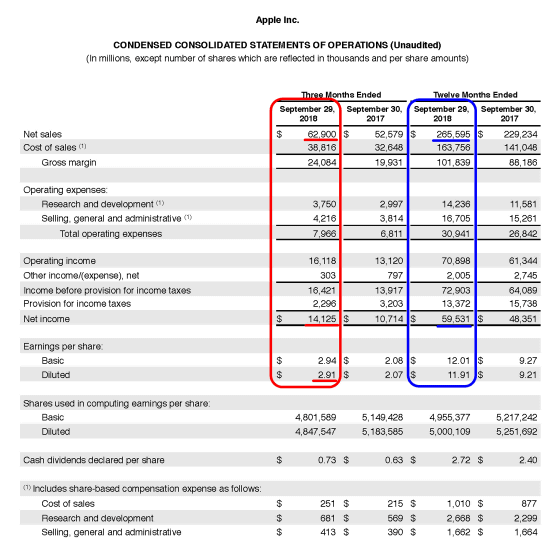 The growth rate of sales increased by 20% compared to the same period last year. The interesting thing is the number of units sold in the entire iPhone, compared with 46,880 thousand units sold this term, while the year-on-year figure was 46.67 thousand, the growth rate was 0% . Nonetheless, sales of 29% are growing, which means that the unit price per terminal is rising by 29%. Also, it is noteworthy that it is service related sales, which marked a growth of 17% compared with the same period last year, marking 9,991 million dollars (about 1.13 trillion yen) this fiscal year.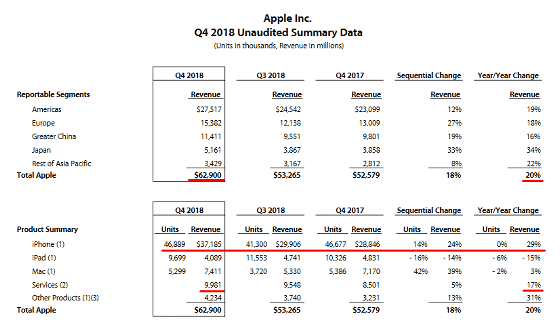 Regarding this content of this time, Tim Cook said: "We shipped 2 billion iOS devices, celebrated the tenth anniversary of the App Store, the most surprisingly profitable and profitable of Apple's history, in an amazing 2018 I'm excited to do an accounting report. "

In this earnings announcement, the outlook for the first quarter of 2019 (October to December 2018) was announced, but it turned out that the content was lower than the market expectation. The stock market reacted, stock prices fell by 4% on overtime transactions.

Apple stock fell, latest iPhone demand is lower than expected - Bloomberg
https://www.bloomberg.co.jp/news/articles/2018-11-01/PHJ8L06JTSFX01

Apple 's quarterly business outlook, including the holiday shopping basket on Sunday, is not powerful, suggesting that demand for the latest "iPhone" is lower than expected.

According to Apple, sales are forecast to be between 89 billion and 93 billion dollars (about 10 trillion to 10.5 trillion yen) in the first quarter in the first quarter. The average analysts estimated by Bloomberg was 92.7 billion dollars.

Apple's stocks fell more than 4% on a daily US stock market overtime transaction. Normal transaction closing price is 222.22 dollars, 31% higher than the beginning of the year. After the announcement of Apple 's financial results, the stock price of its suppliers also declined.

Another interesting thing is that Apple announced that it will not announce the number of units sold after the next fiscal year. Numerical values ​​such as Apple Watch and AirPods have not been announced so far, but from the next fiscal year we will finally not announce even the sales volume of iPhone, iPad, Mac.

Apple will stop reporting unit sales for iPhone, iPad and Mac from next quarter - 9to5Mac
https://9to5mac.com/2018/11/01/apple-stop-reporting-unit-sales/

In future, it seems that clues to know the number of terminals sold will be only forecast figures announced by a number of analysts. However, it should be mentioned here that there are manufacturers that have not announced sales figures other than Apple, and Samsung et al. Apple will also be in the same situation as other rival companies such as Samsung, but as mentioned above, it may be that there is something to do with the decision at the timing when "iPhone's unit sales growth rate is zero" Hmm.