Even though Apple achieves record highs, iPhone sales tend to slow down, what will happen next fiscal year?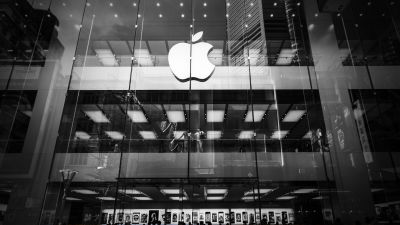 ByAllen Lai

We reported that Apple reported its settlement in the first quarter of 2016 (closed on 26th December 2015) and recorded the highest sales and profits ever. At the same time, it has also been pointed out that the sale of iPhone and other Apple products has become disappointing.

Apple - Press Info - Apple Reports Record First Quarter Results
https://www.apple.com/pr/library/2016/01/26Apple-Reports-Record-First-Quarter-Results.html

Apple's iPhone growth hits a wall - CNET
http://www.cnet.com/news/apples-iphone-growth-hits-a-wall/

Apple reports a quarterly profit of $ 18.4 billion, the largest in history | The Verge
http://www.theverge.com/2016/1/26/10828134/apple-earnings-report-first-quarter-q1-2016-record-profit

Apple announced the quarterly closing of December 26, 2015, announced sales of $ 75.9 billion (about 8.99 trillion yen) and profits of $ 18.4 billion (about 2.1 trillion yen). Tim Cook, CEO, said: "Over the history of Apple, we achieved the biggest quarter, thanks to the world's most innovative products such as the iPhone, Apple Watch, Apple TV etc. Accelerating the service Record high record has been achieved and active Apple handsets have reached one billion marks, "he said, stating that it was the best record ever.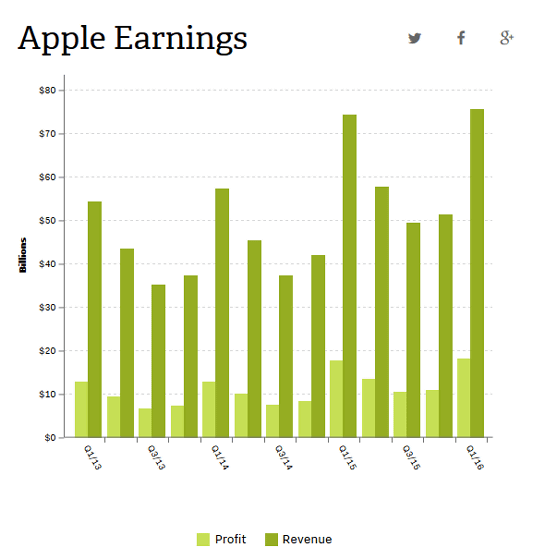 The breakdown that supported the highest settlement of accounts is a new record that updates 74.47 million units of iPhone sales to 74,770,000 units in 2015 Q1 (closed on December 26, 2014) which was the highest so far.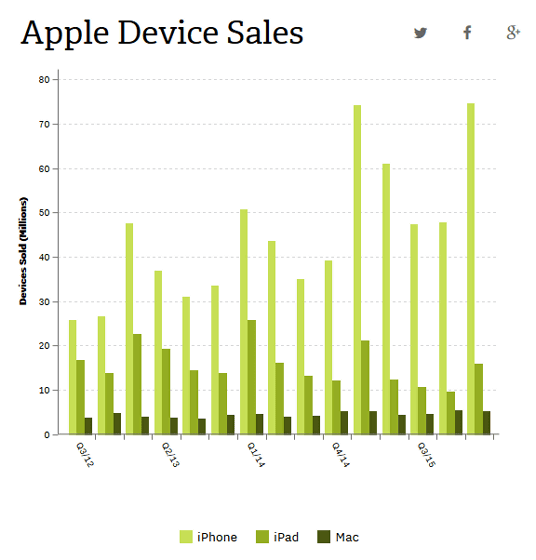 However, regarding the iPhone which recorded the highest sales volume ever,FortuneAs you can see from the fact that many of the analysts surveyed surpassed 75 million units, it is evaluated that it was a result that was lower than the forecast of the market.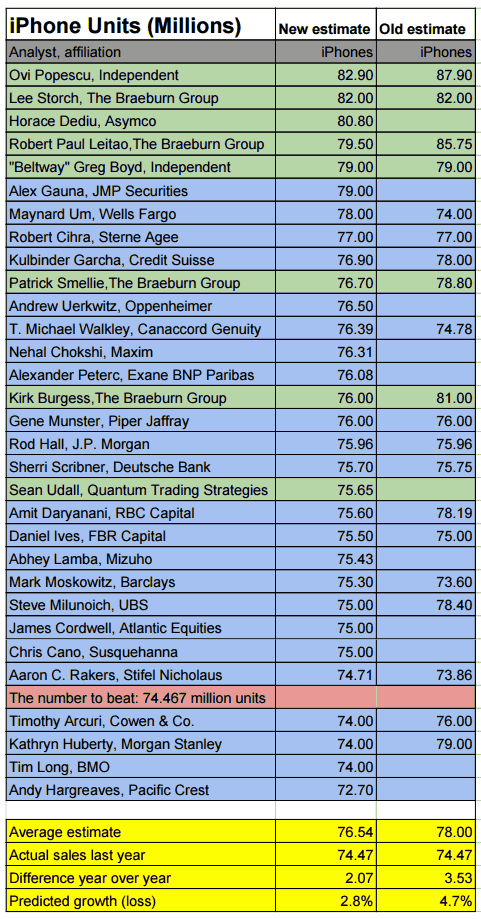 Also,The VergeAccording to data by country, it is clear that the pace of sales of Apple terminals, mainly iPhone, is slowing down. Sales of the dollar box iPhone, which accounts for the majority of Apple's profits, were lower than the same period last year in the US and Japan. Thanks to the strong demand for iPhone in the Chinese market, the iPhone barely appears to have recorded the highest sales volume ever.

For the iPad whose sluggishness continues, it is the first time in a decline that is 21% lower than the same period in 2015,IPad ProIt seems that the introduction of iPad did not lead to sales increase of iPad. Likewise, Macs also showed a 3% down in comparison with the same period last year, and the sales situation of Apple handsets is on a downward trend despite record sales. Apple does not disclose Apple Watch's sales volume, sales volume and revenue this time.

Device shipments (with trailing 4 quarter average)Pic.twitter.com/pPQFUwIvnN

- Horace Dediu (@ asymco)2016, January 26
Although it is the record-high quarterly settlement of accounts, Apple's sales are slightly less than Wall Street's forecast of 76.6 billion dollars (about 9 trillion 700 billion yen). Also, since the launch in 2007, iPhone sales, which have continued to increase sales volume, will decline for the first time compared to the same period of the previous year.

While the rest of iPhone sales begin to appear, the leak information that a 4 inch iPhone is newly introduced also is ant.

Possibility of becoming a high-spec model exceeding iPhone 6 with the new 4-inch "iPhone 5se" with A9 chip - GIGAZINE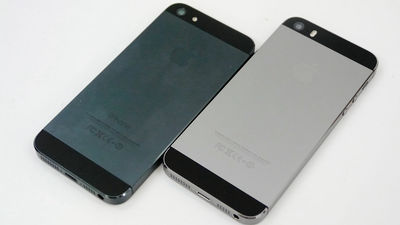 Apple is overwhelmingly profitable, maintaining a high profit margin, and there is no doubt that the financial situation is perfect, but how to take advantage of the iPhone-centered hardware business and continuing strong software services And the cloud business, and whether we will enter new services such as automobiles and VR, etc. It is a lot of attention.