Apple makes the best third-quarter earnings ever with its expensive iPhone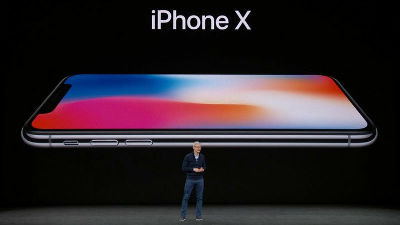 Apple announced the settlement of accounts for the fiscal year ended June 2018. High priced iPhone sales expanded, and profitability of iCloud and other service divisions further increased, making it the "best Q3 accounts ever".

Apple Reports Third Quarter Results - Apple
https://www.apple.com/newsroom/2018/07/apple-reports-third-quarter-results/

In the third quarter (Q 3) in the third quarter (Q 3) of Apple's tax accounting, sales for the fiscal year ending June 2018 were $ 53.27 billion (about 6 trillion yen), sales growth rate was 17.3% compared with the same period last year, net profit It was 11.52 billion dollars (about 1.2 trillion yen) and EPS (earnings per share) was 2.34 dollars, both of which were extremely favorable, exceeding market expectations. Tim Cook, CEO, commented, "I am excited to record the best results of Apple 's Q3 accounts history, recording a growth rate of two - digit percent." In addition, under the strong financial results, Apple stock price has been up 3% on overtime transactions.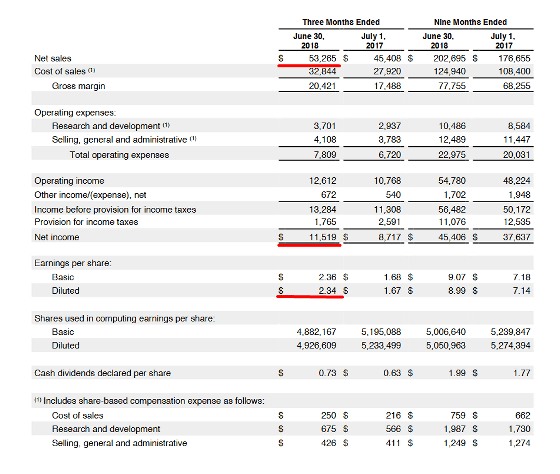 Looking at the contents of the highest Q3 accounts ever, the sales volume of iPhone, which is the most important product, was slightly lower than the market expectation of 41.3 million units, but it maintained almost the same unit sales as in the same period last year. Despite similar sales volume, the unit sales price exceeds the market forecast as an average of 724 dollars (about 80 thousand yen), thereby securing a high profit margin. By shifting to iPhoneie of high price range over 1000 dollars (about 110,000 yen) such as iPhone X, we succeeded in raising huge profits without earning sales volume.




Furthermore, it should be noted that sales of service divisions such as iTunes Store, Apple Pay, Apple Music and others have increased by 31% to 9,548 million dollars (about 1.1 trillion yen) compared to the same period last year. It has become clear that not only the dollar box's iPhone but also the service sector's earnings structure has been further improved, including paying more than 1 billion times for Apple Pay settlements, which is about three times the year-over-year period.

Sales by country are increasing in both regions, with 20% in the US, 14% in Europe, 19% in China, 7% in Japan and 16% in other Asia Pacific.




Apple was the best Q3 settlement of accounts, but if the new iPhone is released on schedule in September 2018, it will reflect the sales of the new iPhone 2019 by 2019 with market capitalization of 1 trillion dollars (about 110 trillion yen) It seems that there is a possibility of becoming a company.