I went to the "Pink Belly the Park Front Hotel Shop" in Osaka for the first time in a frozen yoghurt which is free topping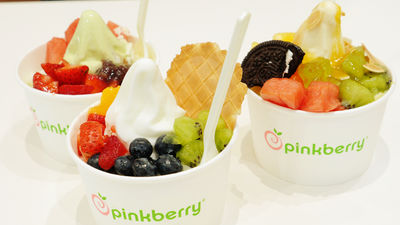 To the frozen yoghurt such as Strawberry · pomegranate · chocolate, the yogurt shop from the United States that you like toppings whatever ingredients such as fresh fruits cut at the store, granola · gumi · honey etc. is "Pink Berry"is. Tokyo Odaiba / Fukuoka Following Ohori Park, Pink Berry Kansai's first landing shop, which is the third Japanese shop, will open on July 22, 2015 (Tuesday) on the official "Universal Studios Japan"The Park Front Hotel"Since it is said that it will open in the premium shop area, I participated in the free distribution event for the first 100 people only held 1 day before the opening.

~ Fun customization, light and refreshing Frozen yogurt ~ Pink Belly the Park Front Hotel store Kansai's first opening store
http://www.royal-holdings.co.jp/ir/backnumber/pdf/news/2015/news_201507013.pdf

Pinkberry | Pinkberry Japan
http://pinkberryjapan.com/

The address of Pinkberry the Parkfront Hotel store is "Osaka City Konohana Kujimaya 6 - 2 - 52 - 303". It is about 2 minutes on foot from JR Line Universal City Station.


On the 21st (Tuesday) of the opening day, 100 first-person free distribution events such as the following were announced on Pinkberry's Facebook and Twitter as follows.

【Today at 2 pm the first time 100 people The Park Front Hotel store free delivery】 You can choose from 6 different flavors ♪ Original, Strawberry, Pomegranate, Passion fruit, Chocolate, Green tea. Passion fruits are limited in summer. We also serve fruits!Pic.twitter.com/JJhze3sKOb

- First day arrival at 100 on the 21st 21st December @ Osaka (@ pinkberryjapan)2015, July 21
So I arrived at 14 o'clock when free distribution began. Many customers are already making rows. On the day we had reached the planned number of 100 people around 15.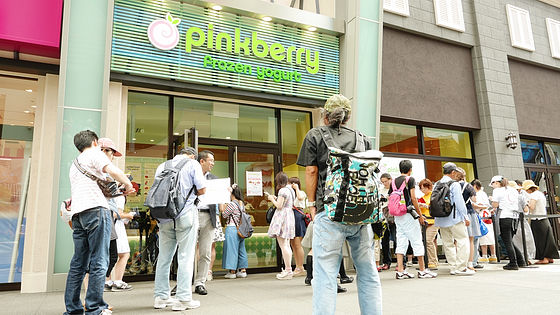 Distributing the size of frozen ice as long as you wait. I like pink berry 's Facebook page as a condition! Or just follow you on Twitter account, so people who did not know the announcement also participated by seeing the queue.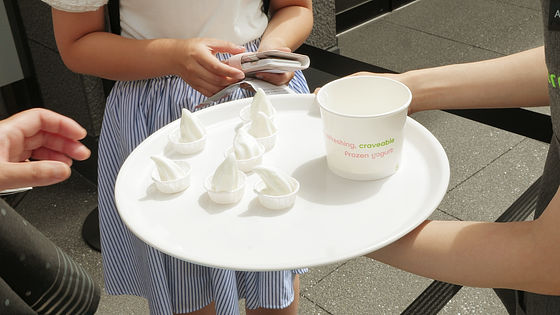 When entering the store, there is a frozen yoghurt order counter in front of you, feeling to order while listening to a clerk's recommendation etc.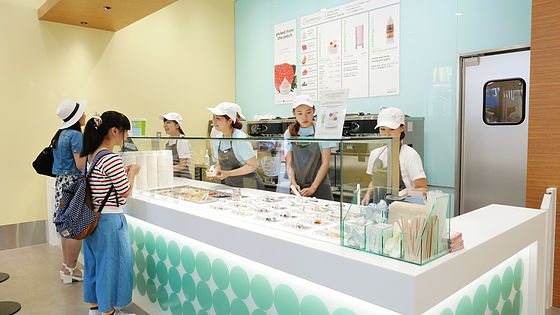 The base frozen yoghurt can be chosen from six types of "original" "strawberry" "passion fruit (summer limited)" "pomegranate" "chocolate" "green tea". These frozen yoghurts are said to be made of fat-free milk and non-fat yoghurt.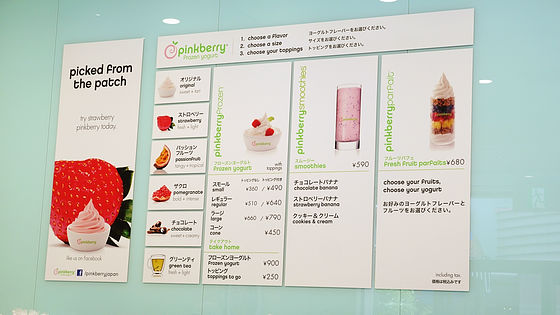 Container for frozen ice can choose cone or cup, cone from left is 450 yen, cup small with topping for 490 yen, regular topping with 640 yen, large for 790 yen. The bucket on the right is for takeout and has a topping for 1150 yen.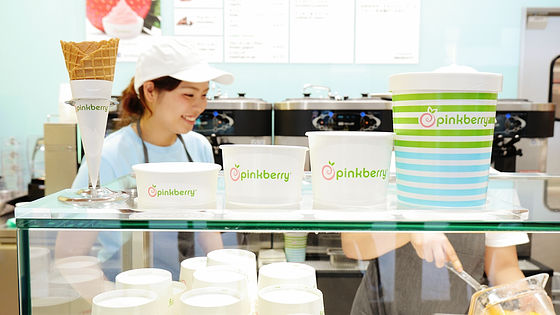 The inside of the store feels like this, stylish design. There are 30 seats in all, but you can eat it on the bench outside the shop OK.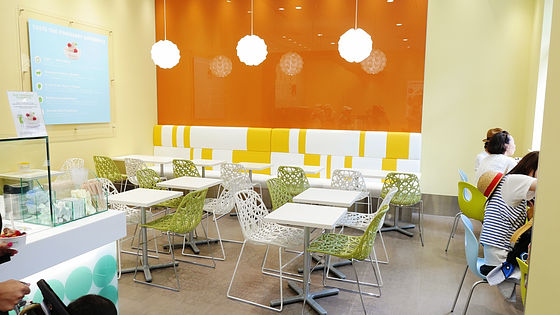 First of all, I will tell you the base and the size in the counter. It is also possible to taste if you are unsure what to do.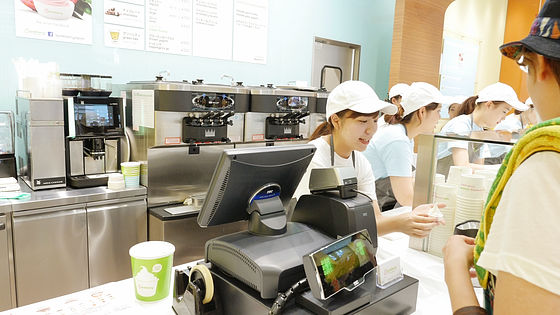 And if it is set to "with topping", a mechanism that lets you put as much topping as possible on the counter as the container permits. First of all, I will put fresh fruit that only the delicious part is cut at the shop. The contents change according to the season, but this time there were kiwi, watermelon, orange, dumpling, banana, pineapple, strawberry, blueberry. Although it is not understood even if asked as "Do you want toppings?" For the first time, I feel that I will complete the original topping while referring to the recommendation taught by the staff.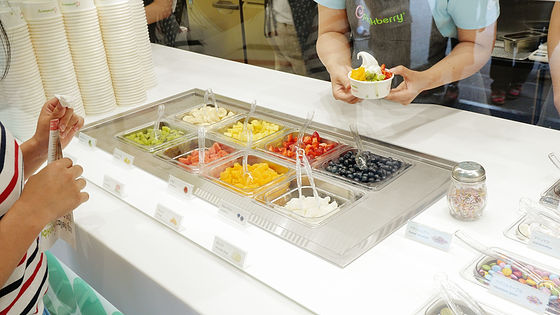 If you lie sideways, more toppings will appear, so if you put too much fruit you can not make it too much.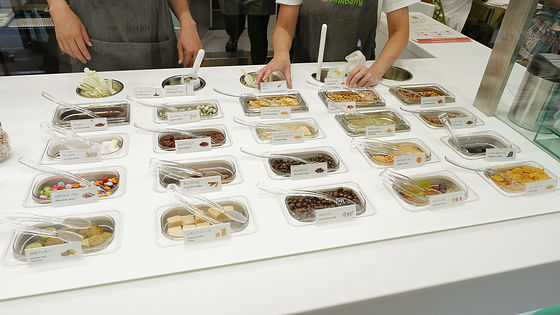 What kind of things are there, what a "colorful gummy (Haribou)" ... ...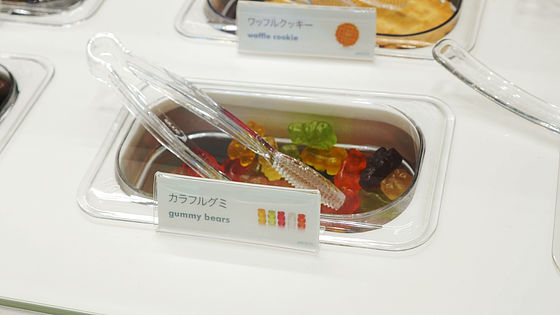 "Matcha cookie"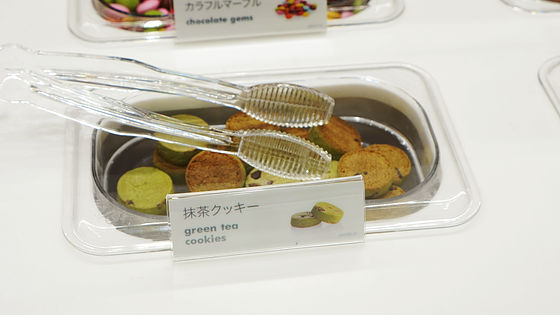 "marshmallow"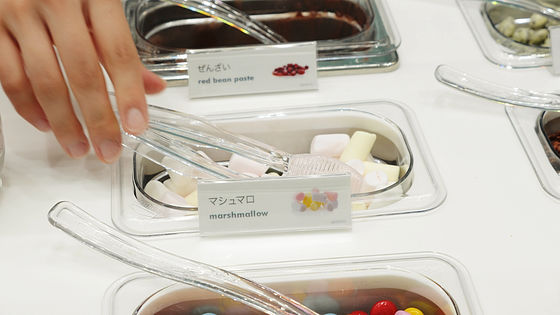 "Waffle cookie"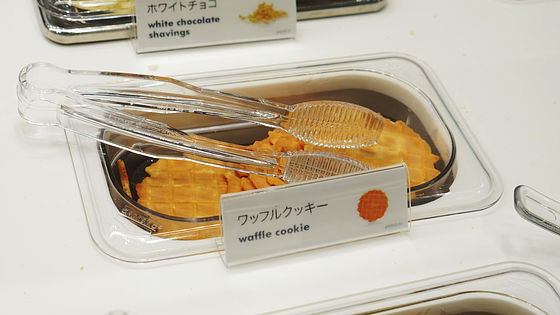 "Almond Slice" "Roasted Coconut"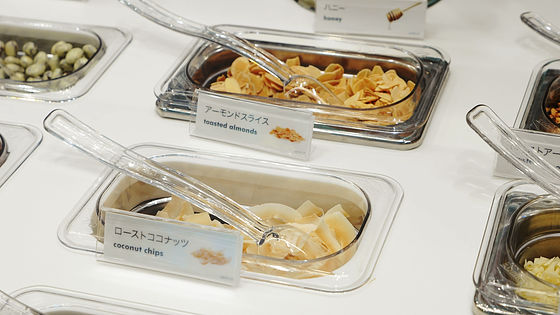 Such as' Raisin Granola ',' Cookie & Cream '(Oleo)' and so on, from ingredients that are likely to fit yoghurt to American items.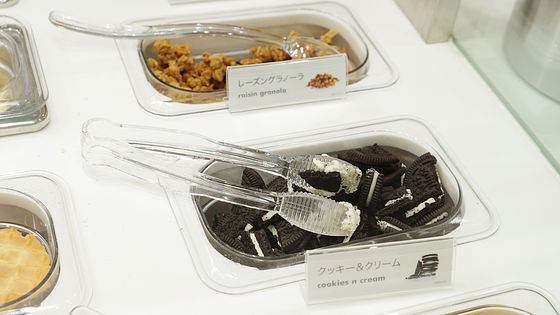 You can also have "pomegranate sauce" "honey" "mango sauce" "chocolate sauce".



That is why I made this made lost. From the left "Matcha" "Original" "Passion fruit" is selected as the base.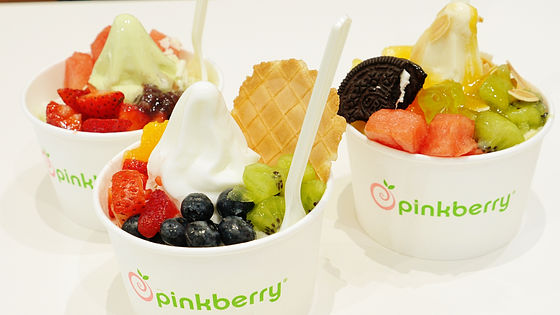 First off from the original frozen yoghurt. Orange · strawberry · blueberry · kiwi · waffle cookie is on the top, I tried to leave all of this to the staff.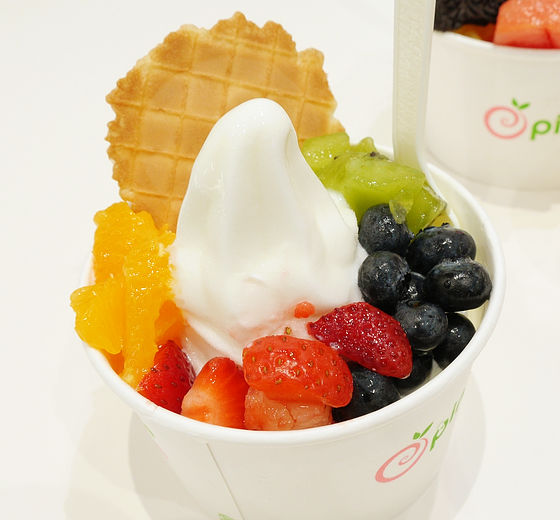 When trying to eat yoghurt alone, the frozen yoghurt chilled to the quinch is perfect for hot seasons. It is like feeling sweet yoghurt as it is, but because it feels a mild richness of milk, it is a delicious dessert with a delicious flavor that is also like a soft cream.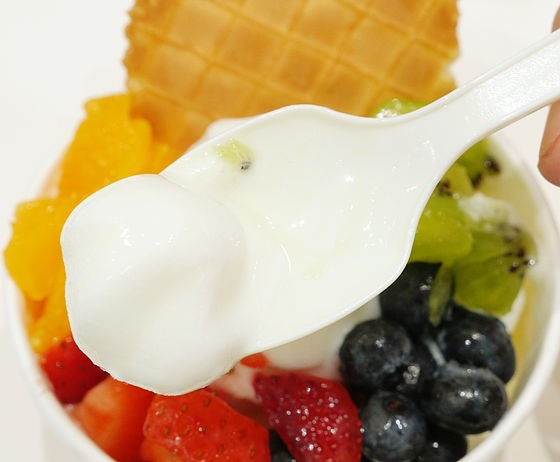 None of the fruits in the topping can not match with yogurt, especially the combination with kiwi is the best. Furthermore, do not use canned fruits at all, use what is not frozen even once in stock. Furthermore, it cuts so that the white part of watermelon and kiwi does not enter at the store, so that only "delicious part" of fresh fruit can be eaten.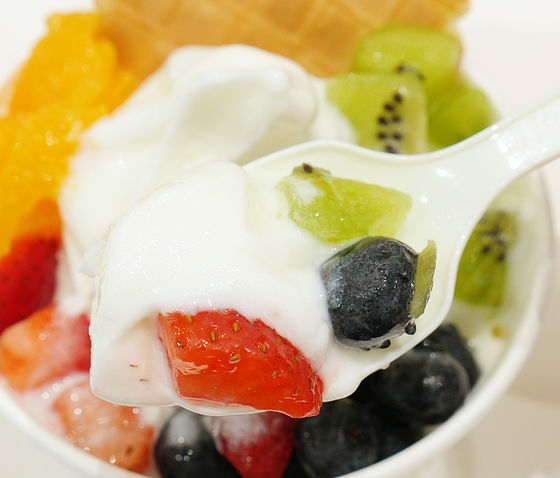 The waffle cookie had a crispy texture and I thought "It was OK even if there were about 3 pieces ...", but it should be OK for the next topping.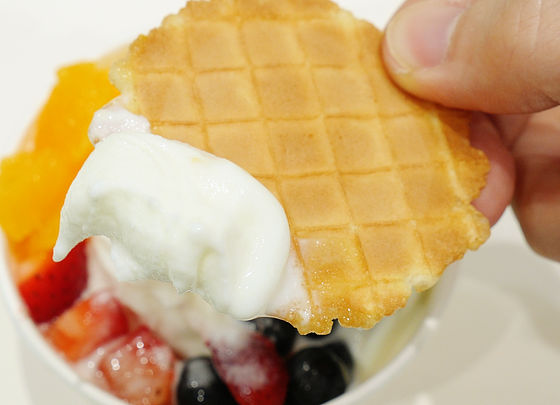 Next, green tea which can not predict the taste. I tried topping with watermelon · dumpling · strawberry · zenzai · roasted coconut.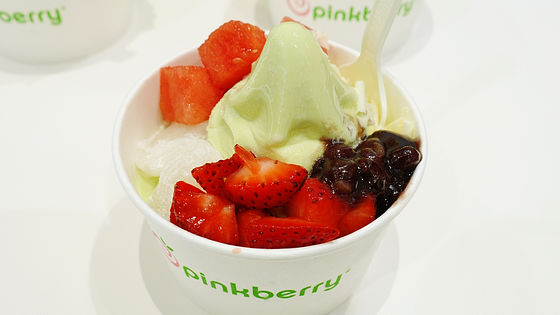 Firstly Paculi is green tea yogurt. A taste of authentic green tea is felt, and if it is not told, matcha ice cream and mistake flavor. This Matcha or Chocolate has a moderately sweetness compared with others, and it is said that even a person who is not good at sweet things is a flavor that can be eaten.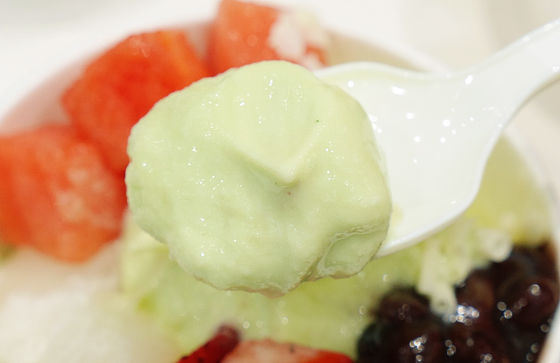 How is compatibility with fruits? As I tried eating it, it is yogurt so I do not feel any discomfort ... ...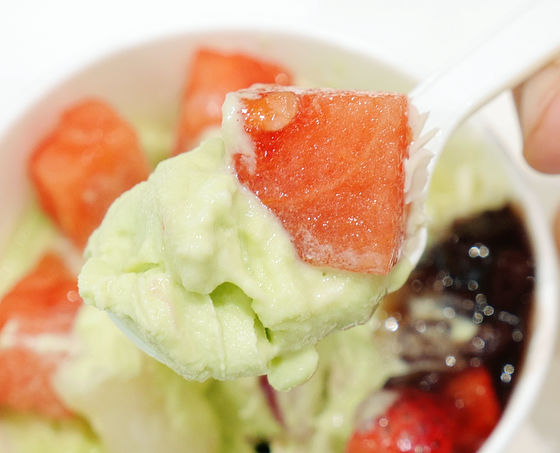 The compatibility with Japanese-style toppings such as zenzai and gyuhi is outstanding. There were also other matches like cookies, so green tea seems to be good when attacking Japanese style topping.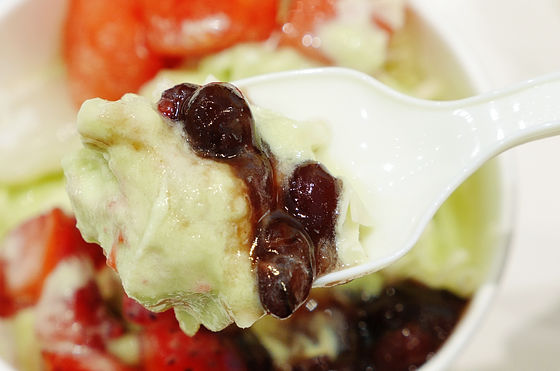 And summer limited passion fruit. Because I tried ordering "Why are you so lucky that you can only put on what you say now?" The price is the same no matter how many topping it, so you can not try it. Cookies & Cream · Colorful gummy · Watermelon · Kiwi · Pineapple and ...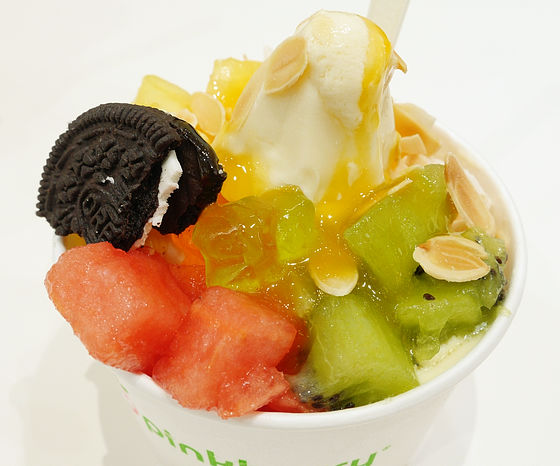 Almond Slice · Roasted Coconut · Mango Sauce It is a luxurious dessert with plenty of morimori.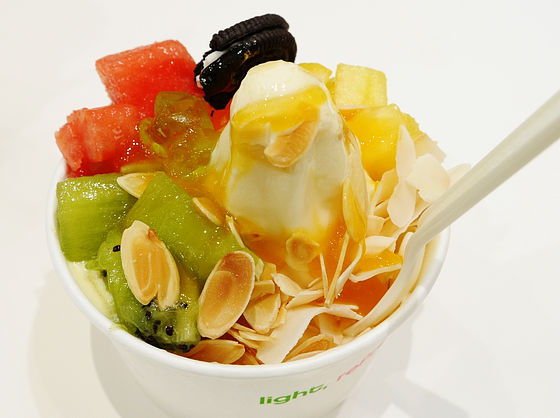 I tried to taste passion fruit alone, but somewhere topping comes with everywhere you punch with a spoon. Passion fruits themselves taste like "sour grapefruit", a faint summer flavor with a bitter bitter and sour taste.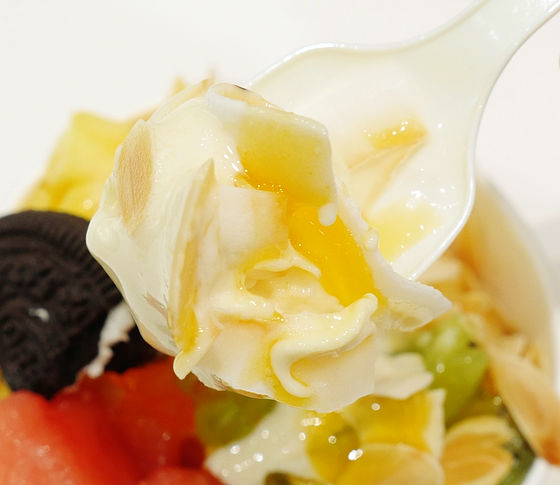 Gumi becomes colorful and gorgeous, and you can enjoy a unique gumiy texture different from fruit.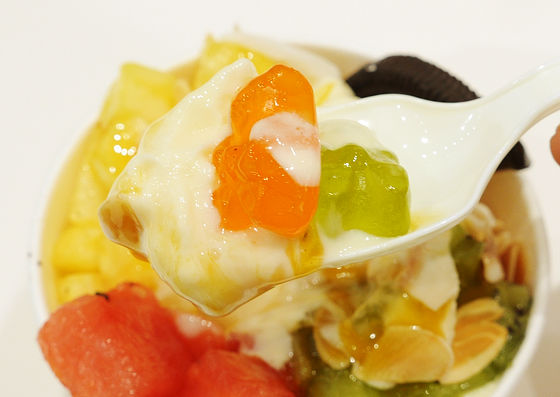 The compatibility of passion fruit and fruit is pretty good. When eating kiwi or pine fruit, you can feel that you are using only sweet and edible parts.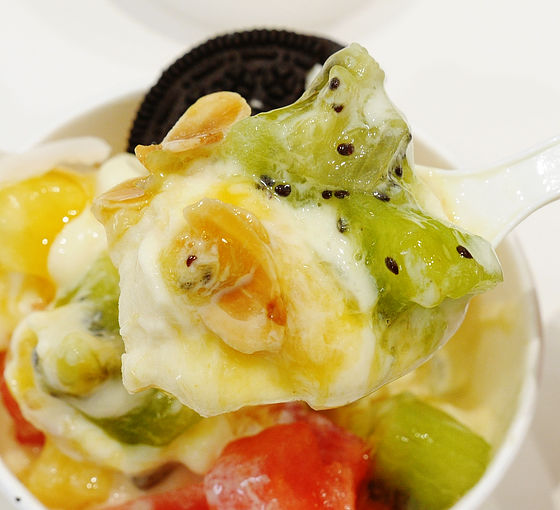 Almond slices and roasted coconut can enjoy not only a crispy texture but also a flavorful fragrance so it will suit any flavor.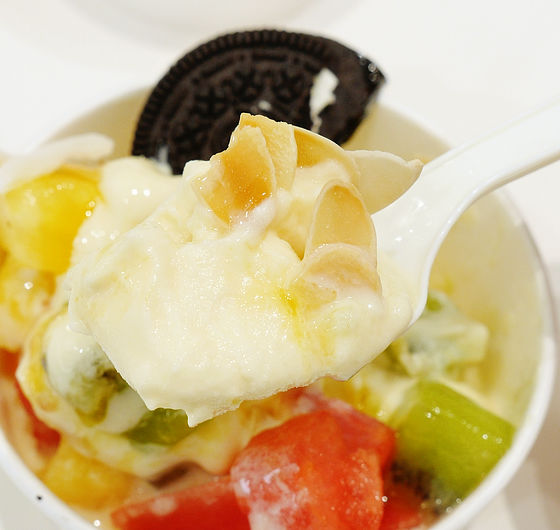 The feeling of Zakuaku of Oreo gathers well. As expected it will be difficult to understand what toppings as much as this, so you should be able to taste the taste of frozen yoghurt and fruits in moderation.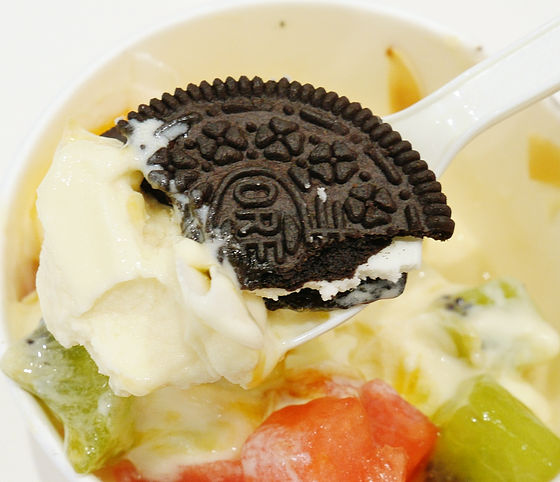 Toppings tend to have eyes on fruits, but it is recommended to moderately add texture such as crispy cookies, waffles, granola, crunchy coconuts and almonds. This time we ordered everything in regular size, but with topping it should be satisfied with small size or regular size. It is also ant to share large size with two or more people. Please note that the Pink Belly the Park Front Hotel will be open from 10 o'clock on Wednesday, July 22, so please be sure to visit the anxious person.