I tried to eat "MINISTOP × Koikea Columnoch Collaboration" product that you can enjoy columnar chocolate rice balls, chicken and confectionery buns more than you imagined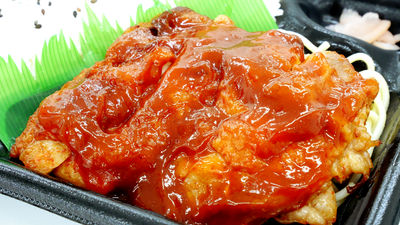 Koikeya which is a synonymous existence of spicy potato chipsColumnoAnd Ministop collaborated "MINISTOP × Koikea Column Choo Collaboration"Started on July 7, 2015 (Tuesday). In the collaboration campaign, it was said that three kinds of packed box-ome lunch boxes, rice balls, chicken and sweet breads were sold, so I tried to eat what kind of taste they purchased by haste on the release date.

MINISTOP × Koikea Column Choo Collaboration | Campaign · Sale | MINISTOP
http://www.ministop.co.jp/campaign/karamucho/

That's why I bought a collaboration product + columno. There are six kinds of collaboration products in all, but "Columno and Potato Denish" will be sold only in Tohoku and Kanto so you can not get it.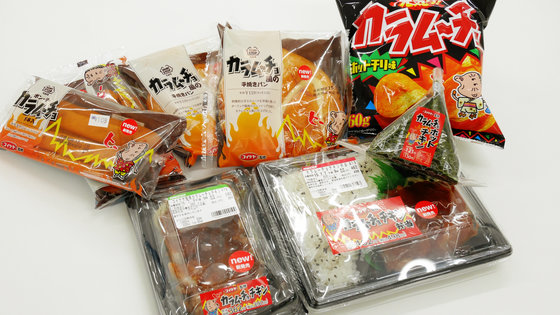 That's why "Columno Chicken Bento(498 yen including tax) "I will eat from.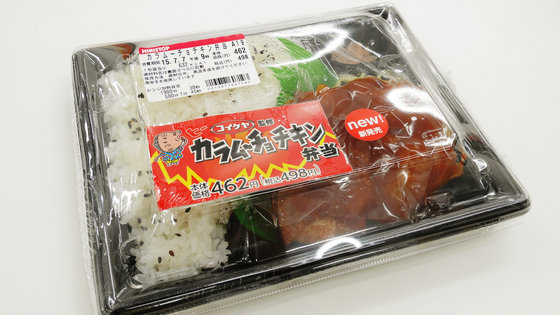 The calorie per package is 632 kcal.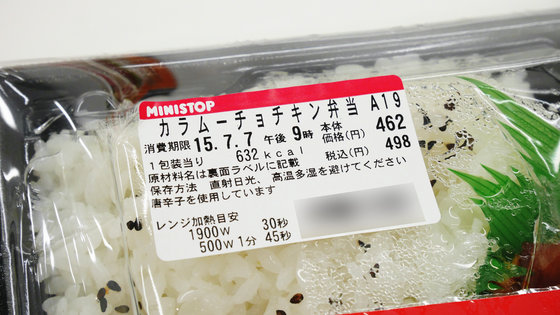 Raw material names include "chicken with chili" and "sauce with peppers".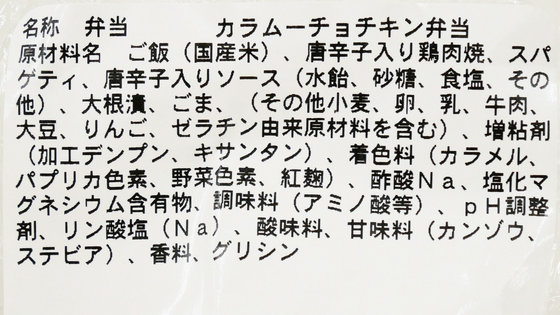 It is a simple lunch box with rice, chicken, pasta and pickles like this.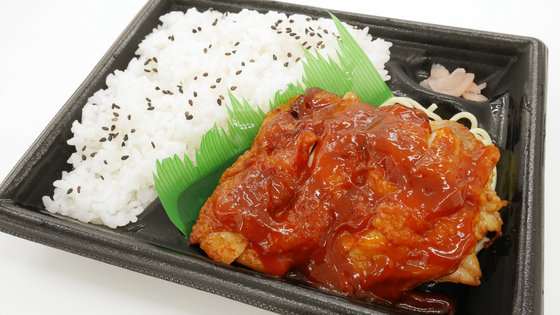 A lot of chili pepper sauce for chicken.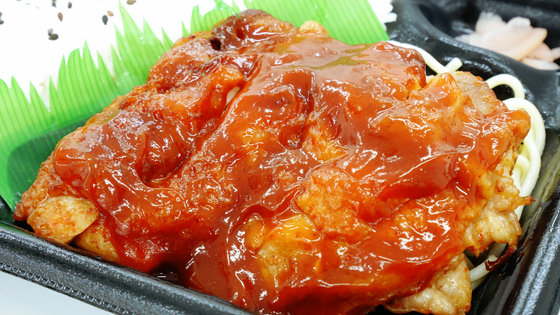 That's why when eating with paclit, spicy seasoned sauce that chili peppers worked like coldcolo is outstandingly compatible with chicken. When eating alone as a source, it is harder than the original columnar shooto, but by eating with chicken & rice, the impression that it is finished in a spicy enough to feel a spicy feeling moderately.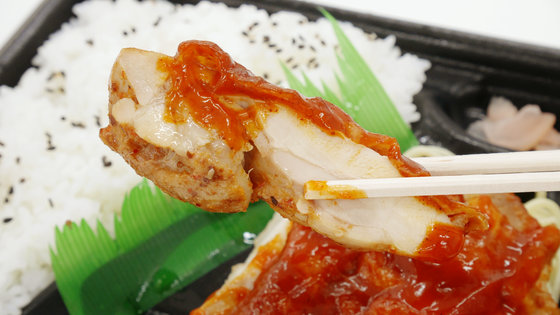 In order to see how close the taste is with the column-up, we prepared the head-up columno.



"Columno Chicken Bento" has been completed as a boxed lunch more than I imagined, with a challenge to chicken and rice with a chilli sauce at a level that I wanted to reprimand myself that I was despising "a collaboration of sweets and lunch ...". However, because it is not potato chips, there is nothing like a fragrant aroma of fried potatoes unique to columnochos.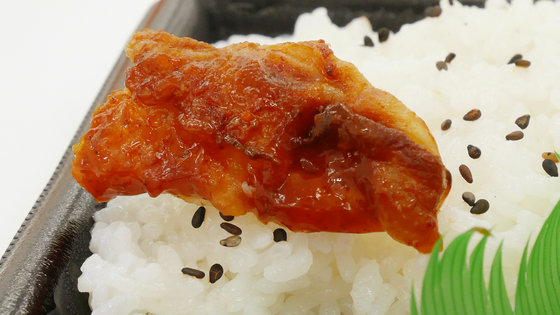 next"Columno Hot Chicken(130 yen including tax) "I will eat.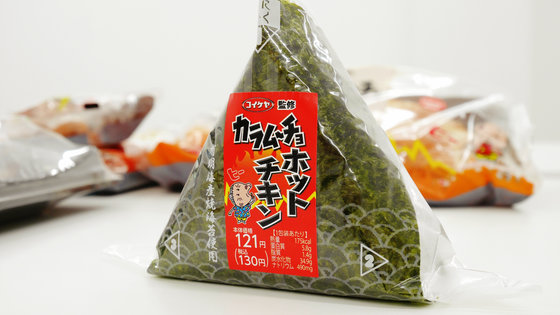 "Columno Hot Chicken" is onigiri as it looks, with roast chicken seasoned with chilli sauce inside.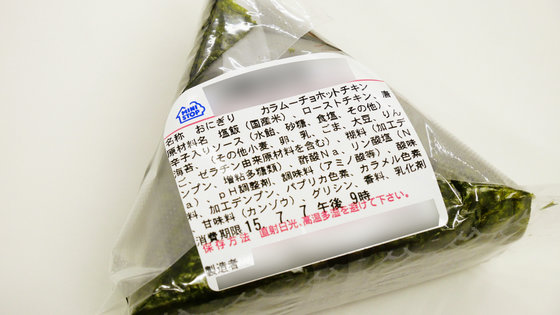 From the top of the rice ball, the rice stained red turned out to be hidden.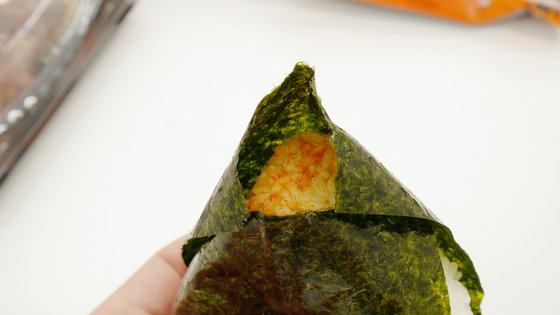 It is the same size as ordinary convenience store onigiri.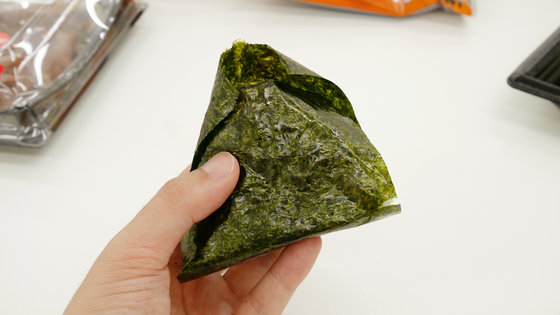 I tried it at once. "Columno Hot Chicken" is spicier and less spicy than "Columno Chicken Bento", people who are not good at hot things looks nice to challenge here. However, as the taste of red pepper steadily goes through my nose, I do not give up. The roasted chicken ingredients are more pretty than the chicken that was in the box lunch and the texture is good. Although it feels a bit far from the head office's columno, there is no doubt that if you eat it without being told, there is no such discomfort even if it is sold as a convenience store onigiri, "Do you have such rice balls?"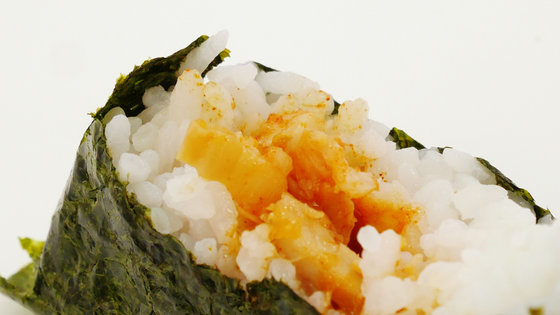 continue"Columno Chicken(390 yen including tax) "I will eat.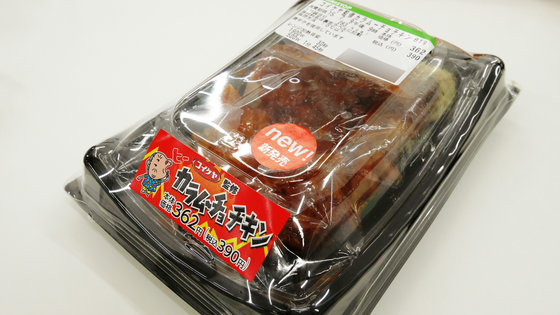 When opening with Pakari, plenty of chilli sauce is put in 5 chicken, pasta is spread under it.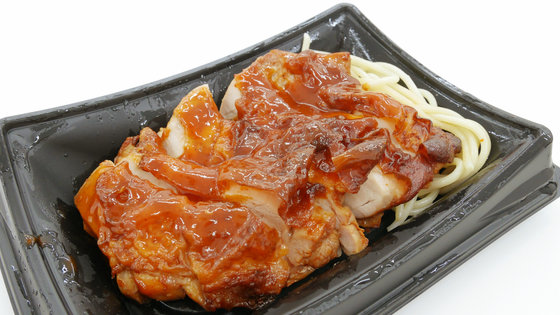 This is exactly the same as chicken in "Columno Chicken Bento". It is good to buy when you have rice, but no side dishes.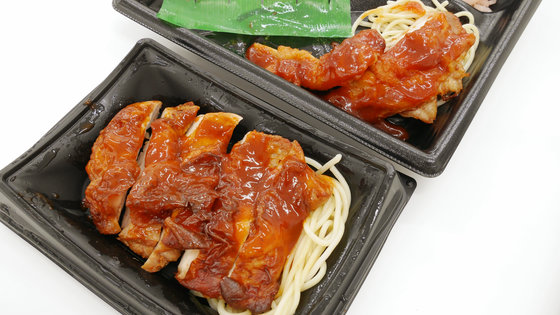 Next is "Sweet Bun"A flat-finished bread with a Colocho style(128 yen including tax) "I will eat.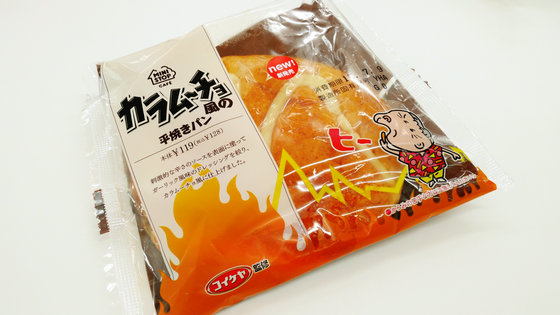 In the package, the letters of "Please be careful for those who do not like trash."



This is raw material name and nutrition ingredient display. Calories are 203 kcal per bag.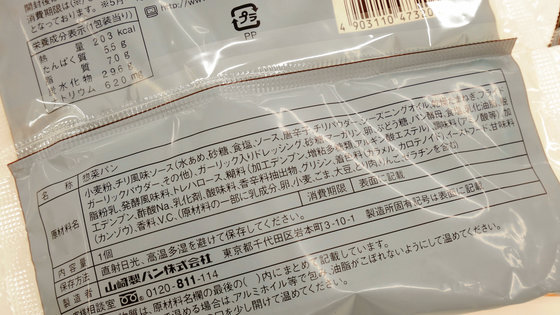 It is like this when you take out of a bag and you can understand that bread is very fluffy without eating it.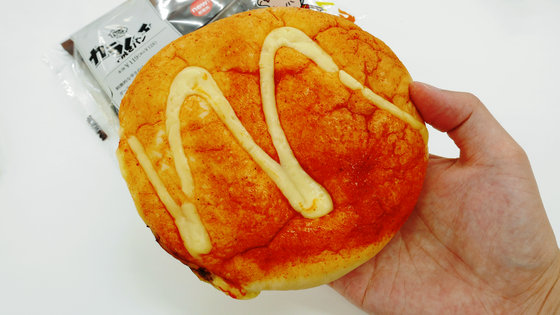 When eating it actually, the flavor of chili sauce and garlic thoroughly applied to fluffy bread will attack the guts and nose. "Columno-style flat-baked bread" seems to be preferred for people who like hot peppers at a level similar to or slightly weaker than the chilli sauce of "Columno Chicken Bento". Mayonnaise dressing painted on bread has a taste similar to that painted on "Mayonnaise flavored delicatessen bread", etc. It has excellent compatibility with chili sauce that is painted throughout the bread.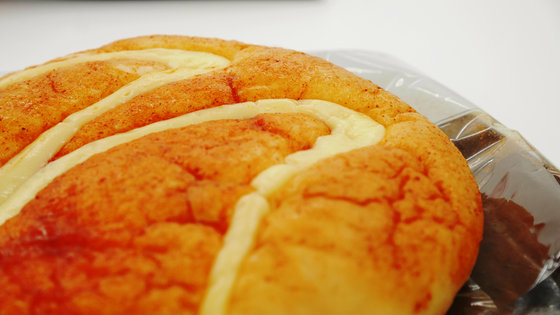 The end is "Pon de Colcio(108 yen including tax) "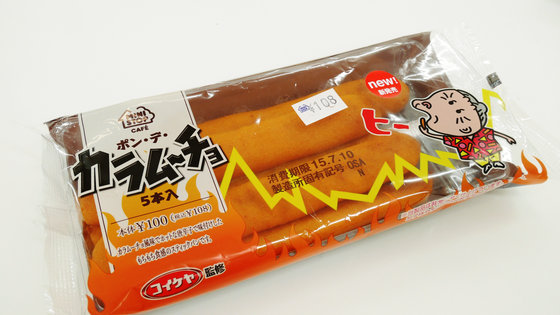 41 kcal per one.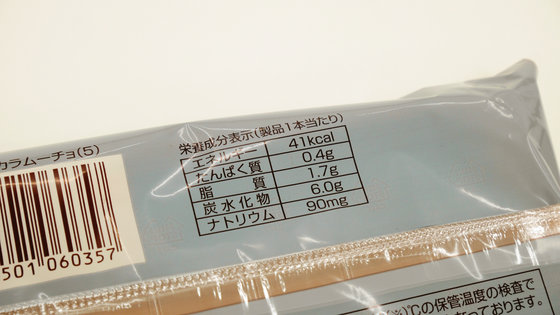 Looking at the raw material name, it seems that there are 5 pon de cratio in the bag like this.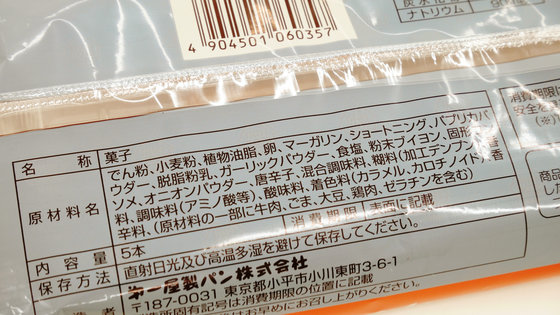 Opening the bag spreads the intense fragrance of garlic not around chilies.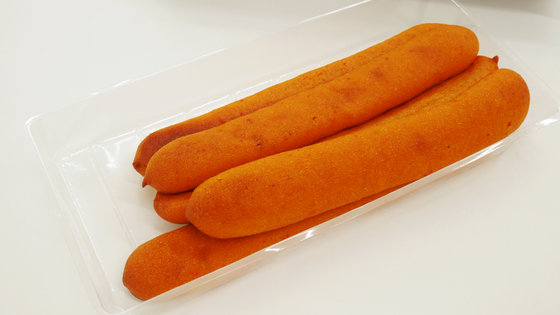 If you hold it with your hands it will be bent with your fingers.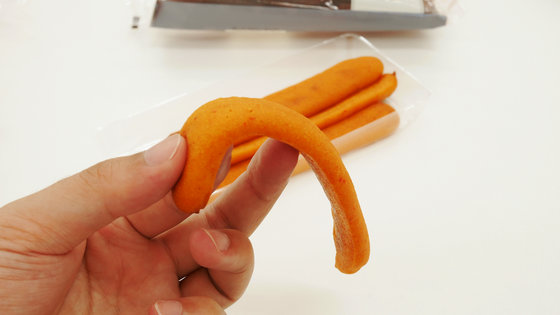 Pon de Colcio is the most fragrant among collaborative products, yet it is the hardest. Garlic prevails over taste than hot, I feel the pain is very weak compared to other collaborative products. The compatibility of sticky bread and garlic with rich texture is quite nice.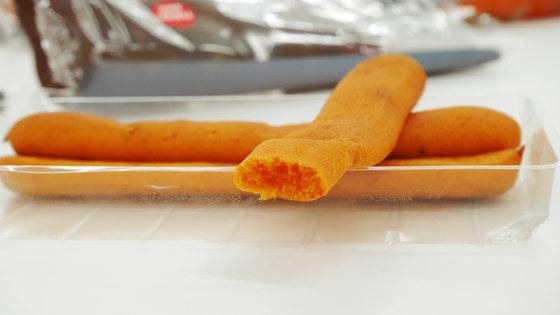 The period of "MINISTOP × Koikeya Column Choo Collaboration" is 14 days from July 7 (Tue) 20 July (Monday) 2015, "Columno Chicken Bento", "Columno Hot Chicken", " "Flat grilled bread" is a mini stop in the whole country, "Columno Chicken" is a ministop of Tohoku, Kanto, Tokai, Kinki and Shikoku, "Pon de Columno" is a ministop of Kanto, Tokai, Kinki and Shikoku, "Columno Potato Denis" It is sold at Ministop in Tohoku and Kanto.