We ate "Shichish Vegetable Chicken Cutlet Rice Bowl" which is comfortable with crispy vegetables and chicken cutlets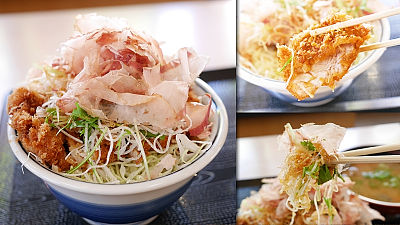 Tonkatsu specialty store "Taya" started the "Limited Chicken Vegetable Chicken Scallions Set" and "Shichish Vegetable Chicken Katsu Bowl" on the limited time menu on May 22, 2015. I chose to eat and go to a store to see what kind of menu the menu was made with "radish soy sauce" from the top, with radish and mizuna chopped finely on the chicken cutlet on the fish and onions.

Pork cutlet and rice bowl "Koya" official website | Limited time only! It is! Chicken cutlet on chicken vegetables
http://www.arclandservice.co.jp/katsuya/fair/fair.html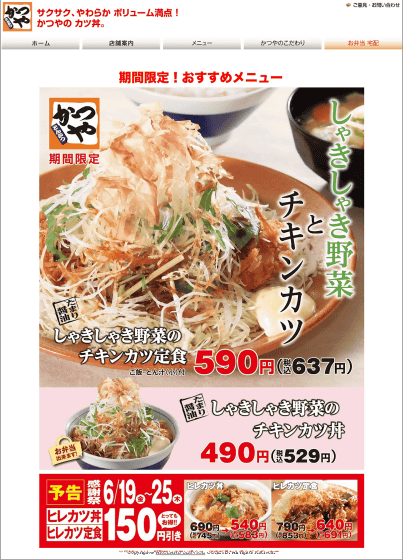 Arrived slightly. Even in the climbing in front of the store, I appeal a new menu extensively.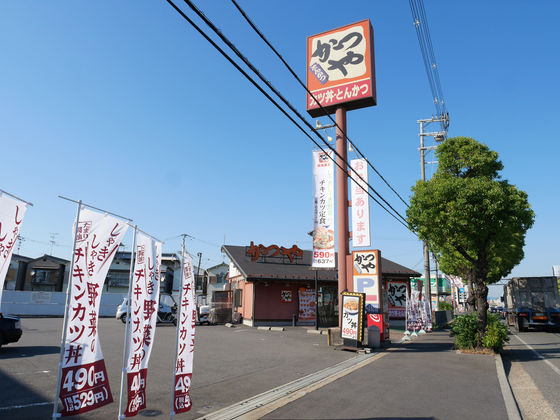 Of course the new product appeal does not come true even at the shop front. There are two kinds of the new menu, a set menu with rice and small broth (small) set, and a donburu menu for single item.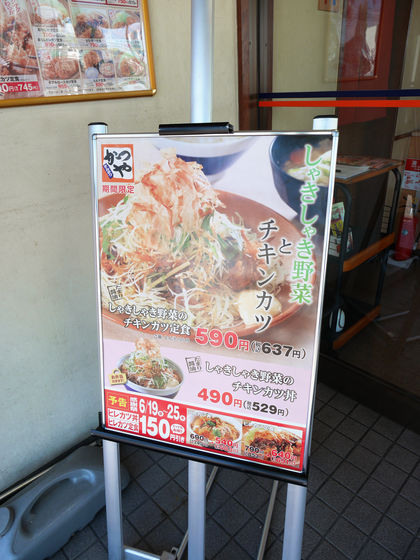 This time, I tried ordering "Chicken vegetable chicken cutlet on rice bowl" (529 yen including tax) and "Toru soup (large)" (162 yen including tax). The goods arrived at the table in about 5 minutes from the order.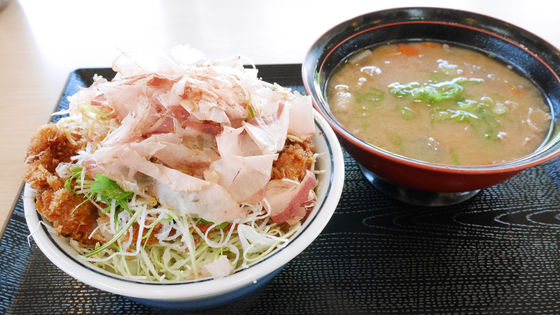 Vegetables and chicken cutlet on rice bonito on top of chicken cutlet are full volumes. The top part of the bonito was about higher than the iPhone 5c standing next to it.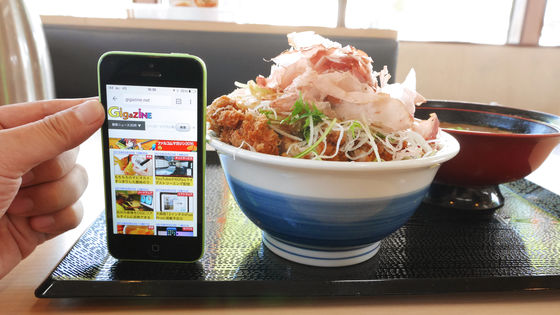 I do not think that it is a picture of the websiteJiro systemVegetable was piled high enough to be surprised to be surprised, but what was offered this time is somewhat Pettanko state. However, when I saw the real thing, I did not feel the volume shortage.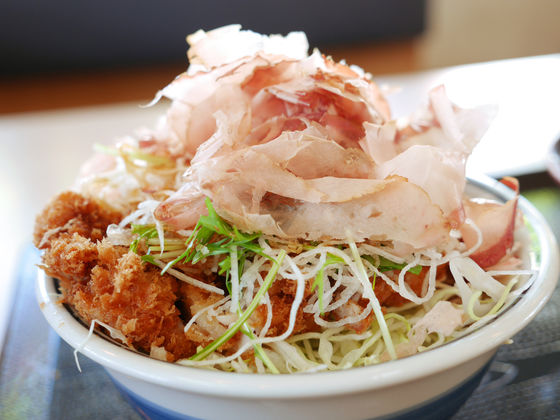 Below the bonito you can see the carved radish, mizuna and thin chicken cutlets.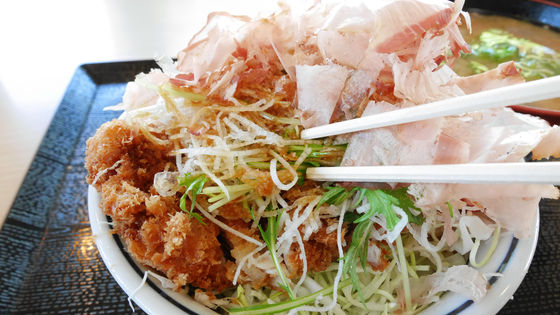 Temari soy sauce is also suitable for vegetables as well. First of all I try to eat vegetables while feeling the crispness seems to be shaky.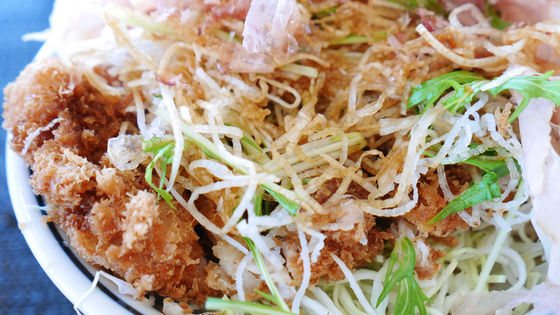 As anticipated, vegetable crunch crunchy, it is refreshing mouthfeel that fresh feeling. Temari soy sauce had just good flavor, and it did not feel extra pain.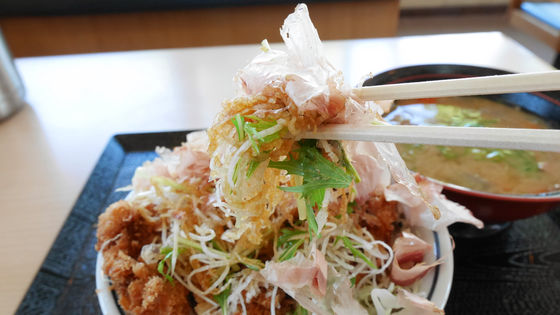 Of course the main character is chicken cutlet. Chicken cutlets of freshly crimped clothing are moderately fired and juicy for prepuri and the volume is sufficient.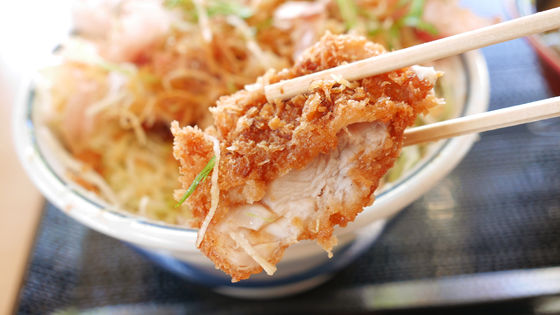 Because mayonnaise is also included in the instrument a little ... ...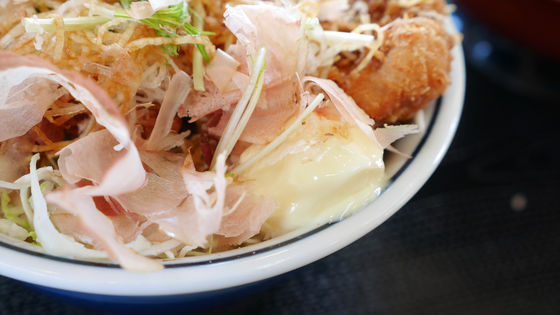 When you eat it with chicken cutlets, it also has a special flavor. After all the compatibility of fried food with mayonnaise is the strongest.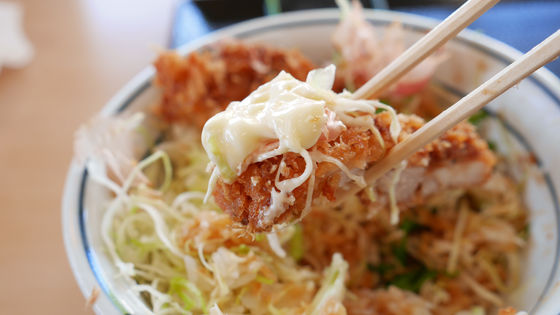 Tenpu was ordered a large size, and I was able to eat it with a beat up to the last. It seems that it can be said that it is a bowel dish which does not disappoint the expectation mostly by orthodox with pork, konjak, carrots, radish, taro etc included.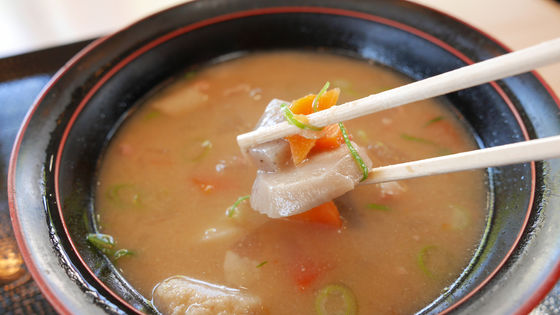 The new menu "Hikari shrimp vegetable chicken cutlet meal" and "Shichishi vegetable chicken cutlet on rice" are limited menus that are only offered for a relatively short period of time, about a month. People who are interested in it seems better to try it by the middle of June at the latest.