Monster CPU & high-definition display & lens with F value of 1.9 "Galaxy S 6 edge"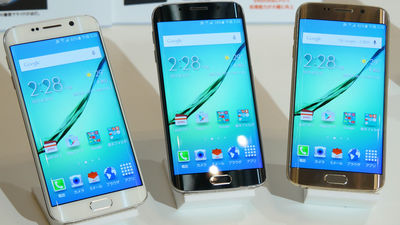 "May 14, 2015 held"Au presentation 2015 SUMMER"SAMSUNG smartphone released afoot from the"Galaxy S 6 edge SCV 31"Is equipped with a high-performance Octa core CPU manufactured with a 14 nm process, it features a bright and beautiful display and fingerprint authentication function, and it supports wireless charging, high resolution, etc.

Galaxy S 6 edge (Galaxy Es Six Edge) SCV 31 | Smartphone (Android smartphone) | au
http://www.au.kddi.com/mobile/product/smartphone/scv31/

Arrived at "Galaxy S 6 edge" booth.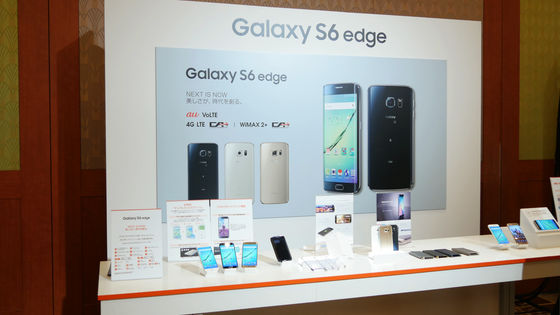 This is "Galaxy S 6 edge".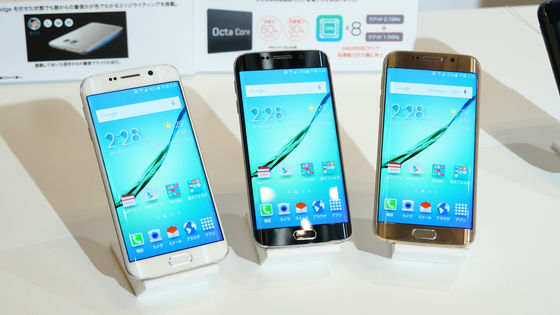 The main specifications are as follows.

size:Horizontal 70 mm × height 142 mm × width 7.0 mm
weight:About 133 g
Continuous talk time:About 1060 minutes
Continuous standby time:4G LTE area about 420 hours, WiMAX 2+ about 420 hours
charging time:About 95 minutes
Battery capacity:2600 mAh
Internal memory capacity (ROM):32GB / 64GB
Internal memory capacity (RAM):3 GB
display:About 5.1 inch Super AMOLED Quad HD (2560 × 1440)
OS:Android 5.0
CPU:EXYNOS 7420 2.1 GHz quad core + 1.5 GHz quad core
communication:4 GLTE, VoLTE, WiMAX 2+
Wi-Fi standard:IEEE 802.11a / b / g / n / ac
camera:Main about 16 million pixels, sub-approximately 5 million pixels
Other functions: Global Passport (LTE / GSM / UMTS), GPS, Osaifu-Keitai, NFC, Emergency Bulletin Mail, Emergency Bulletin Notification, Bluetooth 4.1, TV (One Seg, Full Seg), High Resolution, Battery Saving, au Basic Home, Bilingual Function, SMS (C Mail), E-mail ([email protected]), Answering Machine

There are three kinds of color variations, "White Pearl", "Black Sapphire" and "Gold Platinum". DoCoMo versionGalaxy S 6 edgeAnd color variations are different.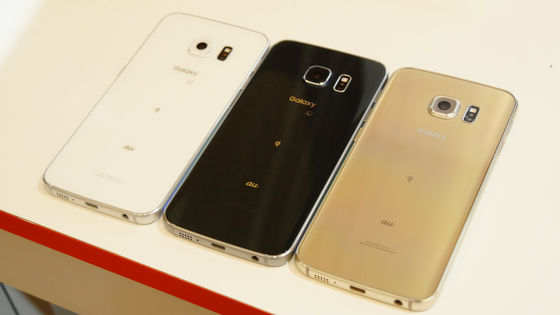 The main body is 142 mm long × 70 mm wide × 7.0 mm thin, weighs about 133 g. The left and right edges (edges) of the display are rounded and feel like fitting perfectly if you hold it in your hand.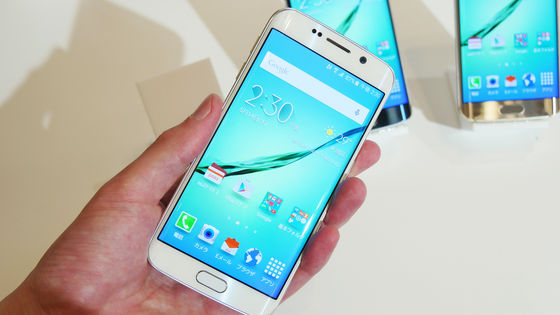 On the top is a speaker and about 5 million pixel in camera.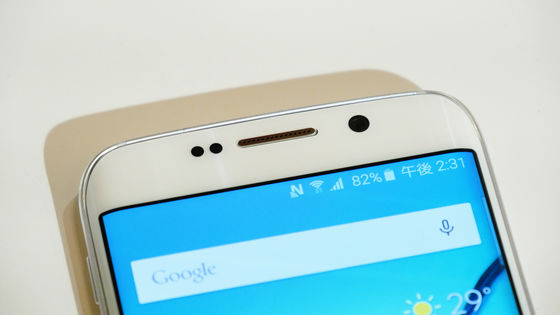 Physical button with fingerprint authentication function at the bottom.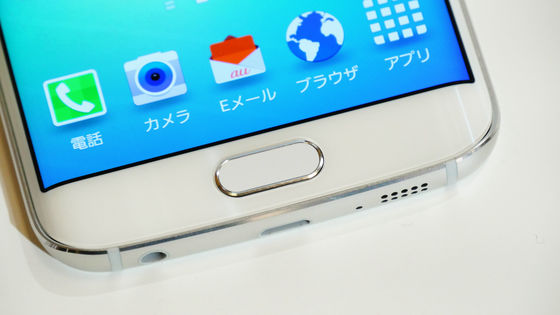 The curved surface of the edge part of the display looks like this, and the edge part has a "People Edge" function which makes it easy to call the person you contact well.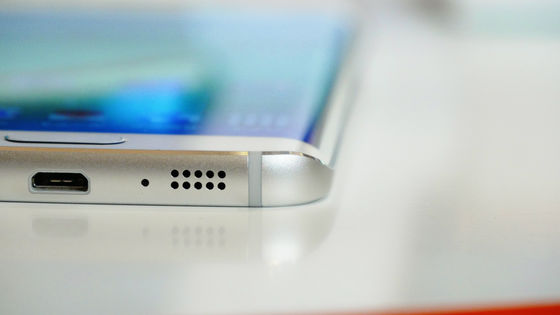 back.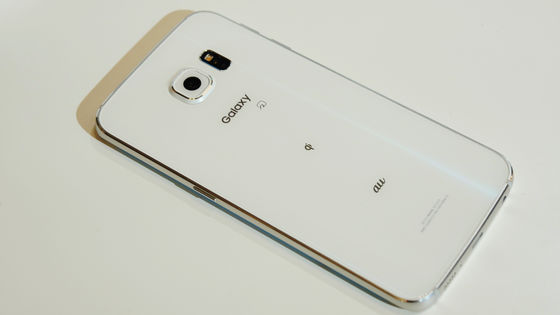 There is a camera of about 16 million pixels and "Galaxy" logo at the top. Since the camera starts in 0.7 seconds, it does not miss a sudden shutter opportunity.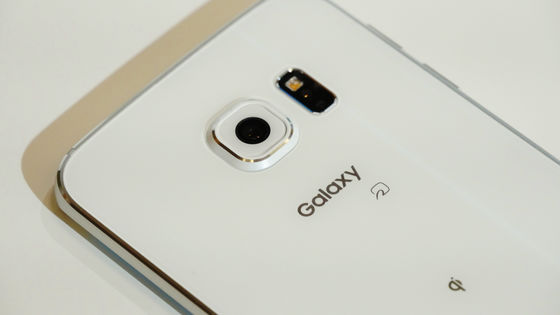 At the bottom is the "au" logo.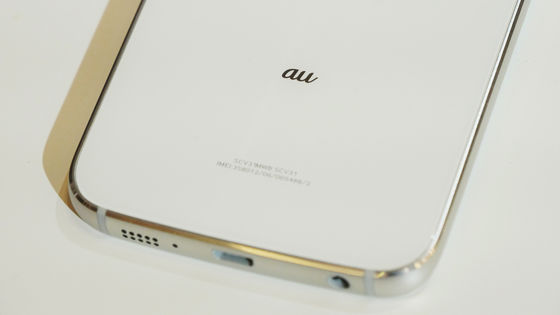 IrRC compatible infrared sensor on the top.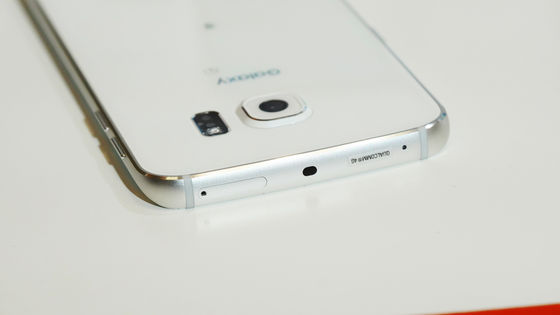 Speaker, Micro-USB port, earphone jack mounted on the bottom.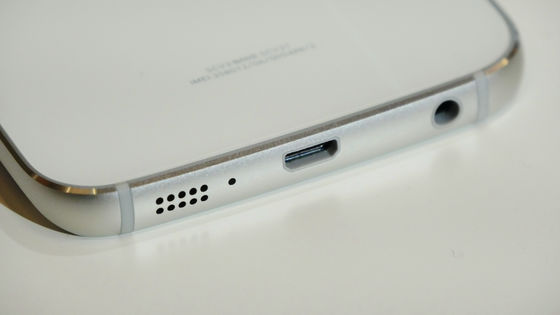 Volume adjustment button on the left side.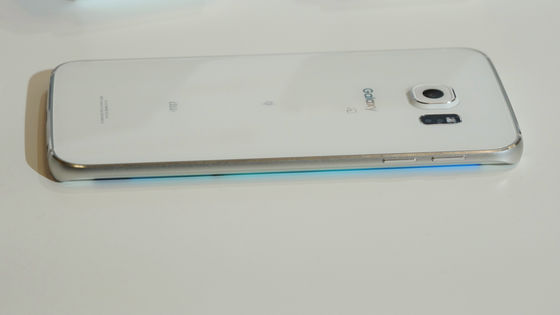 Power button is located on the right side.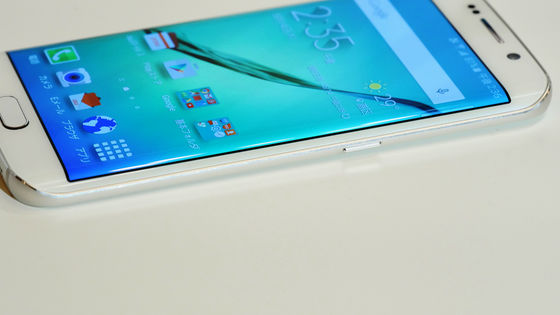 The in camera recognizes the gesture of the hand and has a function to release the shutter after 2 seconds. "2" on the upper left of the screen indicates 2 seconds until the shutter is released. With the gesture function, you do not have to hold the camera in your hands when you take a picture.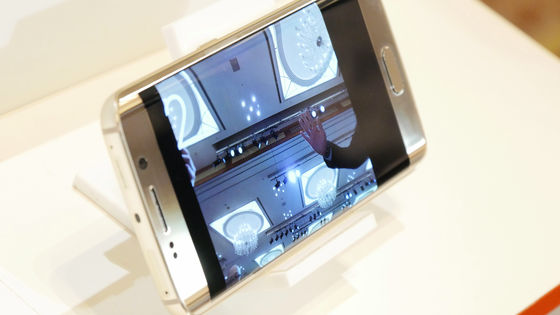 "Galaxy S 6 edge SCV 31" is on sale.