10 popular ramen stores have eaten all kinds of ramen at the "Ramen Sengoku era" where competitors contend for hegemony with a three day limited menu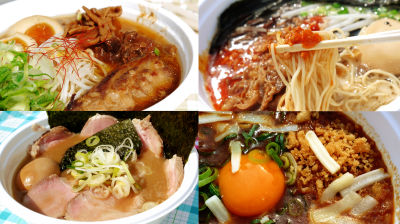 "In the year 2015, the rampants in the ramen world boasting a great power in various places hold the ultimate cup, meet in the battlefield site in Osaka and compete for supremacy Now the curtain of" Ramen Sengoku Period "opens ...... "That's why the famous Ramen shop creates original 3-day original ramen using ingredients carefully selected in Kansai and decides number one"Ramen Sengoku period"Will be held from March 13, 2015. As it is limited to three days, I participated in the event on the first day and I tried all kinds of foods to see what kind of noodles are being exhibited.

Ramen Sengoku period official website
http://ramen-sengoku.net/

Ramen Sengoku period will be held inNishi Umeda Square. The address is 2-136 Umeda 3-chome Kita-ku, Osaka-fu, located a few minutes walk from JR Osaka Station.


Nishi Umeda Square is an event space at the site of Osaka Central Post Office.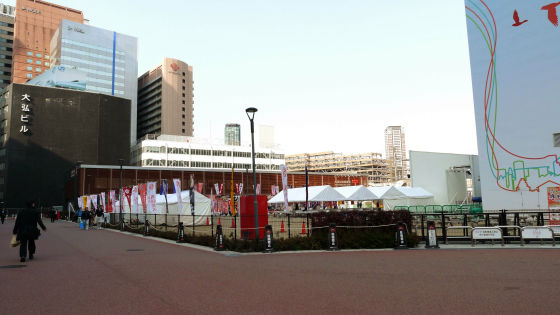 The event will be held from 10 o'clock to 20:30. When I arrived at 9:30 which is before the opening, there was a figure of a person who was waiting for opening already.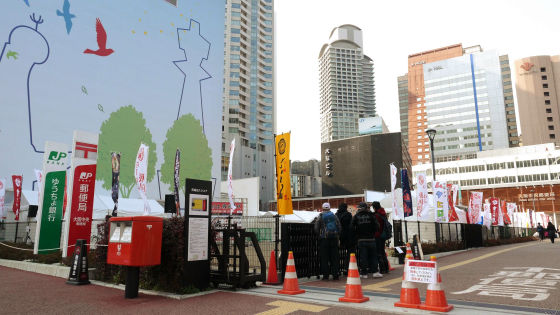 People gradually began to increase at about 9:50.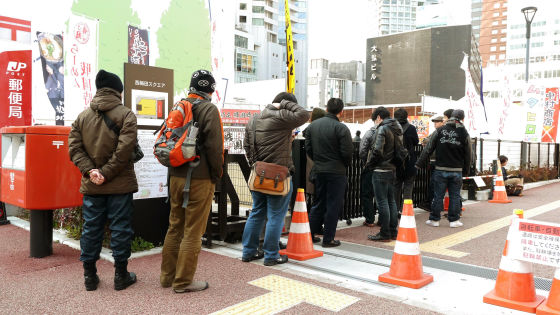 The event started at 10 o'clock.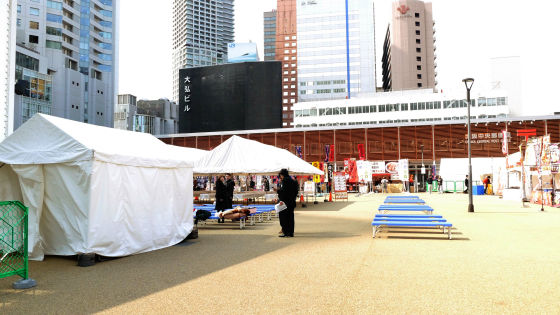 First of all, I will buy a ticket for ramen at a ticket sales office near the entrance.



The ticket was a flyer type.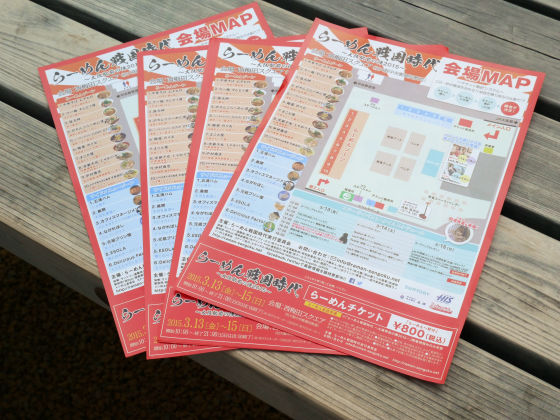 All ramen is 800 yen per cup, and you can get ramen in exchange for "Ramen Ticket" part at the bottom of the leaflet.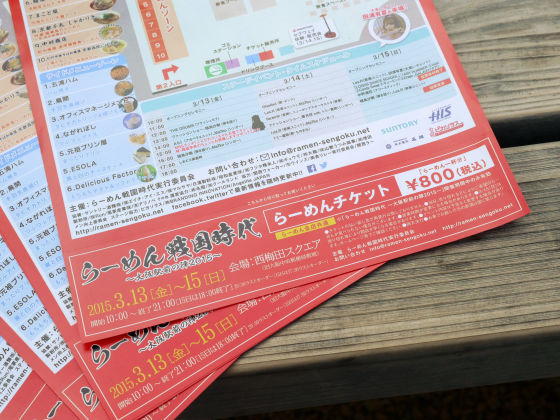 It is like this in the hall.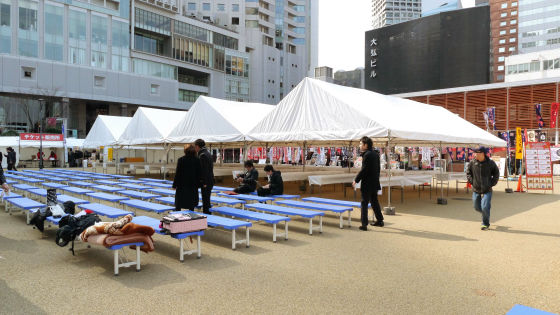 There are long tables under the roof, but there is no chair.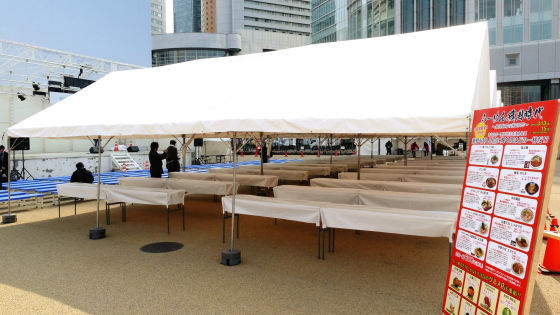 There are blue benches in front of the event space, so if you want to eat and sit down on this bench OK.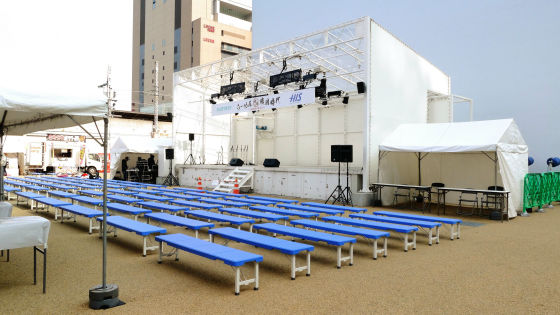 There are also some wooden tables & chairs that are in the park, so you can have a good meal here.



Ramen is sold as a street-like feeling. In front of the shop there was a climb and the queues made at each shop were not mixed up.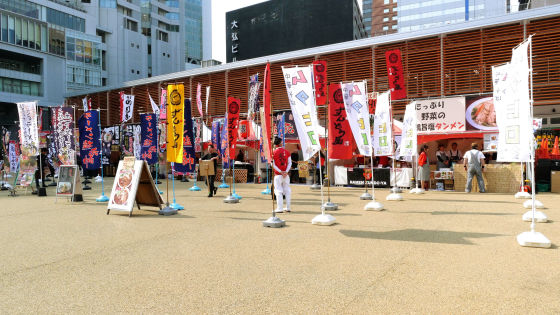 Food, drinks, desserts, etc. other than ramen are also on sale. Besides ramen, you can buy it by cash instead of ticket system.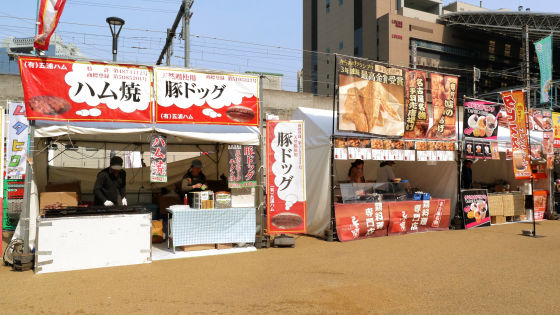 ◆Pachinko Ramen Michiji
So, I will buy ramen and eat it at once. First of all, from the "rich Osaka Miso Ramen" of Pachinko Ramen Mihiragi.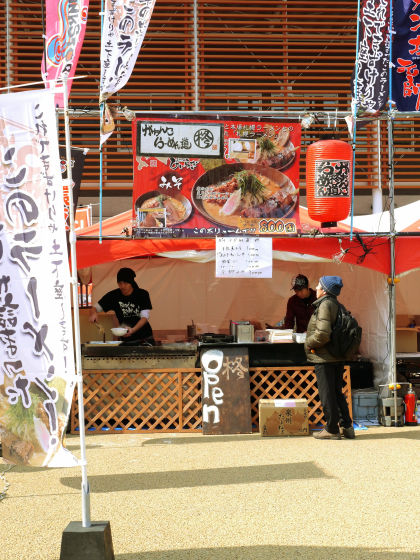 This is "rich Osaka miso ramen"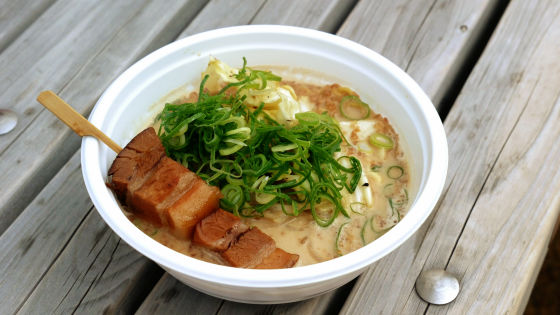 The size of bowl is the same for each ramen, when compared with iPhone 5 this is about this height.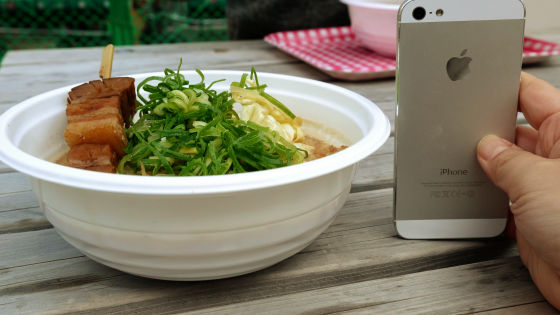 It is like this when lined up side by side.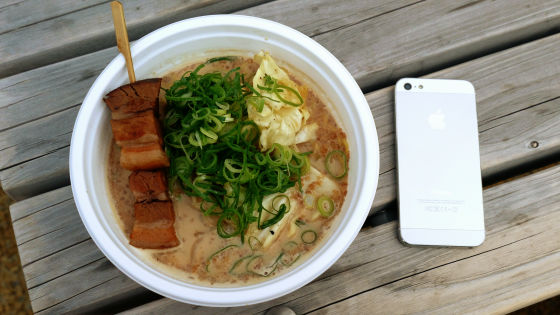 A slightly strange style that meat is provided in the form of a stick.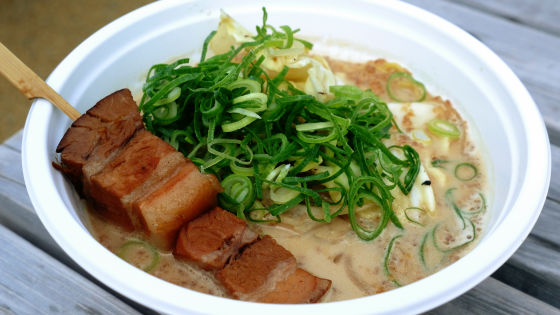 I tried to eat it, it was not barbecued, it was cooked with horse mackerel.



Pork bone soup using Osaka ground miso and sweet Quanzhou ball onion is thick, but mellow rather than ordinary tonkotsu, it is asserted. Somewhat crimped noodles were used. Since you also have plenty of vegetables such as green onion and sprouts, you can enjoy the texture made with shakiyaki and it will also be a thick soup chopstick breakage. It was a dish excellent in the balance of noodles, soups, and toppings.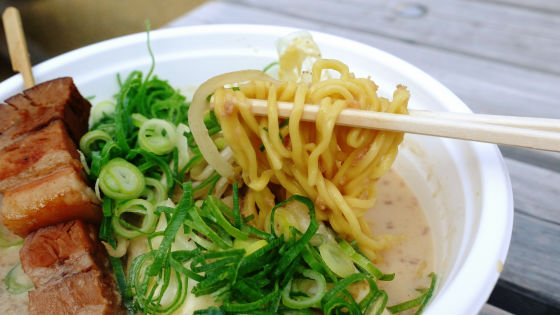 ◆Kyoto Chimaru noodle shop shabby
Next, from 「Kyoto Chibaruma no yodoya shabaki」 「Special Pork Bone Seafood Ramen ~ Kyo Nishikyo Miso Tailor ~」.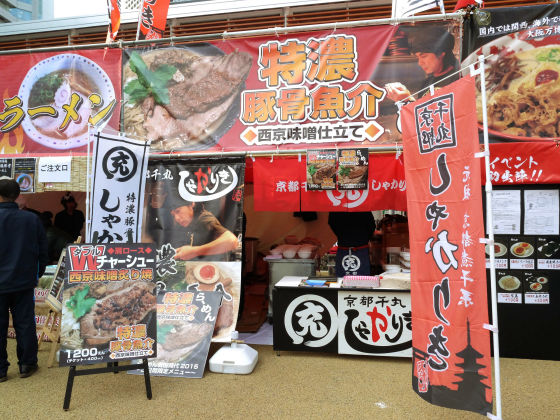 Shrimp oil is a topping that was developed for this purpose, it is possible to attach it for free 20 meals free of charge.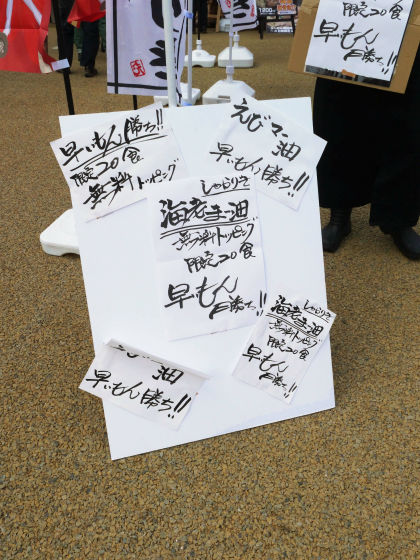 "Special Pork Bone Fish Shrimp Ramen ~ Kyo Nishikyo Miso Tailor ~" is like this.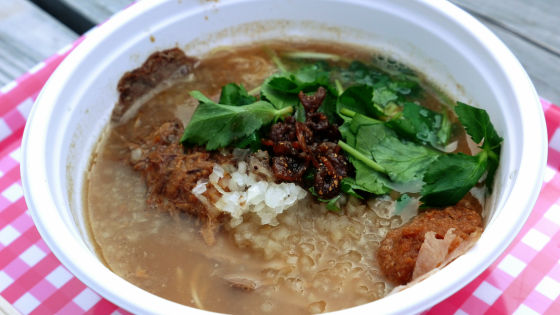 Ramen has three leaves and shrimp oil, and sauce miso with a special Miso sagar in the Nishikyo miso base.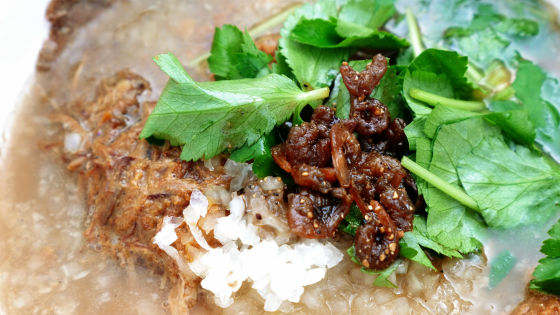 Pork bone fish ramen, but miso was also topped.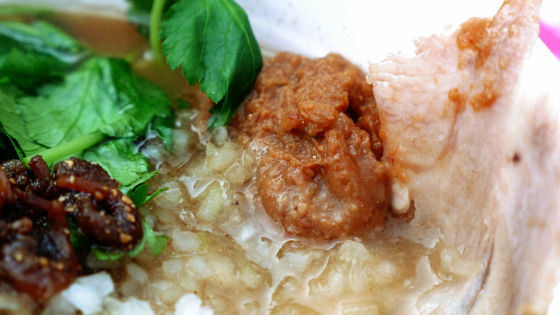 When eating, the noodles are slightly consolidated thin noodles, and while the richness of pig bones is also present, I feel the strong aroma of fish. It is a combination of pig tongue soup and soup which is many in tsukemen soup, but as soup of ramen each other mutually utilizes each other well, it is pork but it is not greasy, you can enjoy a firm soup of deliciousness.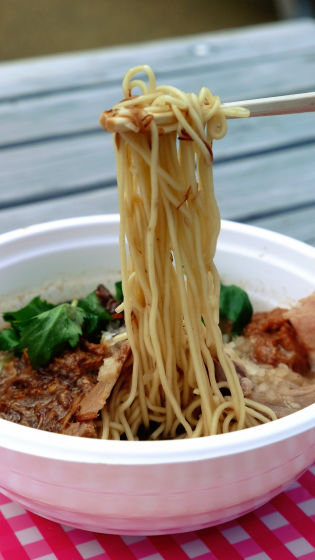 Meat miso is exquisite in sweetness, I do not hear the combination "ramen and Mitsuba" much, but when you eat together it is a good match.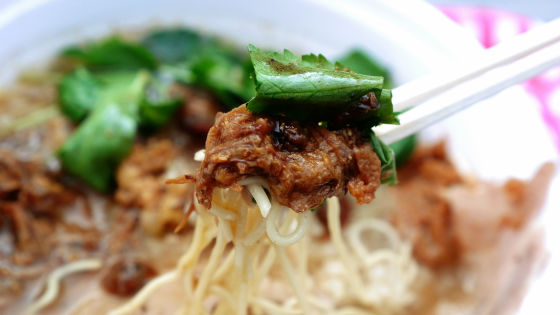 Sliced ​​thick slices of meat were used for the barbecue, and there was a response to eating.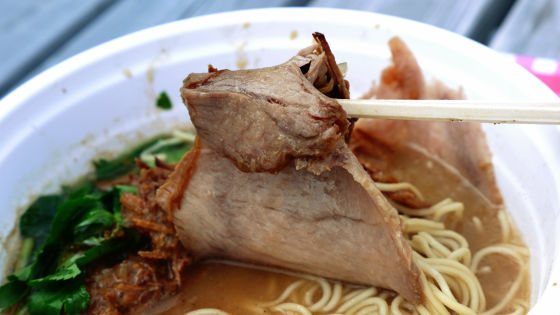 ◆Mutahiro
"Mutahiro" sells "plenty of vegetable chicken taro salt tanmen".



Since we were able to add toppings such as vegetables and fried chickens, this time we challenge "deluxe prime".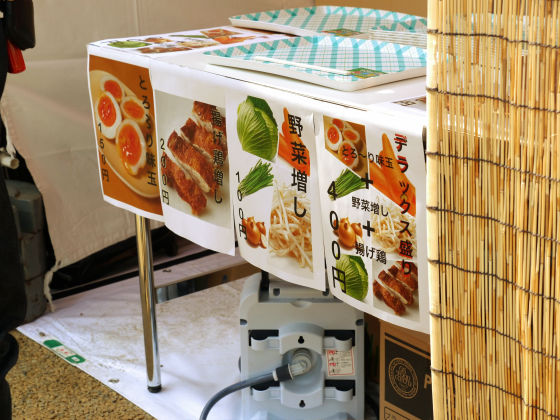 Salt Tanmen arrived at chicken with plenty of impact, a large amount of vegetables.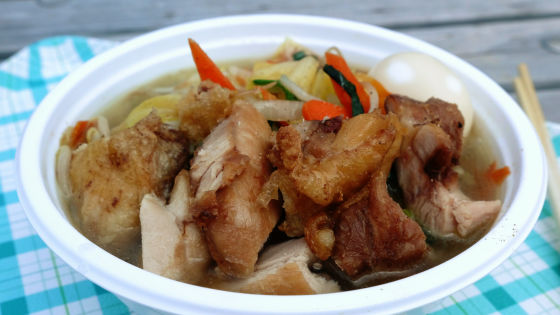 The fried chicken of the topping was not deep-fried but it looked like fried, the surface was crispy and the inside was finished in juicy.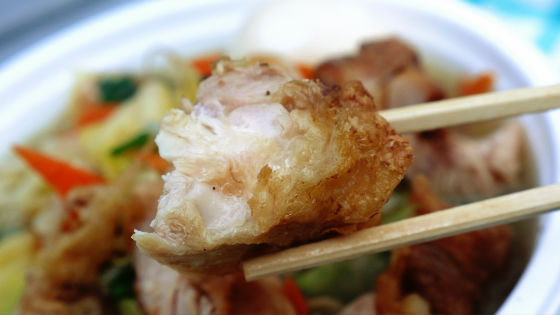 Braised toppings and lots of vegetables.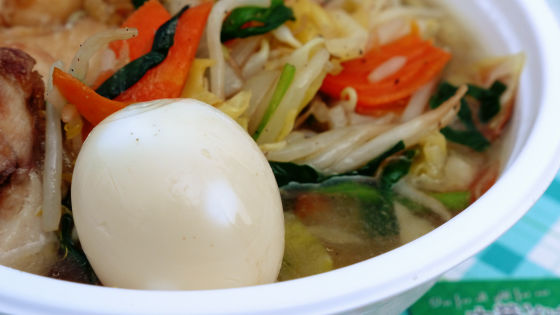 Noodle is a thick noodle with a mouthfeel texture, often entangled with chicken soup with a salty flavor. The vegetables are shakiaki. Because it was after eating rich pork bamboo ramen, because the plenty of vegetables were contained, it seemed that the punch was a little thin, but the ramen which was opened in the Ramen Sengoku period was relatively rich Because it was many, people who like Assami noodles may choose this.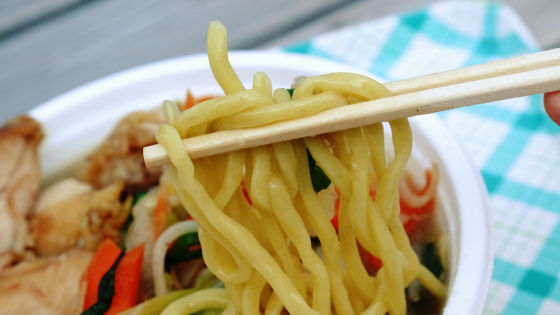 ◆Bokuro to Kyoto Saiju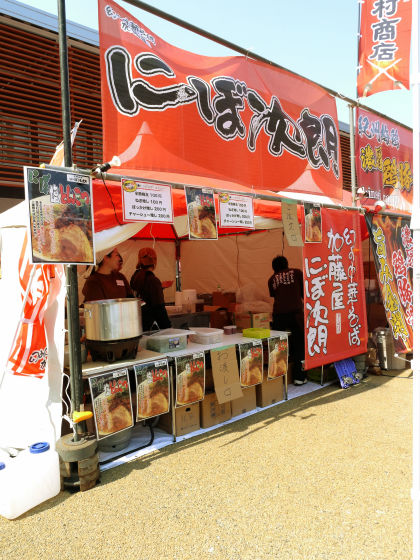 "Salt Tonkotsu - Bakkake on Sengoku Period Ver. ~" Is characterized by double soup which blended boiled salt pork bone.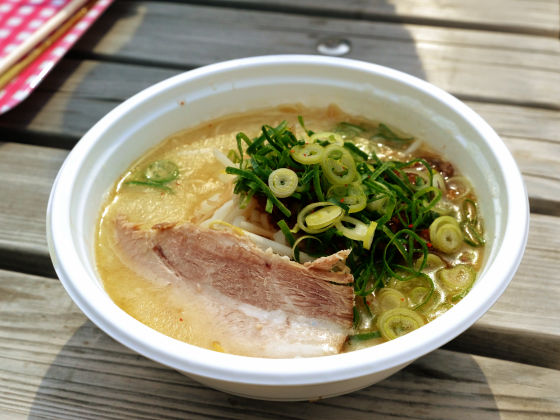 With a barbecue ......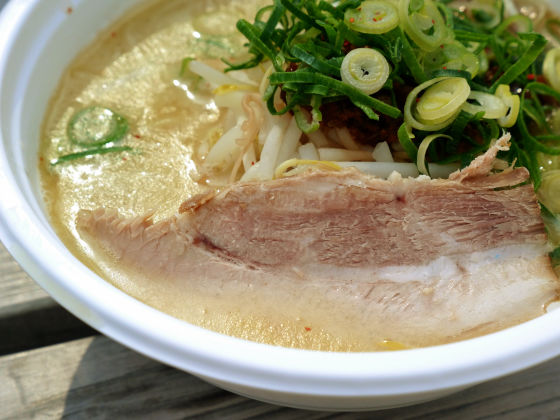 "Bokeki" boiled with a special boiled rice cake is posted.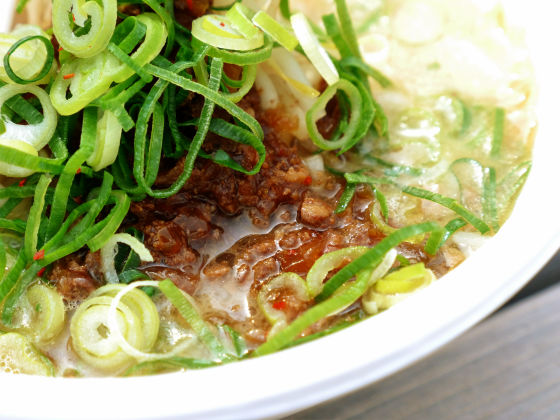 The sliced ​​mustard is very soft sliced ​​type. In the mouth the fat will melt and trolley.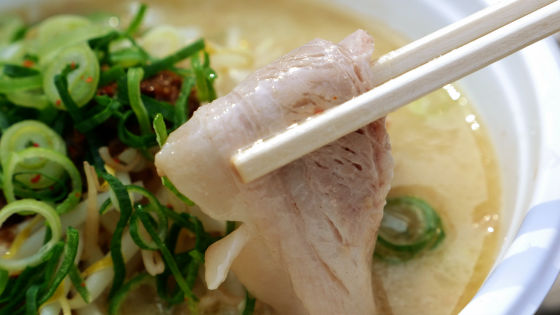 At first glance it is an ordinary pig bone soup, but the taste of boiled rice is considerably strong. People who are not familiar with the combination of seafood and pork bones are finished thinking "?" By eating a bite but it may be advantageous in that they can enjoy the delicacy of seafood and pigs at once. If you eat it as it is, it is a creamy salt pork bone, but when you eat it with a cheek, it becomes a soy sauce pork taste. Bulk can be increased by plus 200 yen.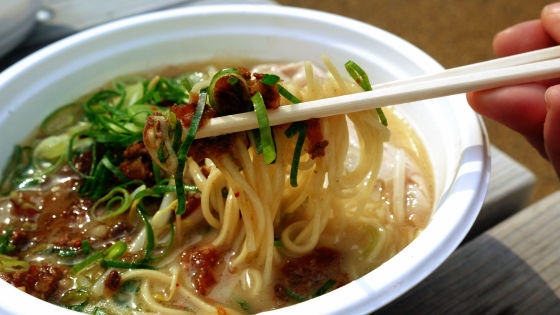 ◆Noriya Goro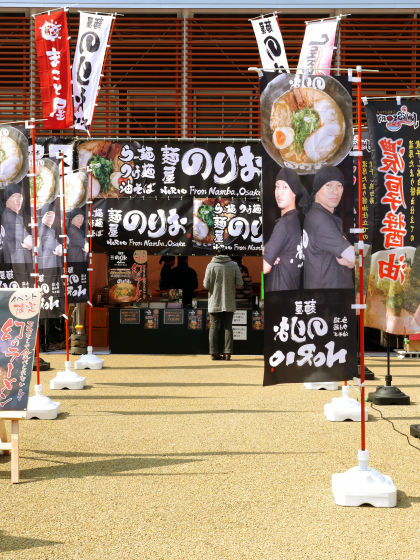 "Awaji onion onion authentic curry ramen" of Nodame Shop Noriya got topped with additional 100 yen, so I tried cheese.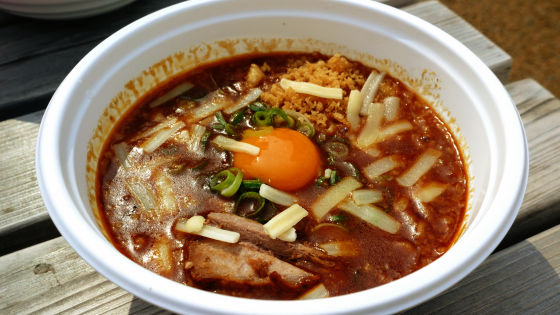 Besides eggs and leeks, there was something like clothes, such as heavenly fog.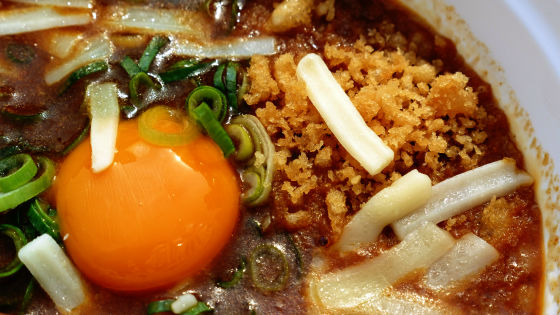 Chishaws cut corners.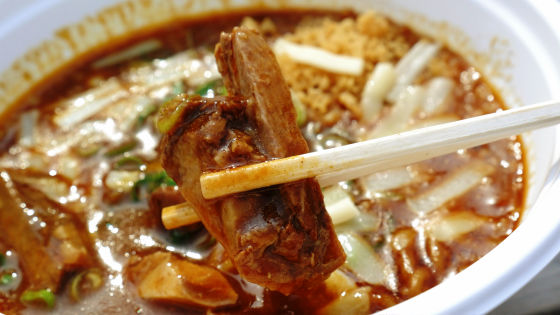 Trolley and soup are often entangled with slightly thicker noodles using tapioca. The soup is based on pig bones, but it has not been stretched out so much, so it is pretty bad, and it is different finish from curry noodles. Because the heavy dregs being topped is a seasoned seasoned seasoning, if you eat it with noodles and soup it makes you feel like you are eating a cutlet even though no meat is contained. It is curry taste, but you can enjoy the taste of soup as there is not too much spicy.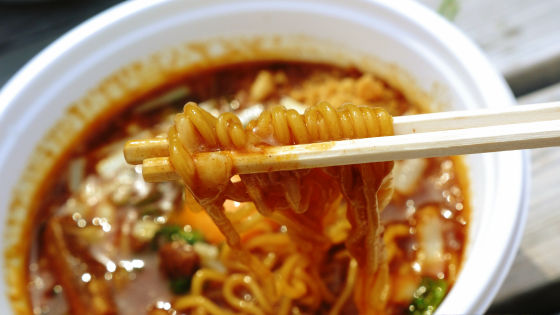 ◆Makoto shop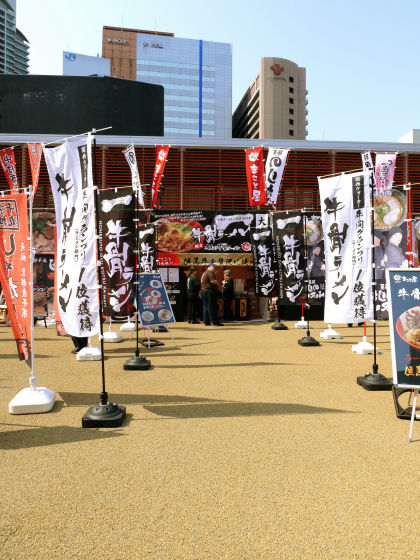 Subsequently, "Majima beef sirba bean sauce ramen" at the Makoto shop. It is possible to topple spicy pepper (100 yen), glue (100 yen), half-egg egg (100 yen) at an additional charge, but from the conclusion it is recommended to put all three types (300 yen) .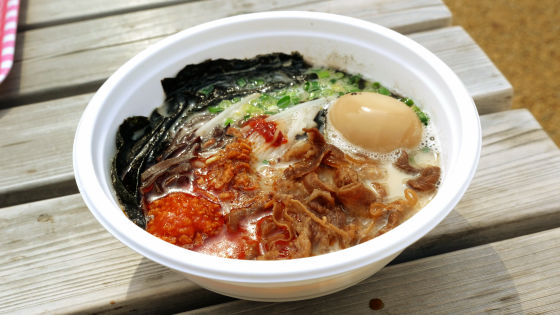 The soup looks like a pig bone, and it is becoming "a bovine bone soup that boils a large cattle bone with a size of 5 kg or more until it is shattered".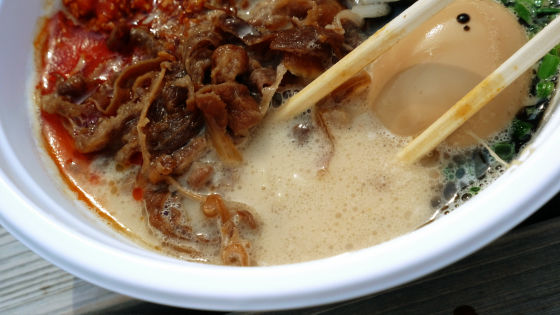 Noodles are fine noodles, soups are rich in beef bone. When you eat a bite, the fragrant scent of garlic and the taste of cow bone soup spread in your mouth and you will be happy.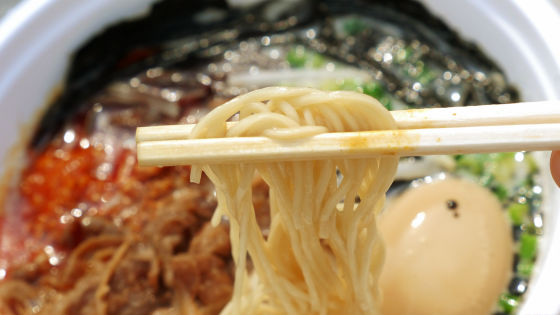 Tajima beef was soft and excellent in texture, and it matched well with cattle bone soup and noodles.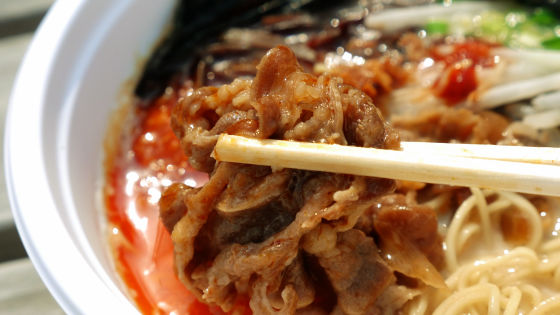 Simmered boiled eggs.



Fried garlic can be plus with free topping, but this is recommended to eat a little before being soaked in soup and becoming soft.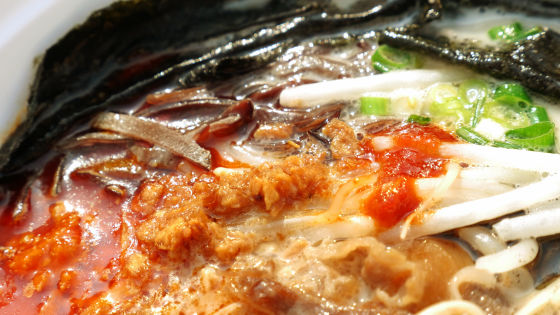 When you eat with fried garlic and pyrrhizaEating lucian oilFeeling like that, the event is cold because it is outdoors, but after eating my body gets warm. It is an impression that there are many places where we use fish and soup soup throughout the event, but this is the finish that goes through the royal road of Gatsuguri ramen, if you like the standard pork bone ramen, you should be satisfied.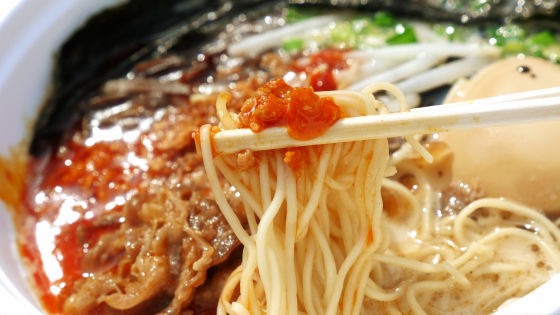 ◆Learn noodles store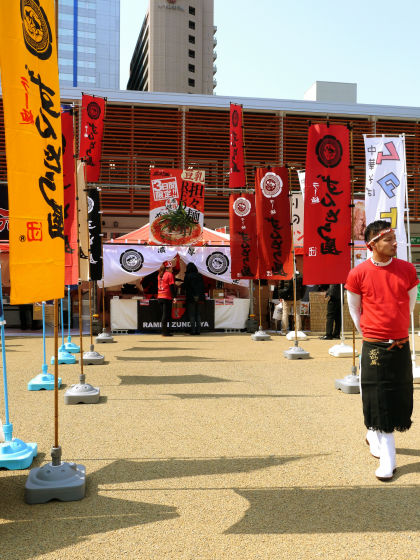 "Soy milk groat noodles RED" of "Ra noodle sho-ya" is topped with plus 200 yen in addition to topped with char siu. ...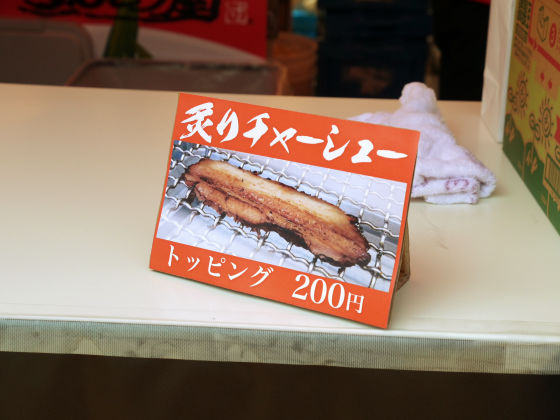 I was able to sprinkle white sesame as much as I wanted for free.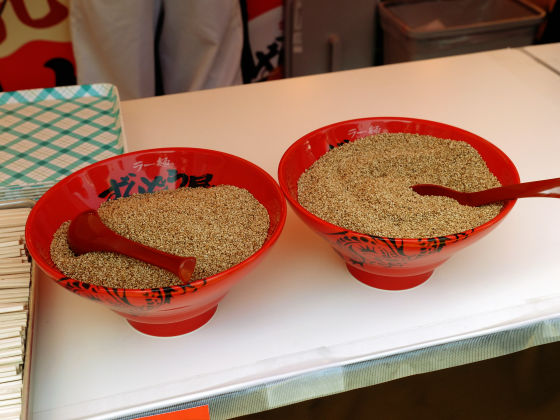 So, this is soymilk bearing noodles RED.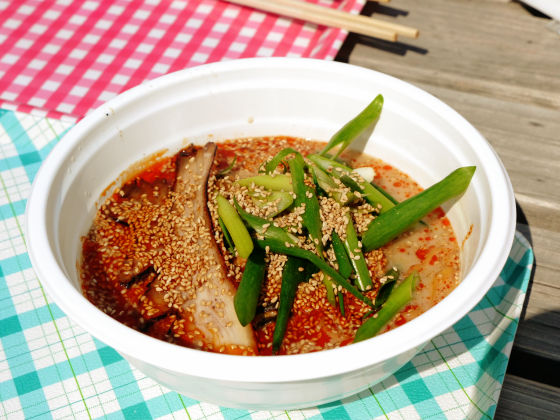 I sprinkled a lot of sesame.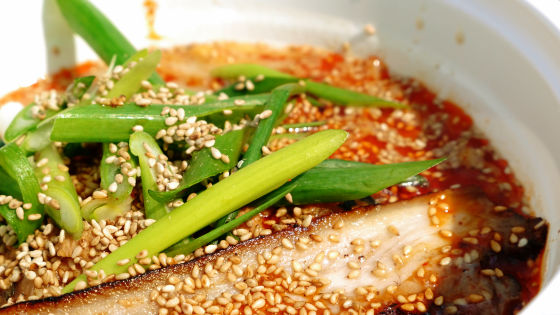 Broiled barbecue is firm but it is only roasted with a burner before being served, fat is a trout.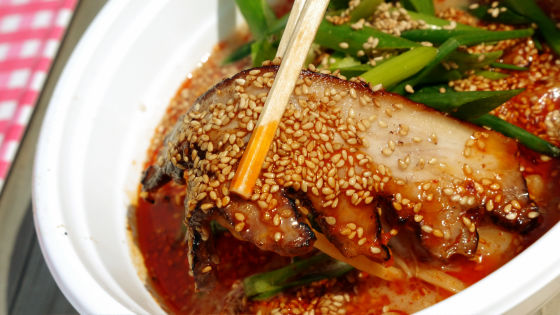 When I eat a bite, I feel the fragrant scent of sesame. Noodles are flat noodle noodles, often entangled with soy milk pork bone soup with chill and richness. According to the explanation of the shop, noodles are kneaded into the noodles, and those who like spicy foods are "somewhat spicy", but those who are not good at hot things were giving up on the way. Surely if you look closely, you can see the red grains in the noodles.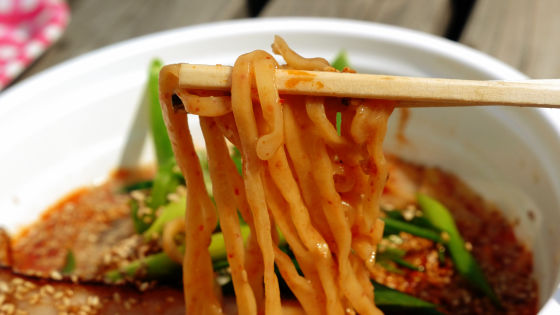 Pepper spicy miso using Awaji bamboo onions contains something like minced meat and it looks delicious even if it is put on freshly cooked rice.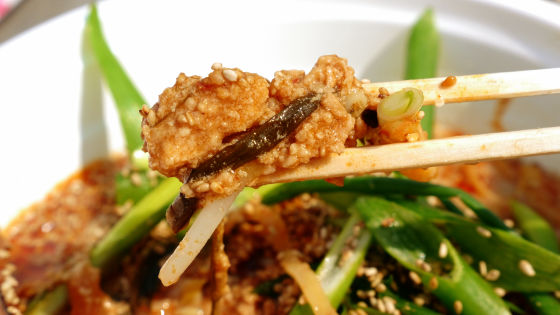 "Himeji pork bone green onion" that leek green grows on its own is posted as raw and you can enjoy the texture made with shakijaki.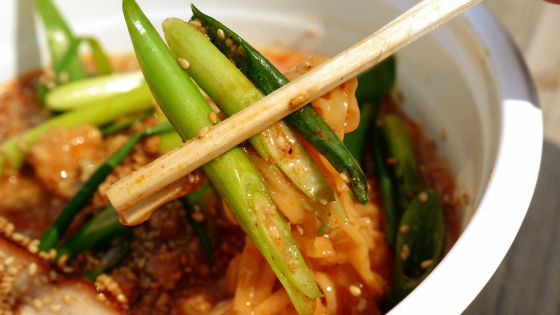 ◆Ramen style JUNK STORY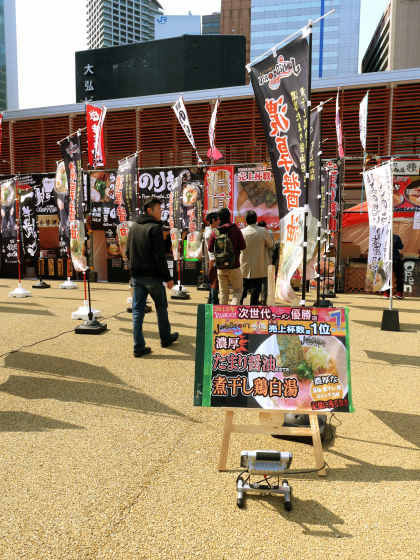 Yahoo! Next Generation Rahmen Decision Fight"Ramen style JUNK STORY" sold "Dense thickened soy sauce tailored boiled chicken white water".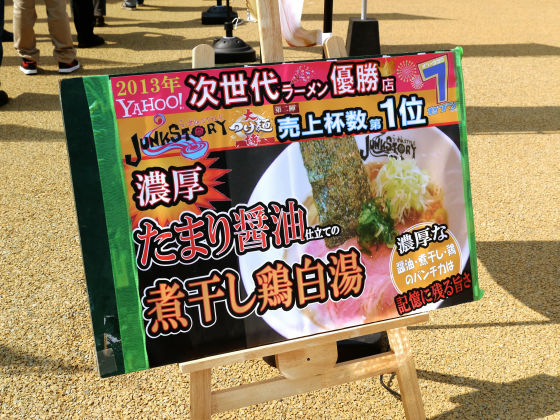 Because the topping "Special set (400 yen)" on which smoked flavor beans and rare char sieve are placed is said to be limited this time, I tried adding it together with deca nori (100 yen).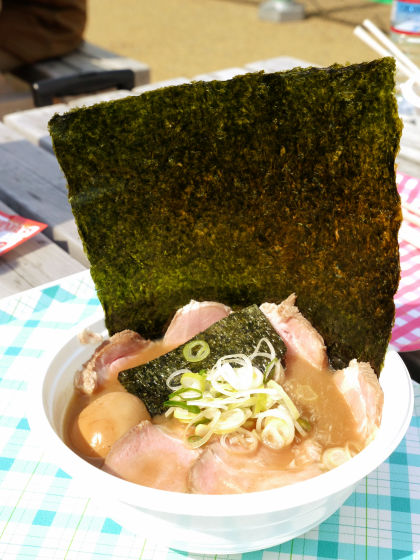 Sliced ​​rare meat, leeks, smoked flavored balls, seaweed are on board and you can not see noodles.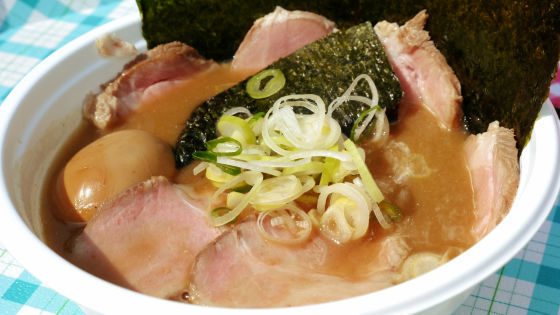 The first thing I feel at eating is the presence of a boiled dish called "Niboshi !!!". The taste of the boiled rice dish is appearing on the whole surface, and I feel bitterness slightly with the distinctive umami. I felt the strongest taste of seafood in this event. It is not pork bone soup, but "boiled soy sauce tailored boiled chicken white water", but richness is the highest among all 10 types of ramen. The noodles are noodles with durability.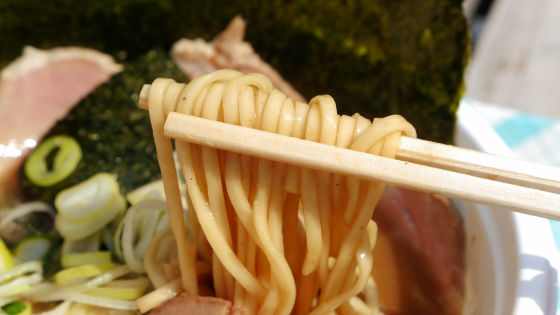 Rare meat is soft and juicy.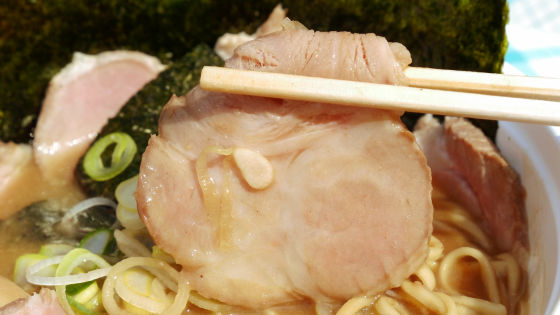 There was a response to eating huge glue, too.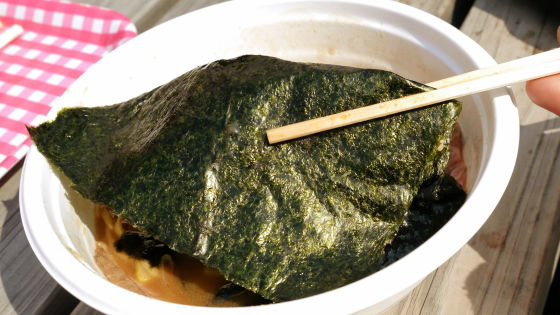 ◆Nakamura Shoten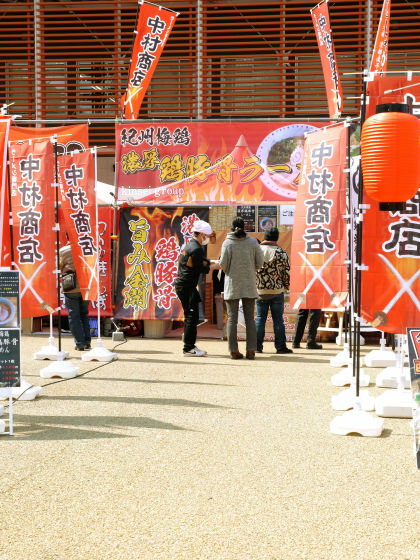 Since Nakamura Shoten's "Kishu chicken rice chicken pork bone ramen" had plus 300 yen and there was "special set" which can add eggs with semi-mild flavor and shoulder roast chashued, I tried topping it. Although I did an additional topping, there was no serve that was gootgy, and it looks like an orthodox ramen.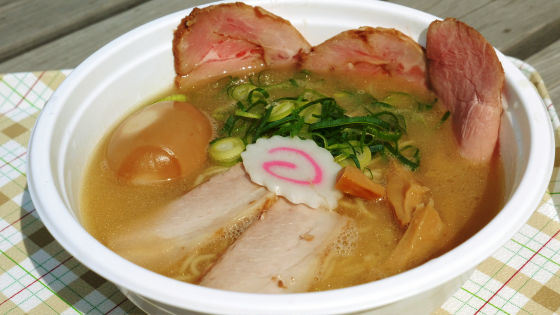 In addition to the toast of common toppings ......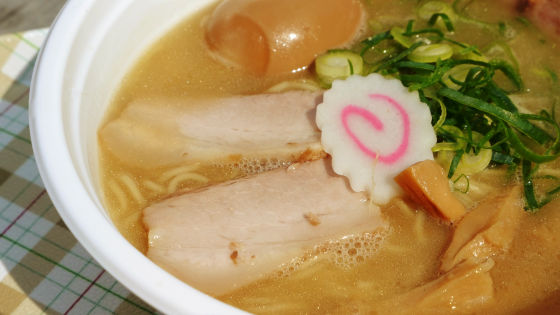 Additive topped shoulder roast chashued is light pink. There is little fat but it is soft and has a good taste and it is an elephant. As the fatty chashuw continued, I felt easy to eat.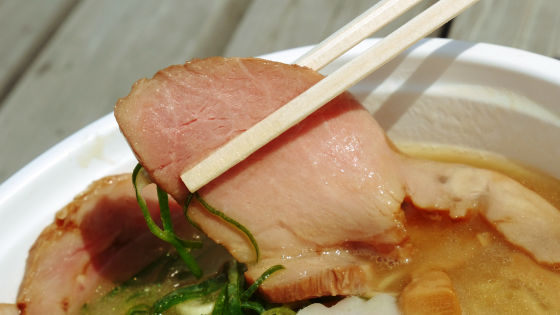 Soup has been added Kisushu plum chicken gara to chirped pork bone base, and there are also impressions that "it is close to ramen of the same name". Saiko soy sauce made exclusively for Wakayama Ramen is used and you can enjoy a simple and deep flavor that is not odd. The noodles were somewhat consolidated and slippery.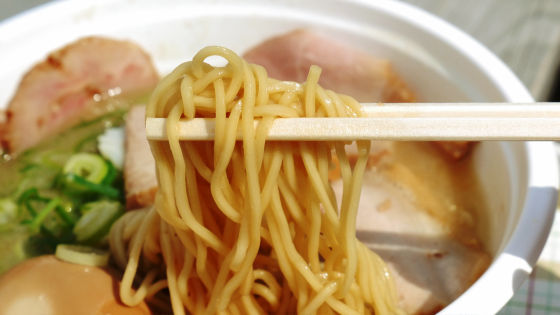 Sliced ​​egg with semi-rich flavor.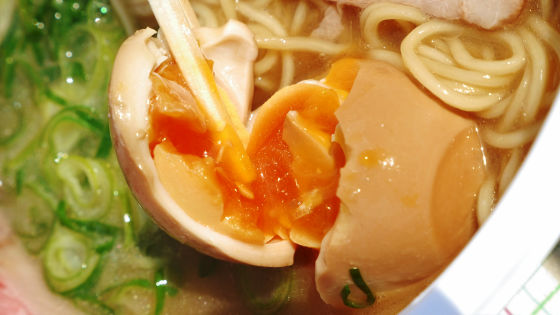 ◆Mr. Shaoshira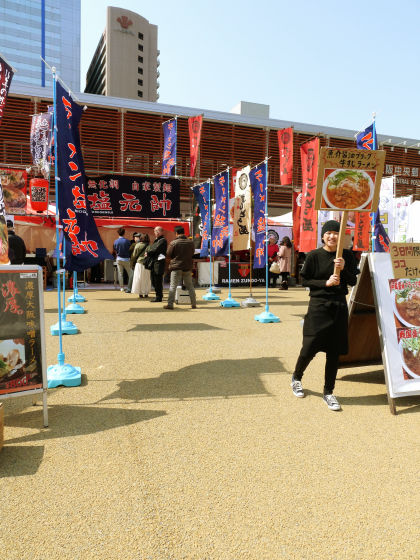 Shiomasa sells "Seafood soy sauce black beef streaky ramen", but since "Sengokuousori" that puts eggs, menma, leeks and Nankoku trout salad on plus 300 yen was said to be recommended, Sengoku Choose the best.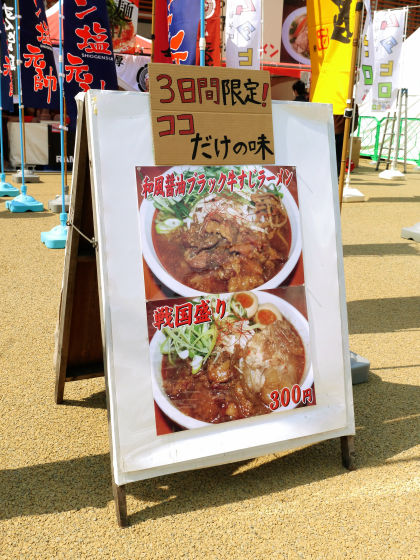 This is seafood soy sauce black beef streak ramen of the prime of war country.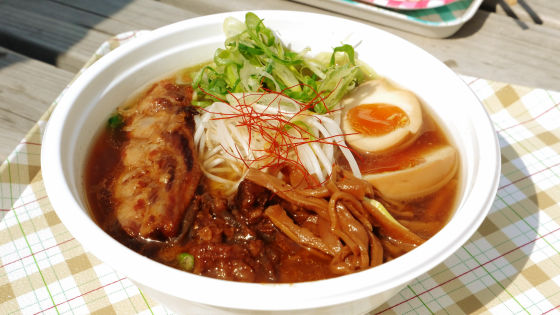 Tonkro straw racks is juicy and soft and has a response to eating.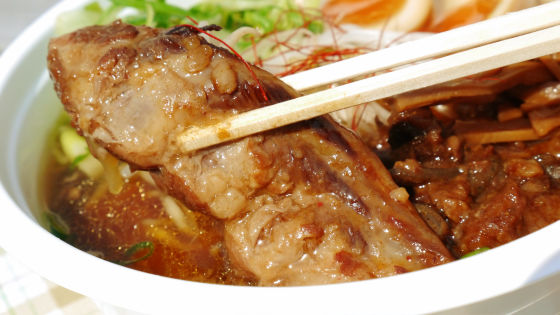 In addition to beef streak, bean sprouts · Kujo green onions · peppers · menma etc are also listed.



While Nakamura shop was the taste to go royal road, cows stilamen is a considerable change ball. Because it was called "soup taken from red chicken", I think that the taste of chicken is strong, and the base of the seafood. Although it seems to be satisfied if you are accustomed to eating a fish and seafood system from the usual, it is severe if you are unfamiliar because the taste of the fish is soaked in noodles. Although the taste of soy sauce is deep, the balance between sweetly cooked beef streak and Kujo green leek is quite good. It was a noodle with considerable eating response.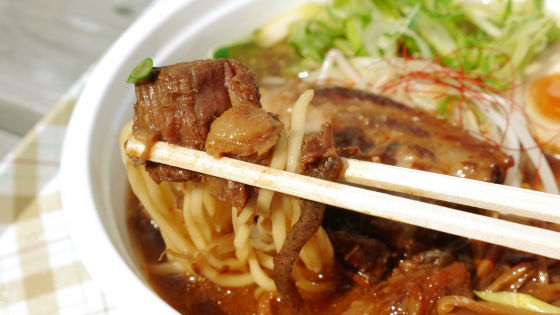 I am challenging for foods other than ramen, where I have won all 10 kinds of ramen. First of allBird openingChicken wings tip up.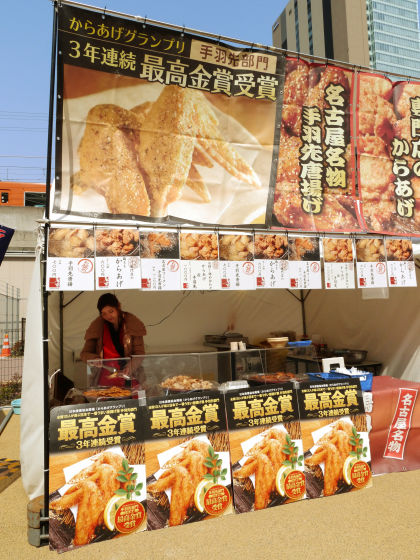 Nagoya Cochin's wings chicken tip is 1200 yen for 4 pieces.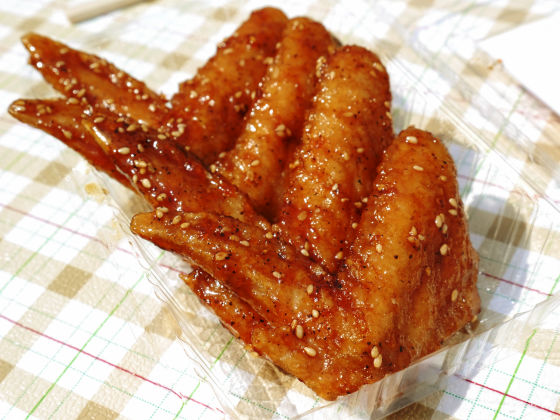 Crisp fried chicken wrapped in sweet sauce and tangled with, ideal for snacks. I kept eating ramen and was in a state of "not getting anything in it", but it was completely different from ramen, so I was eating pakpaku.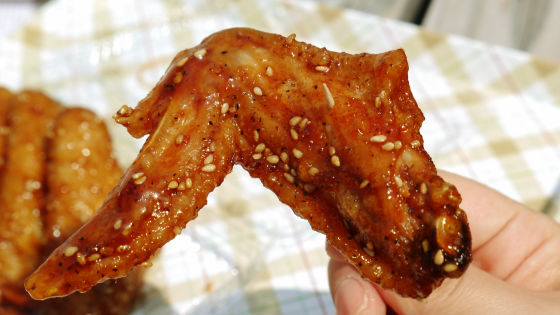 Sell ​​ham and pig pigsGyoura ham.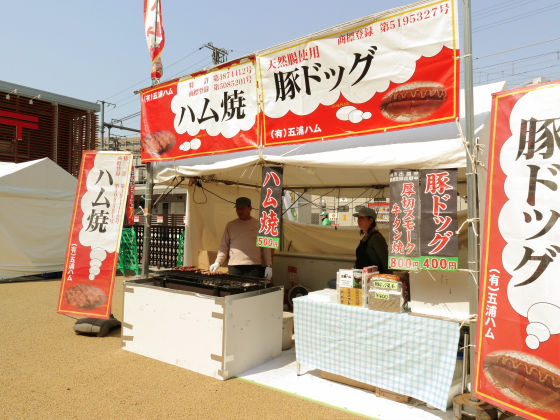 This is grilled ham. One skewer is 500 yen.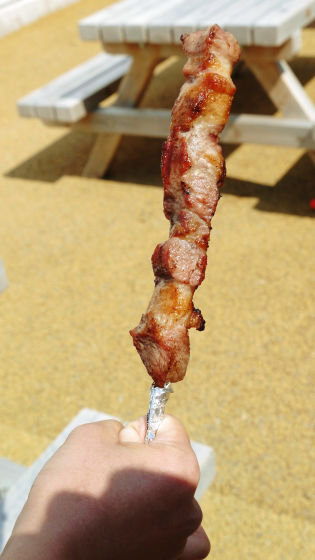 It is juicy and fragrant, spreading a unique scent like herb at the moment of eating. This also seems to be good with a snack.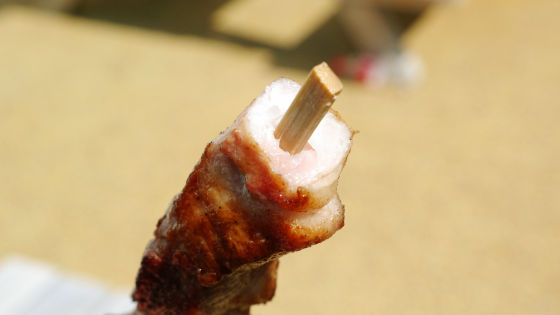 Delicious Factory"Momochi Potato (500 yen)" and "W cheese potato (700 yen)" are sold.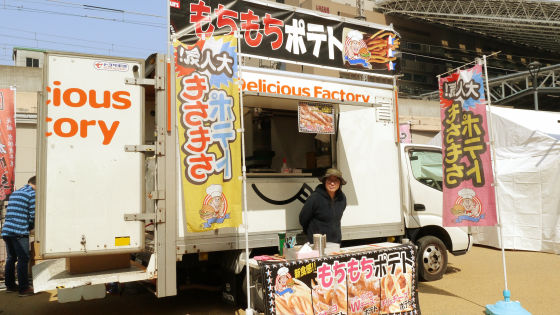 I purchased W cheese potato. Cheese sauce and Parmesan cheese are on and it was sold at McDonald'sClassic fly with cheeseAtmosphere that is similar.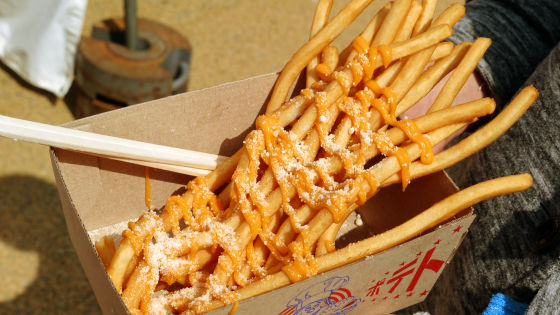 The potato is not fried as it is, but the material is added so that it is rich in mash once. When I tried it it was certainly a different texture that was different from ordinary fries.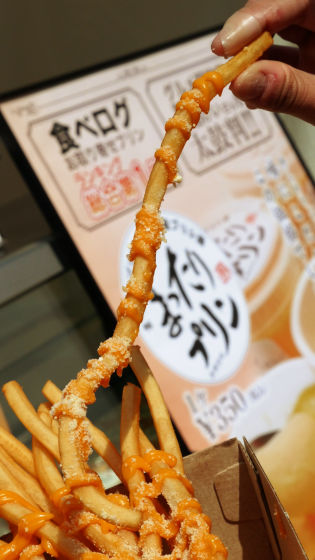 Original Princess Ya"Matsonpuri (350 yen)" andESOLA"Black cheesecake (400 yen)" also found.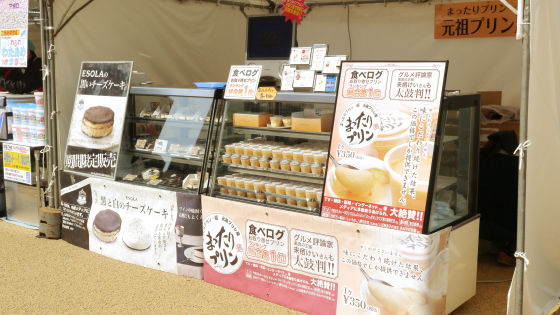 The left is black cheesecake and the right is chillin pudding.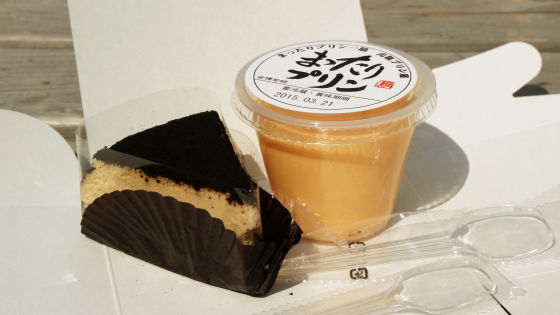 Because it is a little smaller size, it seems to be able to eat as a dessert after the stomach swelled in ramen.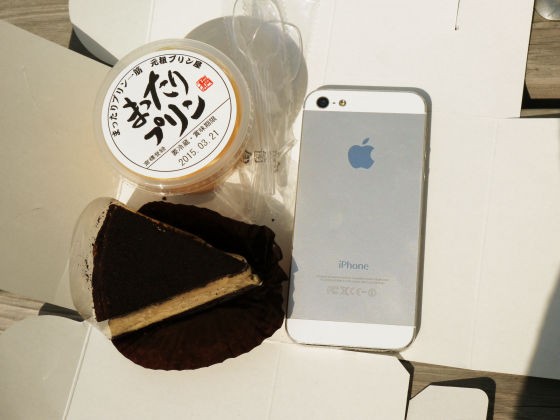 Black cheesecake has baked cheese cake on cocoa cookie tart and cocoa cookie is topped.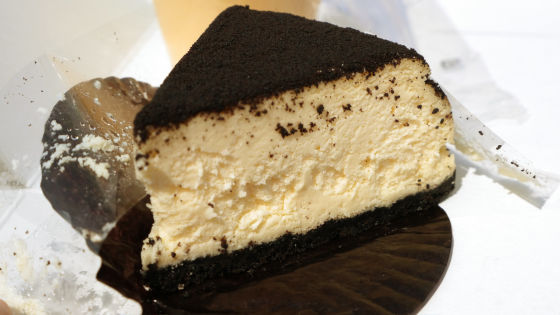 Cheese is creamy, cookie tart has sweetness but also bittersweet. It is a cake that can enjoy both smooth texture and crisp texture at once.



Next, chillin pudding.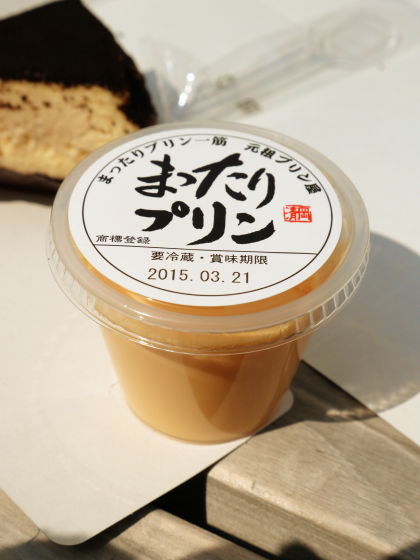 Purine with a creamy and eggy taste and a gentle taste. The texture is smooth and caramel is not contained, but it is a satisfactory finish satisfactory. Resetting the mouth which became salty in ramen.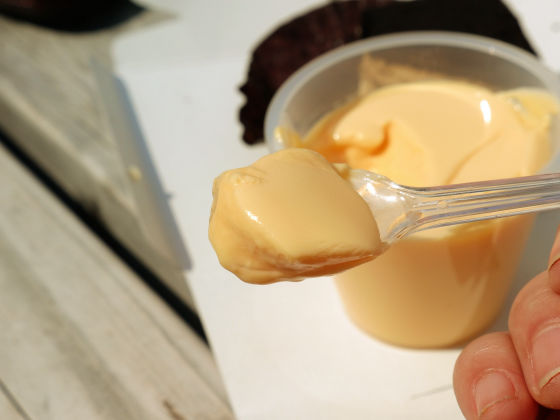 Also,Dippin 'dotsIce cream was also on sale.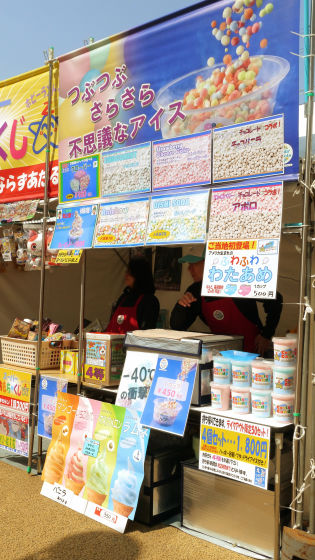 I bought "Rainbow (450 yen)"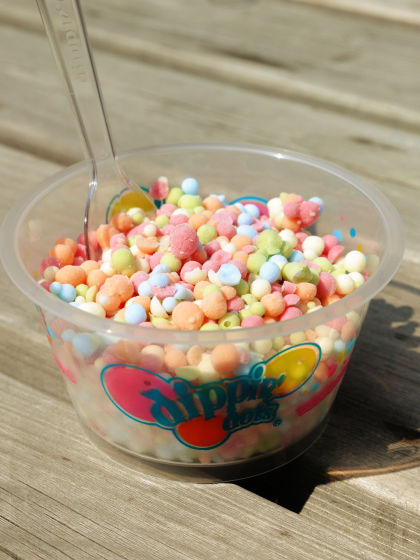 I am using technology to instantly freeze material with ultra-low temperature of -196 degrees and enjoy the texture of mysterious ice cream polypoly.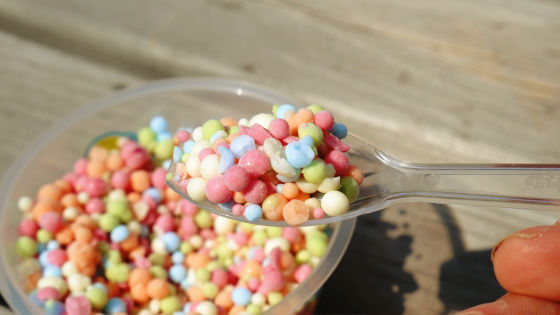 Tapioca drinks were also on sale. It is 400 yen per cup.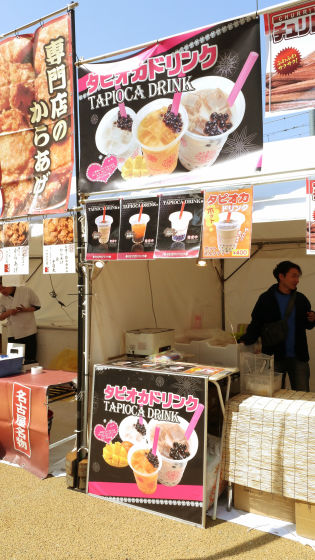 Three kinds of milk tea, mango and calpis were sold so purchase milk tea and calpis. There is a thick straw.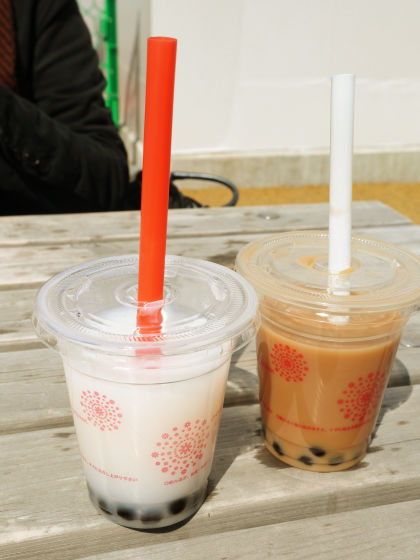 Tapioca grains are visible at the bottom of the cup.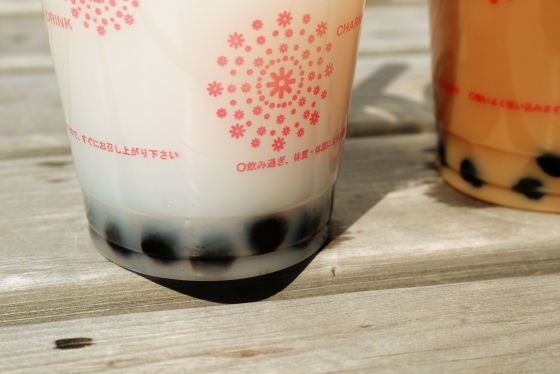 As you continue to eat salty foods, you will be healed by refreshing sweetness drinks as thirsty. Tapioca's rich texture is also good.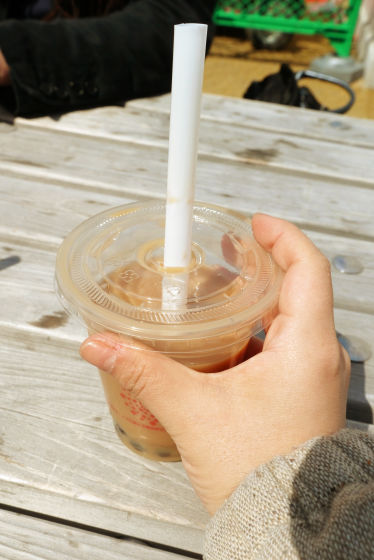 In the venue, drinks such as beer and chu-hi were sold.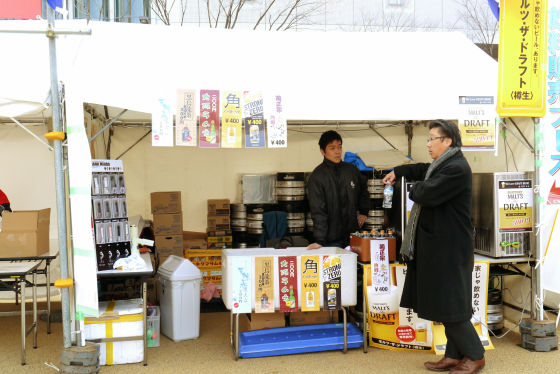 There were few people around the opening morning, around 10 am, but at lunch time the number of people increased steadily and the stage was held also on stage.



Even those who eat ramen at standing eating space.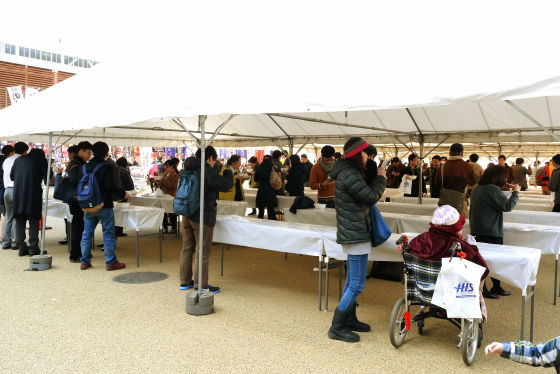 Depending on the shop, there was also a long queue.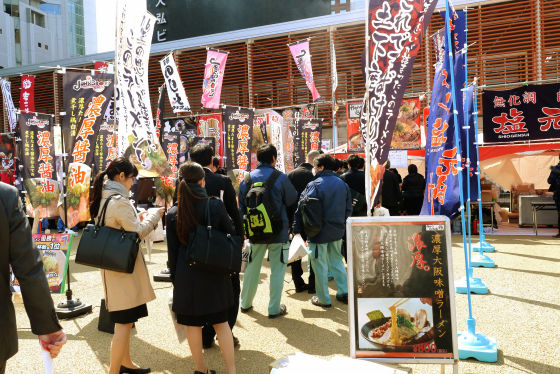 The "Ramen Sengoku period" will be until March 15 (Sun). On the 13th and 14th it is until 21 o'clock, the last order is 20:30, on the 15th day of the last day it is 18 o'clock and the last order is 17:30.