'Myojo noodles and soup only jet black mar oil pork bone ramen' tasting review that competed only with soup with jet black mar oil and extra fine non-fried noodles with 'no ingredients'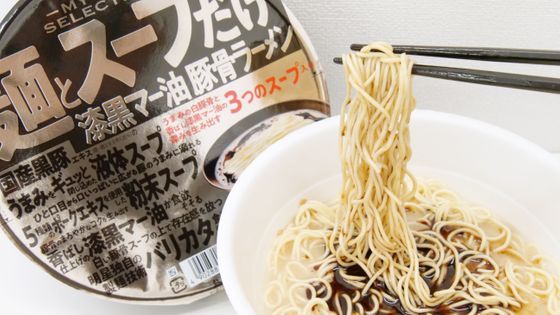 'Myojo Noodles and Soup Only Golden Chicken Oil Chinese Soba
', which appeared in March 2021 from Myojo Foods, attracted attention as a special cup noodle that uses only noodles and soup and does not use any ingredients. As the second installment of the
'Myojo Noodles and Soup Only
' series, 'Myojo Noodles and Soup Only Jet Black Mar Oil Pork Bone Ramen
' has been released on December 20, 2021. It was a bowl of extra-fine non-fried noodles with a crunchy texture, pork bone soup containing black pork extract, and fragrant jet-black mar oil. ..
'Myojo Noodles and Soup Only Jet Black Mar Oil Pork Bone Ramen' (Released on December 20) | Myojo Foods
https://www.myojofoods.co.jp/news/10122
'Noodles and soup only Jet black mar oil pork bone ramen' has a unique package as well as the characteristic concept of competing only with noodles and soup without using ingredients.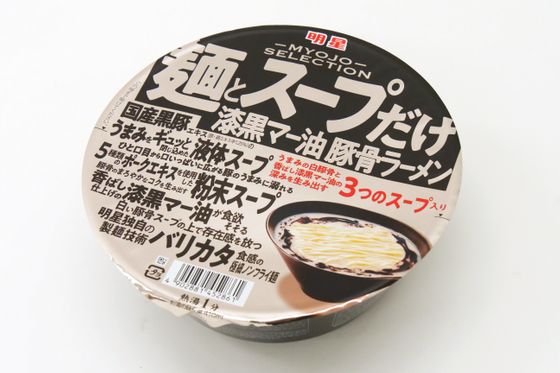 The photo is only small on the right side, and the appeal points are listed only in letters.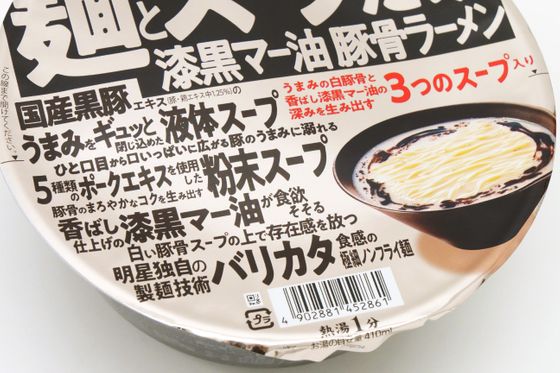 Other than noodles and soup, the raw material names are seasonings, spices, kansui, etc., and there is no scent. Pork / chicken extract, lard, soup, creaming powder, sesame, etc. are used in the soup.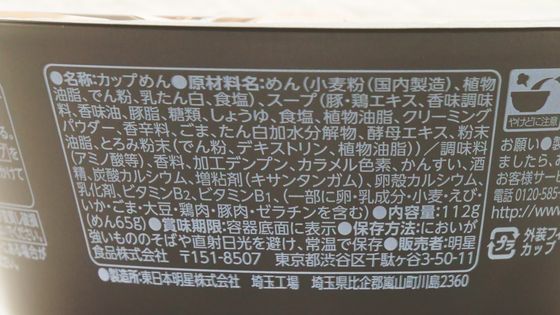 Calories are 462 kcal per 112 g of meal. The equivalent amount of salt is 5.9g.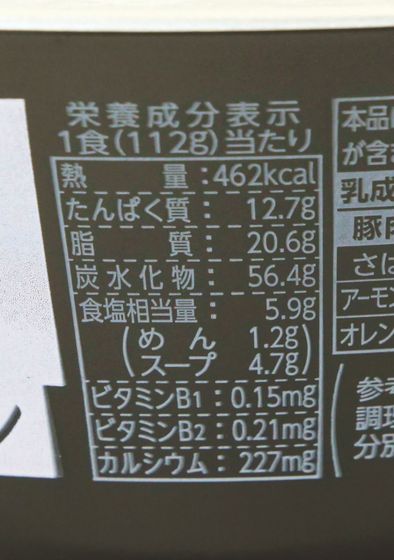 When I opened the lid, I found a small bag of powdered soup, liquid soup, and seasoning oil. Both are later, and the liquid soup needs to be placed on the lid and warmed during rehydration.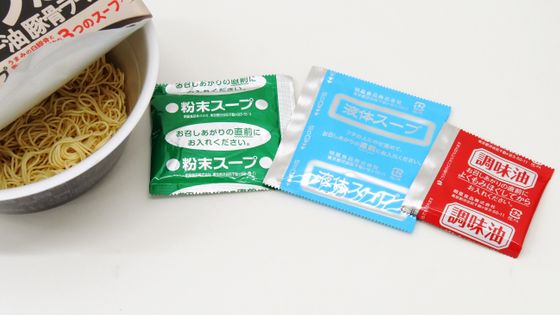 Pour hot water up to the inner line ...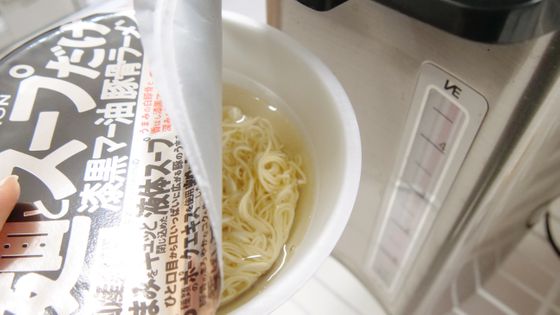 Wait 1 minute.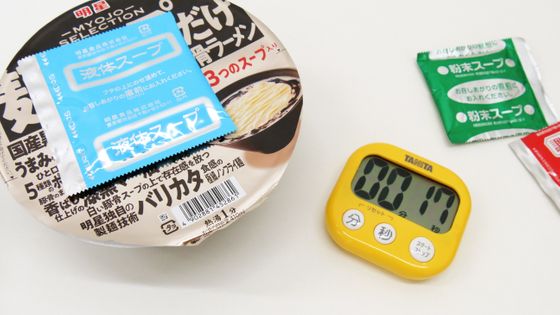 After 1 minute, add the powdered soup and dissolve it, then add the liquid soup and mix.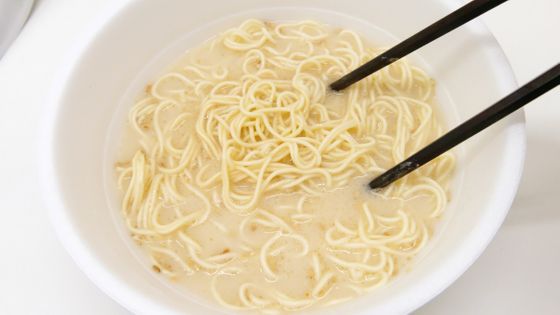 Finally, add seasoning oil ...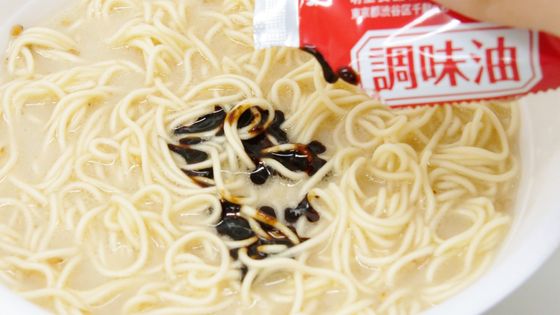 done. Jet-black mar oil spreads on the light brown pork bone soup, making the ramen look impressive.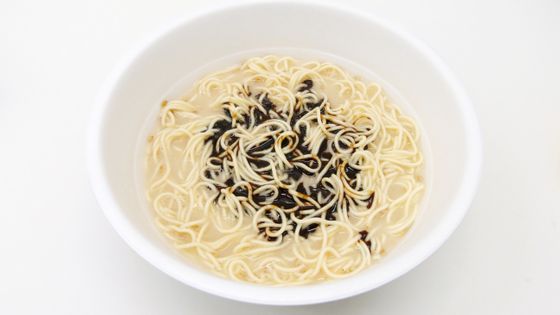 The base pork bone soup is mellow and creamy, with a rather gentle taste. The combination of dark mar oil adds aroma, richness, and a hint of bitterness, giving the impression that the soup has a punchy taste that makes the umami of the pork stand out.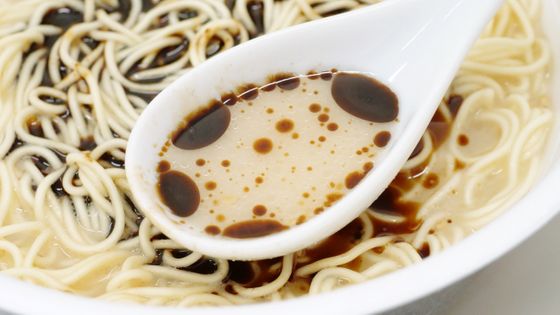 The extra-fine non-fried noodles are smooth but have a unique texture, and you can fully enjoy the feeling of 'eating noodles'. It goes well with soup, which has a strong richness and aroma.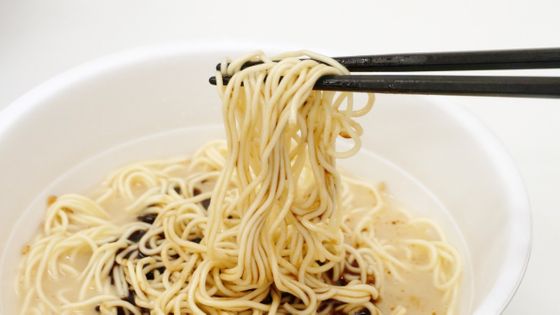 'Noodles and soup only jet black mar oil pork bone ramen' will be available for purchase at retail stores nationwide from December 20, 2021, and the suggested retail price is 230 yen excluding tax. At the time of writing the article, it was possible to purchase 12 pieces for 2944 yen (245 yen per piece) on Amazon.

Amazon | Myojo Noodles and Soup Only Jet Black Mar Oil Pork Bone Ramen 112g x 12 | Myojo | Ramen Mail Order