"First cabin" accommodation repo staying in the room which imaged the first class of airplane under 6000 yen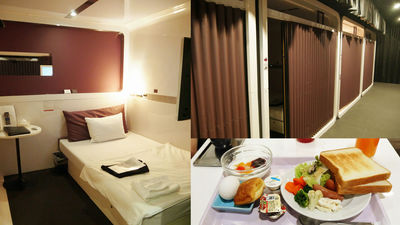 Although I would like to cut down accommodation destinations as cheaply as possible for business trips and traveling, if it is too low it will become a suburb, or it will become a cheap room suitable for the price. Although it is cramped as if it is an Internet cafe or a capsule hotel, it is good access for several minutes from Tokyo's Akihabara / Tsukiji / Haneda Airport terminal, Kyoto Karasuma / Osaka's Midosuji Namba, Fukuoka's city center station , The compact hotel which can stay in "Room" under the concept of first class of airplane under 6000 yen is "First Cabin"is. As all the facilities are in the same room, it is said that the occupancy rate is a popular hotel which is 90% every day, so I have checked whether it is a hotel that I can use for a business trip etc.

FIRST CABIN FIRST CABIN ~ New compact hotel which imagined the first class of airplane ~
http://first-cabin.jp/

Arrived at "First Cabin Midosuji Namba". It is conveniently located a few minutes on foot from Nankai Electric Railway Namba Station and Osaka Namba Station in Kintetsu and Hanshin, with direct connection from Midosuji Namba Subway Station.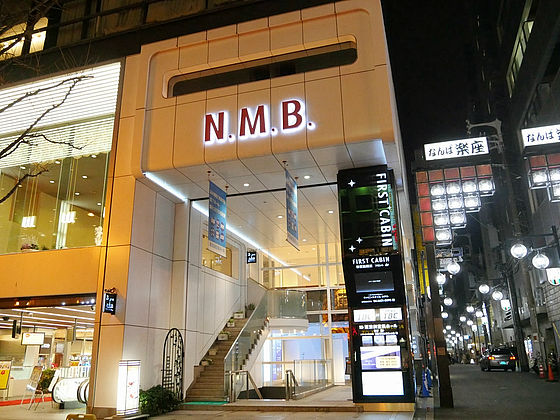 Apart from business trips, I also expect to use it when I come to play and miss the last train.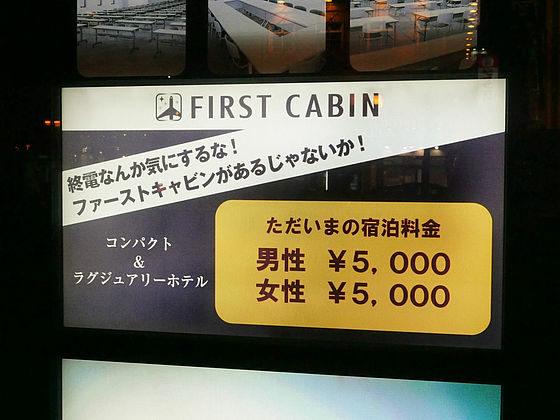 So I went inside and checked in. The fee will be prepaid here.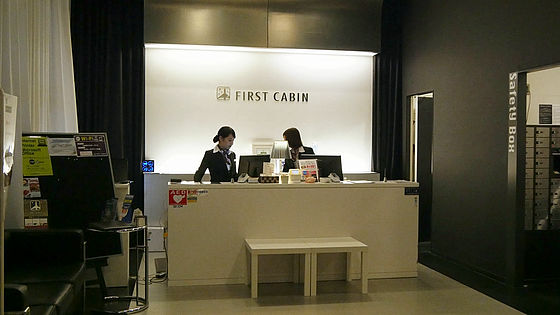 "Front hair clip", "comb," "earplug", "nail clipper", "shaving" and "body sponge" are placed at the front as a free amenity, and it has a mechanism to bring as much as necessary.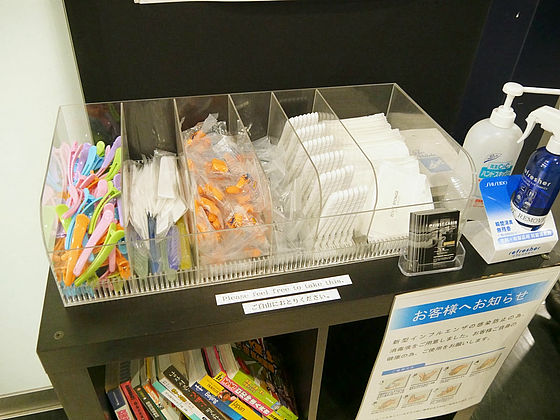 If there are missing items, additional charged amenities are also available.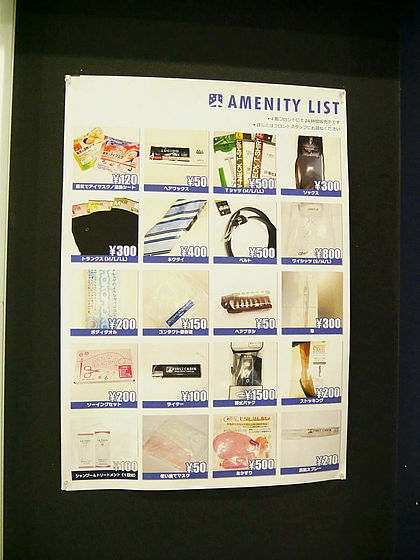 It is said that the room does not get locked, so small valuables can be deposited in the free safety box next to the front desk. You can accept big baggage at the reception desk.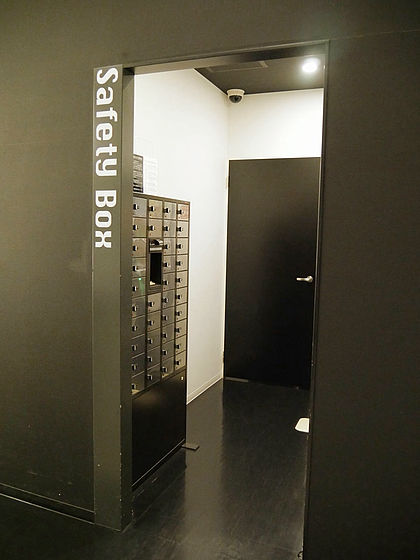 The rooms are called "cabins" and are divided into men and women's separate areas.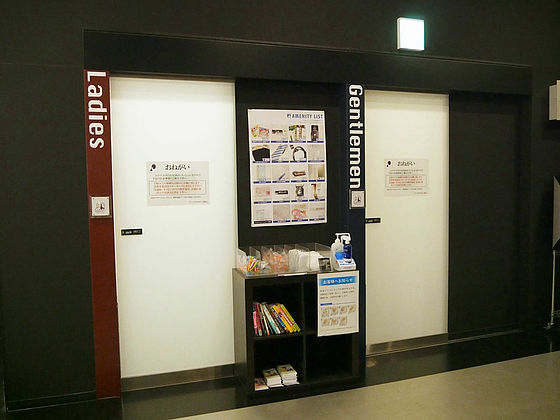 Hold the entrance card received at check-in and go to the cabin area. Although you need this card when you enter the room, you can go out and go anytime 24 hours a day.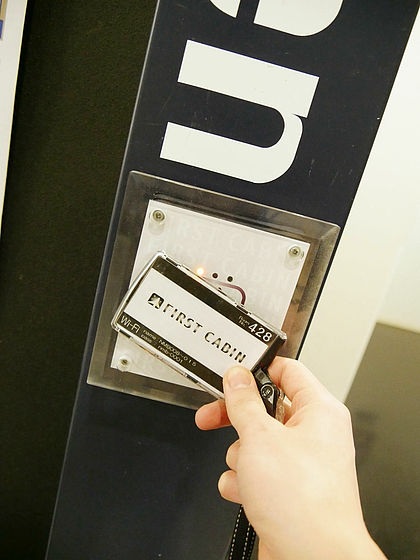 There is a small lounge in the middle of the cabin area, and drinks are on sale.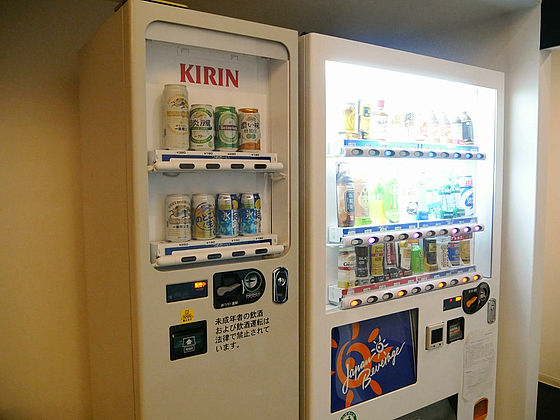 You can sit here and chat or talk on your mobile phone. All rooms in the cabin are non-smoking, so cigarettes need to use a smoking room at the back.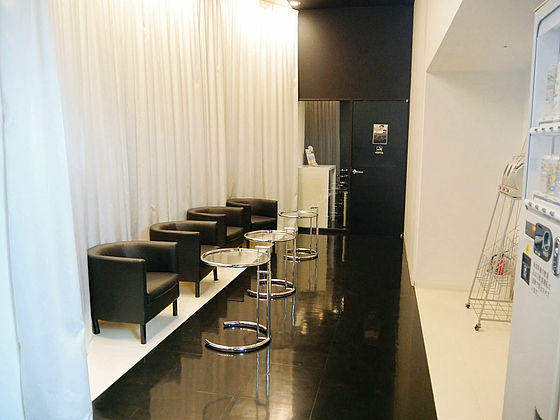 And then to the cabin area. The quiet rooms are lined up in a very quiet space, and from the quiet space it makes me feel like a cartoon cafe.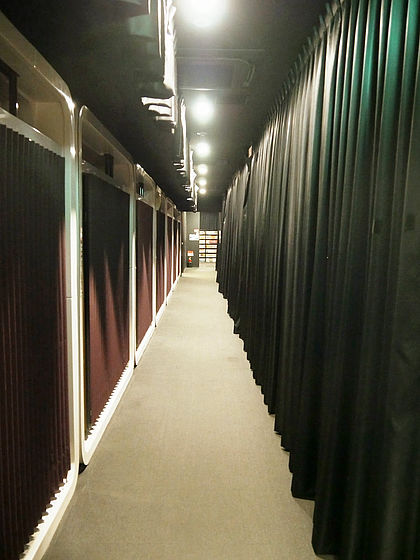 Spectacular scenery that I have never seen so much that box rooms are lined up.



Arrived in the reservation room.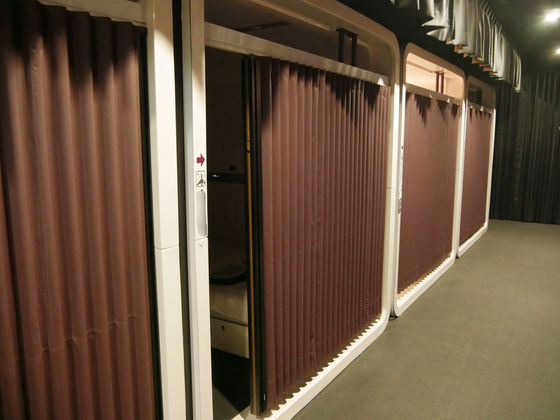 Opening the bellows door ......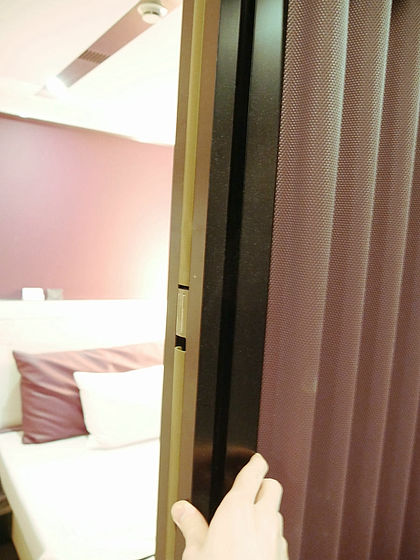 Aircraft 's first - class room appears.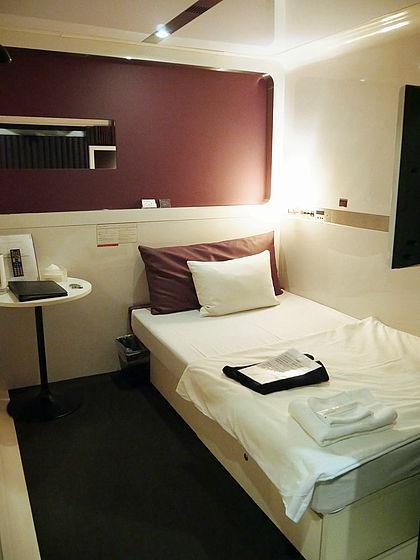 There is a table on the bedside. Even if you bring aroma oil because aroma compatible humidifier is placed. Like the Internet cafe, it is made so that sound can not be outputted, so earphones are placed in each room. There is no electric pod but you can borrow it for free if you go to the front desk.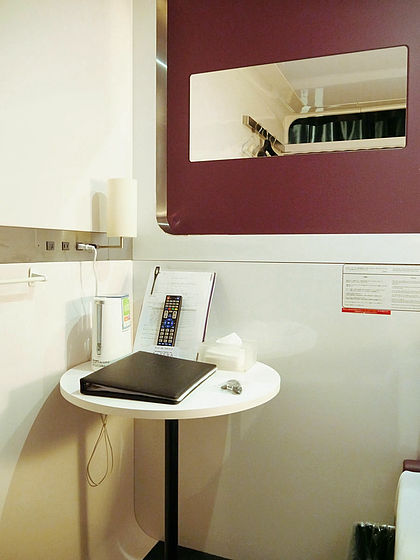 Two outlets are on the desk side.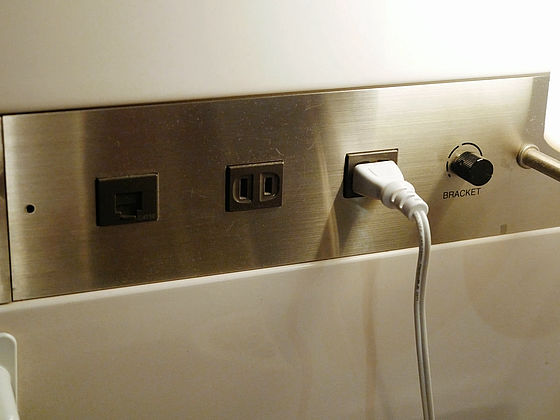 There is not a closet, but there are clothes hung on the wall and three hangers are prepared.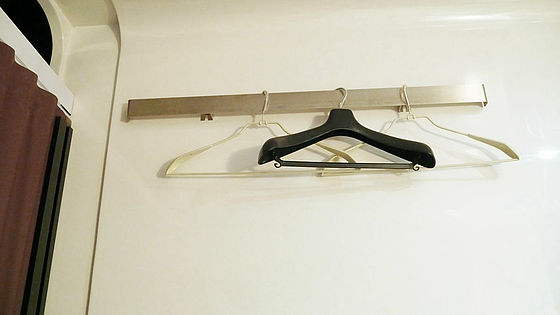 There was also disposable slippers.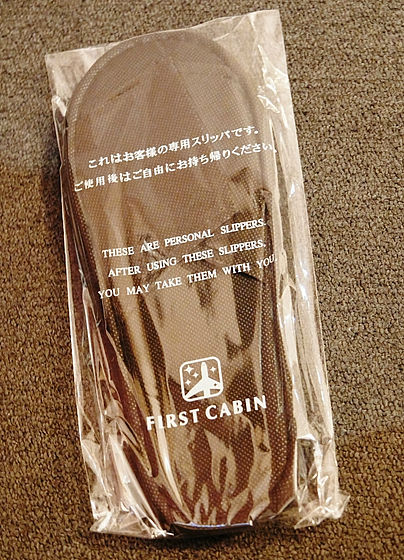 The bed is comfortable enough to occupy the majority of the room.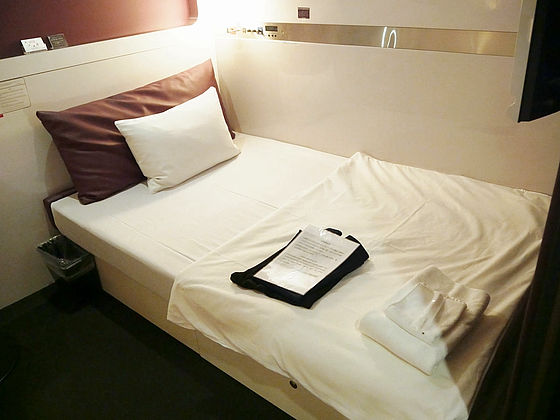 There is a larger LCD TV at your feet, you can enjoy TV while lying down.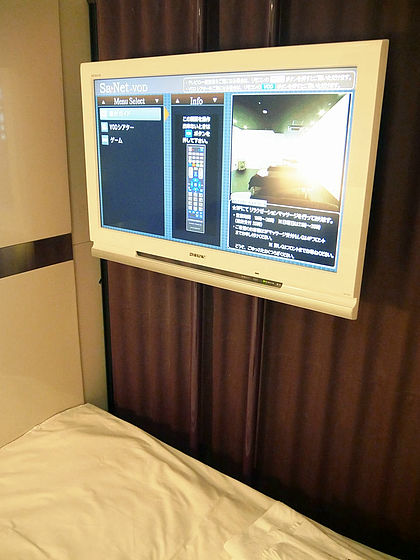 The pillow looks something like this. The brown one is like a leather sheet of an airplane.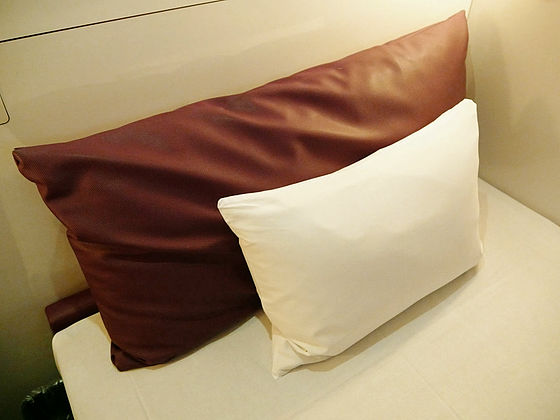 Each room has an indoor wear, 1 bath towel, 1 towel, and a toothbrush.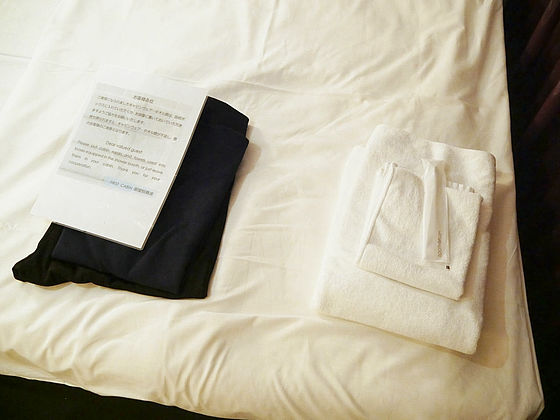 Interior garment is an upper and lower trainer.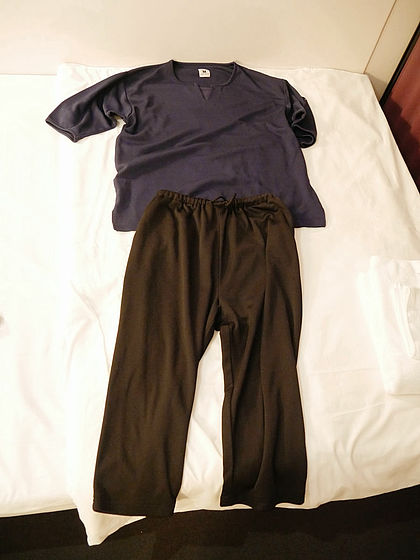 Also there is one outlet on the wall on the bed side, there are also an alarm clock and earphone jack for TV. It is also possible to borrow headphones for free at the front desk.



In addition, the bottom of the bed is stored ... ...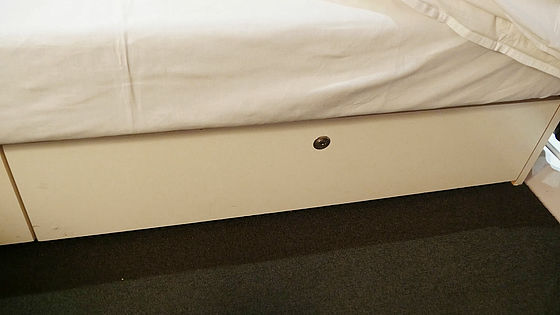 You can lock and put valuables. When going to the bathroom etc, you can take the key with your arms, so the key of the room will not close, but the minimum security is to be kept.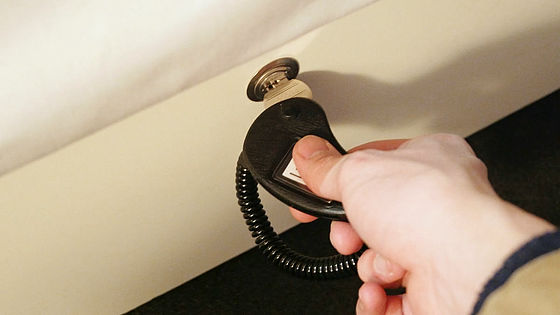 Space is set next to the toilet for the grooming and tooth brushing in the morning.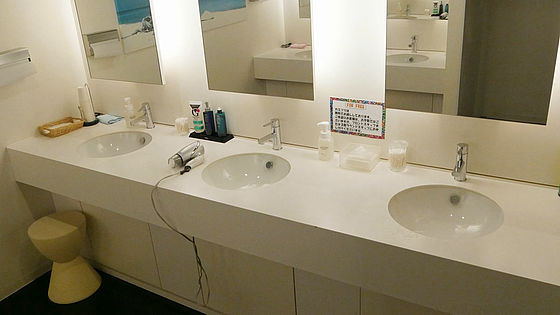 If I thought that it was a cartoon cafe atmosphere, I also had a comic strip section.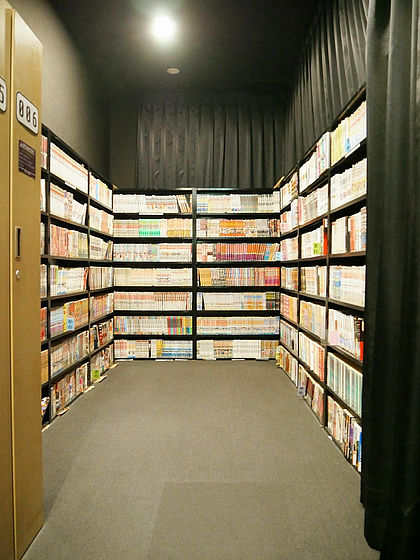 There is a locker beside it, so if you have a big baggage such as a suitcase, you can not keep the room cramped if you deposit here.



In addition, the first cabin has a large lounge where you can eat and eat and chat in any public facility.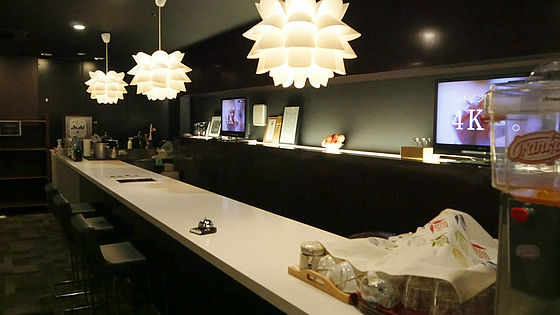 Opening hours are from 21 o'clock to 3 o'clock in the evening, from 6:30 to 9:30 in the morning, you can order alcohol such as draft beer (500 yen tax included) and a small set meal and breakfast etc. Since this area is included in both men and women, it is also possible to join here when staying with couples etc.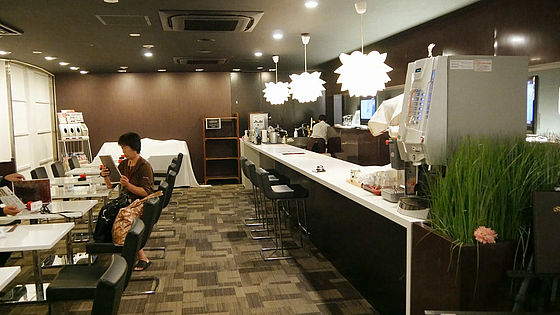 It is a nice place to have a public bath. The following photos are from the website, and the actual Midosuji Nanba male public bathhouse is more like an ordinary public bath. Flowers may be floating on the female side as shown in the picture. It can be used for 24 hours, and some shampoo and body soap are available, so if you bring only a bath towel, OK.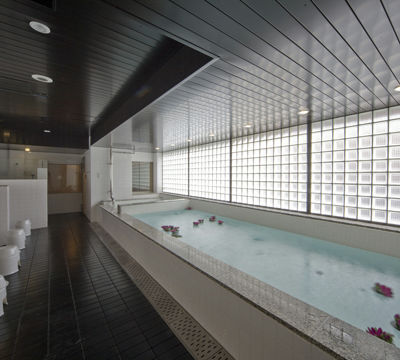 There was a sauna inside, so I was able to relax tiredness slowly.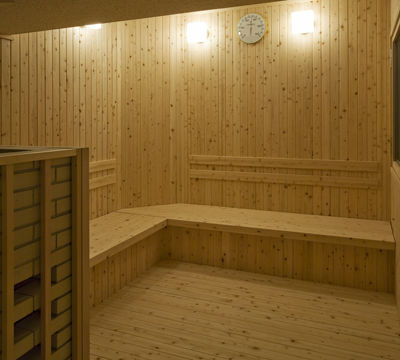 When I spent the night, I did not have a door, so I heard the throat of the next room until the cough was the same impression as the Internet cafe, but I could sleep slowly in the big bed. Because there is no desk and chair set, it is not suitable for work with gully on PC, but free Wi-Fi is crisp and LAN cable can be borrowed.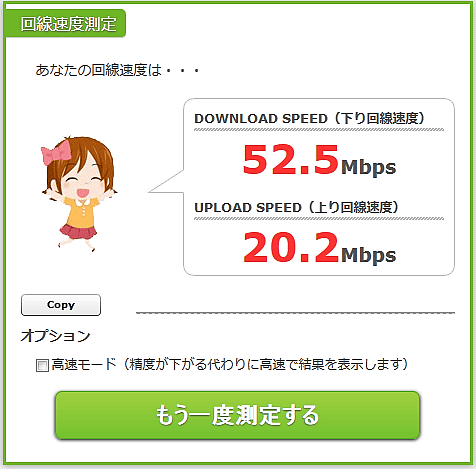 I decided to eat the 500 yen breakfast buffet, because it was overnight. Even if you have not ordered in advance, you can tell the lounge staff OK.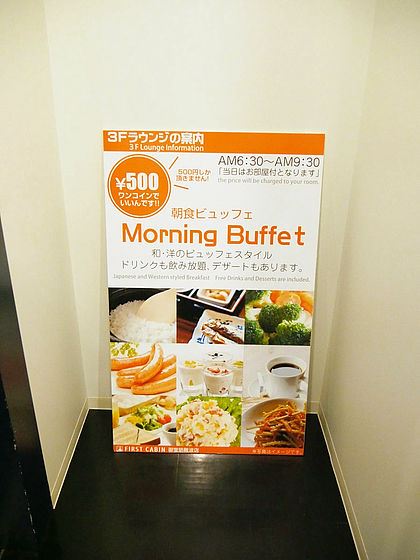 In the buffet there is a vitamin drinkOranga, And drinks such as coffee, cocoa, black tea and green tea are prepared.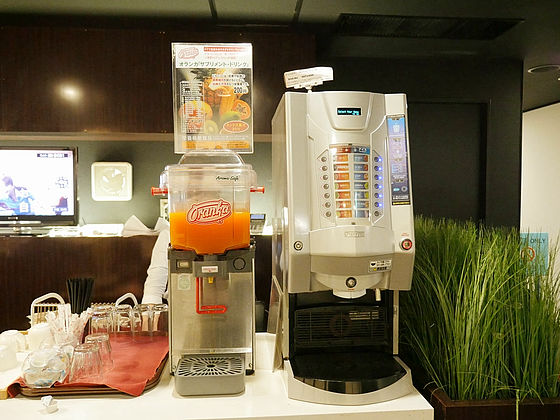 The breakfast buffet on the day we stayed, besides side dishes such as boiled Chikuzen, boiled hijiki, fried noodles, grilled fried noodles, salted salmon and wiener, salad such as boiled eggs, hot vegetables, macaroni salad and lettuce, yogurt and fruit There was also a little dessert.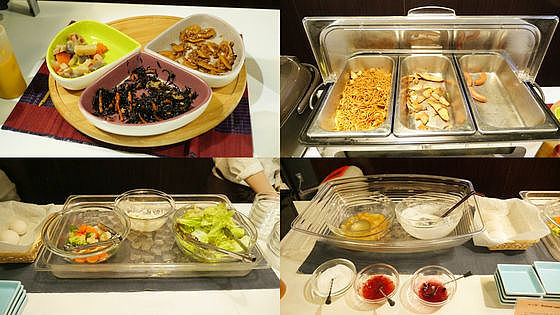 The staple food is rice and miso soup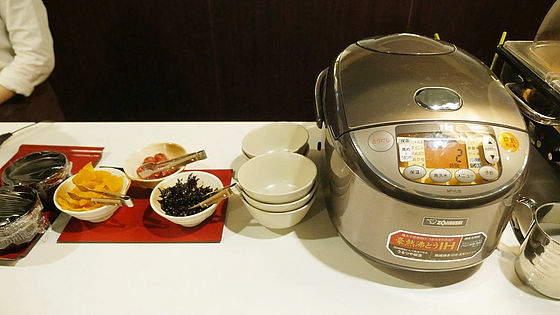 You can choose bread or sweet bun.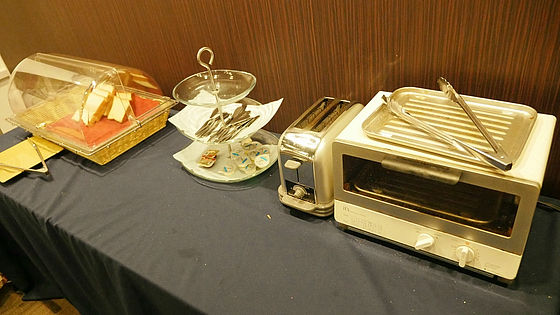 When we served it with western food menu, it became like in-flight meal. Since it is a buffet, you can eat as much as you like, and hus is not damaged if it is 500 yen by this. However, since all facilities are located in the downtown area, it may be good to go out for eating out at 500 yen.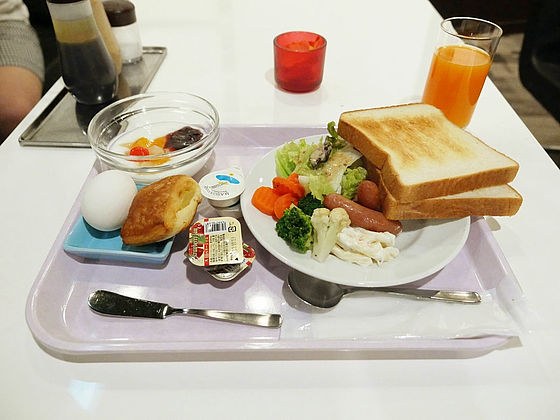 The first cabin has become like a hotel which took between the business hotel and the net cafe, and the "first class" of 4.4 square meters is 5500 yen including tax at Midosuji Namba which stayed at this time, and it is 5900 yen including tax in Tokyo · Akihabara , Price varies depending on location, but any facility can stay at around 6000 yen. The room becomes compact if 2.5 square meters "business class", but it is possible to stay even cheaper. Besides using business trips, even those who miss the last train have a price setting, and it is also possible to enter with a short stay of 900 yen per hour.