"Nespresso latissima plus" review that easily made full-fledged cappuccino etc. can be made from all 23 kinds of capsules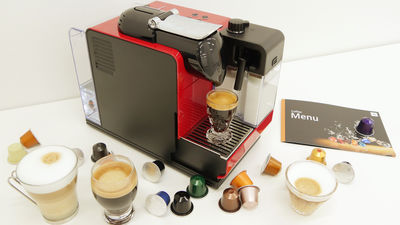 The capsule type coffee machine can only drink authentic coffee by putting a special capsule. Many people say that "capsule type coffee machines are not well understood" because coffee made by manufacturers is espresso or drip coffee and the direction is different. So you can extract authentic espresso and fluffy milk cappuccino etc from 23 kinds of capsules with one button "Nespresso latissima plusI tried to actually use what kind of drink can be drunk by purchasing.

Coffee Maker | Latisima Plus Red F411RE - Nespresso Nespresso
https://www.nespresso.com/jp/ja/product/Lattissima-plus-passion-red

◆ Type of capsule type coffee machine
Capsule type coffee machines can be roughly divided into "espresso type" and "drip coffee type". Espresso type coffee machines were purchased by Nestle 's "Nespresso" series and "Dolcegast", Illy (イ リ ー) 's"FrancisFrancis! X 7.1"there is ........., ........., etc. For drip coffee ceremony, Kurigu's "Neotrevier"Such. Because none of the special capsules can be used, choosing a machine is very important.

Nespresso series can extract only espresso "Initia"U (You)"PixieThere is "separately milk whisk"AerocinoWe also sell. The Latisima series comes with a milk tank in the main body, and it is also a top model in the Nespresso series "Using a single button to make cappuccino" with fine molded milk made by putting in air.

◆ From opening to setting
That's why Nespresso's Latisima Plus arrived.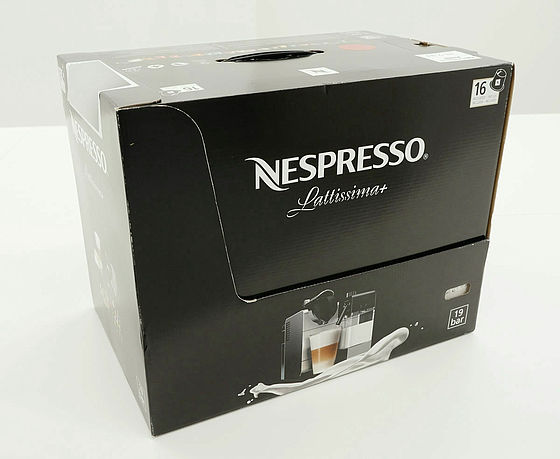 I will keep opening it.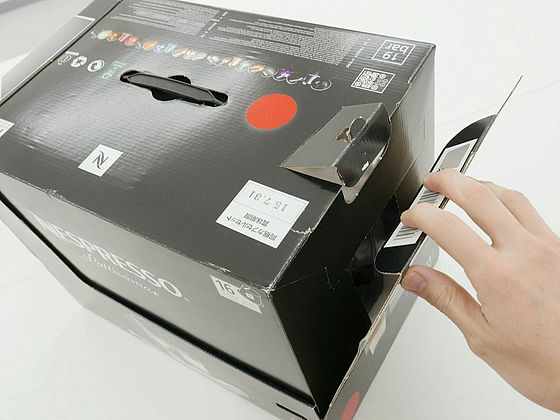 The main body was packed firmly with foam polystyrene.



The contents are 16 capsule coffee sets, a set of instructions, Latisima plus body.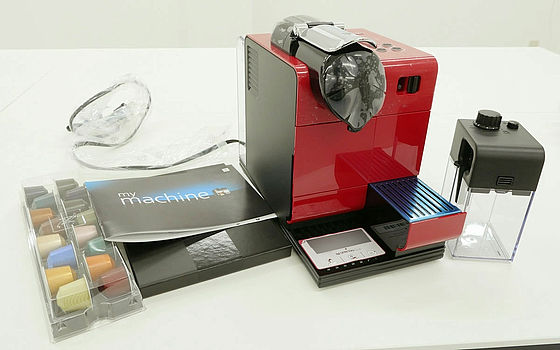 In addition to instructions with usage instructions, a set of instructions includes coffee menus and care guides for each capsule.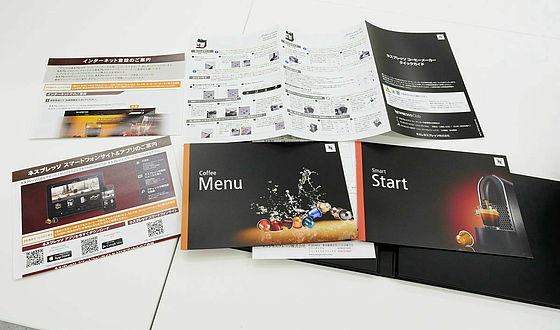 The coffee menu looks something like this, each with an explanation and "strength of taste" as a standard.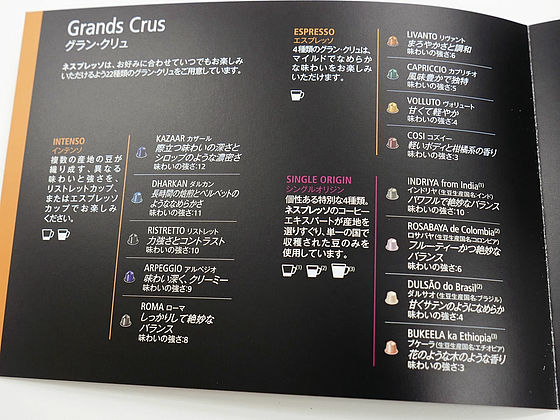 Because the amount of extract suitable for each is also written, it is convenient to imagine what kind of taste it is before drinking.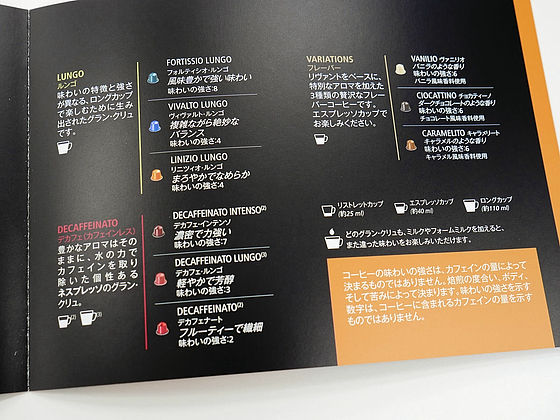 Then, in order to start the setting in order to get to know espresso immediately, first remove all the protective tape.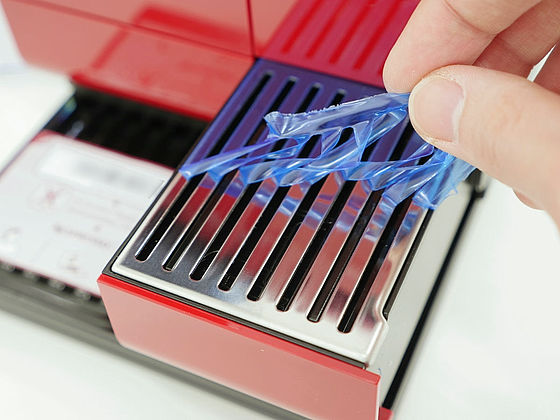 I removed all the parts. Clean these in mind.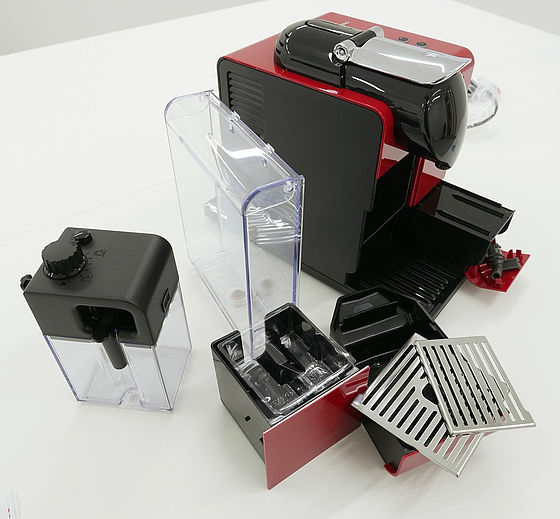 The milk tank can be further divided as below, but do not wash the lid part OK.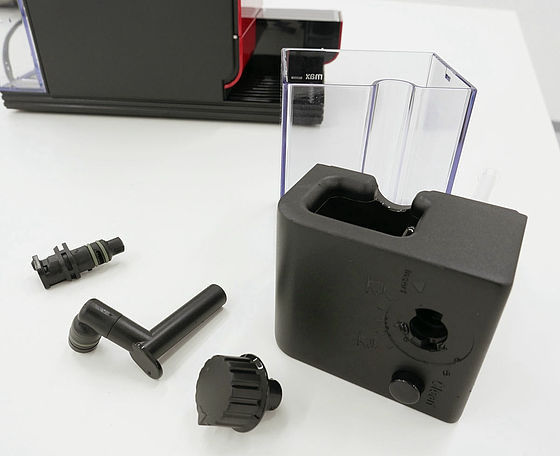 After washing, install all parts and put water in the water tank.



Turn on the power to clean it.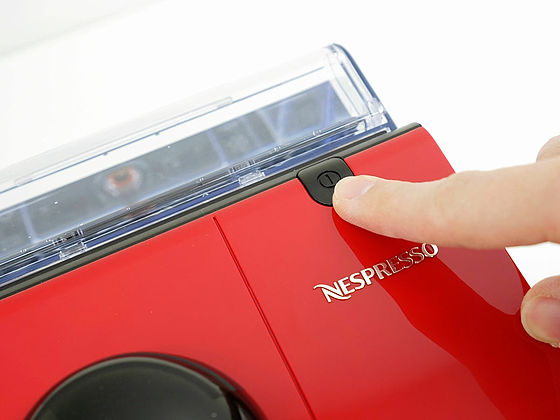 Four drink buttons will flash. When you come on constantly, hot water will come out if you push the runger button on the upper left.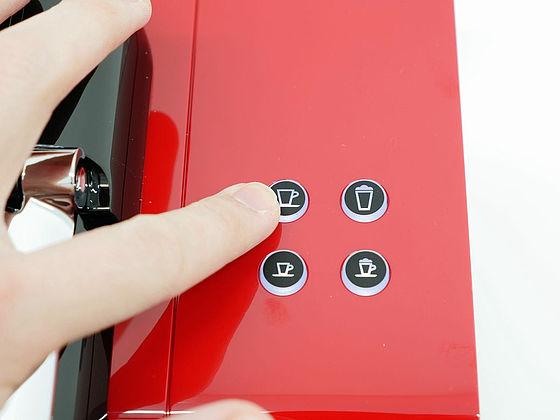 Now I am ready to make capsule coffee. After that, just before putting out the first cup in the first day, just doing the desperate after finishing the last cup is OK. The degree of difficulty of cleaning is low.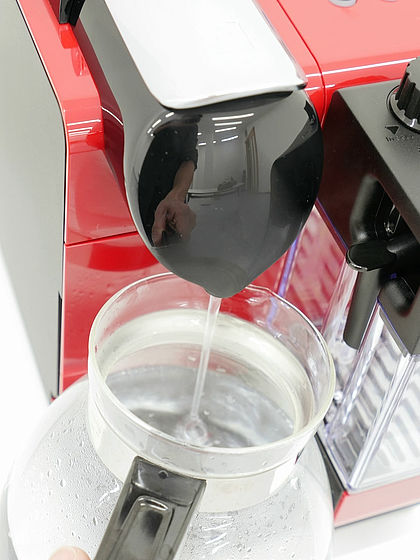 ◆ About Nespresso's capsule "Grand Cru"
First of all from the selection of capsules. Each capsule of Nespresso is color coded in a certain color.23 kinds in allThere are five types of "Intenso" using beans of multiple production areas, four types of "Mild and smooth espresso", four types of "Single Origin" using a single bean, "Lungo ", Three types of caffeinres'" decafé ", four types of" flavor coffee "with perfumes. The price per capsule is 75.6 yen - 86.4 yen.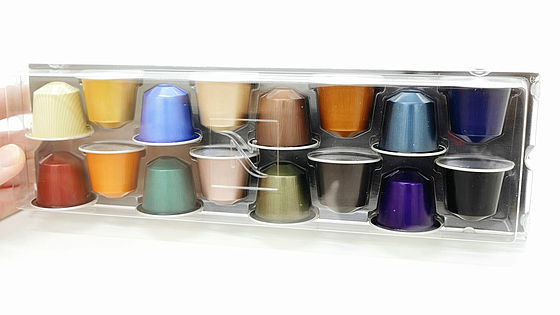 The capsule name is written on the surface. For example, this is a capsule of Intenso which used beans of multiple production areas of "Kazar", characterized by "depth of distinctive taste and denseness like syrup". The strength of the taste is 12, so you can drink a thick espresso.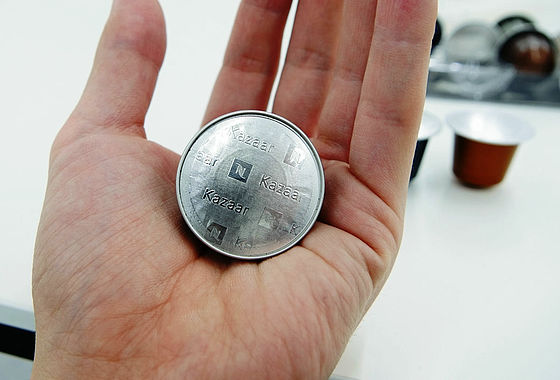 How to extract Espresso · Lungo
I will try making espresso at once. First set up capsules of your choice ......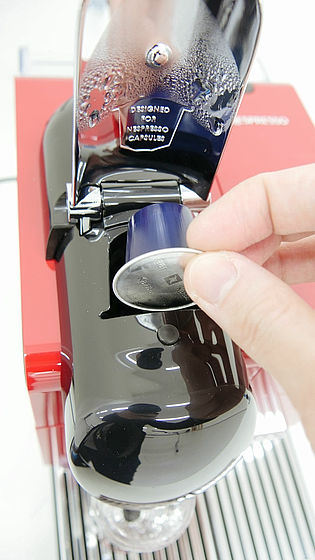 Close the lid.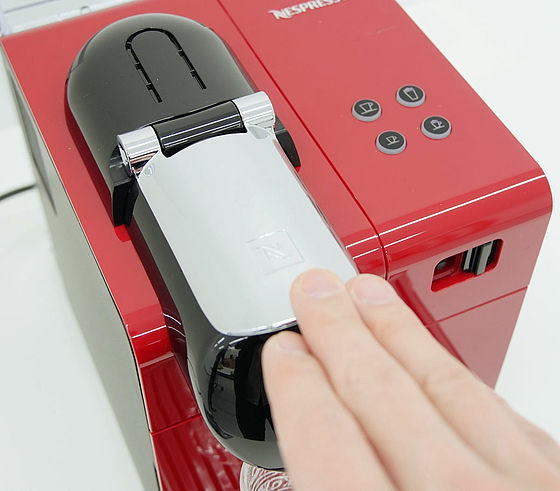 Next I will set a cup that matches the size of the drink I would like to drink, but when using a small cup as below ......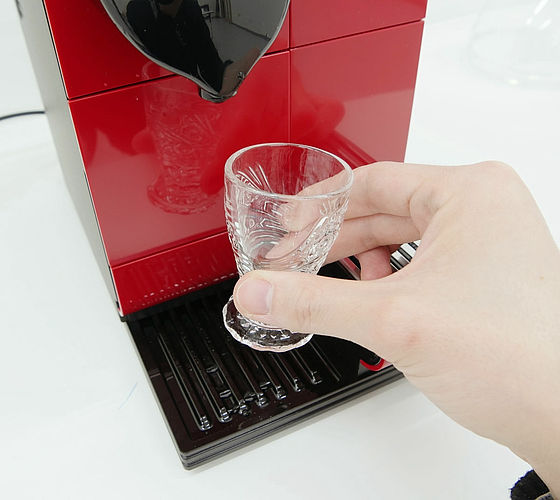 You can withdraw a table with you.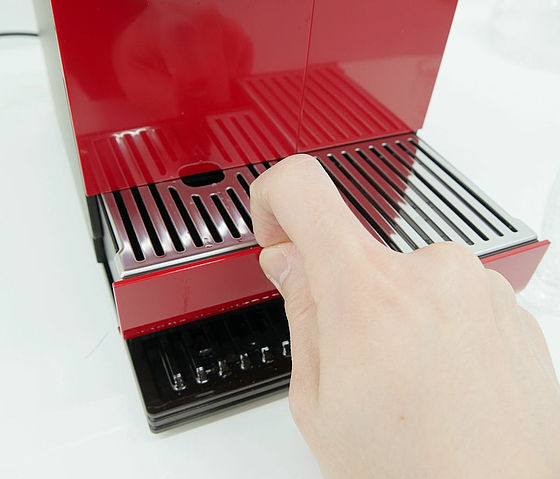 It's just right to put a cup for espresso.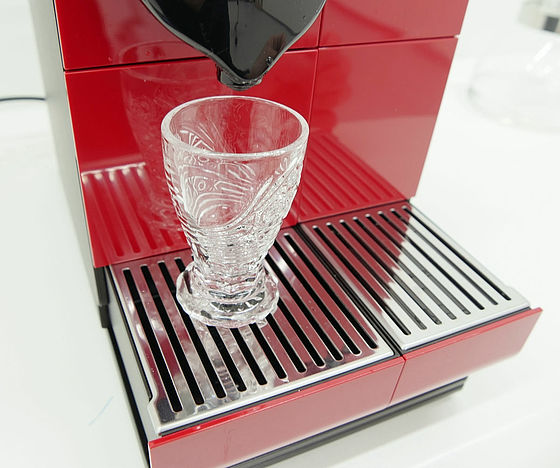 Next, turn on the power and push the button of the drink that you want to drink. The amount extracted is different, 40 ml in the lower left espresso, 110 ml in the upper left corner, 90 ml in the lower right cappuccino and 190 ml in the upper right Latte Micciano.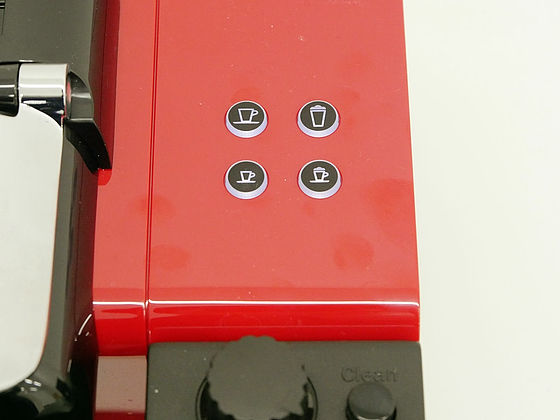 First of all, try pressing the espresso button ......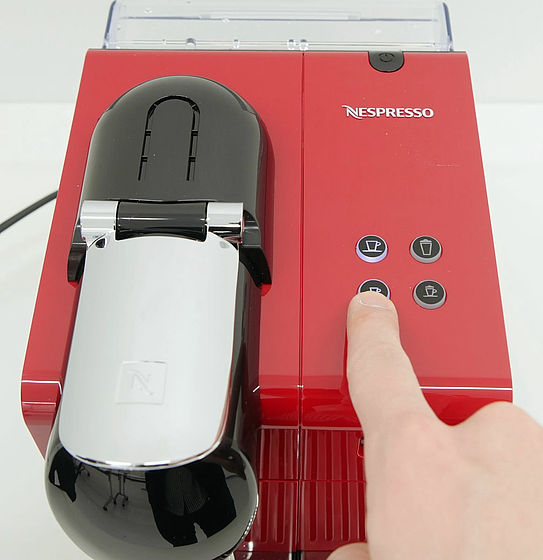 Extract of espresso started immediately. There is a fragrant scent of coffee. It sounds a bit loud, so when you use it at night you may be interested.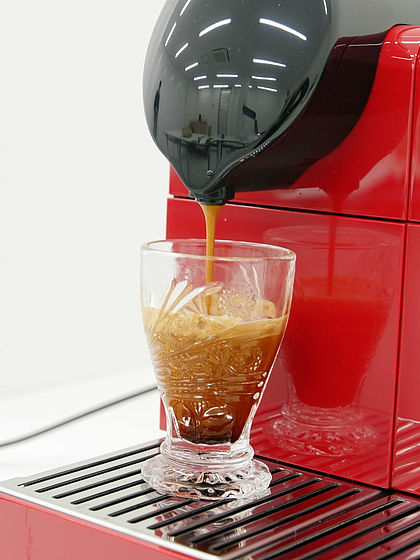 In addition, you can check the appearance of extracting espresso and the size of the sound at extraction on the following movie.

Extract espresso with "Nespresso latissima plus" - YouTube


That's why extraction is complete. At first it is an espresso-specific foamCremaIt covered the whole, but wait for a while it will turn into a dark espresso black.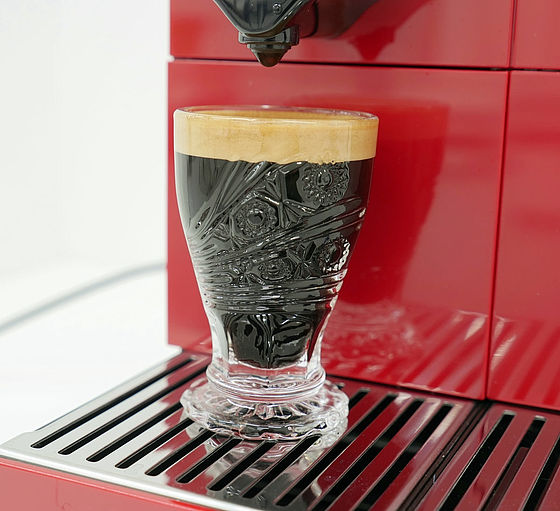 When drinking, Cazar with the taste strength of 12 feels a bitter bitter and it feels plentiful, and if you are unfamiliar it might shy away. It is an espresso that drowsiness seems to fly away in a moment with rich bitterness, but when sugar was put in, it was possible to drink the bitterness and sweetness just in good balance.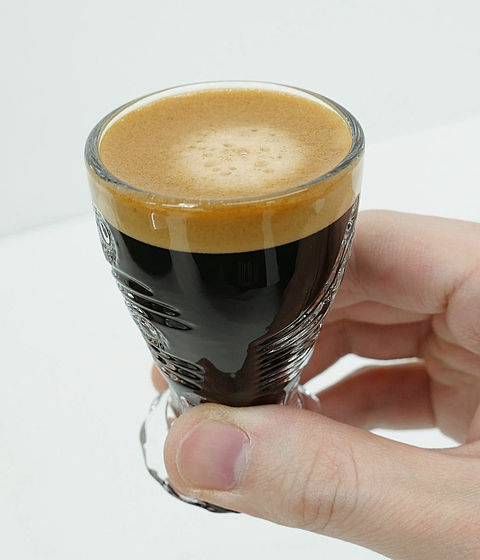 Next, break espresso with hot water and extract Lungos which can be enjoyed with 110 ml long cup. The capsule has a taste strength of 8, a flavorful selection of "Forticio · Lungo" with a strong taste.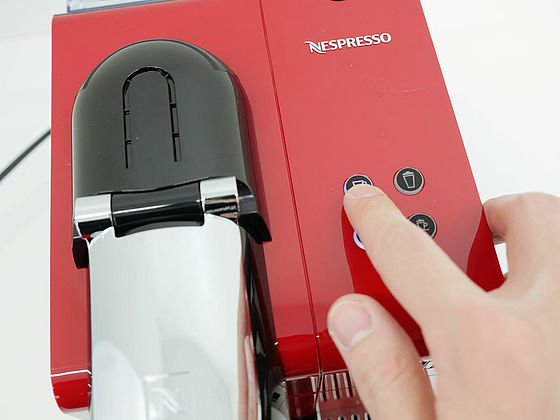 First of all, it is the same as espresso that crema stands entirely.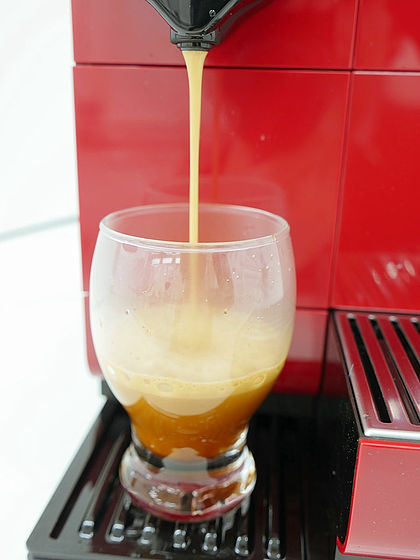 It is finished. You can enjoy it slowly in an amount more than double that of espresso. Forticio · Lungo is a capsule with more acidity than bitter, it may be better to drink as it is than to put in sugar. Because it is diluted with hot water, it can be drunk with the impression like "dark coffee" just right, so even people who are not good at espresso are fine. Some people think that 'capsule coffee is too easy and taste not good', but it was clearly superior to the drip coffee at convenience stores.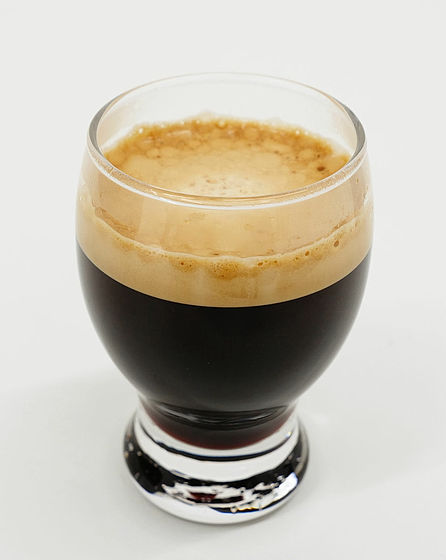 You can see how Nespresso is extracting Lungos in the following movie.

Extract Lungos with "Nespresso latissima plus" - YouTube


In addition, espresso and Lungo can also change to a desired extraction amount of at least 25ml ~ 200ml by long pressing the button at the time of extraction.

◆ Cappuccino · Latemacciano extraction method
Because Latisima Plus has a milk tank, it is a point that cappuccino and latte with fluffy foamed milk is completed with one button.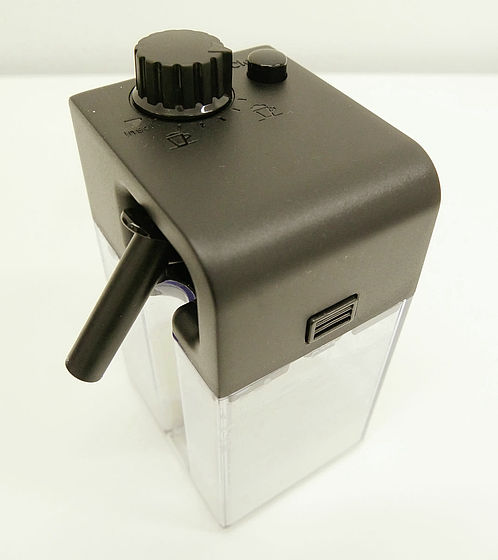 So I decided to make it at once. First I will pour milk into the milk tank. Milk is OK with low-fat milk, ingredient-unadjusted milk, high-fat milk, and the higher the fat content, the better the foaming will be. Please note that cream · pasteurized milk · soymilk is not compatible.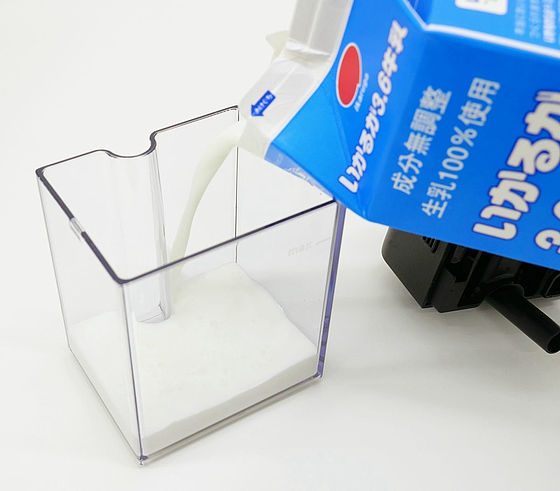 You can use the milk tank just by inserting it in the right side of the main body. It is easy to wear and remove the tank, it is okay to keep the excess milk as it is stored in the refrigerator.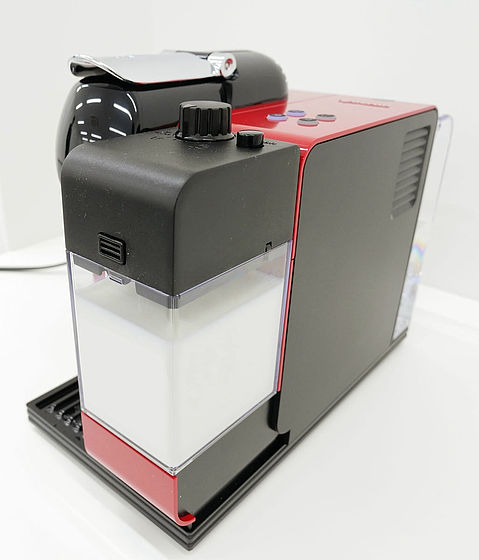 For the cappuccino, choose the single origin "Darusao". Premonition that it seems to be suitable for cappuccino in the explanation "Sweet as smooth as satin".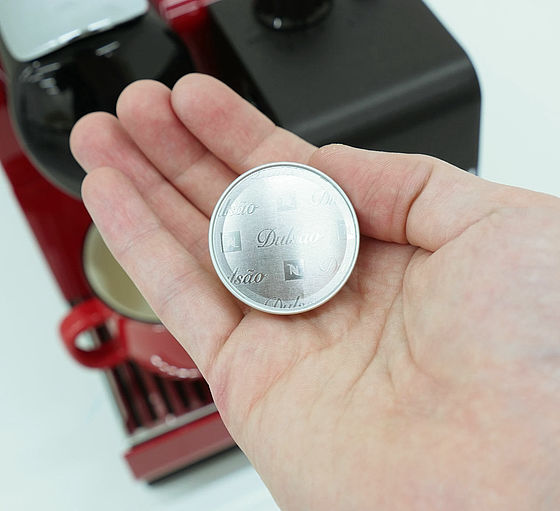 That's why the cappuccino button on the bottom right is switched on.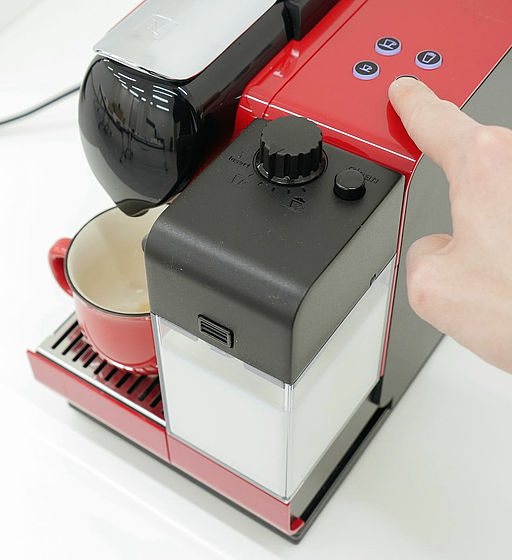 The appearance of extracting cappuccino can be seen in the following movie.

Extract cappuccino with "Nespresso latissima plus" - YouTube


First of all, foamed milk comes out from the milk tank, then espresso is extracted.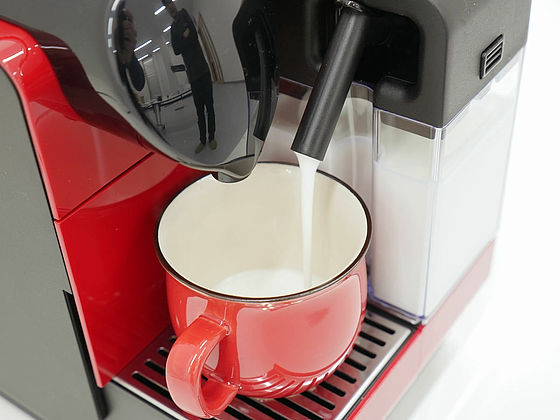 Completion. When I drank a mouthfully, the fluffiness of foamed milk is exquisite and it comes out at the store. Espresso hidden beneath is authentic and matches the sweetness of milk. Even this alone is enough, but putting sugar makes it much more delicious and it is doubting that it really made with a single button?



It is important to be aware that after creating milk menu, do not forget "yuudon". Pressing the "CLEAN button" at the top of the milk tank only receives hot water and steam coming out in the container, but it is a work that is unexpectedly forgotten. After extracting the milk series menu, it is necessary to do so do not forget to leave it for more than 5 minutes because it is a cause of malfunction. Even Starbucks etc. are clerks who are wrapped in steam.



Since Latte Mcciano is extracted 190 ml, it may overflow with ordinary size coffee cups.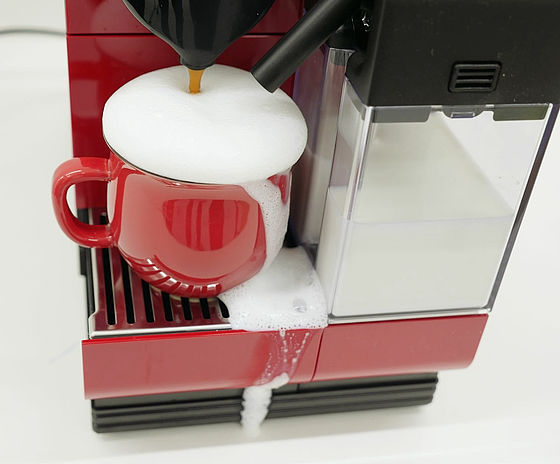 It will be like this when put in a cup of suitable sizes. If fluffy milk is served and you want to have plenty more than cappuccino, just extract it.



You can see how you are extracting Latte Mcciano from the following movie.

Extract Latte Mcciano with "Nespresso latissima plus" - YouTube


This time I tried all 23 kinds of capsules with editing team total, but there is a difference in the taste so that "coffee cup" can be done in any case, any capsule has become aroma high-class coffee, at one time It was enough to have a queue before Nespresso. Personally I felt that the one with strong "taste strength" written for each capsule is for Espresso · Lungo, the one with a thin taste strength and the flavor series for the cappuccino · latte . Because the taste of the decafé system is so deep that it can not be thought that caffeine is not contained, it should not fall into the situation that "favorite beans can not be found".

Considering that you can buy drip coffee at a convenience store at 100 yen, Nespresso which needs about 80 yen capsule is felt quite high, but the taste is quality that can not be compared with convenience store coffee. Considering that a higher level espresso or cappuccino can be drunk with one button than a store's one and drinks can be made with capsules of your favorite darkness, it is a machine you want to keep one in a house It was.

Article writing Currently, the red "Nespresso Latishima Plus" used in the review is sold at Amazon at 19,800 yen including tax.

Amazon.co.jp: Nespresso Latishima + (plus) Red F411RE: Home & amp; Kitchen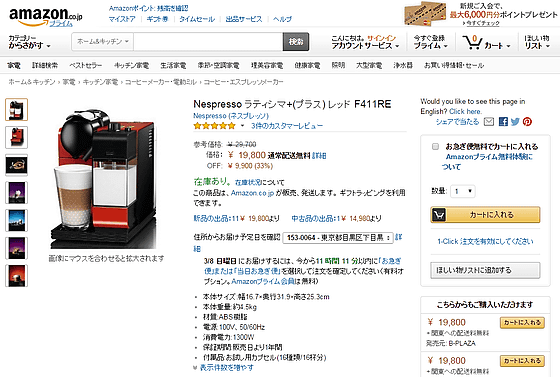 Also, from March 6, 2015 (Friday), you can create your favorite drink just by touching a button of the Latte Tima series new model "Latishima · Touch White"Is also on sale. The list price is 20,700 yen, and on the Amazon it will be released on March 11 (Wednesday) with tax 20,496 yen.

Amazon.co.jp: Nespresso Lattissima Touch (Latisima Touch) White F511 WH: Home & amp; Kitchen