"Rental housing search application" that can find a moving place from a smartphone free of charge Conclusion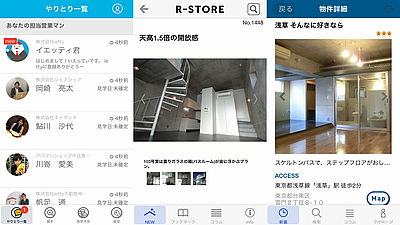 I think that many people think to move together in April when the new life begins, but "Looking for properties" can be hard work. So, as an application that makes it easy to search for a rental property on the move destination from a smartphone, you can quickly search for rental information of a major real estate company "Search for apartments for rent"Real estate salesmen teach the property by chat only by waiting"Ietty (Yetti)"Tokyo area designer's property can be searched for"Fashionable house navi"Living alone in the Tokyo · Osaka area Looking for designer-based properties and original renovation brand" TOMOS "property"Goodroom"We summarized how to use and highlight the four applications.

◆ "Rental property search" that allows you to search rental information of 11 major real estate companies in one stroke
"at home"CHINTAI"Sumo"HOME'S"Apamanshop"Good room net"Rental property search" is an application that allows you to search information of a major real estate company with search criteria set at once. IOS / Android application has been released.

Searching for rental properties for iPhone, iPod touch, iPad currently on the iTunes App Store Search for rental information of famous real estate companies collectively! It is! Decided version of rental search application that can search for rental properties such as rental apartment rental apartment! It is! ~ @ Nifty real estate · nifty
https://itunes.apple.com/jp/app/lin-dai-wu-jian-jian-suo-you/id717072560

Rent property search Compare the rental property of 11 famous real estate companies Search - Android application of Google Play
https://play.google.com/store/apps/details?id=com.nifty.myhome.rent

Download iOS app this time.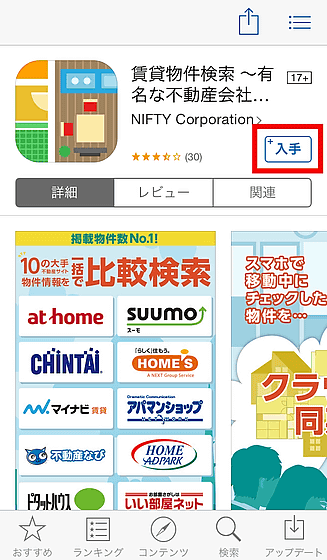 You can see that properties of different real estate companies are listed.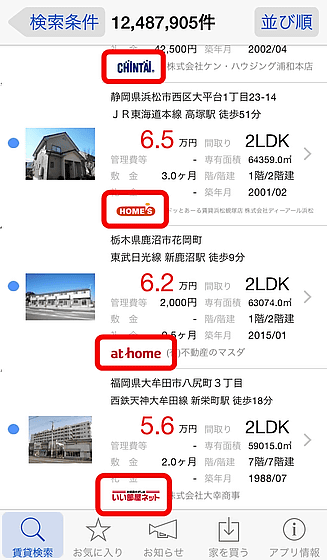 Since information has been enumerated everywhere in Japan as it is, tap "search condition" to refine the property.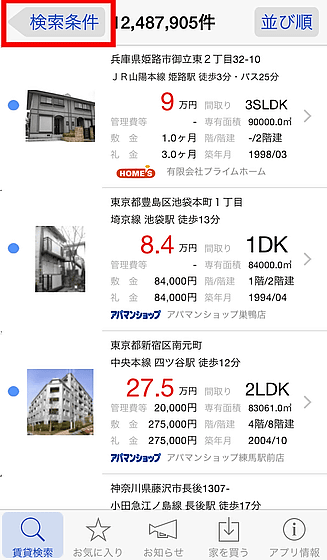 Select "prefecture municipality, town / village", set "rent" with conditions such as administrative expenses and no deposit key money and select property type from "apartment / apartment / detached house".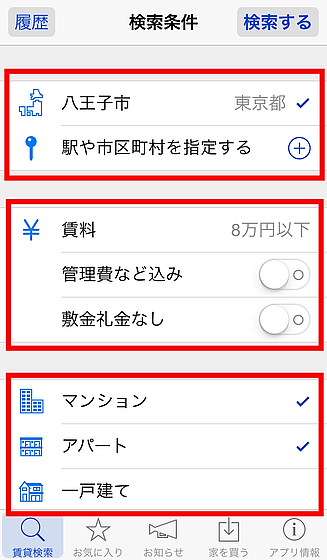 Items such as 'floor plan', 'occupied area', 'years of age', 'distance from the station' etc. are displayed when scrolling down.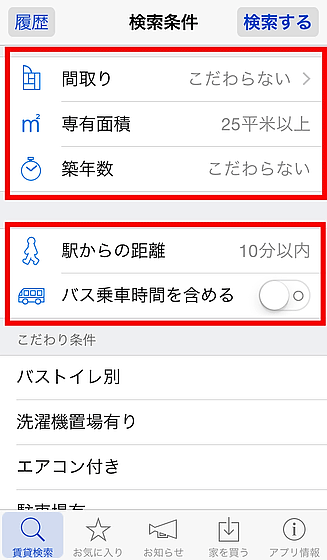 Below that is a part of "commitment condition", and to display all the conditions tap "select from all prejudice conditions".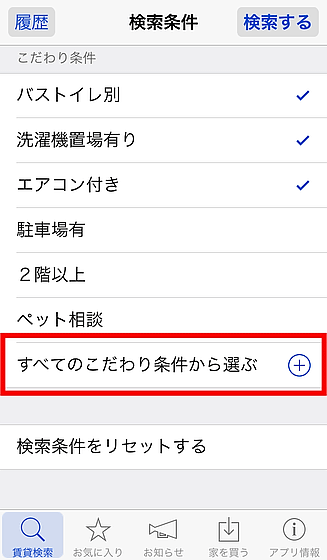 There are a lot of conditions of "Search for rental property", there are a lot of "auto lock" "flooring" "with elevator" "with drawing" "barrier free" "balcony" "top floor" "facing south" "corner room" "underfloor storage "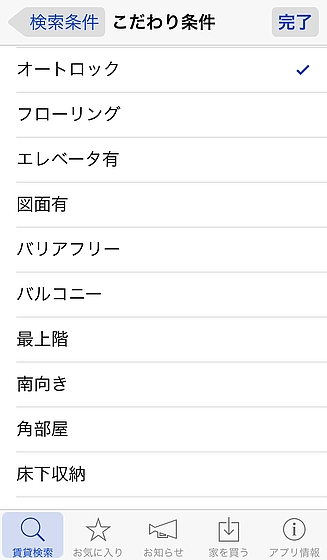 "Trunk room" "System kitchen" "Counter kitchen" "IH cooking heater" "Additional cooking function" "Bathroom dryer" "Shampoo wash basin" "Warm water washing toilet seat" "24 hour security" "Delivery box"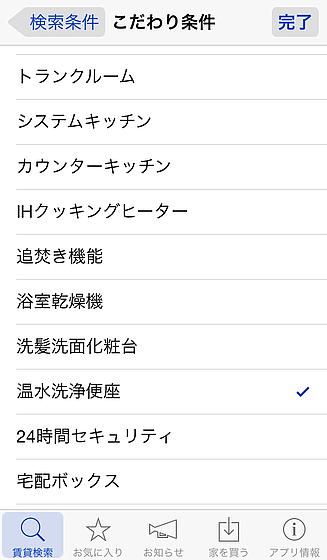 "Interphone with monitor" "Floor heating" "BS terminal" "CATV" "Walk-in closet" "Reformed" "Loft" "Veranda" "Fiber optic" "Internet correspondence"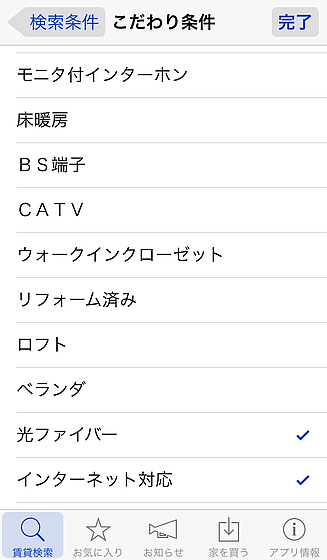 "Gas kitchen" "Female only" "Sale type" "Independent washbasin" "Room-shareable" "No guarantor required" "SO office allowed (SOHO)" "Gas heating" "Oil heating" "Two or more stove"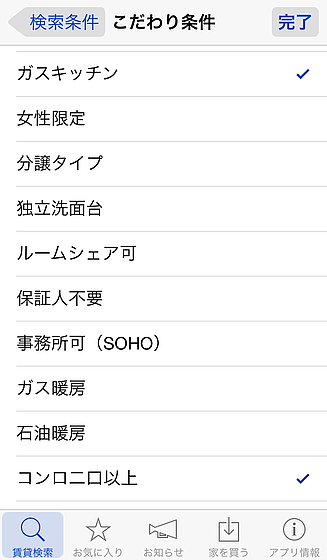 It is not an exaggeration to say that it covers almost everything, "All electrification", "With refrigerator", "Designers", "Bicycle parking lot" and "Motorbike storage place". When the desired condition is decided, tap "Done".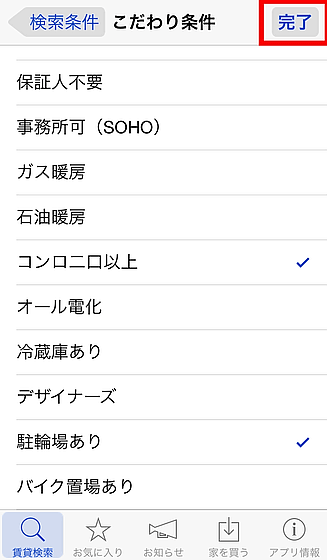 Since I return to the original page, tap "Search with this condition".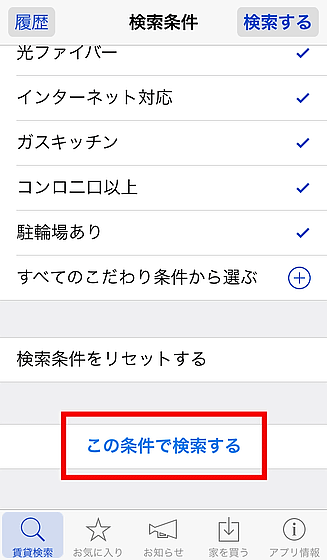 Then, from the real estate company database of eleven companies, the list that matches the set conditions is listed.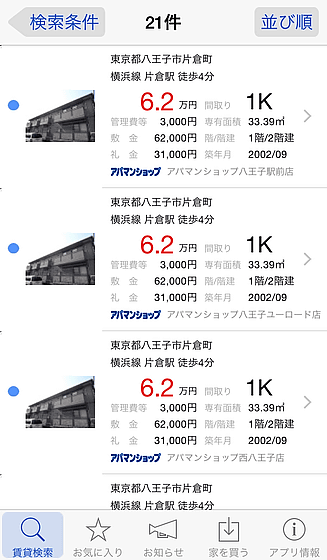 If you tap one of them, you can check the details of the property.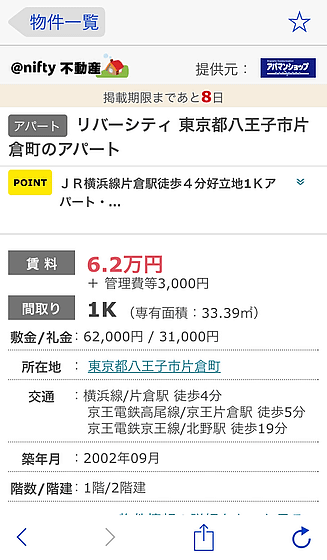 Depending on the property, you can watch by swiping photos such as indoor / exterior / floor plan.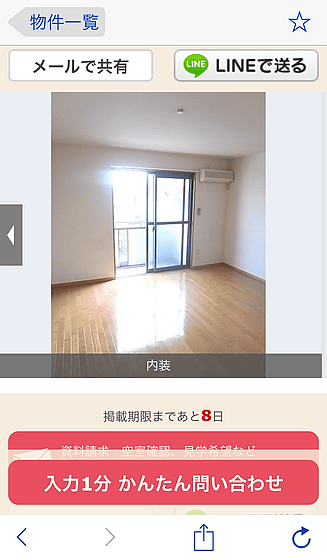 Tap on the star icon on the top right of the screen and register to "favorite".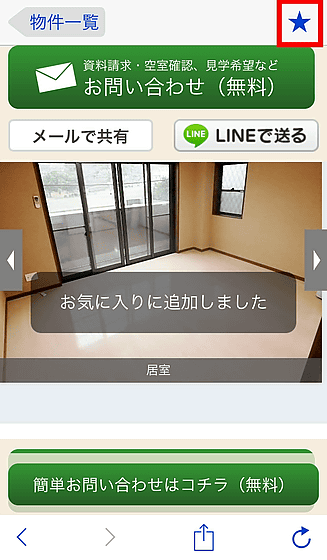 Then, because the property you are interested in "Favorite tab" gathers up, it is convenient for a quick selection later.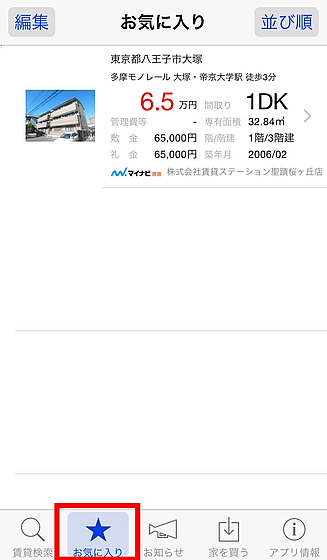 In addition, inquiries for actually previewing can also be made from the application. Tap "Easy Question 1 minute Easy Contact".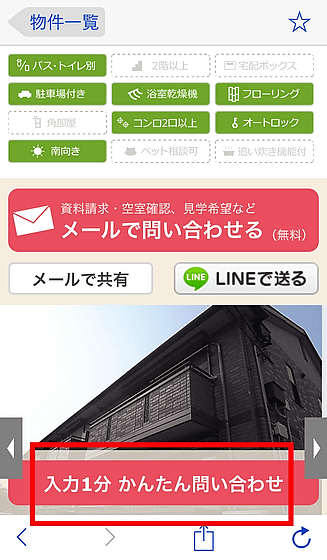 Enter your name and email address.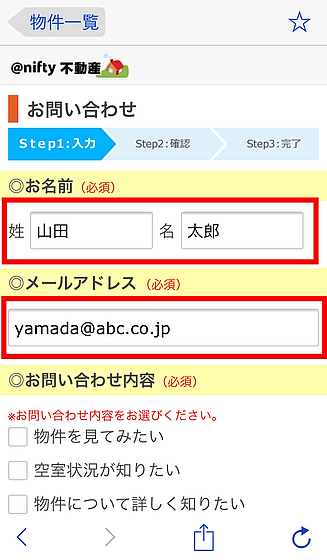 When you check the contents you want to contact, tap "to confirm".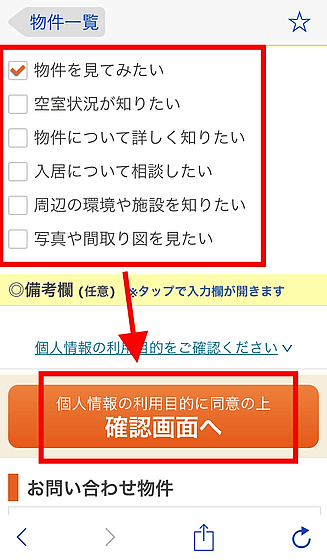 By tapping "Send" you can contact the real estate company.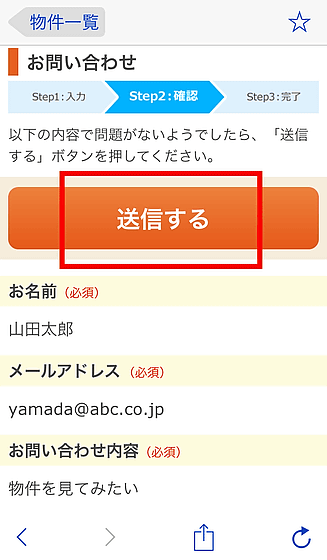 ◆ Jet waiting for a real estate salesman to find the property "Yotti"
The rental property information overflowing to the world is too cheap and there are many suspicious properties, and there are times when it is troubled because you do not know which is really good simply by looking at the net. So, when you enter desired conditions in the application, ietty (Yetti) is a service that a salesman of a real estate company sends "property is this?" With a chat. Only the iOS application is released.

Search for rooms for rent ietty (Yotti) para iPhone, iPod touch e iPad na App Store no iTunes
https://itunes.apple.com/BR/app/id906232682

When you open the application of Yetti, a tutorial on the service content is displayed, so swipe and proceed.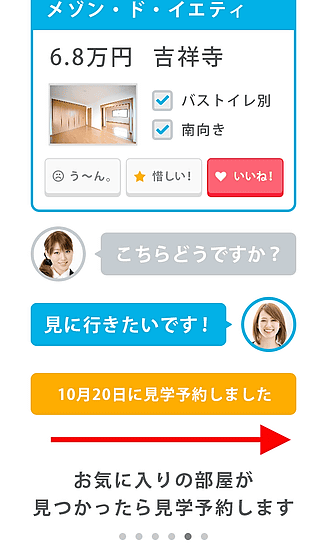 When going to the actual observation, you can answer the questionnaire and get a gift certificate of the number of the number of observation properties × 1000 yen.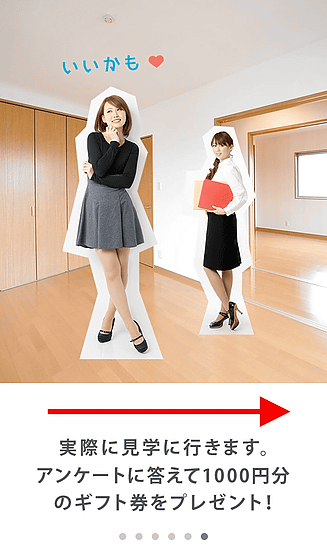 Registration is necessary to use Yotti. You can also register via Facebook account, but this time we will register with email address.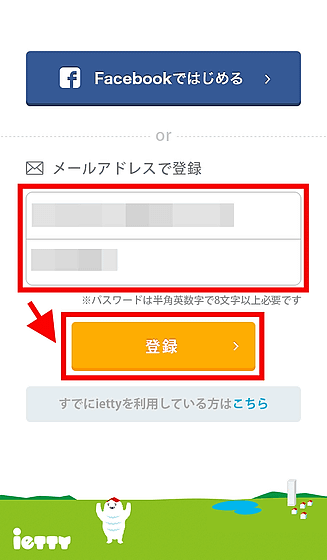 You can ask for a profile. There are up to the profile image pasting column, but the mandatory item is only name, email address, telephone number.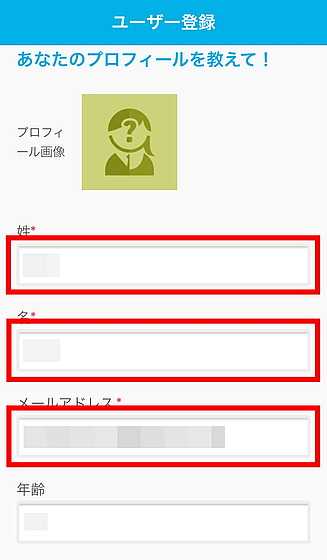 A person who wrote "residence" may be easier to find a salesman. After entering all, check "I agree with the terms and register and register".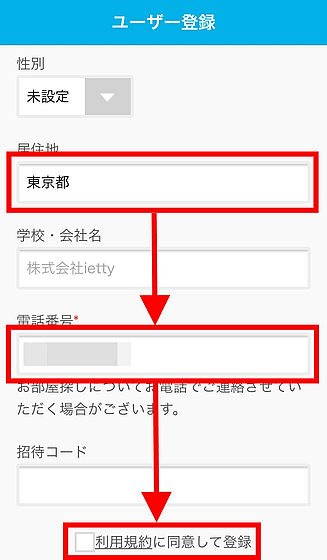 Tap "Register and continue".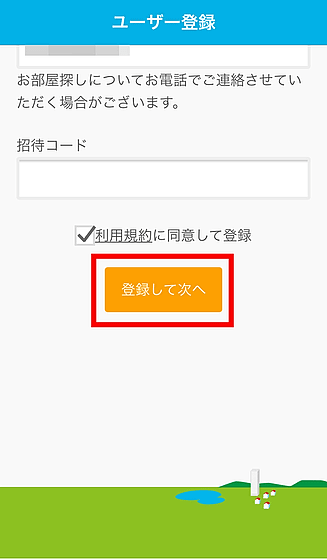 I will set the desired conditions from here. First select a moving time and tap "Next".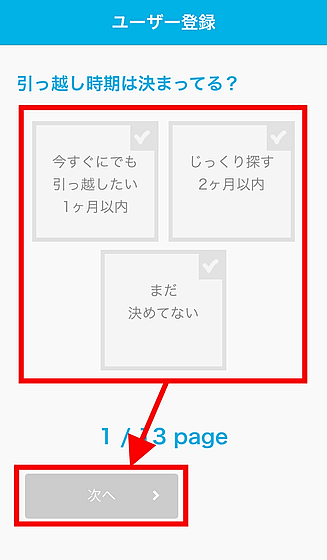 If you try "within two months", we will offer you the recommended tour dates. Tap 'Please select' in order to set the date that you can visit.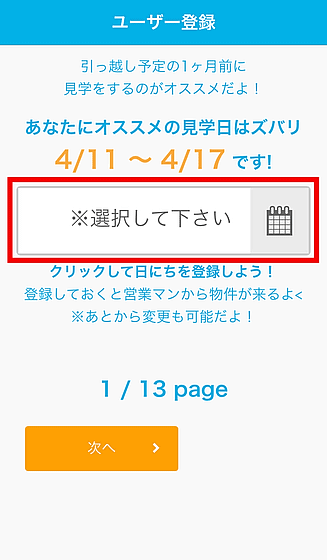 Since the calendar is displayed, tap the day when the schedule is vacant.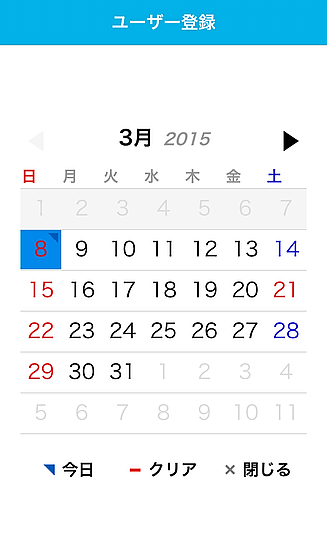 When the schedule is decided, tap "Next".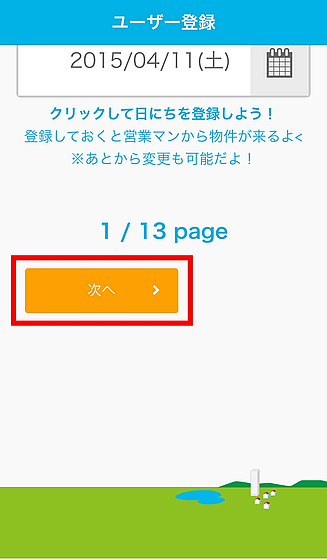 Then select "Reason for moving" and tap "Next".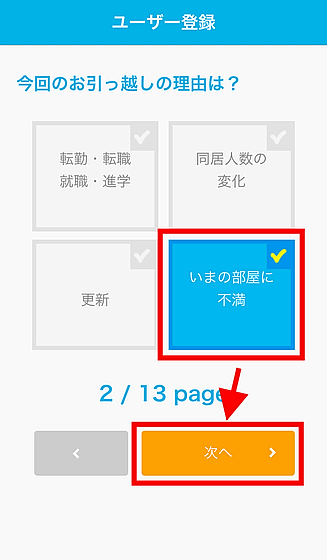 We will also look for it considering "frustration in the room I live in".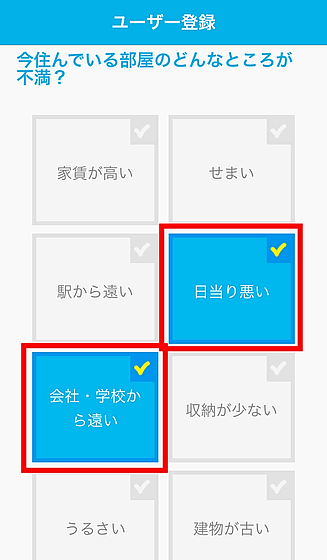 Choose from the "Number of people living alone" "Number of people living", "Others".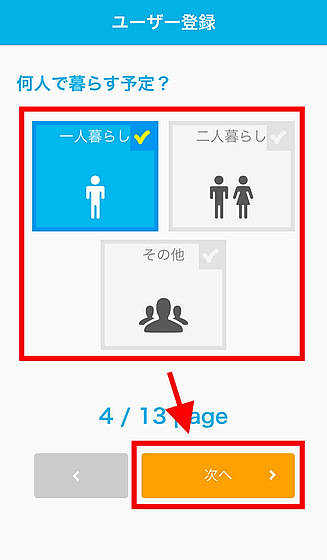 The nearest station of the place you want to live and why ... ...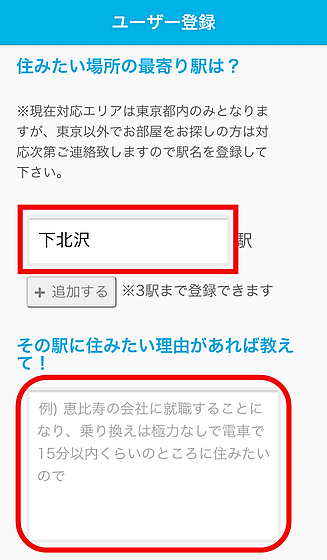 Also enter the nearest station of the school / work place.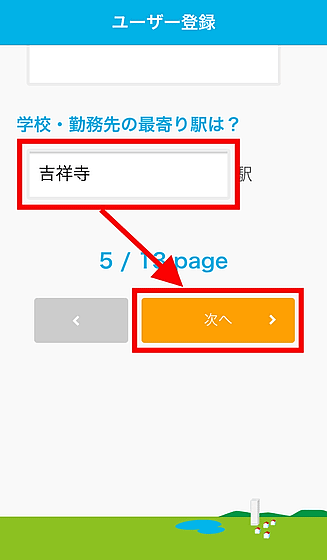 The upper limit of rent is included in administrative expenses, so it can be felt that services are provided from "customer's perspective".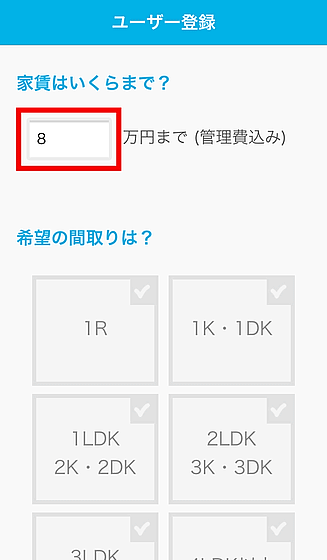 Tap on the room layout and tap "Next".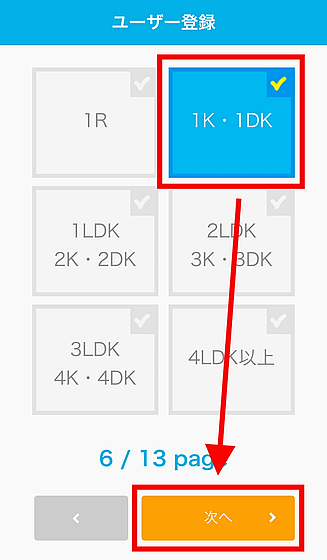 The time to the nearest station is also very important for finding the property.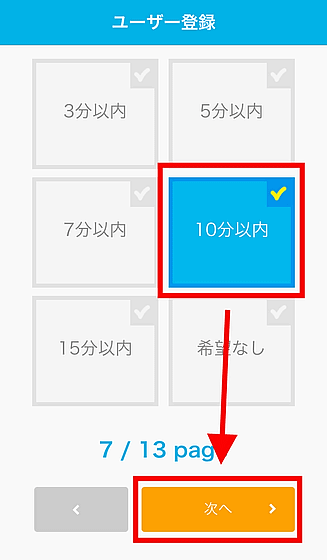 Next, I will choose the age. It is a selection item that makes it easier for the property to image, such as "within 10 years as it is," or "within 30 years of new earthquake resistance standards" for the time being.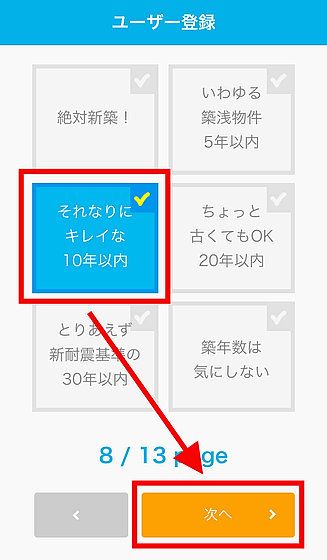 The type of property is either an apartment / apartment / detached house or no preference.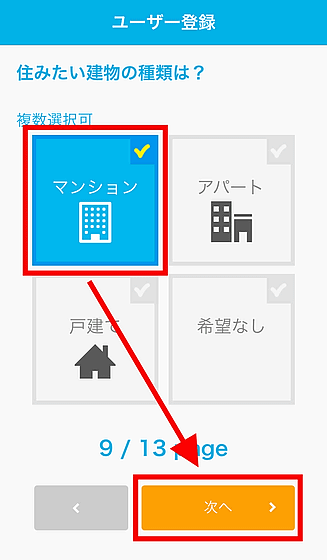 You can choose from 20 square meters to 90 square meters of preferred occupancy area.



Finally I will choose the condition.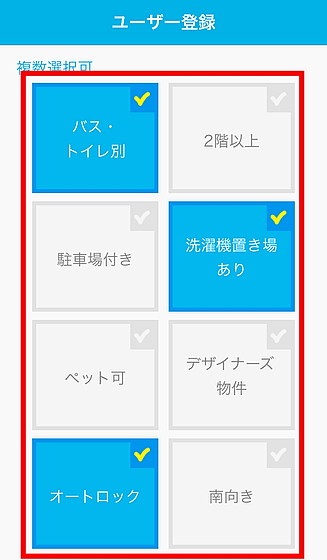 After selecting it and tapping "next" ... ...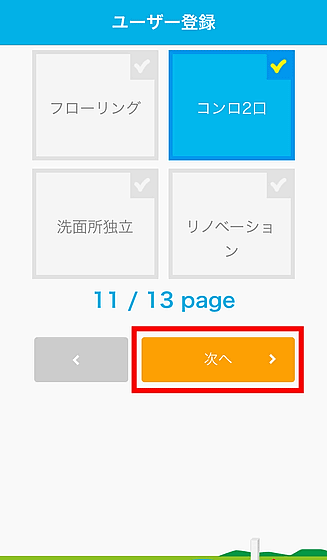 "Sales representative in charge" who searches for the property based on the desired condition was displayed with a photograph.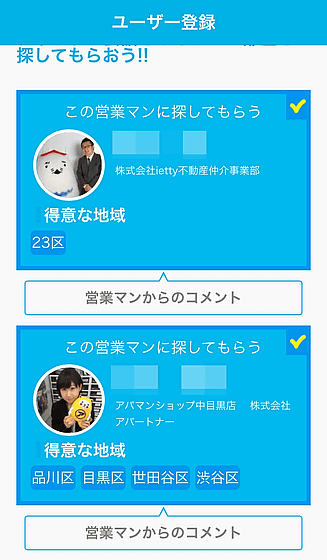 A total of about five people are displayed, and everyone has checked by default. If there is a saying "five people do not need it", you can tap to remove the check.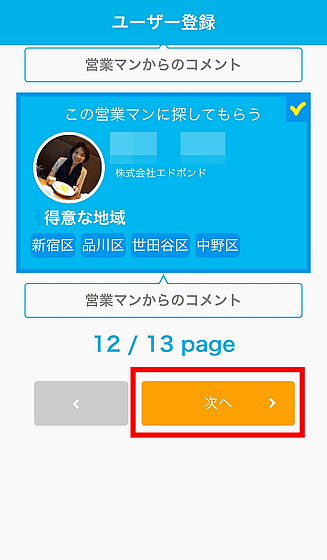 Finally, if there is a demand for a salesman who is looking for, please tap "Register under this condition" after writing it. People who sign up on Facebook said that something will not be posted on Facebook.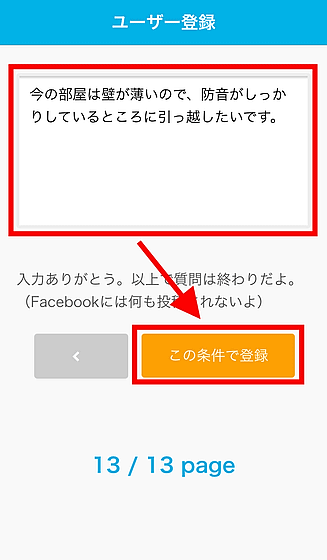 So, the first desired condition setting is a bit longer, but the sales representative is determined safely. After that we can find the property just by waiting for contact. Proposals and chat from each salesperson can be confirmed in this "exchange list". Try tap "Yotti" to find out what kind of feeling you are looking for in the property.



When opening a chat with Yotti, "Trial property" has been sent as a tutorial. Tap on the property ......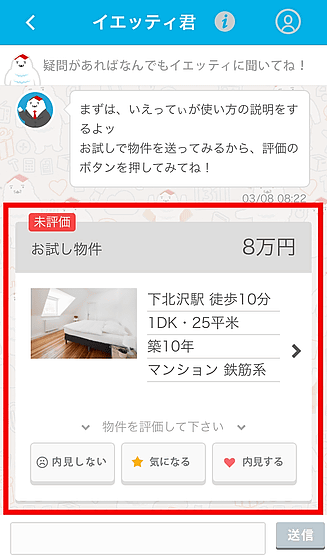 Detailed information such as indoor and outdoor photos, rents etc. will be displayed. After checking the contents, we will evaluate the property information sent in either "Do not look inside", "Worry" or "Inner".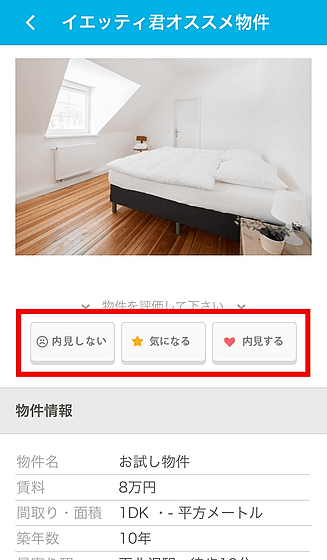 When pushing "anxious", Yetti said "Thank you for the evaluation of the property! We will look for better properties based on your opinion! Please wait a little more !!" Reply is returned It was. In this way, it is possible to find a property by interacting with a salesperson.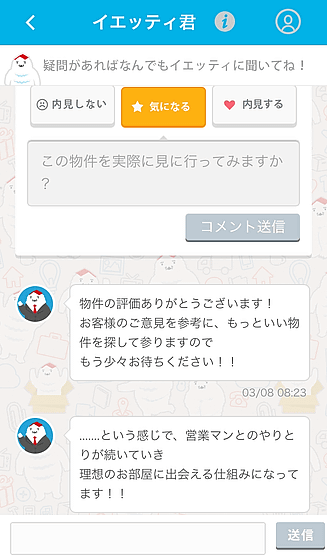 The first desired condition can be re-set by tapping "desired condition setting" from the "setting tab" in the lower right.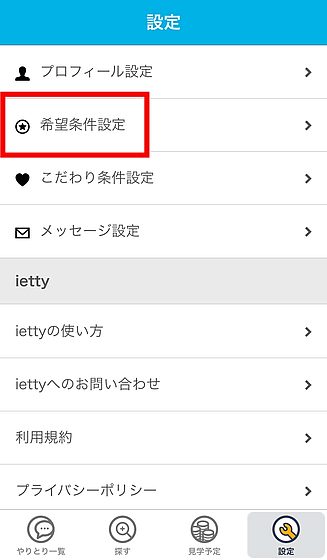 Although the application is only iOS, if you access the site "ietty" found in the room, you can also use the service on PC and Android terminal, so please try it if you are interested.

Ietty | Yotti [Room Search Site]
https://ietty.me/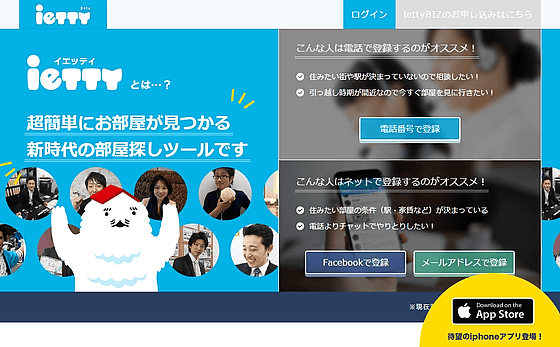 ◆ "Fashionable Housing Nabis" that allows you to search for Tokyo area's designer properties
Among various properties, "fashionable housing navigation" is able to search for "fashionable" properties such as "lofted", "renovation", "changeable rental property". Everything has an interview report, making it a fun iOS application just watching.

Fashionable household navigation for iPhone, iPod touch, iPad currently on the iTunes App Store
https://itunes.apple.com/jp/app/oshare-zhu-zhainabi/id497299633

That's why it's like this when opening an app. Even just looking at it is lined up with properties that are completely different from the ordinary property.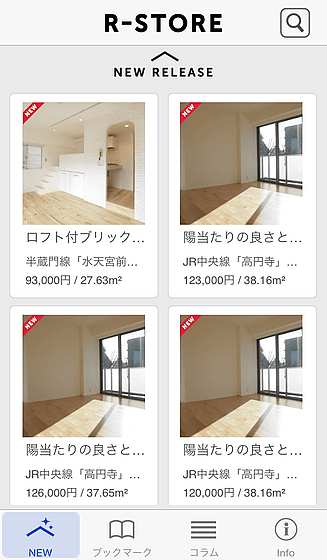 When I picked up the property in Nakano-ku, Tokyo, it is a concrete building as follows. There is a spiral staircase in the room, full of rooms that I would like to live once. This is a luxury house with rent more than 100,000 yen ......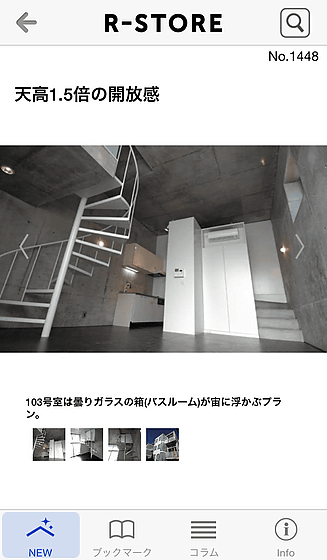 There is a counter kitchen, floor is spread with solid wood, and found fancy Kanagawa property.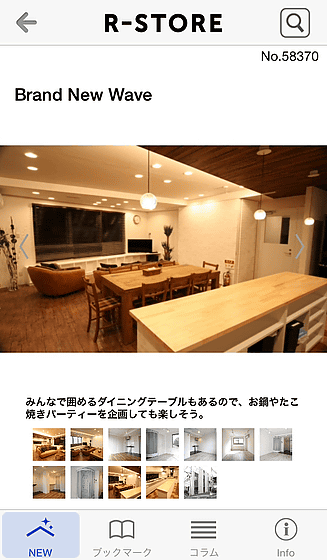 Pets are also acceptable for this property, and you can live with a rent of 82,000 yen.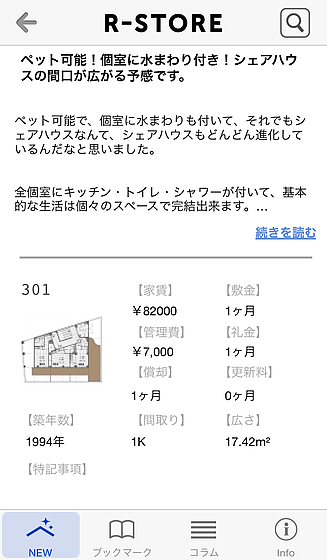 In addition, it is possible to review later on by adding it to bookmarks that you are interested in.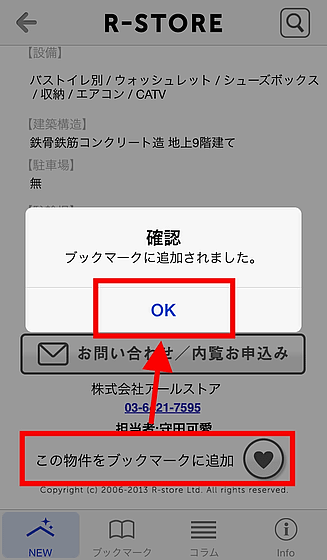 In addition, search conditions can also be set, and you can search for properties on a condition that is slightly different from other rental property search applications, such as "renovation" "retro vintage" "designers" "maisonette".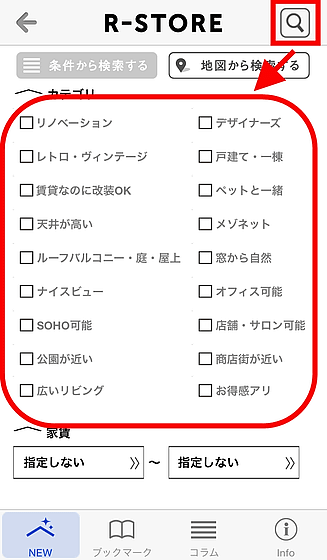 The area is an application limited to 23 wards of Tokyo and Kanagawa prefecture, and it is regrettable that it does not correspond to other prefectures.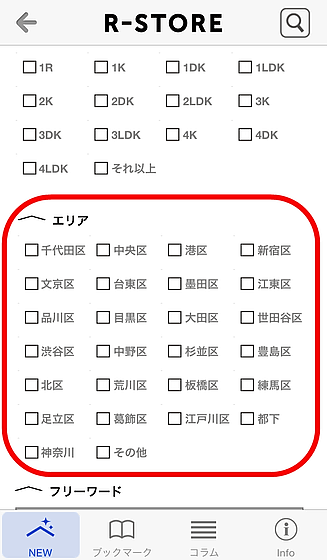 ◆ "goodroom" which lives alone in the Tokyo · Osaka area and can search for designer-based properties and original renovation brand "TOMOS" property
It is an application that can search designer's properties as well as fashionable home navigation, but "goodroom" that can search two areas in Tokyo and Osaka. Furthermore, in addition to being able to search for properties of the original renovation brand "TOMOS", there are also categories such as "less than 70,000 yen for living alone", you can search fancy and cheapest properties.

Goodroom for iPhone, iPod touch, iPad currently on the iTunes App Store
https://itunes.apple.com/jp/app/goodroom/id408599904

I just opened the application. "Natural faction Rinove TOMOS" "Your Recommendation" "Living alone by less than 70,000 yen" "Life of two people less than 130,000 yen" "Renovation" "Designers" categories are displayed. The number of notifications attached to each is the number of properties that have been updated, so that you can see the update frequency at a glance.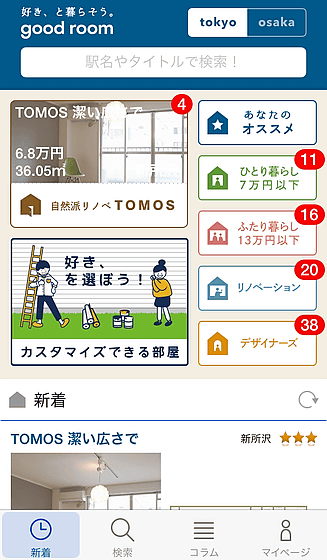 When swiping down the top page downwards, the property staggered in order of arrival. The comment of the person who went to the interview for each property is written.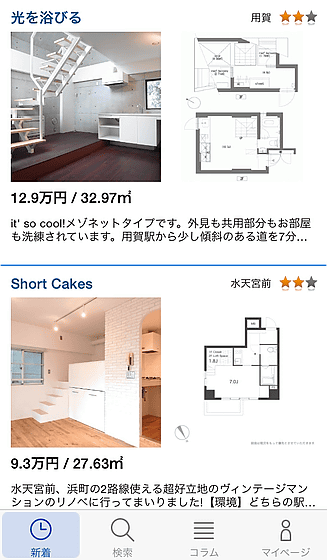 When I looked at the skeleton bus building in Asakusa, I saw it, it was a property that exposed bare concrete and pipe tasted good.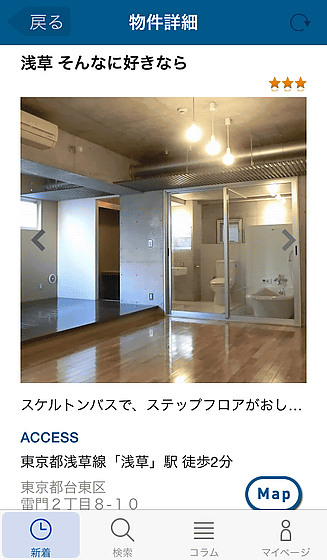 In the details of goodroom there is an item "see initial cost", and where you can tap to find the necessary deposit / money key etc to be displayed, it is easy to understand.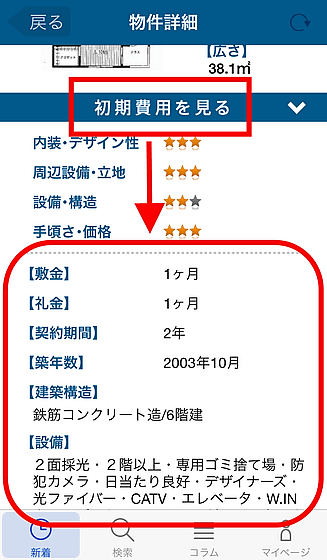 Bookmark saved property will automatically unregister when the room becomes full.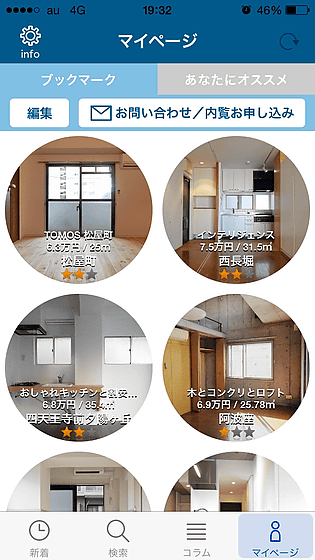 Also, goodroom is characterized by having its own renovation brand "TOMOS". What kind of brand is that tenants can live in the property just renovated without any construction cost burden, all they can do without solid wood flooring and all the rooms can choose an accent cross for free.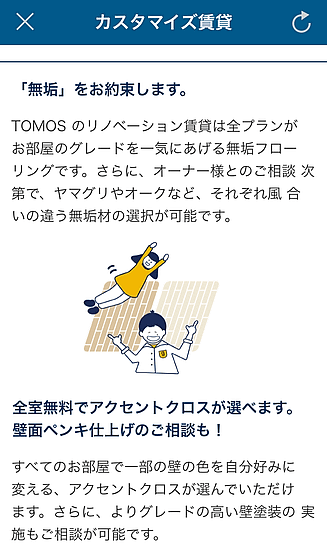 Furthermore, it is only goodroom that you can find small items such as lighting rails and switch plates for free, and find other renovation properties.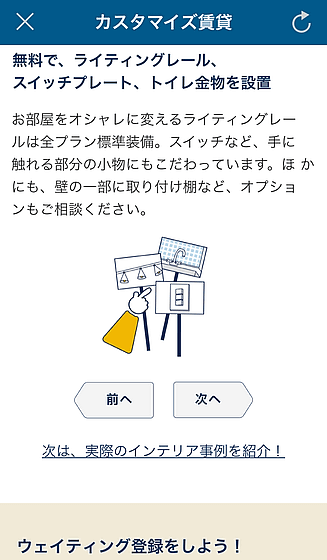 So, when you tap the TOMOS category ......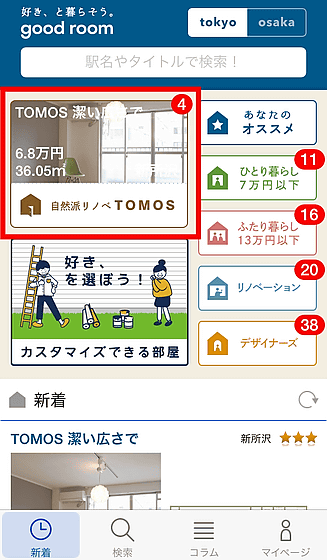 TOMOS has a lot of properties in the suburbs, but I found a lot of affordable properties, which is just 50,000 yen after renovation.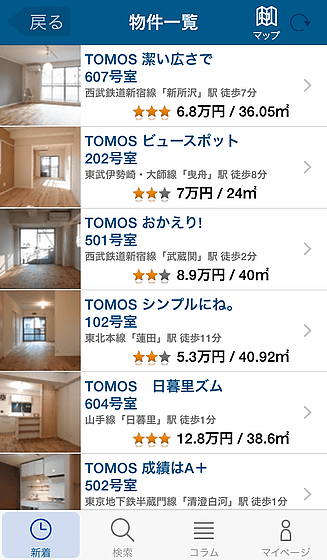 In Shinosuzawa, Saitama Prefecture, I found a fashionable property where pine wood louver gets a lot of looks.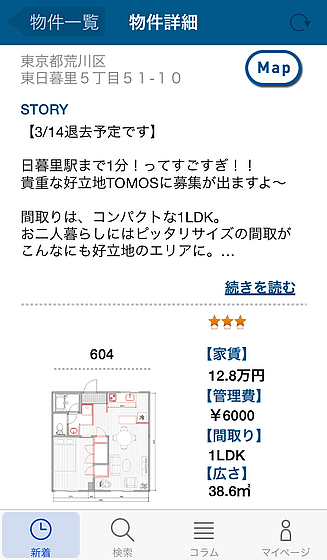 36.05 sq. Meters, 13.5 papers, 1 DK property is considerably profitable with management fee of 70,000 yen.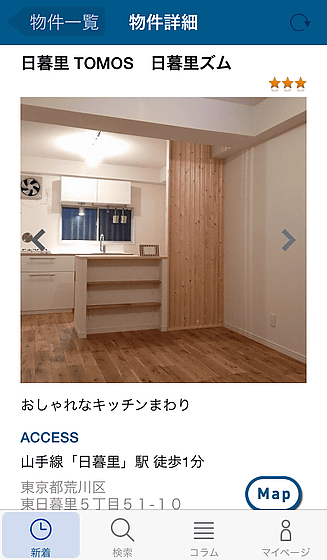 In addition, the rent is as high as 128,000 yen, but Nippori also has 1 LDK 's TOMOS property so that it can search a wide range of renovation properties.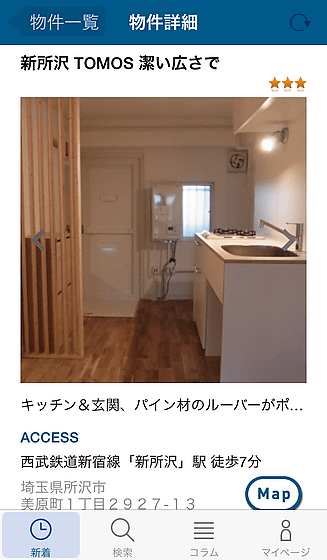 In addition, in the Tokyo / Osaka area you can switch by just tapping on the top right.