I went to a new type of coffee chain "Blue Bottle Coffee" to drip a selection of coffee beans one by one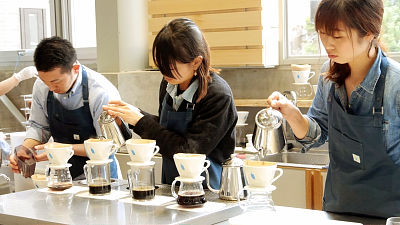 "It has been developed while fascinated by the Japanese tea ceremony"Blue bottle coffeeI opened the first Kiyosumi Shirakawa store in Japan on February 6, 2015. I really went to see the blue bottle coffee where roasted carefully selected raw beans are roasted at the shop and drip a cup of coffee differently from many coffee chains and put coffee.

Blue bottle coffee
https://bluebottlecoffee.jp/

Blue Bottle Coffee [Kiyosumi Shirakawa Roostarie & Cafe], Japan's first shop, is located in 1-8 Hirano Koto-ku, Tokyo 4-8.


Walking through the residential area from Kiyosumi Shirakawa station 5 minutes ... ....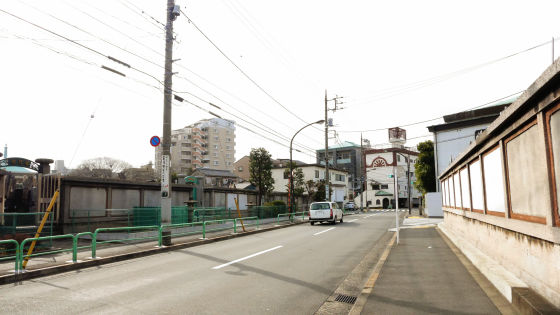 I found a white building of blue bottle coffee.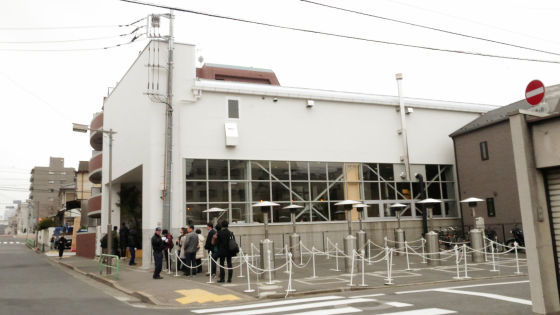 I arrived shortly after opening the store, but people were already lined up at this point.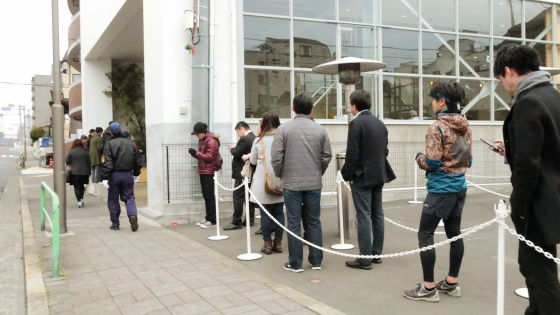 The stove is placed so that people waiting are not cold.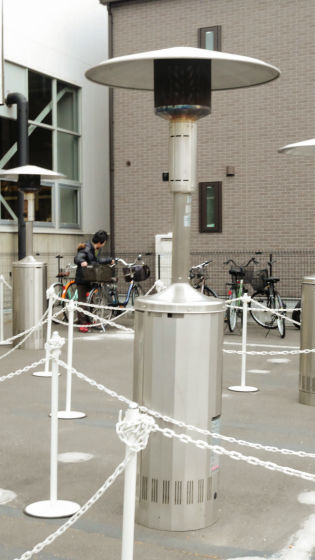 The opening of the Blue Bottle Coffee was at 8 o'clock and arrived around 8:10 pm, I put it in the shop in about 15 minutes to wait.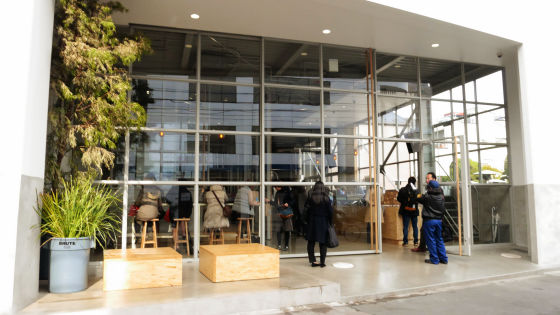 Since the entrance and the side of the counter are glassed, it is an open atmosphere with the sunlight being plugged inside the shop. When entering the building, it is guided first to the row, and it is in a shape that comes in line after ordering.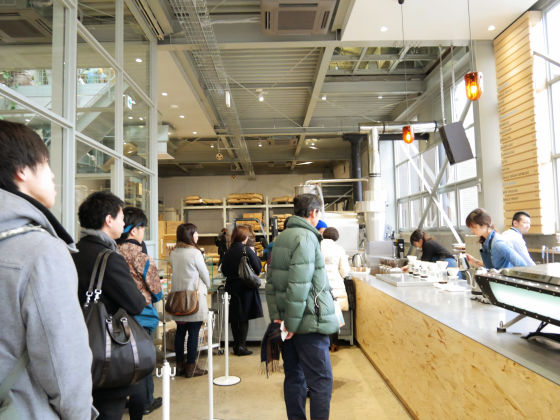 At the store we sell coffee beans and original goods ......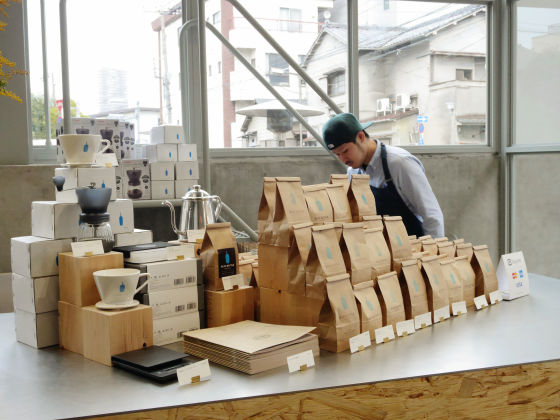 Mill next to that.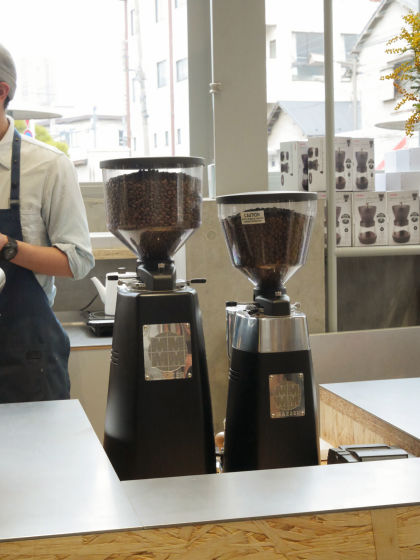 There are some big machines.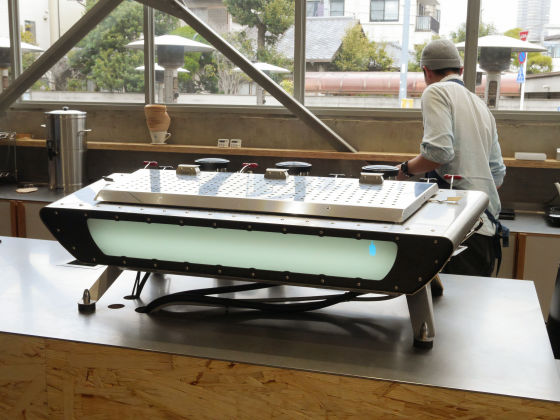 And coffee will drip in front of customers.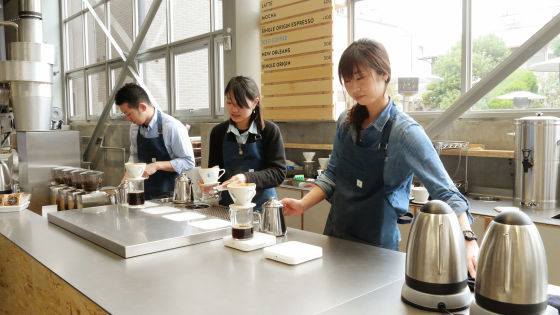 Since the menu is listed largely behind the counter, you can decide what to order while aligning in the row.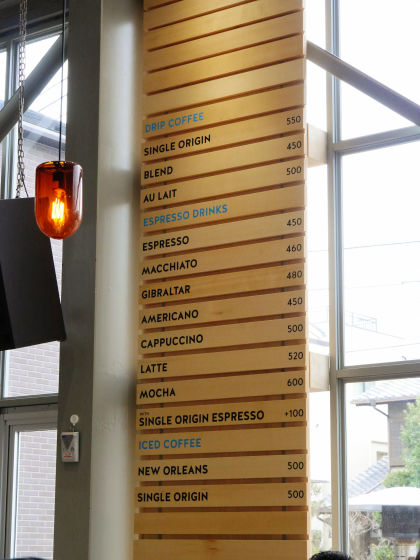 As the row goes forward, we found a glass showcase next to the cash register.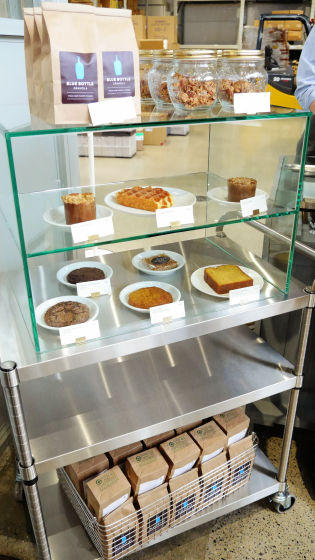 Food menus such as cupcakes and pound cakes / waffles are on display.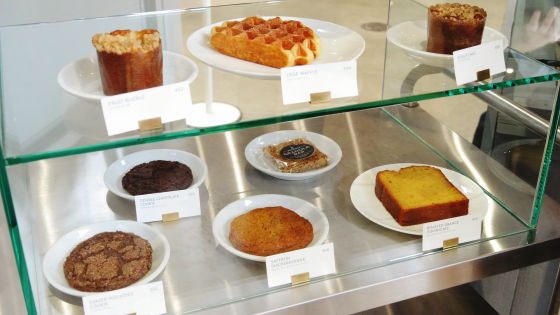 At the bottom of the cash register is like a warehouse atmosphere.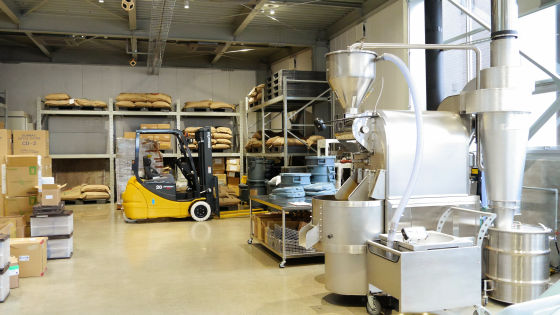 There is also a forklift.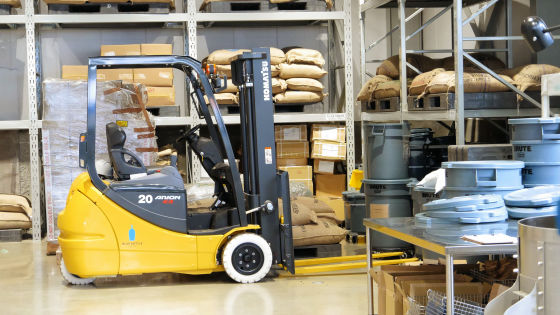 The bags that are supposed to contain beans are stacked on the shelf and it seems that they are going up and down with a forklift.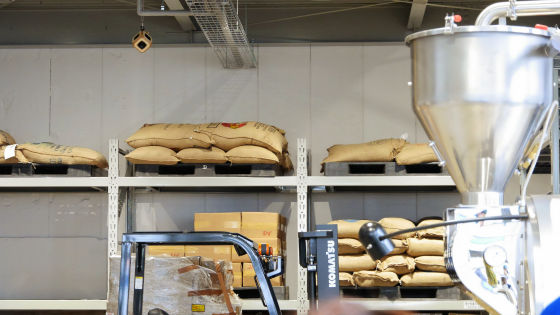 A huge machine is for roasting beans.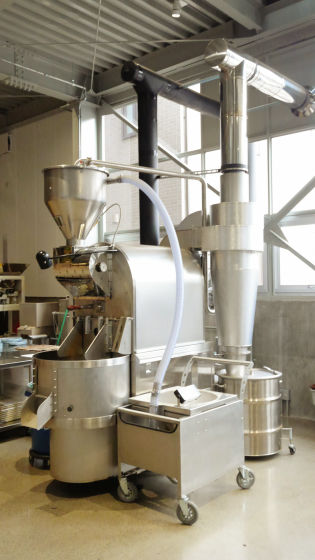 Side by side for about 5 minutes to order. Listen to the name along with the order, so that the name will be called upon delivery of goods. Although it is not done much in Japan, it is the same as the one done in overseas Starbucks etc.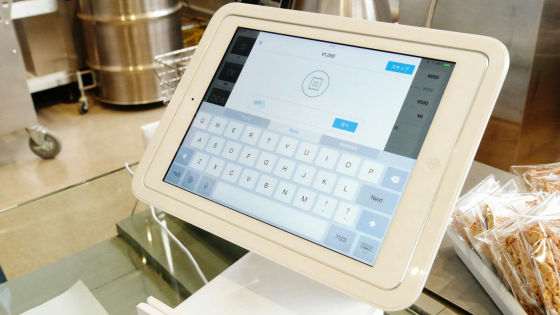 So after ordering, I looked at the scene of coffee making while waiting. Coffee is to be provided in a paper cup or glass or pottery cup, and the cup is warmed with hot water once before coffee is poured.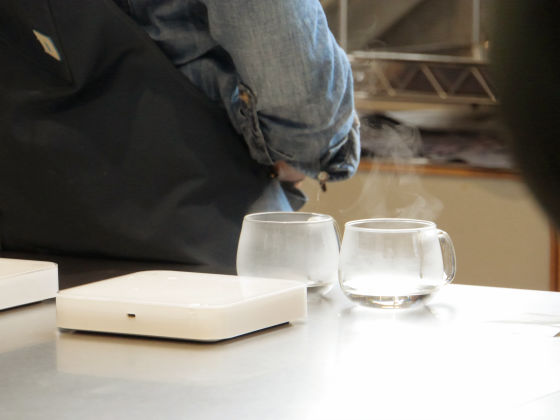 The clerk will pour hot water to the beans in a convenient way.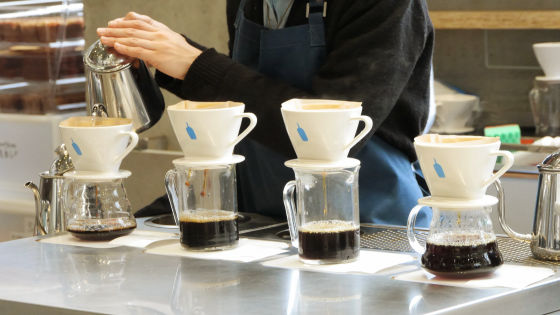 Cup a cup carefully.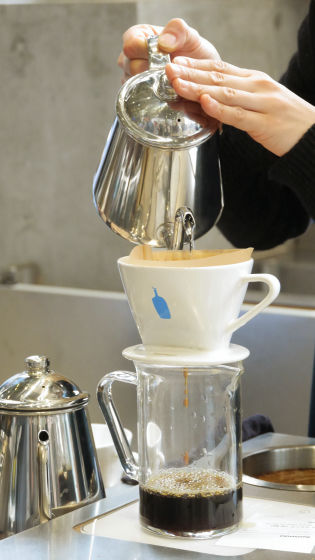 Finally we throw away the hot water that was in the cup and pour the drip coffee.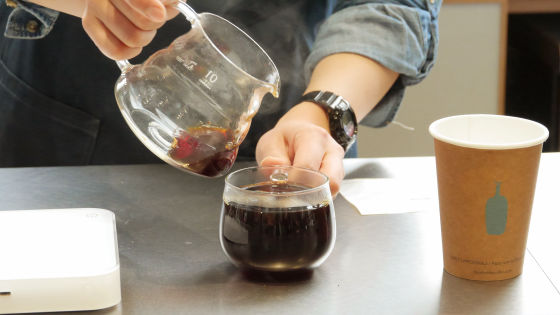 Then you will receive a cup of coffee at the counter called the name you told at the cashier.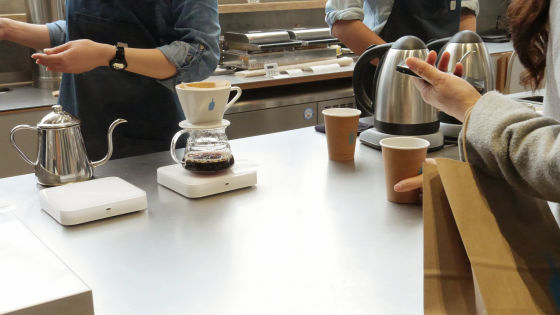 Waffle will be baked after ordering. I saw how rough and sugar was spreading on the dough.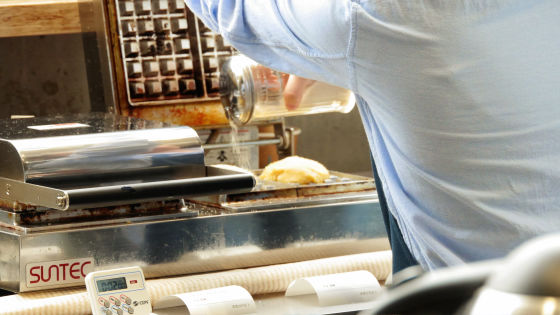 What I was wondering about what machine was an espresso machine. What was being usedKees van der WestenOf "Spirit".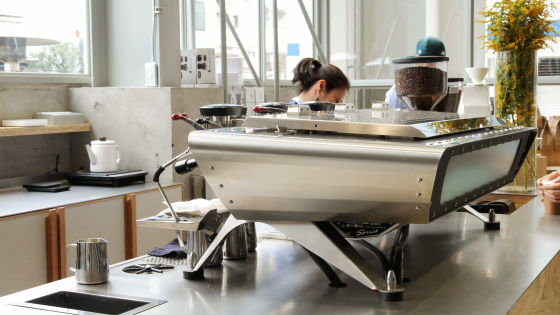 The name was called, and coffee was handed first.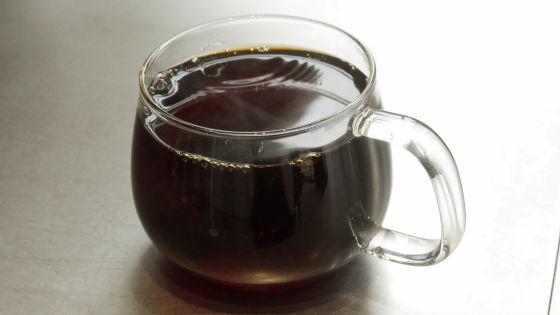 We also got waffles and moved to the table. All the seats that were there at this time were the type of seat that chairs are lined up on a large desk.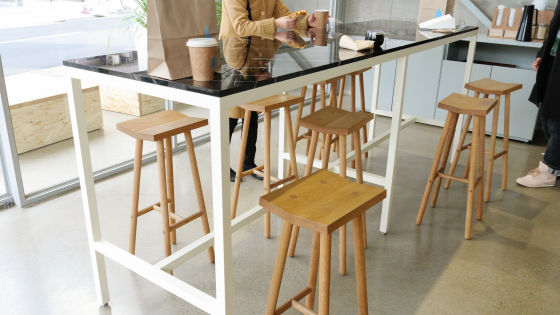 I will take a seat like this.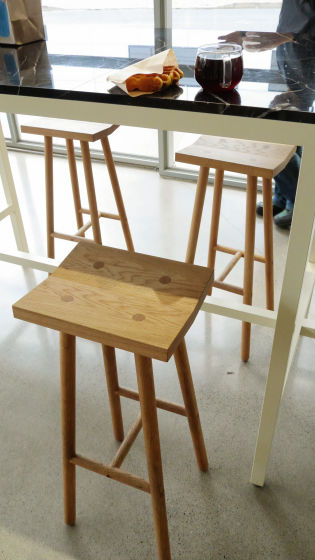 We ordered drip coffee "Single origin (550 yen)" and waffle (500 yen). Coffee can be selected from two types, "Blend" and "Single Origin", according to a clerk, the single origin drips one kind of beans so it is more sour and easy to feel the character of beans. The single Origin seems to use four kinds of beans on a daily basis, and the day when I visited the shop was the bean being treated only in the Los Angeles / Tokyo store named "Kenya, Nieri, Gasage".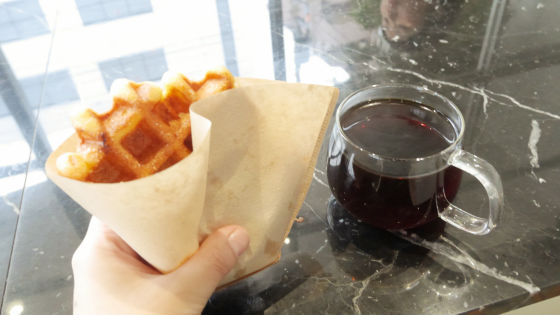 I will drink a nice scented coffee in black. The first thing I felt was the strong sour taste as the clerk said and the bitterness is not that strong. Even though it is said at the shop that "This coffee is like a nuts feeling the tongue ..." "Floral fragrance ..." ... "Well, if you say so, such a ... ...?" Although it was not, I felt the presence of a gorgeous scent like I thought "What is it?" In the back of sourness even if I drink without knowing anything. I heard it later that Kenya has the scent of citrus. Which one is better depends on personal preference, but I understand that it is a completely different taste than the dense Kenya coffee I've been drinking with Starbucks. In addition, the editorial staff who visited the shop is a coffee school who does not have particular attention, especially about half the proportion of drinking coffee and instant drinking.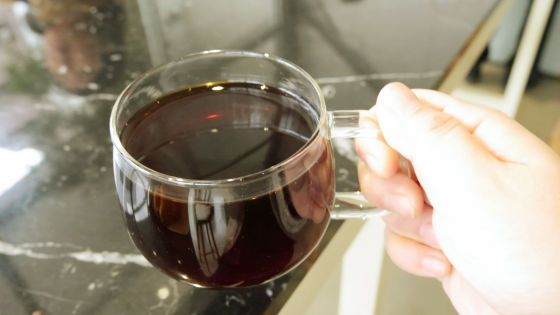 The waffle is passionate as it is handed over a coffee filter with freshly baked items. The sweetness of the fabric itself is not that much, but the sugar sprinkled on in addition plus the sweetness firmly, it goes well with coffee.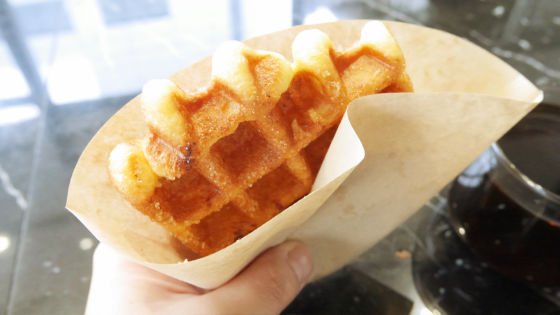 Sugar is sprinkled on the surface, so it's crisp and jerry around, and if you like the caramel part of Cream Brulee it feels nice.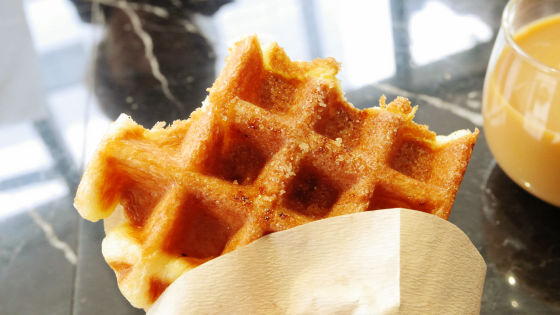 There was a table with sugar etc in the shop.



Since milk is also available, you can also make it into milk coffee after enjoying black.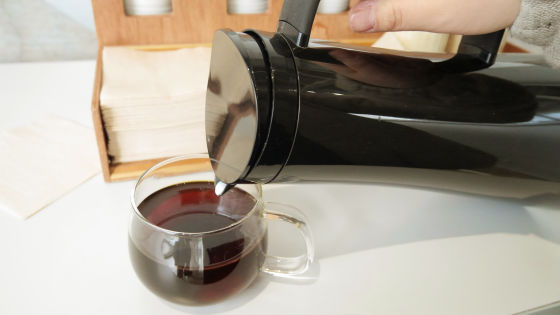 If you asked for cappuccino, it was put in a cup of pottery and handed with cute bubble art given.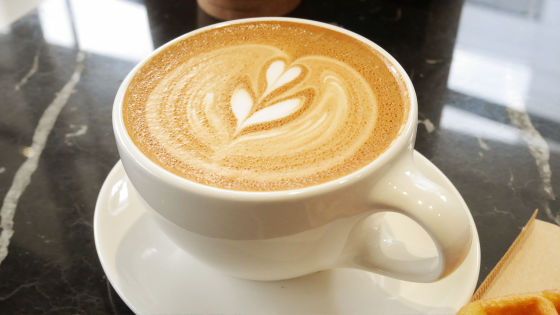 Blue bottle coffee not only coffee, but also beans are sold.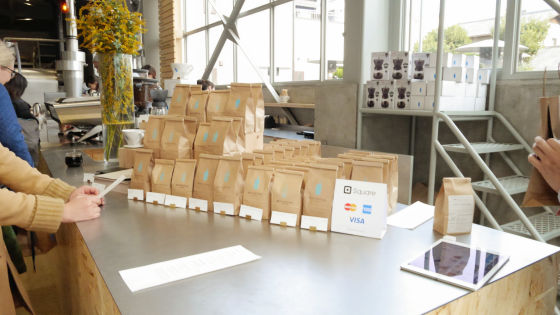 It is said that all coffee beans lined up in stores are fresh within 48 hours after roasting.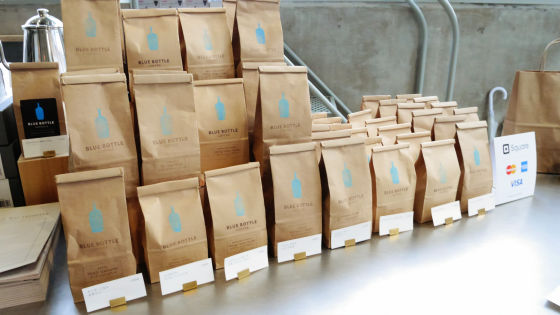 If you buy beans, do not line up in line, OK, pay with credit cardSquareIt was done in.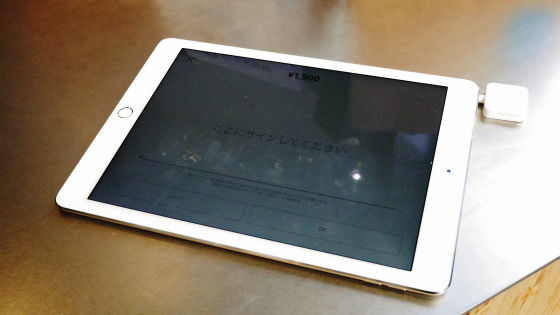 Blue bottle coffee is said to be putting in waiting time about 10 to 15 minutes from now after the store opening to around 10 o'clock but after 10 o'clock there is a waiting time of about 1 hour as people increase about. I went to the shop around 16 o'clock on February 17, but despite rainy we had a long line like the following and we were abandoning entry. It took relatively quickly this time, but it took about 20 minutes from arrival at 8:10 to arrive at the seat, so it seems better to visit when you have plenty of time.