A newly created VAIO calls "monster", a 2in1 terminal "VAIO Z" reviewing overwhelming performance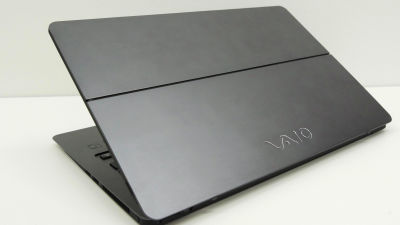 VAIO's first high-end 2in1 notebook PC independent from Sony "VAIO ZIs a machine that boasts overwhelming specifications that VAIO himself calls "monster". I actually tried to find out where the monkey is a monster.

VAIO | Product Information | VAIO Z
http://vaio.com/products/z/

◆ Appearance check
VAIO Z box is black color.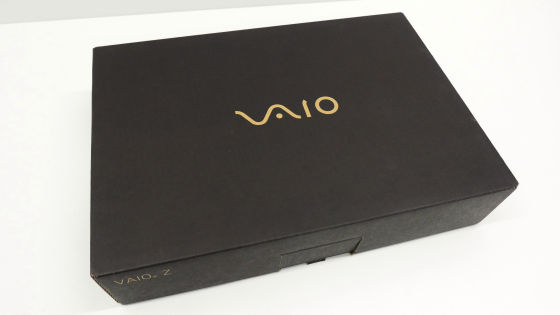 Proudly on the side is the word "made in azumino japan". VAIO Z is designed and manufactured in Azumino, Nagano Prefecture, and receives quality checks of full-time engineers before shipment, it is exactly what Made in JAPAN is making for monozukuri.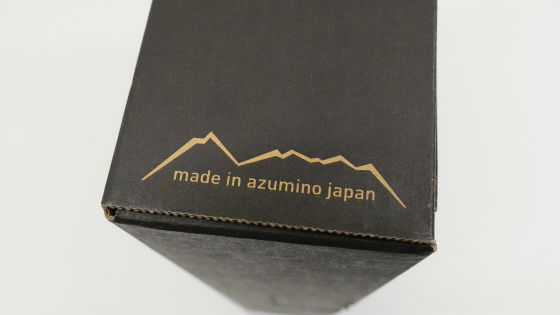 VAIO Z is equipped with 13.3-inch LCD. The size is 324.2 mm in width × 215.3 mm in depth and weighs 1.34 kg.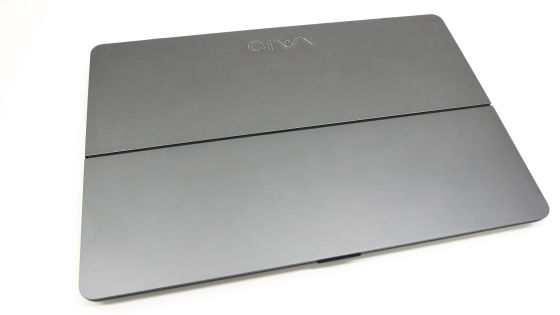 Footprint is about one size larger than A4 paper.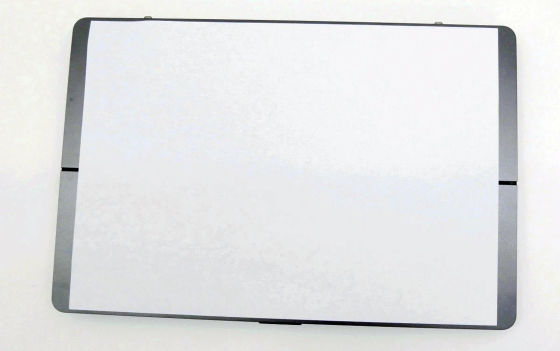 Tempered glass made by Asahi Glass is adopted as liquid crystal. For people who are not good at reflection, there is also an option to paste non-glossy liquid crystal protective film.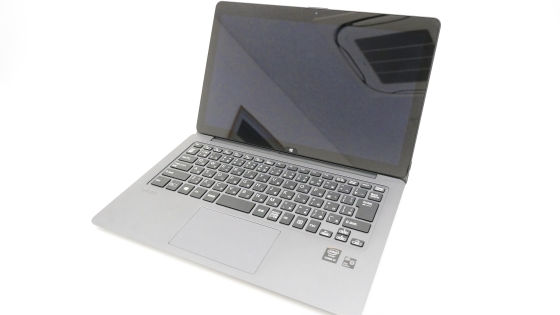 The "VAIO" logo will stand erect with the liquid crystal open. The top board is made of aluminum with a sense of quality.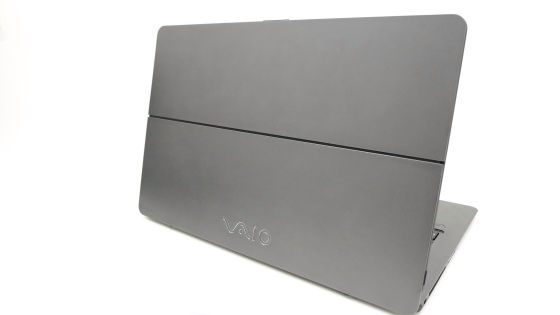 The VAIO logo is an edge processing that makes the edge shine silver. VISIO Z's texture is incomprehensible.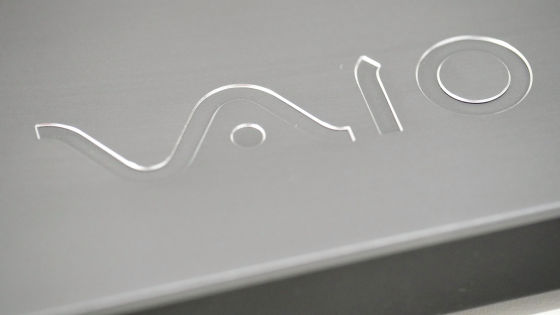 Spacious key pitch keyboard and large touch pad. The frame around the keyboard / touch pad is also made of aluminum.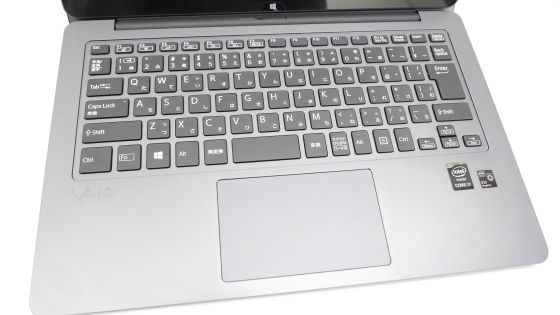 The flat key is about 19 mm in pitch and about 1.2 mm in stroke.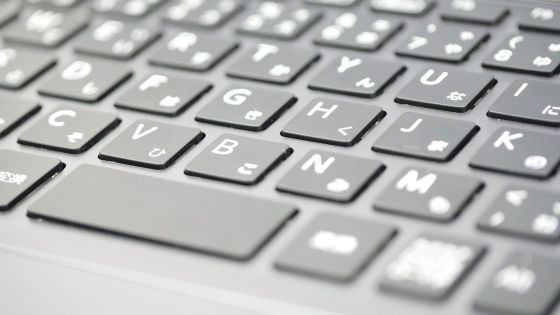 In dark places the LED light will light automatically.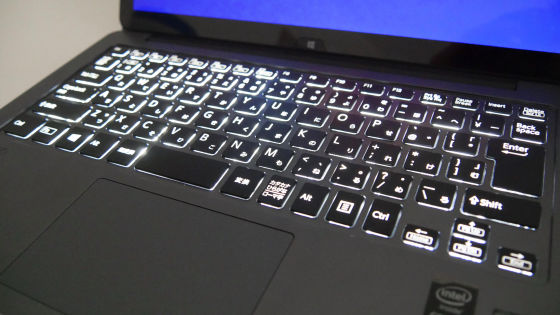 When typing, the stroke is shallow, but the moist feeling of mouth feeling is good. "I succeeded in avoiding the band of 2 KHz or more, which is an unfavorable range by increasing part accuracy," the touch sound is small. You can type it gently.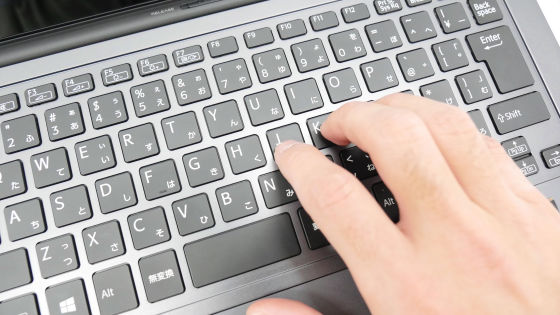 As a result of seeking a hard surface material with no deflection, the touch pad reached "mica" (Mica).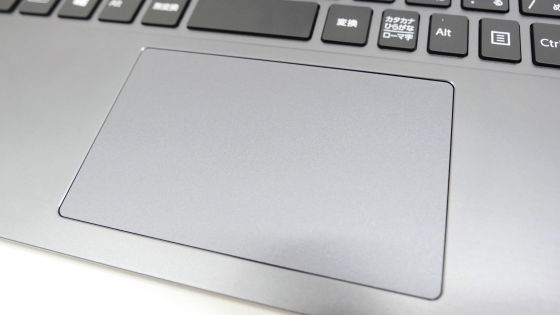 The VAIO logo is engraved in front of the left side of the keyboard.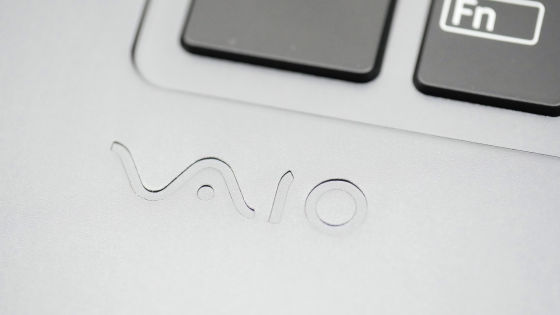 The right side looks like this. The thickness of VAIO Z is 16.8 mm even in the largest part.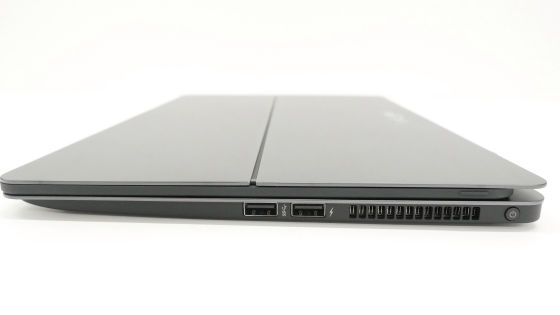 USB 3.0 port × 2. In addition to saying "USB 3.0 is obviously no longer", the USB 3.0 port is not a blue but a matte black color, and unity sense is outstanding.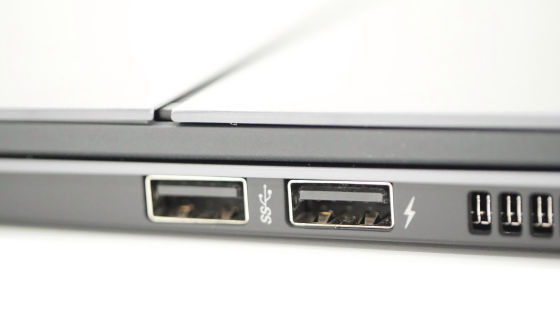 Exhaust slot and power button.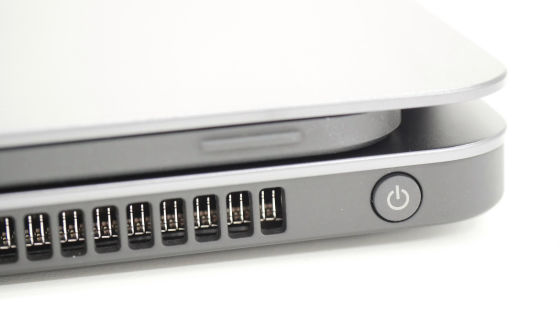 The rear part is like this and the hinge part is flat.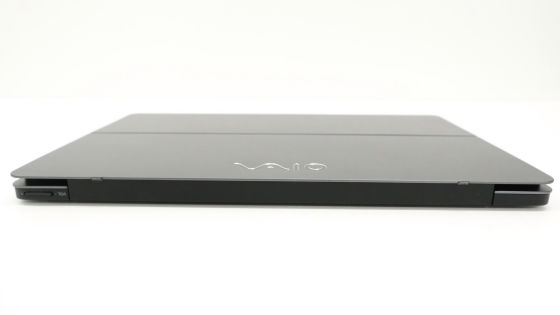 Volume button on the back left.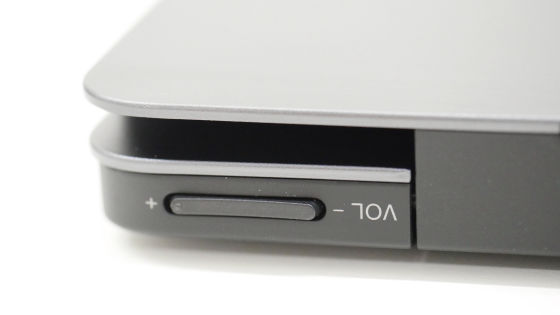 Left side.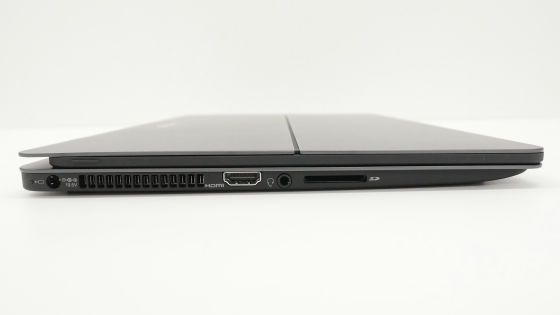 AC jack and exhaust slot.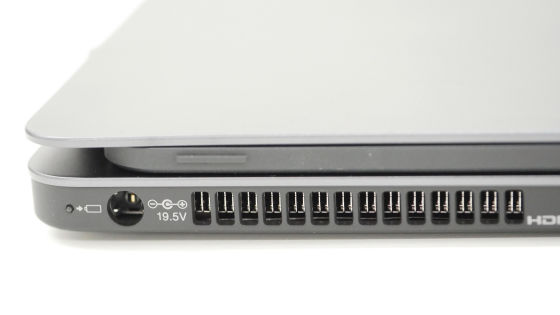 HDMI terminal, earphone jack, SD card slot.



The front part looks something like this.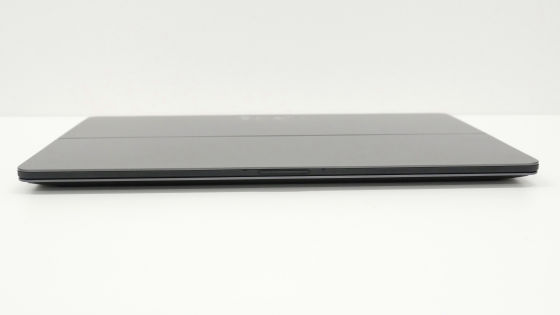 An iconic slit in the center of the top. This is the line of "multi flip hinge" of VAIO Z's display rotation mechanism.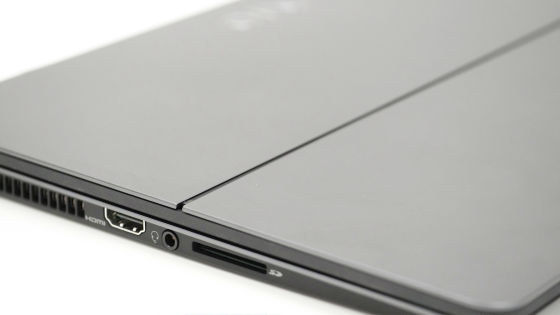 The bottom is like this.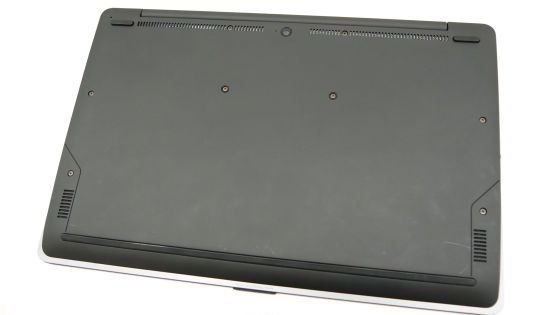 Between the air intake slots in the upper part is mounted the Exmor RS for PC "7.99 million pixel camera with CMOS sensor.



Speakers on the bottom left and right. The anti-skid rubber floats the speaker from the ground plane, making the structure spread out.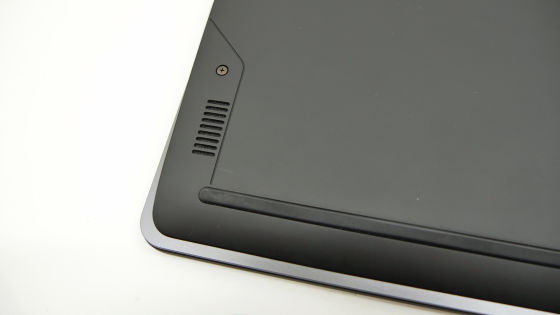 The VAIO Z comes with a digitizer pen.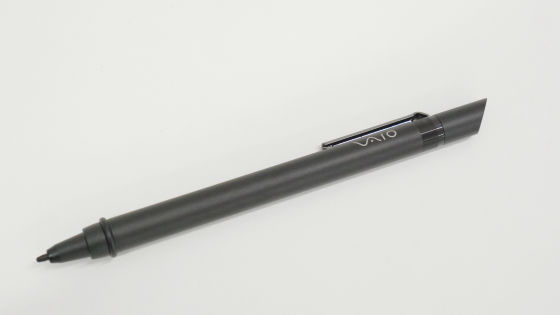 There is no place to store the digitizer pen in the VAIO Z main body, but a clip is attached instead.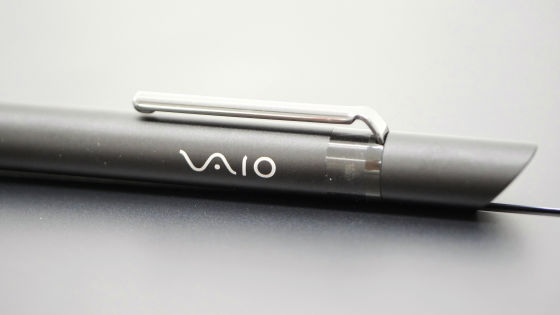 In the part hitting the thumb of the stylus, two large and small buttons. A small button is assigned by OneNote, and a large button is assigned shortcut of capture software "VAIO Clippng Tool".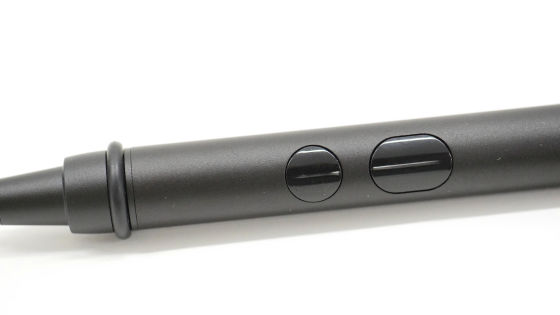 By pressing the tip of the pen, it has a slightly smoother structure, allowing 256 strokes to be detected. We also support Celsis's "CLIP STUDIO PAINT" and Adobe's "Creative Cloud".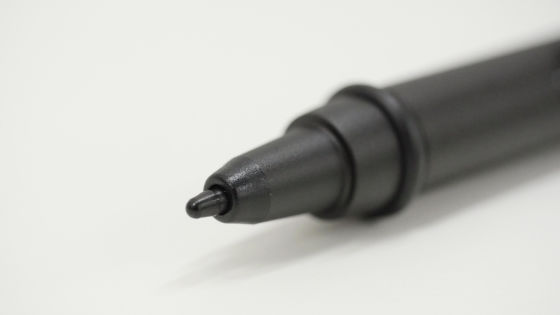 The attached AC adapter is like this.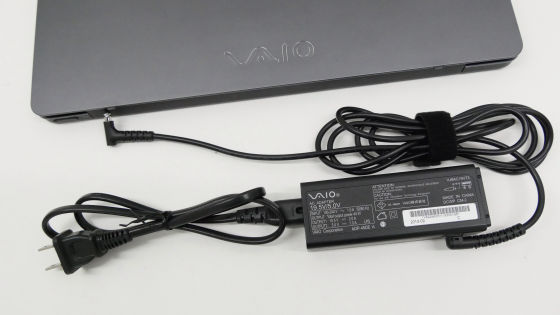 With USB port for power supply.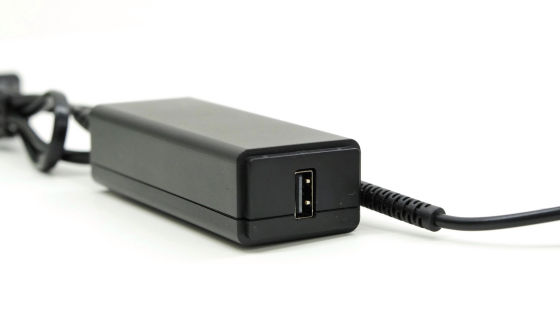 The AC jack is easy to escape but it is scratched to the ball.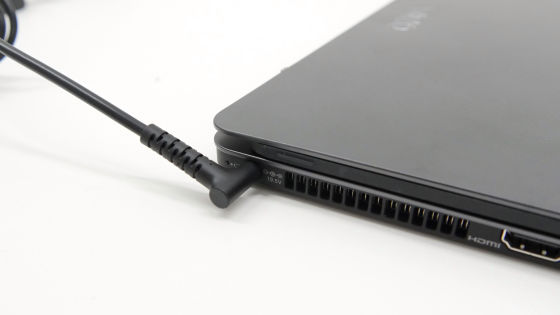 ◆ Spec Check
Firstly from the performance check. The VAIO Z used for the review is Intel Core i 7-5557 U (maximum 3.4 GHz), memory is 16 GB, SSD is 512 GB, OS is Windows 8.1 Pro (64 bit). VAIO Z adopts the upper version "U series" of Intel 5th generation Core processor Broadwell, whereas a general notebook PC adopts a power saving version Core processor for mobile.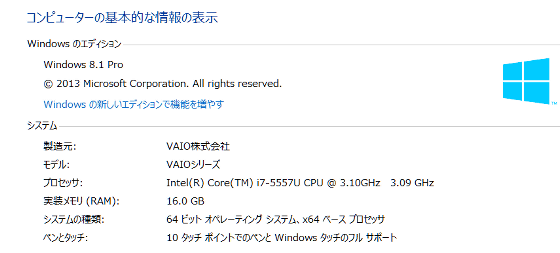 In addition, Intel Iris Graphics 6100 graphics and fast processing capability are realized. This was made possible by the system "Z ENGINE" which is a thin type fan jointly developed with Nidec Corporation jointly developed with VAIO Z, and a unique heat pipe jointly developed with Fujikura, "Z ENGINE", which is exactly what Japan That's why we realize high specifications that overwhelm the MacBook Pro.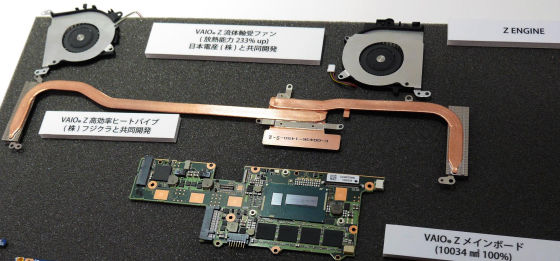 In addition, IPS α liquid crystal display resolution developed jointly with Panasonic is 2560 × 1440 pixels. It is also nodding that VAIO calls "monster", catalog specification at the top of notebook PC.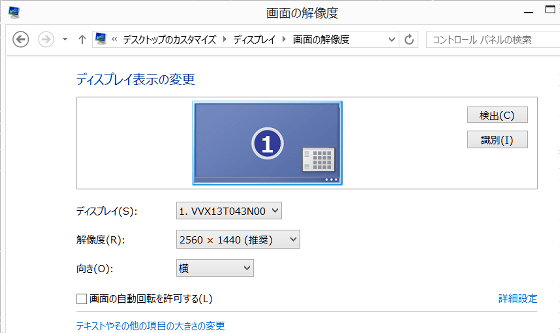 In Windows 8.1, the Windows experience index is no longer displayed on the system property screen, but you can perform the measurement itself by executing "WinSAT.exe" manually. So, open a command prompt with administrator privilege and select "Winsat formal - restart clean", And I measured the performance of VAIO Z by executing WinSAT.exe.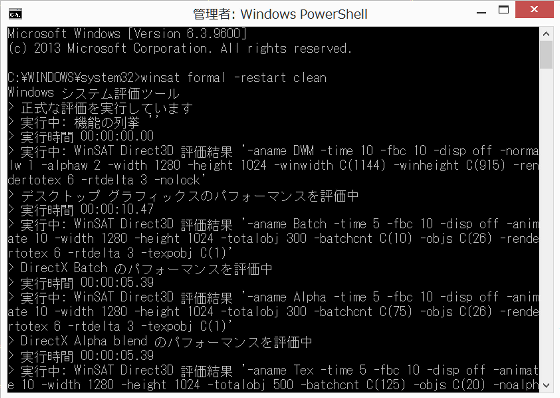 The results are 7.5 for CPU, 3.2 for 3D graphics, 8.65 for Disk score, 5.7 for graphics score, 7.8 memory. We are highlighting the overall high number, but you can see that the storage speed is intense.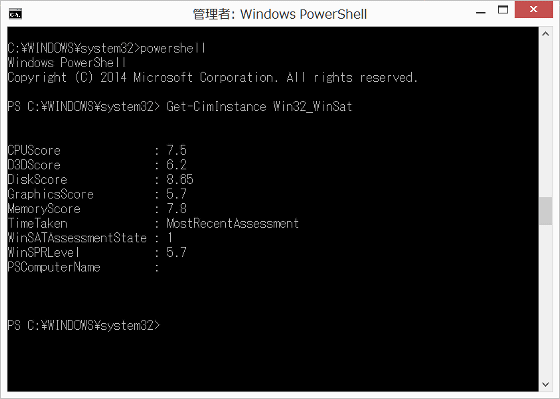 This is the result measured by CystalDiskMark. Sequential read / write is wonderful 1000 MB / s over, random read / write (4 K QD 32) also over 300 MB / s. VAIO Z is equipped with SSD of PCI - Express (× 4) connection despite laptop PCs, breakthrough the limit of S - ATA 3 without difficulty. The notebook PC boasts the overwhelming SSD speed of absence.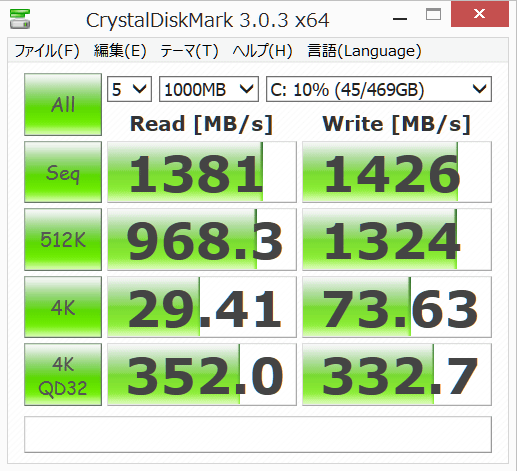 ◆ I tried using
The display can be extended up to about 45 degrees.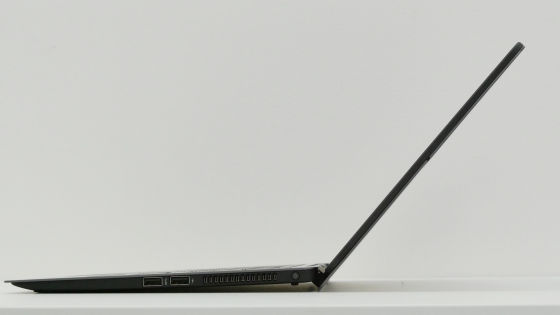 OS is Windows 8.1 Pro (64 bit).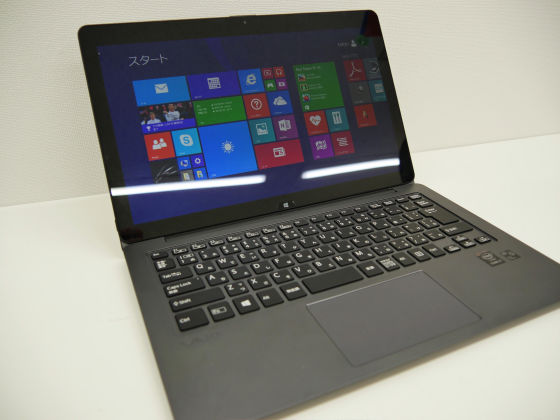 Physical button of Windows mark at the lower center of the liquid crystal. Of course, the Windows key is assigned.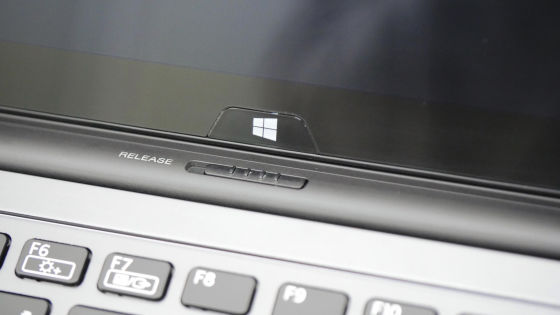 Sliding the release button in front of the Windows button to the left ... ...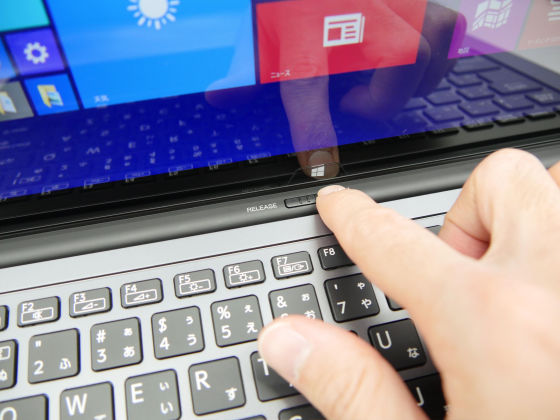 The display lock is released and the multi flip hinge rotates.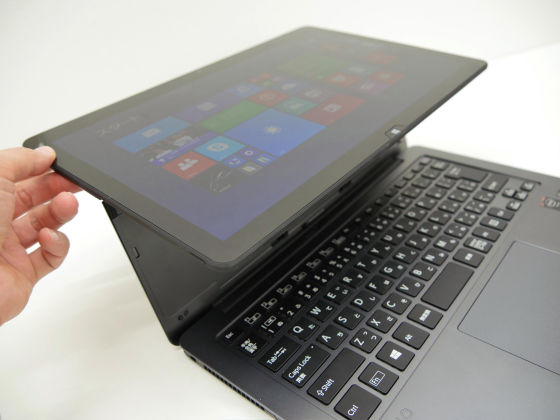 Looking from the side like this. It is invisible to "Z".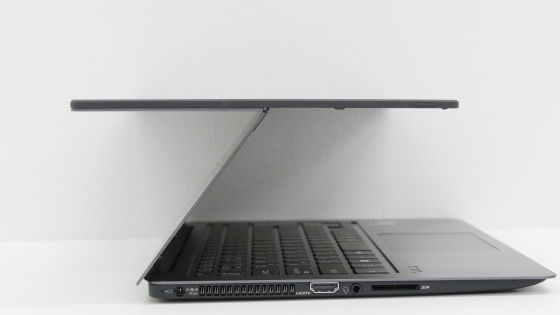 It is like this when it is a tablet type.



When turning vertically it rotates automatically.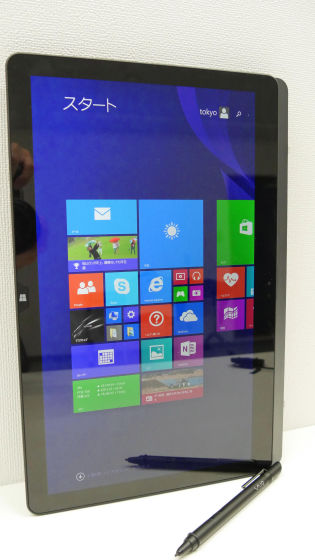 ·camera
It is easy to take pictures with tablet style.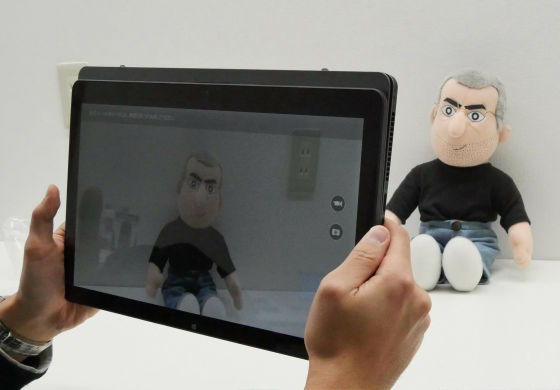 Even if you tap anywhere on the big screen shutter will be turned off so you can take pictures very easily.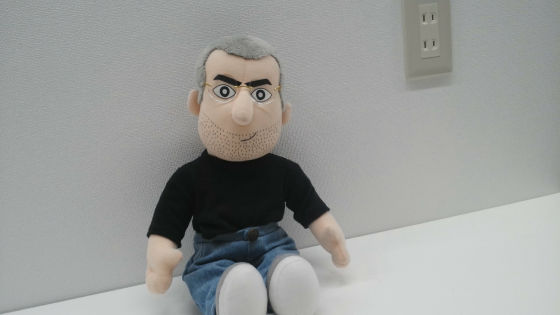 ·browsing
The impression that I tried browsing the net is a word of "comfort". Not only is it able to enjoy crisp browsing thanks to high CPU performance and high speed SSD, it also corresponds to InstantGo. Also, the speed of grabbing Wi-Fi is unusual, the Wi-Fi environment is standby when it resumes from sleep or hibernation mode and opens the browser, so even in Windos 8.1 that can recover quickly browsing immediately after launching The comfort of being able to use it once has a charm that seems to be addictive.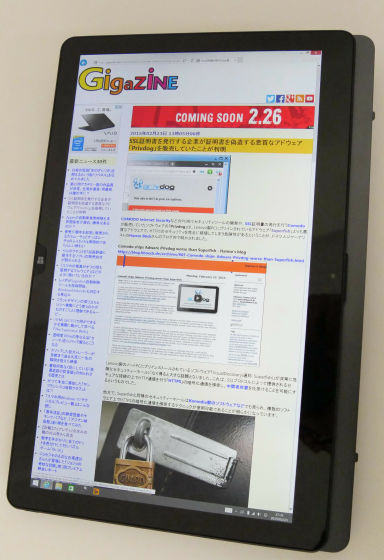 Since the pointer responds just by bringing the attached digitizer pen close to the screen, it is possible to click on the link with a pinpoint even on a high resolution display.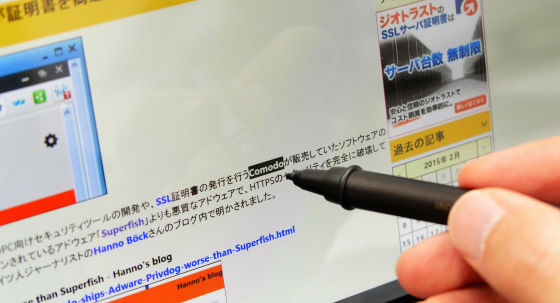 · Movie playback
In particular, viewing on YouTube is quite comfortable, as the coloring of the display is good. If the image is vivid, the level that interests whether this feeling of immersion increases as well.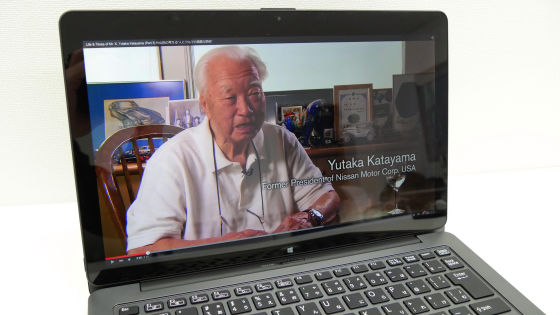 · Play 2.5K movies on YouTube
Because it is a special 2.5K (2560 × 1440) display, I tried playing a 2.5K (1440p) high quality movie on YouTube. I selected the material as a movie of the following article.

The world's first 4K movie "TimeScapes" trailer movie, a superb beautiful and powerful 4K image quality experience can be experienced - GIGAZINE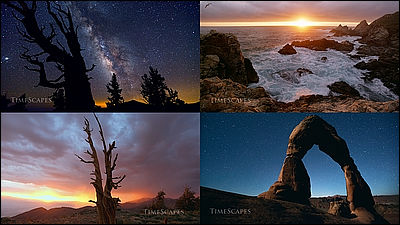 You can check how the 2.5K movie is played in the following movie.

When you watch a YouTube 2.5K (1440p) movie with VAIO Z, it feels like this - YouTube


VAIO Z was able to reproduce the 2.5K movie easily without showing the distortion which seemed to drop frames. Especially speakers developed so that they can be heard well even in a meeting of 100 class classes are sufficient for both volume and sound quality, and contribute greatly to the powerful improvement of the movie. As you can see at the end of the movie, the fan does not raise the beat. It is well understood that in the degree of playback of the 2.5K movie, it is in a condition leaving a margin for the machine power.

However, the position of the volume volume button which hides when opening the display to the VAIO Z comfortable for movie playback such as YouTube is a deduction point.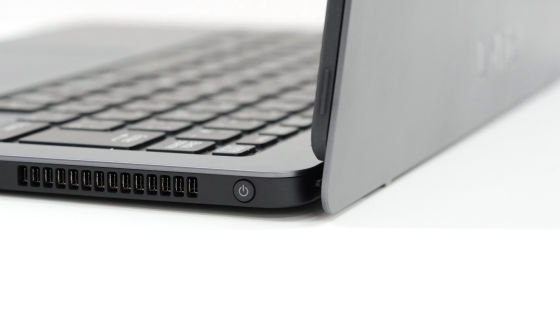 The only thing I felt inconvenient with VAIO Z was that it was too high resolution. For example, opening the "program function" to uninstall the program looks like this. If you adopt the super high resolution of 2560 × 1440 in 13.3 inches, the character that the letter gets smaller as it is difficult to see with equal size display.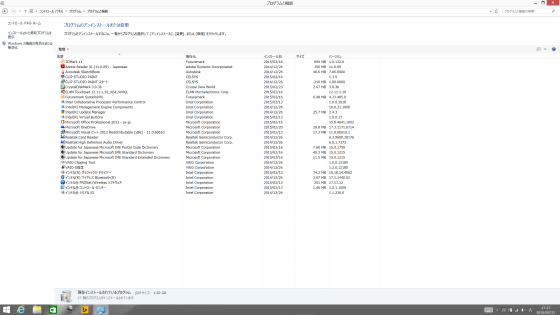 I realized that the 2 in 1 notebook PC "VAIO Z" called VAIO "monster" is a high-performance machine not ashamed of its name. VAIO Z, which realized a driving time of 15 hours or more nominal in addition to unprecedented overwhelming CPU and SSD performance, "has overwhelming response" "Perfect work anywhere throughout the day" It is a monster PC pursuing three points of being able to "be able to respond to new possibilities of users", and it has become a deki not fulfilling the expectation of high-end users demanding overwhelming "high performance" anyway.

VAIO Z, Core i 5, 8 GB memory, 128 GB SSD models are from 200,000 yen (tax included), the top models of Core i 7, 16 GB memory and 512 GB SSDs reviewed will be 350,000 yen (including tax) It is.