If I thought that lobster and lobster are similar things, scissors were crayfish anyhow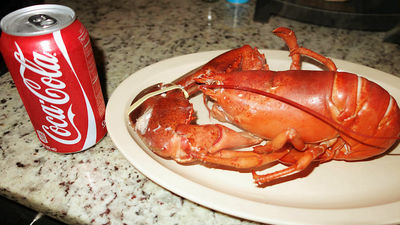 I wanted to eat "Ise shrimp" better, so I got a lobster at the American supermarket. Just by looking at lobster 's huge body which can not be thought in Japan, the tension rises. Lobster stained red when boiled. In the tail is full of pride and body. There was also a miso like crab at the head. And a huge scissors ... ....

Hello,Takuya Sudo @ circle around the world bicycle @ Charridermanis. After traveling around the Caribbean island country, I stayed in Florida for 4 days by transit. I have stayed in America for the first time in about 2 years since I cranked up with Montana, Utah, Arizona and Bicycle in 2012. I was looking forward to eating lobsters.

◆ lobster was sold
I saw it when I was around a Caribbean countryLobsterOne was about 35 USD (about 4,200 yen) and I could not get out of hand. But I'm abroad and I want to try it. If in the United States, Walmart, cheap because the supply and demand are largelobsterWaiting for that time while expecting that it should be available.

The fish shop watched in Nassau, the capital of the Bahamas.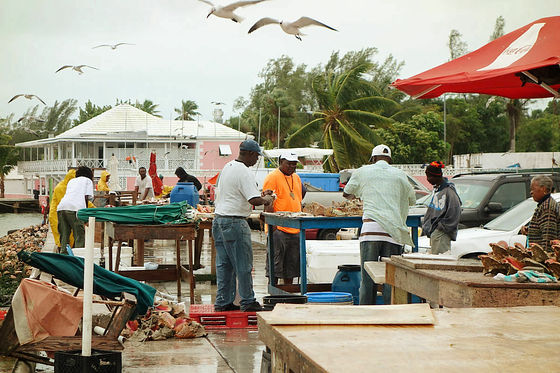 In the Dominican Republic, lobster was on sale on the street, I instinctively stopped.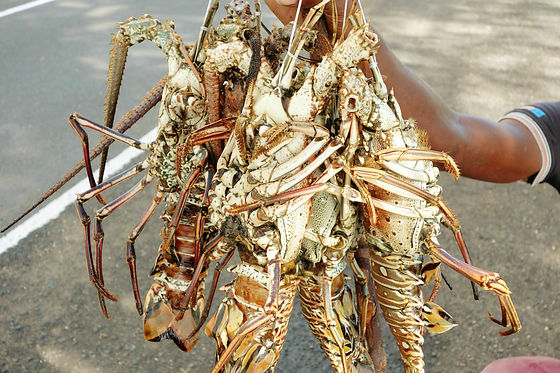 ◆ Purchase a lobster lobster
A cold wind blows off an image such as a palm tree and a blue beach in the scorching sunshine. Florida which went down from Trinidad · Tobago which was sweaty enough to cheerfully, descended in early December was under winter domination. Still, it finally got a breath after finishing Caribbean tour. I did not plan to go anywhere, so I stayed so relaxed.

However, since I wanted to eat lobster whatever, I went to a store in Wal-Mart which is also the world's largest supermarket chain. Although I was hoping for it here, I could not find the lobster figure for some reason, even though I was in a huge shop so tired to walk. Although I was impatient "I might not be able to eat", I finally found a lobster who entered the aquarium at another supermarket I visited on my way home.

Lobsters in the aquarium.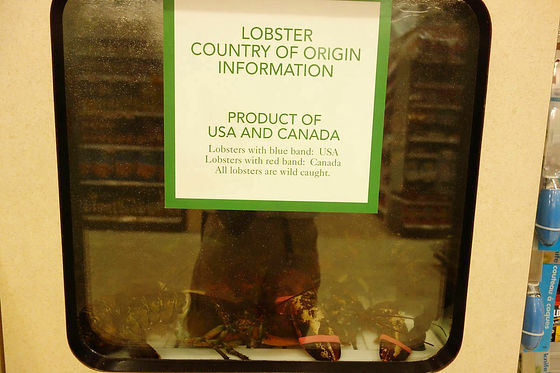 Even if you ask "How much will it cost?", I can not get a guess at the price per pound. "Well, how much is generally about per animal?" When asked, "About 20USD (about 2400 yen) around", I decided to purchase. An employee at the fresh fish corner scoops from the aquarium and packs the lobster alive. The price was 12.99 USD per lb (roughly 450 g at 1300 yen), and 1.70 pounds (about 770 g) lobster was 22.08 USD (about 2650 yen). Finish the accounting and aim for a lodging kitchen in a hurry so that the freshness will not fall.

A lobster packed in a box.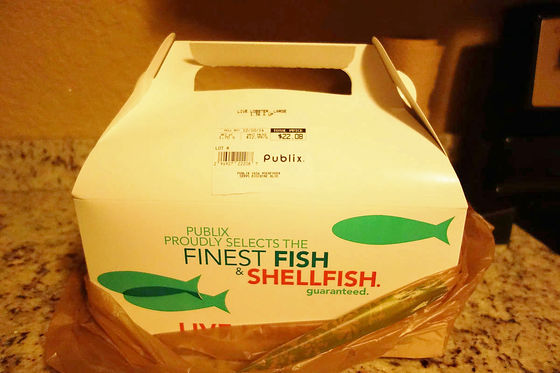 When opening the box, the lobster was settled. Moisture absorbing paper is laid on the bottom.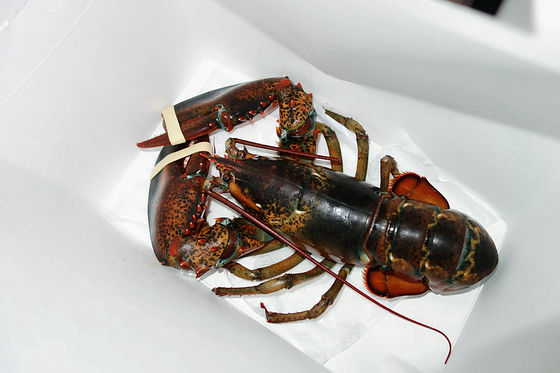 Compare the size with a can cola.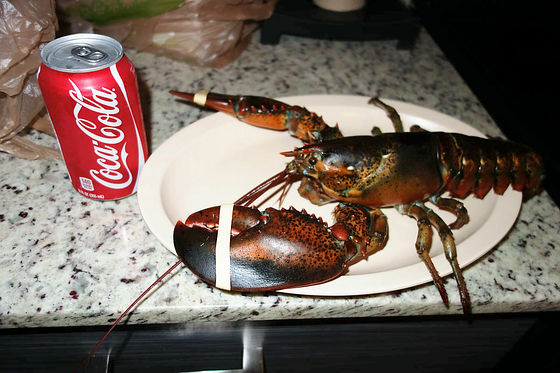 The angle from the front.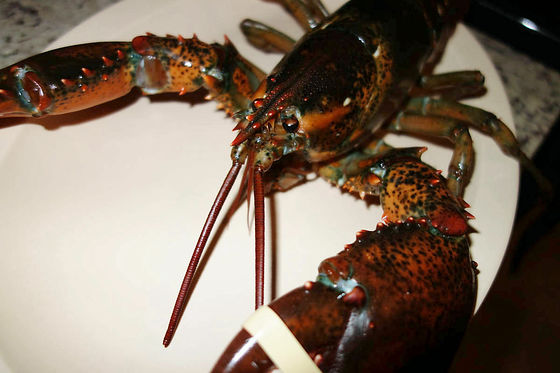 It was about the size to hesitate to grasp in hand. It looks delicious, on the other hand, it is grotesque and a bit scary. Because I was alive, I was moving the limbs and hands and feet.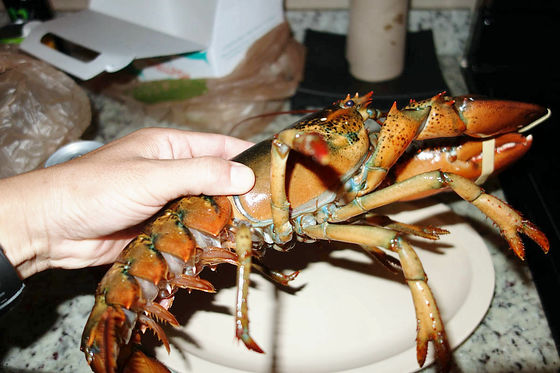 Tomorrow I tried boiling
When examining the cooking method on the Internet, it was "just boiling it", so put lobster into a boiling pot without thinking anything. After a while the lobster crawled up to the edge of the pot as if to escape from the boiling water. I can not overlook it, so I will cover the pan. There is no other choice but to combine lobsters' desperate resistance with "not wasteful". I remembered the meaning of saying "I would like you to" before meals. I had a life.

I lid and boil it up with spicy stuff.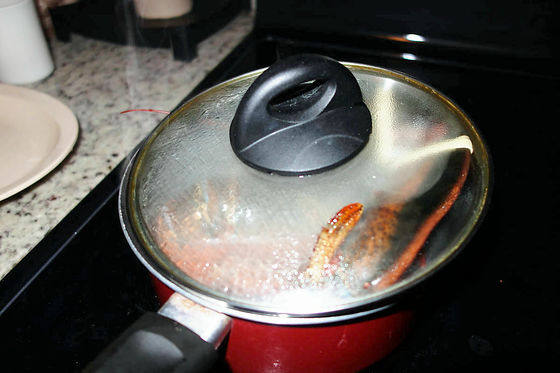 Lobster became a totally red body.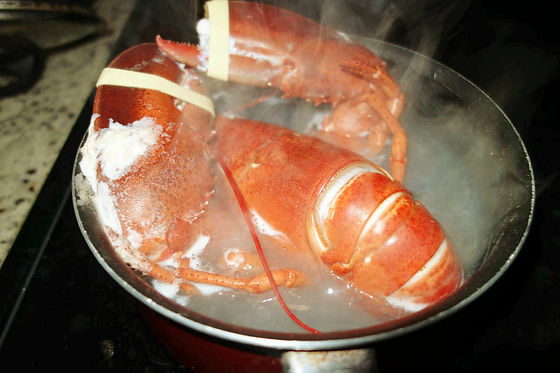 The act of boiling lobster alive, in part of overseasIf it is cruel and to argueIt is getting. The actual sight was cruelty, so I had a consciousness of eating life. Although there are pros and cons, if there is opportunity to cook again, cooking methods may be considered. However, as for fish, I think that active production is the most delicious ... ....

When boiling, the tail turns into a rounded shape.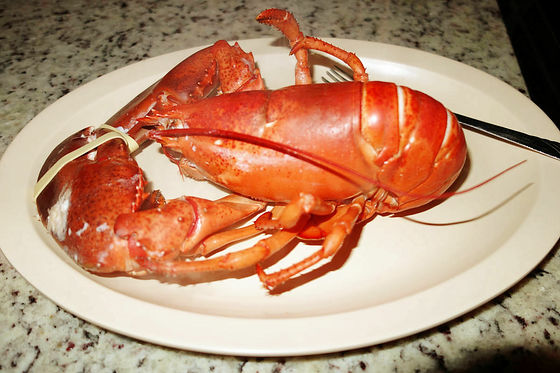 Compare the size with a can cola.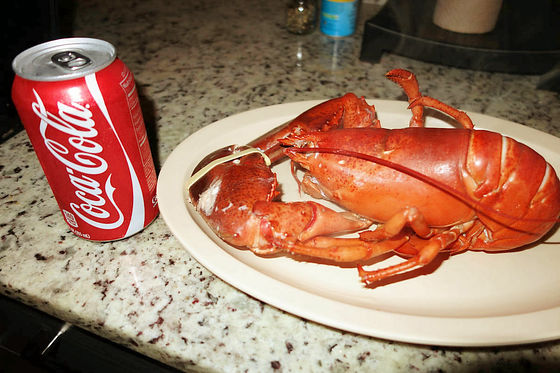 The lobster which was a raw appearance also becomes a fine dish when the fire passes and turns red. With this, you can eat safely.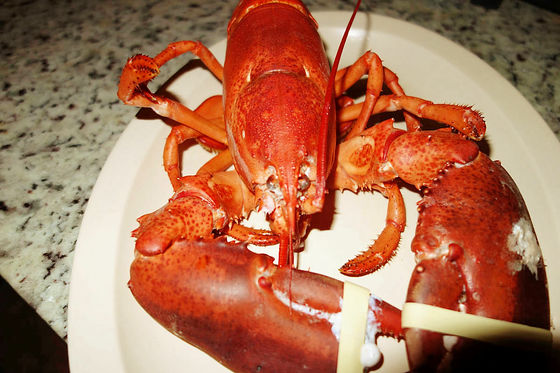 ◆ Whats delicious
If you put power from both ends, you can easily split into a head and a tail.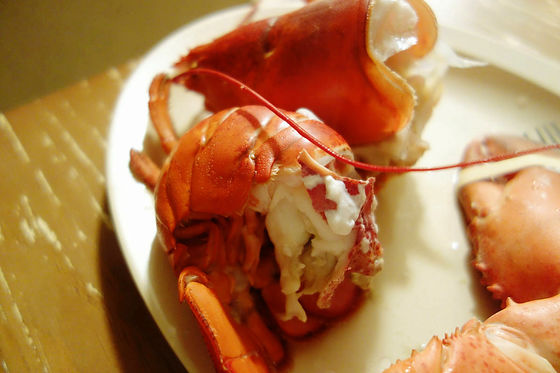 When it gets caught in a tight jacketed tail, the texture made with prepuri is certainly shrimp itself. It is a size that can not be eaten by bite, so you can fully enjoy the prepuri. I just put a bit of salt on, but the taste of the small island has been transmitted from my body.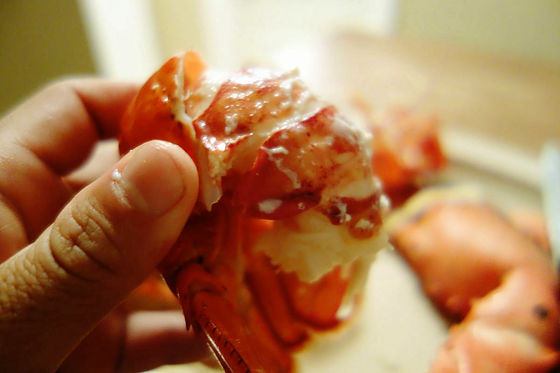 A tail that became only a shell.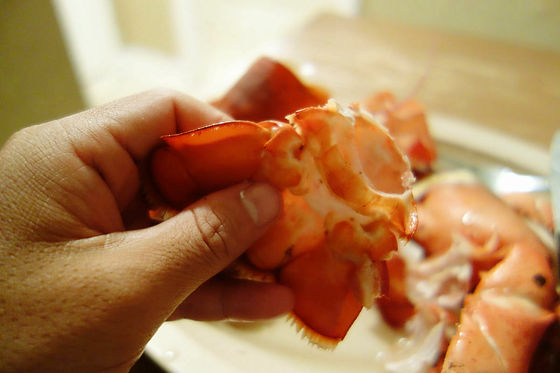 The head part is not crab miso, it is packed with shrimp miso.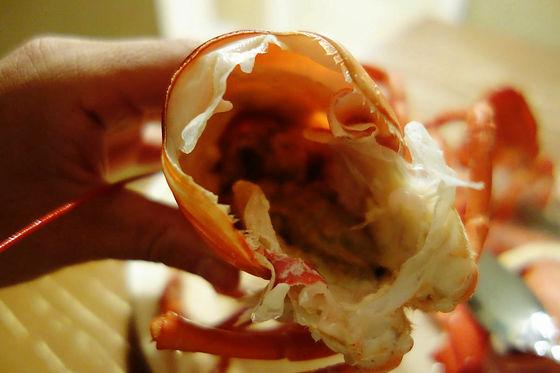 It was taken in a spoon. It is discreet and crisp but still it seems that I miss white rice. You may also eat with lobster 's body.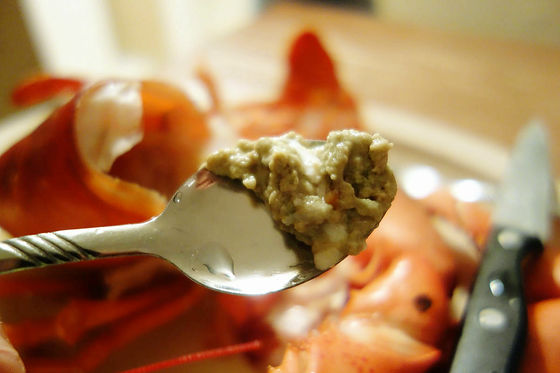 The big scissors that remained at the end will not crack by hand, no matter how hard I try. However, because I am tightly packed, I do not want to give up ... ....



I am using it to adjust my bicycleLeatherman toolIt's a multi tool to break hard shells. In South America Chile, friends Charida used for crabs was still in my head.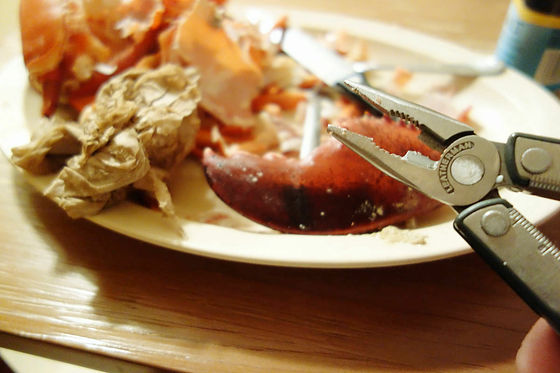 The body of the scissors is softer than the tail. Again, the taste of the material itself spreads to the mouth a little.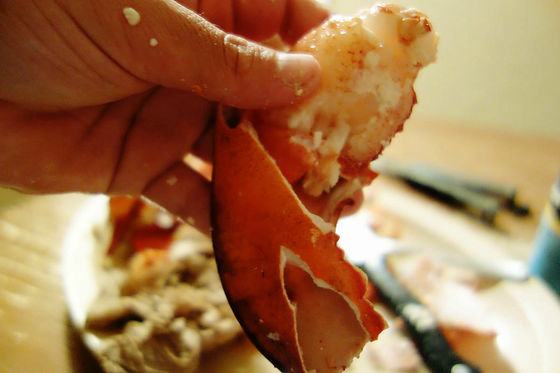 In this way, I fully enjoyed lobsters .... However, thinking carefully is something different. The one I wanted to eat is lobster. Lace scallops that can be eaten even in Japan do not have huge scissors like lobsters. Biologically, it seems that lobster is a member of crayfish. I guess it is lobster because there were not any shears sold in the Caribbean. I was just thinking about cost effectiveness, so I confused lobster with lobster. I made a mistake ... .... I do not know when it will come but someday I would like to say love.

Although I made a mistake, lobster got a valuable experience at lobster. It is a food that is not familiar yet in Japan, but in the United States you can buy it freely at the supermarket like this. Who would like to try someone who has the opportunity to visit the US?

(Sentence / photo: Takuya S. Narou Charriderman
Cycling around the world for a bicyclehttp://shuutak.com
Twitter@ Shuutak)