Fishes of the sea full of fish market in Chile that can make sashimi and sea urchon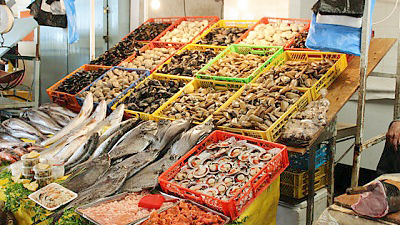 I could not think of being able to eat seafood fortunes in South America from clams to salmon and sea urchins to sashimi. Chile with long coastline in north and south is seafood paradise, local fish market is lined with fresh seafood. Also in the supermarket seafoods, fresh fish, frozen foods, canned goods sea foods seemed to be abundant, seafood seemed indispensable for the life of the Chilean people.

Hello,Around the World Bicycle WorldIt is Takuya Sudo @ Chaliderman. Currently it is everyday of beef life in Argentina, but in Chile of neighboring country it was a fish-centered diet.

Freezing pack of 'Mussels (Choritos)' that I often bought. A price of 300 pounds and around 1200 pesos (about 240 yen).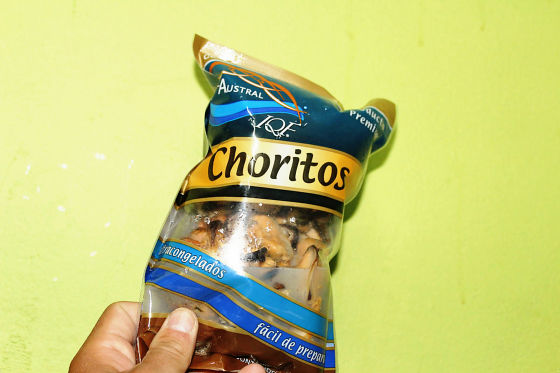 Canned shellfish which I had in the section without the city. I also bought canned "Jurel" and "Sardina".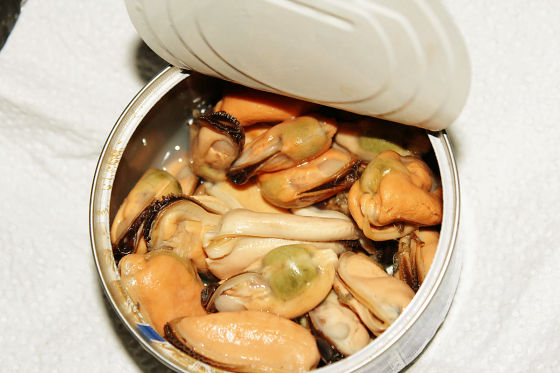 Let me introduce the rich seafood of Chile this time. Fur seals also lived in the fish market.

◆ Vina del Mar and Valparaiso
Facing the Pacific Ocean west of Santiago, the capital of ChileVina del MarThere is an inn that Japanese people gather, so I can relax. Valparaíso 's fish market is famous here, and fresh seafood is available cheaply, so someone went out to buy someone everyday. When people gather, we will cook dinner together, "Let's share rice with everyone".

Town center of Valparaiso next to Vina del Mar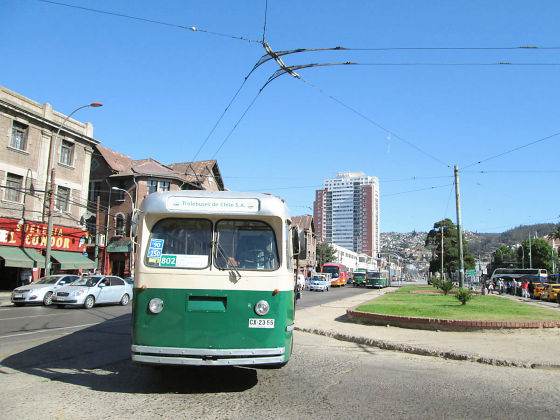 I walk on the beach for about 20 minutes from the hotel to the fish market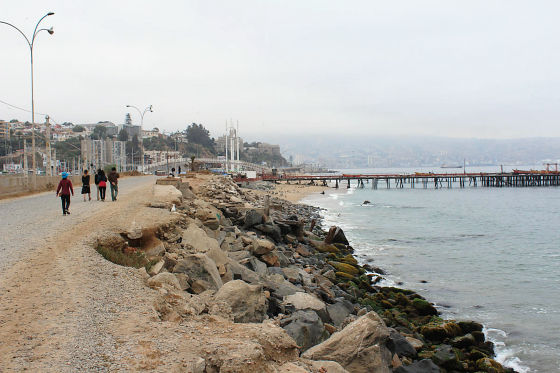 Walking and a Moai statue replicas. Easter Island is the territory of Chile.



When you arrive at the fish market, birds hunting leftovers are dancing. Even such a sea gull was big and powerful.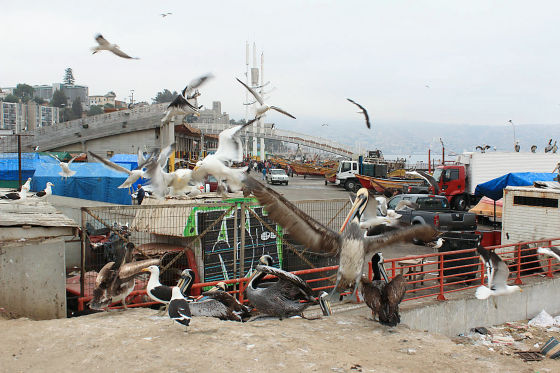 Fishing boat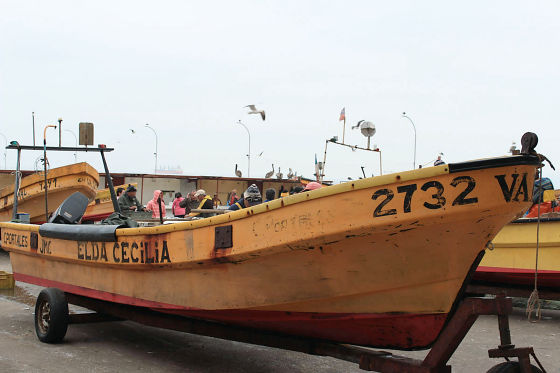 Fish market where glance of life of Chile is seen



There are abundant seafoods in the market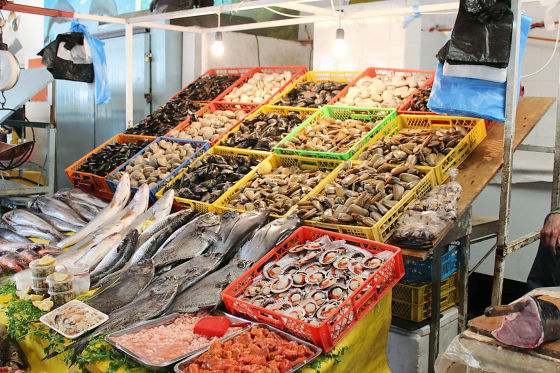 I do not get tired of just watching it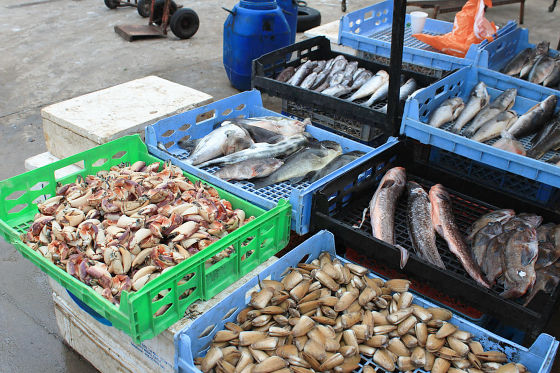 There were many kinds of shellfish, but I was a clam withmusselsI bought a lot. The clams are about 1, 000 pesos (about 200 yen) at 1 kg. There are live crabs too.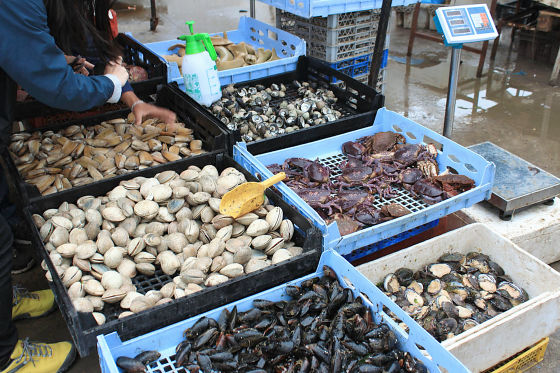 Also the appearance of octopus with a null null.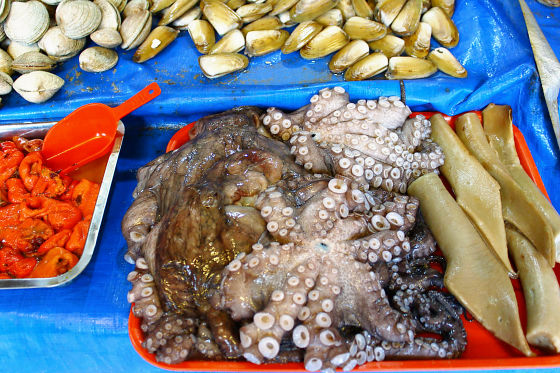 I was surprised that a huge squid was also handled.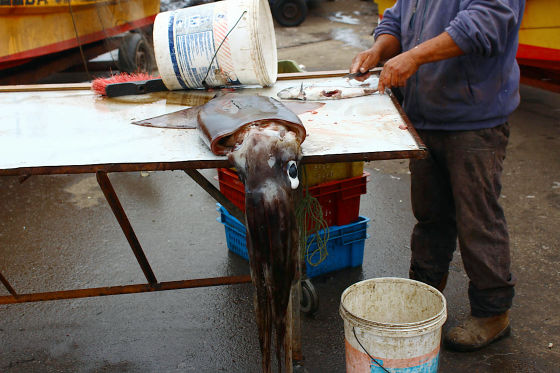 What was sashimi while staying was called "Reineta"AffiliationA kind of. It seems that it is fresh that the eyes are not blood running and the back of Ella is pink.



When purchasing "Lingpio, Limpio Por Favor" you ask me to drop the fish. The rest is the finish of sashimi just by cutting at the inn.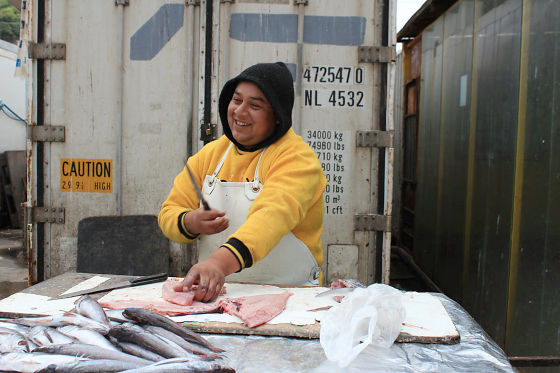 ◆ Cooking
It was self-catering every day because we can use kitchen in lodging in Vina del Mar. Prices will also increase as you enter Chile, so you can not go out to eat out easily. Unlike traveling by myself, it was a place where there could be someone, so it was nice not to be lonely. Share rice which I bought foods collectively and everyone to eat was the best, and I was doing work while doing it together.

This is Raineta which became sashimi. It is a white fish and my body is tight.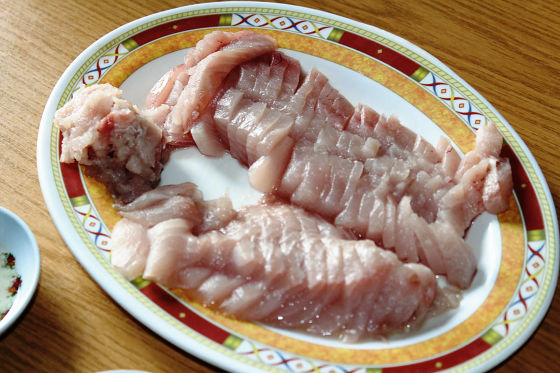 A seafood hot pot with a whole sashimi and crab, which became a sharing rice.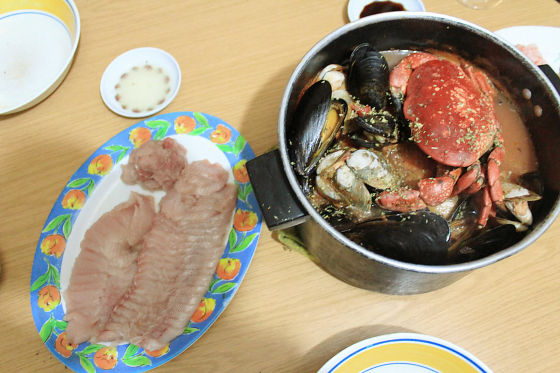 Shrimp peel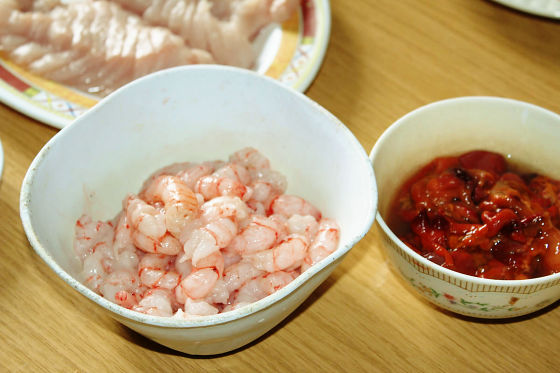 Pasta is being cooked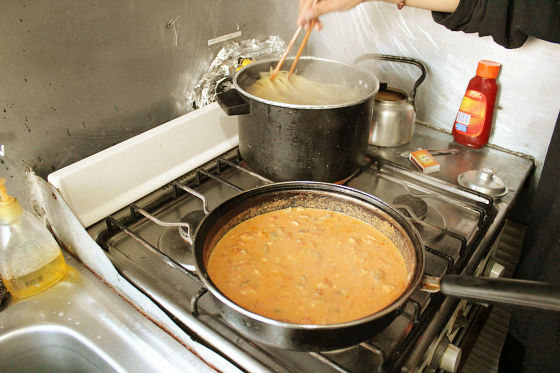 We cook vinegared rice with "sushi nooko" so she is enjoyable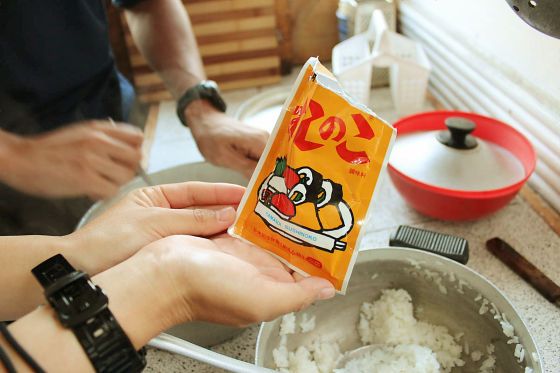 Raineta, shared by a large number of people, salmon sashimi and pasta.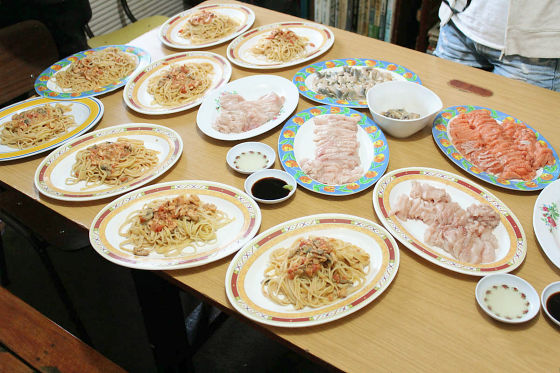 Shared meal on another day includes salmon saute and pasta



The clams that can be taken here are big size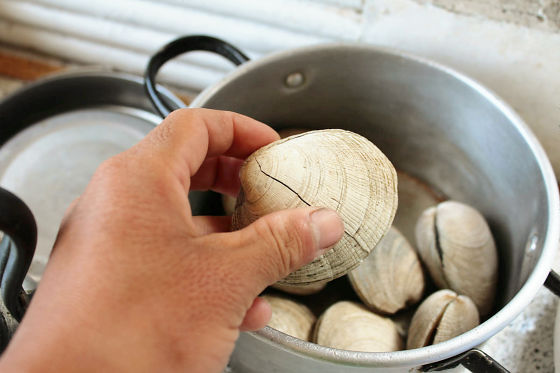 Wonder that the contents are the same as in Japan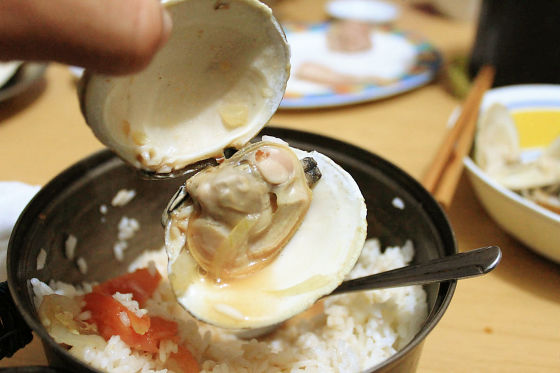 Mussels are also enormous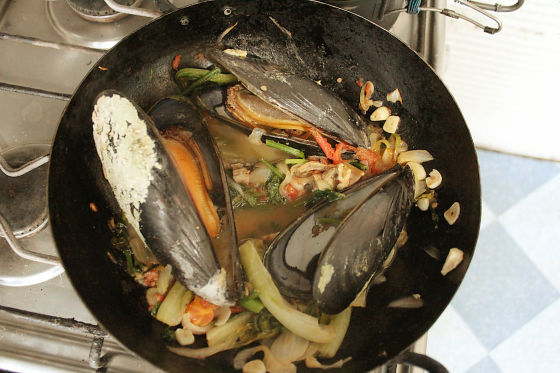 I also cook shellfish with no name. I got used to putting in the contents, but I was chewy and not bad.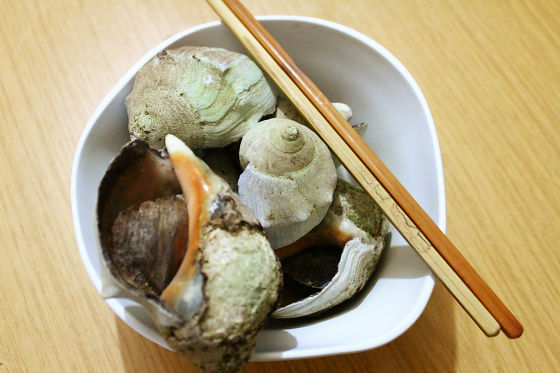 The squid is too big to eat.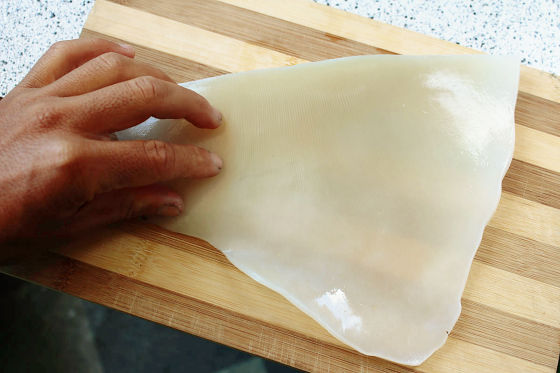 ◆ Fur seals (→ Otalia)
In the fish market of Valparaiso is under the pierfur sealI have settled down. When I stayed, I was calling Todo,Todo's habitatIt looks like the North Pacific. Although I was bothering my head whether it is different from sea lion,The back fin is dividedDoveBody hair is MosariIt's good to have fun because you are doing it? (→OtaliaThere was a storyteller saying that, after that it is written as Otalia)

They are near the pier of the fish market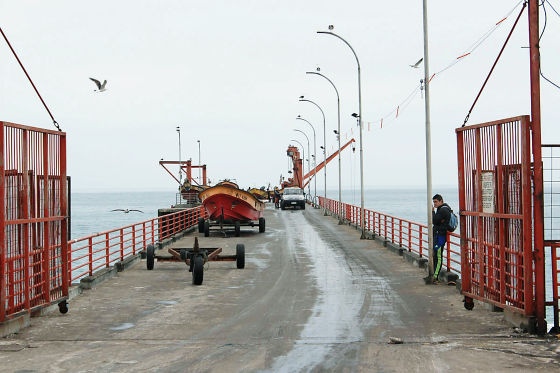 It was my first time to see Otaria closely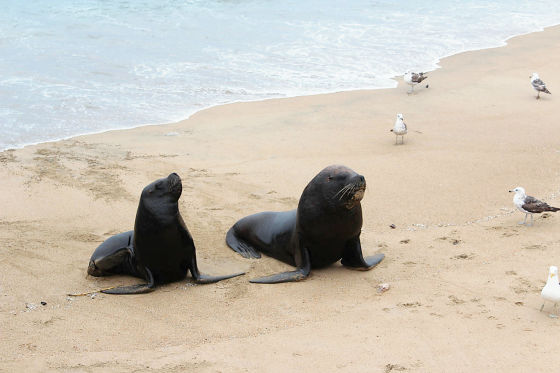 Otaria approaching to get food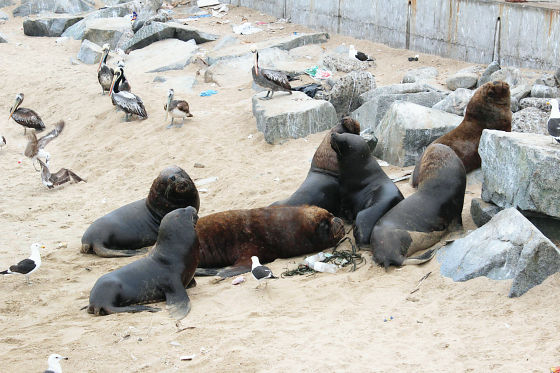 A lot of Otarians are gathered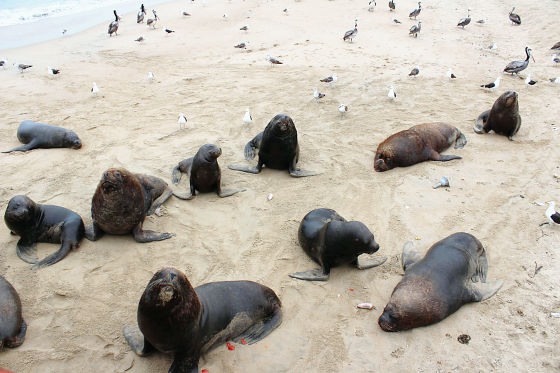 I say love to move a short front fins.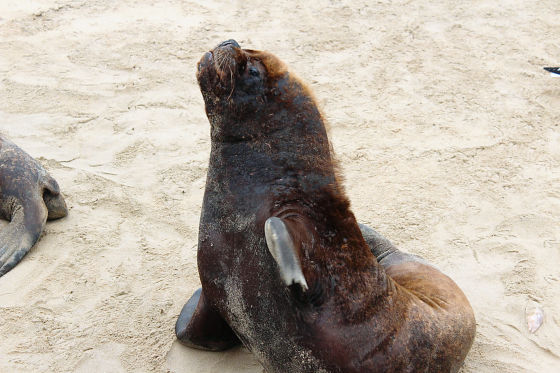 I also swim.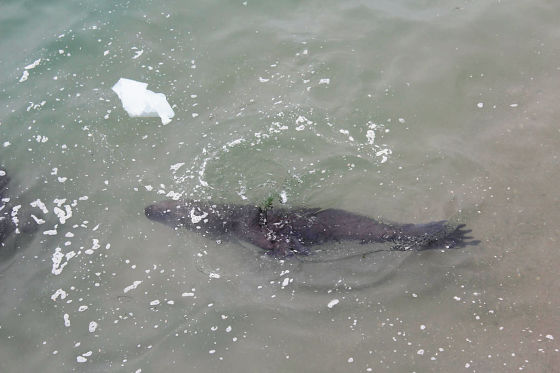 I opened my big mouth, and behaving slowly and nosonoso is impressive.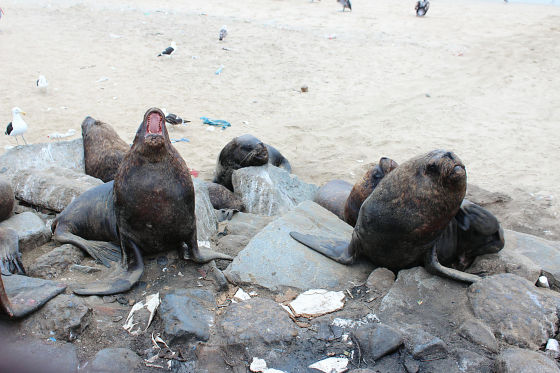 Even at the fish market he visited on another day, Otaria was under the pier.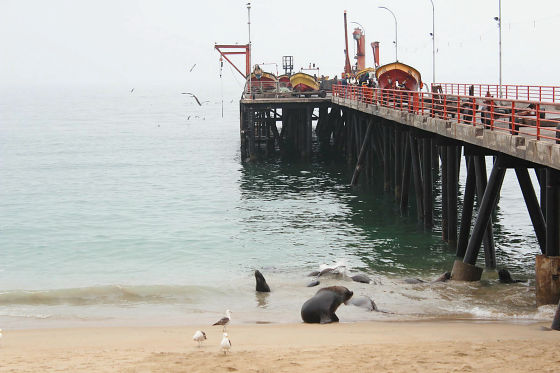 Otarians like playing on the beach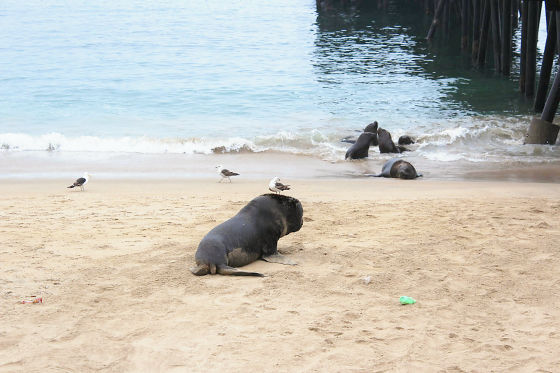 I was fat and dignified with Mukumuku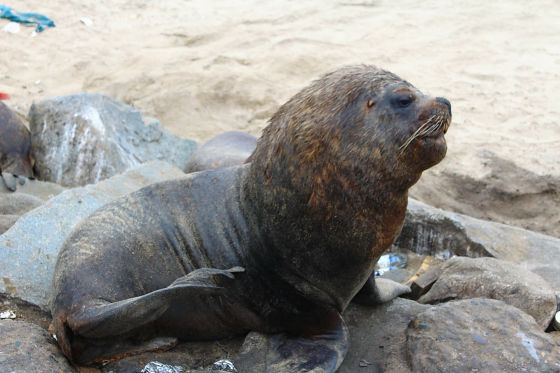 Otaria living in the fish market in Chile - YouTube


◆ Puerto Mont
It is about 1000 km south of the capital city of SantiagoPuerto MonIs the gateway to Chiloe Island, Patagonia. There is a fish market called Angelmo here and we have enjoyed fresh seafood. The scale was smaller than Valparaíso, but sea urchins were only seen here. There is a special dish called Clant.

Large complex commercial facility facing the sea of ​​Puerto Mont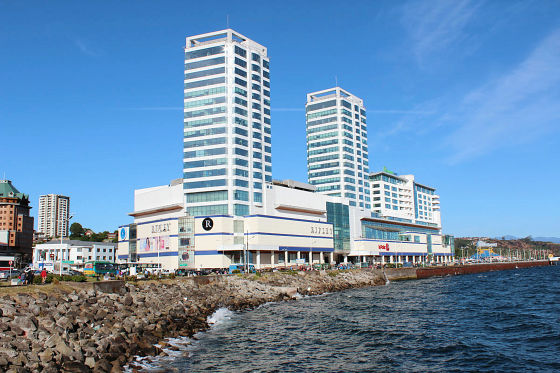 Seafood in the cafeteria of the cityEmpanadaIt was also good. If you put it in your mouth, juice of shellfish overflows rather than broth.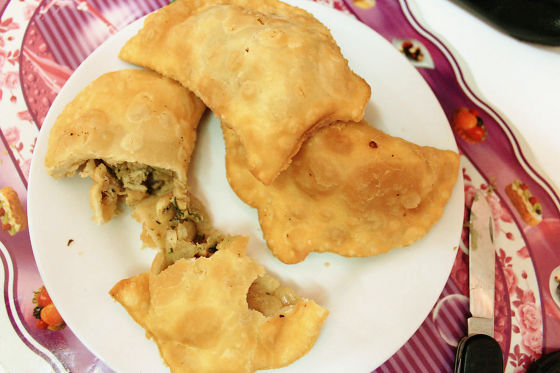 Arriving at the fish market of "Angelmo" when walking from the city center in the direction of the seaside westward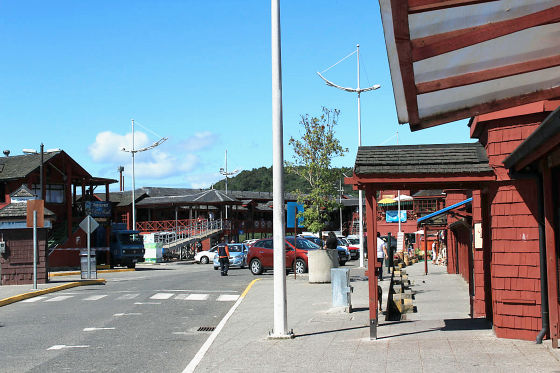 The fish market was a more beautiful place than I thought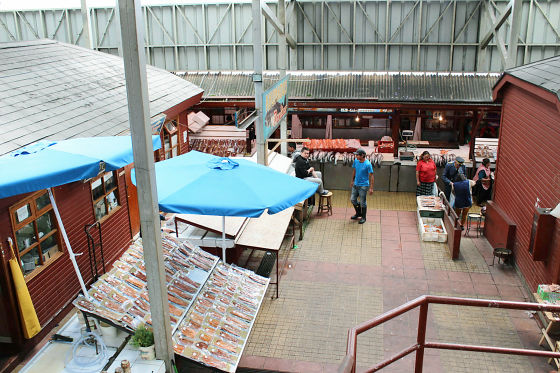 Taken by the invited aunt to the cafeteria. First, bread, soup and salad come out. "Cup's alcohol is a service," stylish weigher.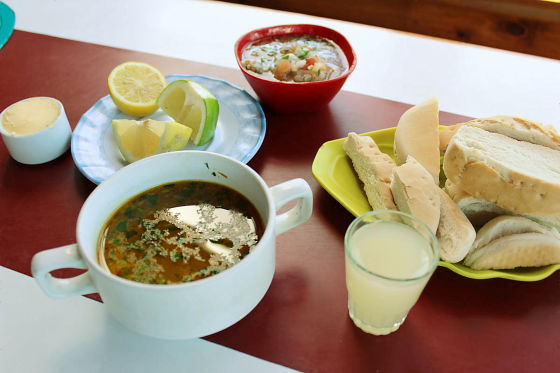 And it was something more served on the plate than the famous "Clant (Curanto)The dish called. Chicken, pork and potatoes are on a large amount of mussels. The thing like a Hen Pen is made of wheat flour. Since most of the shells are mussels with shells, the dishes will be available, but still this amount came. It has a delicious taste of mussels and a delicious flavor. It was 4000 pesos (about 800 yen).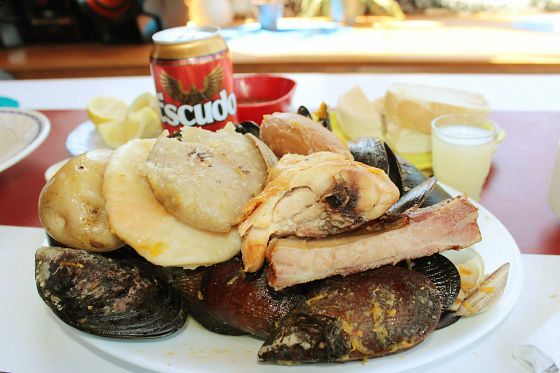 It seems delicious fat biscuits are also delicious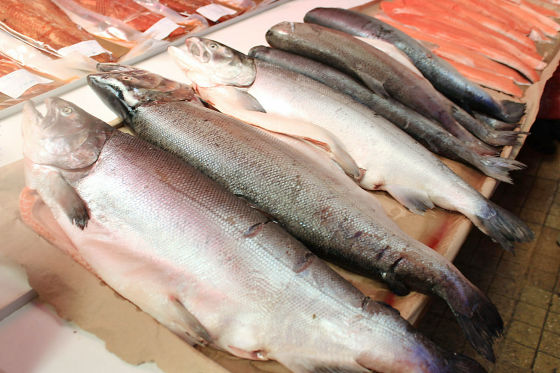 Packed salmon fillets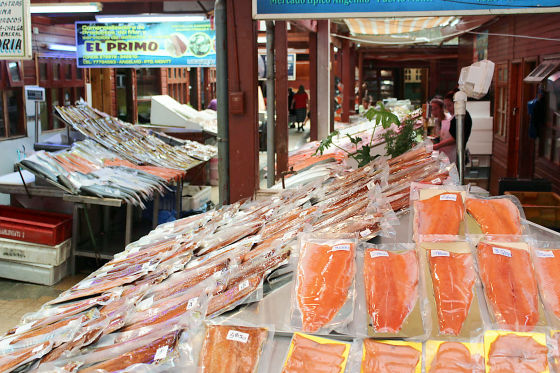 I wanted to eat salmon, so I got a cup of ceviche at 1000 pesos (about 200 yen).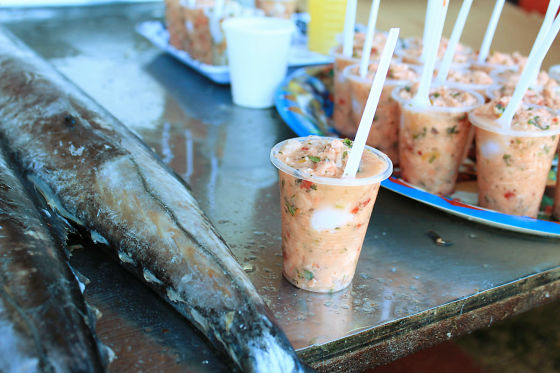 There is also a way to cook vinegar and lemon salmon cooked salmon. It was delicious.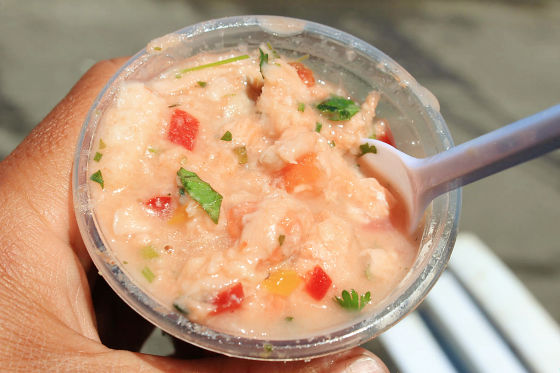 There were also clams and mussels, but the size is smaller than Valparaíso.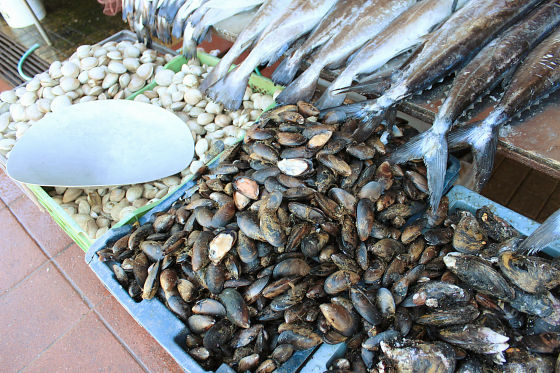 The mussels were fresh, and there were also individuals living and moving.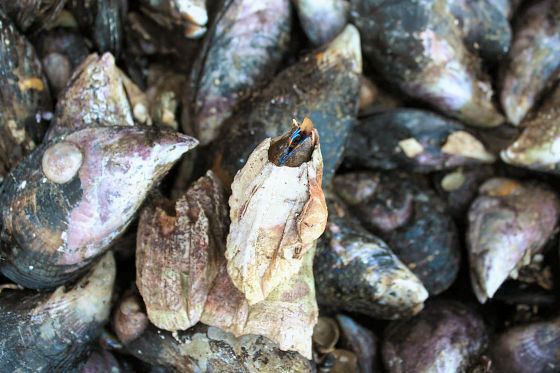 The biggest purpose I came to Angermo Fish Market was this sea urchin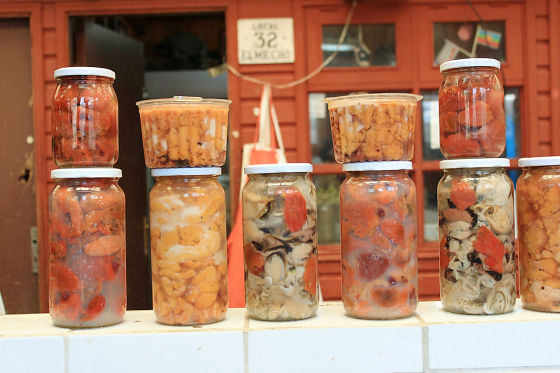 With this size packed in Gyu-kyu, 4000 pesos (about 800 yen)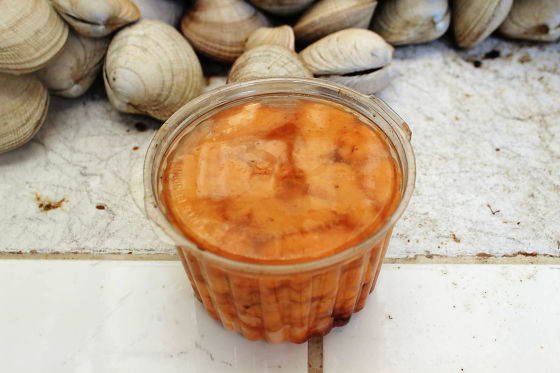 When opening the lid, it looks something like this.



I put plenty of sea urchin on rice of hoka hoka and put soy sauce on it. The compatibility of a faintly sweet sea urchin and soy sauce is outstanding, and the rice also progresses at a stretch.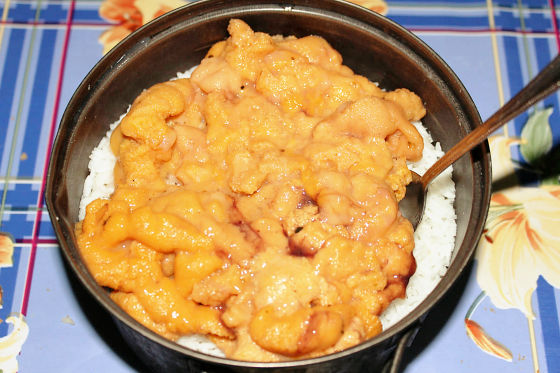 I could not finish eating in a day, the next day to Unipasta. I could fully enjoy the sea urchin.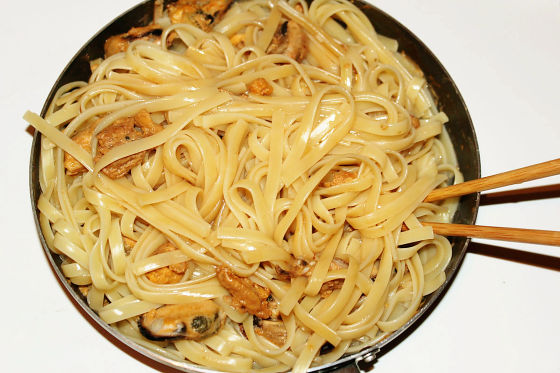 Fishes and shellfishes were also full of everyday life, just like in Japan, because the sea is close to Chile. Blow the cold wind along the seasideHumboldt currentThanks to the cold weather, Chile is a country blessed with marine products.

(Sentence / photo: Takuya S. Narou Charriderman
Cycling around the world for a bicyclehttp://shuutak.com
Twitter@ Shuutak)