From the fish's Ceviche to the alpaca's steak Happy with the abundant repertoire of Peruvian cuisine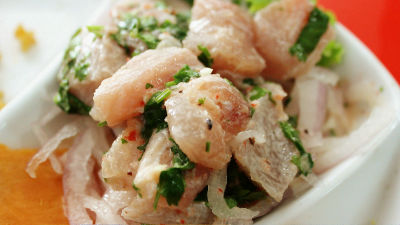 Fish dish called Peruvian Ceviche comparable to Japanese sushi and sashimi. The fly of Mas (Trucia) was also a standard, and in Peru we often eat fish. Alpaca meat which joins beef, pork, chicken meat of the main dish even meat. Since it comes up to pasta as well as rice which was rich in flavor like in Japan, there is a tremendous passion for the Peruvian cuisine.

Hello,Takuya Sudo @ circle around the world bicycle @ Charridermanis. Peru's meal was cheap and tasty, so it was almost eating out everyday. I am happy even if I am a Japanese person who has a lot of fish dishes. Let me introduce the charm of Peru cuisine that I ate while I was in Peru this time. There are not many countries that stick to such dishes so much.

◆ How to order
I have only eaten in the cafeteria, but mostly the menu was listed in front of the store and it was easy to understand. If you have "Almuzo" for lunch and "Sena (Cena)" for dinner, soup, main and juice are together. When ordering, "Sopa (soup)" comes out first, then "Segundo (Main)" feeling. If you are a cafeteria in an urban area you can choose the main from around three kinds. And the next day when visiting the same dining hall, Peru is amazing because three different types are different from yesterday. The set of day and night was about 3.5 sol (about 130 yen) to 6 sol (about 220 yen).

Roasted chicken of "Polleria" and Ceviche of "Sevicheria" are single items. Peru has "ChifaThere were a lot of Chinese food shops called.

The soup that comes out as a set has plenty of volume.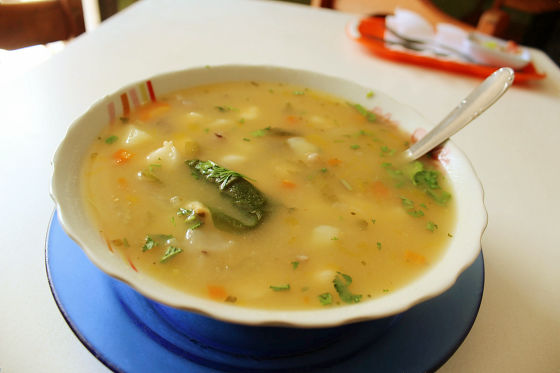 The main dish was also a lever.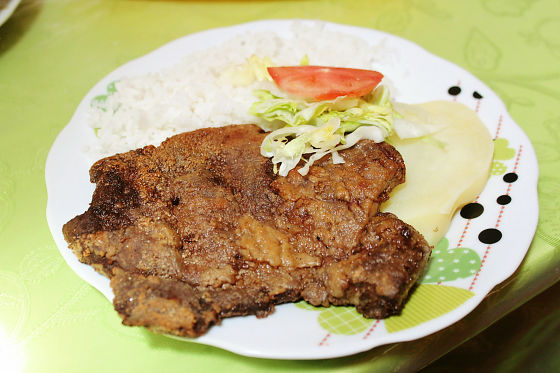 Standard
As in Colombia and Ecuador in South America, the main cafeteria has many beef, pork and chicken.

Boiled chicken and bean buffet.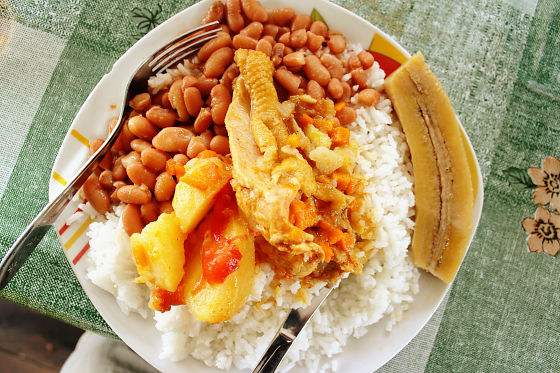 If it was an ordinary chicken plate, I went to a melting avocado.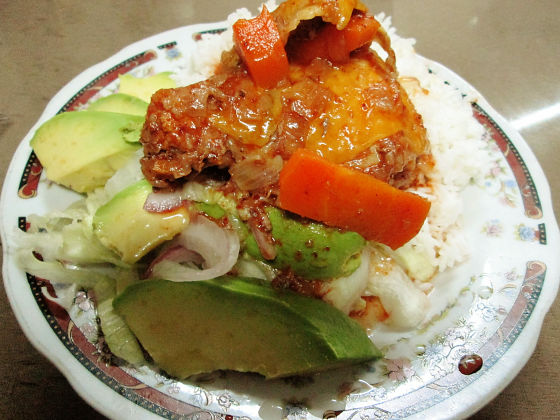 Chicken cooked with rice and soaked in hands.



"Milanesa de Polo" is a so-called chicken cutlet.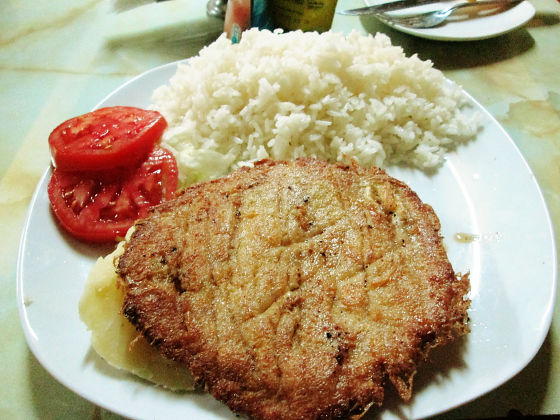 When I was hungry and wanted to eat with Gutsuri I ordered "Milanza de Poyo".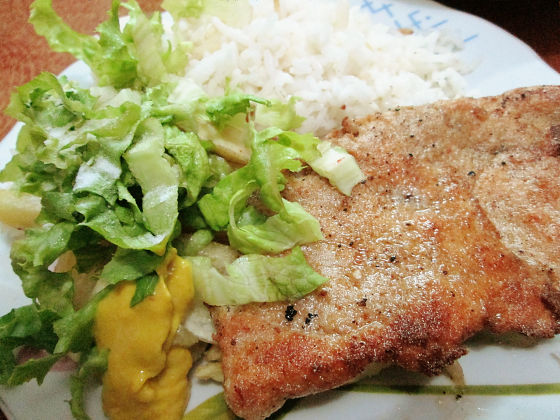 There is a plate of roast chicken, potatoes and vegetables in the city "Polleria". The entire chicken is 1 size, one-eighth is "octorbo" and one-quarter is "quart".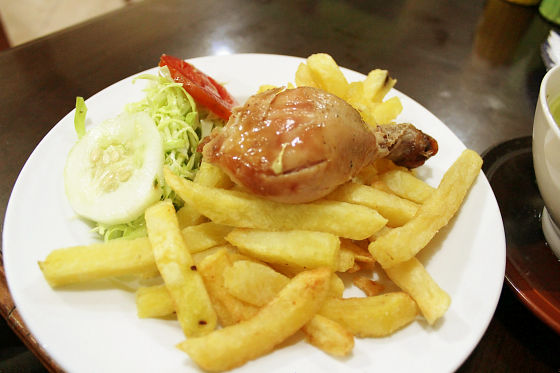 Please apply ketchup, mayonnaise, mustard etc. in the shop.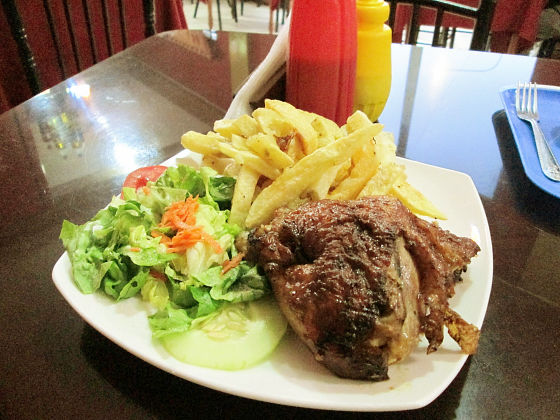 Unlike the cafeteria, Posegaria's chicken was a fast-food sensation.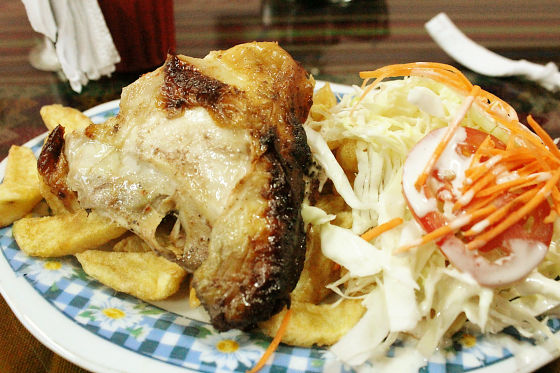 Boiled beef plate also goes for rice.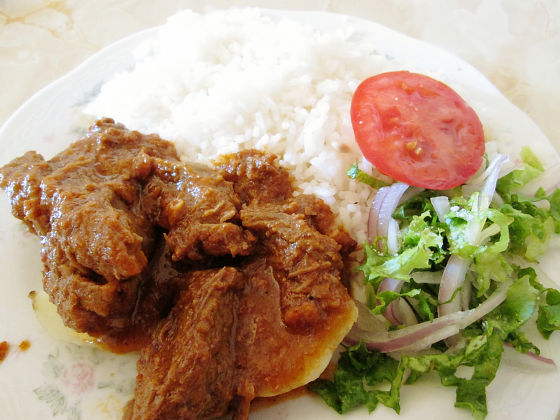 One meal with main beef, soup and juice on the menu of Almuelso (lunch).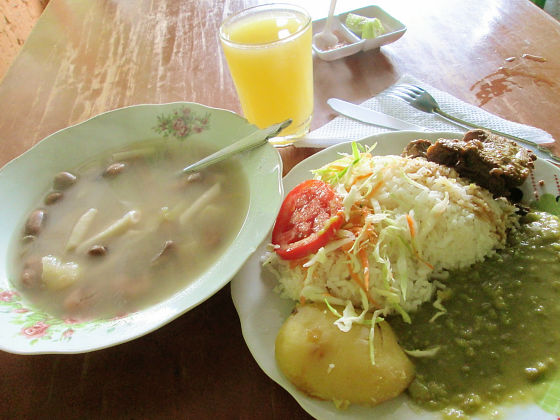 "Lomo Saltado"Is a meat dish representative of Peru, stir-fry beef, onion, tomato and so on, serve it with fried potatoes and rice. If you feel somewhere in Japan, it seems that you are using soy sauce etc. due to Chinese immigrants. A dish with a delightful volume for a stomach reduced charrid.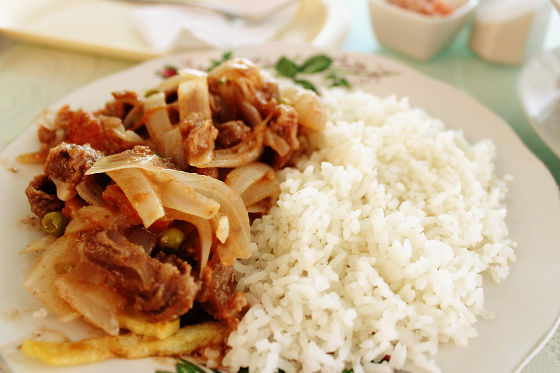 Lomo Salutade of 3.5 sol (about 130 yen) I ate in Cusco's market has few beef ......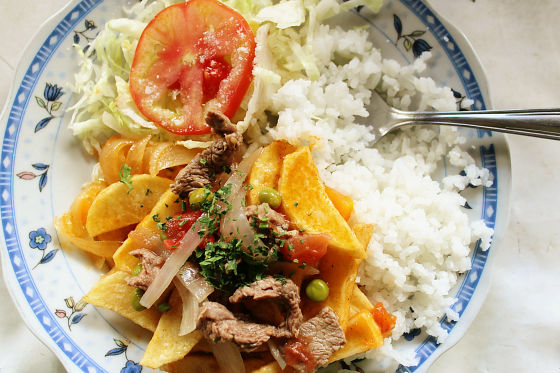 Lomo Saltade who gave 7 sol (about 260 yen) in a small town while driving was used a lot of beef.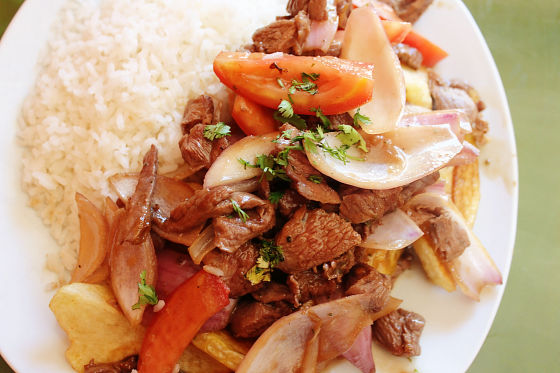 Here is the deep-fried pork called "Chicharron de Chancho".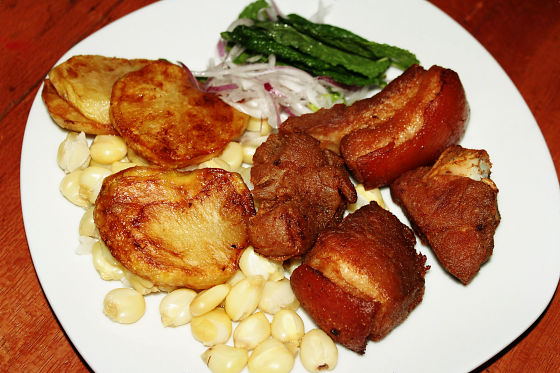 "Caucau" is an bukkake with potato and mots, food has steadily advanced and replaced.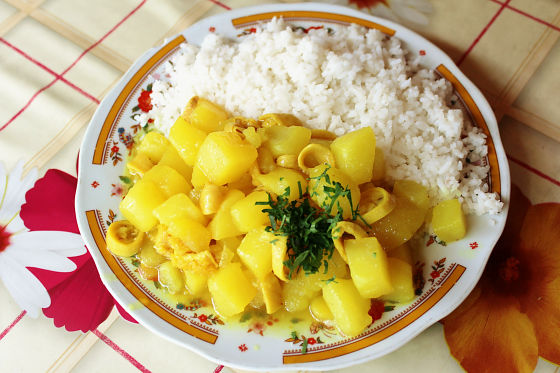 A dish with a name with "Mondungito a la ITALY". Originally it seems that Hachinosu (cow's stomach) is contained, but I ate only potatoes that I ate ....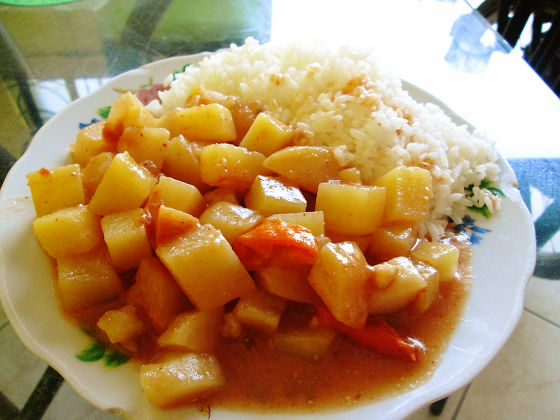 Stay in Peru Potato rice came out at the last lunch. It was delicious with the dish which broke the potatoes of the meat and potatoes and broke down and made it sauce.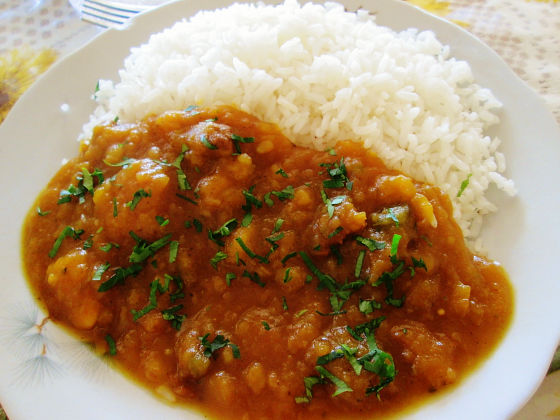 ◆ pasta
If you enter "Tallarin" in the menu, pasta will come out. When I wanted to change my mood all day, I was asked occasionally, but are Peru people thinking the same thing? Pasta had citizenship in Peru.

Pasta plate like Japanese Napolitan.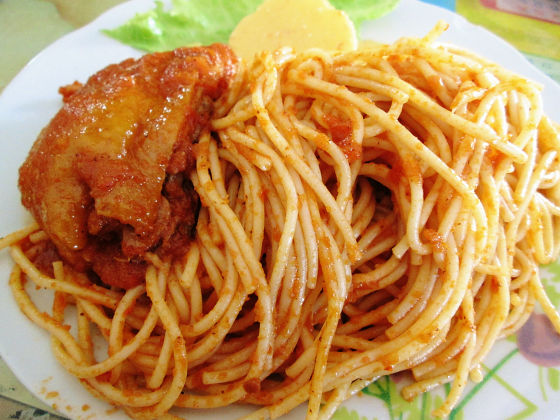 Pasta was also a set of Almuroso (lunch) menu along with soup.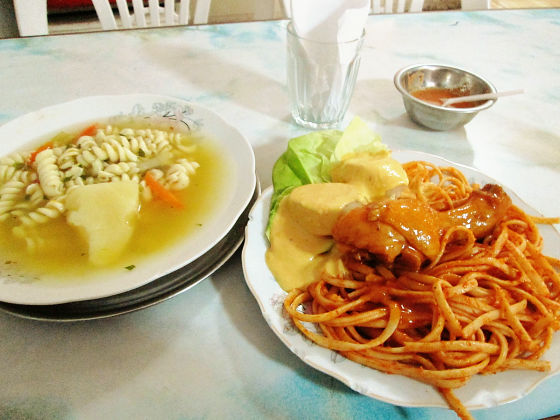 Meat sauce is mixed with flat pasta and it is delicious.



"Tallarin Saltado" coming out from the Chinese restaurant is a Japanese style pasta that you can eat in Japan.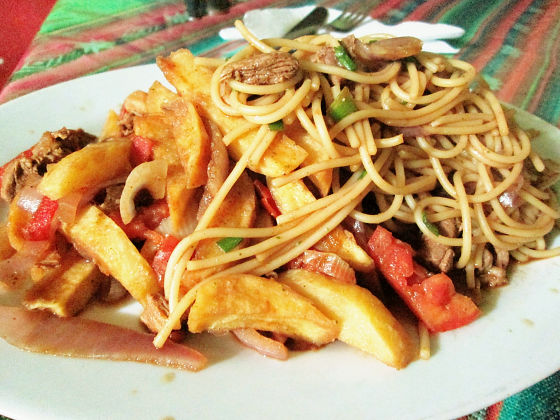 "Caldo de Gallina" is a dish like Japanese ramen with pasta and boiled eggs and chicken in soup. However, pasta grows soft and soft. Still, there was no such dish in Latin America so far, so the sight that the Peru people squeeze the noodles reflected freshly.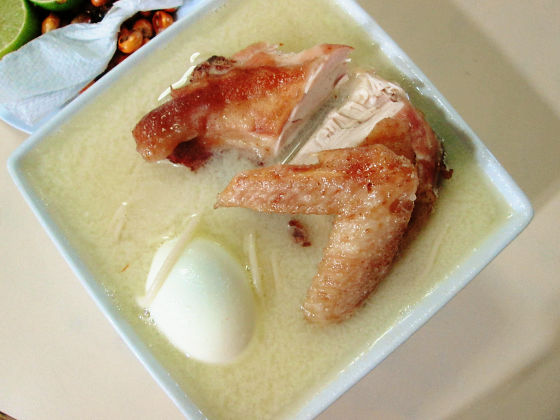 Here is Cardo de Gasina.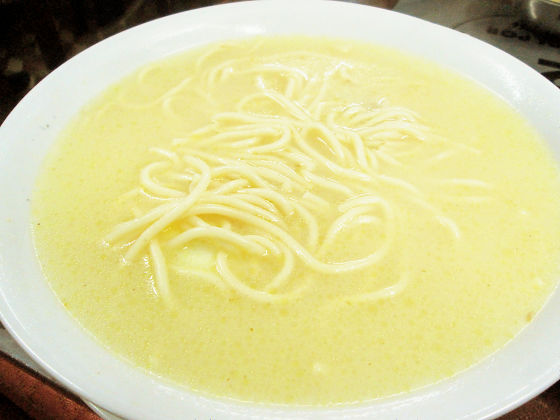 This is soup pasta and I got it for breakfast.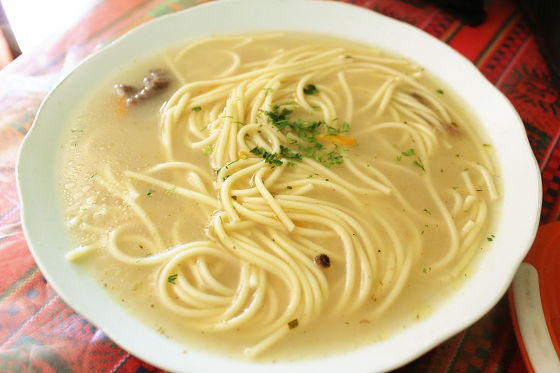 ◆ Alpaca
Alpaca which is loved in Japan is also edible in Peru. When I stopped by a cafeteria where there was only one in a small village in a lonely small village on a plateau over about 4000 m, Fried Alpaca came out. Also in Cusco, a tourist destination representing Peru, alpaca steak is added to the menu of cheap course dishes.

A signboard appeared while driving in the plateau area.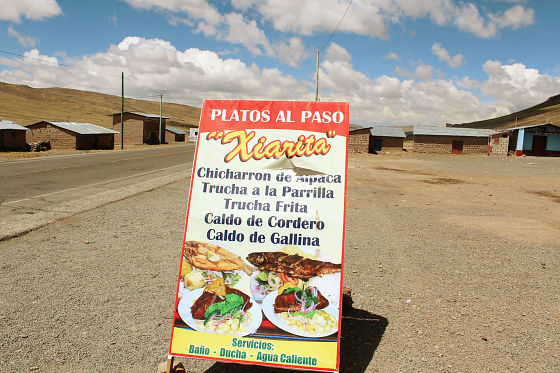 There is only one dining room in a small settlement.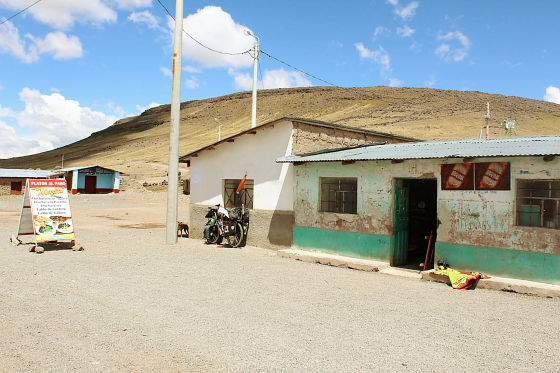 Then put corn on the 8 sol (about 295 yen) fried alpaca that came out.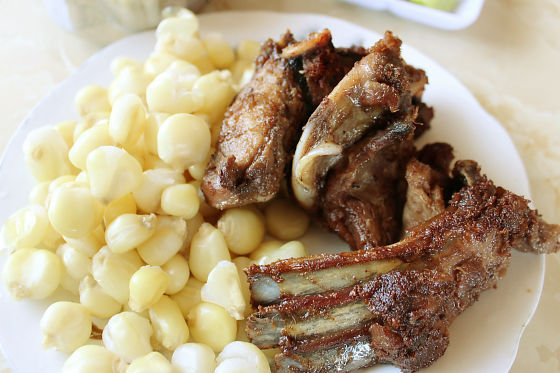 This part was refreshed like refreshing chicken.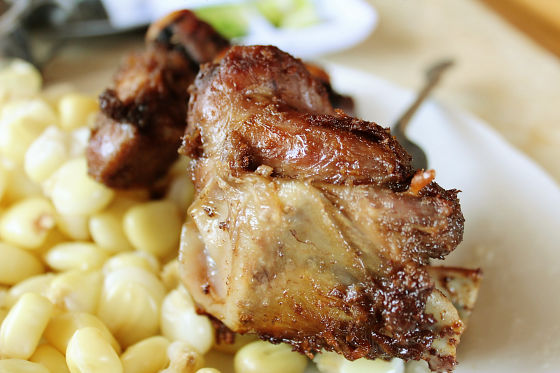 If I thought, this is a texture like pork.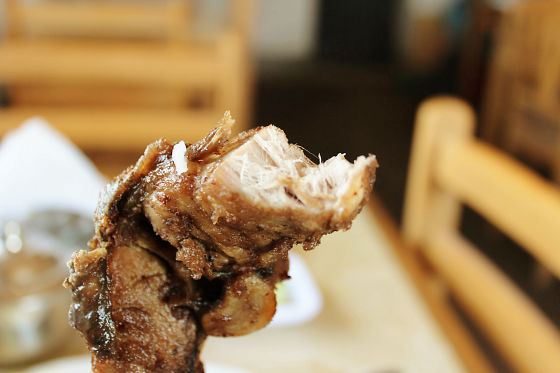 The soup that comes out at the beginning of course meal of 10 sol (about 370 yen) found in Cusco.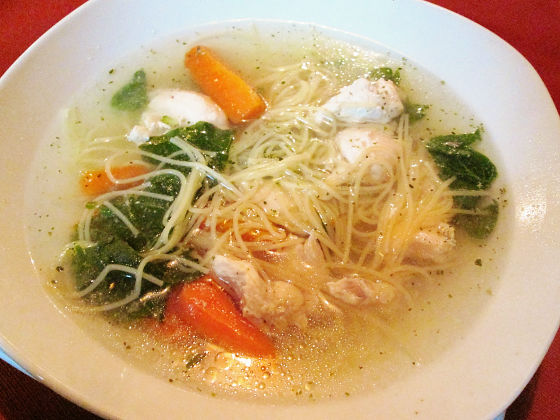 The main alpaca steak was like beef but it was easy to eat because there was not much fat. I do not smell like lamb meat.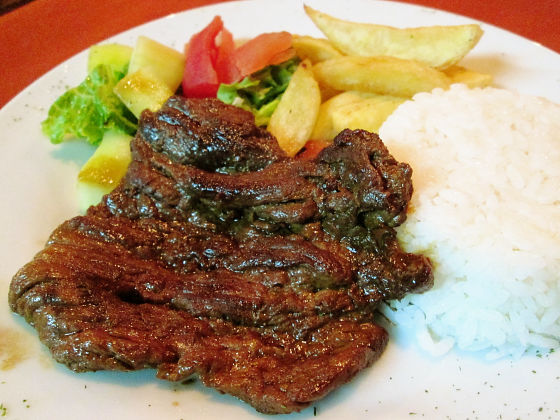 Assorted fruits for dessert.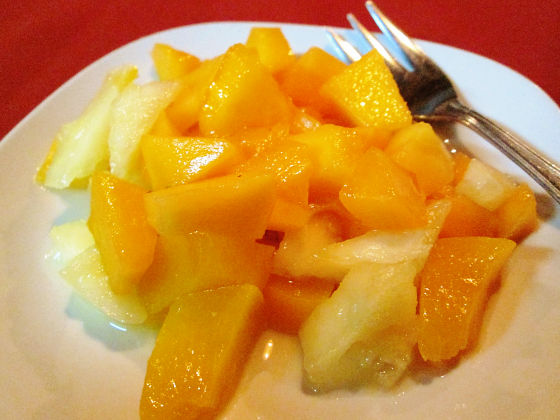 ◆ Fish
Peru had a lot of fish dishes, so I was happy as a Japanese. Because I am not young anymore, I am tired of being all meat.

A set of boiled fish, rice and soup.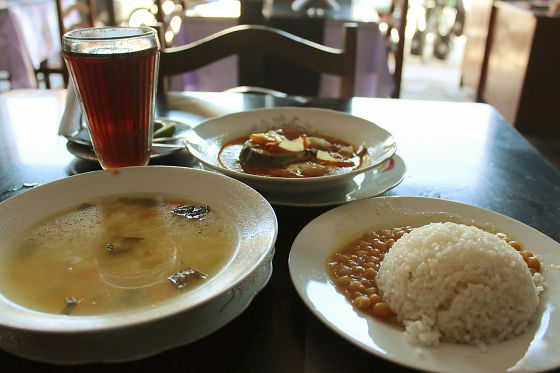 Fly fish who had a scary face.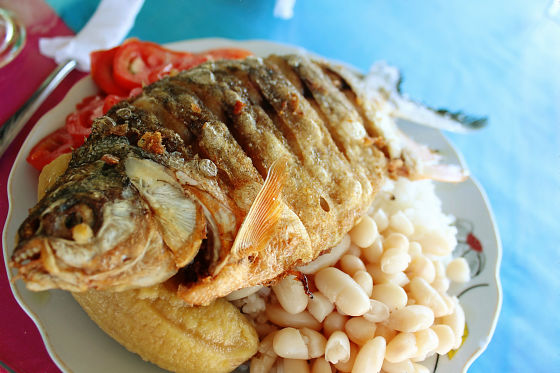 Frying white fish that was hooky.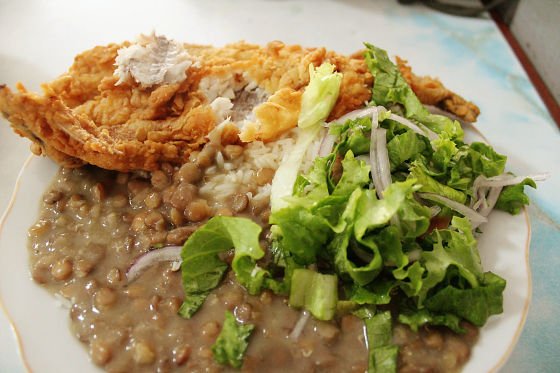 "Trucha Frita" is a dish which deep-fried trout.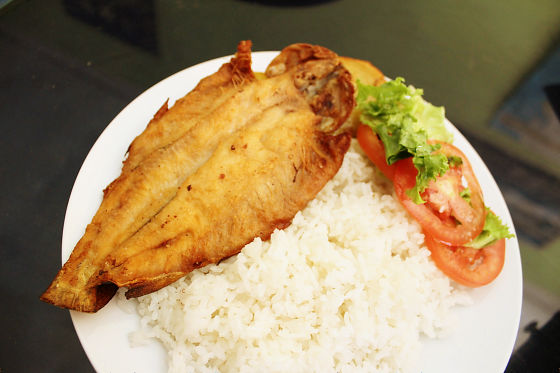 Rice with big "Truech Furita". If it comes with hot miso soup, it will be a Japanese meal.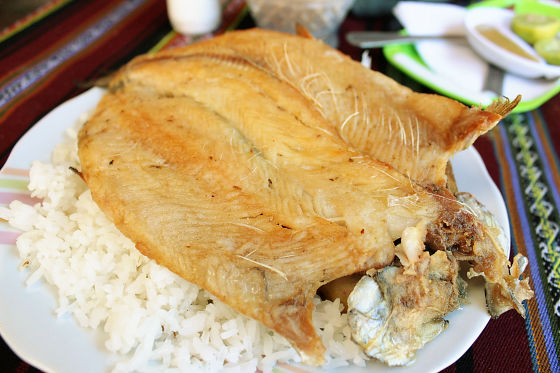 "Escabeche de Pescado" is a dish in which a fish made frying once, marinated with onion, and a hand is hanging. Since this comes out normally in a small dining hall, I was surprised at the level of the level of Peru cuisine.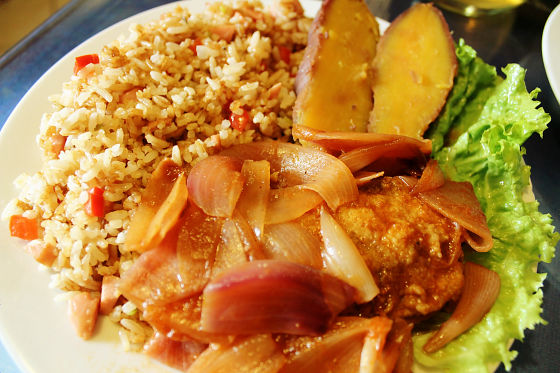 ◆ Ceviche
And also called Peruvian national food "CevicheI was looking forward to the most in traveling. It was also in the Selva (Amazon) area and the Sierra (Andean) area, but since it was a fish dish, I will order for the first time in Lima, the capital of Costa (coast). I cooked raw fish with marinade with lemon juice, garlic, salt, pepper, once it became disheveled, I was eating again in the Andean area where I returned again. However, because it is raw, if you get hurt you will break your stomach, so I try to eat in the morning.

Ceviche who first told me when I had dinner with a Japanese living in Lima.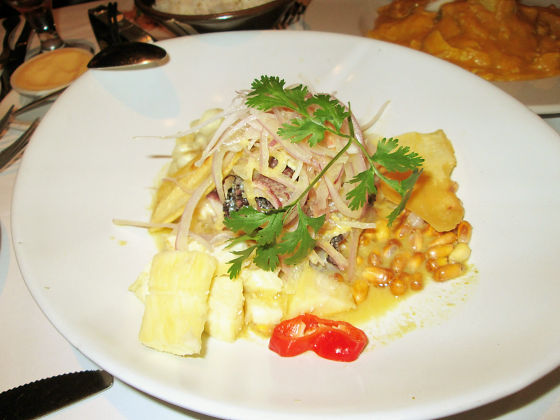 The ceviche you eat in the dining hall was rough standard from 12 sol (about 445 yen) to 15 sol (about 555 yen).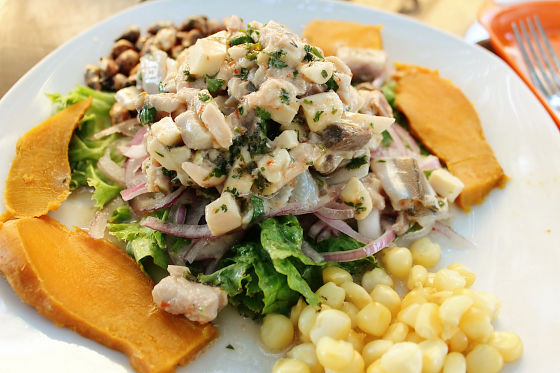 Not only raw fish, but also squid, octopus and shellfish are used for ceviche. It is a classic style that camoute (sweet potato) and corn are on the side.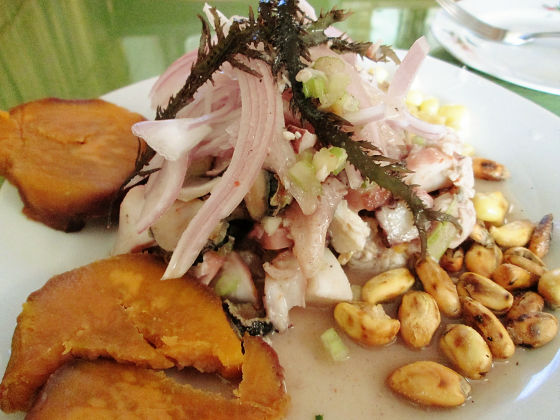 If you like sashimi, you surely like Ceviche.



Even in the local market, Ceviche is prepared like this.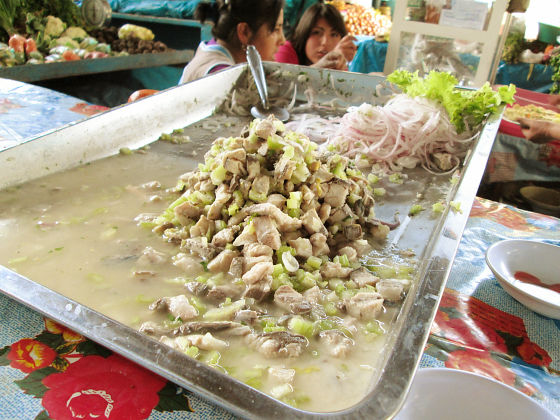 Four sol (about 150 yen) of Ceviche.



There are Cevice in Cusco's restaurant where many tourists gather, but 7 sol (about 260 yen) in the market was enough.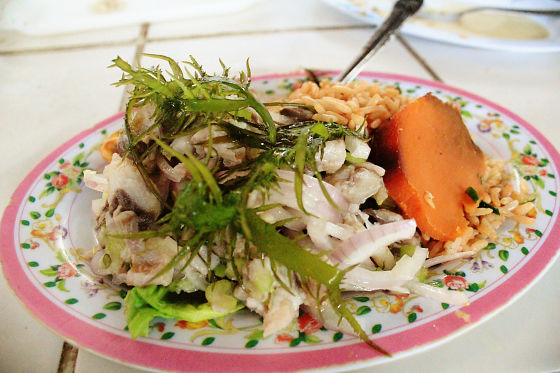 A ceviche stall appeared in a morning market in a small country town.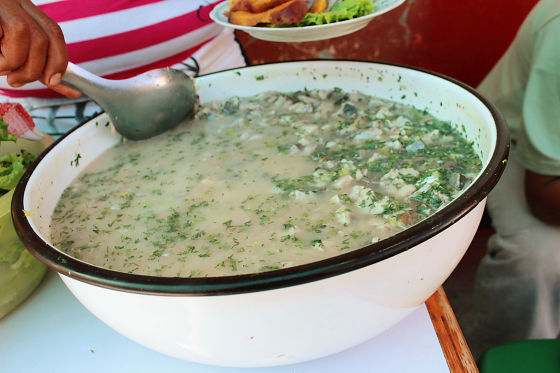 Ceviche from the morning at 6 sol (about 220 yen).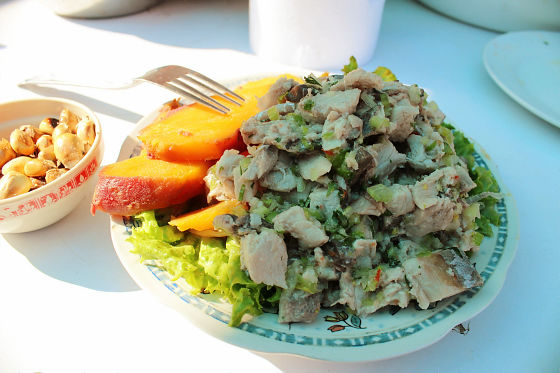 You can enjoy other cuisines with this ceviche when you ask with a great set of cafeterias. I will introduce 10 sol (about 370 yen) from now on.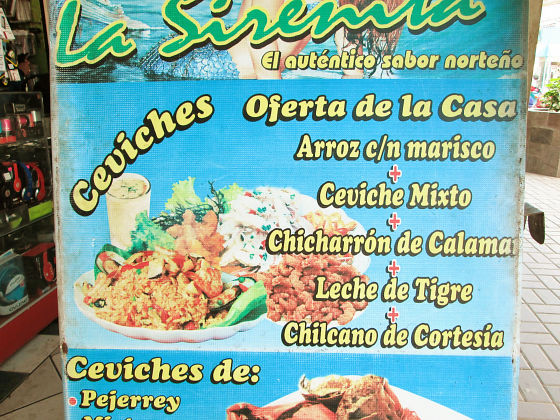 The sour and intense "Leche de Tigre" was the rest juice of Ceviche.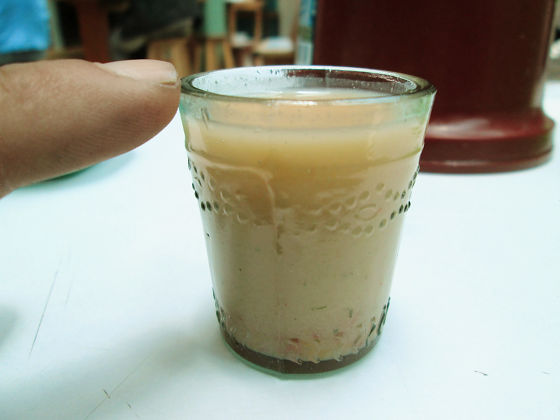 A squid fish "Chicharron de Caramar" and seafood fried "Arroz con Mariscos" will appear on one dish to Ceviche.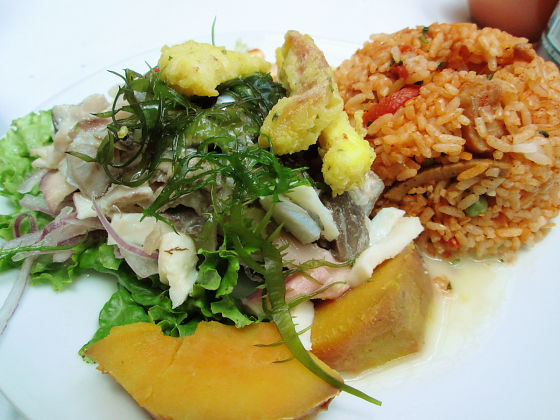 And it was a great soup named "Chilcano de Cortesia" and I was deeply moved by the soup with fish.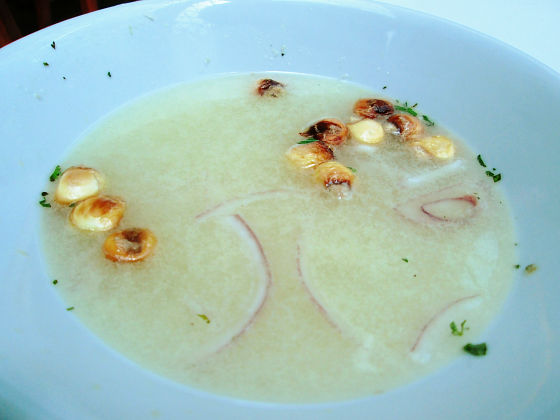 This is 8 soru (about 295 yen) I ate at the cafeteria in Lima Ceviche and Ikafurai.



Because I was unsatisfactory, I ordered a fry of white fish called "Chicharron de Pescado" with 6 sol (about 220 yen) and a squidfly.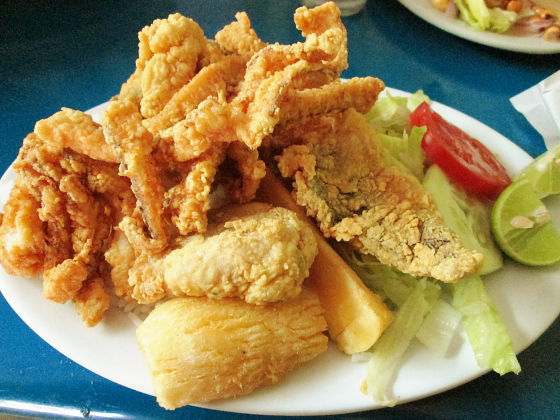 The most impressed thing in Ceviche in Peru is the set of 15 sol (about 555 yen) that was in the restaurant 's cafeteria. Ceviche, Allose · Con · marisco (seafood fried rice), Chichalon de Pescard (fry of white fish) were on one dish. One dish filled with the essence of Peruvian fish dishes.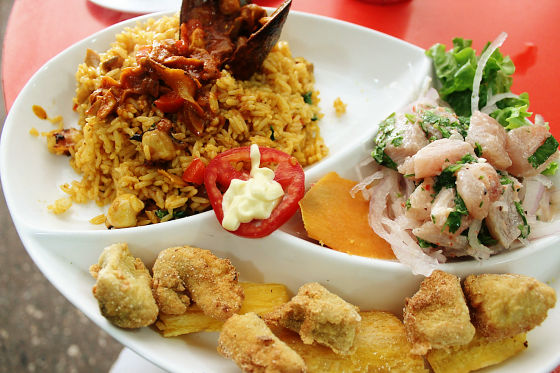 Ceviche.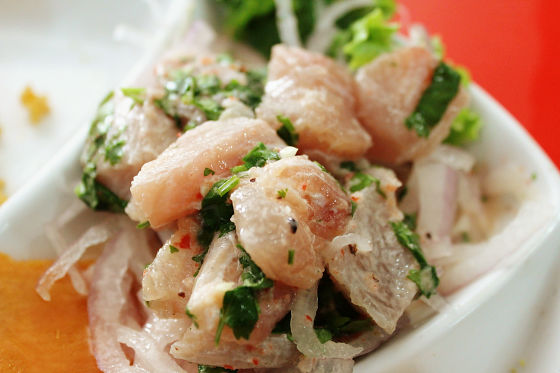 Allose · Con · marisco (seafood fried rice)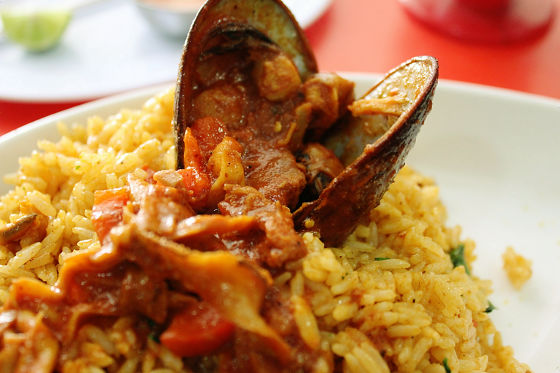 The Peruvian cuisine, which had been outstanding among past travels, made her happy eating habits. When visiting Peru do not forget not only Machu Picchu and Nazca landscapes and sightseeing spots, but Peruvian cuisine which gathered attention to taste. Even if you look at the world, there are not so many countries rich in food, like Peru.

(Sentence / photo: Takuya S. Narou Charriderman
Cycling around the world for a bicyclehttp://shuutak.com
Twitter@ Shuutak)