Recommended for eating in Peru / Bolivia where every day becomes fun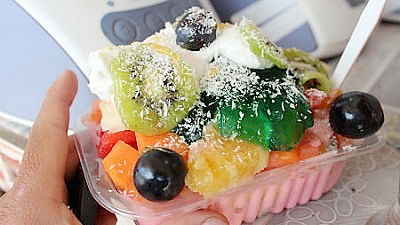 Everything is cheap and delicious. In Peru and Bolivia there was nothing to eat. Happy days to eat while hanging out stalls like festivals. It is possible to eat from daily meal to dessert.

Hello,Around the World Bicycle WorldIt is Takuya Sudo @ Chaliderman. While writing this article, I miss the price of the price in Peru and Bolivia. This is not the case in Chile where prices are doubled lightly. When traveling in Peru or Bolivia, I will try to summarize the food and dessert that I would like to have by hand, centering around stalls this time. Peru is 1 sol (about 37 yen), Bolivia is 1 Boliviano (about 15 yen).

◆ Peru's food
The working Peruvian morning begins with a stall bread. One day as well as 1 sol (about 37 yen) fried egg sand and 1 sole soymilk start.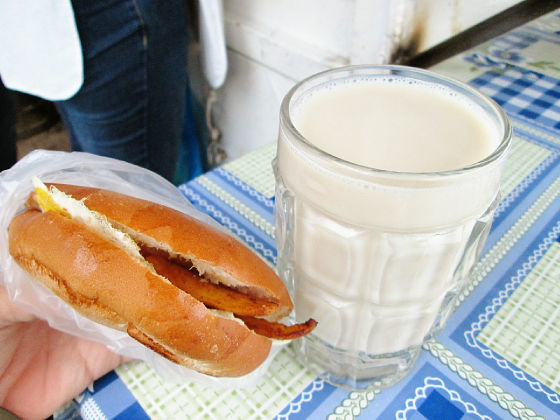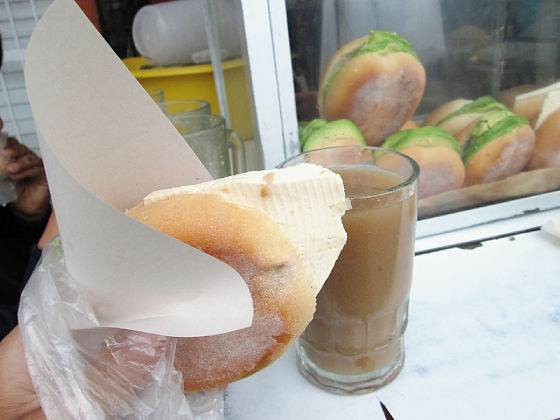 The muffin of 0.5 sol (about 19 yen) which was well placed in the shop was preserved food and I ate it when I camped. However, I am afraid because I do not know why it will not rot.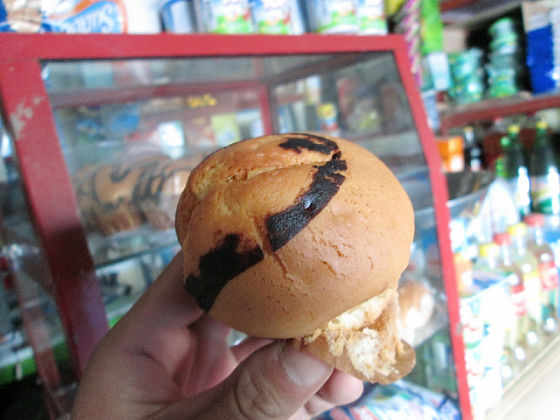 One sol (about 37 yen) "Churros"Crispy candied fried wheat base fabric with sugar. I often see it in donut shops and amusement facilities in Japan too.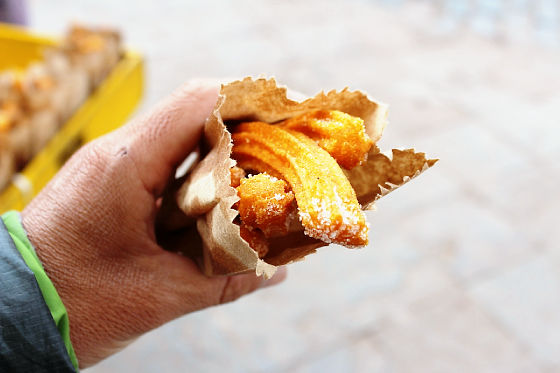 2 sol (about 74 yen) meat pie sold by the aunt at the roadside in the basket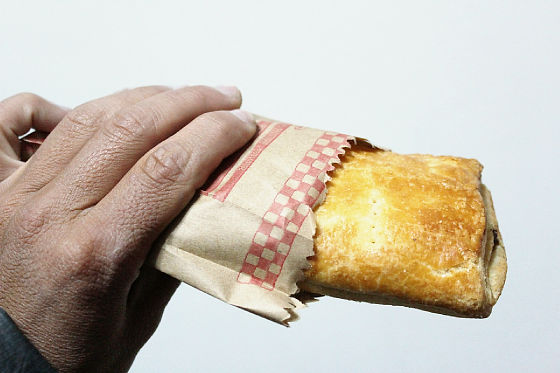 One sol (about 37 yen) of potatoes stuck in the tip was eaten when dinner was not enough. I cook beef, pork and chicken with charcoal fire.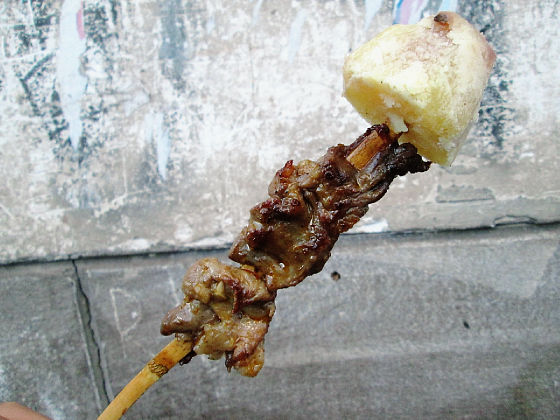 Three sol (about 111 yen) baked an antique (heart of cow). It feels like a slim lever.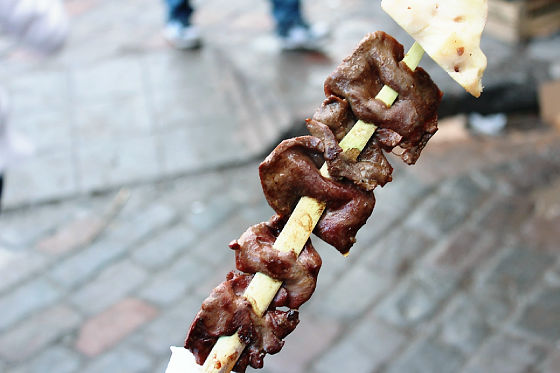 There is also a hormone roast of 2 sol (about 74 yen)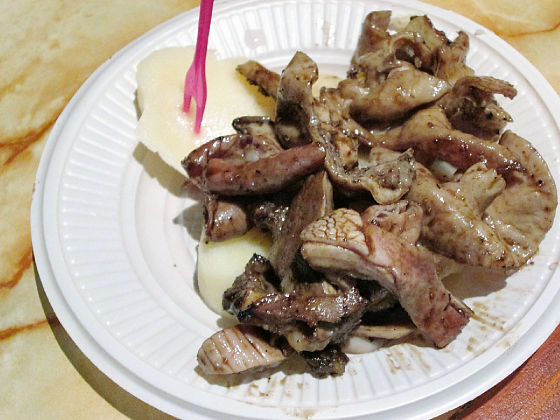 3.5 stall (about 130 yen) a stall hamburger sandwiching eggs and cheese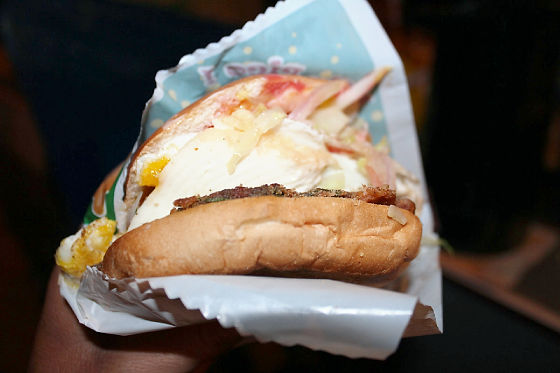 I am happy that I can eat fried chicken at 2 sol (about 74 yen)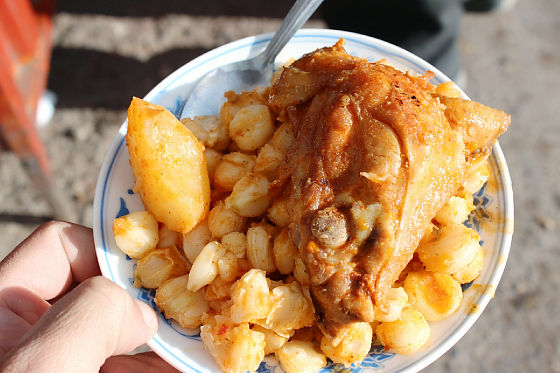 The sand liver of the heap that had been used as a gorillol was 5 sol (about 185 yen)



Potatoes and boiled eggs like potato salad are sol (about 37 yen)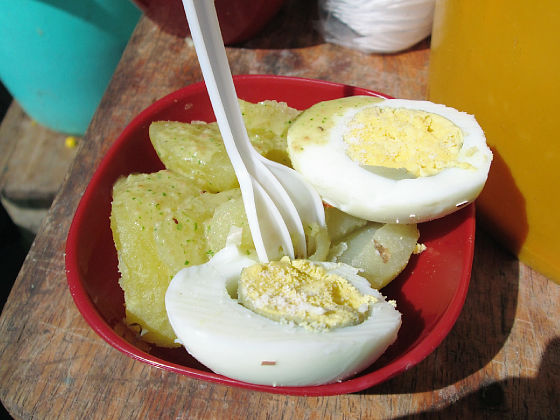 2 sol (about 74 yen) of Salchipapa is a handy fast food of sausage & fried potato. Everything is accompanied by potatoes.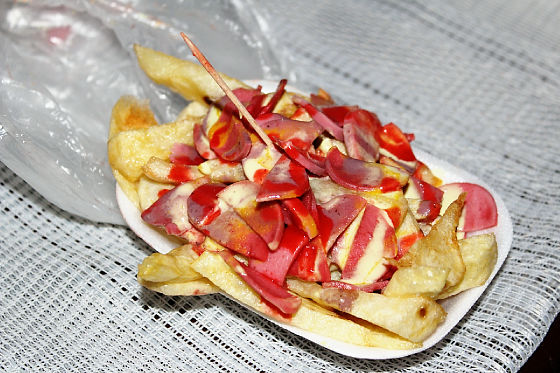 ◆ Dessert in Peru
Purple corn jelly "Mazamora Morada" is a typical dessert in Peru. While in Peru it was a daily routine to find this in the city after dinner and I did not feel like I did not finish the day if I could not find it. It is sold for 1 sol (about 37 yen) except for large cities.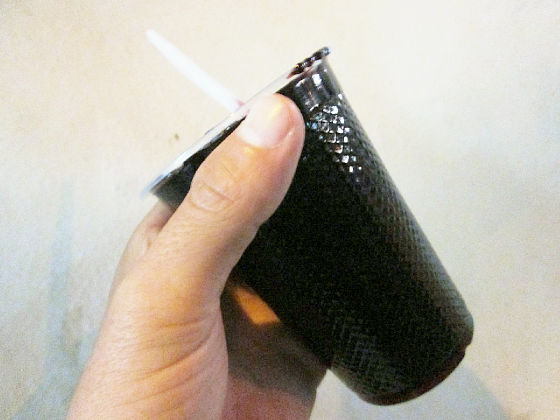 To this prisoner of this neat bitterness. It was moderately sweet and never tired.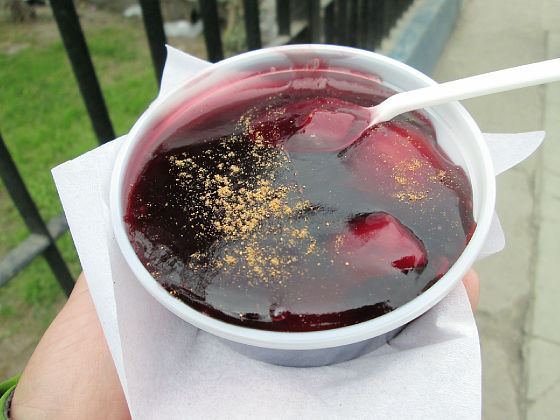 "Arroz con leche" which is always located next to Masamora · Morada, is a dish containing rice in sweet milk. It was useless to have the sweet rice of staple food, so we never asked for it separately. A mix with Masamora · Morada is on sale.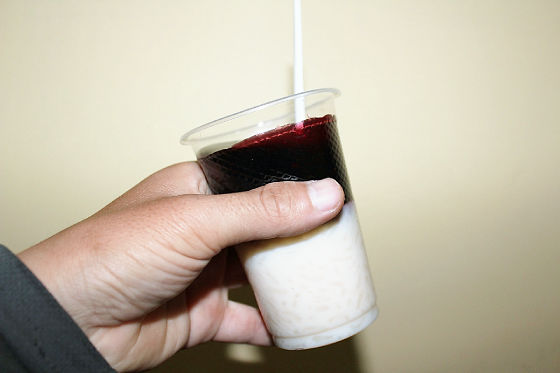 Peach jelly feeling similar to Masamora · Morada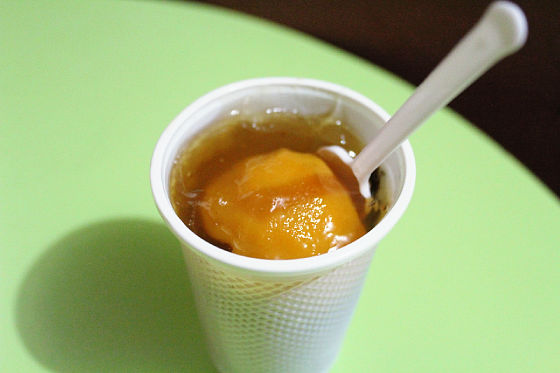 Peru 's simplest dessert was a cup jelly with 0.5 sol (about 19 yen). It will not stop if it is from a firm that is cold enough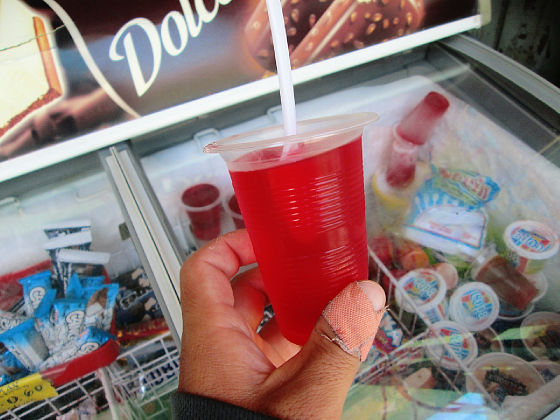 If there is jelly, there is also a pud with 1.5 sol (about 56 yen). Just during your stay, this pudding caused you to break your stomach, so you need to be careful enough.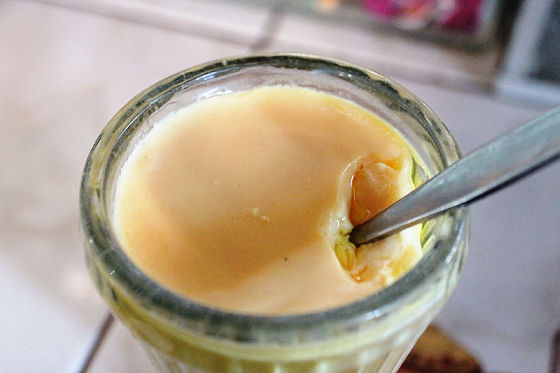 Three sol sold in the market (about 111 yen) yogurt parfait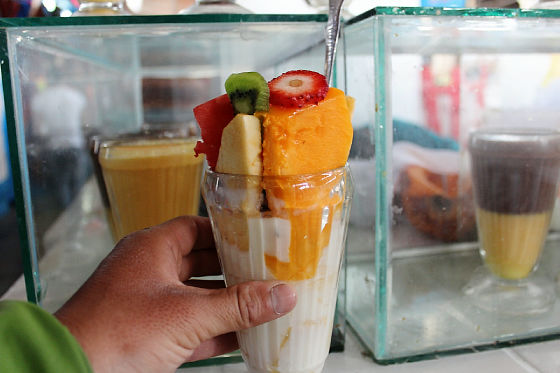 Ice cream can be obtained with 1 sol (about 37 yen), so I was eating something for everyday to say.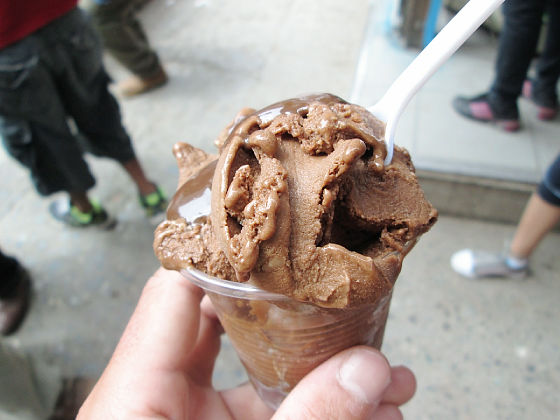 Ice cream has Peruvian special fruit flavor called Lucuma, so please try it. I liked myself with a creamy and vanilla-like taste.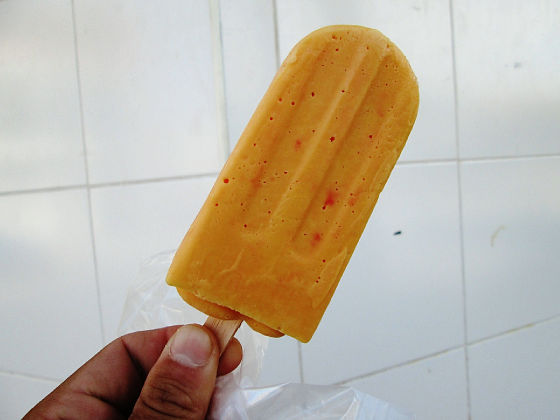 This is one sol (about 37 yen) and a pineapple fillet. Likewise we sell watermelons cut.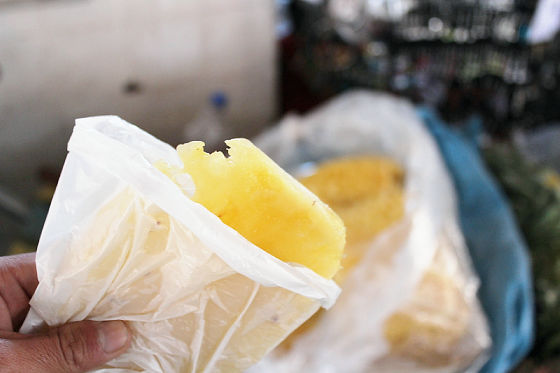 ◆ Peruvian drinks
Inca · cola shining gold that you want to try when you come to Peru. Domestically it is more popular than Coca-Cola. Anyway, it is a sweet carbonated drink, where likes and dislikes can be divided.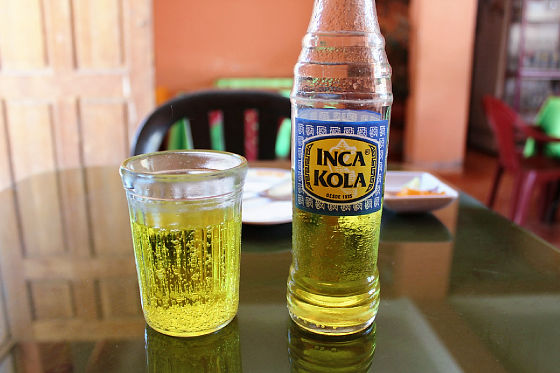 This guarana drink was also irritating in Peru. Sweetness Modest and spicy carbonated drink.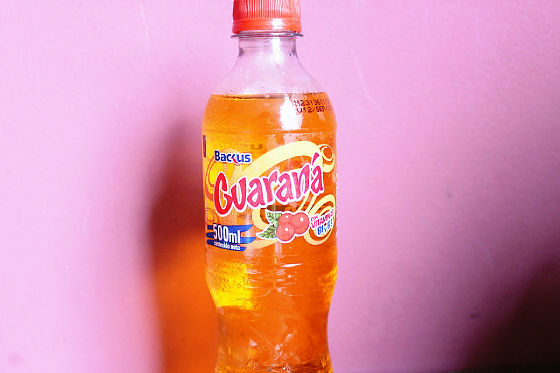 Maltese beverages, which are also on sale in Africa and Latin America, taste like carbonate added to black vinegar, it is not very tasty. But, I can not forget this, sometimes I want to drink, so it is strange. But it is still not tasty. How about evaluation of other people?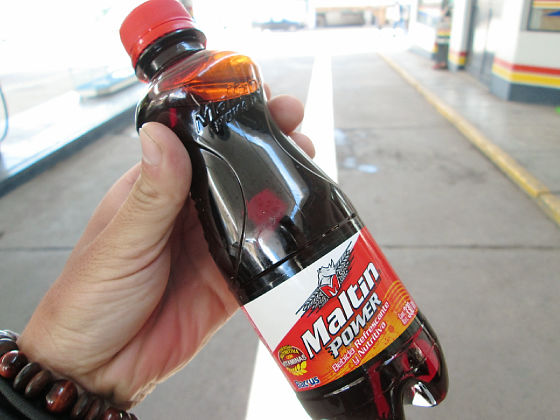 Purple corn juice similar to Masamora · Morada. It was a bad mood when I said it.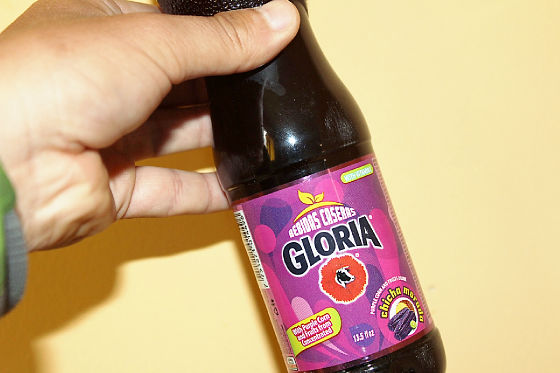 It was in the morning stall "QuínuaAlthough it is a drink, it is a little drooling like porridge. Quinoa is a kind of millet native to South America, such as millet, millet, and barnyard millet, Peru and Bolivia are the main producing areas.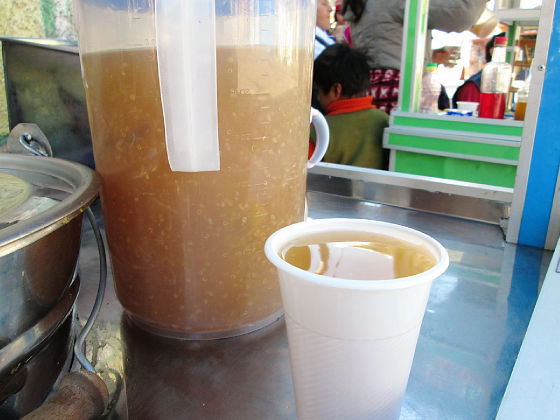 I tried trying to find a drink that fermented carnapura (Cana pura) and some plants while running. A stimulus attached to the tsun and the nose when bringing the cup closer. Fermented acidity and carbonic acid strongly attacks when it talks. It is a drink with a habit which is hard to like.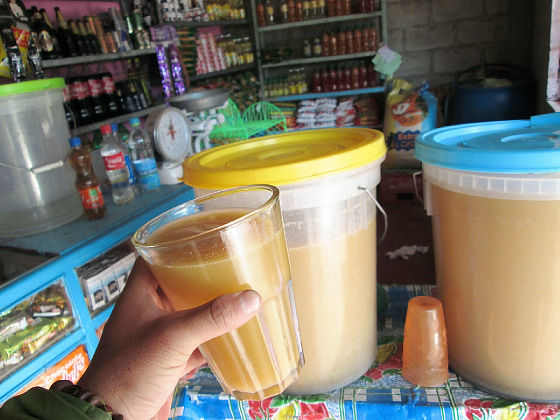 Vitamin C supplemented with 2 sol (about 74 yen) raw squeezed orange juice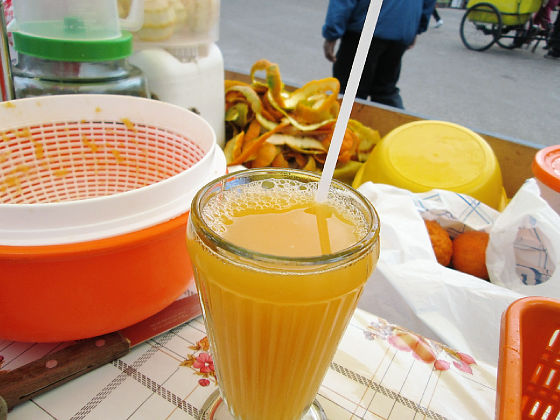 A cup juice of 0.5 sol (about 19 yen) found at the border with Bolivia. This is rather popular in Bolivia than Peru, a sweet drink that fruits such as pineapple and nectarine sank to the bottom.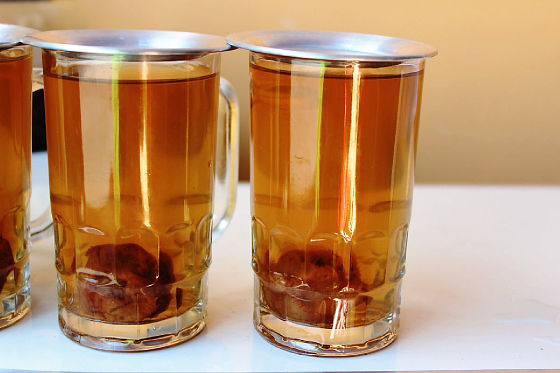 I always saw fruit juice made with mixer in the city of Peru. The photo shows 1.5 sol (about 56 yen) of pineapple juice.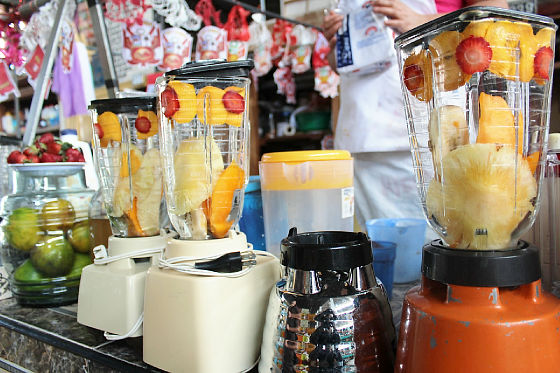 One sol (about 37 yen) hot tea which I also saw throughout Peru. When I look it up on the internet it is called "Emoliente" and it looks like a healthy drink. I mixed the various extracts in the bottle with familiar hands.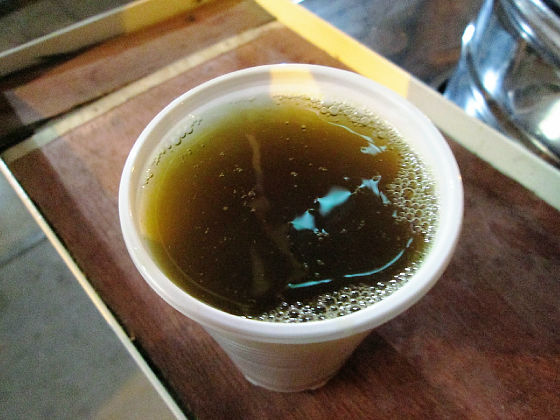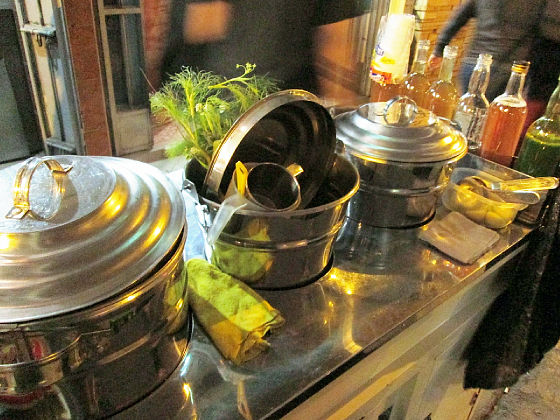 ◆ Bolivian food
3.5 bowls (about 52 yen) cheese bread which was next to the inn that stayed in the capital city La Paz is exquisite enough to have a queue. It is matched with the dough made into a mochiri and the cheese of Azatsu blended. Only this one is sold at that shop.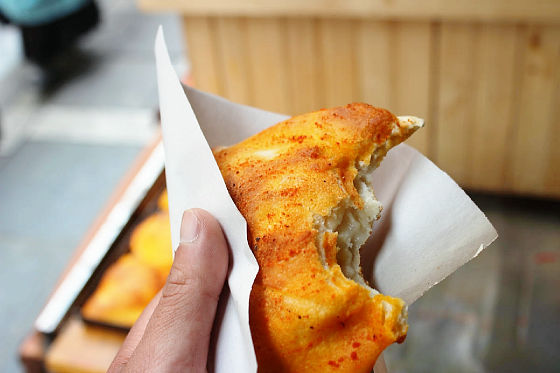 8 Bilibiano (about 120 yen) spicy spicy chicken sandwich was also delicious. Unlike fast-food chain shops that are in a fixed form, the taste is alive, so it can be quite unexpected.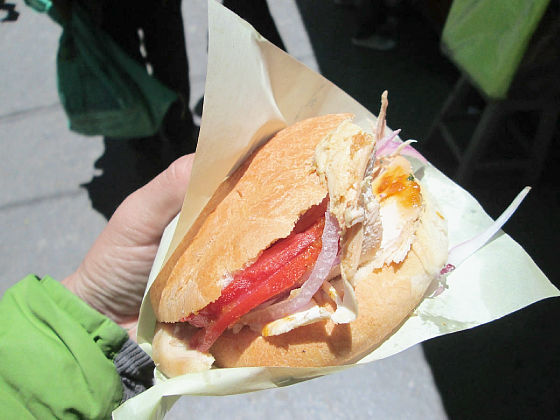 10 Boliviano (about 150 yen) sausage sand is just full of stomach.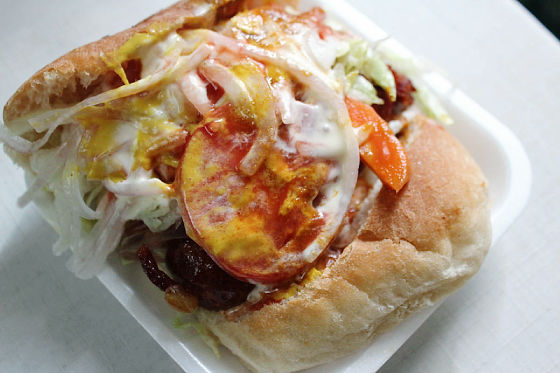 The hot dog of 4 Boliviano (about 60 yen) is the cheapest fast food system. However, it is not bad if you are into your hands.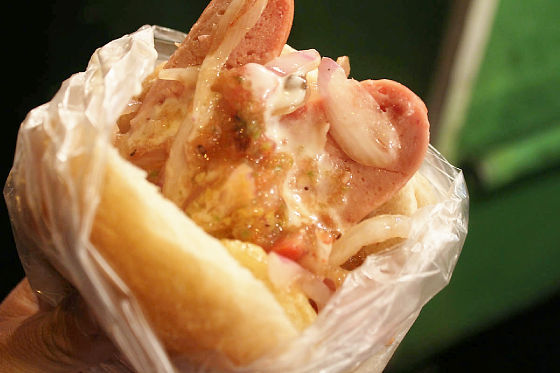 Platter of meat called Chicharron which was also a classic in Bolivia. Corn and potatoes will be garnished. This is 7 Boliviano (about 105 yen), it was a substitute for lunch. Even in a small town without a dining hall, this stall of Chichalon was at the end of the road and it was saved.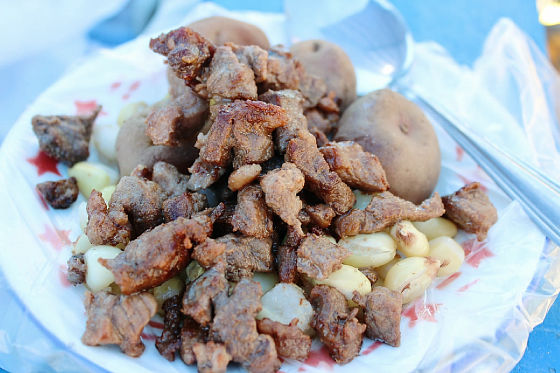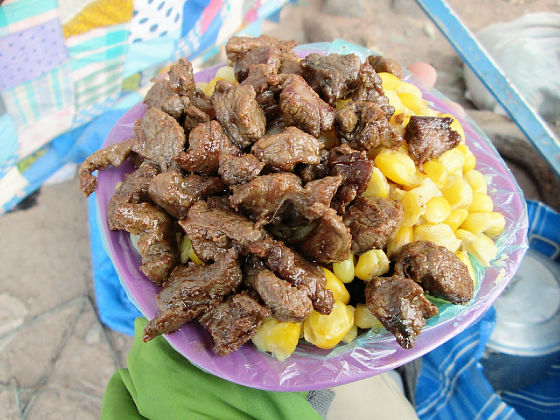 In Uyuni town, llamas meat is normally eaten, and picking rice with association makes me feel like being a Japanese bowl.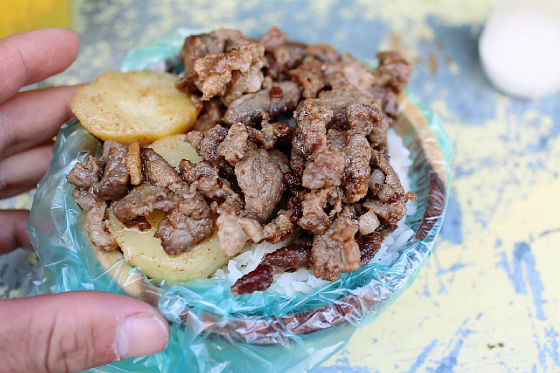 It was a hormone, not meat, that was in a big bowl I thought was meat jaga forever. It is 6 Boliviano (about 90 yen).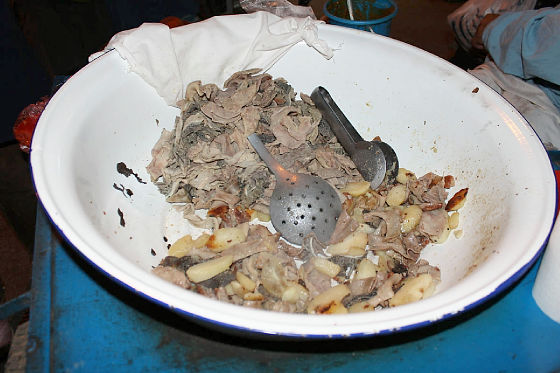 ◆ Bolivian dessert
A fruit platter assortment that was fun while in Bolivia is 7 Boliviano (about 105 yen) in this size. It packs fruits such as papaya, watermelon, banana, pineapple, yogurt, jelly, cream and even so much. It is amazing because it will be completed in about 3 minutes when you place an order.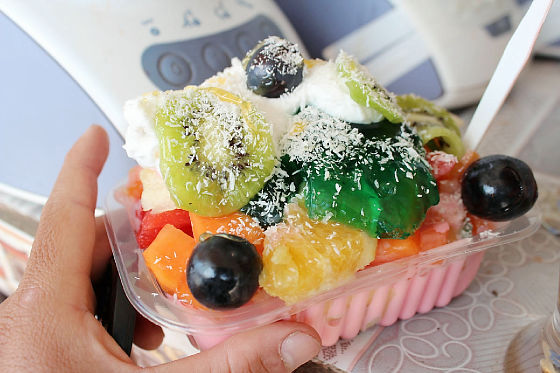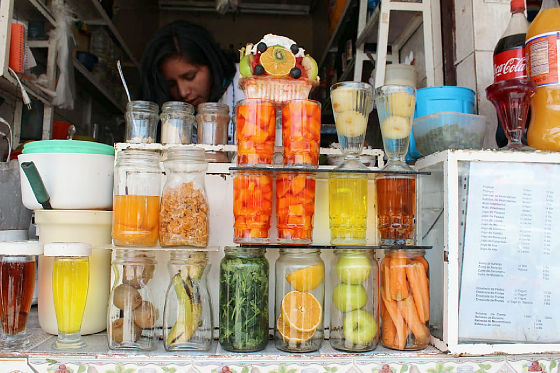 Here is the assortment of fruits for the first time in the capital city La Paz. It is 6 Boliviano (about 90 yen) by this weight feeling, so it goes without saying that I realized that staying in Bolivia would be fun.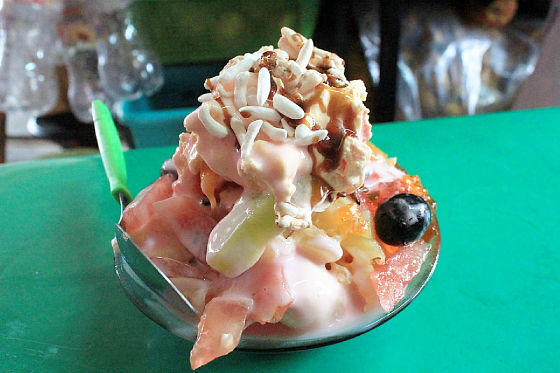 In town, such fruit juice is also available in 4 Boliviano (about 60 yen).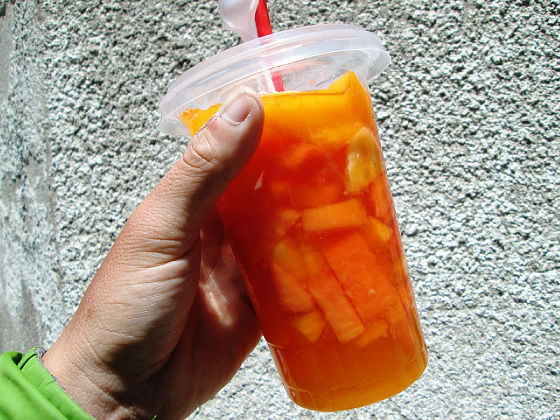 Banana ice which had been sold at 1 Boliviano (about 15 yen) spread the nostalgic taste I forgot in my mouth. As I was making easily at home, I bought a simple banana.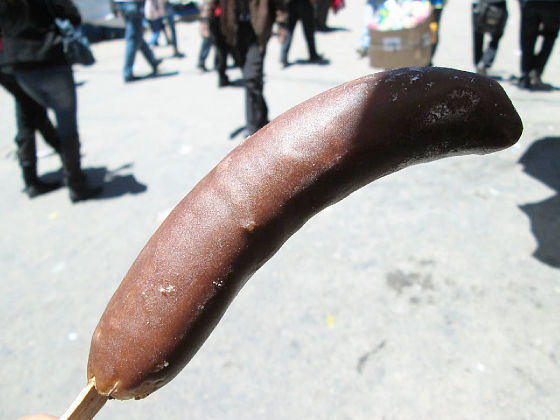 It is handmade jelly like Peru, but meringue is accented and it is 3 Boliviano (about 45 yen). This meringue is a thing that aunt is stirring hard on a street with a bucket.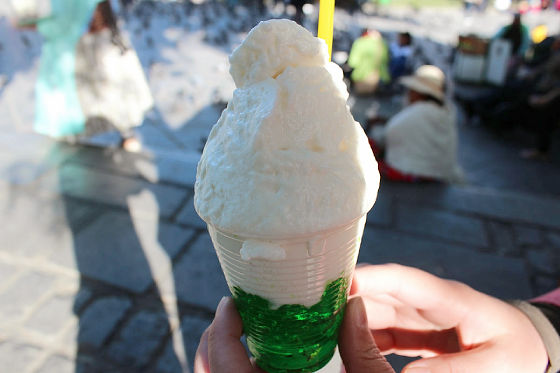 A bit of sour taste 1 boliviano (about 15 yen) of mousse jelly was also delicious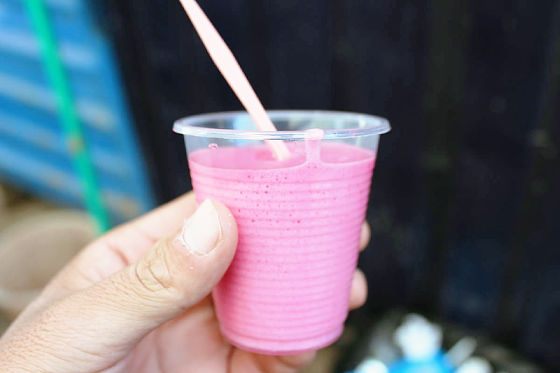 Four boliviano (about 60 yen) donuts made to add to the running belly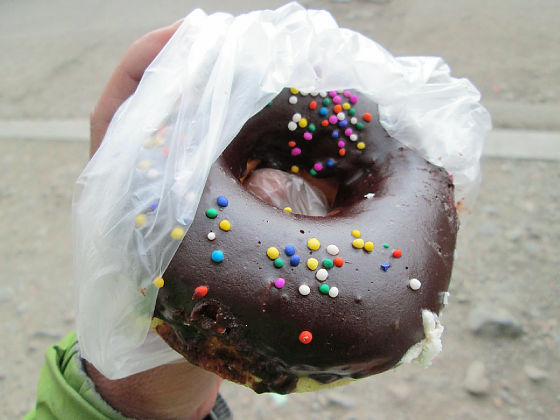 In the town where Orchestra had long lived, these baked cakes of 2.5 Boliviano (about 37 yen) had been a night snack. In the evening, a bogie loaded with gissilry and cake will appear on the market.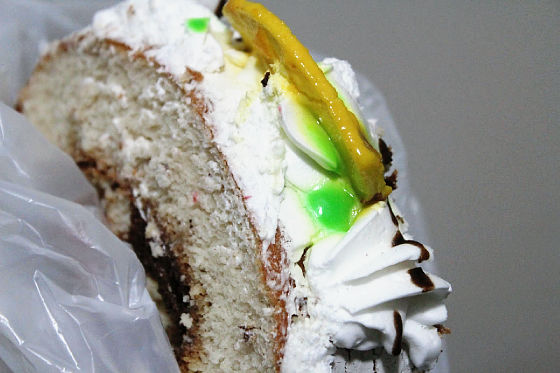 As you can see, delicious food and dessert are overflowing in the city in Peru and Bolivia. There were stalls in Africa, but we did not enrich it as much as South America.

I tried it randomly, but I could not do it like this at the beginning of the trip. I do not understand the price, I can not communicate with words ...... I can not forget something ordered while doing the oddo on the stand in Indonesia. However, if you pay the other side, you will do it properly. It is easy to hesitate to go abroad, but let's order courageously and order. Because there are no places where you can feel the local life as the stall.

However, please pay attention to sanitation. If you hit a bad thing, you will break your stomach.

(Sentence / photo: Takuya S. Narou Charriderman
Cycling around the world for a bicyclehttp://shuutak.com
Twitter@ Shuutak)