Apple ceased online sale in Russia, what on earth is going on?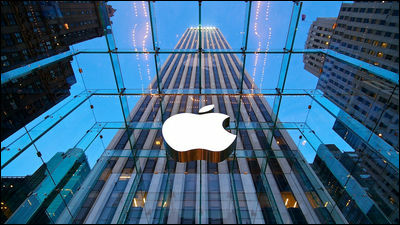 ByAndy

Apple suddenly stopped the online sale he had done in Russia. Russia should be a very exciting emerging market where there are many wealthy people who can purchase the products sold by Apple, but it seems not to be at the moment right now.

Apple Stops Online Sales in Russia Over Ruble Fluctuations - Bloomberg
http://www.bloomberg.com/news/2014-12-16/apple-stops-online-sales-in-russia-over-ruble-fluctuations.html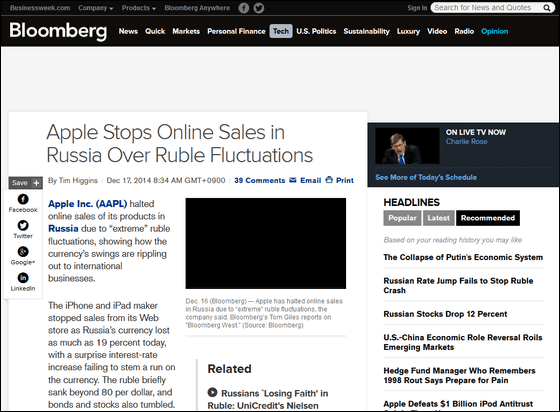 Apple halts online sales to Russia as the ruble plunges in value | The Verge
http://www.theverge.com/2014/12/16/7403535/apple-halts-online-sales-to-russia-as-the-ruble-plunges-in-value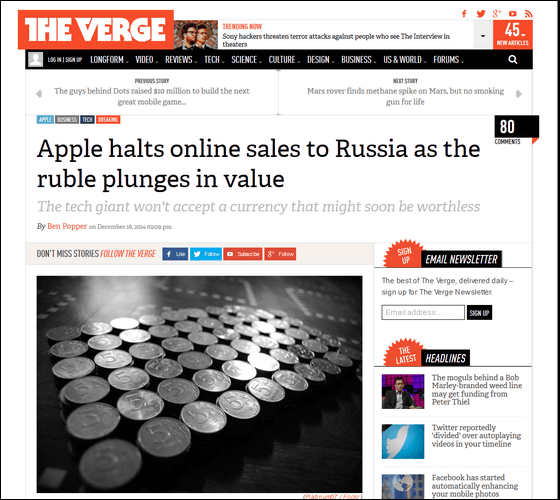 As of 2014, the ruble (the currency of Russia) is crashing and it also causes the economic area around Russia to become very unstable. Moreover, it seems that there is not enough room for Russian ordinary people to purchase imported goods due to the plunge of the ruble. Apple is believed to have ceased online sale to prevent the influx of value rubulle rubles and many other foreign-funded enterprises may go on to temporarily stop the inflow of the Russian currency , And The Verge.

There are three factors overlapping in the collapse of the ruble. One is "a drop in crude oil price". Crude oil sales were the biggest earnings port for Russia to capture foreign capital, so the ruble's currency value also fell along with the fall in oil prices. According to the data published by the Central Bank of the Russian Federation, which is the central bank of Russia, it is clear that the inflow of foreign capital by month is falling to the right as shown in the graph below.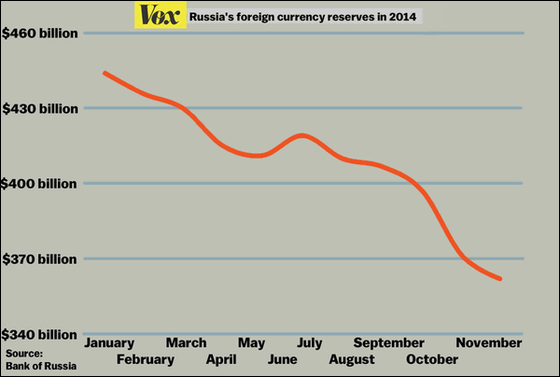 Also, Russia against the Crimean autonomous republic in southern UkraineMilitary behavior, Russia is currently undergoing economic sanctions from the EU and the US, which also has a major impact on the ruble collapse. And the third cause is that many of wealthy Russians are concerned about the future of the country, and 100 billion dollars (11.6 trillion yen) flows out of Russia from 2014 ThenPredictionIt is being done.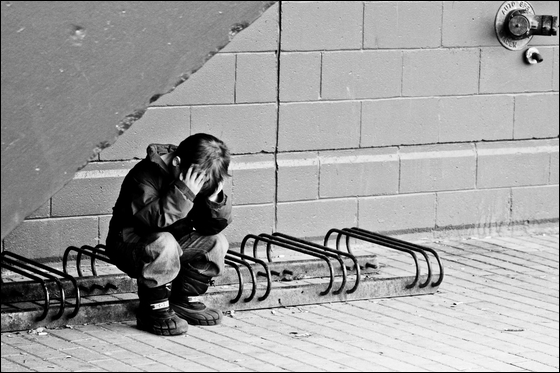 ByChris

In recent weeks, Russian President Vladimir Putin has taken steps to raise currency value thoroughly. President Putin intends to invest money from banks' investment funds to banks, trying to prevent the collapse of the ruble by thoroughly ensuring that defaults do not occur, and announcing an increase in interest rates.

RussianNational Research University Higher School of EconomicsProfessor Natalia V. Akindinova, who is teaching economics at the time, said, "We are witnessing the economic crisis"New York TimesI am briefing on Russia's economic situation.

Today, even at the Apple Store in Japan, SIM Free version of iPhone 6/6 PlusStop sellingHowever, what kind of circumstances is there in the Japanese market which should not be linked directly with the ruble crash?

IPhone 6 and 6 Plus - Apple Store (Japan)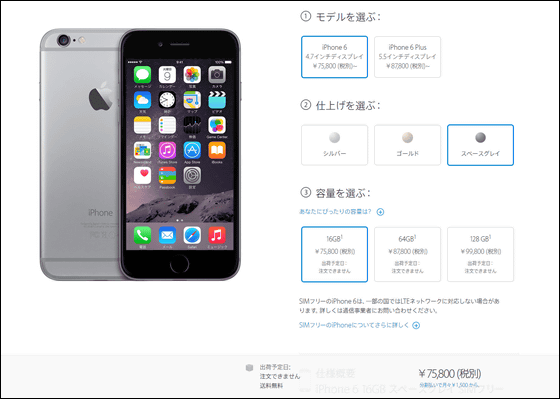 in Note, Posted by logu_ii