Smartphone exports from China to Russia have been halved at once, and the price of the Russian currency ruble has plummeted, almost running out of paper.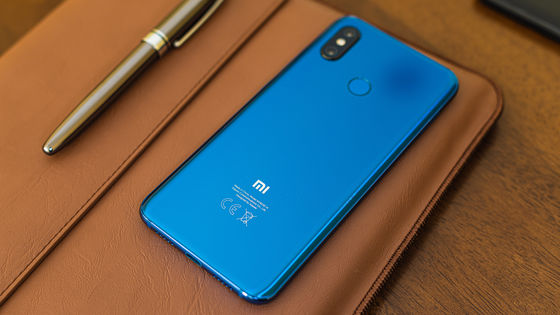 It is reported that the number of smartphones shipped has been halved due to the price plunge of the ruble, even though a major Chinese smartphone maker has been ordered by the Chinese government to ship products to Russia.

Chinese smartphone shipments to Russia plunge as rouble collapses | Financial Times

https://www.ft.com/content/8f3e0214-94b1-4d73-b34f-31c189437578
Russia is turning to China to survive sanctions amid invasion of Ukraine, but it won't be easy --The Washington Post
https://www.washingtonpost.com/world/2022/03/11/china-russia-sanctions-ukraine-war/
China's President Xi Jinping and President Vladimir Putin are working to build a close relationship, and as part of that impact, China's leading smartphone makers Huawei and Xiaomi will ship smartphones from the Chinese government to Russia. I have been ordered. Nevertheless, due to the collapse of the ruble and the effects of economic sanctions by Western countries, the number of Huawei and Xiaomi smartphones actually shipped to Russia is decreasing.
According to information independently obtained by the economic newspaper Financial Times, the number of smartphone makers such as Huawei, Xiaomi and Oppo has dropped to at least half since the invasion of Russia began. Chinese manufacturers account for about 60% of the Russian smartphone market.
In response to this report, Xiaomi said, 'It is politically difficult to openly announce the suspension of sales in the Russian market like Apple and Samsung.' 'From a business point of view, what will happen next?' It makes sense to be on the sidelines, 'he told the Financial Times.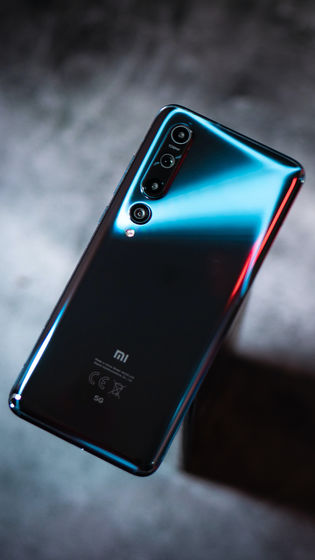 Chinese electronics manufacturers that manufacture everything from smartphones to air conditioners have recently made significant investments in opening factories in Russia. In fact, bilateral trade between Russia and China reached a record high of $ 146 billion in 2021, with about 14% of Russia's imports coming from China. It has also become clear that most of them are electronic products. In addition, there was a prospect that the flow of Chinese-made electronic devices to Russia would accelerate as Western companies such as
Apple
and
Microsoft
stopped selling products in Russia after Russia began invading Ukraine.
The graph below summarizes the share of smartphone sales in Russia in the fourth quarter of 2021 (October to December). Xiaomi has the largest share in Russia, with Chinese company Honor in fifth place.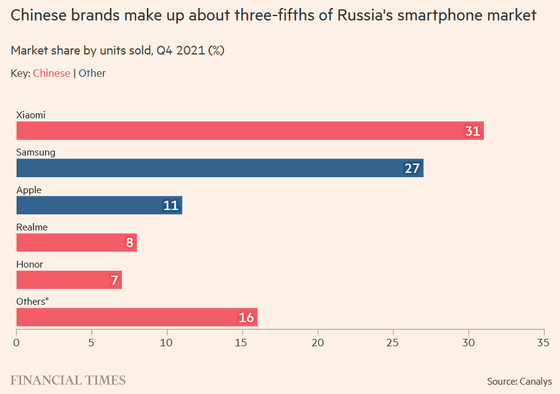 Since the invasion of Ukraine, the price of rubles has plummeted by more than 35% against the US dollar, making it difficult for Chinese companies to sell their products in Russia without loss. In order for Chinese companies to sell their products in Russia without loss, it is necessary to raise the selling price of products in Russia in consideration of the exchange rate. However, it is clear that this is difficult given the deterioration of the economic situation in Russia.

'We need to set new prices every day to avoid losses,' said Ivan Lam, an analyst at Counterpoint Research, a Hong Kong consultancy. According to Lam, many Russian smartphone retailers have stopped placing new orders with Chinese manufacturers because of foreign exchange risk. 'It's considered very risky to continue doing business in Russia right now,' said a former Huawei executive with a background in Moscow.

Despite the fact that the Chinese government considers many of the economic restrictions imposed on Russia by the United States and its allies illegal, it 'thinks very seriously' about the potential risks of being involved in this sanction. 'We are,' said Andrew Gilholm, head of analysis for China at consultancy Control Risks.

Former Xiaomi executives also predict that the impact of US-led economic sanctions on Russia could ultimately be as serious as US sanctions on Iran. 'Many American products, including small parts, could be banned from shipping to Russia, and violating this rule could lead to a second
Meng Wanzhou
incident,' said the former executive. There is. '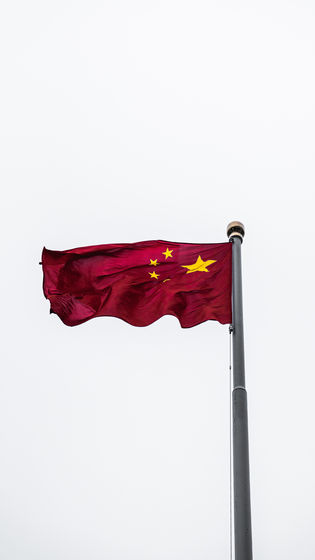 Meanwhile, Chinese automakers Great Wall Motor and Geely Automobile have announced that they have no intention of suspending operations in Russia. This shows that some Chinese companies continue to have long-term ambitions in the Russian market despite difficult business conditions.

Meanwhile, Tu Le, managing director of consulting firm Sino Auto Insights, said, 'Overseas brands are leaving the Russian market, but Russian consumers are probably not ready to buy Chinese products.' , Russian citizens cannot afford to buy Chinese products.