Communications equipment manufacturer Huawei announced withdrawal from the American market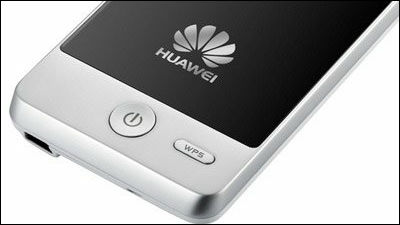 Chinese manufacturers making data communication equipment etc.Huawei (Huawei Technology / Huawei)Announced to withdraw from the battle in the American market which was aiming for expansion.

Huawei: 'We're not interested in US market' • The Register
http://www.theregister.co.uk/2013/04/23/huawei_not_interested_in_us/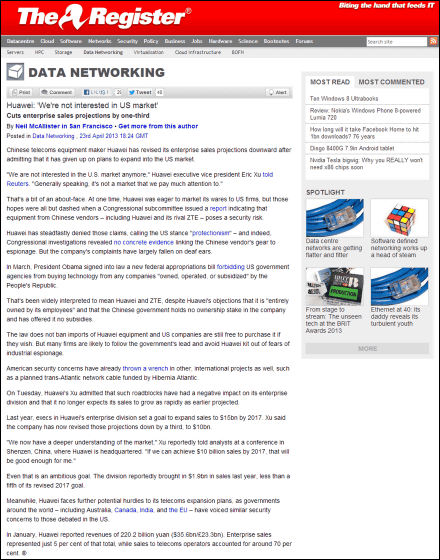 Huawei's Vice President Eric Yu said in an analyst conference held on April 24, "We are no longer interested in the American market, the fact that the American market is not the market we should pay attention to "I made it clear that I will draw hands from the United States.

Huawei, whose sales in 2012 was 220.2 billion yuan (about 3.5 trillion yen), is the second largest telecommunications equipment manufacturer in the world and has entered the American market, which occupies 30% of the world market as a communication equipment market I have been aiming for expansion.

However, Huawei and its rival ·ZTE (Zhongxing Communication)Including equipment imported from Chinese vendors including security vendors, reports are reported to the Congressional Subcommittee as a matter of security risk, and in March 2013, companies under the influence of Chinese state enterprises · Chinese government subsidies from the Chinese government A legislation prohibiting the introduction of IT systems, which were manufactured, manufactured and assembled by enterprises, into government agencies was enacted.

The law aimed at Huawei and ZTE as a matter of course, Huawei denied security risks and opposed it as "protection policy." In the end, there was no specific evidence that Huawei products have security risks in Congress, but Huawei's argument was to be disregarded.

The importation of Huawei products was not completely prohibited, but if a company in the US wants to import it, it is ready to import, but most companies are avoiding Huawei products in accordance with government policy .

Huawei planned to expand sales to $ 15 billion (about 1.5 trillion yen) by 2017, but it has revised downward to 10 billion dollars (about 1 trillion yen). Already, in the United States, the arrangement of the personnel arranged is progressing, and accordingly it is said that it is increasing the number of staff in Europe.
in Note, Posted by logc_nt