"CLANNAD" is looking for equity investment for the official English version production, over 20 million yen gathers in just a few days and voice from overseas fans "I want a dream come true!" "Tomoyo after-sales want to translate"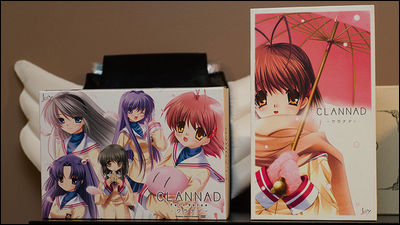 All age target romance adventure game of "Key" of one of game brand belonging to visual arts which is a beautiful girl game maker is "CLANNAD"is. It has already been played as animation and is a famous work because it can not be played without tears anyway but when we solicited investment at Kickstarter of the cloud funding site to produce the official English version, The target amounts gathered in just a few hours from the start of the day, and it is now that more than 20 million yen gather.

CLANNAD Official English Release by sekaiproject - Kickstarter
https://www.kickstarter.com/projects/sekaiproject/clannad-official-english-release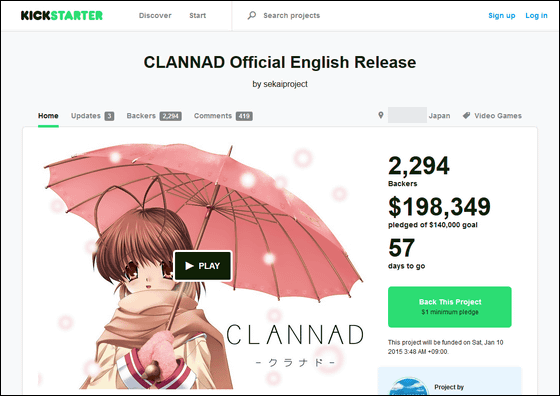 You can watch a movie with nostalgic melody flowing from below.


The English version of CLANNAD is supposed to be produced by Visual Arts licensing to the startup "Sekai Project" which handles Japanese animation and game English version. If the project actually succeeds, the English version of "CLANNAD" with full voice will be "SteamIt is said that it will be delivered also. For Englishization The reason to raise funds with Kickstarter is to translate a game scenario that is 50 hours or more originally with high quality or to give a full voice by a Japanese voice actor. CLANNAD has many fans abroad and plans to produce the long-awaited English version by promoting translation and localization so as not to spoil the nuances of the story.

Message from the president Takahiro Baba of Visual Arts has also arrived, "I think that you can understand the translation by Sekai Project if you can see" planetarian "already on sale, but I think that it is very high quality "It is expected that a high quality translation will be performed by the Sekai Project.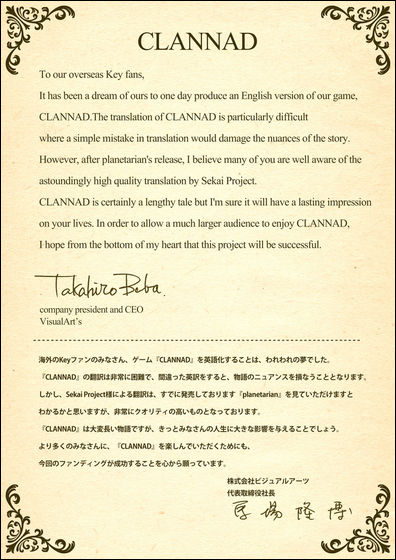 When the project started, President Baba tweeted from Twitter like this.

About Englishization of "CLANNAD" Cloud funding in Kick Starter has started! Thank you everyone! M (_ _) mhttps://t.co/8f991If4uT

- Takahiro Baba (@ vavasyatyou)2014, November 11
And in just a few hours, I succeeded in gathering the original target amount of 140,000 dollars (about 16 million yen).

Thanks to you, I reached the lowest fee! Since implementation has been confirmed in this way, you can apply with confidence. Please continue your favors toward the application! By the way the kickstarter is okay to deliver to Japan.https://t.co/8f991If4uT

- Takahiro Baba (@ vavasyatyou)2014, November 11
Since the CLANNAD Englishization project started, the comment section of the project page is "Dreams Come True!" Or "Finally came!" "For many Key Fans, it is a dream to release the official English version of CLANNAD. There is nothing to please me more. "" I can not believe that such a day will come "" Little Busters! And Rewrite also translate! "" Oh, I want you to translate Tomoyo after " It is overflowing with voice.



You can make a capital from 1 dollar, but you can download it with Steam with a capital of $ 40 (about 4,600 yen) and you can get a game disc with hard cover at $ 50 (about 5800 yen). If you increase other funds, you will receive data of "MABINOGI CLANNAD arrange album", the original T - shirt, Original soundtrack of CLANNAD, B2 size original tapestry, which was attached as the first time limited edition included in the PC version of CLANNAD , Kickstarter limited CLANNAD character color paper etc are available.

Hardcover etc. are planned to produce almost the same as PC version released in 2004.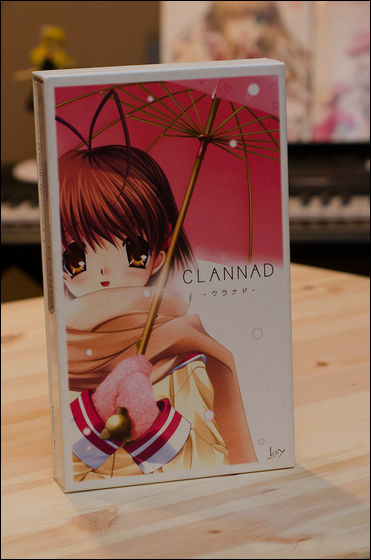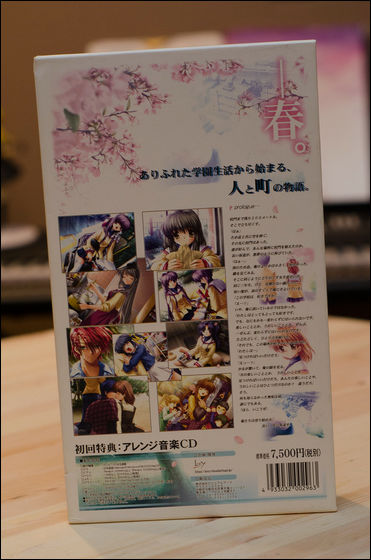 The deadline for investment is 3:48 AM on January 10, 2015.