A game sales platform is born that can be fully refunded no matter how many games you play within 30 days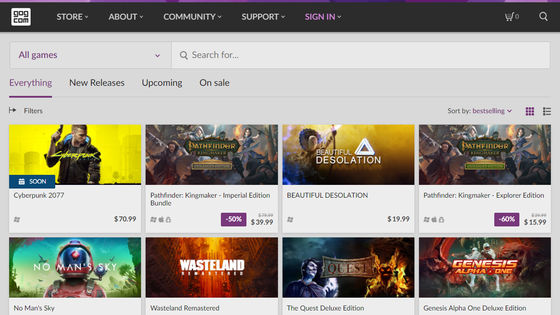 GOG.com , a game and movie download and sales platform, is a service operated by GOG, a subsidiary of CD Projekt , Europe's second-largest market- capable game developer, famous for its witcher series. GOG.com has updated its refund policy so that it can be refunded no matter how many games you play within 30 days .

GOG's Updated Refund Policy has your back (even more)-GOG.com
https://www.gog.com/news/gogs_updated_refund_policy_has_your_back_even_more

GOG will refund your games even after you've started playing them-The
Verge
https://www.theverge.com/2020/2/26/21154402/good-old-games-refund-policy-30-days-download-played-blanket-policy

The GOG announced on February 26, 2020 local time that it had updated GOG.com's refund policy, stating, 'We believe in a gamer-first approach. And safety and satisfaction with the purchase of gamers should be paramount. '

The GOG explained that updating the refund policy would 'add another element to the user-friendly experience.' And the changes can be explained in just one sentence. GOG.com's new refund policy states that you can get a full refund for up to 30 days after purchase, even if you download and launch the product and actually play the game. In the past, to get a refund after purchasing a game, you had to find a technical problem with the game.

We always believed in a 'gamers-first' approach and with this voluntary update to our Refund Policy you can get a full refund up to 30 days after purchasing a product, even if you downloaded, launched, and played it.

More details-https: //t.co/WfwZkyLkbo

— GOG.COM (@GOGcom) February 26, 2020


GOG has a "30 day" full refund period, but Valve's Steam refund policy states that "Games or software purchased in the Steam store within 2 weeks and used for less than 2 hours Refund for the application ', and the Epic Games Store operated by Epic Games is also a' game within 14 days of purchase and less than 2 hours of play time '. The Steam and Epic Games Store include 'less than 2 hours of gameplay' in the refund policy, but GOG.com does not include the game play time in the refund policy.

However, GOG has published a refund FAQ, and the detailed terms for a full refund are described here.

Update to our voluntary Refund Policy-GOG.COM SUPPORT CENTER
https://support.gog.com/hc/en-us/articles/360006129837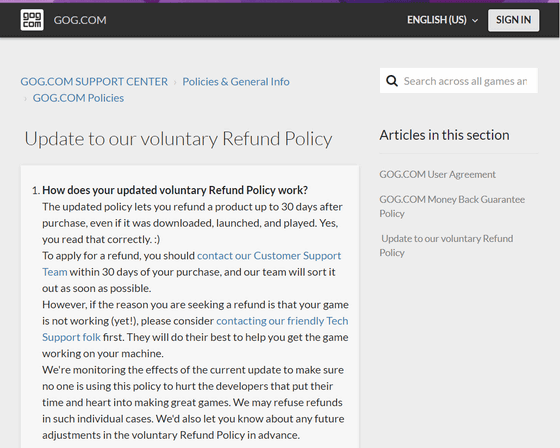 According to the GOG, you must contact customer support within 30 days of purchase to apply for a refund. GOG has no restrictions on refunds, but reserves the right to refuse refunds in individual cases. 'If the game does not function as expected despite the customer making an informed purchase decision Only trust that I use this updated refund policy, 'he said, but expects users to apply for a refund within common sense, but in some cases may refuse refunds. There is.

In addition, if the game is presented as a gift from a friend or the like, the person who purchased the game as a gift must apply for a refund, and in the case of a pre-ordered game, 30 minutes from the pre-order period and release date It states that days will be a refundable period, and that DLC and season passes that exist as in-game billing elements will be refundable if purchased separately.