'Cyberpunk 2077', which was deleted from the PlayStation Store due to a lot of bugs, is back, but the PS4 version clearly states 'There is a performance problem'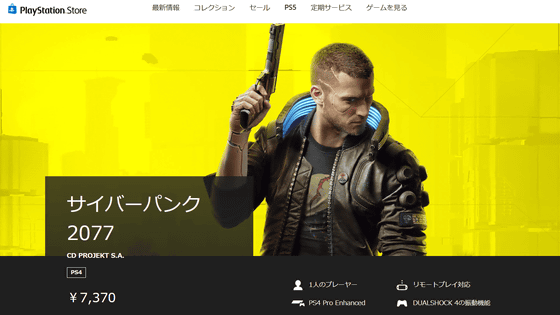 The action role-playing game '
Cyberpunk 2077
' released in December 2020 is the latest work of CD PROJEKT RED known for the 'The
Witcher
' series, and although it attracted a lot of attention with the appearance of Keanu Reeves, it was released. Immediately afterwards, it was pointed out that there were many problems, and not only was
CD PROJEKT RED forced to apologize and respond
to refunds, but it also led to a
class action.
Such 'Cyberpunk 2077' was suspended from sale on the PlayStation Store due to its low quality, but it has finally revived. However, only for the PS4 version, 'Notes' are clearly stated.
As Cyberpunk 2077 Returns To PlayStation Store, Sony Offers Warning About PS4 Version --Game Informer
https://www.gameinformer.com/2021/06/21/as-cyberpunk-2077-returns-to-playstation-store-sony-offers-warning-about-ps4-version
Cyberpunk 2077 returns to PlayStation Store with a big PS4 warning --The Verge
https://www.theverge.com/2021/6/21/22543298/cyberpunk-2077-playstation-store-ps4-warning
'Cyberpunk 2077' is like a mercenary set in the fictional future city of Night City, developed by CD PROJEKT RED, who worked on
'The Witcher 3: Wild Hunt
', which was said to be one of the best masterpieces of open world RPGs. An open world RPG where you can become a 'cyberpunk' and experience your own story in your own style. This work also attracted attention due to factors such as the appearance of Keanu Reeves, and it was a title with very high expectations before its release.
However,
reports such as postponement of work three times and false working conditions
began to appear before the release, and after the actual release, reports of
numerous bugs and problems
such as damage to save data flooded. CD PROJEKT RED has announced refund support for PS4 and Xbox One versions, but it has evolved into a class action proceeding in the EU and the United States.
CD Projekt Red Faces Second Class Case in Cyberpunk 2077-GIGAZINE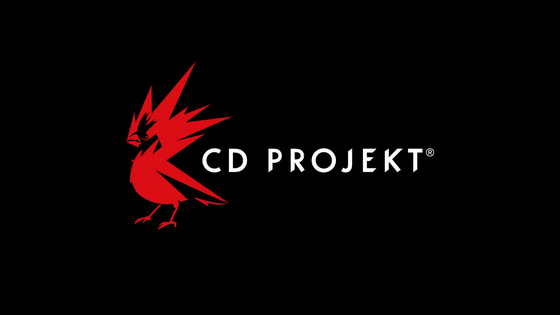 Such 'Cyberpunk 2077' had been suspended from sales by the PlayStation Store due to its low quality, but distribution resumed on June 21, 2021.
Cyberpunk 2077
https://store.playstation.com/ja-jp/product/JP3522-CUSA16496_00-0000000000000001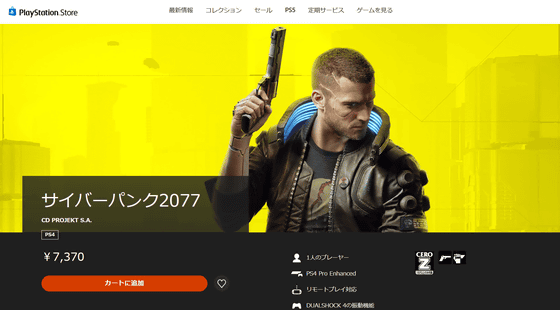 However, the legal information says, 'Important Notice: For customers who continue to have performance issues with this game. We do not recommend using it on PS4. Enjoy Cyberpunk 2077 to the fullest. In order to have it, please play on PS4 Pro or PS5 ', and in PS4 it is said that' although it can be played, it is not recommended '.



Regarding the resumption of sales this time, CD PROJEKT RED said, 'If you have purchased the PlayStation 4 version, you can also use the upgrade to the PlayStation 5 version scheduled for the latter half of 2021 without additional purchase.' 'PS4 version We may continue to experience performance issues. Playing on PS4 Pro or PS5 will give you the best experience on the PlayStation platform. '

We're still working on game fixes and improvements to improve stability on all platforms, but PS4 versions may continue to have performance issues. Play on PS4 Pro or PS5 to enjoy the best experience on the PlayStation platform.

— CD PROJEKT RED Japan (@CDPRJP) June 21, 2021
in Game, Posted by log1k_iy