We've been touching Wy-Mobile's LTE compatible tablet "MediaPad M1 8.0" and a Wi-Fi router terminal on the car ahead of time Repo


Wyomobile on November 13, 2014Holding a new product presentationAnd, Google's smart phoneNexus 6Together with 8 "LCD with"MediaPad M1 8.0(Hereinafter "MediaPad") on December 4 (Thursday). At the recital, such a MediaPad will be launched in 2015 and the in-car dedicated Wi - Fi router "Car Wi-Fi Device(Tentative name) ", so I decided to touch it.

High-speed data communication LTE compatible tablet "MediaPad M1 8.0 403 HW" released on December 4th ~ It is possible to use a share plan that can be conveniently used with a smartphone set | | 2014 | Press release |
http://www.ymobile.jp/corporate/press/2014/1113_04.html

◆ MediaPad M1 8.0 photo review
Arrived at the touch and try booth of MediaPad.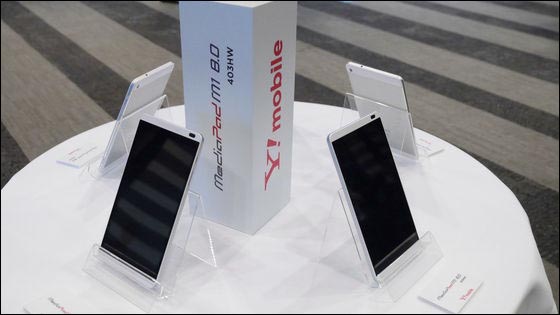 "MediaPad M1 8.0" is a tablet terminal with an IPS liquid crystal display of about 8 inches · 1280 × 800 pixels (WXGA) made by Huawei. 1.6 GHz quad core, 1 GB memory mounted, the battery capacity is 4800 mAh.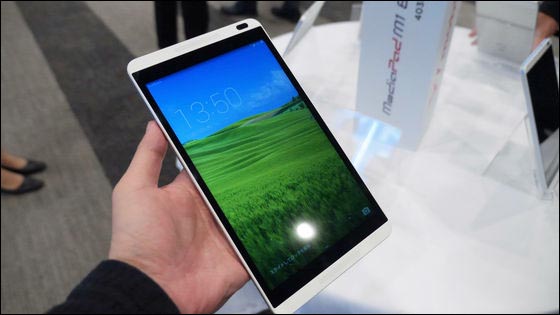 Having it vertically has this feeling. The size is 21.4 cm in length × 12 cm in width × 0.79 cm in thickness and weighs 340 g.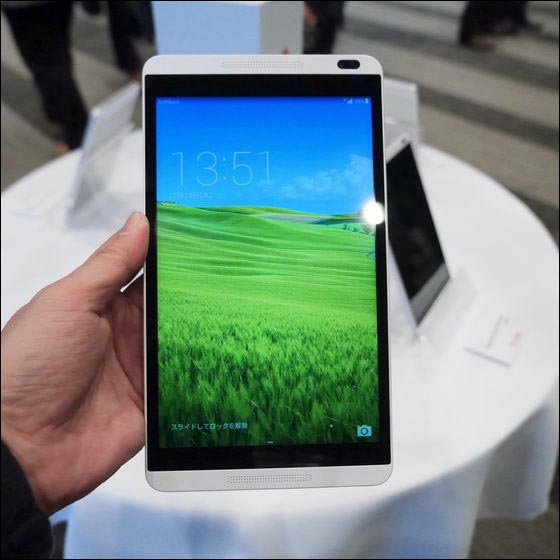 Micro / USB terminal and microphone on the bottom surface in case of vertical holding.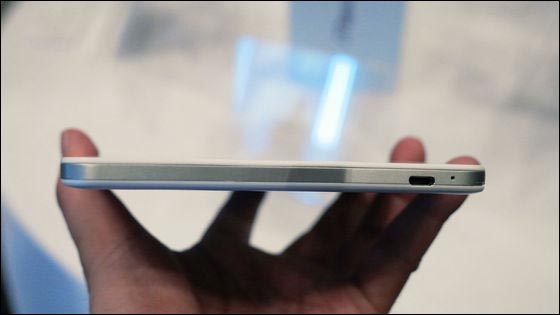 There is nothing particularly on the left side.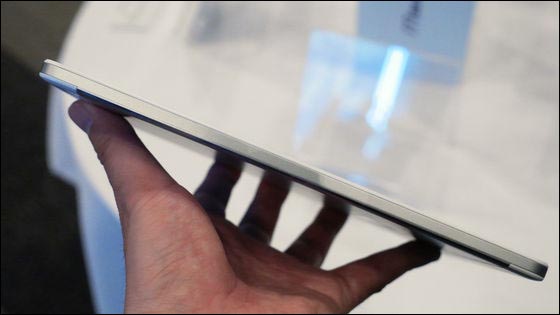 Earphone jack and microphone on the top. As you can see from the fact that two microphones are loaded, you can use it as a stereo microphone when you take MediaPad sideways.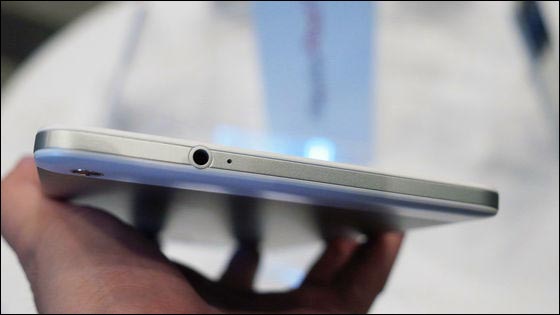 Volume button and power button on the right side.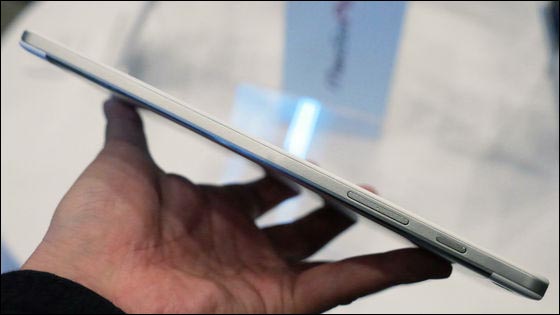 Uri's MediaPad M1 8.0 is equipped with dual speakers on the bezel part beside the display, making it perfect for playing movies and movies.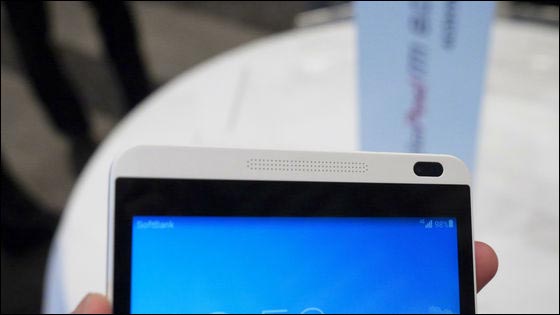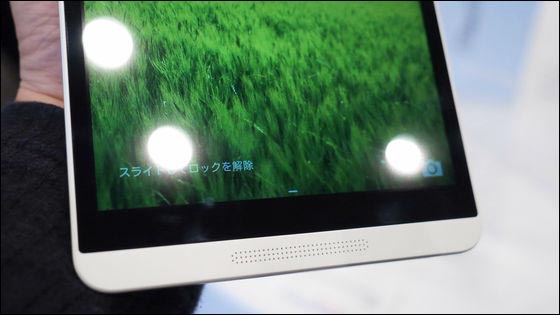 The back side looks like this. There is a cover in the lower part ......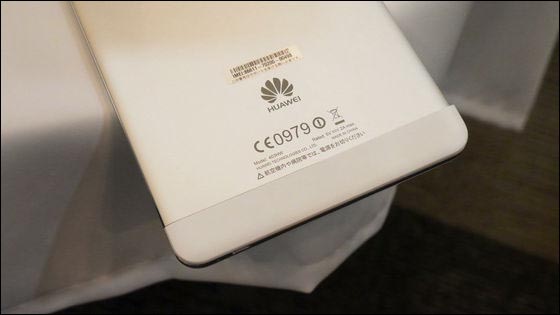 Only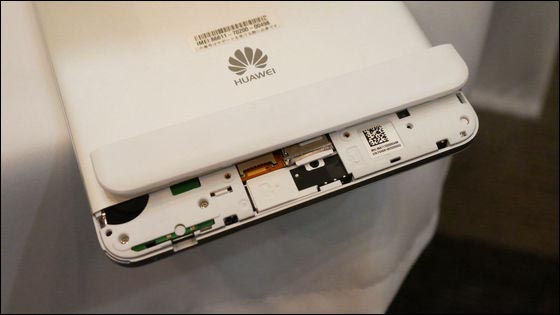 The cover contained SIM cards and slots of MicroSD cards.



Browser application "Yahoo! Browser"When opening the top page of GIGAZINE it is like this.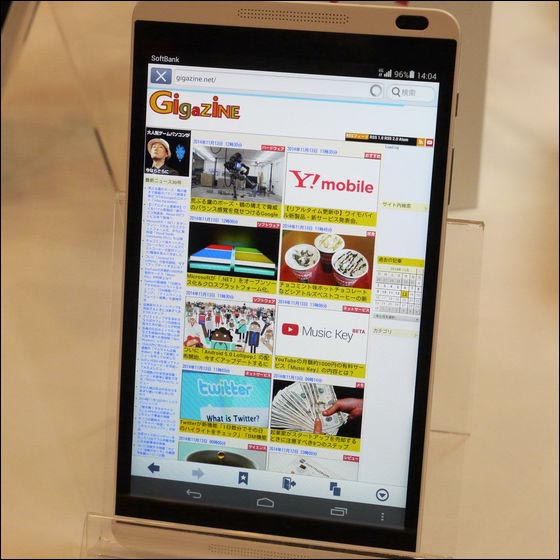 Then I tried opening it in the horizontal screen. Neither seems to be a problem at all for browsing.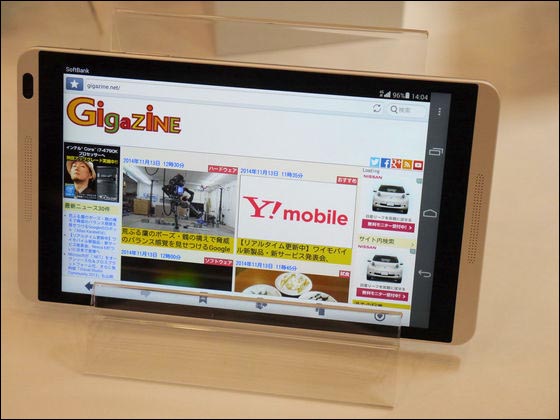 One of the key points is that MediaPad has its own developed UI. Applications listedA drawerThe switching function between the screen and the home screen is omitted, and the display format close to the iOS screen is adopted. This seems to reflect the voice that "It is difficult to understand when the screen switches" which was found by research to the user.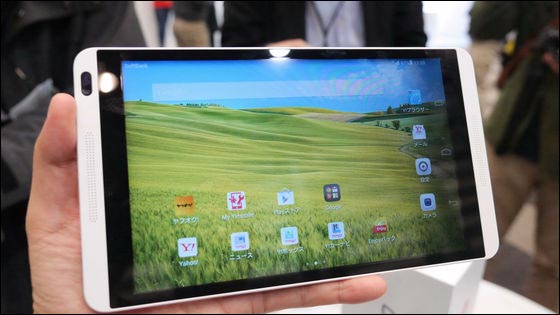 It seems to be a wai mobile terminal, and the "Yahoo! car navigation" application was preinstalled.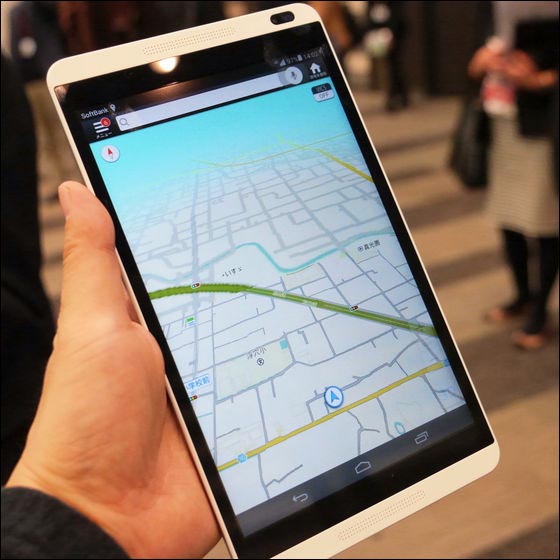 MediaPad can be used in a "share plan" that shares packet capacity with a wai mobile smartphone subscribed as a parent line. Discounts apply when the parent line is "Sumahopran M" "Sumahopran L", and this product can be used with smartphone at reasonable fee.

The main specifications of "MediaPad M1 8.0" were as follows.

display: About 8.0 inches 1280 x 800 (WXGA) IPS liquid crystal
Main camera: About 5 million pixels / CMOS
Sub camera: Approximately one million pixels / CMOS
Built-in memory: ROM 8 GB, RAM 1 GB
CPU: 1.6 GHz quad core / Kirin 910
Battery capacity: 4800 mAh
Wifi: IEEE 802.11 b / g / n (2.4 GHz) / a (5 GHz)
Bluetooth: Ver. 4.0
platform: Android 4.4

◆ In-car Wi-Fi router scheduled to be released in 2015 "Car Wi-Fi Device"
In the vicinity of MediaPad, "Car Wi-Fi Device" which becomes a Wi-Fi spot just by inserting it in a car cigar socket was exhibited as a reference.



Farway is also responsible for manufacturing.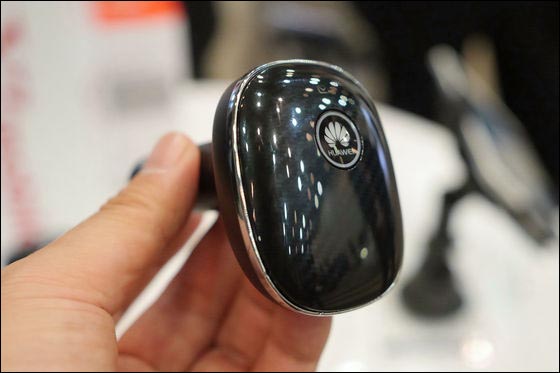 It seems to be a commercially available USB charging port for in-car use, but this is an established Wi-Fi router. It has a SIM card slot, and it is a device that turns the car interior into the Internet space by inserting it in the cigar socket.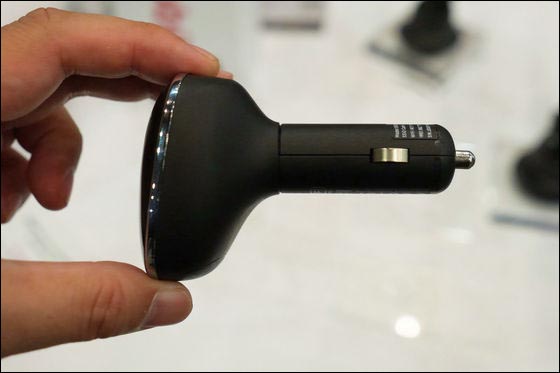 You can also take power from the USB port on the top of the main unit.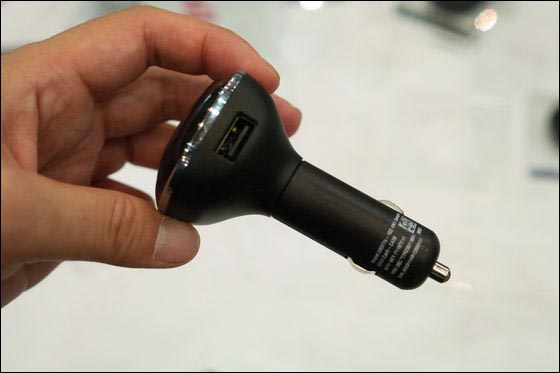 When removing the rubber cap at the bottom, the SIM card slot and the reset switch of the main body appeared.



In this way it's easy to bring your tablet device to your car and use it for navigation or enjoy movies while driving.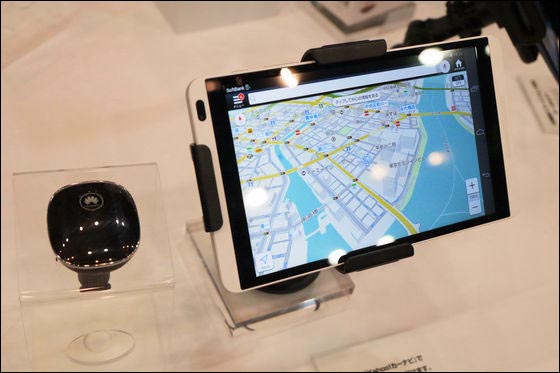 The advantage of using this device is that there is no need to use a Wi - Fi router while worrying about the remaining battery power. It is necessary to connect to the power supply if it is a Wi - Fi router which is currently on the market, but since this device can supply power from the cigar socket, it is released from care of power as long as the car is moving It was that it was.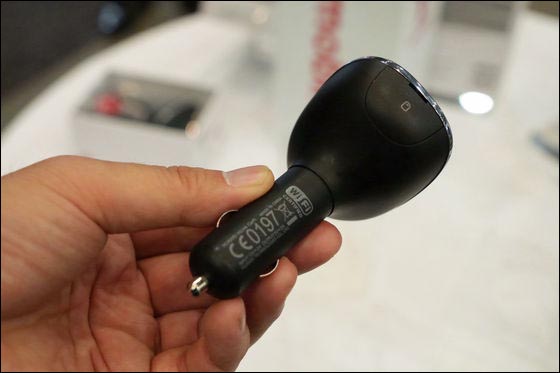 The device is being adjusted for the launch in 2015. It is said that it will be released in Europe in the end of FY 2014, so it seems that introduction to Japan is not so far in the future.