Online storage for free and unlimited storage of photos, music, videos, documents & streaming playback "Hive"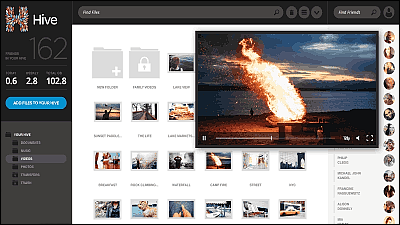 Pictures and videos such as digital cameras and smartphones, images saved via the Internet, MP3 files of your favorite music, document files created at school and work, etc, files that put pressure on capacity are increasing more and more without knowing. From cloud storage service that allows you to upload and upload all kinds of files from the browser application free of charge and unlimited capacity, from such "want to keep" to "you can not delete", as well as streaming saved files "Hive"is.

Mix, Share and Play Without Limits
https://www.hive.im/

To try using "Hive", click "OPEN THE WEB APP".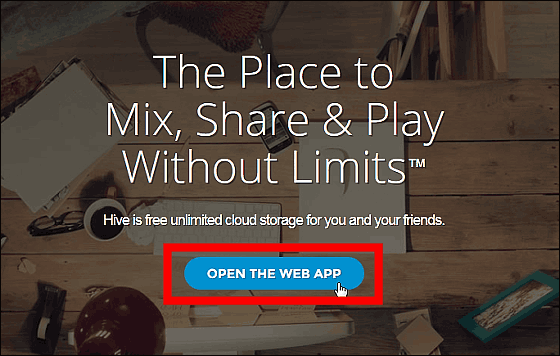 Click "GET A FREE ACCOUNT".



Furthermore, in addition to being able to use unlimited storage free of charge for free accounts, there are functions such as "high quality sound of HD and video quality of stored music and moving images", "no limit of downloading and streaming speed", "advertising pear" I will. There is also a premium plan for a fee of 3 dollars (about 320 yen) / 6 dollars (about 640 yen) / 9 dollars (about 960 yen), but since it is a beta version provided at the time of article writing, it is free You can use the full feature with.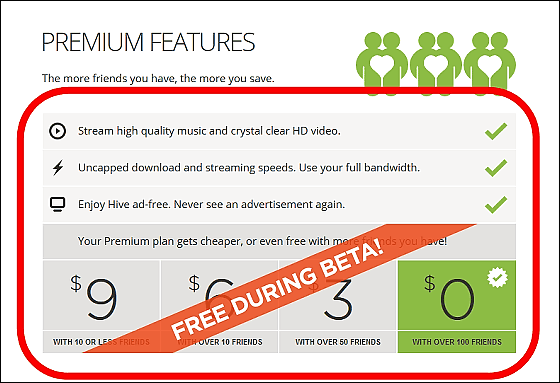 Account can be registered with Facebook · Google+ · email address. I will create an account with an e-mail address this time.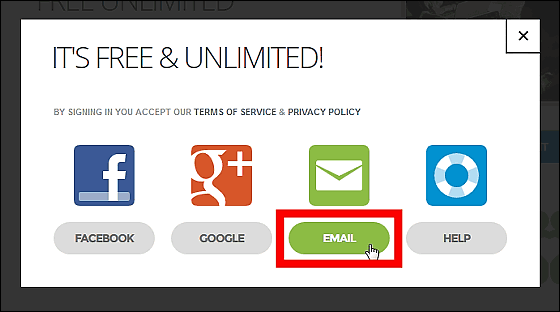 After entering your name in the order of name / surname, click "GET A FREE ACCOUNT".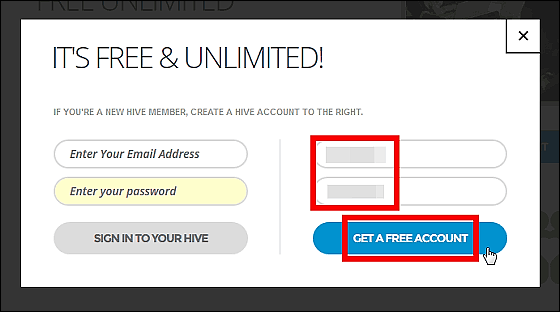 Then enter your email address and password and click "GO" to create your account.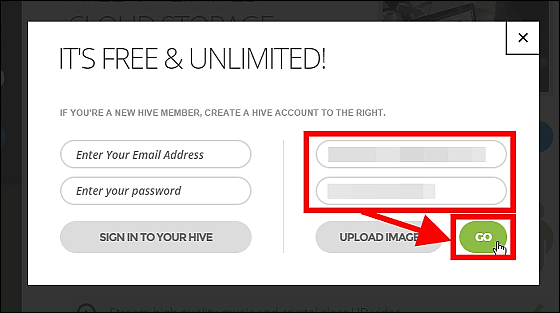 The top page of Hive's web application is such an interface.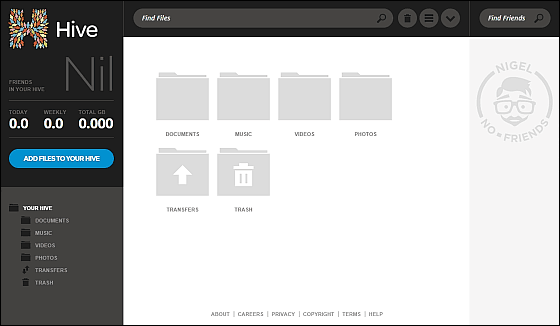 I will upload a picture at once. If you drag the photo you want to save from the local screen, the display will switch, so just drop the file.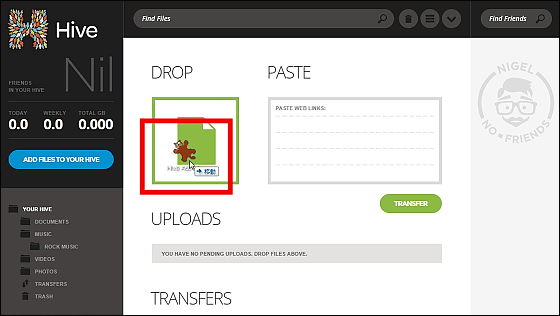 The upload progress list is displayed at the bottom of the screen. When "IN YOUR HIVE!" Appears on the right side, uploading is completed.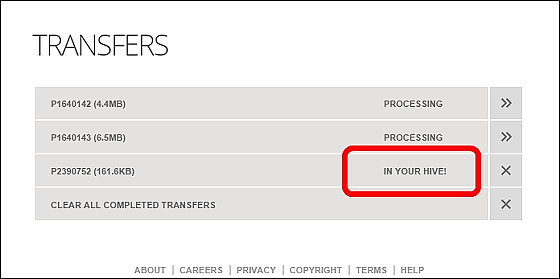 Uploaded files are stored in "TRANSFERS". To check the contents, double click on the file OK.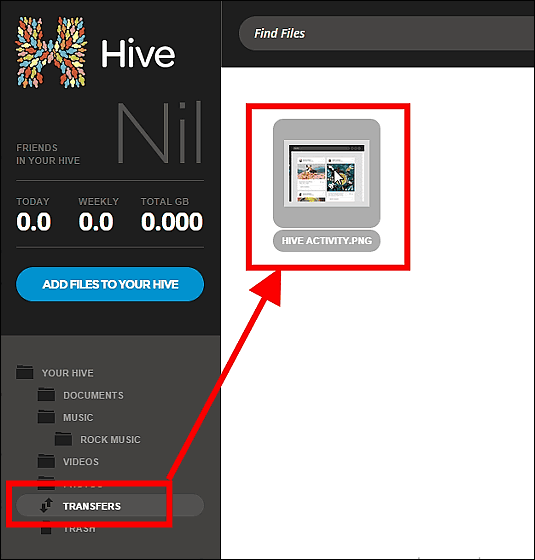 When you click "VIEW", photos saved in HIVE viewer are displayed, and clicking "DOWNLOAD TO MAC" allows you to download the original image locally. Although it is operating on a Windows PC, it says "DOWNLOAD TO MAC (download to Mac)" for some reason, but the file could be successfully downloaded.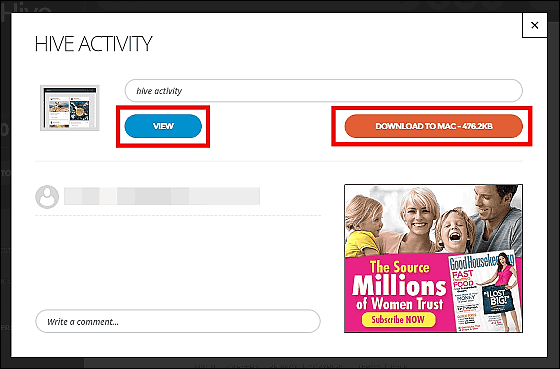 If you know the URL of the image you can also save it to your HIVE account just by copying and pasting.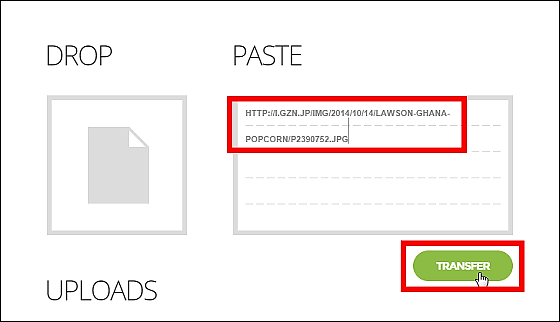 I tried uploading a large number of files at once for each folder, but uploading was never stopped due to clogging of files, and it was excellent that I could upload everything smoothly and smoothly.




Next, try uploading AVI file with large capacity of 1.93 GB. "It will take quite some time ..." I was prepared, but the upload itself was completed in about 10 minutes.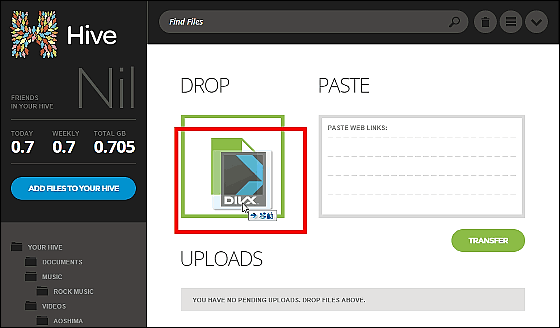 When opening the file, the button on the left is "WATCH" unlike the picture.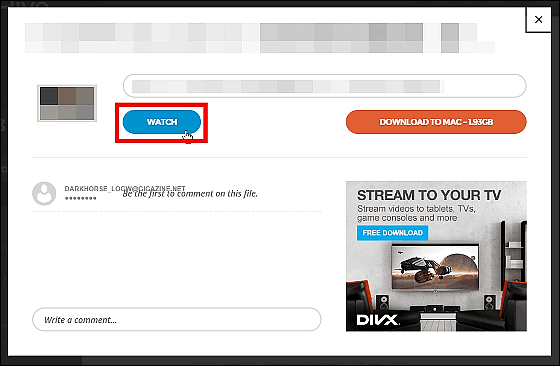 If you click it, the uploaded movie will be played back as streaming, but you can not play it for a while if you upload it, so be careful.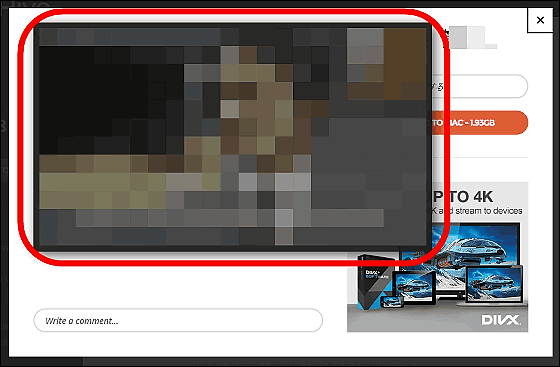 In addition, at SoundCloudDownloaded MP4 fileI could upload without problem. If you press "LISTEN", the music player will stand up and you can play the song. It is a nice place to change the bit rate from 32 Kbps to 320 Kbps.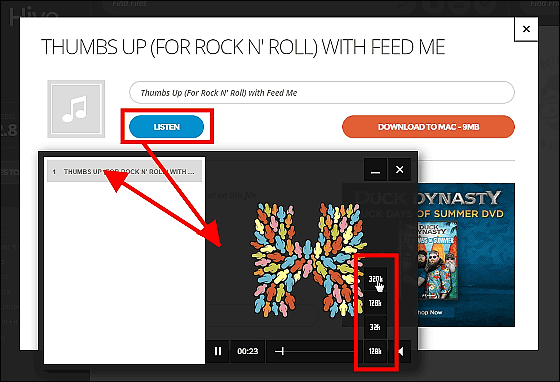 Since these uploaded files can be sorted and organized into arbitrary files by dragging and dropping, it is necessary to organize them after unlimited uploading of files. To create a subfolder, click the folder ... ...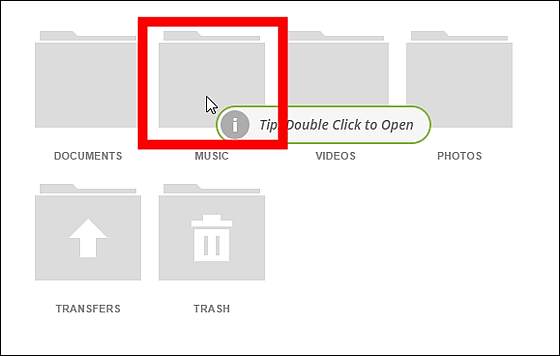 Double click on NEW FOLDER in the folder.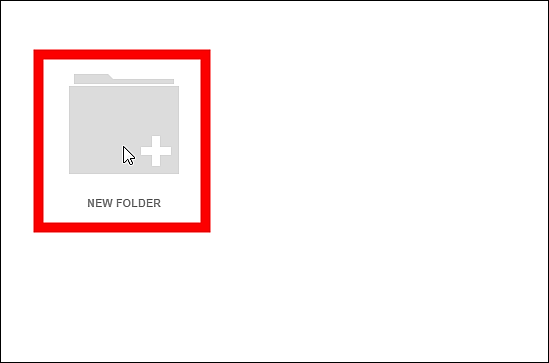 Simply enter a descriptive file name and click "CREATE FOLDER". When the beta version ends, a pay plan appears, but you can get a free premium account depending on the number of "friends". Friends can browse and share the files being uploaded, but if you do not want to see the file, click "LOCK FOLDER" when creating the folder, it will be safe because people other than you can not access it.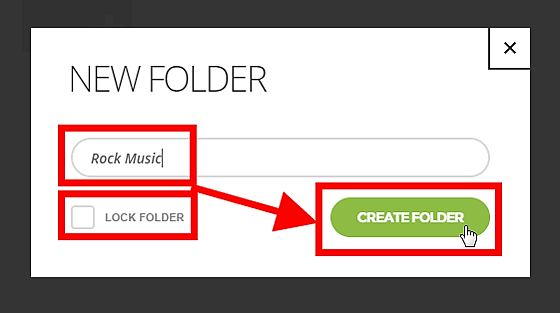 In the locked folder, a padlock icon is displayed so that you can see at a glance.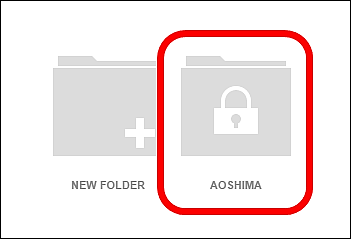 If you make subfolders more and more like this, even if you upload a large number of files, you should be able to locate the desired file immediately.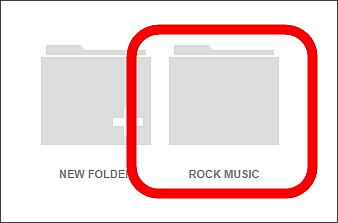 Hive is a browser only on the PC, it is unnecessary to use dedicated software and so on but when I try to access from the iPhone, although I could not use the service, it means "iOS application is being prepared". Even if the beta version is finished, the capacity remains unlimited, so it's a perfect service for those who say "you have too many files at hand to be in trouble management ...".

◆ October 30, 2014 13:06 Addendum
With the increase of Hive's Japanese users, the Japanese beta version of the WEB application has appeared. Japanese interface is now displayed automatically by simply connecting.