"GreatFire.org" which knows which site is blocked in China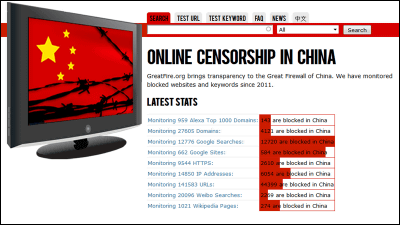 In China where access to the net is regulated in part, when trying to use the net in the same sense as Japan, you can not use Gmail, Google search, can not write diaries on Facebook, You may be hit by. What kind of sites are being blocked in China now, "GreatFire.orgYou can check if you use.

China blocks Instagram in the wake of Hong Kong democracy protests
http://www.engadget.com/2014/09/28/china-blocks-instagram/

To search, just enter the keyword of the site in the search window displayed at the top of the page and click "Search". If there are multiple candidates, candidates are listed so that you can select them.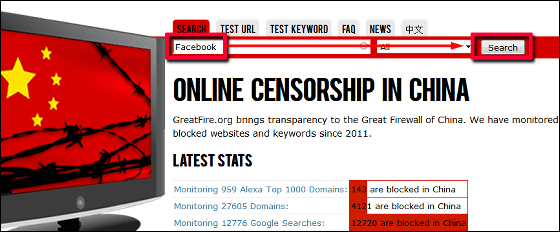 The result of searching for Facebook is like this. The calendar was splendidly 100% shut-out situation of red red.

Facebook.com is 100% blocked in China | GreatFire.org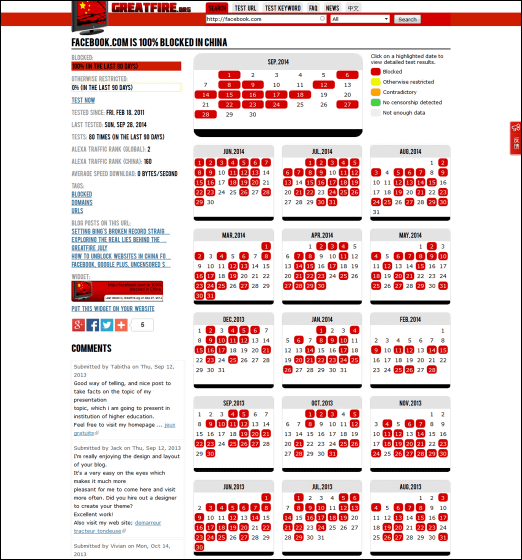 Even if you look at Twitter it is 100% blocked as well. In China it is also called "China version Twitter"Sina Weibo(Masahiro Shinnami) is widely used.

Twitter.com is 100% blocked in China | GreatFire.org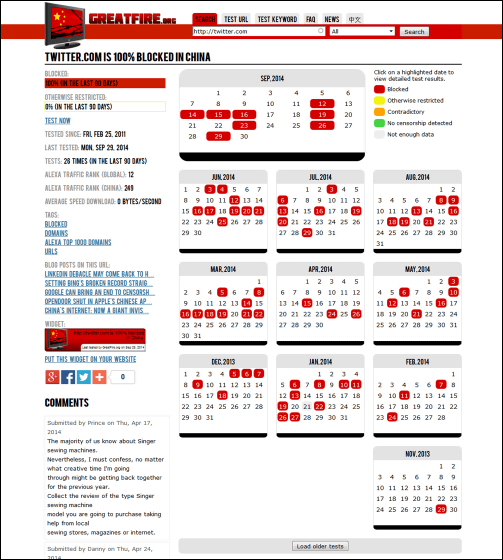 And when I search Instagram, the result is to say "degree of blockiness is 13%". In particular, on September 29, red "Blocked" that was not seen before has appeared, you can see that the situation is changing.

https://instagram.com is 13% blocked in China | GreatFire.org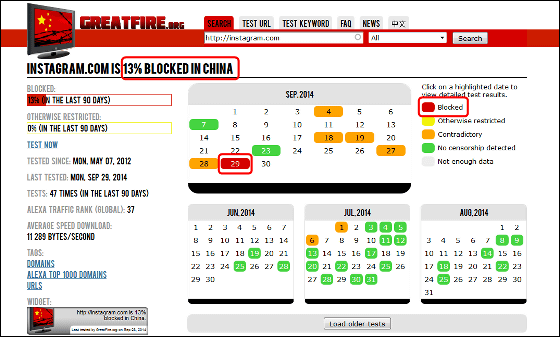 As it is suddenly the environment surrounding Instagram has changed, this is considered to be caused by a demo occurring in Hong Kong in search of a democratic election system.

NHK news arrested students demanding democratization in Hong Kong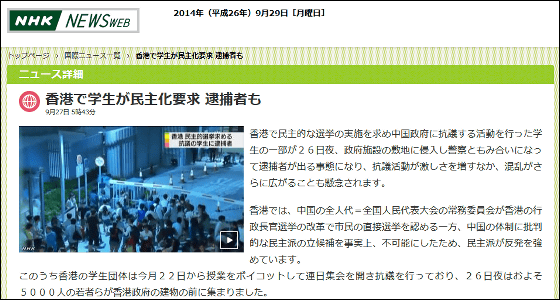 Demonstration group composed of citizens including students rule the Hong KongHong Kong Special Administrative Region GovernmentThe opposition voice is raised against the fact that the election system for electing the secretary of the government has been changed. To China in 1999Hong Kong returnsAlthough it is a ministerial election where comparatively democratic elections have been held since then, in the past the system that indirect elections were held by citizensDirect electionOn the other hand, there is a strong opposition to the "rebuke" that makes it virtually impossible for candidates to be criticized by the Chinese government.

Hong Kong Democrats Rebound - China Mandates Appraisal by Chief Executive Approver - Bloomberg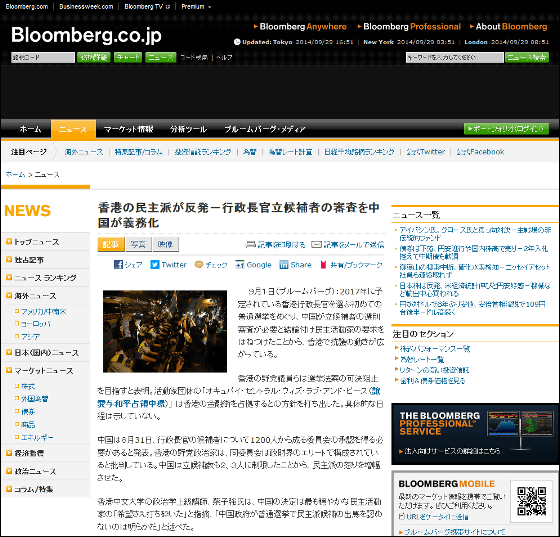 Tens of thousands of citizens gather in the demonstration and develop protest action by occupying the road in the city center. On the other hand, Hong Kong Police Department evolved into a situation in which dozens of injured persons appeared because they launched tear gas bullets. In some cases, information that the police fired rubber bullets also flows.

Protest by Hong Kong Chief Prosecutor 's Chief protestor, Police tears to demo team | World | Reuters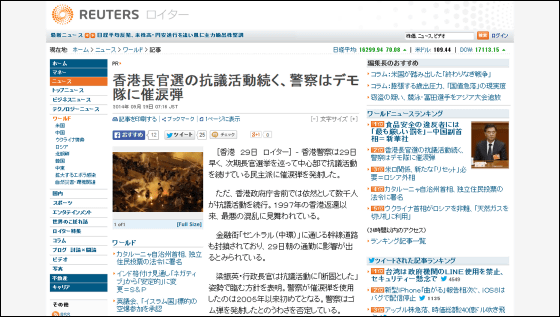 The state of protest action by this demonstration team is one of local mediaHK Apple DailyLive on YouTube by.

9.28 佔中 啟动 Direct sowing


From Hong Kong where net regulation is not done, information dissemination by Twitter etc. is being carried out one after another. This is a state of a demonstration team gathering at Mongkok (Mongkok) which is one of the center of Hong Kong and shouting against opposition.

Mongkok, shopping area of ​​Hong Kong. Occupy by protesters. No riot police here.# OccupyCentral#OCLP#OCLPHKPic.twitter.com/tIbhnQLMav

- Lam Yik Fei (@ LamYikFei)2014, September 28
Many people gather in the area of ​​Causeway Bay (Causeway Bay) where there are Japanese department stores and retail shops such as "Sogo" and "Franc Franc", and they continue to resist resistance.

2 am, Causeway BayPic.twitter.com/7eXGqYznV2

- Tyson Wheatley (@ Twheat)2014, September 28
And the Chinese government that boiled the demonstration team's protest activity blocked the connection to Instagram from China, and it was said that it was to deal with anti-China move out in China It is the truth.

China blocks Instagram in the wake of Hong Kong democracy protests
http://www.engadget.com/2014/09/28/china-blocks-instagram/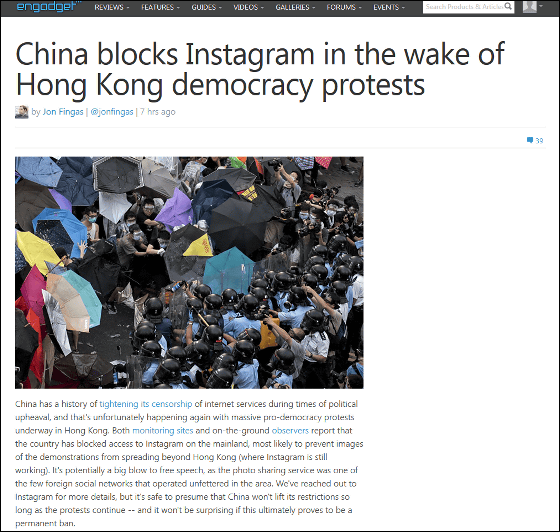 When listening to local voices in fact, most people are concerned about or opposed to the policy of the government which is increasing in Chinese color at the citizen level. It can be said that Hong Kong, which has been guaranteed its own autonomy even after returning to China, is headed for what direction in the future, especially for local people.