Tempura has eaten at the foot of the sky tree "Tree donburi" which is still standing or standing still in this tempura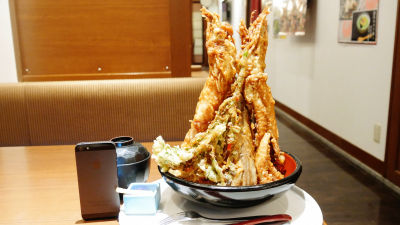 The Tokyo Sky Tree is the world's tallest tower which has a height of 634 meters and is Guinness certified, but the collective facility at the foot of the Tokyo Sky TreeTokyo SolamachiInside "Sushiing", A bowl of rice bowl with a sky tree as a motif"Special bowl of rice (tree rice bowl)You can order. Although it seems that there are also some bowl of rice bowls that made the height crispy at nearby stores, the bowl with the highest height is Kore, so I actually went to the shop.

Edo Tokyo Sushi Always | Tokyo Solamachi
http://www.tokyo-solamachi.jp/shop/313/

Strikes against idol time | Edo Tokyo Sushi always staff at Tokyo solamachi store blog ☆
http://ameblo.jp/izunoonsen/entry-11415075898.html

Arrived in Tokyo Solamachi.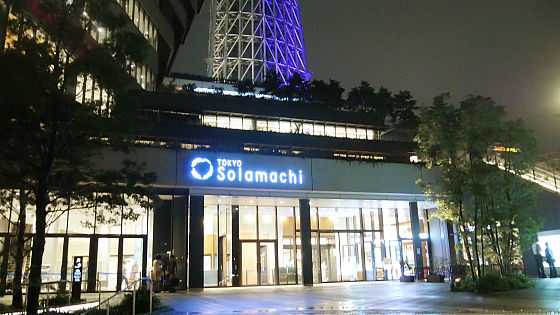 A sky tree rises just around the corner.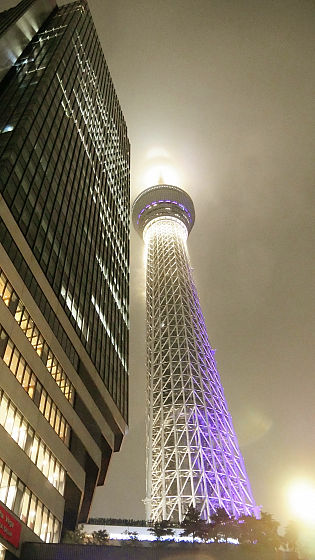 On the day we went to the shop there was a cloud at the top of the tree, which was a mysterious atmosphere.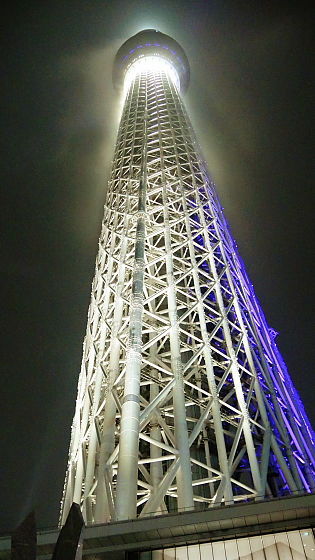 Tusuki offering a tree don is always located in the east area of ​​Tokyo Solamachi 7F.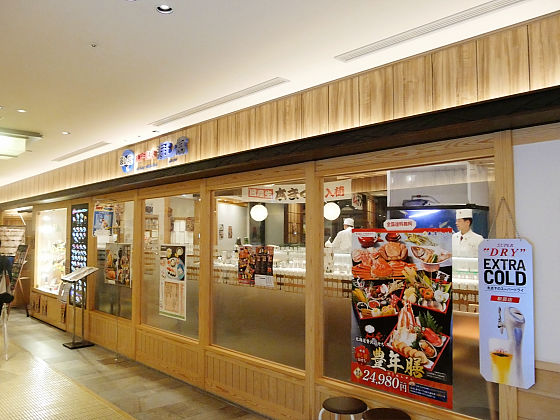 To see the menu sample in front of the shop.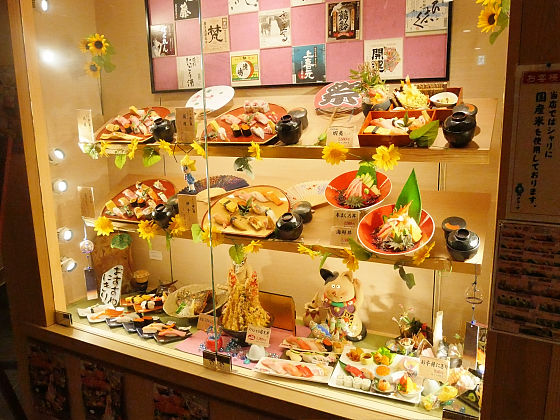 A sample of a tree rice bowl (4212 yen including tax) was also put. People passing in front of the shop stopped their feet and seemed to be pretty remarkable.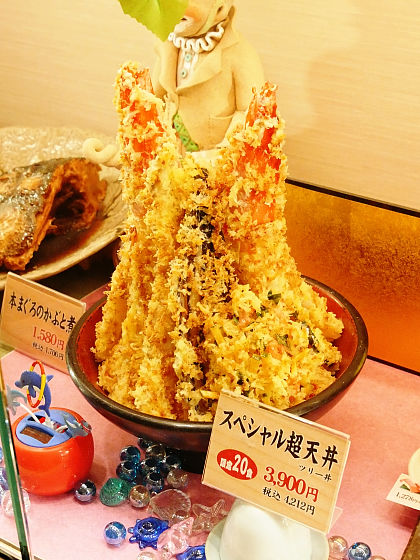 When entering the shop, the craftsman will welcome you with a vigorous voice.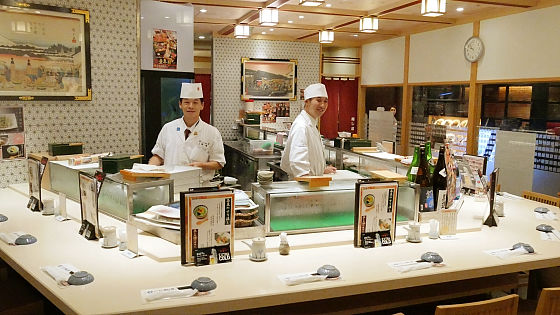 There was a lot of sushi 's story in the counter showcase.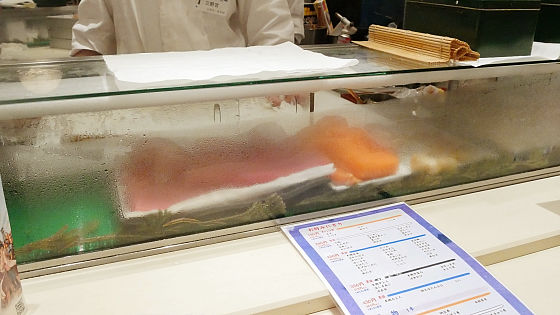 I will sit down and see your sorcery.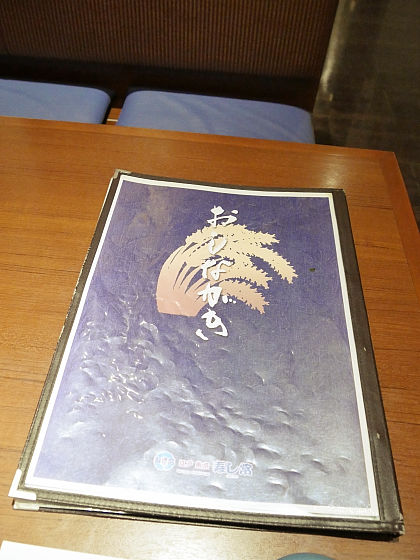 I found a tree rice bowl and ordered it at once. It is limited meal for 20 days in a day, but it seems that it will never be sold out no matter how crowded days are.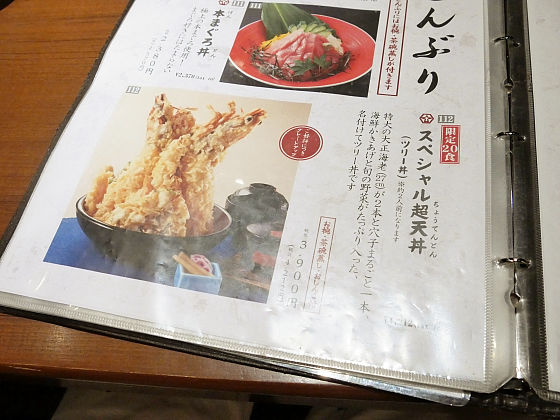 Tree bowl takes a little time to deliver, because it fries a large amount of quite big ingredients such as Taisho shrimp with a total length of 27 cm. Beanstepped egg with crabs came out before a bowl of rice was offered.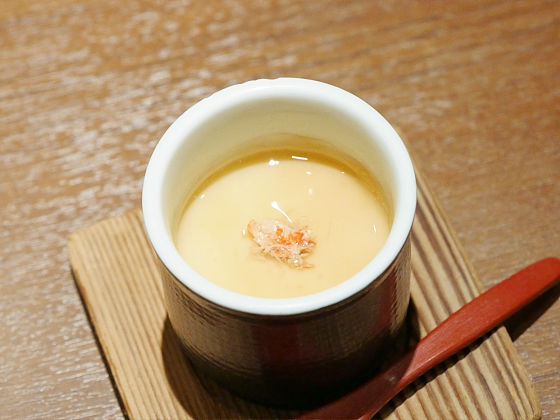 Chawanpot with bean paste taste the taste of kelp and bonito soup stock, the taste of crab is also firm and soft texture impressive.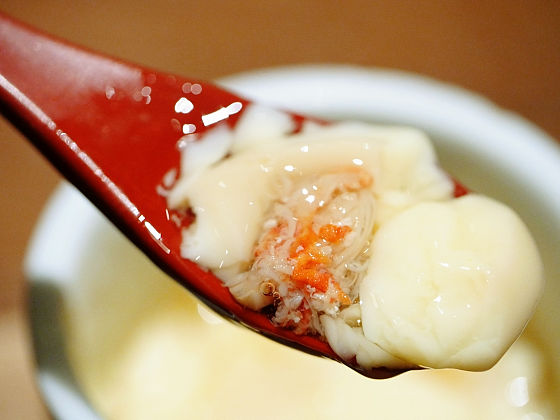 Tower bowl arrives in about 15 minutes after ordering. The clerk brought me a seat slowly walking so as not to destroy the placement.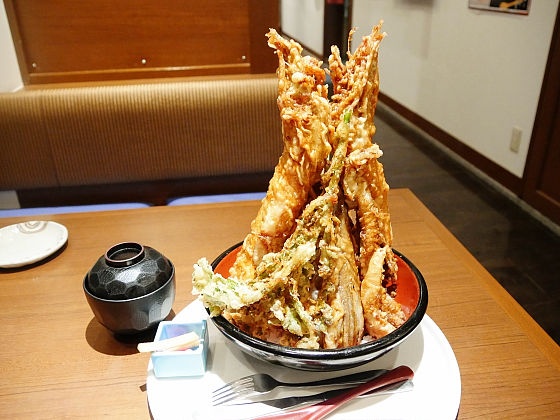 Compared to the iPhone 5 (about 12.4 cm), the tower bowl has about 3 times as high as this.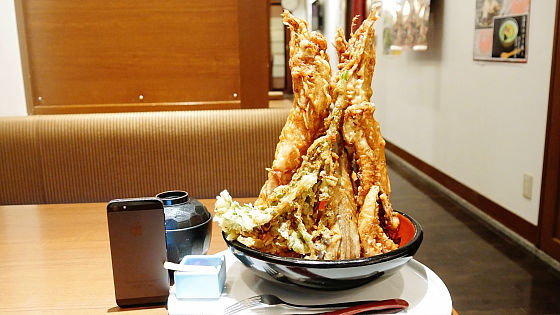 The shrimp rising in the center feels awesome. Not only shrimp but all ingredients are long in length.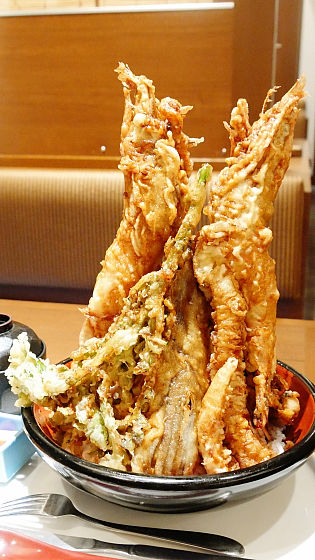 Looking from the opposite, it looks like this.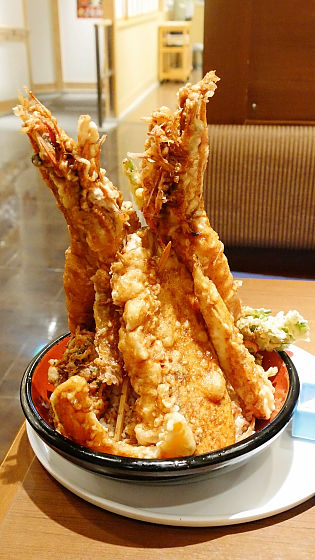 Taisho shrimp is big head too.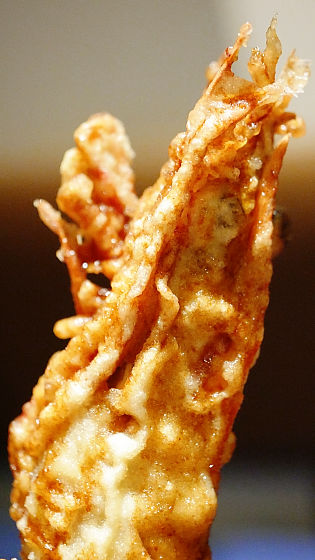 Something is also jumbo size.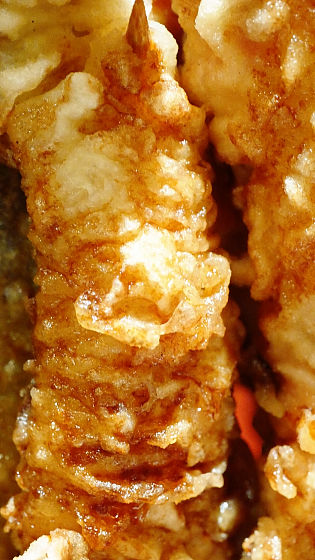 Chrysanthemum, chrysanthemum and an eel with a length of more than 10 cm.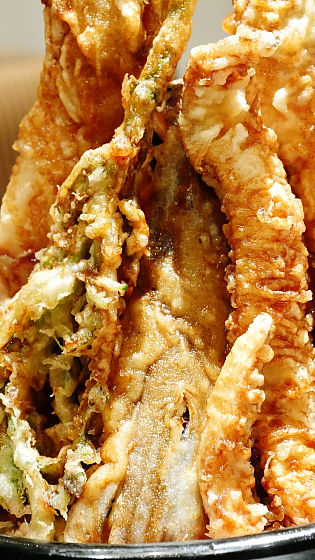 Haru chrysanthemums protrude from the bowl.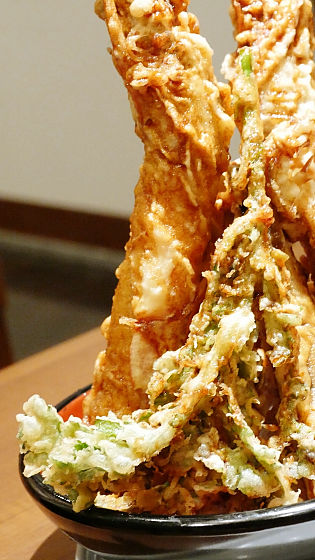 There is a big kaki at the foot of the towering ingredients.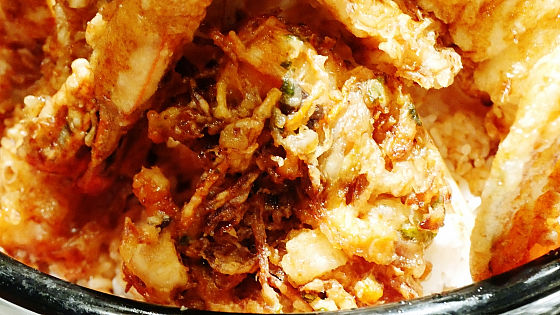 Looking at the central part of the high-priced tool, I found a skewer to stand up the ingredients.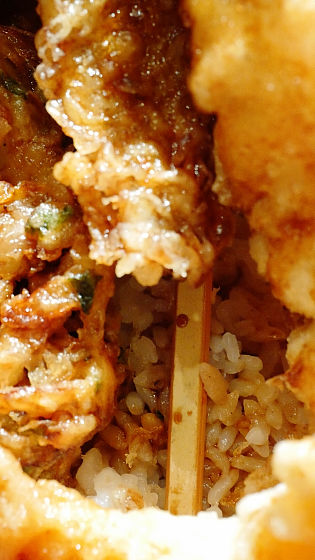 Since it is hard to eat as it is, I received an explanation so that all the tempura can be put on the dish.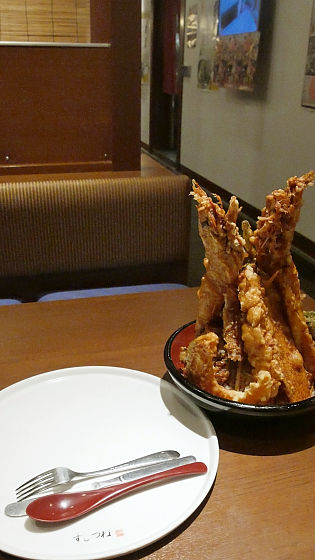 Spreading tempura steadily on dishes, skewers appearing like skeletons appear.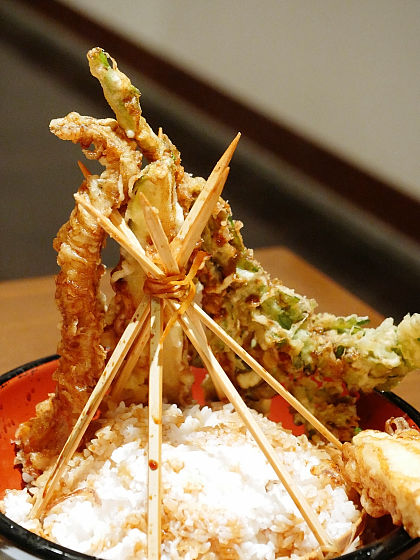 When tempura is placed on a plate it looks like this. It was about 2 servings in a tree rice bowl, but it felt that there was more volume than that.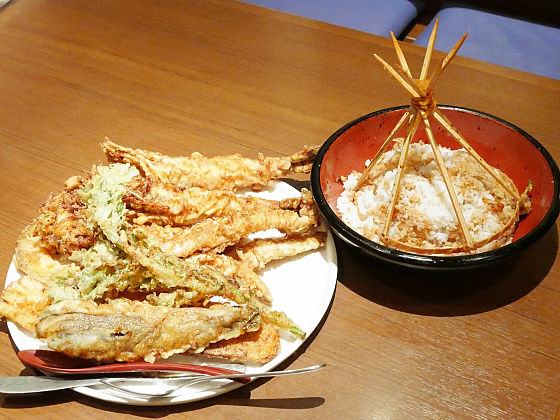 Sauce of the bowl of rice is stained a lot at the bottom of the rice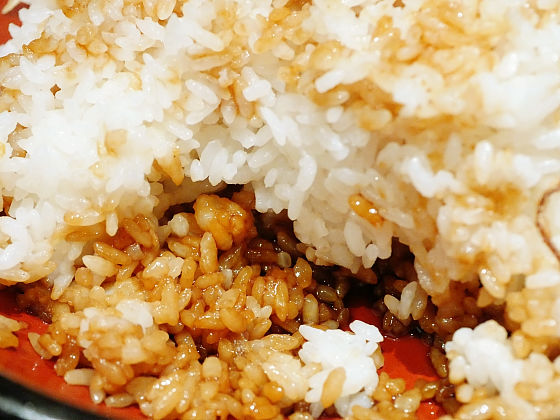 Tempura will not be delicious if it cools down, so we will continue to eat more and more. Taisho shrimps are big, so cut with a knife.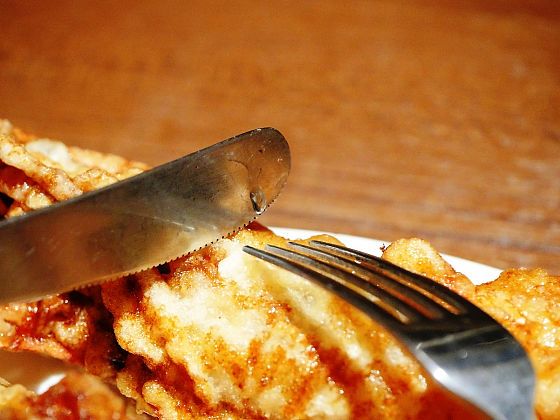 On the head of the shrimp a lot of prawn miso is contained and it is good. I have a lot of body, but the shell is a little hard so it may be a bit painful to eat.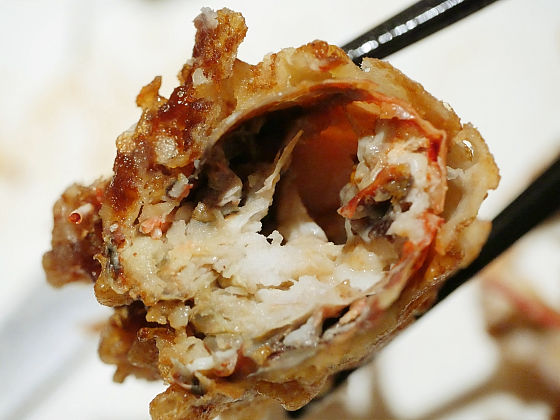 Although it is hard to eat a part with a shell, such as a head and a tail, the middle part is a texture made as a prepuri without such a hardship. Even if the size is large, the taste of shrimp is never thin, and it is a pleasant place that the quality is higher than the average prawns.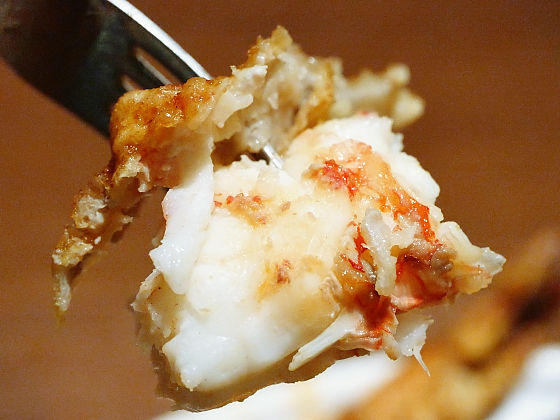 The onion with grease and the slightly sweet rice bowl were well matched and I felt like I could eat more steadily at first.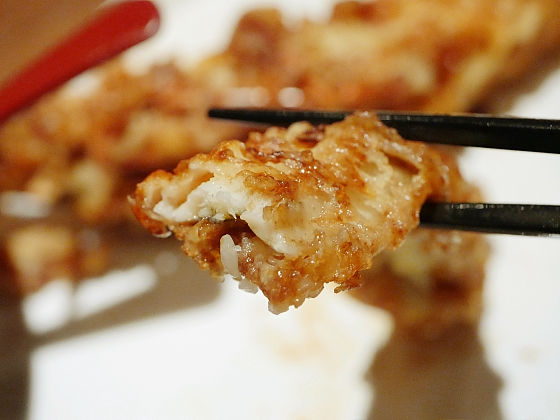 Kakizaki is a crispy texture, and you can feel the sweetness of the onion with plenty of sauce soaked in it.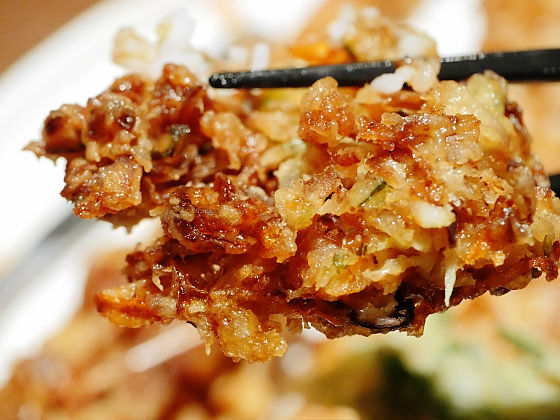 The compatibility between kakiage and rice is exceptional.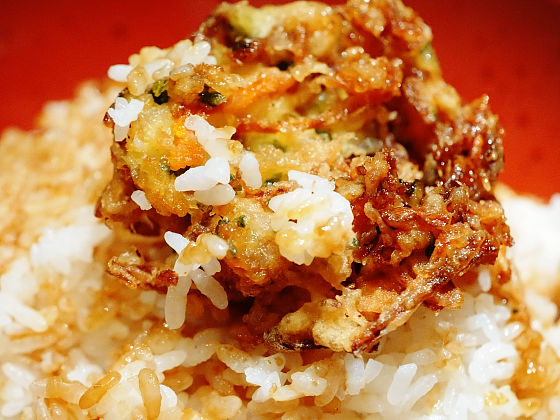 The squid is big because it is big and you can enjoy the texture made with the pre-cream.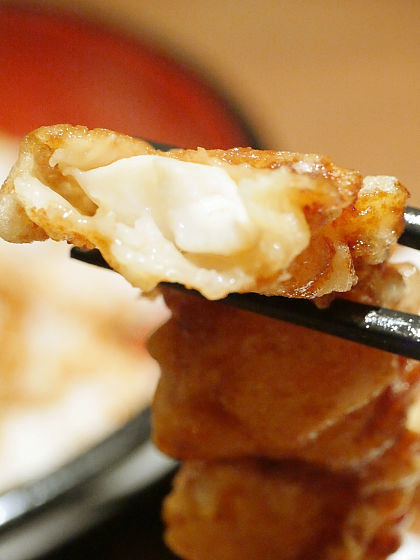 Eggplant is too big, it is not stained so much, but it feels good to eat with a part of rice which sauce stains well.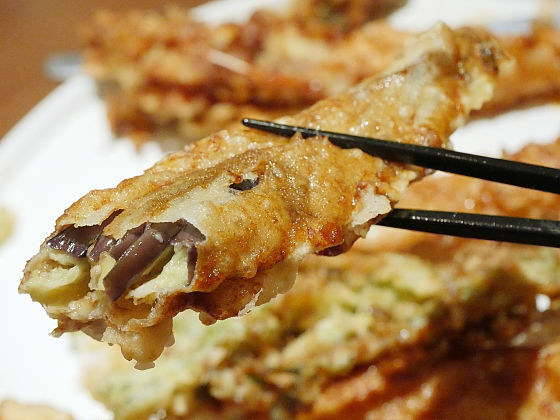 Although bamboo shoots are out of season, it was fresh taste with lushness.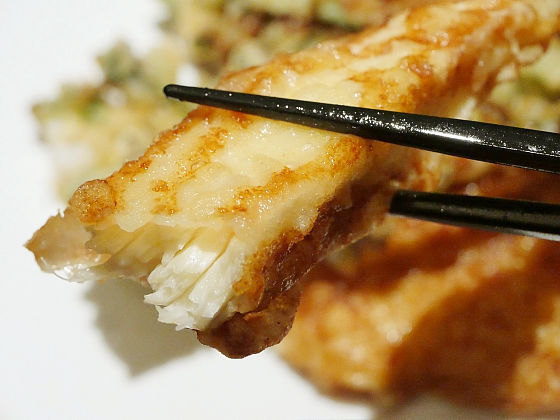 Sweet potatoes are often soaked with sauce, and the sweetness of the ingredients and sweet pepper of the sauce mix together.



A texture with pumpkin as hokuhoku. However, from the point of eating a piece, chopsticks began to stop gradually. Though you can eat freshly baked bowls deliciously, this amount can not be helped.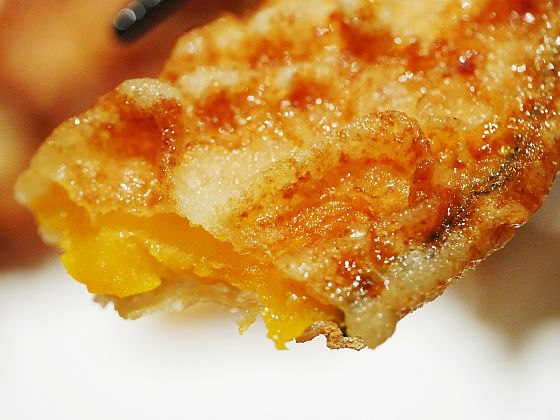 Haru chrysanthemums have plenty of plenty because the surface area is large, and the mouth became greasy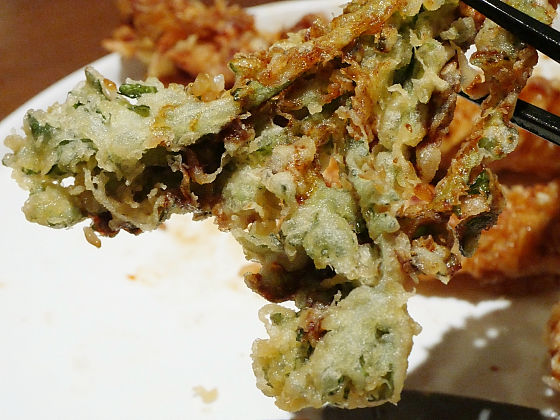 I will drink miso soup to change my mood.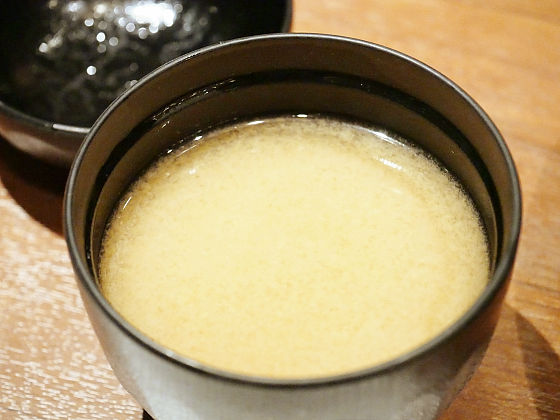 Clams were contained and finished in miso soup with soup stocking.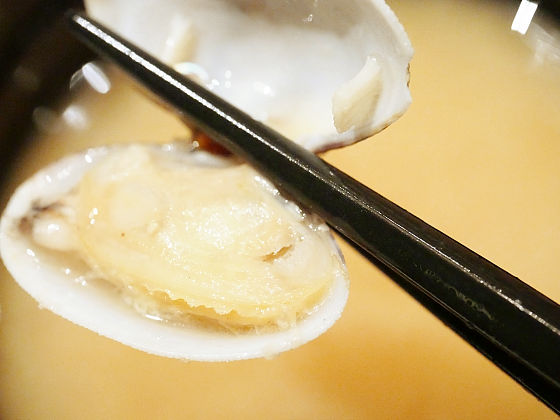 We will eat more remaining Tempura and Rice.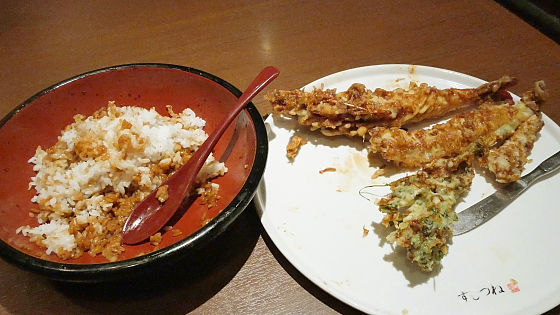 Eaton feels that the fat on the skin part is pretty persistent, it feels a little strict to eat with the stomach and stomach blister.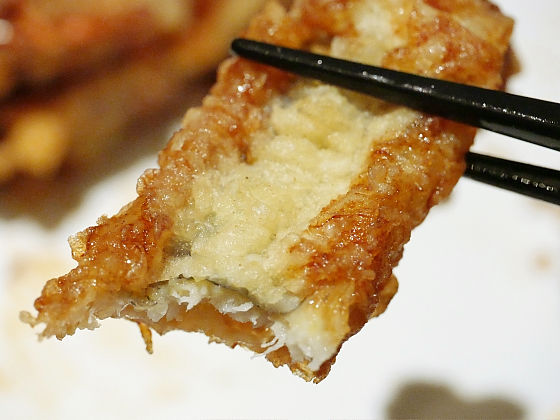 I ate a bit and chopsticks stopped.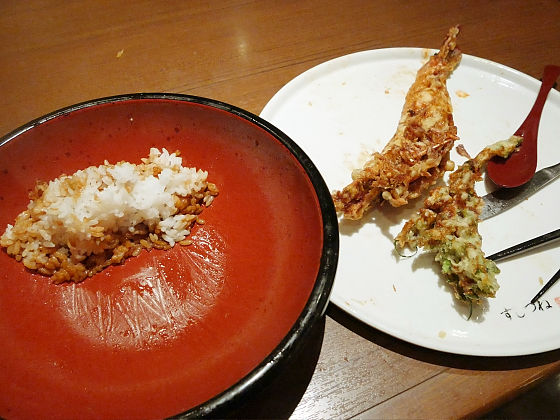 I had a pickle and I will try refreshing my mouth. Both burdocks and lotus root were sour, so some mouth freshened.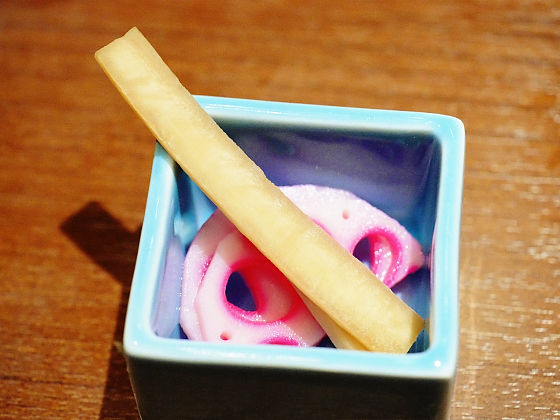 The stomach is leaning towards the end and my stomach is bang.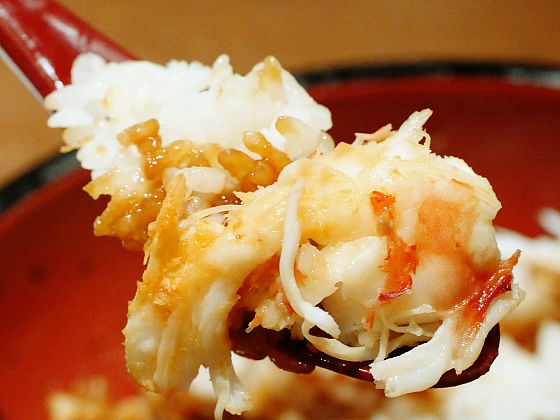 Complete food. It took about an hour to finish eating alone. Although the price of 4212 yen including tax is never cheap, there is only thing saying "It is not a menu that makes profits so much", said the clerk, and since quality is not low because it is big, Also recommended for those who want to stick.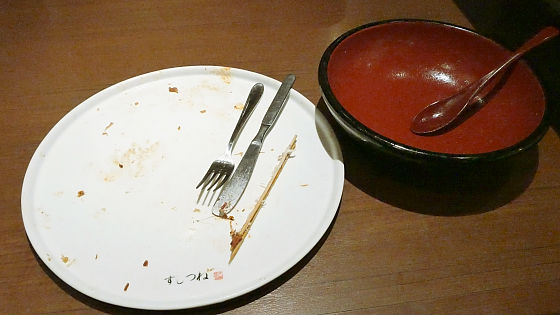 Sushi which is selling tree rice bowl The Tokyo sola market is open from 11 o'clock to 23 o'clock (last order 22 o'clock). There are many stores around the Tokyo Sky Tree with menus that made the height worried,Kim Chang Tower", Sakura Cafe Mukojima's"Sky Tree Parfait"Kua Aina's"Sky Tree BurgerBecause there are also piggybacking products such as "It is recommended to go in groups and eat while warming.