The settlement system of the new iPhone is expected to cooperate with Visa · MasterCard etc.

ByThomas Kohler

AppleInstall a mobile wallet function on the new iPhoneAnd the information on the news site The Information clearly shows that this settlement system is expected to collaborate with credit card companies such as Visa, MasterCard, American Express.

Apple Working With American Express on iPhone 6 Mobile Payments | Re / code
http://recode.net/2014/08/31/apple-9-9/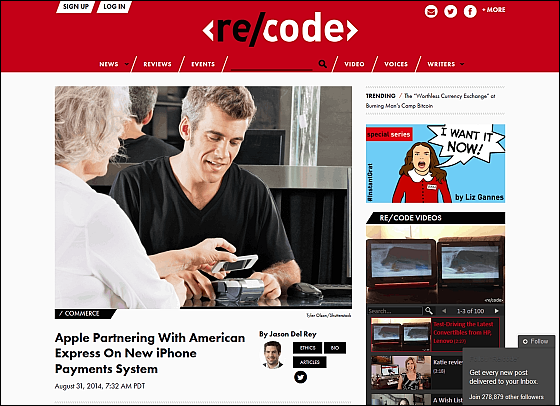 Apple Said to Team With Visa, MasterCard on IPhone Wallet - Bloomberg
http://www.bloomberg.com/news/2014-08-31/apple-said-to-team-with-visa-mastercard-on-iphone-wallet.html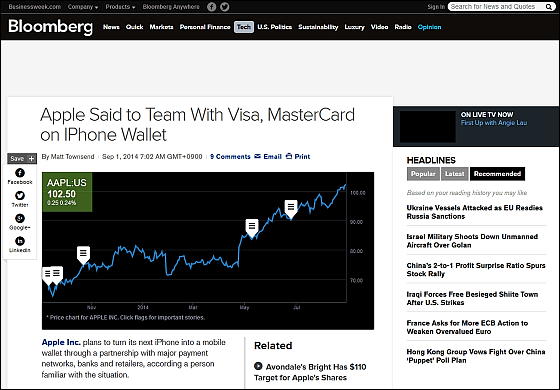 Re / codeandBloombergAccording to information gathered from information sources, Apple has agreed to work with Visa, MasterCard, American Express because it is a new payment system to be installed from iPhone 6, the payment system uses NFC chip Prospects to be. in Japan timeNew product event scheduled for September 10, 2014It is said that details will be revealed. Apple's spokesperson refused to comment on this information, and it seems that there is no reply from credit card companies.

Apple has fingerprint authentication by Touch ID from iPhone 5s, so it can be kept as secure as traditional credit card payment by incorporating it into the new payment system. Mobile Wallet already has Google in the USAGoogle WalletAlthough it offers around 800 million iTunes accounts worldwide, Apple competing in the mobile wallet market is expected to intensify market competition.

Incidentally, it is said that it is under developmentApple's first wearable deviceThe price isIt will be about 400 dollars (about 41 thousand yen)Leak information has also come out, and there are also low-priced versions based on multiple models. It is unknown whether or not it will be announced at the event on September 10 because product shipment will be expected next year.