Firework display information can be easily retrieved throughout the country, AR fireworks will be launched if the camera is held up "Fireworks festival simulator 2014 summer"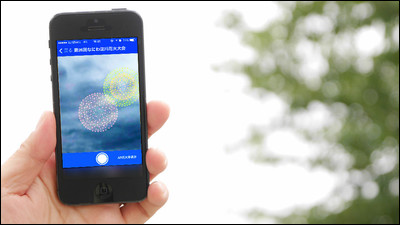 Today at around this time today various fireworks festivals are praising themselves at the height of summer in the whole country. Information on such fireworks display can be easily browsed, and if you use the special AR camera function, fireworks specialized type application that you can tell which direction fireworks can be launched at each fireworks display is "Fireworks display simulator 2014 Summer"is.

Fireworks tournament simulator for iPhone, iPod touch, iPad on iTunes App Store 2014 Summer - Easy search for this year's nationwide fireworks display! AR fireworks camera which can be simulated with LINE (line) aiming for a skyrocket reappears again this year!
https://itunes.apple.com/jp/app/hua-huo-da-huishimyureta2013xia/id668472385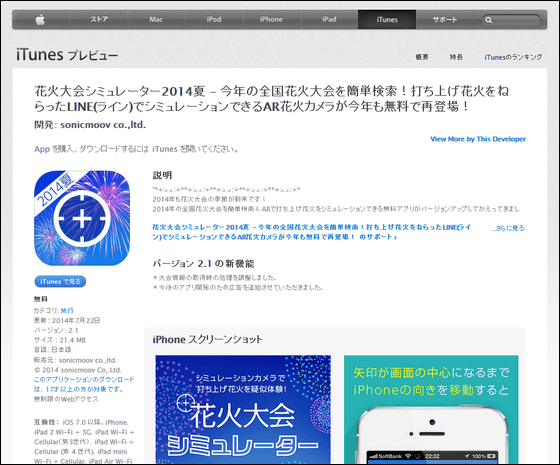 "Fireworks display simulator 2014 summer" can be installed free from the App Store.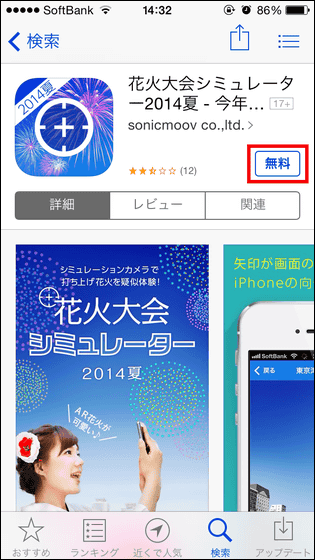 When installation is completed, tap "Open" to launch the application.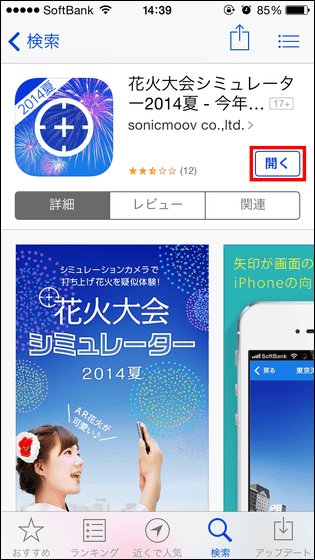 Tap "OK".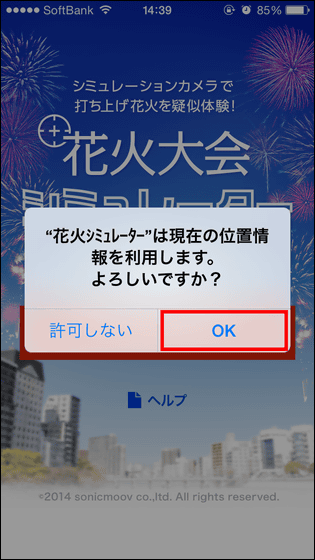 Since the application start screen looks like this, you can access various fireworks display information by tapping "Search fireworks display."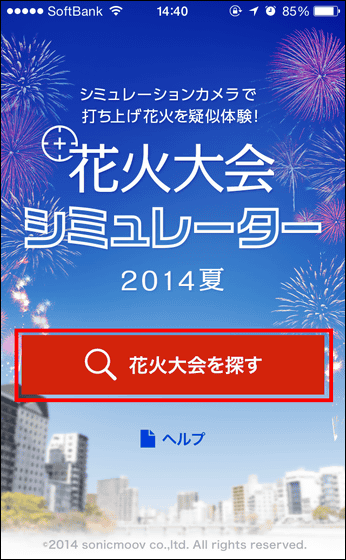 When the screen of fireworks display list opens, information on fireworks display to be held around the user's current location is displayed from iPhone's position information, and when tapping "7", "8", "9" at the top of the screen tap on the selected month You can see the information of the fireworks display to be held.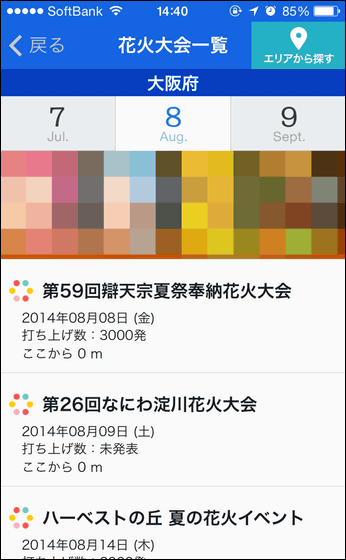 By tapping "Search from area" at the upper right of the screen, you can also see fireworks display information of other areas.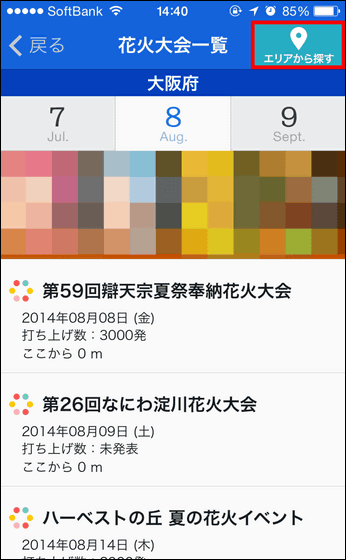 Of course, it covers all fireworks display information of 47 prefectures.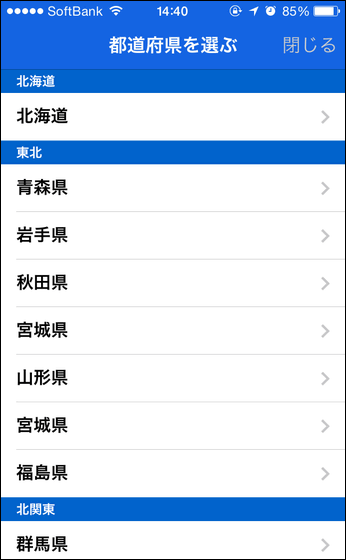 That's why the Tokyo Metropolitan Government "Tokyo Bay burning fire festivalI will look at the information of.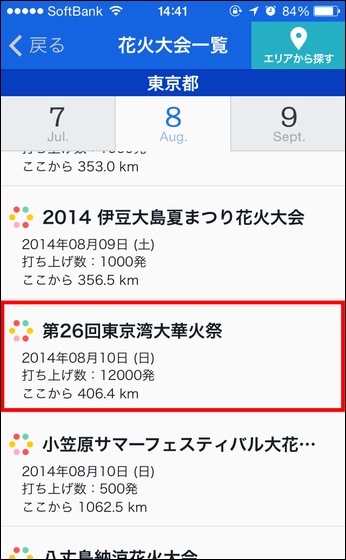 On the page displaying fireworks display information, you can see the "Look at AR Fireworks" button, the photo of past fireworks display, the date and time of the event, the location of the fireworks, the number of fireworks, and information on tournaments in case of bad weather.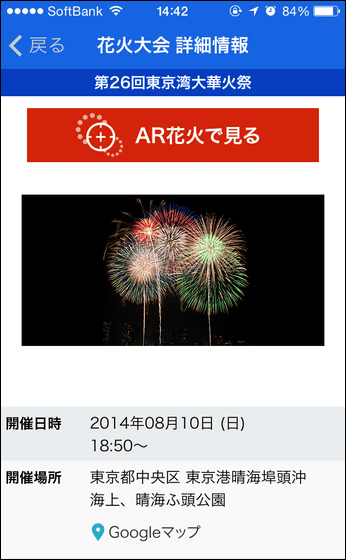 Furthermore, when you tap "Google map" which is "location" ... ...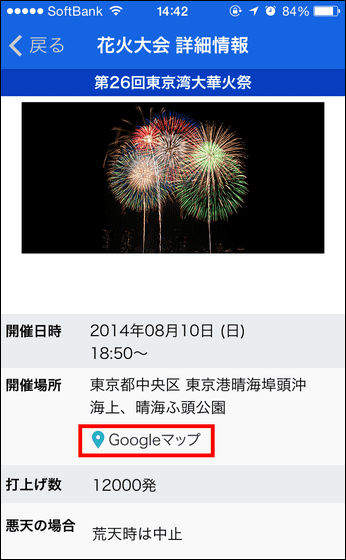 It is also possible to display places of fireworks display on Google Maps.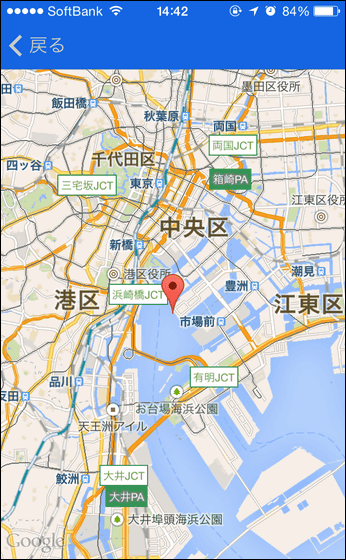 Of course, since the information of fireworks festival to be held in rural areas other than Tokyo and Osaka prefecture is also covered well, even if you go to a strange land on a trip or a business trip, you can obtain only the information of the fireworks display firmly.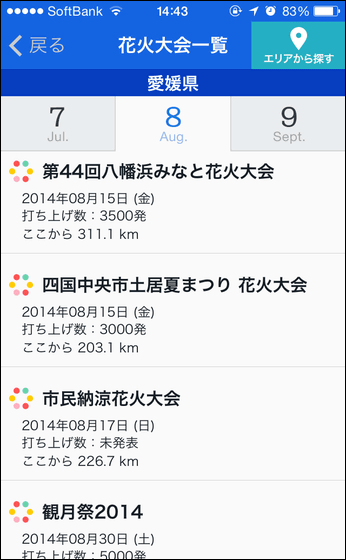 In addition, the fireworks competition which has already ended is tagged with "tournament ended".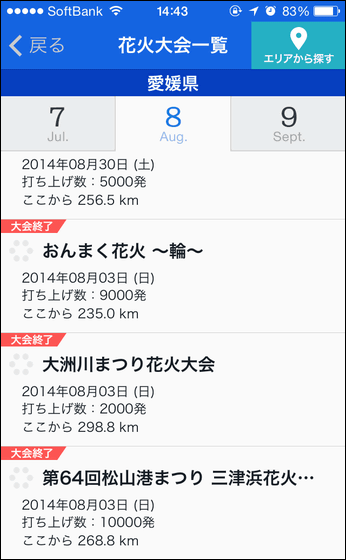 In "fireworks display simulator 2014 summer", there is a function that tells you in what direction firework display is to be done, and if you want to use it, tap "Watch with AR fireworks" on fireworks display detail information display screen Ok.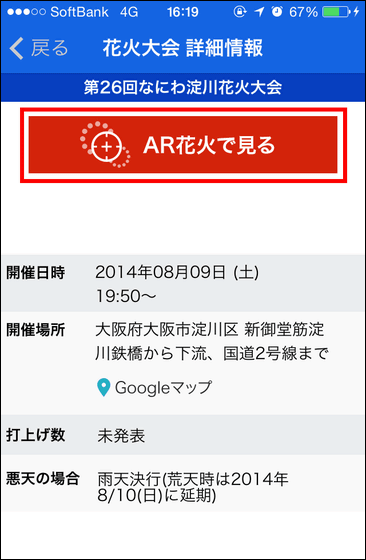 Then the camera starts up. Moving the camera in the direction of the arrow ...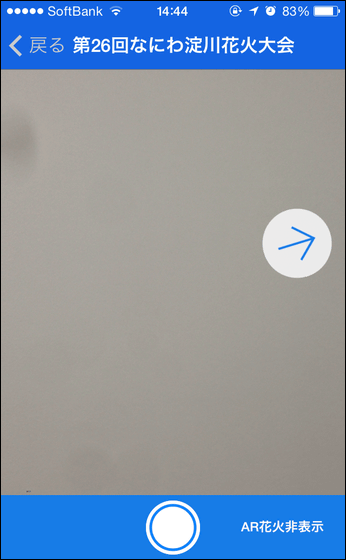 Small fireworks are launched on the screen and you can see in which direction fireworks festival is held.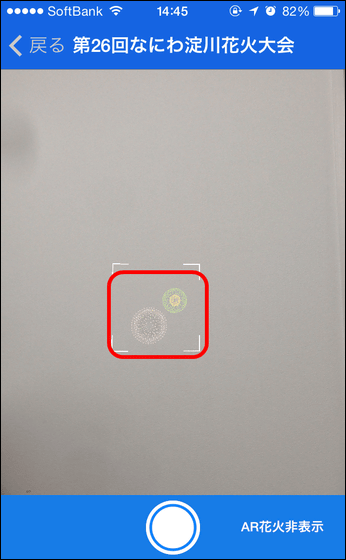 In order to ascertain how accurate venue information of the firework display is,Naniwa Yodo River Firework Display"It came to the venue. The venue was setting up a paid seat for paid seats.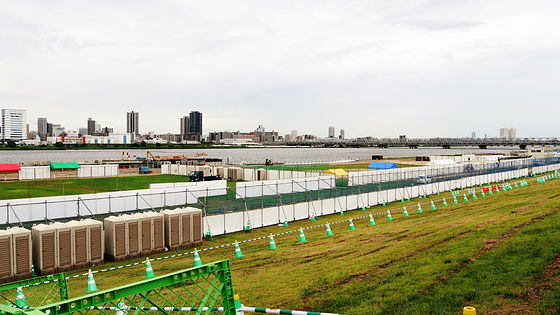 Tap "Watch with AR fireworks" here. Since the arrow extends just above, I will try ...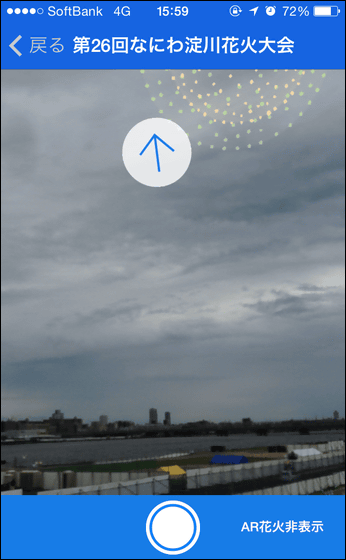 An AR fireworks was laid just above the hall.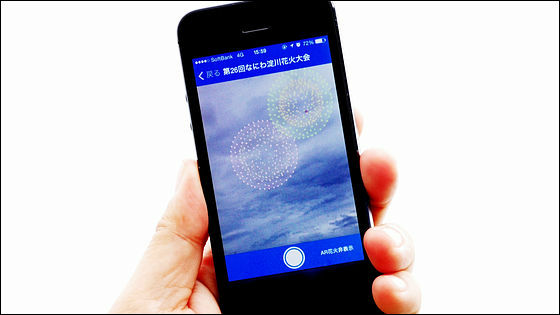 If you use AR fireworks, you can see the actual fireworks launch direction and the effects will become bigger as you move closer to the launch site, so if you use this function at the nearest station etc, you will be able to go to the fireworks festival venue without hesitation . Apart from the AR fireworks function, fireworks display information has become an application packed tightly, so if you are thinking of going to a fireworks display this summer, install it and it has become an application without loss .