"Rainfall Radar" which can quickly check the state of rain clouds around the current location from the notification center of the iPhone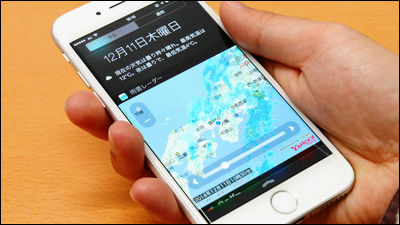 An application that will be able to check the appearance of rain clouds quickly any time without unlocking the terminal any time "Rainfall Radar"is. Since you can display the rain cloud radar on the notification center of the iOS terminal, you can display the notification center at any time without having to explicitly enter the pass code to open the application or unlock the terminal, You can see.

Rainfall Radar for iPhone, iPod touch, iPad currently on the iTunes App Store
https://itunes.apple.com/jp/app/rainfall-radar/id931246969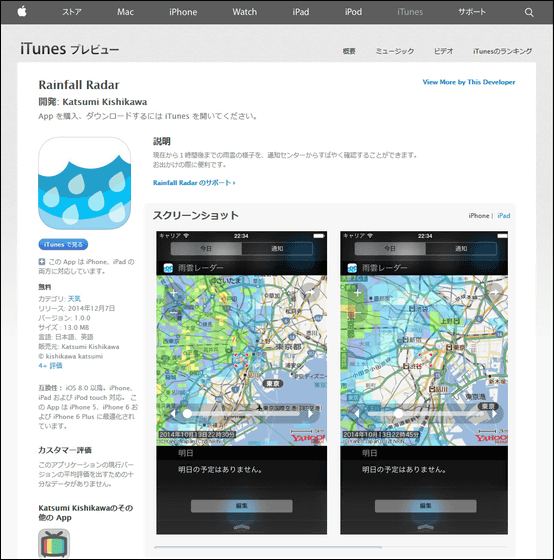 Rainfall Radar can be installed free from the App Store.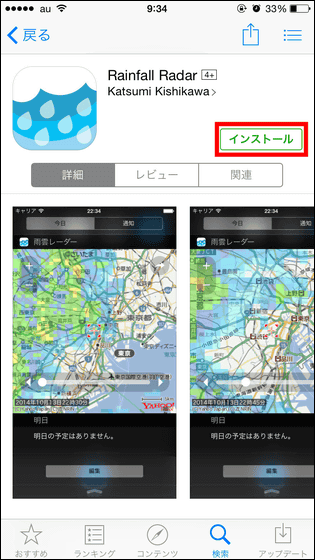 When installation is completed tap "Open".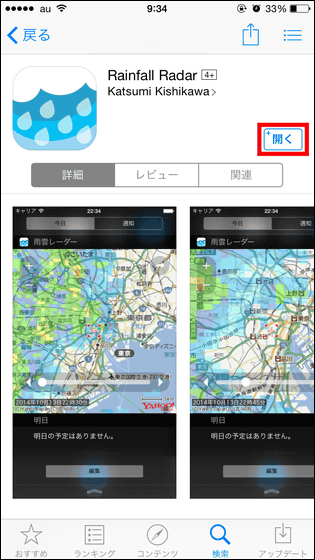 A notification about the permission to use the location information is displayed at the initial startup, so tap "permission".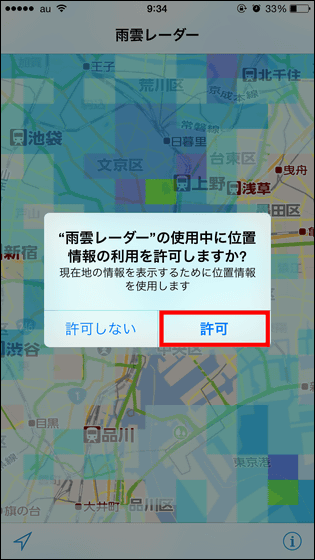 Now that the settings on the application side are complete, close the application and OK.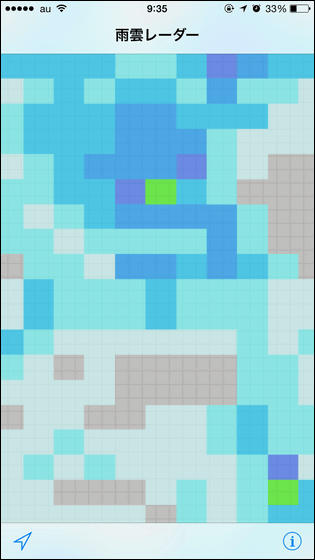 Continue to display the home screen, swipe down at the top of the screen to display the notification center.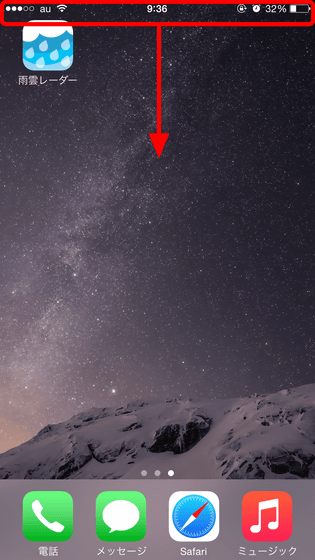 Tap "Today" at the top of Notification Center and tap "Edit" at the bottom of the page.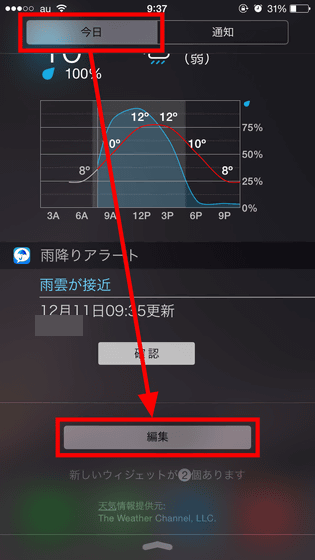 Then a screen for managing the widget to be displayed at the notification center is displayed, so tap "Ameyu Cloud Radar" from this.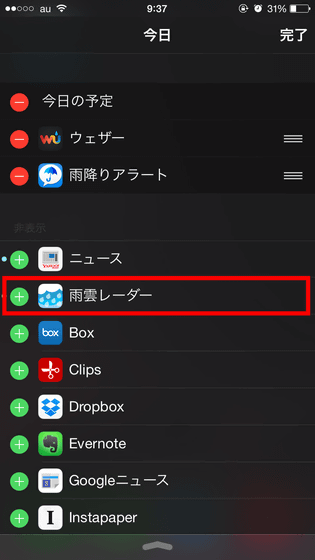 After confirming that "Rain cloud radar" is displayed at the top, tap "Done" and all settings are completed.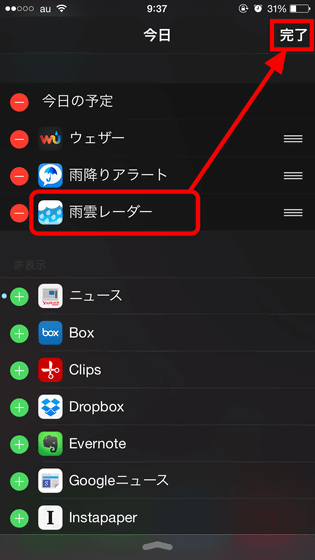 If you open this in a notification center, such a condition how the rain clouds around the current position will be able to quickly check at any time, it means that. Pattern, such as information and maps about the rain clouds that are acquired from Yahoo!.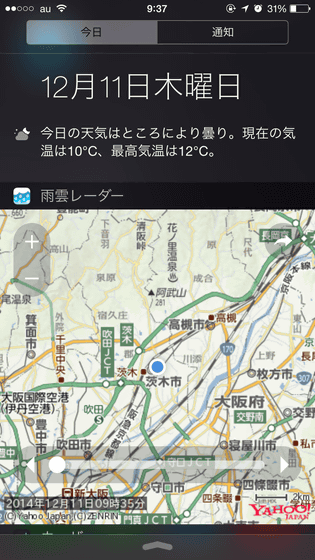 The excellent point of "Rainfall Radar" is that there are the size of the display area and the "+" and "-" buttons arranged at the upper left of the screen. If you tap this icon, you can zoom in and out around the current location, so even if you can not see the rain clouds, you can notice that "If the map is displayed in a wide area, rain clouds are coming up to nearly unexpected."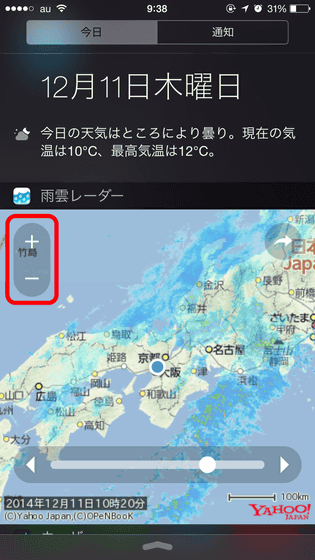 Furthermore, if you use the slider at the bottom of the display, you can also track the movement of rain clouds from the present time to about one hour later.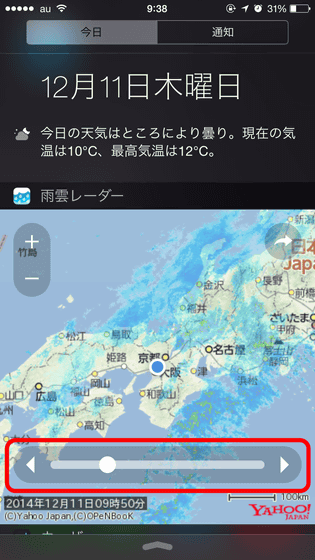 And you can always open the application by tapping the icon in the upper right of the display.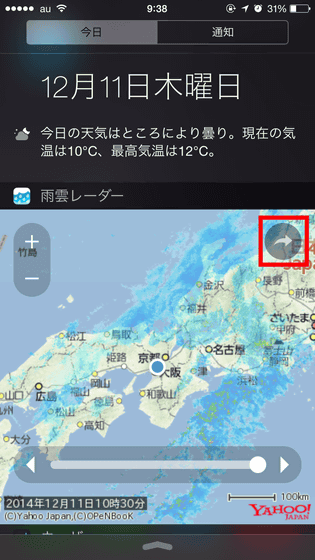 Movement of rain clouds can be checked every 10 minutes / 250 m unit, and map information is enriched"Heavy rain radar"Or iPhone camera in the sky you can see if it is raining around the place you are at "Go Rain! DetectorAlthough there are multiple apps that follow rain clouds, such as "Rainfall Radar", you can quickly confirm the state of rain clouds from the notification center, so you do not have to unlock the terminal OK and the handiness is handsome .