The 22nd Naniwa Yodogawa Fireworks Festival Opening "All eight balls launched at once"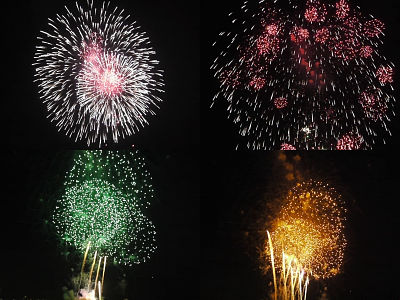 One of the biggest fireworks display in Osaka,The 22nd Naniwa Yodogawa Fireworks FestivalToday began around 19:50 on Saturday, August 7th today. It is an HD movie that shot the state of the fireworks launch from the front row location of 220 meters from the launch place.

This time I shoot all the HD movies from the opening to the last so I will upload it sequentially.

The playback of the HD movie is from the following.
By default, it is "360p", so if you want to enjoy HD with high picture quality, please set it to "720p" or click on the link of the title below and you will automatically be played in HD when you go to YouTube.

YouTube - The 22nd Naniwa Yodo River Fireworks Tournament _ 01 _ Opening "Launch of 8 Balls 10 Total at a Time"


By the way, No. 8 ball has a ball size of 23.5 cm, weight of 5 kilometers, height of arrival of 280 m and diameter of 280 m when opened.

· Continued
The 22nd Naniwa Yodo River Fireworks Finale finale, luxurious and powerful "Kamenro chrysanthemum"