I tried launching "private fireworks" with fireworks display of the large fireworks' fireworks display 'New fireworks collection'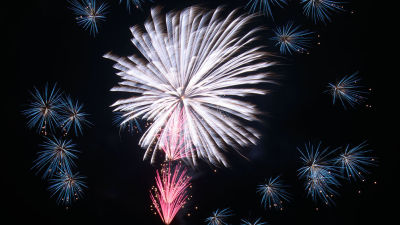 Ozaki Daisen in Akita prefecture is putting efforts into "fireworks" as a pillar of regional activity. In Okago, an event related to fireworks is held every month, and in March the entrance titled "Okagi Fireworks - Winter Chapter - New Fireworks Collection" will feature a new fireworks game event by young fireworks gather from all over the country We are. At this fireworks display this time, we can launch personal messagePrivate fireworksSo I will report on the state of the fireworks display and what kind of experiences I can apply for private fireworks.

New Fireworks Collection
http://daisenkankou.com/near/新作花火コレクション

In mid-January, organized by the conventionNPO corporation Omagari fireworks clubWe will send you an application form with downloaded application form and written message.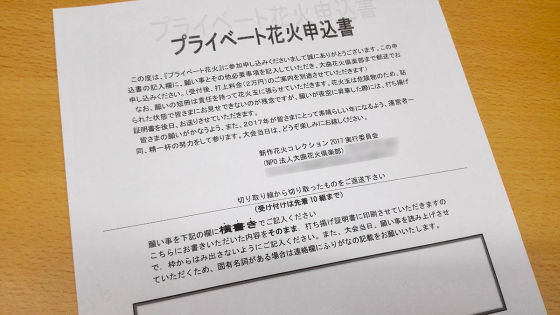 A program and tickets arrived one week before the opening day.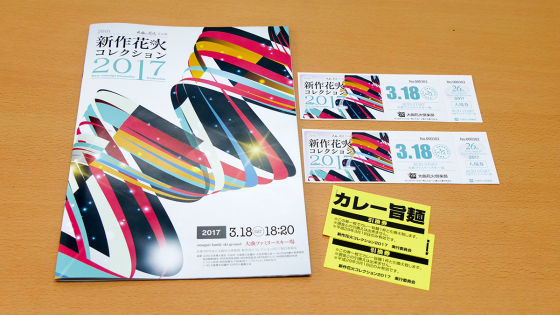 On 18th March 2017, we arrived at Omagari station in Daisen city, Akita prefecture where fireworks festival is held. It will be held from April 24The 16th International Fireworks SymposiumThe countdown to "37 days remaining" is displayed.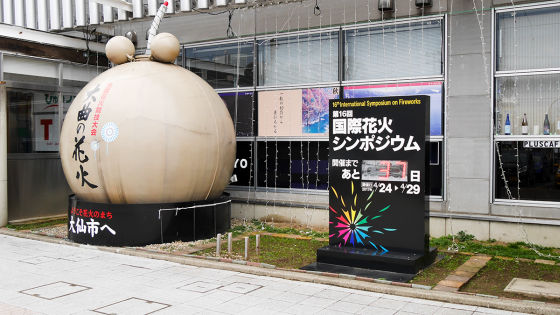 People who applied for private fireworks have a shuttle bus. Meeting placeGrand Palace KawabataIt was a distance of about 1 km from the station, so I went walking.



At 4:20 pm, a pick up bus arrived. We can pick you up from here to the venue directly.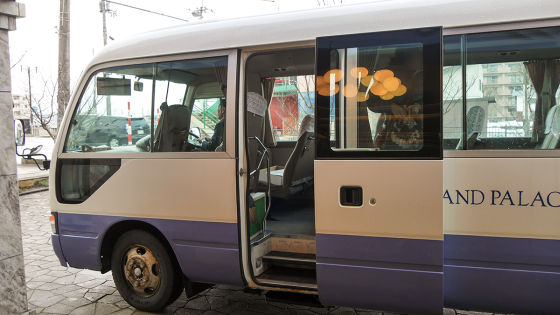 The venue is Omagari Family Ski Area.


I arrived at the venue in about 20 minutes.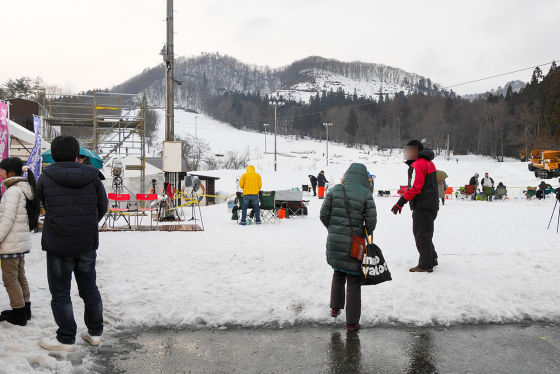 As soon as I get off the bus, I will give you a ticket at the reception desk in front of you.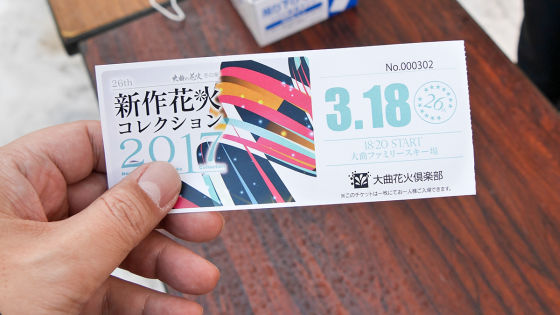 When we go to the seat with the participation card obtained by redemption ......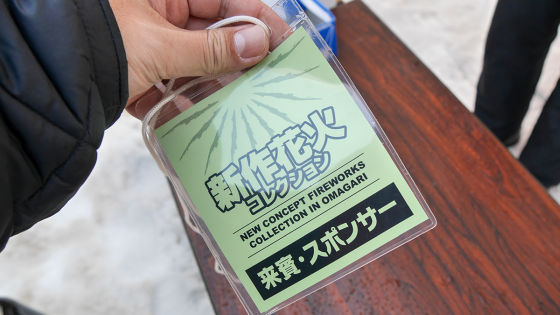 The first thing I could do was select seats as I was the first. The weather is unstable on this day, because it rained or stopped. There was a sign of rain still, so I guaranteed a seat inside the tentry for the time being.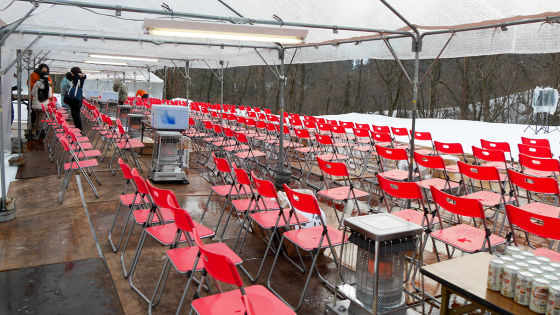 There are also a lot of stoves, and the inside of the tent is warm.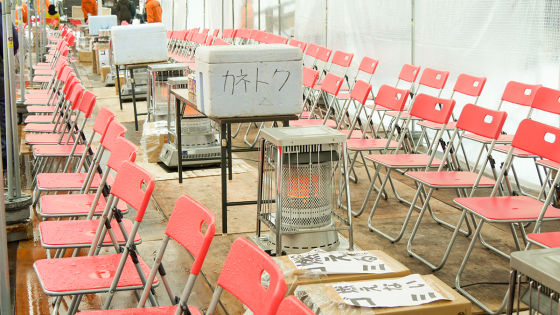 Drinks are available at your disposal. Moreover, it was all you could drink alcohol.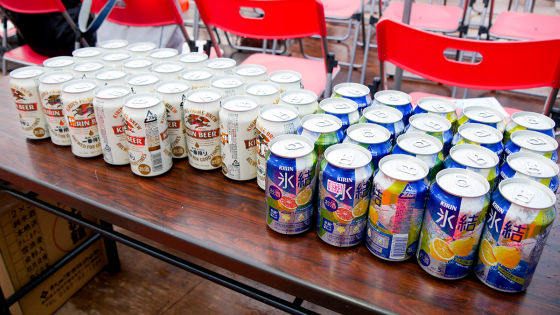 At this fireworks display,Fireworks viewerSpecial prize by voting is also prepared, so I will finish this reception.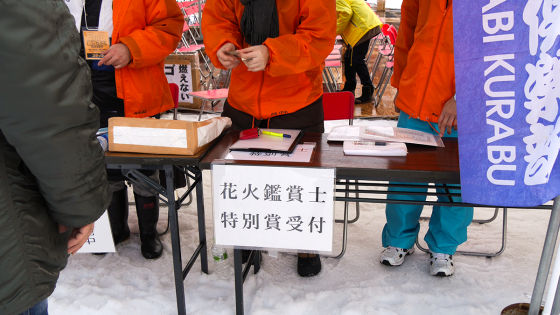 I received a ballot. Please choose the fireworks that was the best and vote.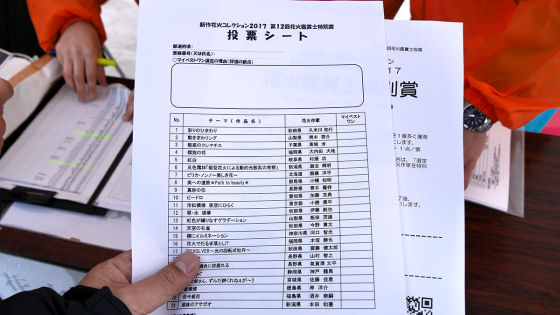 Since the procedure is over, I will look around the venue. Here, in front of the front row, in the center of the slopes there are lined up cylinders to fire fireworks.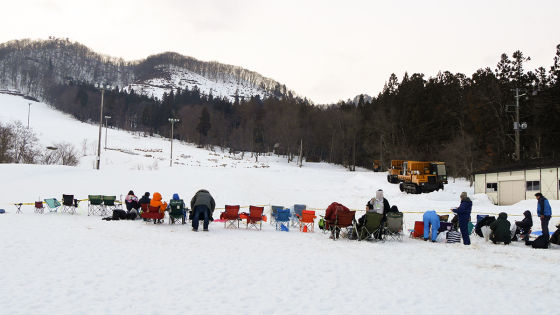 The fireworks are bigger, there is a rule of security distance that we have to leave a distance from the auditorium. The biggest No. 7 ball (diameter about 21 cm) is raised on the fireworks of this day, which is visible at the far end.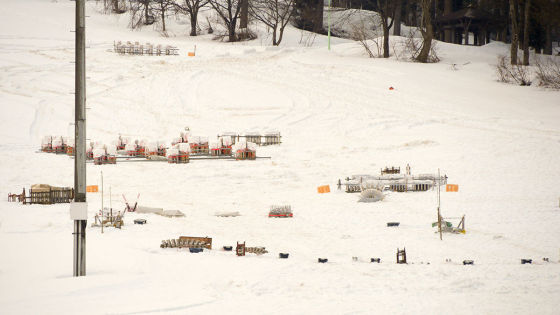 It turned out at 17 o'clock. Fireworks called "Papan, Bread" and "Thunder" will be launched.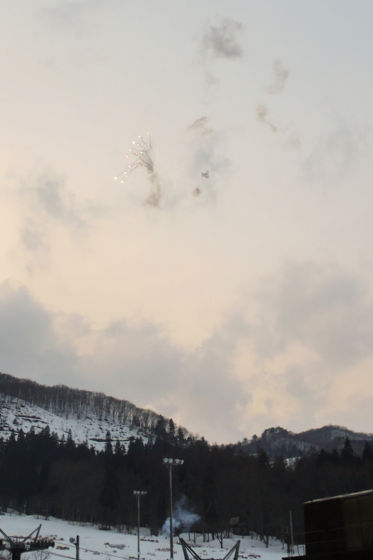 In this sports fireworks it will be done in an unusual form of "fireworks came up to the stand to explain the work and then fireworks will be launched." The stand was about 5 meters high and was built between regular seats and paid seats.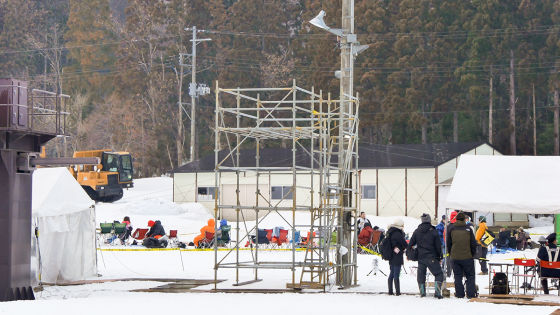 People who applied for private fireworks also have meal service. You can eat one curry noodles for free.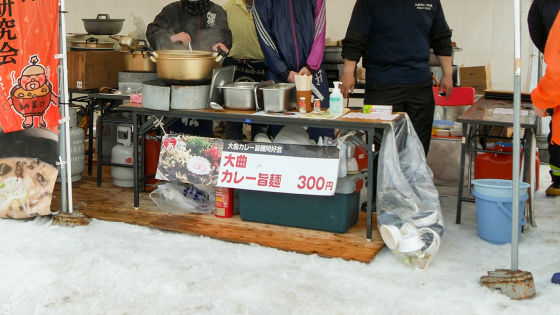 Curry is applied to ramen, which is characteristic of 麩 being topped. There is a response to eating with a mouthfeel that the rice took in the soup firmly.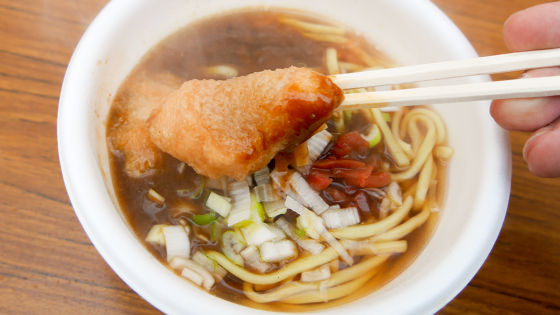 Since "voucher" exchange ticket was also attached, I will exchange it.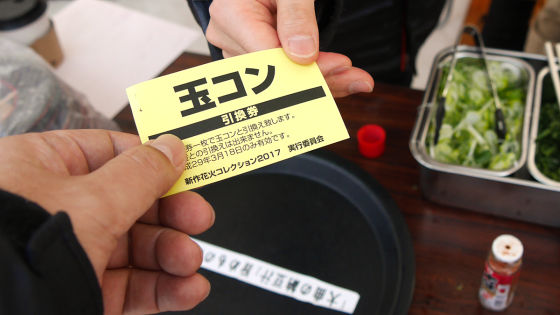 It was three brothers of konjac balls.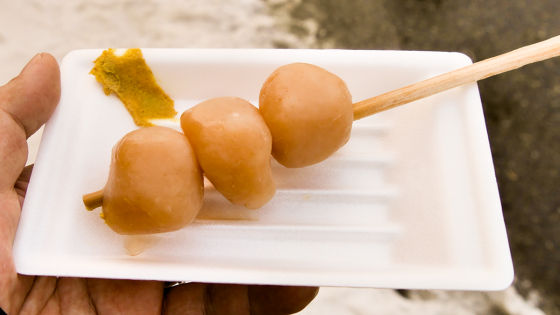 I have time to start fireworks festival so I decided to read the program and wait.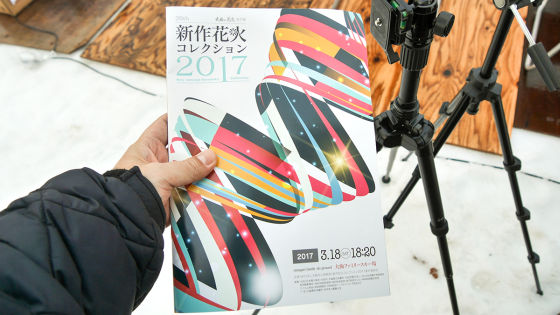 I do not know that private fireworks are divided into two parts, first half and second half, and when my fireworks will be launched.



Since the program introduces fireworks and explains the fireworks that will be lit up, I will prepare for the program while it is bright.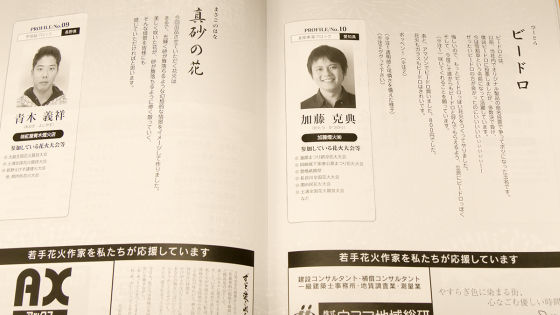 A total of 24 fireworks men participated from all over the country.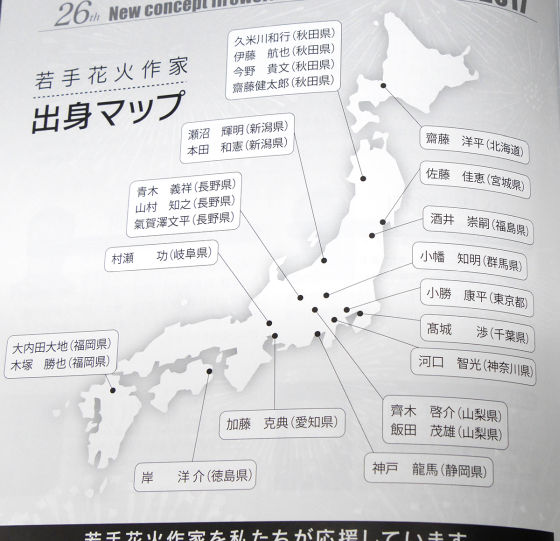 At around 18:20, the neighborhood is getting dark all the way, the fireworks display is about to begin.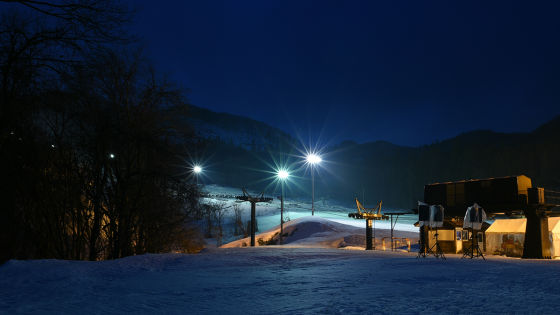 From the opening star Mine.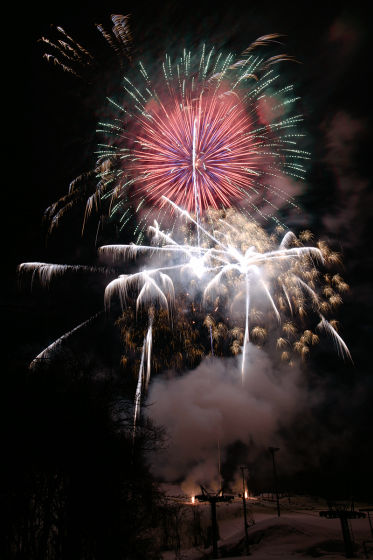 Since the cylinder that launches the fireworks is higher than the audience seating, you can see the state of the cylinder at the moment of launch, usually seen only in the front row, from anywhere.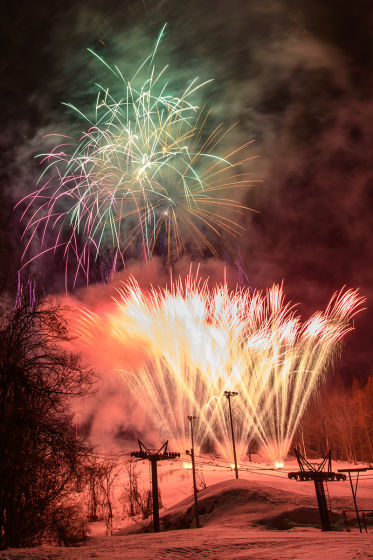 Fireworks of the type blowing up from a cylinder called "tiger". I was able to see the state of blowing out with a powerful full mark.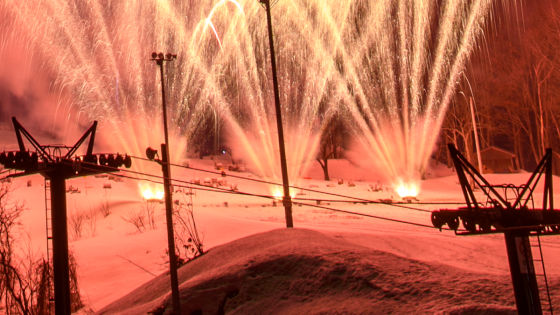 The part of the explosive that gives out color is called "star". This is a type of fireworks that scatter stars irregularly.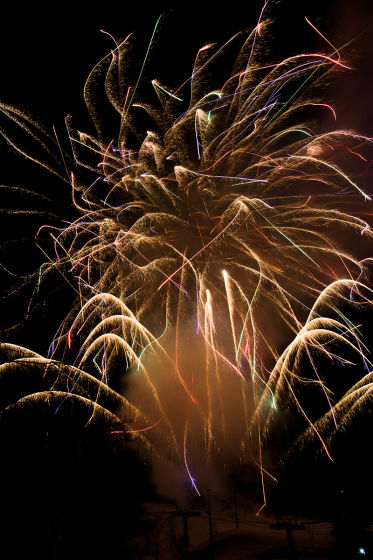 As soon as the opening is over, the new fireworks collection games competition starts. In the competition, compete with 5 "No. 5 balls with a diameter of about 15 cm and 10" No. 4 balls with a diameter of about 12 cm "to be a new fireworks, to express themes according to the theme" etc. First of all, "standard judging ball" which is the criterion for judging was raised. This fireworks which was raised with the theme of "Morning moon illuminating a willow" is not just a drooping of willow, but a way of expressing the way the willow glows brightly at last in order to express how it is being shone on the moonlight It was.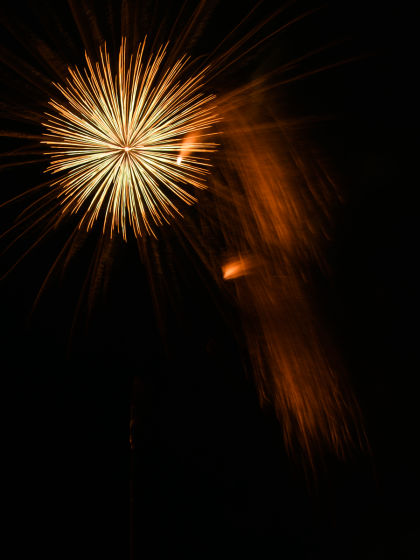 Introduction of fireworks' name and fireworks No. 7 fireball. Although this has nothing to do with the grading, fireworks which had come up with the fact that each fireworks staff had prepared only one shop, the content is deeply and carefully made is raised. "Ascension Silver Dragon Kaleidoscope Masamaru Maru" Kazuko Kumagawa (Wakuya Co., Ltd.)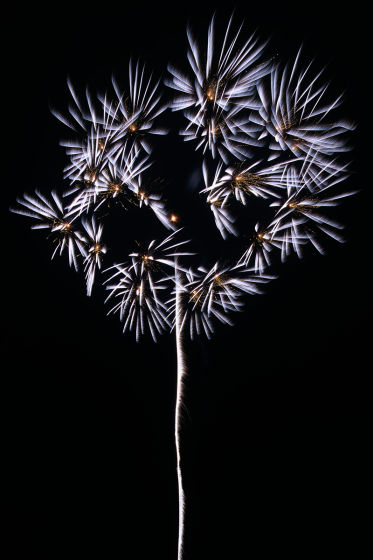 "Song of the Spring Wind" Wataru Takasei (Takashiro smoke store)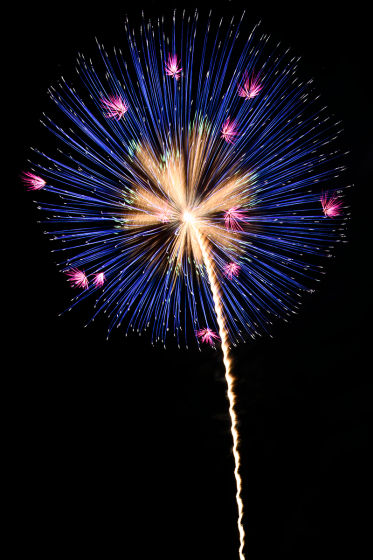 When the launch of No. 7 ball is over, the competition starts at last. It is done in the form that the work is launched after the fireworks myself explained the work.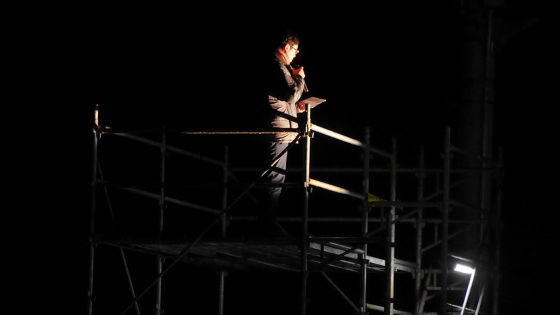 Works launched at competitive fireworks will be introduced at the end of the article.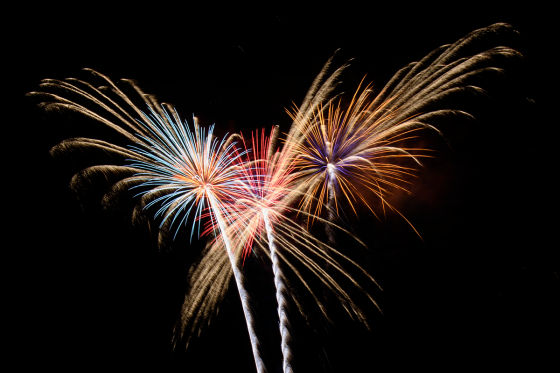 The first half of the launch was completed. Next, private fireworks will be launched. It was a celebration message sent from my father to my son who will become a social worker in this spring when I first read the message. My son who is in a hurry to record on a smartphone as it was being read for the first time. When I heard the story, I was pleased that "I was surprised at the surprise gift because I was not informed that private fireworks were being applied until just before, I will be a memory of my life."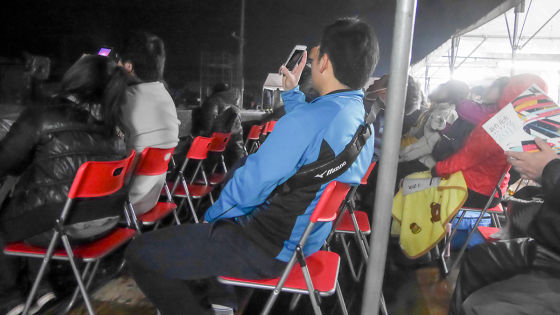 Fireworks will be launched after the message is read aloud. Fireworks Tamana is "Red Flower Nishikiba Front Green Blinking with Rise Flower".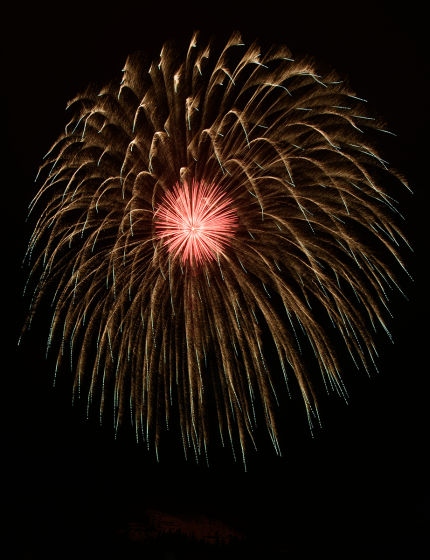 Next is the second set of private fireworks. What I read here is a message I applied for in advance. The order of launch came 2nd at the earliest. "It is a fireworks commemorating the fireworks appreciation wishes of 2016 year. Hopefully everyone in the venue will send a good fireworks life forever"After reading the message," Fireworks shining in turquoise blue "fireworks with the name of Tamai was launched.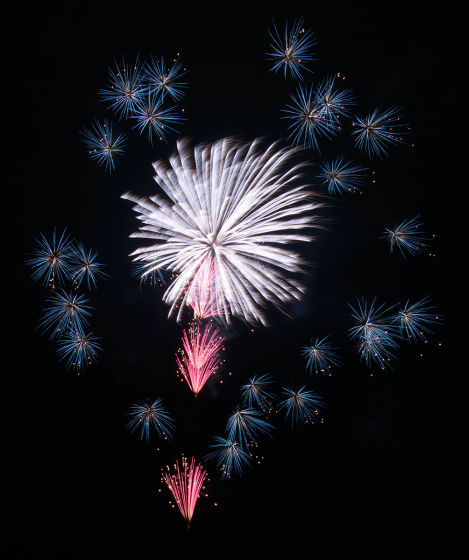 Besides, private fireworks are launched one by one, such as a message of thanks to individuals, a fireworks of memorials, a message from fireworks fans. "Flight to a new stage"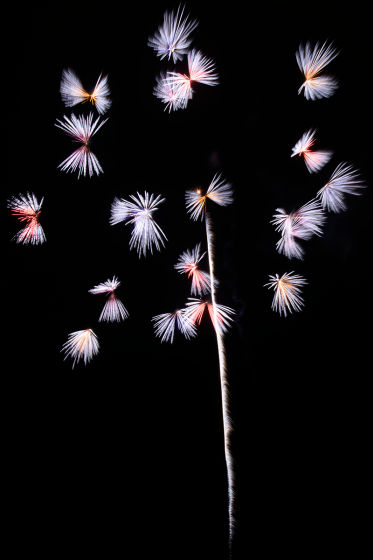 After the private fireworks, Star Mine was launched to commemorate the 20th anniversary of the opening of the Akita Shinkansen Komachi.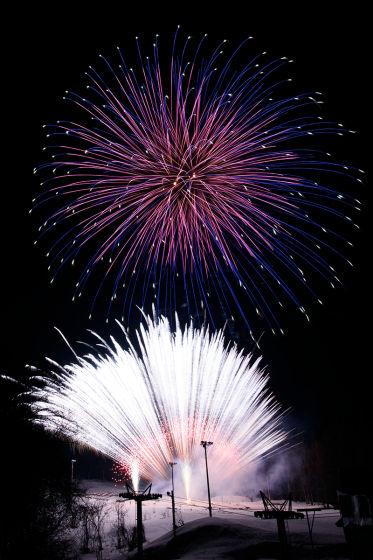 After 8 pairs of middle stage works are launched, private fireworks will be launched. "Flowing floral attached eight-byte core killa green blinking"



At the Okaga Fireworks Cooperative Association, we are doing "research on color" with Ashikaga Institute of Technology as an industry-university collaborative project, "research on charcoal" with Akita prefectural university. As a result of this research, Star Mine, titled "Color Research and Charcoal Research", was launched.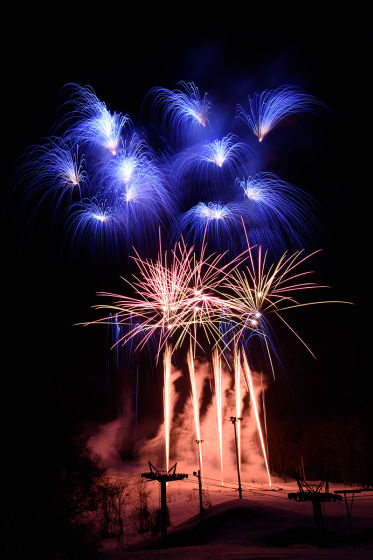 At the end of the Games, after the remaining 8 pairs of works are launched, star Mine of the closing will be launched.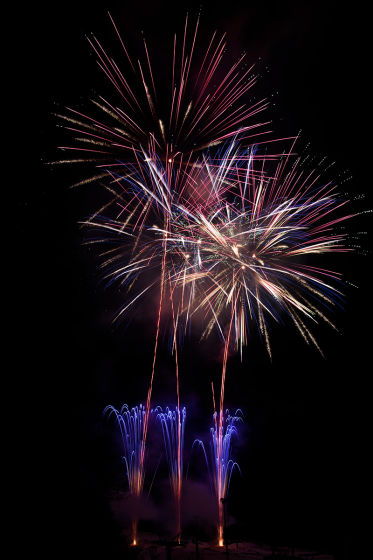 At the last end the wind direction turned upside down. Fireworks are hidden by smoke, ash is wrapped on the lens of the camera, so that the person who is just watching burns out and finishes the fireworks display.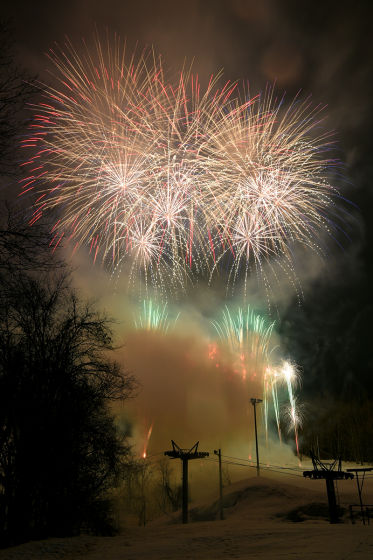 The price of the private fireworks we launched this time was 20,000 yen (including tax). Pick up to the venue · Pay attendance seat · Meals and drinks all-you-can-eat with 2 people, the message is read at the venue, since the price of contents with No. 7 ball goes up, plus the cost to go to fireworks usually Fireworks of yourself is raised in thousands of yen and it is very profitable. And you can receive a photo of the fireworks ball actually launched and a certificate of launching it to celebrate. This time,Hoshiya Omagari Fireworks Co., Ltd.Fireworks created by Mr. Kentaro Saito.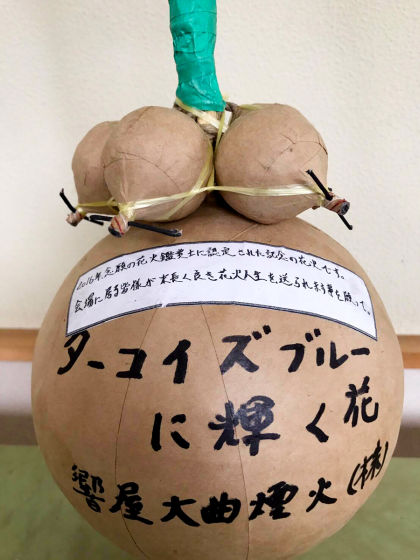 The next day after the fireworks display, I dropped at Hoshiya Omagari Fireworks Co., Ltd. on my way home.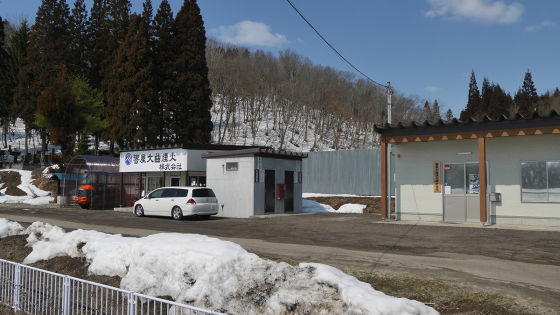 Just being out of the house, I got permission to shoot and take a memorial shoot and going home.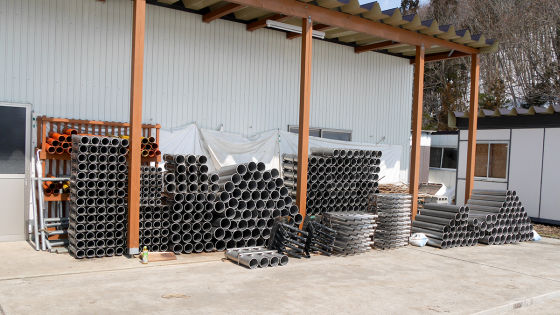 Here is the work launched with the new fireworks collection.

"Sunflower of coloring" Kazuyuki Kumagawa (Wakuya Co., Ltd.)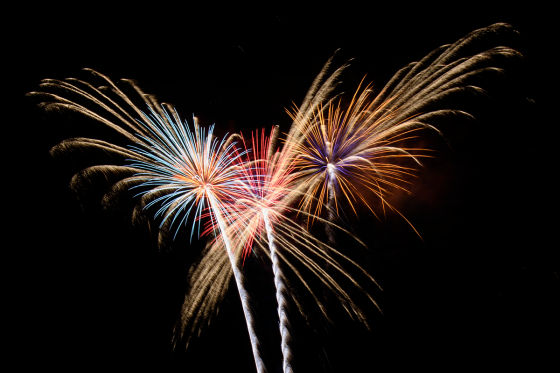 "Motion Mowering Ring" Keisuke Yoki (Margaux Co., Ltd.)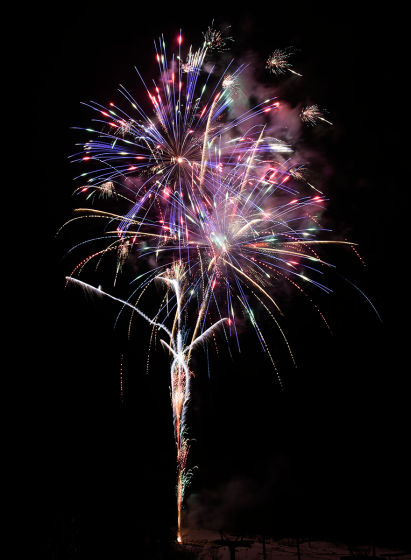 "Enchanting clematis" Wataru Takashi (Takashiro Hakodate store)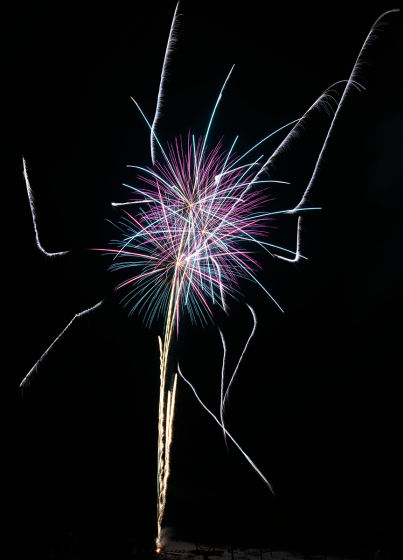 "Spiral flower" Okichida Daichi (Tsukamoto fireworks industry)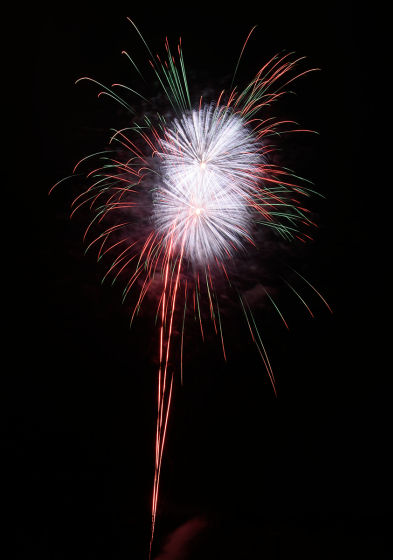 "Kohaku" Murase Isa (Murase Fireworks Co., Ltd.)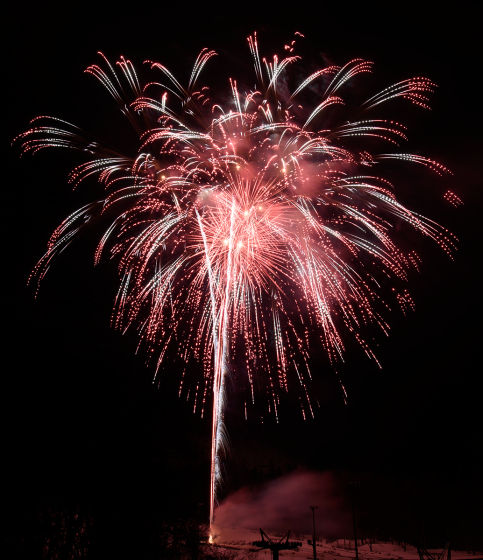 Bronze medal"Five Frost Forests" Consideration of Dynamic Light Scattering by Chrysanthemum Type Fireworks "Teruaki Setonuma (Ojiya Smoke & Fire Fighting Corporation)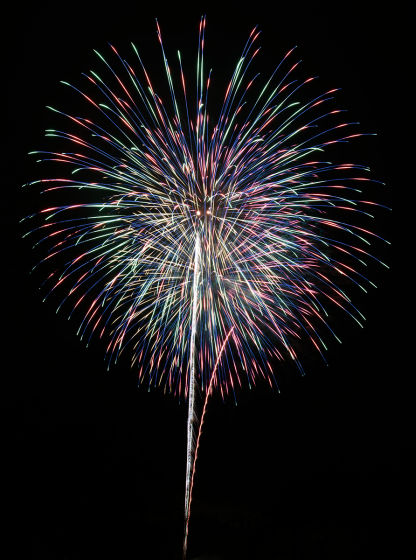 "Piroka · Nonno ~ Beautiful Flower ~" Yohei Saito (Oceanic Laboratory Co., Ltd.)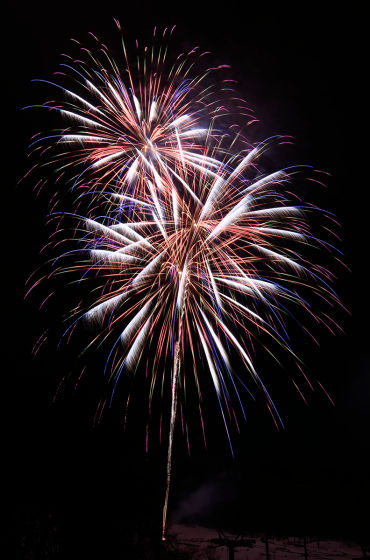 Silver Award"A path to beauty" Tomoaki Obata (Kikuya Obata fireworks store, limited company)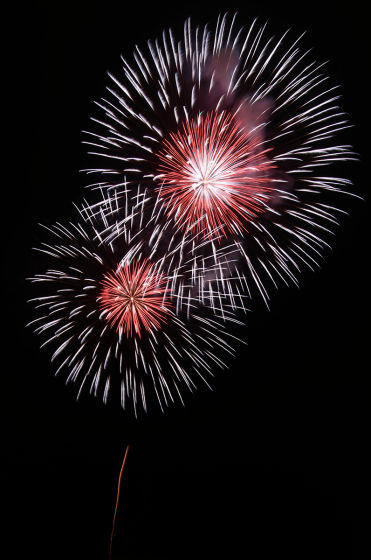 Special prize"Masa no Hana" Aoki Yoshiaki (Red Shop Aoki Firework store)



"Bidoro" Katsunori Kato (Kato Hakko Co., Ltd.)



"A checkered pattern opens in the night sky" Kohei Koeki (Marumaya Co., Ltd. Katsura smoke store)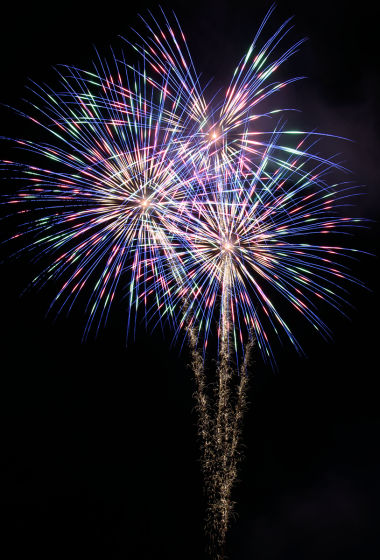 Bronze medal"Suido · Water Eihua" Youseya Ito (Komatsu Smoke & Fire Industry Co., Ltd.)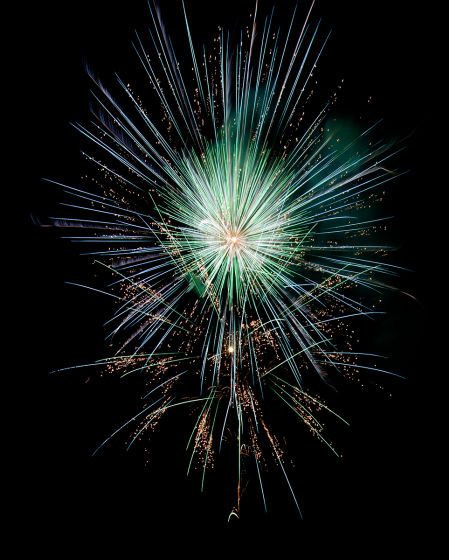 "A rainbow-colored woven gradation" Shigeo Iida (Saki fireworks head office Co., Ltd.)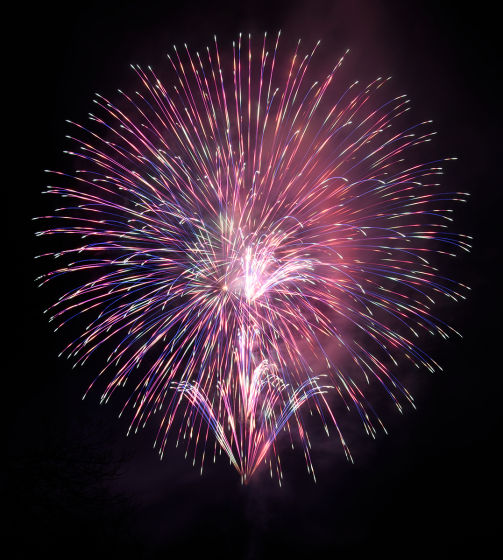 "Peacock in the Sky" Takafumi Konno (Northern Japan Fireworks Industry)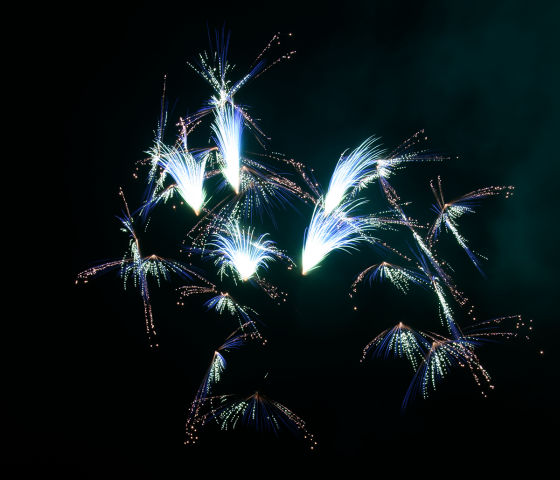 "Illumination to Yanagi" Chikamori Kawaguchi (Fire, Kanagawa)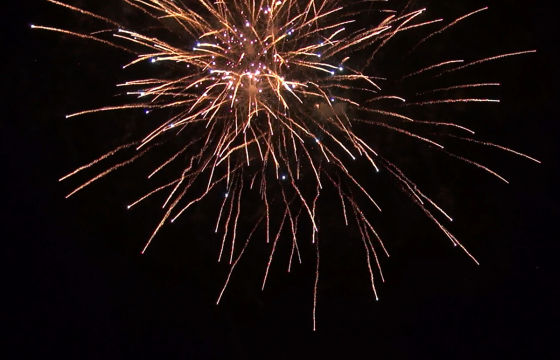 "Daruma Dropped By Fireworks!" Katsuya Kizuka (Nishi-Nippon Fireworks Co., Ltd.)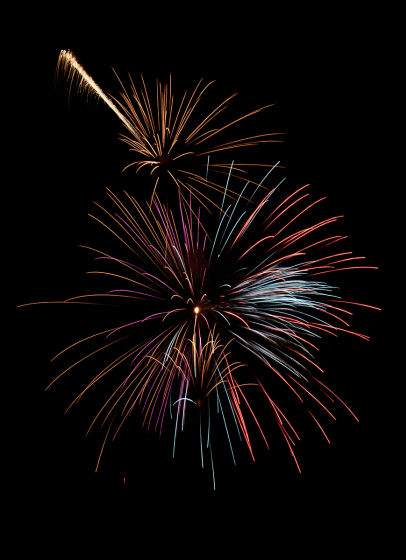 Bronze medal"REVOLVER ~ Light Rotary Peony ~" Kentaro Saito (Hondo Omagari Fireworks Co., Ltd.)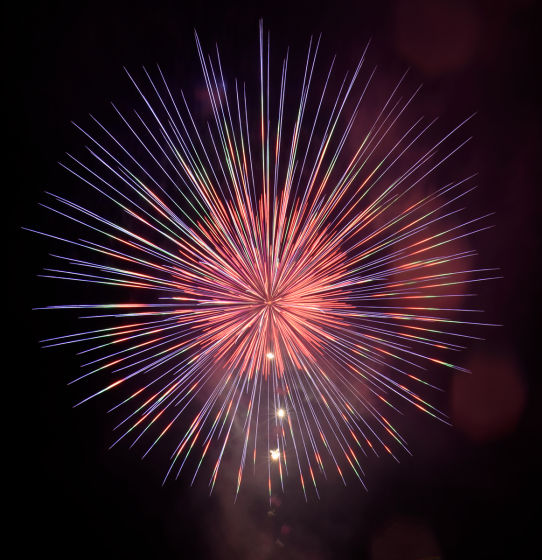 "Fantasy flowers" Tomoyuki Yamamura (Shinshu Fireworks Industry Co., Ltd.)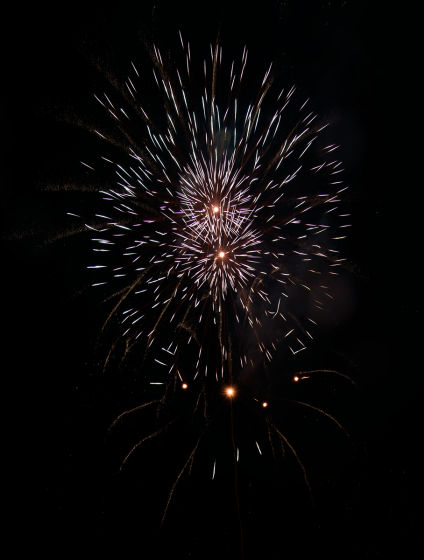 Gold Medal"I can be weeping with hazy and brown" Bunpei Kigazawa (Iga Fire Incorporated Horiuchi Hyogo Store, Limited Company)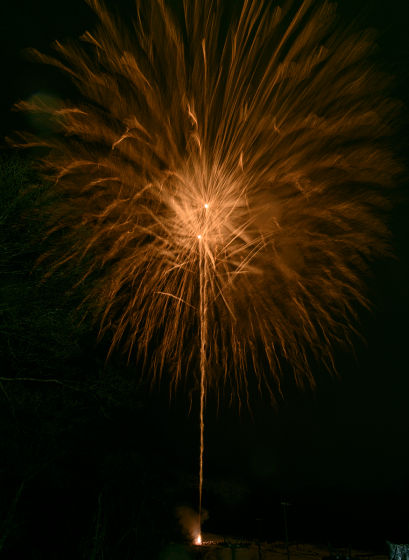 "Swim in the heavens" Kobe Ryoma (Kobe smoke fire factory Co., Ltd.)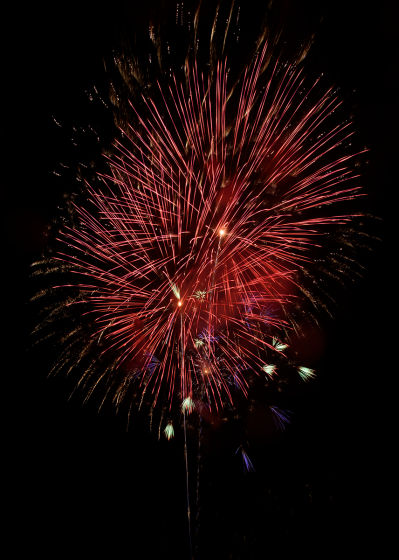 Fireworks viewer special prize"Momotaro, Mr. Suzonda mochi na ~ !!" Yoshie Sato (Haga Fire)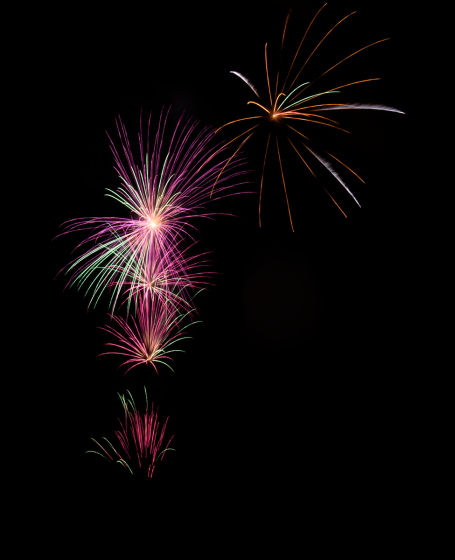 "Ai Sansan" Yosuke Kishi (Kishi Pyrotechnics Manufacturing Co., Ltd.)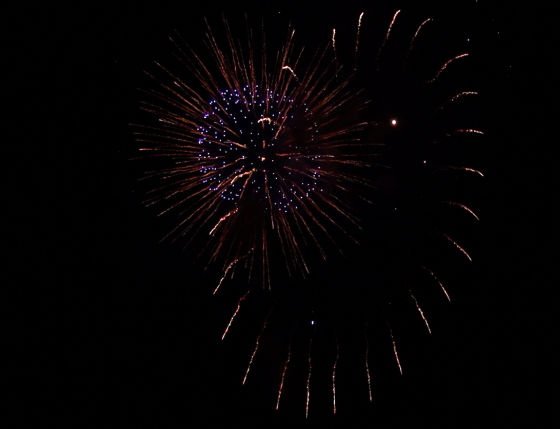 "Now Chrysanthemum" Takashi Sakai (Kanno Hiroaki store, limited company)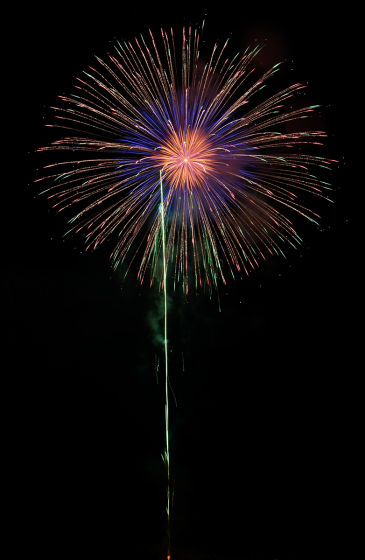 "Asagao of Echigo" Kazunori Honda (Komaki Fire fighting industry limited company)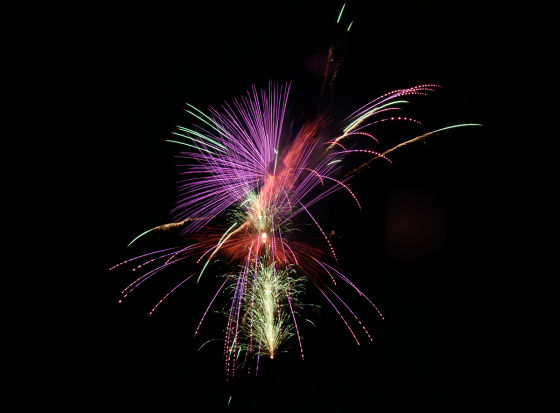 The launch number of this fireworks festival is written in 1000 brochures and brochures. It tends to be thought that "the content is thin compared to firework display like 10,000 thousand fireworks", but at the games competition you can see fireworks worth several dozens for one fireworks. Fireworks which can be raised with Star Mine was rich in color change and production variation, etc. It was a fireworks festival with fulfilling content which can not be thought of as very much 1000. As you can see, what kind of fireworks festival you are seeing, characteristics of fireworks companies participating, etc. You can find a fireworks festival with a spectacular spot. And when you have something you want to tell someone or you have to think about a surprise, why do not you send a message at a fireworks festival?