A fine French cuisine went to 'Rotating French cuisine' that came around the lane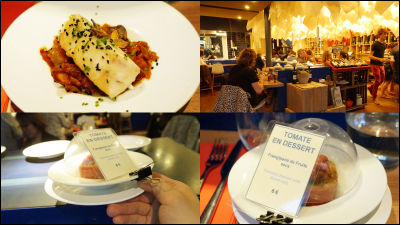 "Sushi rolls" comes when sushi rolls around lanes,Meat and hormones come around "Rolled roast"It is unusual for dishes other than sushi to rotate. French dish does not sushi how French cuisine spun round lanes "Rotational French cuisineSo I went to actually eat what kind of shop it is.

Medi Terra Nea Bar à tapas Paris - Réservation, Carte, Menus, Horaires
http://www.medi-terra-nea.fr/

13 rue du Faubourg Montmartre 75009 Paris


It is from the following movie that French cuisine flows through lane.

French food spinning - YouTube


Arrived at the shop. It is a few minutes on foot from the Grands Boulevards (Grand Boulevards) station with a blue sign and landmarks near the metro.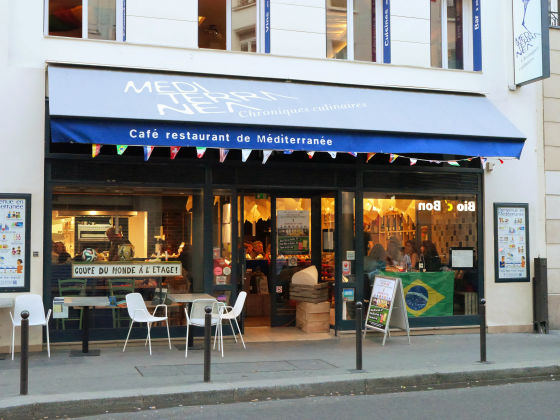 As you enter inside, strange lighting of an unusual design draws your eye. Approximately 80% of customers are entering and it seems to be in fashion.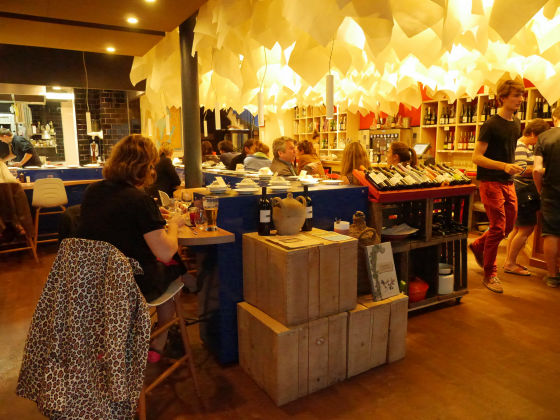 So it was the counter seat in front of the revolving lane that passed. There are table seats without lanes, but definitely I want to sit in front of the revolution lane.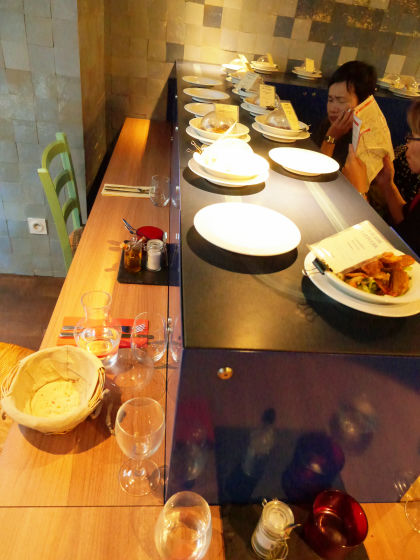 French food is really spinning ... .... Unlike the sushi lane, at first glance it seems that the dishes are moving smoothly on the wooden table.



Wondering what "Are you going to eat cuisine without permission?" Wondering, "First time?" The manager came to the explanation. It seems to be OK to take the dish around the lane as you like, but only the tapas (appetizer) and desserts are turning. The main dish is receiving orders directly and offering freshly made fish.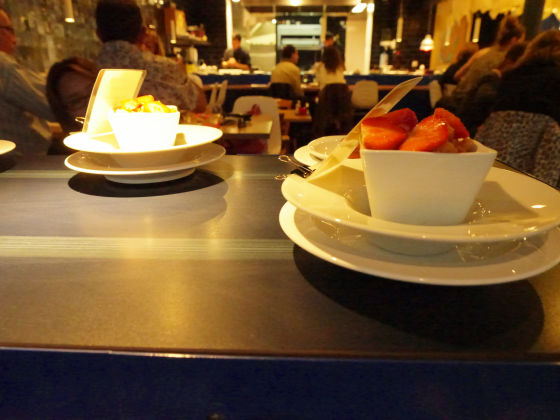 The menu could not be read in French, but the manager will explain what kind of dishes one by one in English. Based on French cuisine it was a fusion dish that introduced tastes from around the world including Italy and Spain. Because "It is possible to taste variously when half size!", The main order two types of meat plates and white fish plates recommended in half size.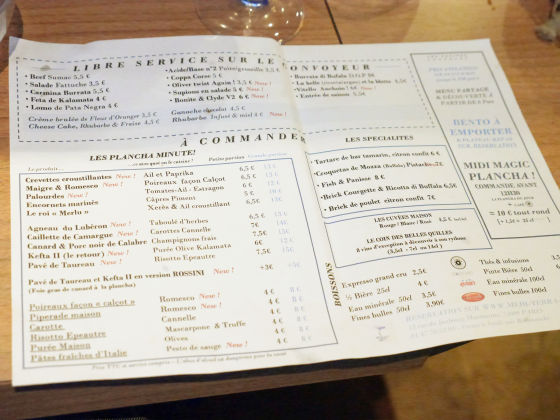 French bread comes with free of charge.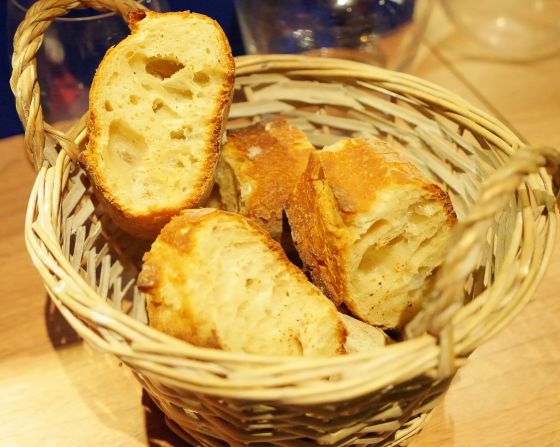 The drink strongly recommended wine, but I ordered a cola of 3.5 euros (about 480 yen). Water is free.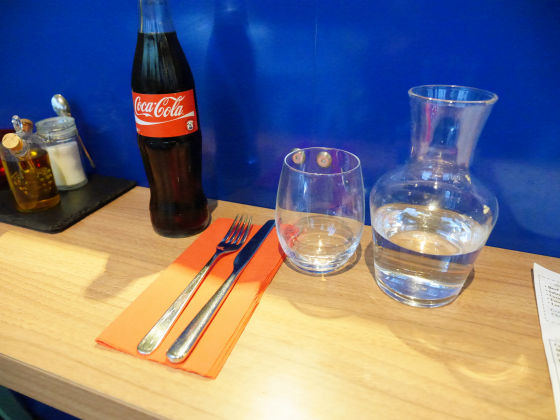 There were olive oil and salt in the table, and there were black peppers who entered the mill depending on the seats.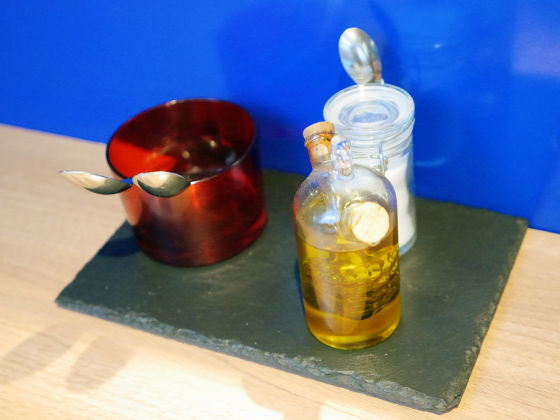 I will take a cuisine that I was curious while waiting for the main. The rotation speed is slightly fast, but the plate does not fly because the magnets are attached to the plate. Rather, it is more powerful to drop cooking with a recoil reaction, so be careful as the magnet is rather powerful.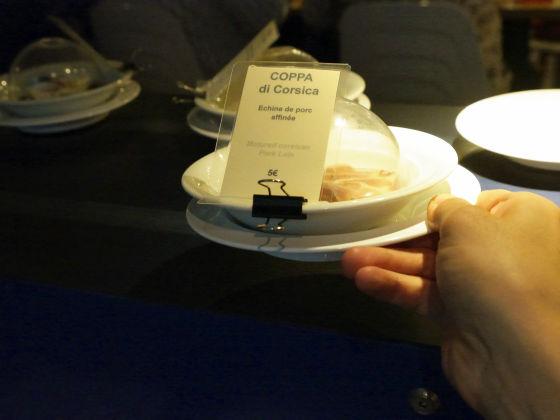 There is a lid on the cooking, with a tag with cooking name and price written. I got "COPPA di Corsica"Is 6 euros (about 830 yen) per dish,CoppaIt is said that it is Italian ham in the part of the neck of pig 's shoulder.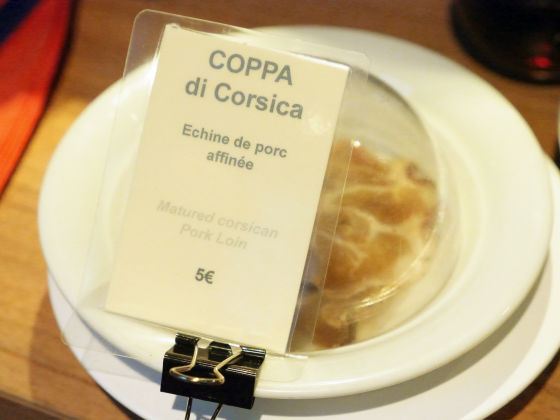 Paccari. Peppers are slightly applied to lean meaty lean ham.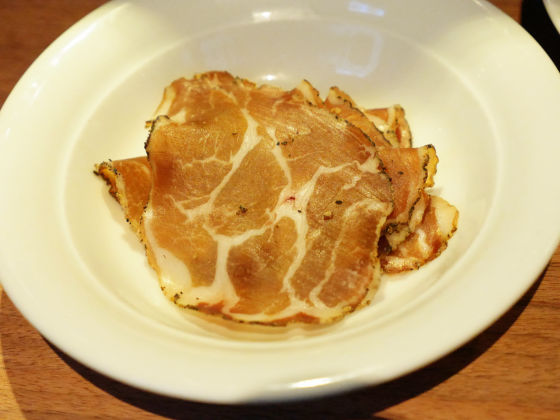 When you eat one piece, it is chewy ham than general raw ham, and the chewiness will come out cheaply. Because saltiness is tight, it seems to be just right to match alcohol.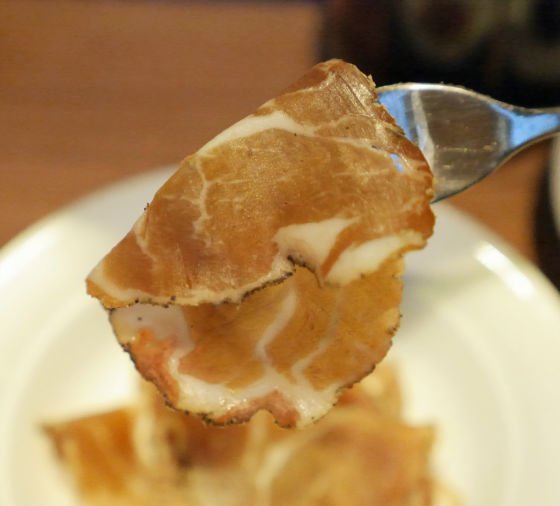 As it was a little dry, I will try applying olive oil.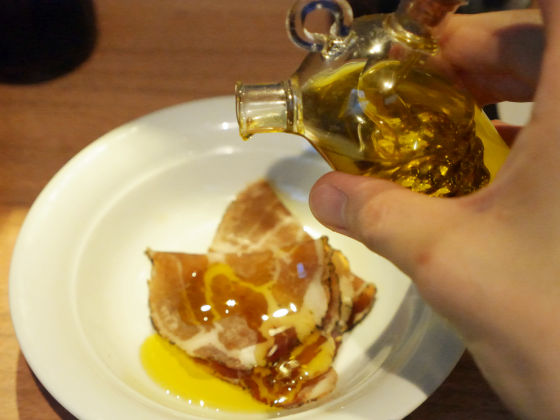 Because it was a very fragrant olive oil, it will neutralize the smell of the meat when combined with ham. Saltiness is just getting better and eating it with pat ... ...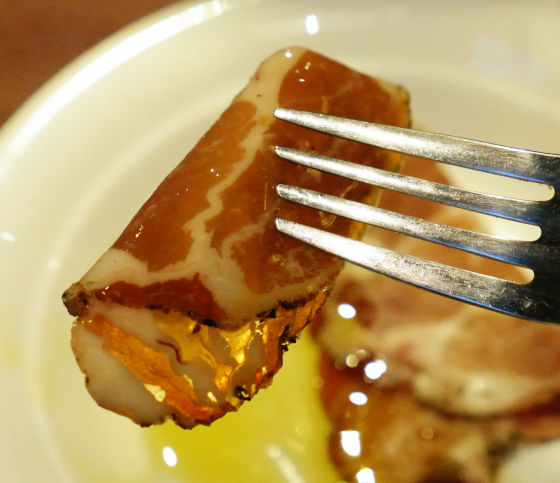 MelluseaMain dish of fish with white fish saying "Merlu Ail RotiArrived. I was surprised because the dish was very hot. Peppers and herbs are interspersed with sauteed fillets and vegetables such as peppers stewed barely cooked underneath. The smell of roast garlic and the fragrance that it smells drift. The price is 6.5 euro (about 900 yen).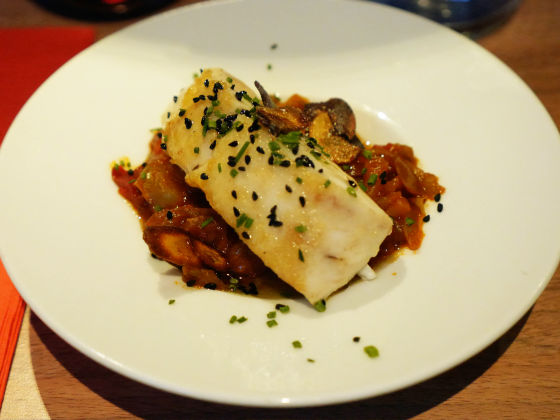 When I put in a knife and a fork, I am soft and plump.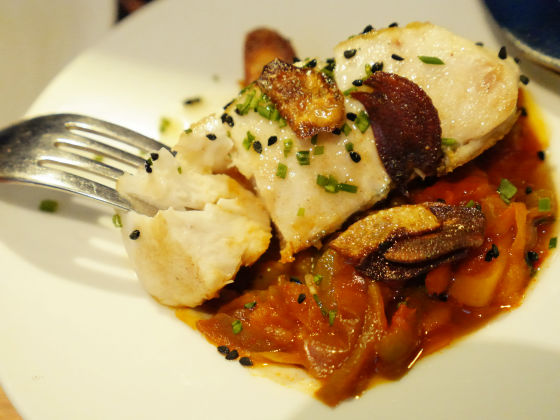 Pakuri as it is. White bread is surprisingly baked like "How can I be baked so fluffily ...?" The vegetables below seems to be in place of sauce and it looks like an elegant tomato sauce of spicy spicy.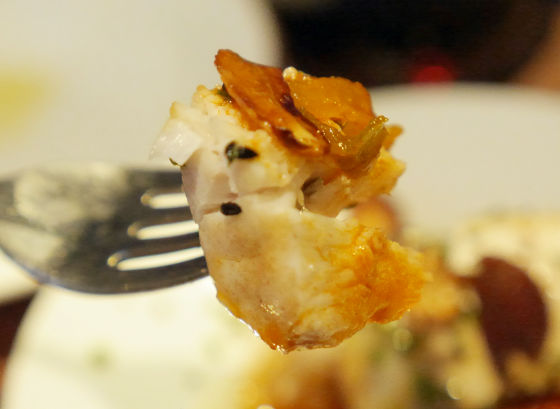 Even if only sauce is good, it is good. Roasted garlic complemented the sauce and it was seasoned to match well with bread and white fish.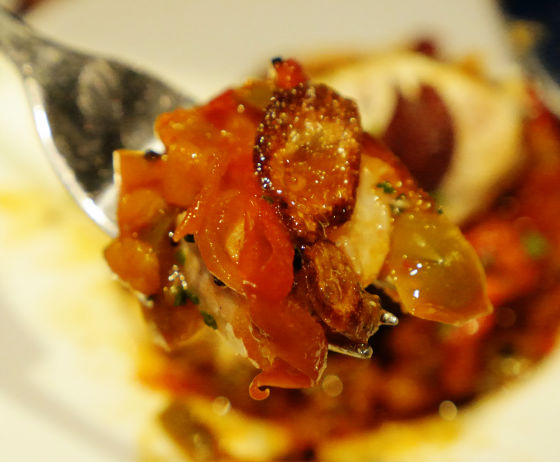 The main dish of the meat made with the putty such as the internal organs of the cow that came followingCaillette Camargue", 7 euros (about 960 yen). Sliced ​​carrot slices are spread underneath.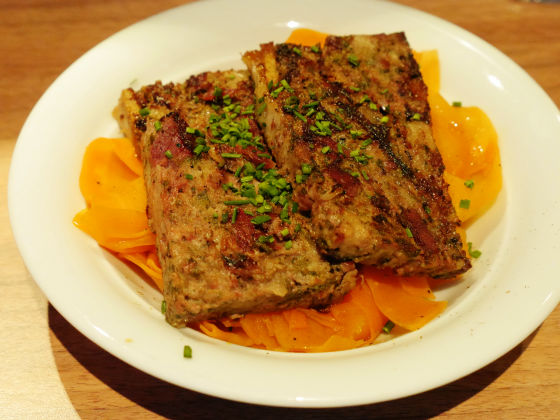 It seems that meat itself is seasoned with mysterious meat which can taste various meat quality depending on the part to eat. Depending on where you taste the liver, it's a fancy texture and interesting food.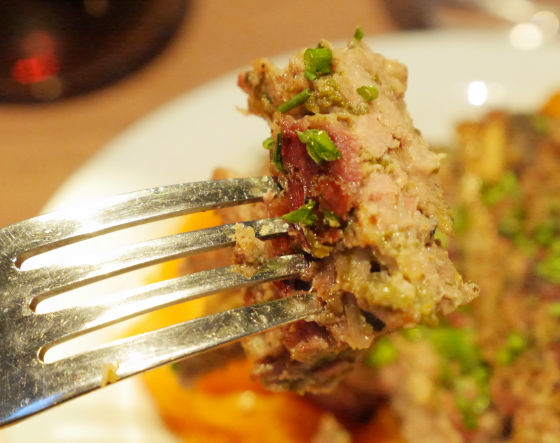 The inside is baked somewhat rare, the umami taste is tightly confined.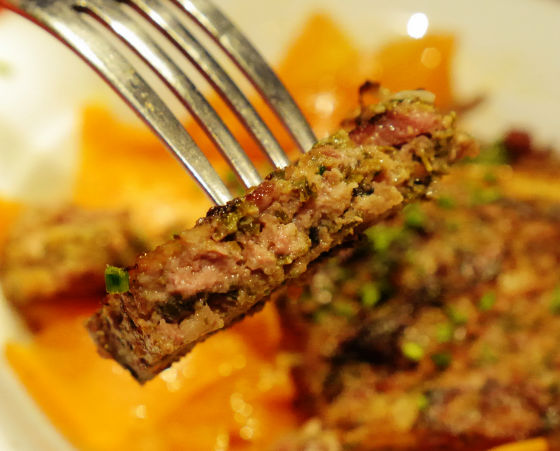 A carrot is a sweet taste like a glazed warm one. Meat is a bit heavy but it feels just right to eat with carrot.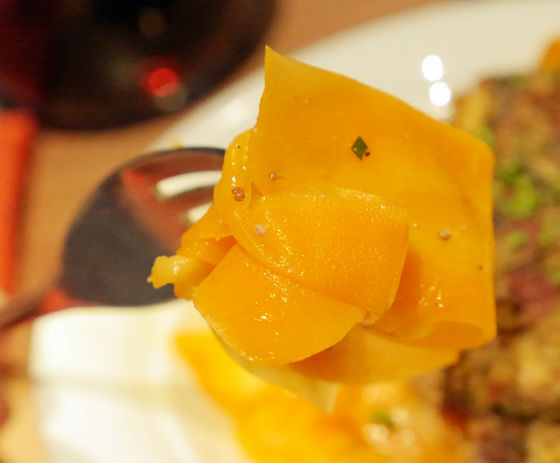 After taking the main, I will try dessert. I examine while watching the lane that turns around, but the food is not flowing all the time and often it will be rattling. Only one lane passes through the whole shop, and it takes time for the dish once passed by before one's eyes, so quick selection eyes are required.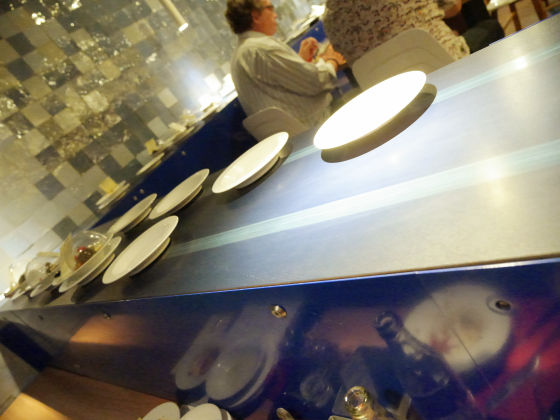 So, dessert using rare tomato "Tomate En DessertThere was a thing called so quickly. The price is 6 euros (about 830 yen).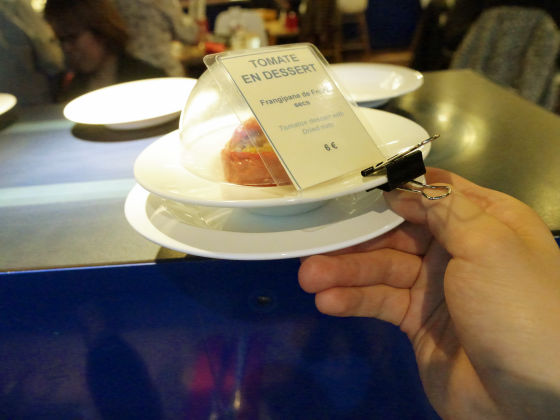 Taking a lid, the shape of the tomato and the cut that was cut into the star form a pretty food.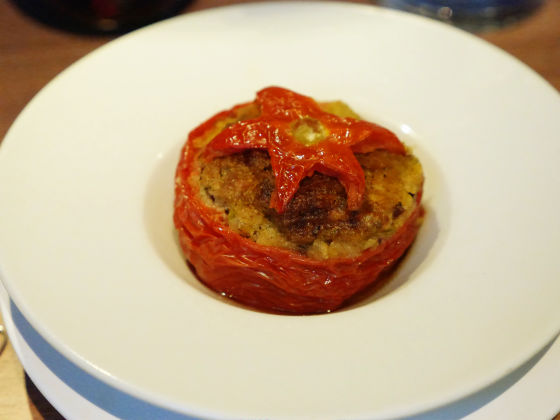 It was baked with a mixture of tomato nuts and crushed nuts, the scent of cinnamon, elegant sweetness, crispy texture was an interesting dessert.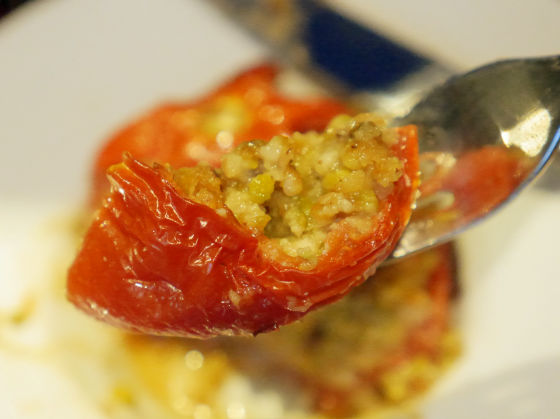 In addition, it is OK if you put the dish cooked from the lane in a bucket in each seat and hand it to the store clerk at the end. Total price is 28 euros (about 3800 yen) with 1 appetizer + 2 main items + 1 dessert and cola. With a sufficiently satisfactory amount, if this level of French cuisine is supposed to be higher in Japan, it was reasonably priced.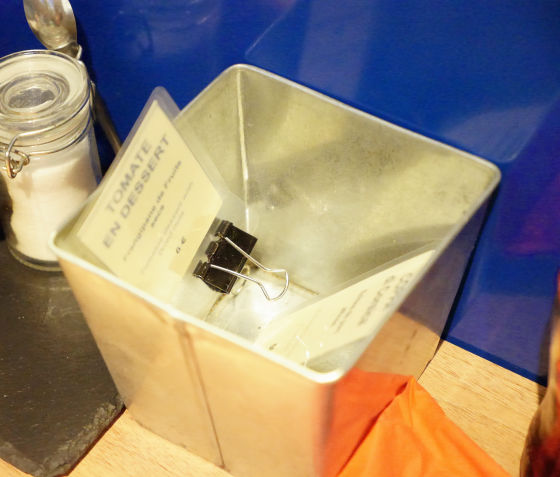 Medi Terra Nea's opening hours are Monday / 11:30 to 15:00, Tuesday · Wednesday / 11:30 to 1 o'clock, Thur to Saturday / 11:30 to 2 o'clock on next Sunday, closed on Sundays is. Because it is a shop that is open sooner than it is from the city center, so please go when you go to Paris.