Offline GPS display that is beneficial for transcendental travel for free Paris + Transit search Map application "Visit Paris by Metro" review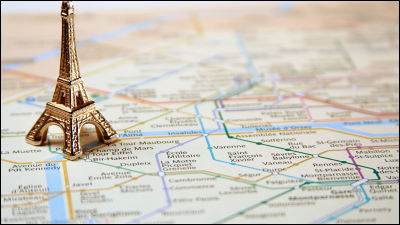 ByDaniel Pfund

When visiting an unfamiliar land such as traveling overseas, "getting lost" is the most scary thing, but you can not use a smartphone you requested without buying a SIM card etc. overseas. In France it is often displayed as "no route" even if you use a search on Google Maps in Google Maps but you can display all Japanese, you can display your current location with GPS on the map of Paris offline, Transit of metro and other public transportation can be retrieved Transcendental convenient RATP (Paris Traffic Authority) If the official free map application is "Visit Paris by Metro"is.

Visit Paris by Metro - RATP for iPhone, iPod touch, iPad currently on iTunes App Store
https://itunes.apple.com/jp/app/visit-paris-by-metro-ratp/id660175477

Visit Paris by Metro - RATP - Android application on Google Play
https://play.google.com/store/apps/details?id=net.ixxi.ratp.tourisme&hl=ja

Visit Paris by Metro is offered for iOS version / Android version, all features are available for both free. This time I will review with iOS version.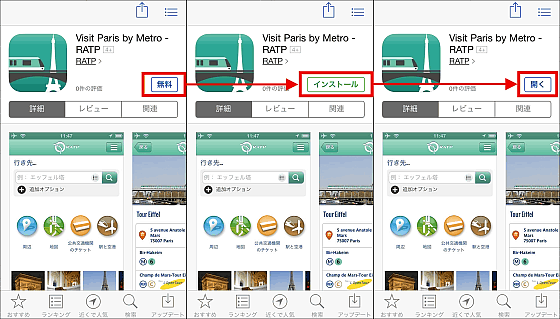 When you start up you will be asked to download about 20 MB of map data so that you can use the map of Paris offline. Since you can not use it offline unless you complete this procedure, be sure to download it before you leave the country or at a hotel such as an airport.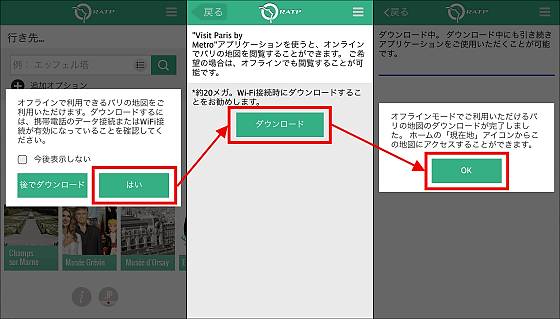 So to grasp your current location in the city of Paris without land habits, tap "OK" to use the location information from the "surrounding" of the top page. Then, GPS can be used even when you are offline, so your current location was displayed. The "M" mark represents the Metro station.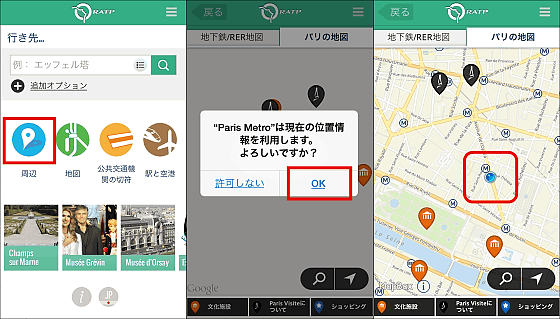 On the map, you can switch display / non-display of cultural facility icons such as art museums and the "Paris Visite" icon of the MetroPass sales office, and it is also possible to switch to the metro route map. It is convenient to be able to display GPS on both. You can zoom in / out with pinch in / out.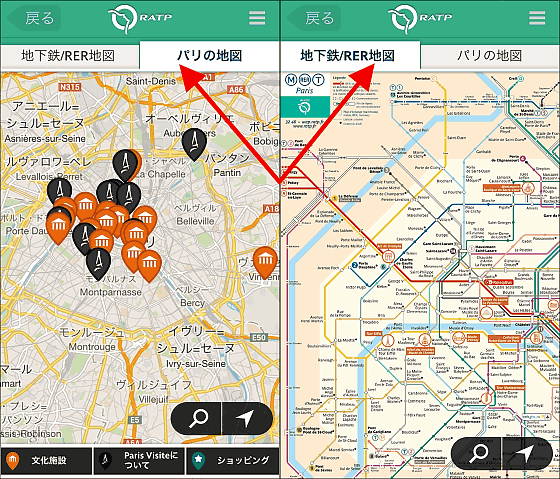 Metro tickets have one ticket and free pass from 1st to 5th. The price of metro tickets differs for each zone between "1 to 3 zones" and "1 to 5 zones", but which Paris Visite should be purchased depends on "Public transport ticket" to "Paris Visite Tap "to select.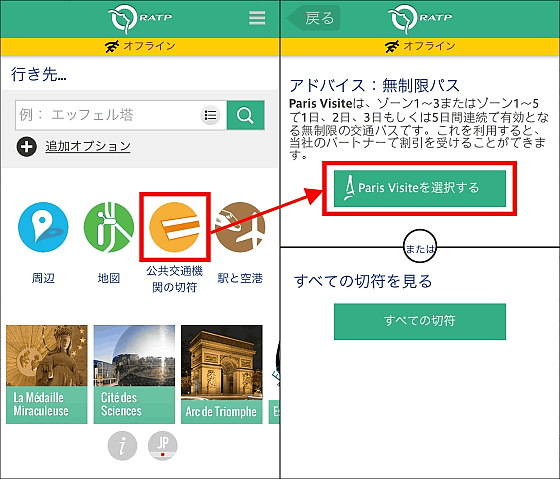 After choosing the length of stay and destination, tap "Confirm selection".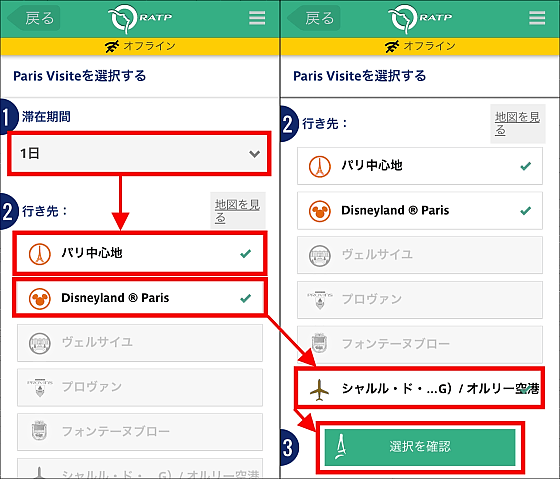 Then, Paris Visite of all you can get on the 1st to 5th zones suitable for the destination selected this time is displayed, and it was found that the price is 22.85 euro (about 3170 yen). To know "where to buy?" Tap "About Paris Visite (zones 1 to 5) sales office".



The shops where you can purchase are displayed with photos. Especially airport is glad that it is written in detail for each terminal, it is also possible to go smoothly to buy from the terminal at the time of arrival in Paris.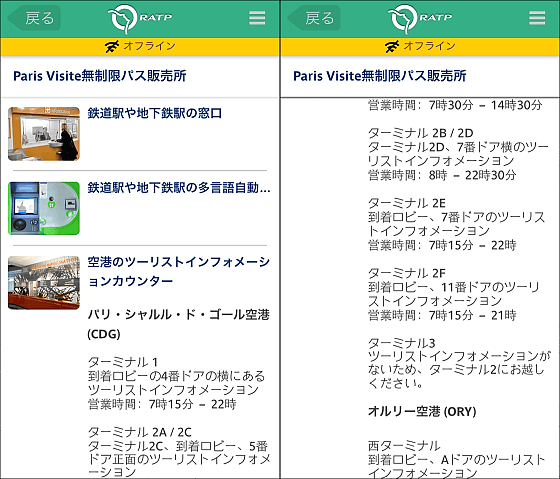 When you want to know "what kind of ticket is there in the first place?", Select "all tickets" from "public transport ticket".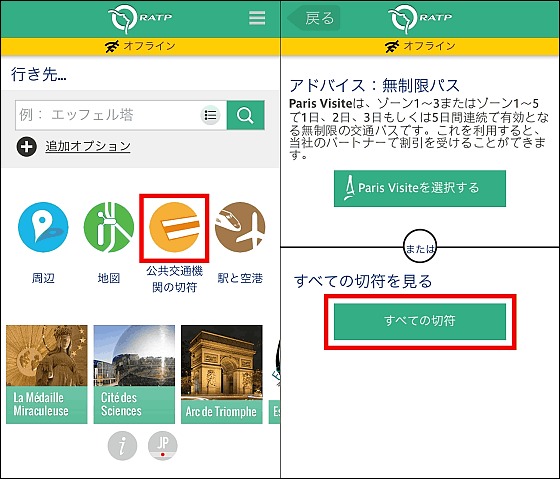 Then, the name and amount of the metro, bus, train etc. are displayed and you can check the tickets etc. of a specific destination such as Disneyland and airport.



Tap one of them and you can read the detailed explanation for each ticket.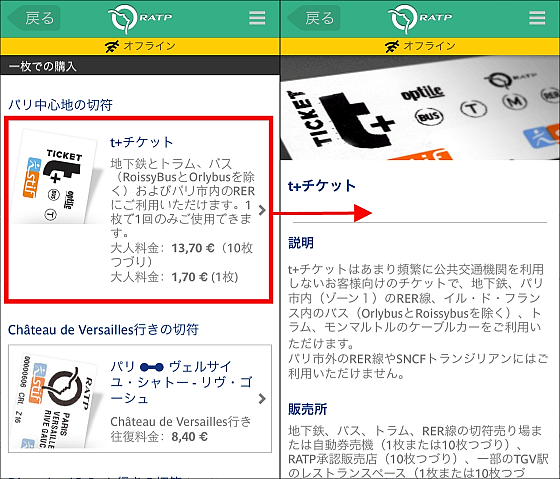 If you know the station name of the destination or you want to know the route to the airport quickly, tap "Station and Airport", you can select the destination from the list or directly enter the station name. Try selecting Charles de Gaulle airport ......



All the route and amount to the airport are displayed, and you can examine your favorite transportation means such as train, metro, bus etc.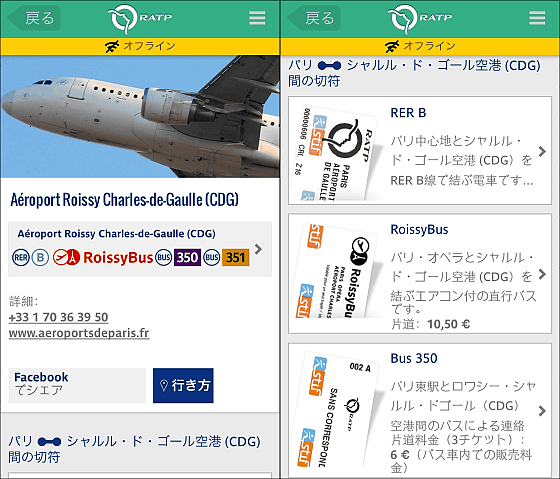 To search for a destination from your current location Tap the top right corner of the top page and enter the destination in the same way from "Search for Directions" OK.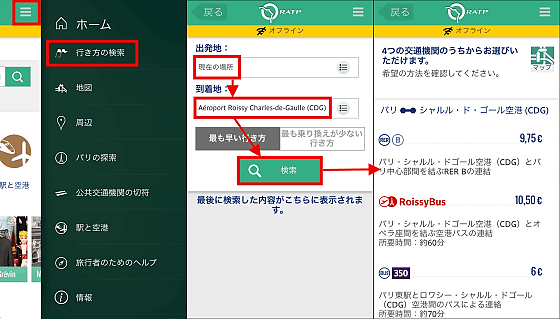 The searched route was displayed like this, and I could arrive at the destination without hesitation if I actually go on this street. By tapping "Map" you can see the route map and display it to the changeover point.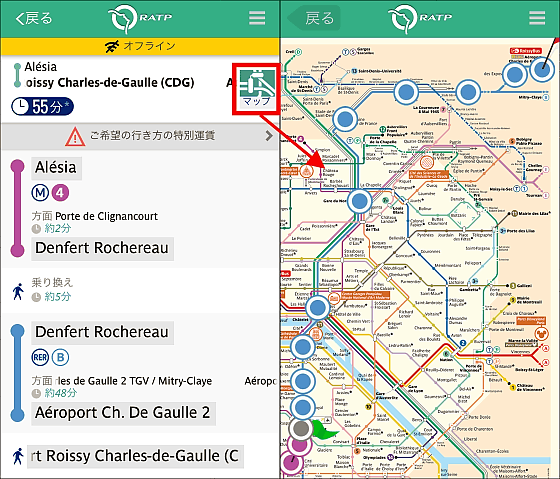 From the top page you can also search for sightseeing places such as "Eiffel Tower" in Japanese, you can also search the route by tapping the photos of sightseeing spots displayed at the bottom of the screen.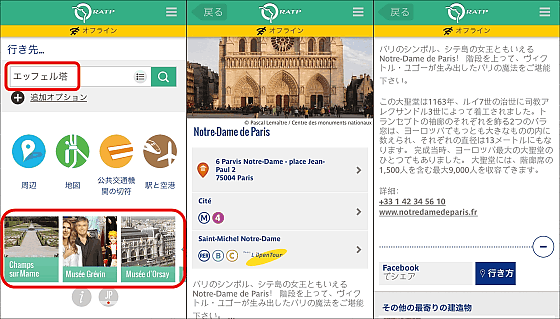 Besides the map search function, it is very convenient that you can see various Paris information from "Help for travelers".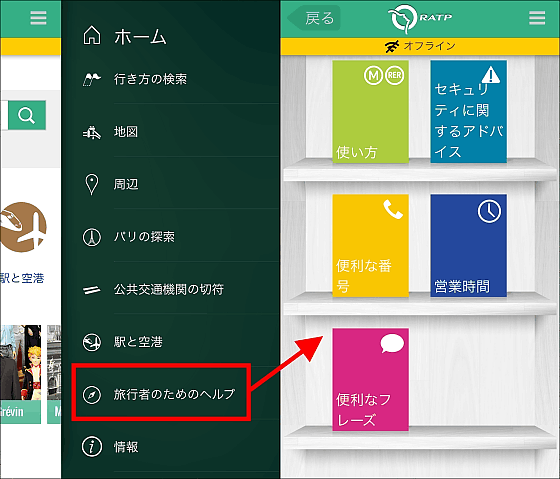 From "Advice on security", information such as "Do not throw away the ticket soon", "Keep an eye out of the luggage as there are many picks," "Telephone number of lost property window" ... ...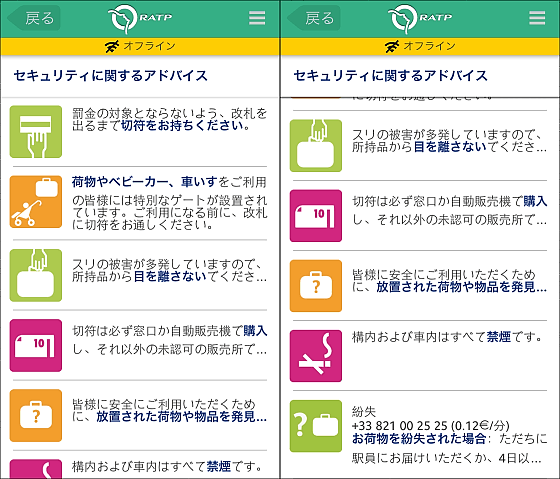 From the "convenient number" you can see the telephone numbers of Metro, Police, Embassy and others.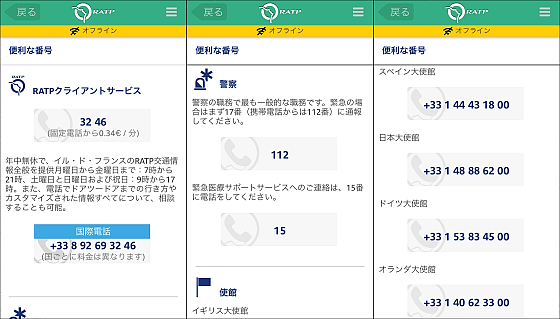 "Convenient phrases" let you know the metro related French. Even if you can not speak French, you may be able to understand if you show it to the station staff.



The ticket office installed at each station is like this.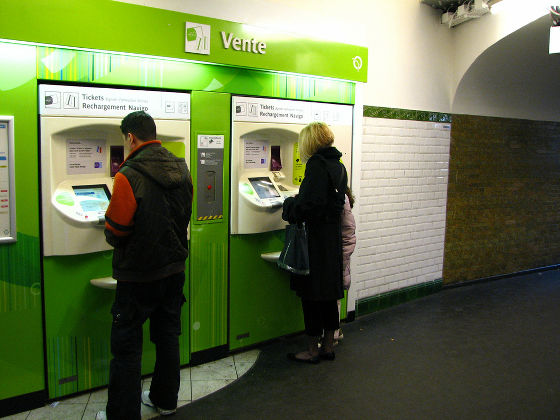 ByJerry H.

Turn the roll bar to move screen selection up and down and settle by cash or credit card.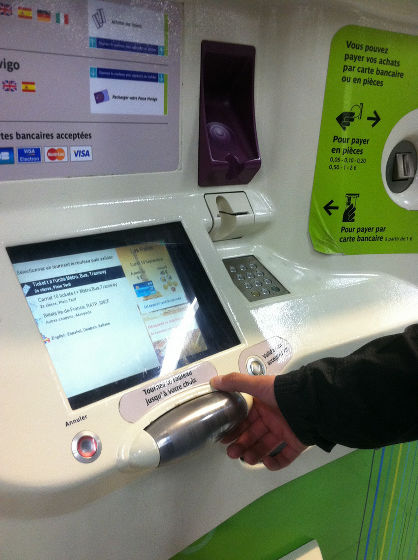 ByDrinkerthinker

Tickets are similar in design as follows. The left one is "Ticket t +" 1.7 euro (about 230 yen), the middle is "Paris Visite (zones 1 to 3)" 10.55 euro (about 1450 yen), the right is Charles de Goal · Airport - 10 euro for one way ticket of Roissy Bus that operates in front of the Opera station (about 1370 yen).




I will pass the ticket to the ticket gate only when entering. It is only here that you need a ticket, but occasionally you may be asked to present a ticket for a patrol ride from the station staff inside the train and station premises, so be careful as paying a fine if thrown away is.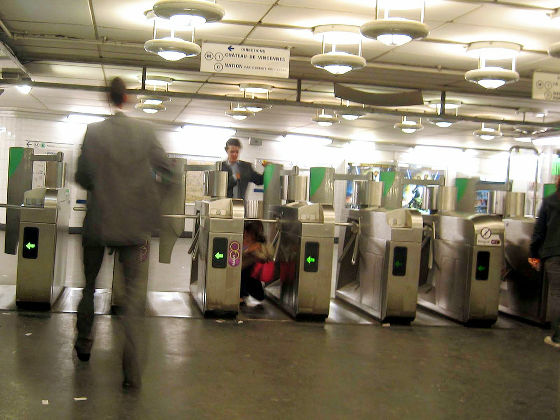 ByMichelle Kinsey Bruns

A campus in a certain station. If there are multiple lines in a station, you need to look for a destination while looking at the signboard.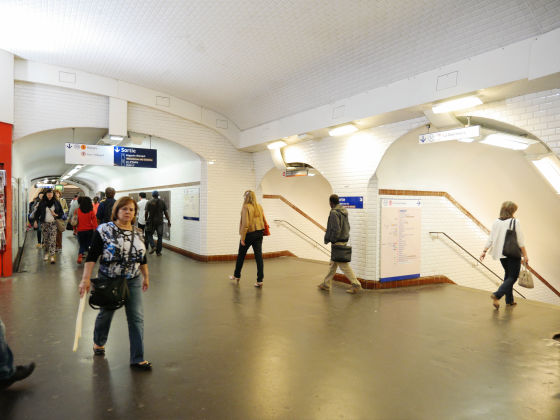 Looking at the signboard, it is safe to look at the desired route, direction to ride, and the station to change.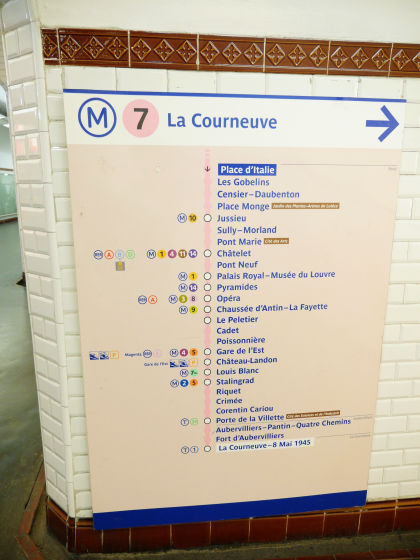 There is a board on the home that counts how many minutes the train will come.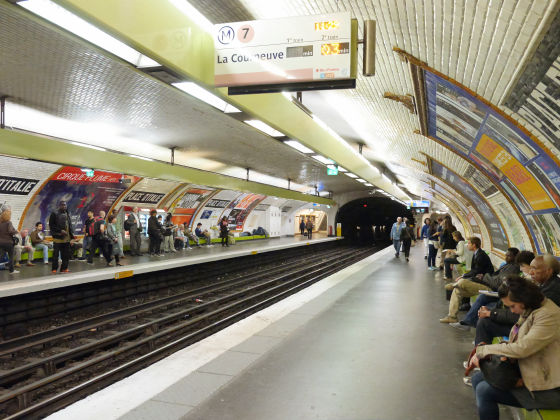 The majority of train doors are manual, so if you do not get on or off at the destination you need to open the door yourself. There is a button style and a lock bar formula that raises the bar upwards as follows.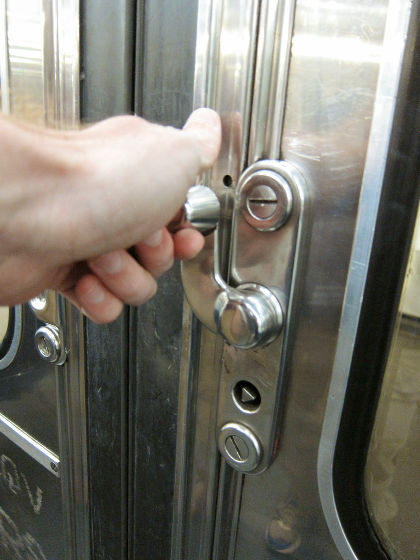 ByChris Waits

There is no ticket gate at the exit, so if you push the door you can exit as it is. It was France 's manners to keep it as close as possible if there were people behind.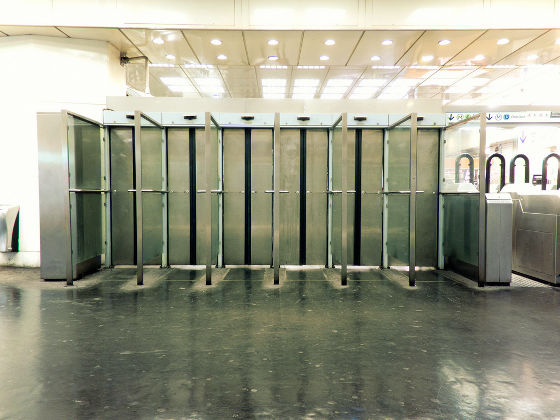 ByVictortsu

Even if you go outside the station, if you move and display your current location, you can reach the destination without hesitation.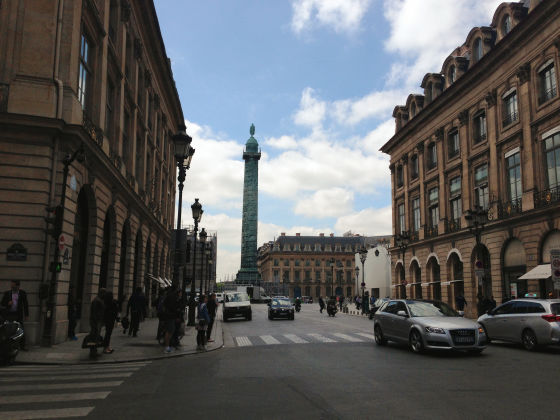 When I actually used it in Paris, I was shocked "I can use it offline so far ...!!" I was able to move without problems even from an unknown place at all. If you leave the city of Paris you will not be able to display the GPS, but you can display the map and the route map itself. If you do not use this application, it was so terrifying that "how long did you lose time ...?", So it is a must-have app to install when you go on a trip to Paris.