"Picky-Pics" that can make professional-looking designs using Morisawa font 18 typefaces, layouts and materials for free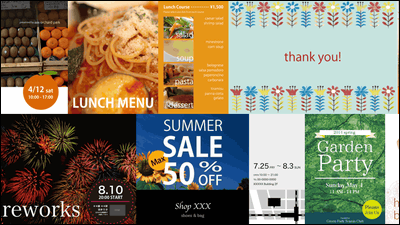 A4 documents, business cards, postcards, Facebook covers of professional-sized design, by posting according to "smart guide" which can perform beautiful placement with expert knowledge and more than 50,000 points of commitment material and beautiful font etc. Net service that will allow you to create presentation materials is "Picky-Pics"is. I tried using the service actually how to design with the feeling.

Picky-Pics (Picky Pix)
https://picky-pics.com/

Examples of designs that can be created using Picky-Pics look like the following. Among them are those which Fenrir staff who originally is not a designer made crisply. As a concept of Picky-Pics, "Parents can do even their own parents" are listed, basically only drag & amp; It is possible to create a design close to a professional by anyone by integrating a tool that can easily perform layout and design to a rich material collection.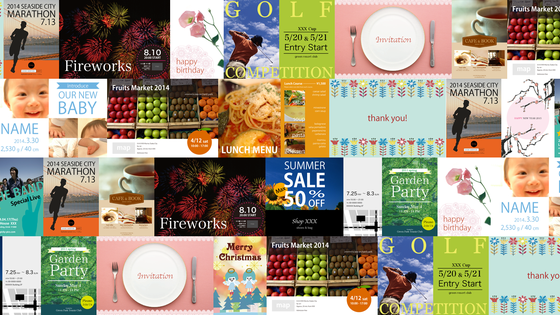 First, click "Picky-Pics Tutorial" on the home screen to master the basic usage.



The tutorial starts. The thumbnail of each tutorial is on the left side of the screen, the customization function "Layout" "Material" "Character" "Add Photo" is lined up on the right side.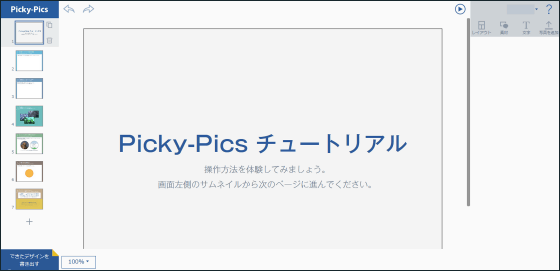 Firstly from search and arrangement of photos and illustrations. When you click "Material" on the right side of the screen ... ...



The material list is displayed in a staggered fashion. The material is "Background" "Recent material" "Shape" "Frame" "Animals" "Plants" "People" "Food and drinks" "Transportation" "Buildings" "Nature / Landscape" "Housing · Interior · Mono" It is divided into "Business" and "Graph" categories, and when each category is clicked, a further subdivided item appears. In addition, there are more than 50,000 materials in all.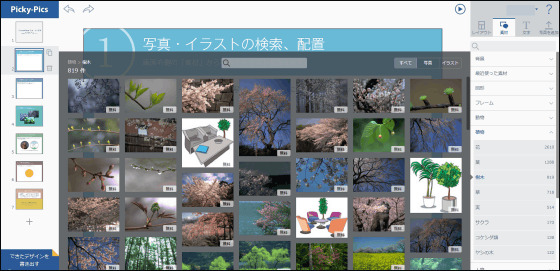 Materials include free materials and charged materials, and free material has the word "free" written on the lower right.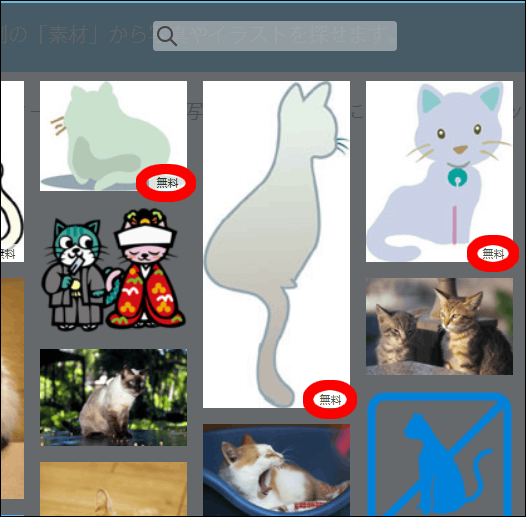 Choosing "cat" from "animal" and further narrowing down to photographic materials, it looks like this.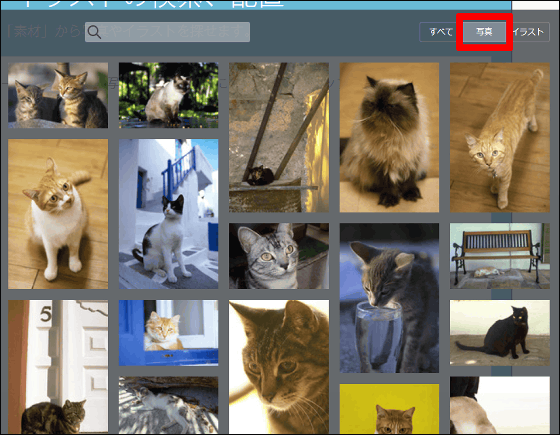 When placing the cursor on the image, the "Paid" character appeared at the lower right of the image.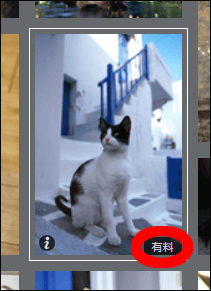 So, by dragging a cat's illustration which is a free material ......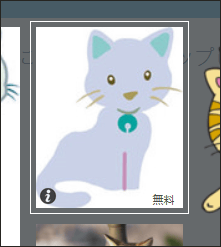 Drop on screen.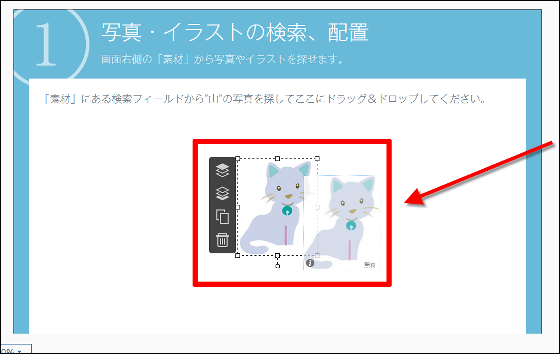 Images can be enlarged / reduced / rotated.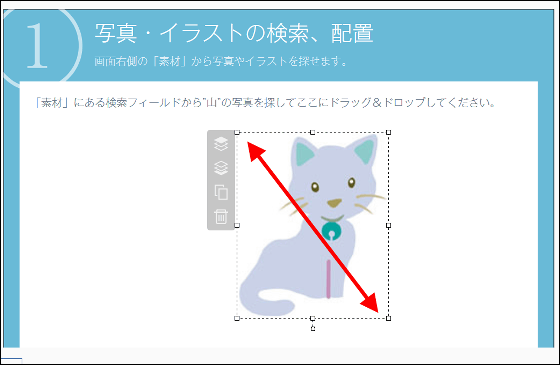 There are also options of "move to the front", "move to the backmost", "duplicate" and "delete".




Picky-Pics can also upload and use images saved on your PC. Click "Add Photo" "Select File".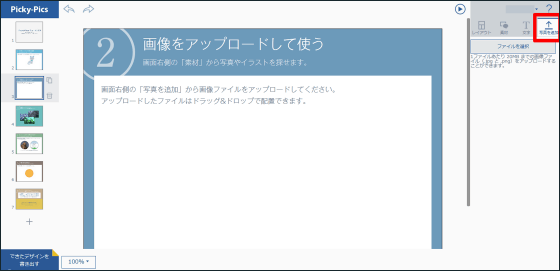 When you select & upload a file you want to use ......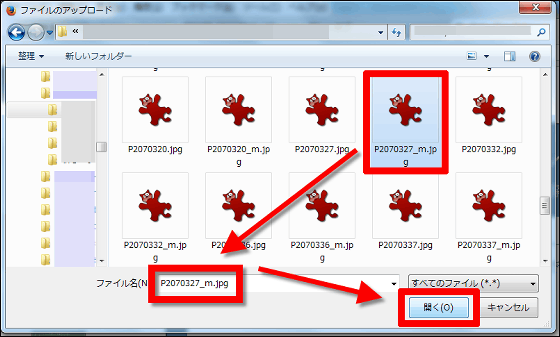 As thumbnails are displayed on the right side of the screen, drag and drop them and paste them wherever you want.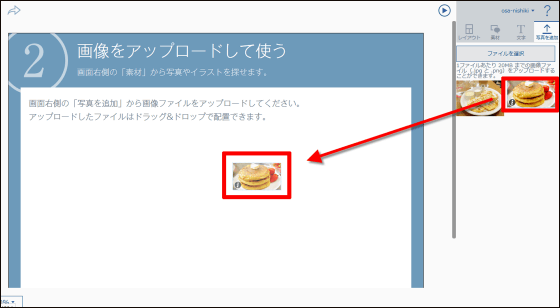 This can also be enlarged / reduced like the case of "material".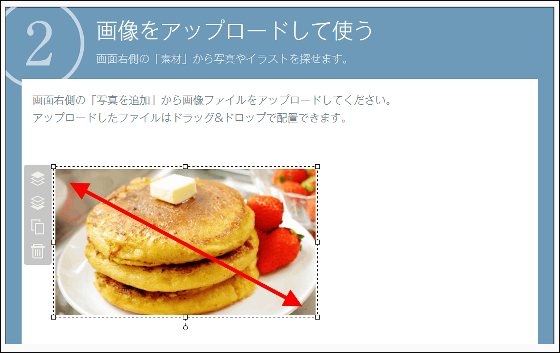 Also, you can easily change the screen layout.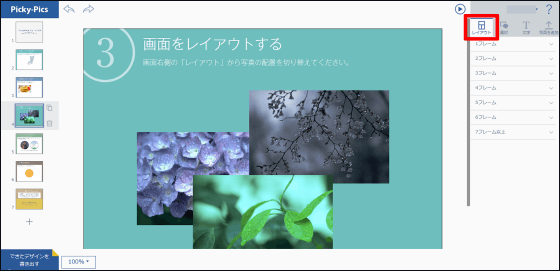 You can check the appearance of changing the crisp with a click of the layout from the following movie.

The layout function of "Picky-Pics" looks something like this - YouTube


The number of frames is 1 to 7 or more, and choosing the number of frames makes it possible to choose more layouts.



When clicked, the photos were rearranged automatically. About 200 patterns are prepared for the layout.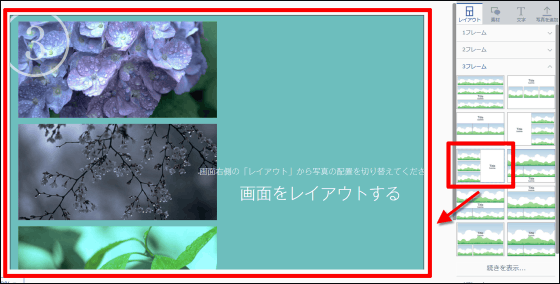 Furthermore, it is easy to clip out pictures by using "frame" in "material".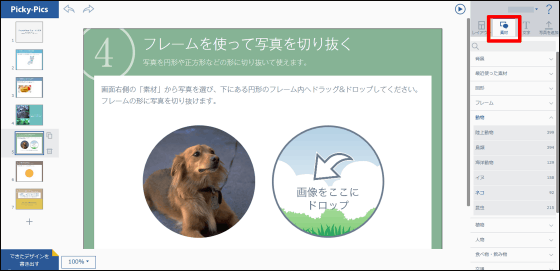 Dragging and dropping the material into a circle ......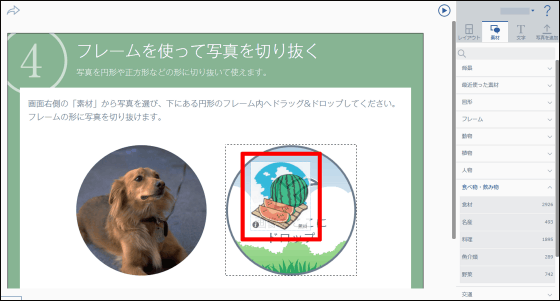 I could get through like this.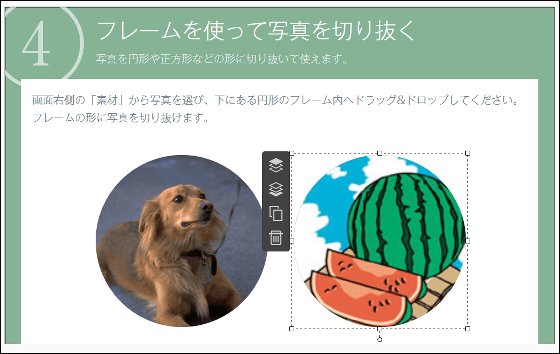 You can also change the color of the figure in "Material". Clicking the circle pasted on the screen ... ...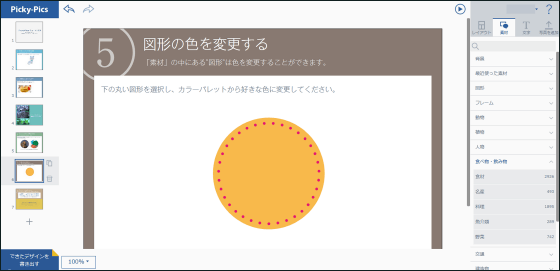 A color palette appears. It has become possible to change color freely.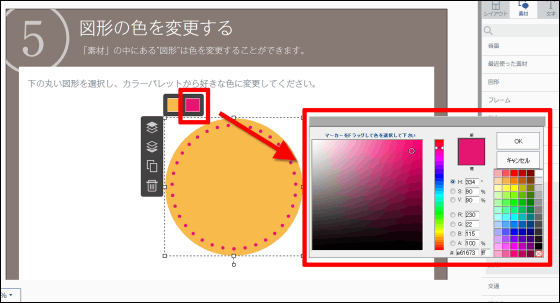 To a completely different impression.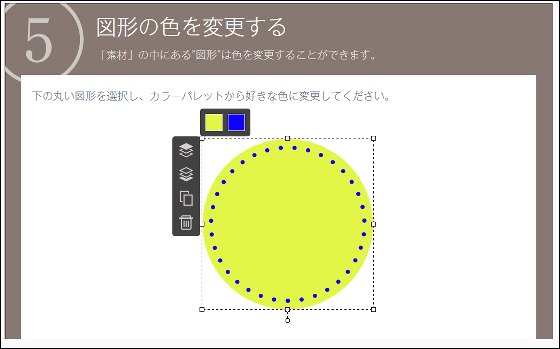 There are three options to output the design, "Export to PDF", "Export to Image", "Export to Web Page".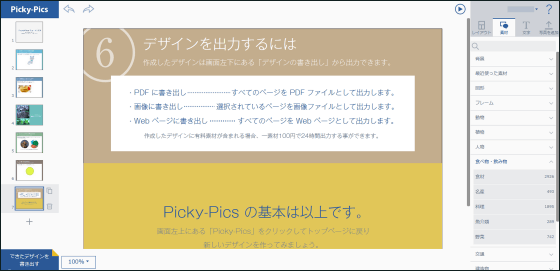 Click "Export completed design" on the bottom left of the screen.




You can choose from "1 day to 90 days" as "Output as web page".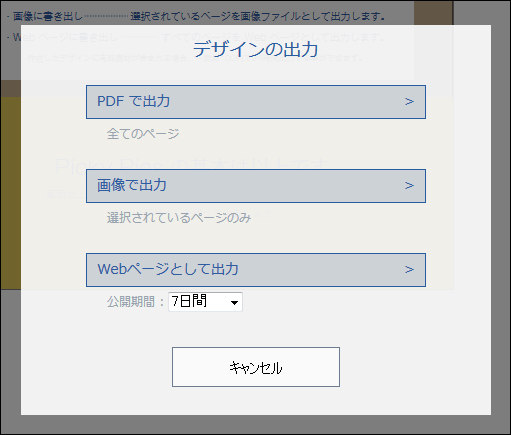 There was also a button that you can choose the size of the screen display next to "Export design that you made".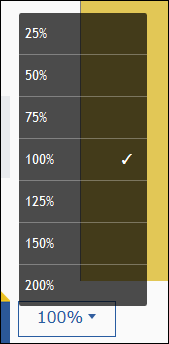 Adjust here when the screen is too big to see the whole picture.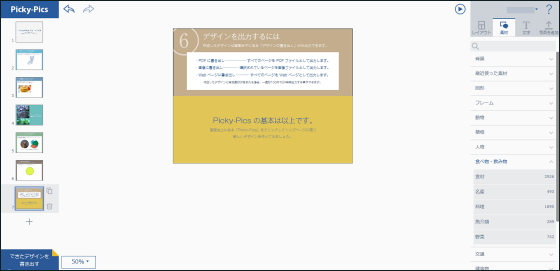 You can also perform shortcut operations such as Ctrl + Z and Ctrl + Y, but there were also "return" and "forward" buttons in the upper left of the screen.




So, I will go back to home and choose what I would like to design. The choices are "A4 - Vertical" "A4 - Horizontal" "Business Card - Vertical" "Business Card - Horizontal" "Postcard - Vertical" "Postcard - Horizontal" "Facebook Cover" "Presentation Material".




When choosing a business card, three kinds of designs to be displayed are displayed, so select a blank sheet.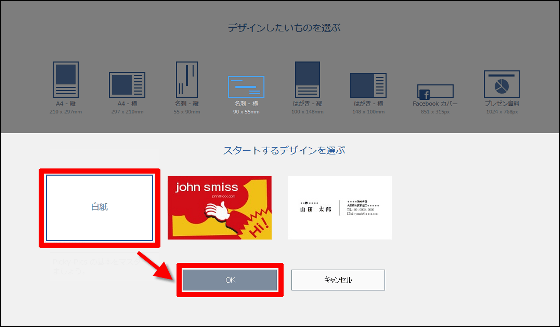 I did not explain it in the tutorial, but I have the ability to enter characters. Characters were designed to be able to choose font type, size, color, vertical writing / horizontal writing.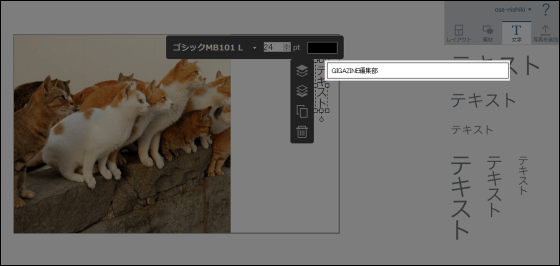 You can also make business card easily.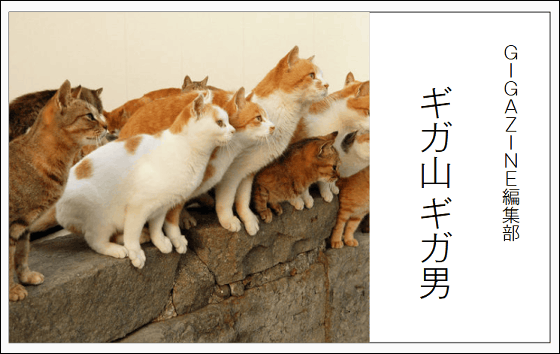 If you choose a Facebook cover ... ...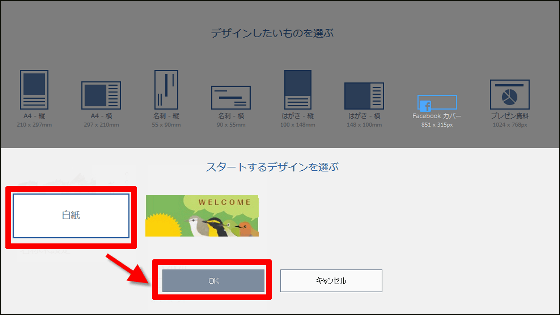 Something like that is crispy and finished.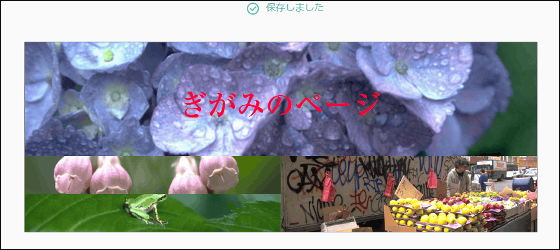 You can choose from five postcard start designs.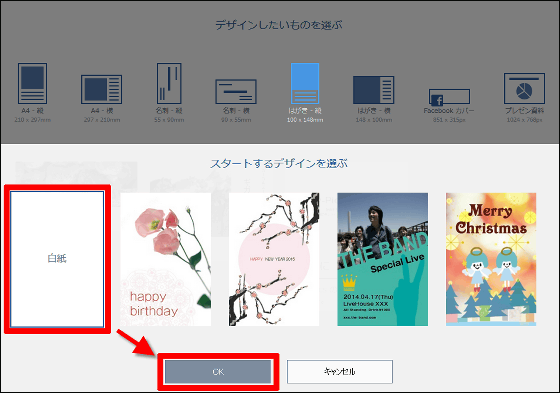 Smart guide function to detect upper and lower ends · left / right end · center · equidistance · same size is installed, when arranging graphics and images, center aligned lines are displayed, etc. Place multiple materials beautifully It has become possible to do.



Font isRyumin·A1 Mincho·Gothic MB 101·New york·Bulletin CB 1·Round Fork·Foggy·Haruhi GakuenIt was supposed to be able to use Morisawa font 18 font originally charged for free, etc.



The designed ones will be listed in the home screen like this. Since the thing that is made is stored on the server side, for example, when saying "I want to modify the design made from my home PC with a laptop just a bit on the road", just access the Picky-Pics and log in OK, bother You do not need to save files to USB memory or other online storage.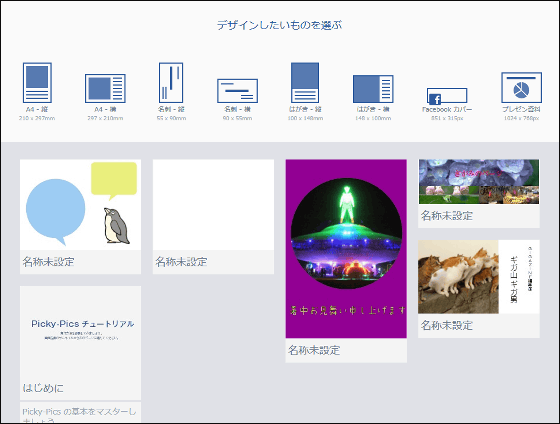 In addition, when using a charged material, the "Purchase of output right" screen comes up like this when outputting, and we will pay according to the number of material used. For example, in the case of 1 chargeable material, if you output within 24 hours after purchase, you can output at 100 yen per material + 15 yen for settlement fee + 9 yen for consumption tax = 124 yen. In the case of indefinite output right one material is 1,500 yen. PayPal is used for settlement.