A charity auction where voice actors, super-rare goods with a signature of staff were exhibited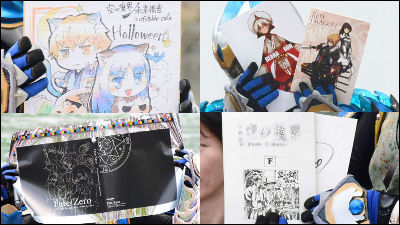 "Tokushima" held from May 3 to May 2014 "Machi ★ Assortment 12One of the annual events is "Charity auction"is. In the charity auction, from rare items to high priced items, rare goods that can only be seen in gore Asobi were exhibited.

Machi ★ Asobi vol.11 2013.09.28 ~ 10.14 held
http://www.machiasobi.com/events/auction.html

The charity auction will be held at Shintomachihashi Tokaido Stage, one of the venues of Machi ★ Asobi. Mr. Kasahara of ufotable, the assistant isAoyagaras mavelIt was served.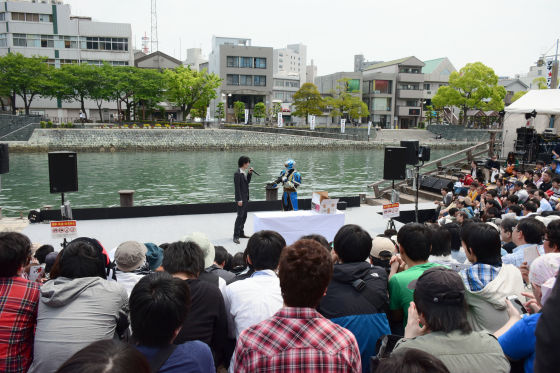 The venue is full of people gathered to get rare goods.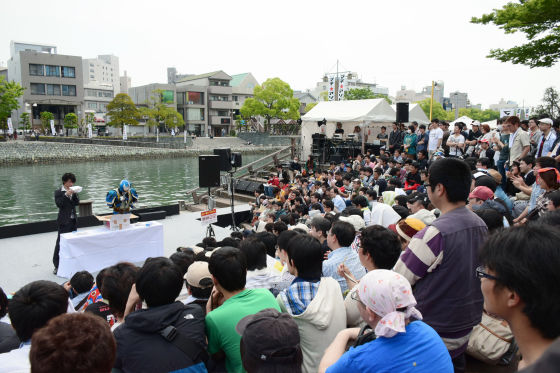 First of all, goods are introduced, and Mavel presents the audience with goods for selling goods.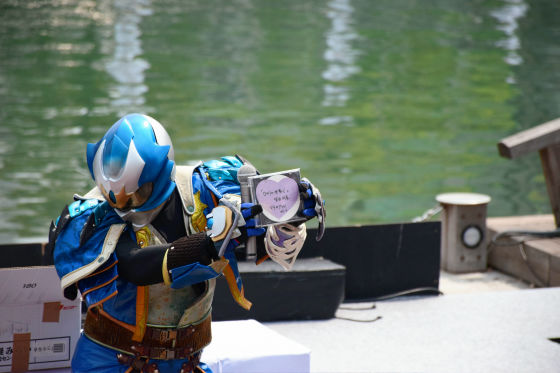 People who want goods just give their hands and shout their prices.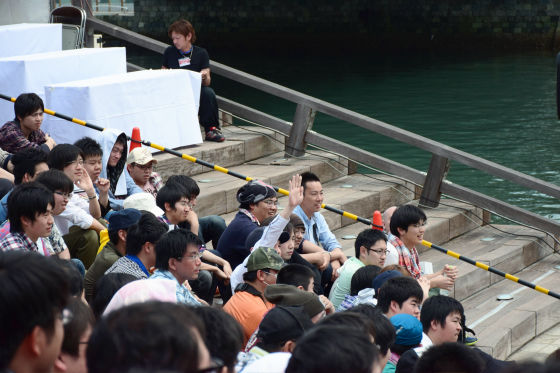 The winning bidder gets up to the stage and receives the item.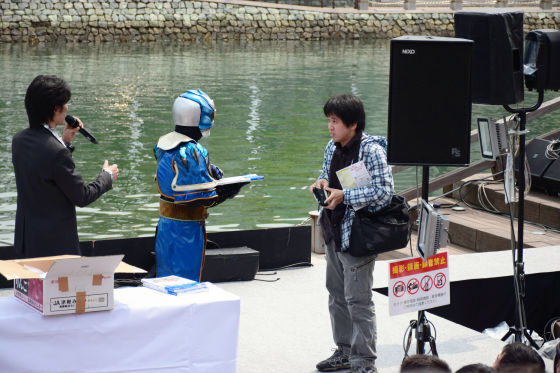 The auction progresses to a winning bidder with a peaceful atmosphere that a big applause is sent from the customer.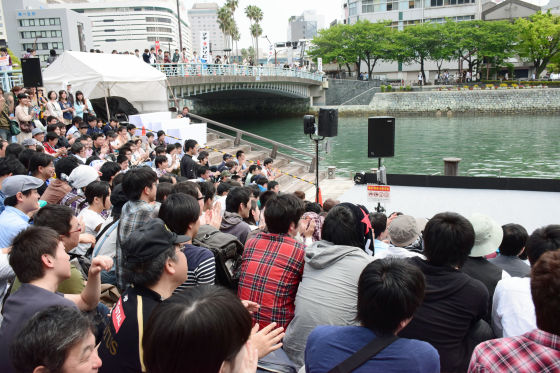 A commemorative item of the charity auction of Machi ★ Asobi Vol.12 was sent in three copies at Wada Arco · Mari Shimazaki · Koyama Sieg written signed "Gunslinger Stratos Official Setting Data From From 2013 to 2115!". The winning bid price is 20,000 yen, 18,000 yen, 15,000 yen each, and it is quite expensive from the first time.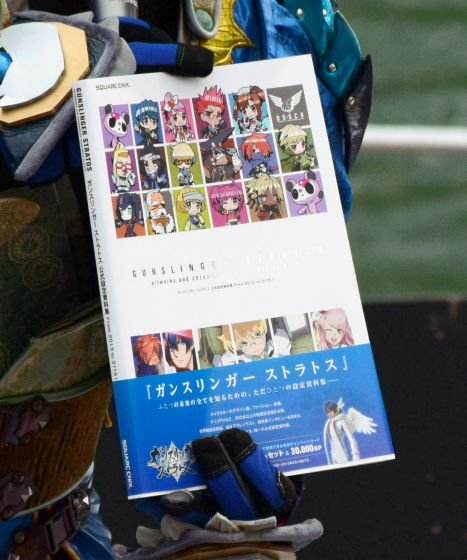 Naomi Minatani's demo sound source "Cherry Temperature" 2 CDs are 4649 yen and 2525 yen respectively.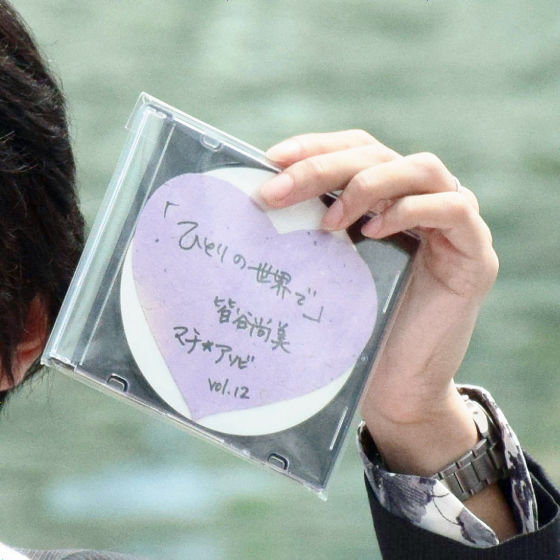 The color school of Fate / Zero 2nd season had a considerably high price of 120,000 yen.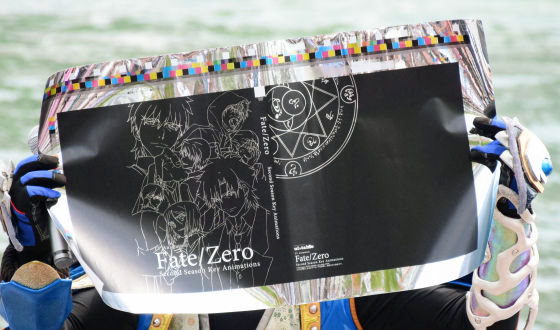 The charity auction was also held at the new stage Binji Bridge South Park which was added to the venue from Machi ★ Asobi Vol.12. This moderator is ufotable Kondo P, and the assistant is again Moron Dragon God.



A lot of people are wearing standing standings at Binji Bridge South Park as well.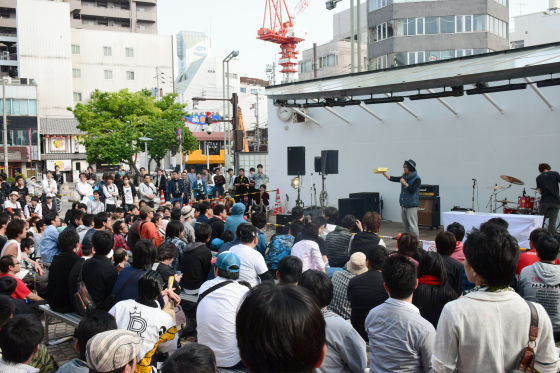 The "Fate / Zero Cafe" goods set sold at the comic market held in August 2013 was sold for 6000 yen. These items start from a low price of 1 yen so you can join the auction even for people who do not have much money.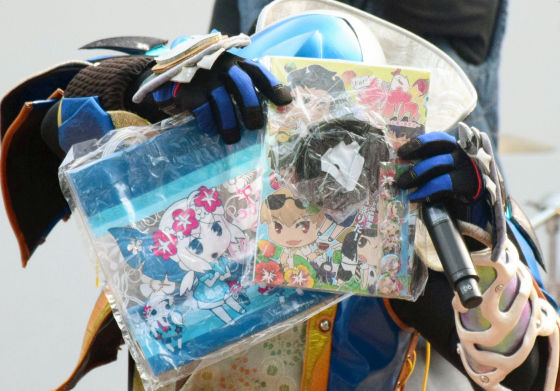 The color school of the coaster created for the event of "Fate / Zero Cafe" was bidding at a very low price of 5000 yen.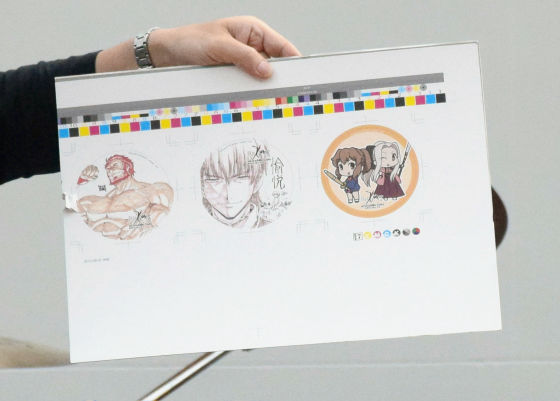 Animation director of "Fate / Zero Cafe" Toshiyuki Shirai Mr. Illustrated colored paper with a handwritten illustration bid for 14,000 yen. The price will jump if it becomes one point of staff's handwriting.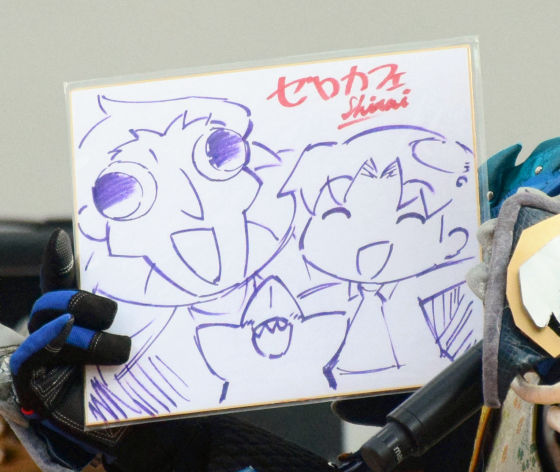 This is also a colored paper with illustrations by Mr. Shirai, but unlike the previous one the character of the rider camp is drawn. The winning bid is 50,000 yen.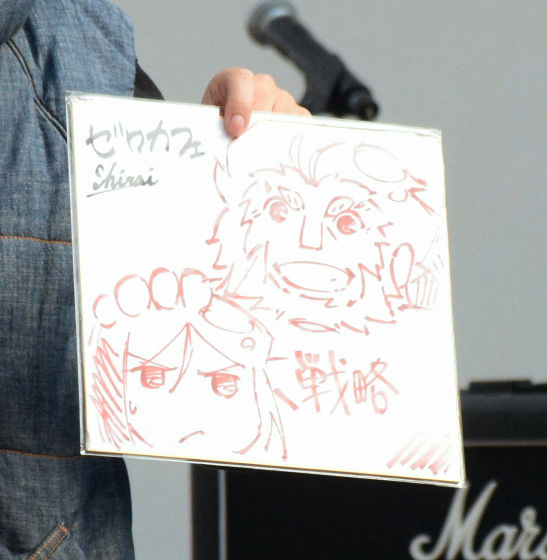 Eyeglasses ☆ ROCK's glasses used by Tomoyasu Tamiya are included in the case, with a handwritten illustration & message.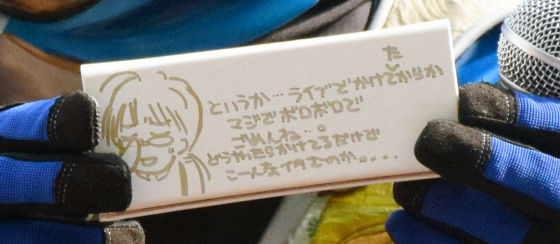 Mr. Tsuneya actually appeared in a charity auction. The venue is exciting for this surprise.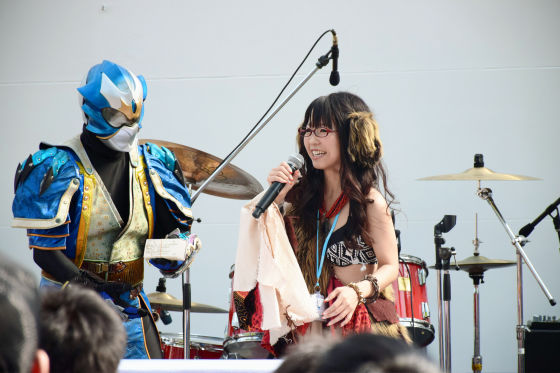 The winning bid is surprisingly 107,000 yen, Mr. Tomoyasu who was surprised at the unexpected high price said "I will not let it go and I will take a commemorative photo together" and a big service.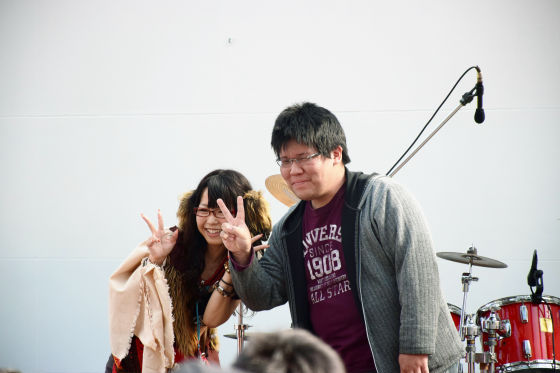 Author of Toshiyuki Inoue signed "Letter to Momo" Blu-ray is 15,000 yen.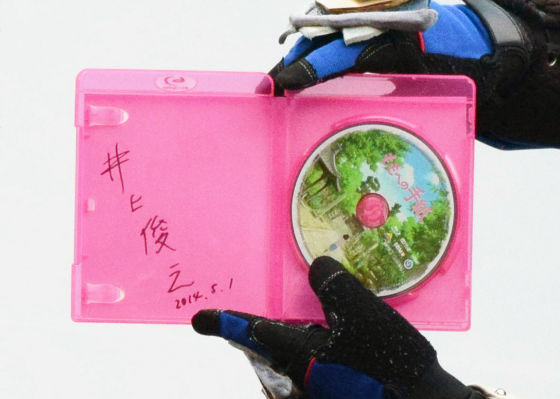 A set of original painting color schools / posters of "Fate / stay night" was bid by fifty-five thousand yen.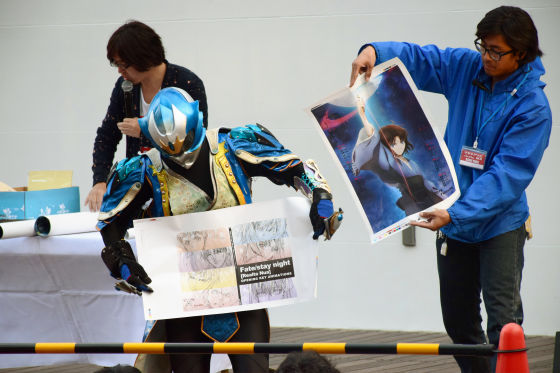 Clear files and posters autographed by Hirao Takayuki, character design / director general Yuka Shibata, poster, and Shibata's autographed colored paper are surprising 200,000 yen.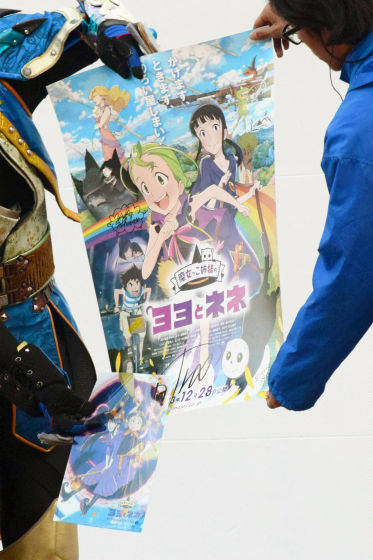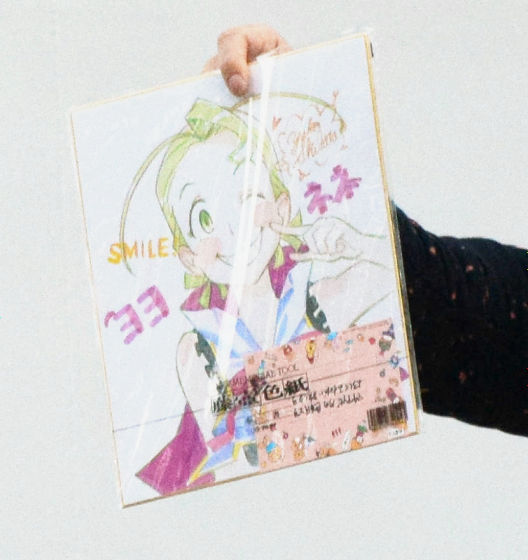 Next was T - shirt designed by Mr. Takeshi Kusano who was in charge of graphic design of "Exposed paradise - Paradise -".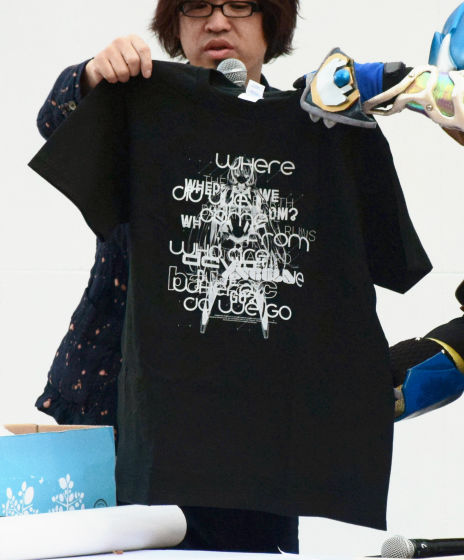 On the back is a signature of Mizushima's director, which was bid by 40,000 yen.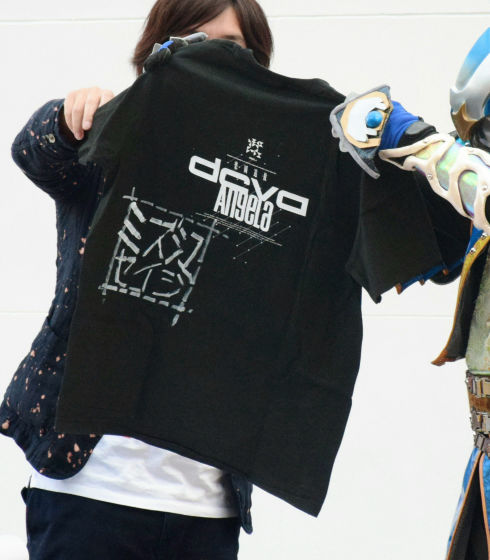 A poster for presents of theatrical version "Empty boundary future gospel", directed by Sudo Yukinori and other staff members with a signature of 200,000 yen.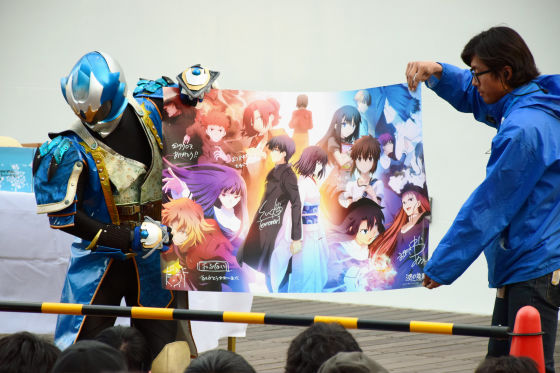 Aii Ayl 's signed tour towel was 85,000 yen high - price successful bid continued.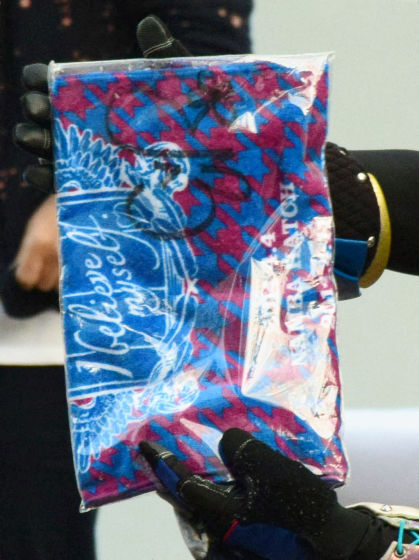 Unfortunately, the charity auction held on the last day was rain. Everyone attended an umbrella or wrapped a towel around her head.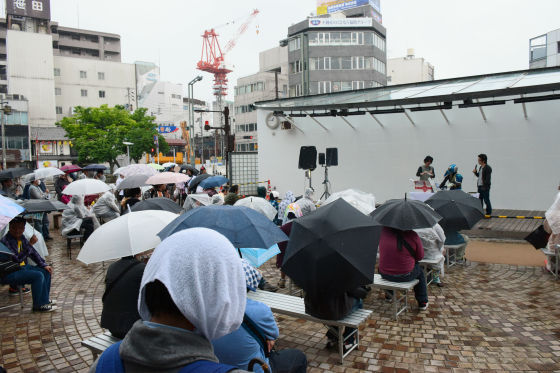 Mamoru Oshii Supervised DVD Roppongi Hills Paper Craft Set of "Tokyo Scanner" bid for 1300 yen.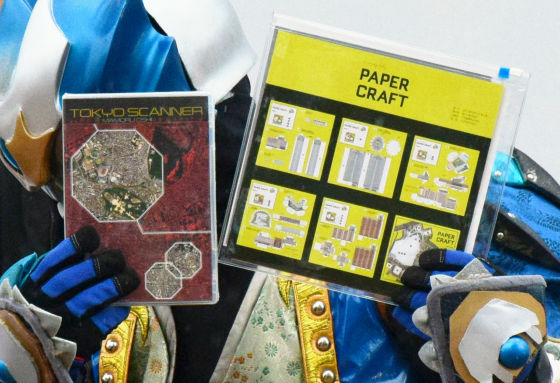 Mr. Hiroyuki Matsuyama "KEMONO BOOK" with the signature of 6 staff members is 40,000 yen.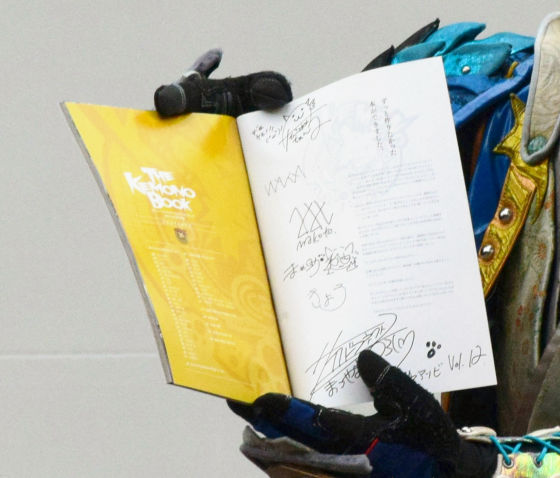 Shogun Shirai of Overlap Bunko "Grim Girl of Ash and Illusion" A handwritten illustration colored paper with a signature and a paperback set of 1 to 3 volumes were bidding for 100,000 yen.



And the budget goods of the final day auction of Binji Bridge Bridge South Park is a red dragon doujinshi entered by Mr. Nasu Kinoko and a doujinshi with illustration sign of Shimori. The winning bid is 200,000 yen!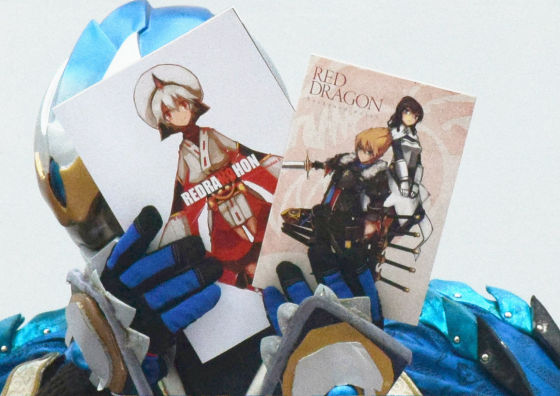 In addition, when it reaches a high price exceeding 200,000 yen, depending on the bidder 's possession, it may reach the amount enough to attract you, so at the end you will decide the winning bidder at Janken. Although it is a system that becomes a demerit for a person who wants to make a bid for it absolutely, this is also the appeal of gore ★ Assobi.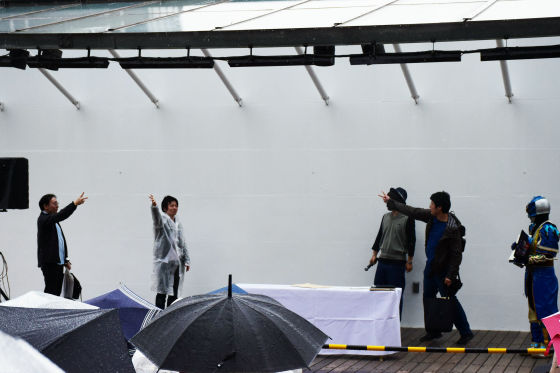 Machi ★ Asobi Vol.12 The last charity auction was held at Shinchochabashi East Park stage.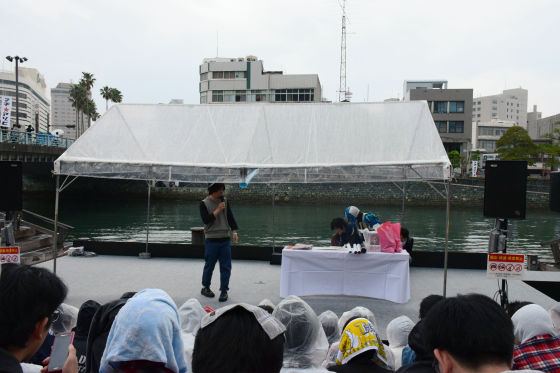 Kochi lady's mascot character "Mr. Suzuki" stuffed animal 2 points - Set of amulets and one piece mineral water PET bottle, Sazae candy etc is 10,000 yen.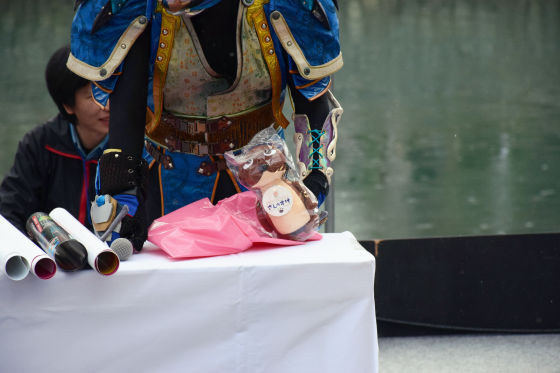 TYPE-MOON's 10th anniversary event "TYPE-MOON Fes." S size staff T-shirts 2 pieces were bid by 10,000 yen each.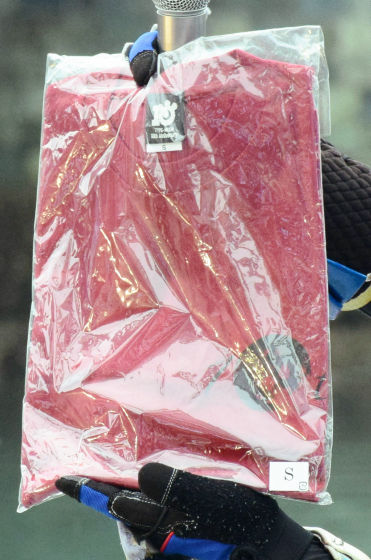 Sky boundary In the fifth volume of the script of the fifth chapter, the director Sudo's autograph signs in the lower volume, and the director Hirao's signature in the first volume, 100,000 yen each.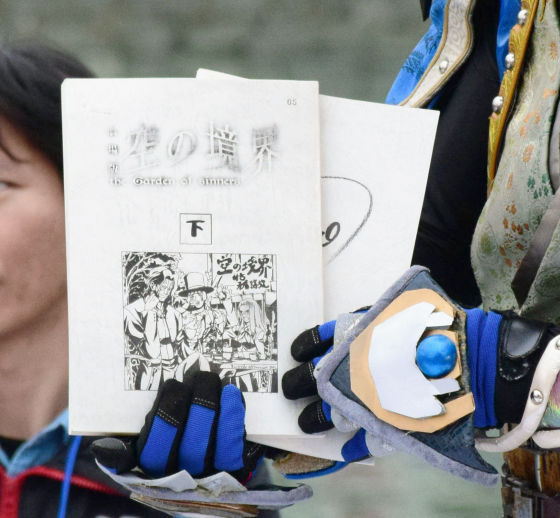 This is also empty boundary related goods. Halloween SD color paper exhibited in theatrical version "The boundary of the sky" at Cafe was limitedly displayed with a high price of 250,000 yen.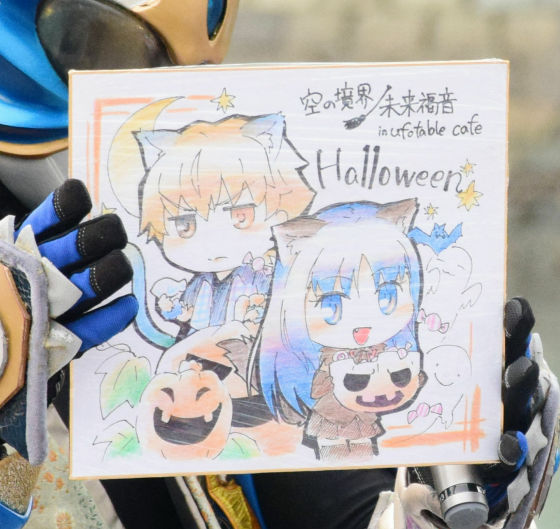 PS Vita version "Fate / hollow ataraxia" poster has a signature of Noriaki Sugiyama of Shimiya Shiro and entered a bid for 110,000 yen. The high price successful bid continues toward the finale.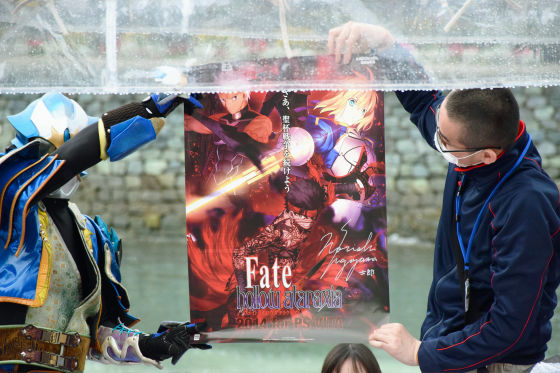 The last item was a staff member who participated in Machi ★ Asobi Vol.12 and a signature of 30 voice actors enteredDandelion"is. Mr. Aii Eile, Suzuki Komi san, Hiromi Igarashi, Yuri Hara, signed the luxurious members, Kondo P has tweeted their sign list.

Matthiasbi info: VOL 12 Last charity auction, last thing came awesome. From Mr. Vibe,We plan to get a signature from the dolls' participants. I got it all right. Please see the image in the list. 30 people!# MachiasobiPic.twitter.com/oBbsFnFN 9Y

- Kondo Hikaru (ufotable) (@ hikaruufo)2014, May 5
Dandelion where this was exhibited. There are 4 panels in total, only 1 appeared in the auction site.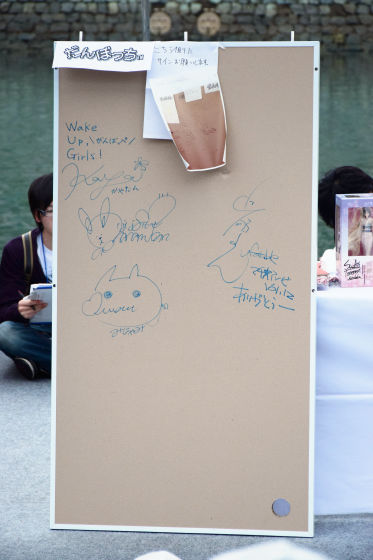 The winning bid price was 200,000 yen!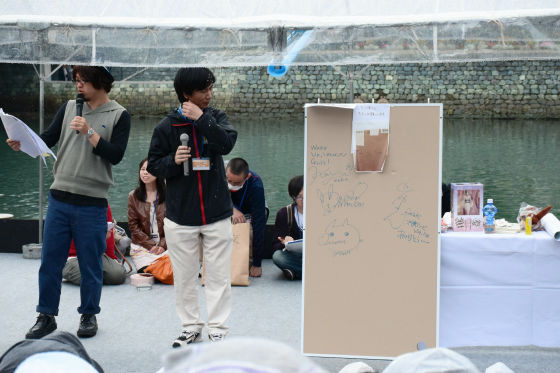 The auction held over 3 days is over. A big applause brought from the participants, and it seemed that people who did not bid or did it also enjoyed it.