Machine ★ Asobi vol.16 "Charity auction" that gets out of the super rare goods of animation and games successively over 100,000 yen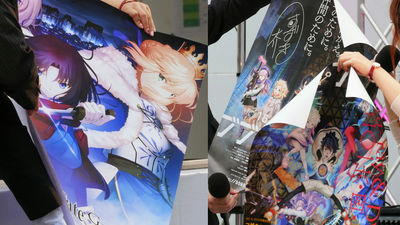 Gore ★ Asobi has become a regular "Charity auction"A lot of unbearable items are exhibited for fans, such as rare goods such as animation and games, autographs & drawings and illustrations. It will be held from 3rd May to 5th May 2016Machi ★ Asobi vol.16However, a charity auction was held and several goods over 100,000 yen appeared from the first day.

Machi ★ Asobi Charity auction
http://www.machiasobi.com/events/auction.html

Many guests gathered from the morning at the auction site.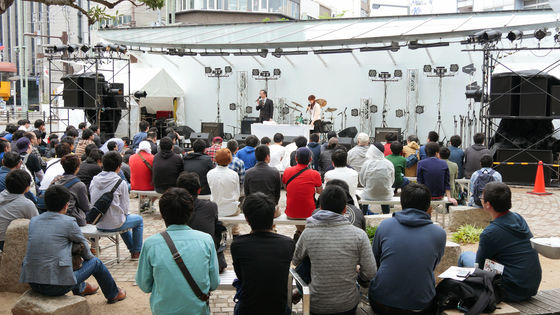 First of all, "Mr. Suzuki's set (strap)" appeared as a shoulder accustomed. Start from 30 yen, winning at 500 yen.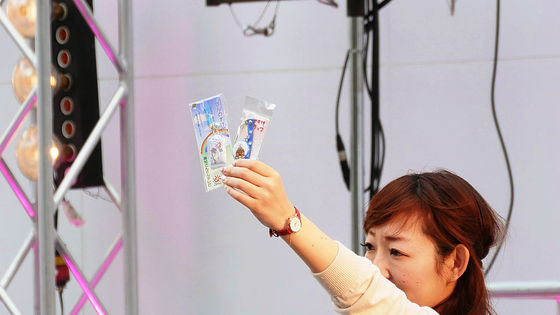 People who bid successfully went to the settlement of the stage sleeve.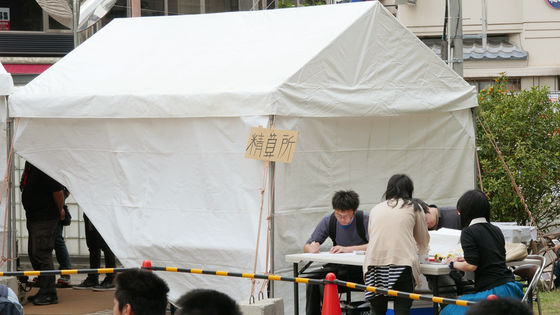 Next is the CD set of "Smile Shooter". With 8 CDs ......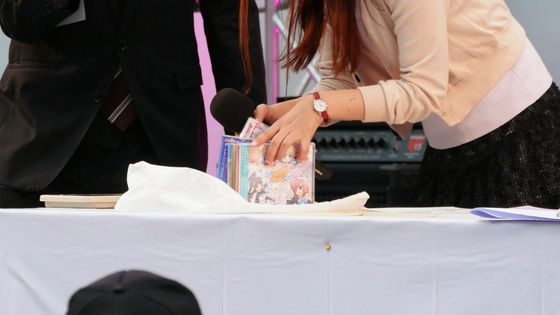 It is a set of tote bags. The winning bid is 7000 yen.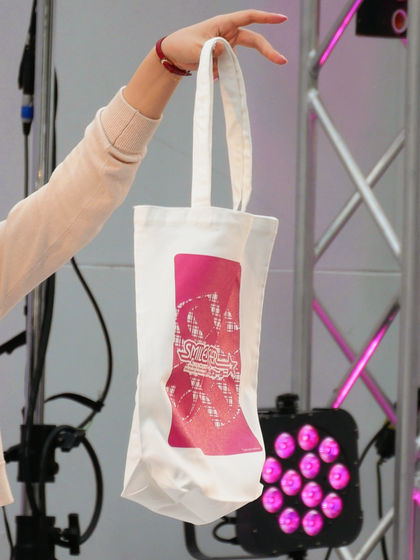 From Ultra Super Pictures, two posters of "Bubuki / Blanky" appeared. On the left side, an animation key visual post, Suzuki Daisuke CG supervisor signature entered, bid 5000 yen.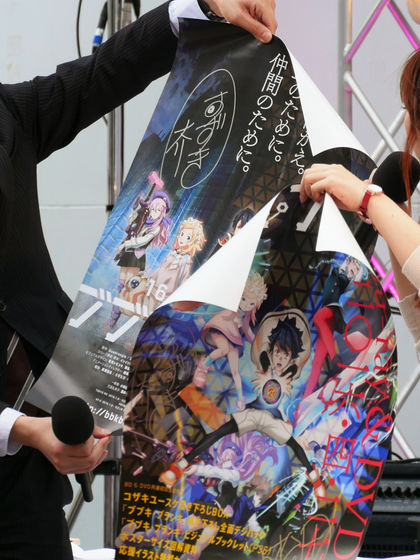 Packaged announcement poster with director Komatsuda Odori sign is 6000 yen.



Subsequently, the film color school in the limited item "Fate / stay night [Unlimited Blade Works]" sold at the comic market. Normally, color schools are thrown away after checking color, of course not for sale. The winning bid was 40,000 yen.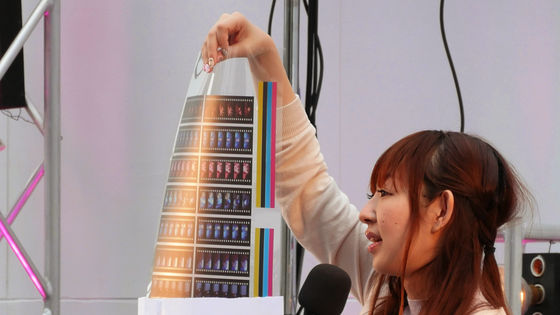 Next, as a memorial 15th anniversary of the ufotable, the script of the first episode of "Fate / stay night [UBW]" appeared, and it made a successful bid for 70,000 yen.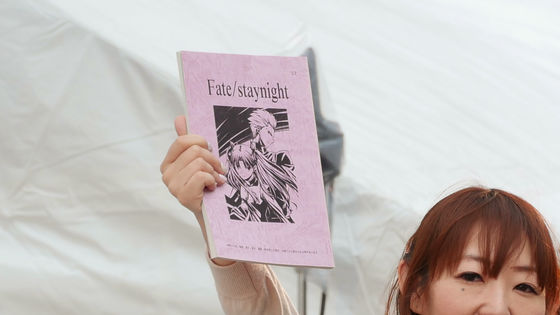 The script of "Ninin transfers Shinobu" # 03 "Sonic speed circle, leaves home" is 40,000 yen.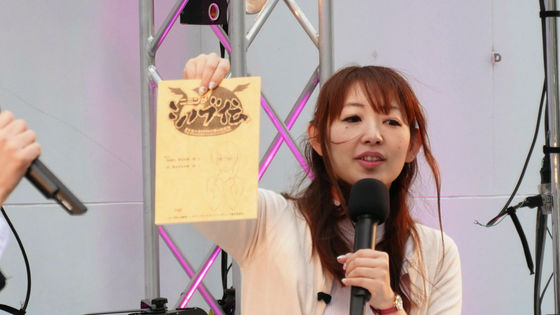 The script of the "sky boundary" chapter 2 is a rare one with a director Takuya Nonaka.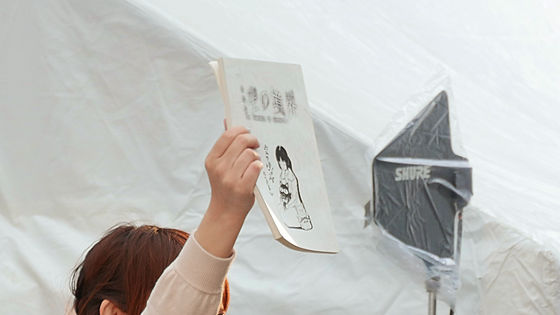 Illustrated on the back cover. Janken was held where the price exceeded 200,000 yen.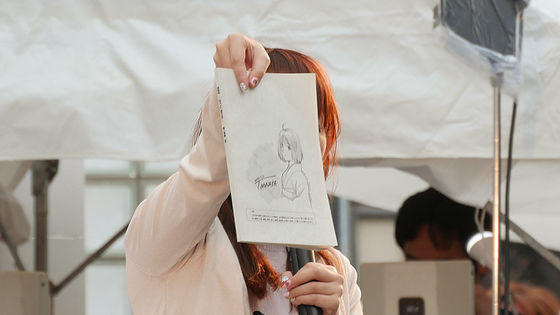 A big applause will be sent from the hall to the big market product of 200,000 yen.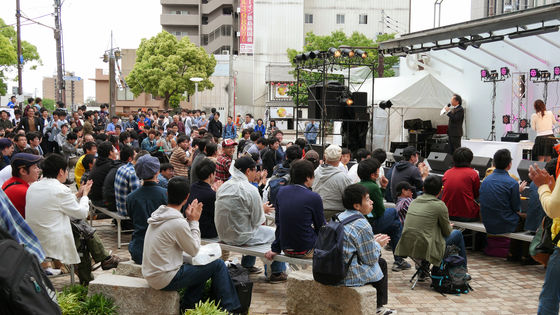 "Fate / Grand Order" collaboration cafe poster signed by Mr. Yukinoru Sudo bid for 80,000 yen.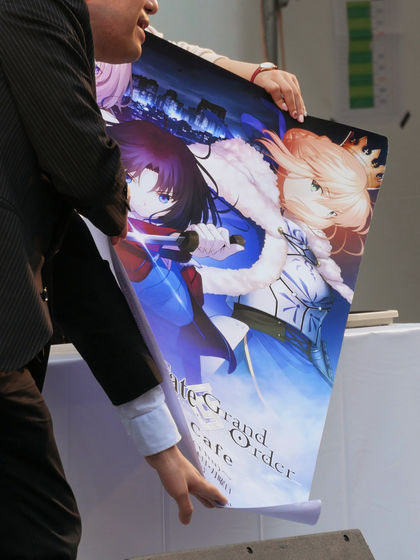 "Fate / stay night [Realta Nua]" Altria tapestry is 130,000 yen.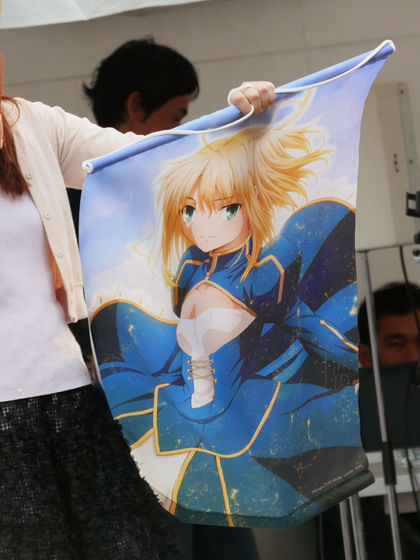 Goods of unique gore Asobi that you can get the name of the winning bidder by Mr. Sakurazaki's autograph on "Chokotan", a voice actor Chiyosaki Sakurazaki became the card of Weiss Schwarz, made a successful bid for 30,000 yen.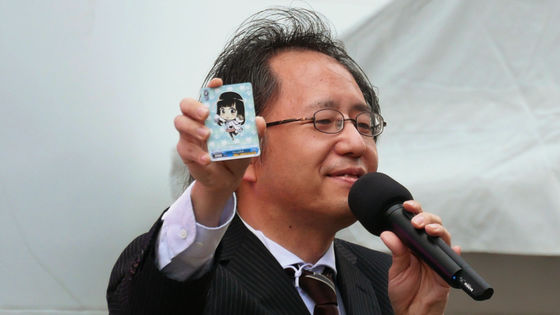 This ends the first auction. The charity auction is scheduled to be held 5 times in total during the gore ★ Asobi vol.16, and the exhibition item isYou can check from here.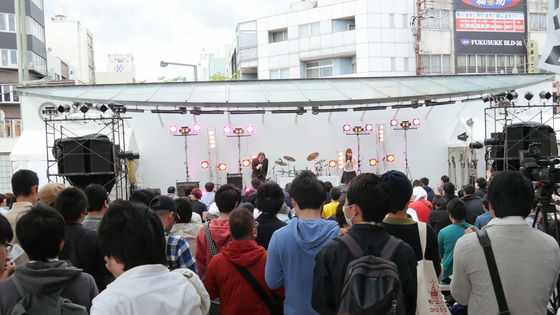 It was the second charity auction held on the East Park stage on May 3rd.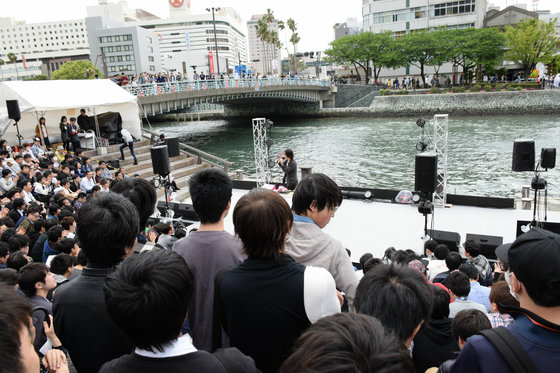 From this time, signboard of "checkout place" is attached to the accounting zone after winning the item.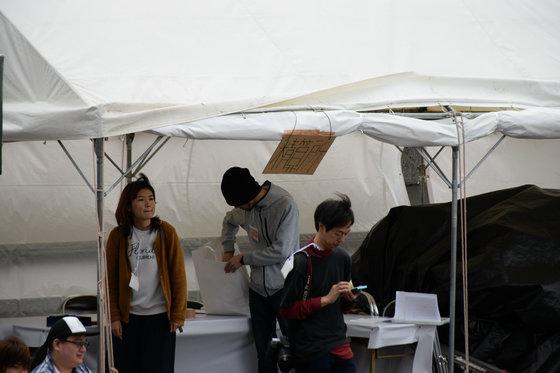 The first thing that was sent was Mr. Kochi's TV plush toy. The winning bid is 2300 yen.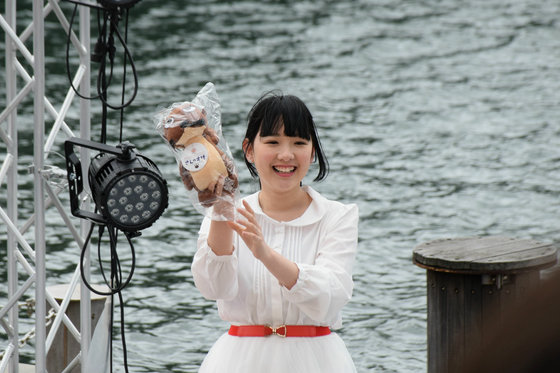 If you want products, please raise your hands and shout price with loud voice OK.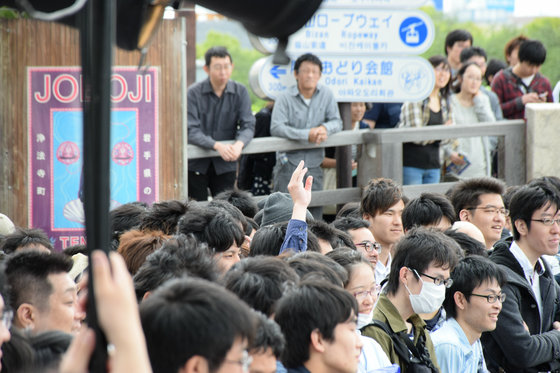 Next is "Ninimu Shinobu Den" introduced in commemoration of ufotable 15th anniversary # 02 script. The winning bid is 15,000 yen.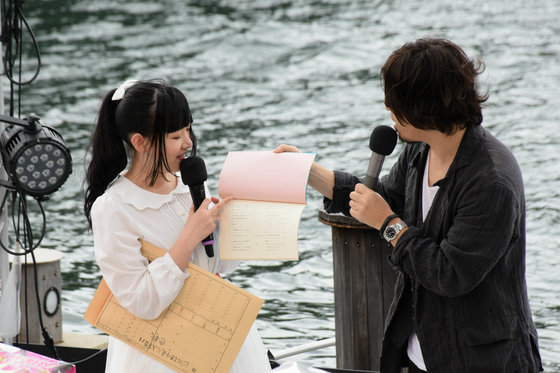 This is "Fate / Zero" # 06 script. Caines · Ermeloy · arch bolt is the cover page. The winning bid is 10,000 yen. Speaking of Mr. Queens on the cover, President Kondo showed off an episode that a bouquet of blue roses arrived at ufotable on his birthday, but the principal who sent this blue rose succeeded in bidding for the script was doing.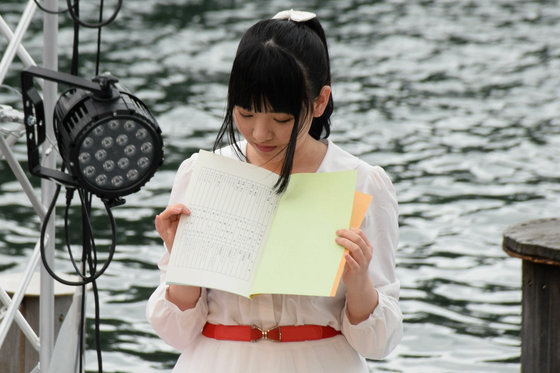 Next is STAR DRIVER × Which Master poster & Kelotto Plush Toy. The poster was not for sale limited to gore ★ Asobi, the winning bid was 13,000 yen.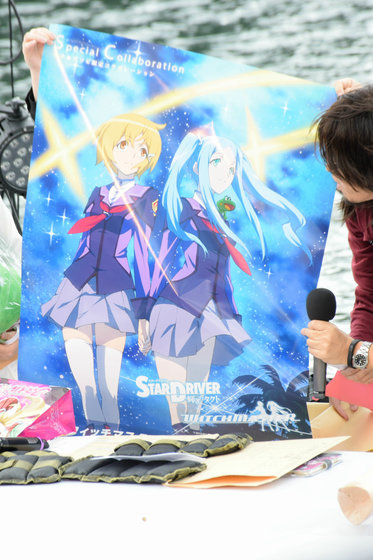 Next, President Matsuyama of CyberConnect - 2 appeared.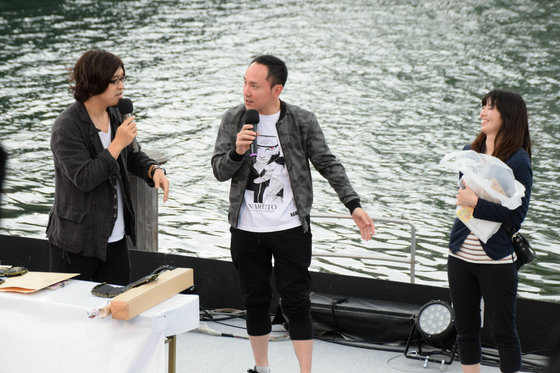 ".hack complete setting material collection" that I sent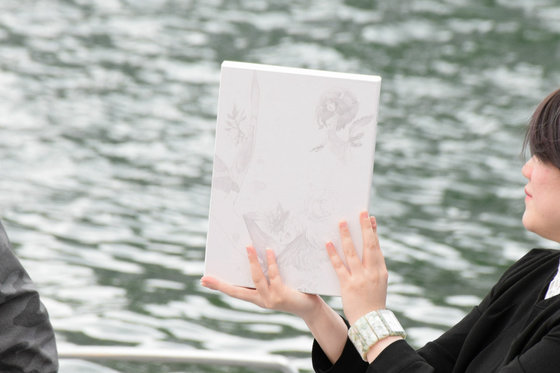 Here is the signature of Mr. Kawahara Gravel and President Matsuyama who are the original authors of Sword Art Online, and the winning bid is 120,000 yen.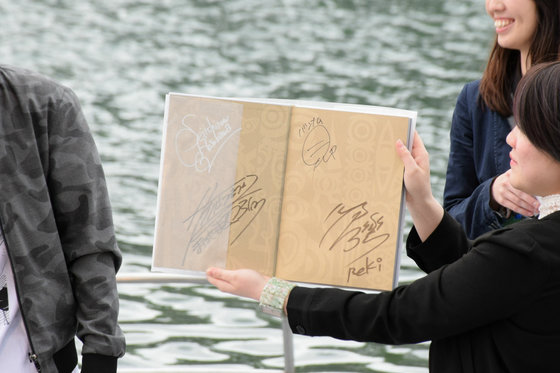 Mr. Ham's handwritten illustration colored paper (with cast voice actor autograph) who was in charge of character design of "I'd like to join the zodiac" is a winning bid price of 30,000 yen.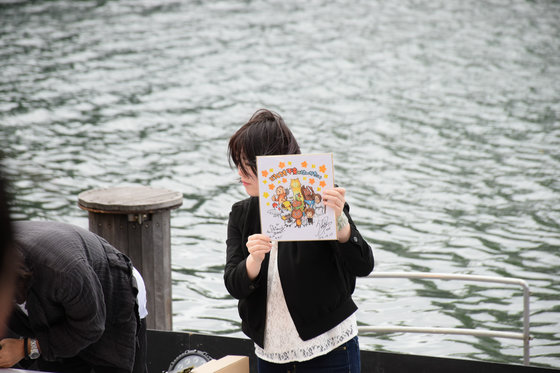 A poster that puts a signature signature by Atsushi Abe and Mr. Kana Ueda on the poster of the latest SQUARE ENIX arcade fighting game "Gunslinger Stratos 3" which will be on sale on May 12. The winning bid is 15,000 yen.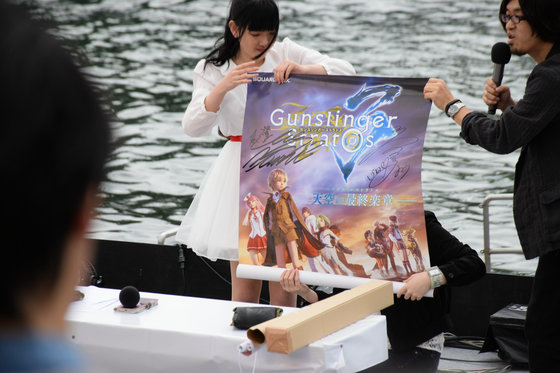 "Fate / Zero" Archer life-size tapestry drawn on White Day in 2016 has a winning bid price of 120,000 yen.



"Fate / Grand Order" heading bunny 2016 tapestry. With signature of Mr. Yukinoru Sudo, it is B2 size. The winning bid is 160,000 yen.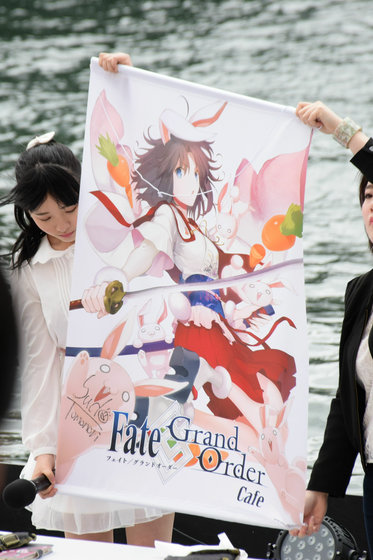 ◆ 2016/05/04 16: 04 Addition
In the auction held at Shinchochabashi East Park on the second day of Machi ★ Asobi, "Fate / Zero" 4th key Visual tapestry appeared with Mr. Sudo's signature. The winning bid is 35,000 yen.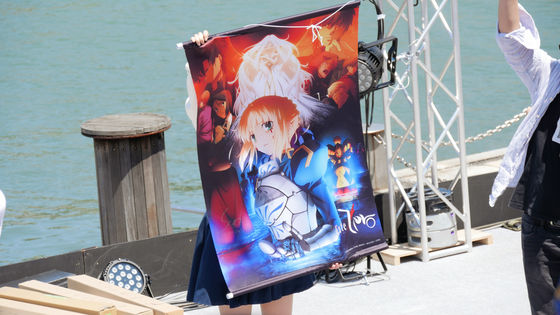 Then it was taken out of the brown box ... ...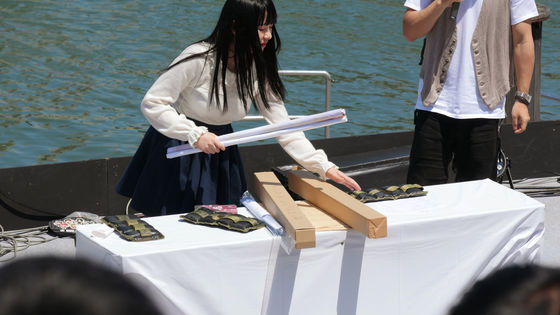 Also the first visual key tapestry of "Fate / Zero" signed with Yukinori Sudou. The value of 40,000 yen has arrived.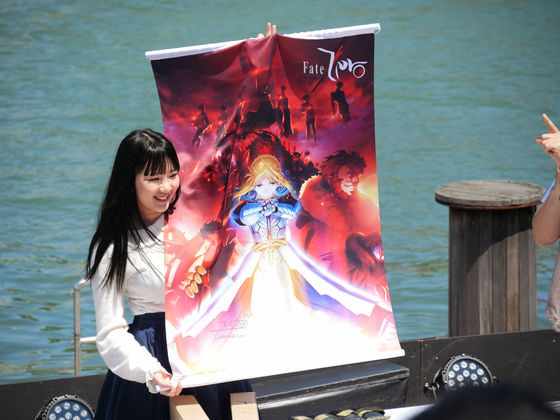 "Bubuki · Blanky" director Komatsuda Daizen, Suzuki Daisuke CG Supervisor signed poster, 8000 yen in 2 sets.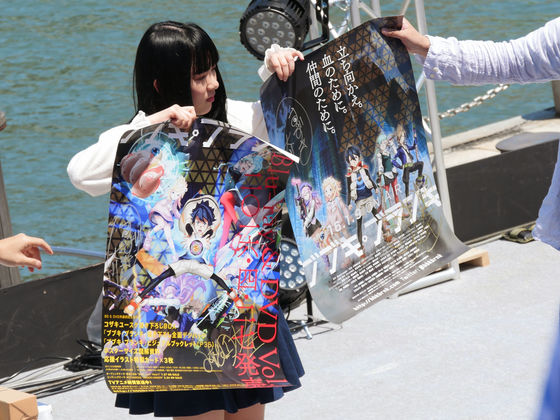 Film school in "Fate / stay night [Unlimited Blade Works]" limited item sold at comic market is a transparent film, Shiro, Rin's summon scene, Archer battle scenes are drawn. The winning bid is 12,000 yen.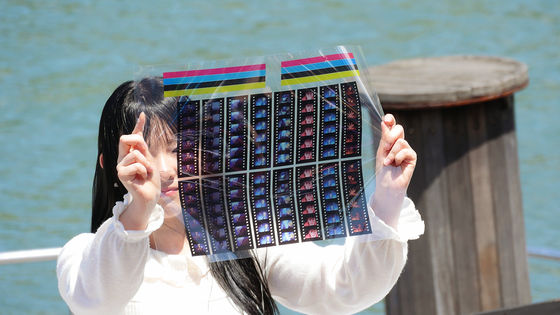 KADOKAWA 's Ms. Tomoko Kato appeared and bid for 100,000 yen tapestry with a signature of "Izuya Prisma ☆ Ilya" Mr. Kadowaki Mai ___ ___ 0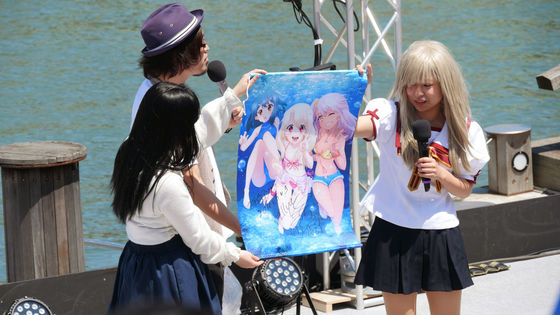 "Ninin's Shinobu" which appeared in commemoration of ufotable 15th anniversary is a rare item that character designer Jun Shibata painted in color. The successful bid amount was how much 150,000 yen.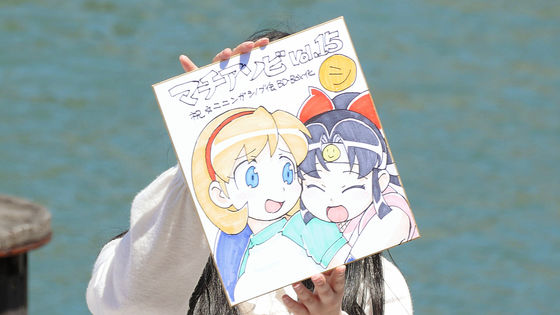 The tapestry of the second key visual, "Tales of Zestilia the Cross" goods at this time's Machiasobi Charity Auction, entered the signature of Mr. Akira Matsushima of Director Haruo Azaki and Character Design, the bid amount is 50,000 yen.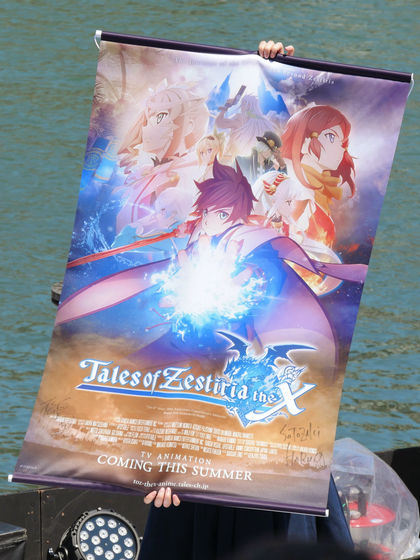 At the end of the auction, he is a voice actor at Cygemes "Uma Da" who personified the racehorseMari TakanoMr.,Wakasa azuMr.,Eriko MatsuiAppeared.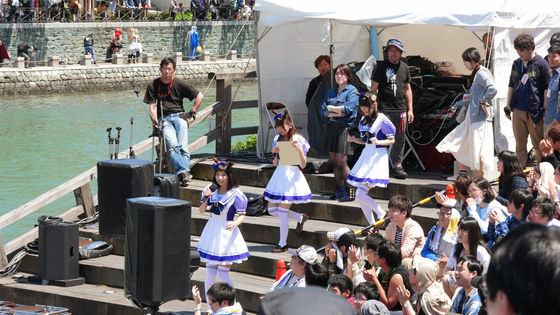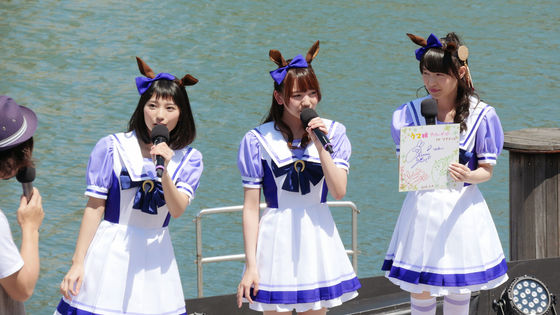 Three people's scribbered sign color paper jumped out as a comment saying "Yahoo! Ok like ......" to the bid amount which increases with 5000 yen increments, the last was bid by 80,000 yen. Two pieces of colored paper are prepared, and another one is going to appear in the auction of gore ★ Assobi final day.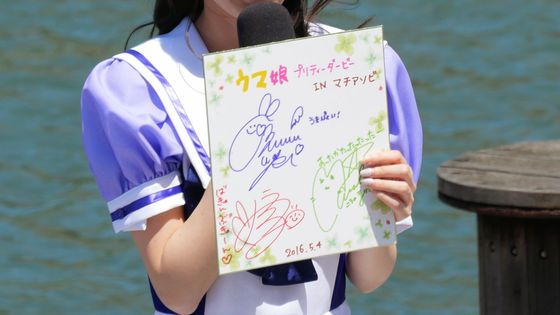 To the person who made a bid, colored paper was handed directly to Uma girl.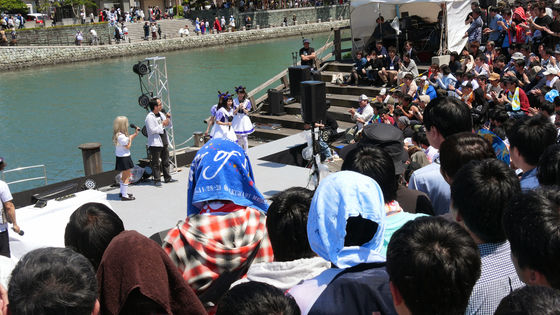 After the auction end, at the East Park stage rehearsal of Uma girls was held. The actual "Uma musume Tokushima 1 r debut game!" Will be held on the East Park stage from May 19th.

Thank you for watching the rehearsal! Ajuju with Mr. Matsui

Actual time is from 19: 00 to Higashi Koen
Thank you ☆ *: ... o (≧ ▽ ≦) o ...: * ☆Umama daughter# Machiasobi# MachiasobiPic.twitter.com/KRrP8d5MYi

- Mari Takano (___ marika_0222)May 4, 2016

◆ 2016/05/05 10: 08 Addition
In the charity auction held at Nishikoen on May 4, the first visual key tapestry of the movie version "Fate / stay night [Heaven's Feel]" appeared. With the autograph of director Sudo Yukinori, the bid amount was 100,000 yen.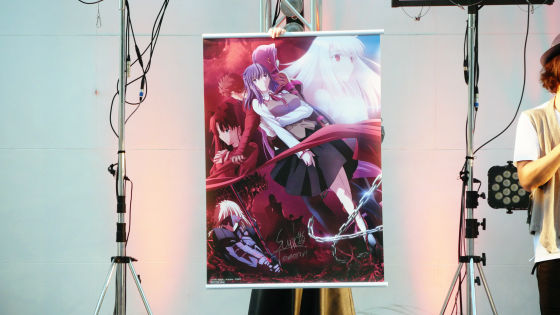 Mr. Shimji Mizushima etc. The signature of the so-called member "Concrete / Revolteio superman fantasy" poster is 60,000 yen.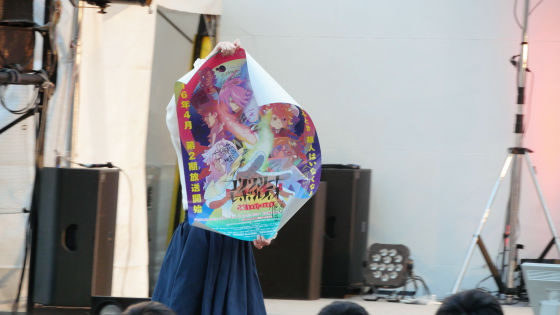 Script of Chapter 3, "The boundary of the sky" with autographs directed by Funai. This rare goods which was exhibited in commemoration of ufotable 15th anniversary became settled on January where it reached 200,000 yen.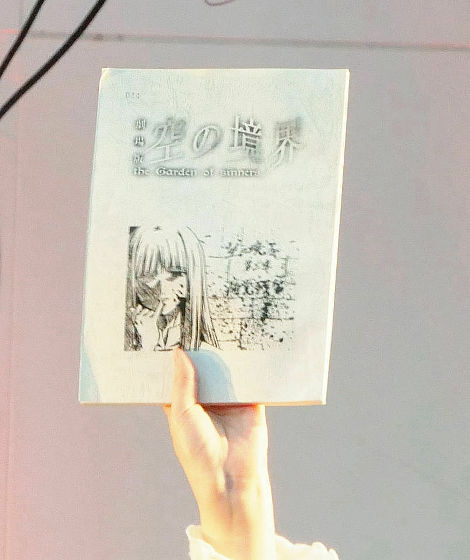 The last exhibition of Nishikoen Auction was the flyer of Asobi, a gore where ___ ___ ___ ___ ___ 0 The bidding price was 26,000 yen by saying that it was the eyeshadowing of today.