Paraguay's super-discount shopping paradise reminiscent of Akihabara "Ciudad Del Este"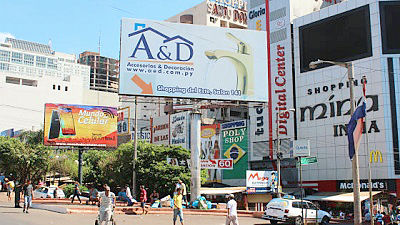 I have never thought that I can buy USB memory in South America at a price similar to Japan. It reaches SONY's AA rechargeable pond cheaper than Japan. At the border where the three countries are adjacent,Iguacu Falls tourismUnlike Brazil and Argentina who emphasize, Paraguay has created a tax exempt area and has created shopping heaven. A large-sized home electronics mass merchandiser like before the station in Japan ... However, purchasing goods through PC. What a marvelous shopping way is here.

Hello, I am running in Brazil of 99 countriesAround the World Bicycle WorldIt is Takuya Sudo @ Chaliderman. As rumored, the price of electric appliances in Brazil is quite high, "LOJASWhen I looked at an electronic store flyer named "

PlayStation 2: 799.84 Real (about 30,536 yen)
PlayStation 3: 1599.84 Real (about 7029 yen)
PlayStation 4: 5439.84 Real (about 238,965 yen)

I doubted my eyes. Both are the total amount of 10 times payment."Game" genre of official websiteI think that will be helpful. I peeked at the hypermarket on another day,

SONY Xperia M: 743.29 Real (about 32,651 yen)
SAMSUNG Galaxy Pocket Neo S5312: 398.00 Real (about 17,483 yen)
OLYMPUS VR-320: 656.99 Real (about 28,860 yen)

It was priced. Brazilians to ParaguayCiudad del EsteYou can also see to go out.

◆ How to walk
Like this the shopping building is dense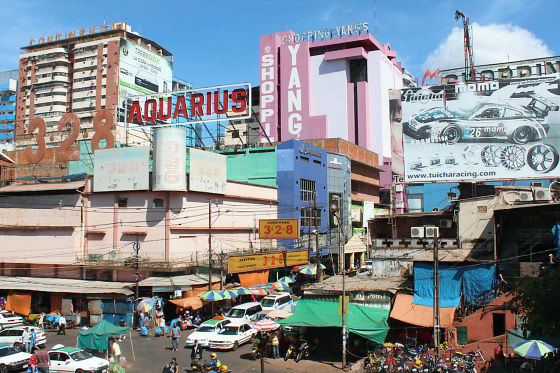 When crossing the big bridge from Ciudad del Este of Paraguay, it is BrazilianFoz do Iguacuis. Paraguay and ArgentinaPuerto IguazuAlthough you do not adjoin the borders, you can get a direct bus at 10,000 Guarani or 20 pesos (about 200 yen) each way. At that time, I go through Foz do Iguacu, but it was strange that I did not need to leave and depart from Brazil. I go to Paraguay to see Iguacu Falls on Argentina side on a day trip.

Imagination of Paraguay in front of the bridge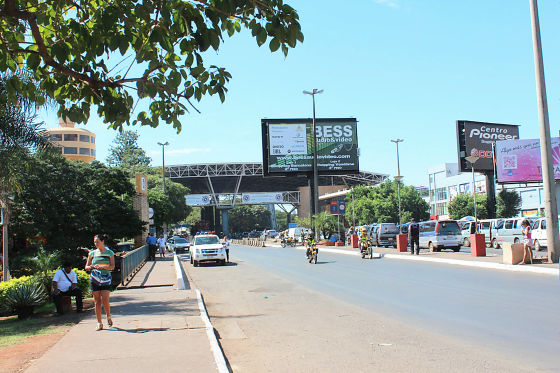 In front of this immigration is a shopping area, it will be easier to move by thinking on the main line Ruta 7 extending to the east and west, divided into north and south. It is feeling that the southern side is crowded. I think that there is nothing to get lost, because the road is a grid.

Immediately after going straight through Ruta 7, Paraguay's immigration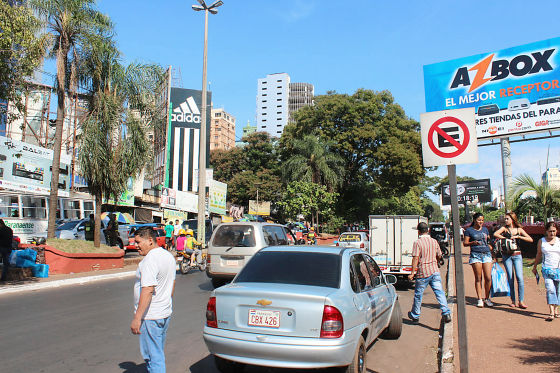 North side of shopping area. The sight that the building stands up reminded me of Akihabara in Japan.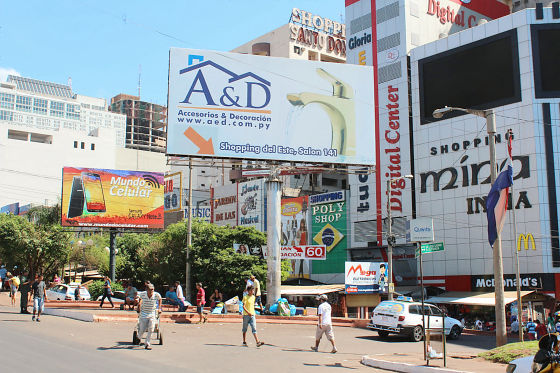 South side of shopping area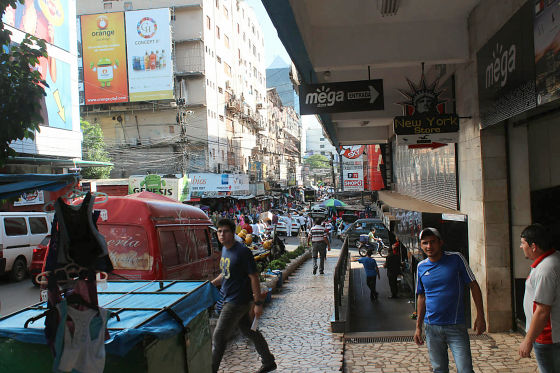 The price tag in the shopping area is based on US dollar notation. Paraguay also seems to have US dollars, but I used the US doll that I withdrew at ATM in Uruguay. Fishing less than 1 dollar will be returned in Brazil / Real or Paraguay · Guarani. There are plenty of currency exchanges and it is also possible to obtain Brazilian Real from not only Paraguayan currency but also US Dollar. Likewise, it seemed possible to obtain Argentine pesos from the US dollar, but the rate is the dark rate, againArgentine economic plightI was able to confirm.

Electronic bulletin board on exchange rate noticeable in town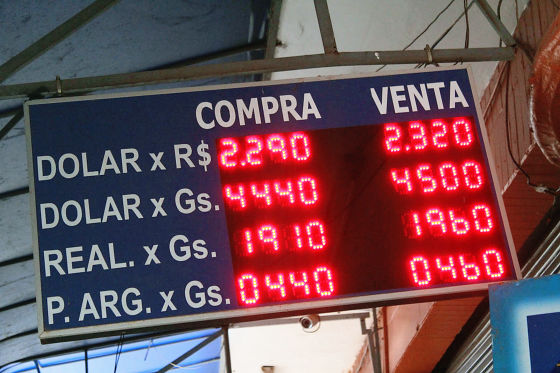 Since there are notation of Paraguay · Guarani, Brazil · Real, Argentine · peso in the receipt when I bought goods, I think that payment is also possible in these currencies.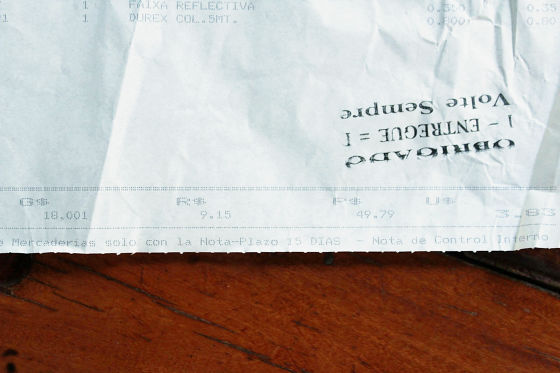 Shopping at Ciudad Del Este is a game in the morning. As soon as I started cleaning up from 14 o'clock, if it was 16 o'clock, a pretty shop was pulling down the shutter. Also, it was raining well during my stay in Paraguay, so let's check the weather forecast. I have also been touched like the scorching heat, but I think that it is hard to get rainy and difficult to move. Also, I can not go shopping because it is a holiday on Sunday.

It is a garbage bag, but it is a vibrant place.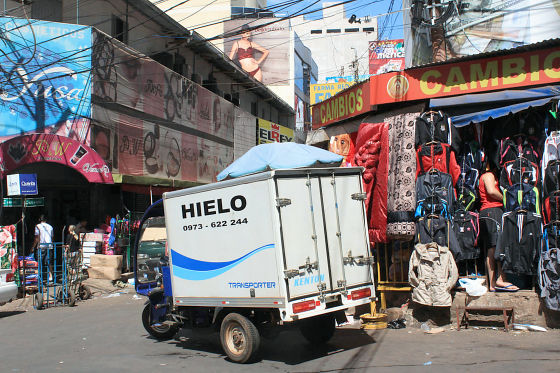 Back alley behind the cliff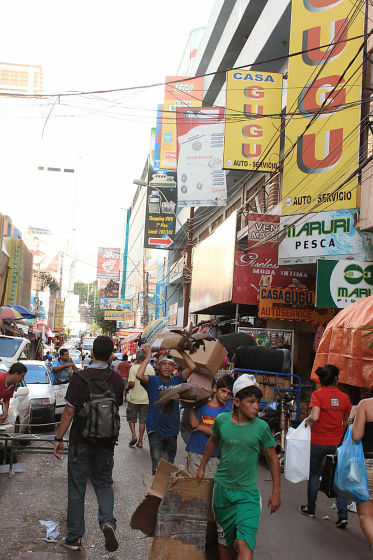 Fashion-related shops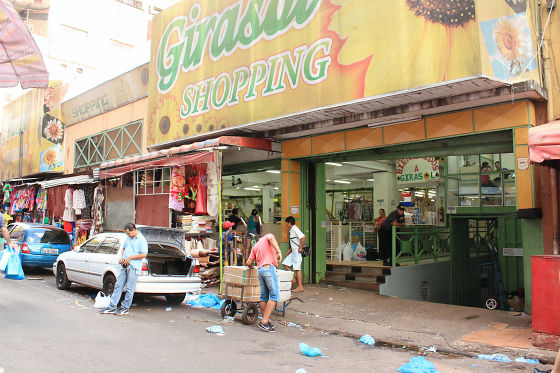 There was a moe picture though it was South America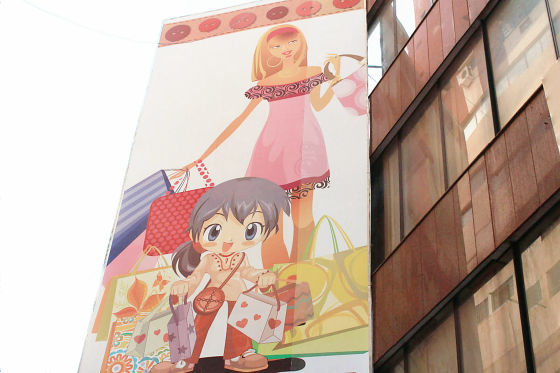 LUMIXIntoVIERAAnd the way Panasonic is working hard.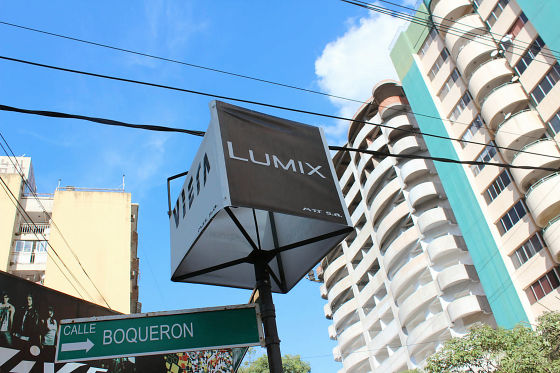 When I am hungry, I take a breath at the stall sandwich. It is such a place, but there are McDonald's and Burger King's shops.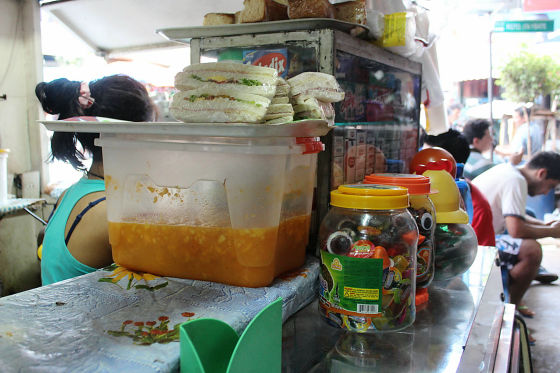 A generous street-stall brother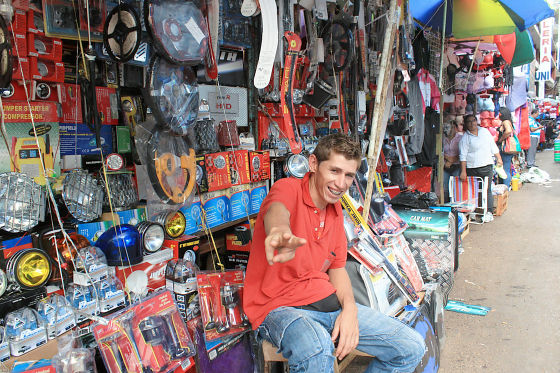 Motorcycle Taxi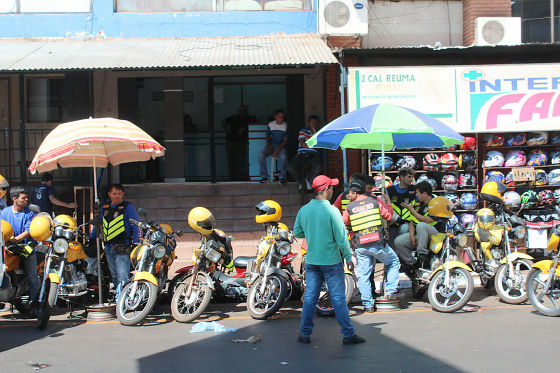 Building of interesting shape like space shuttle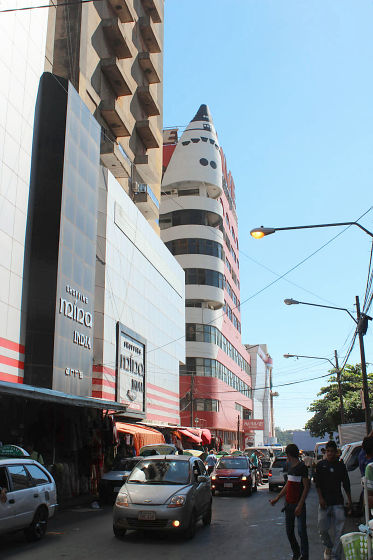 A small shopping mall that is beyond the imagination of Paraguay



Discover a giraffe made of Lego in front of a toy store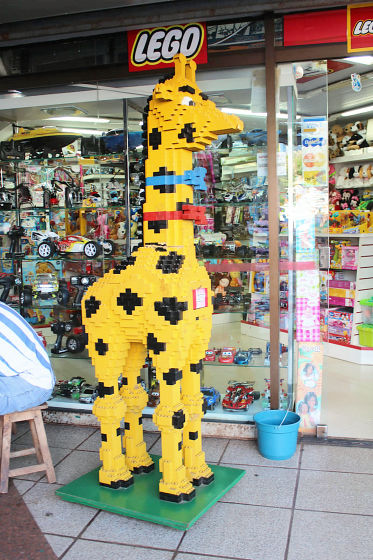 Radio control not only cars, but also demonstrated to fly a helicopter indoors.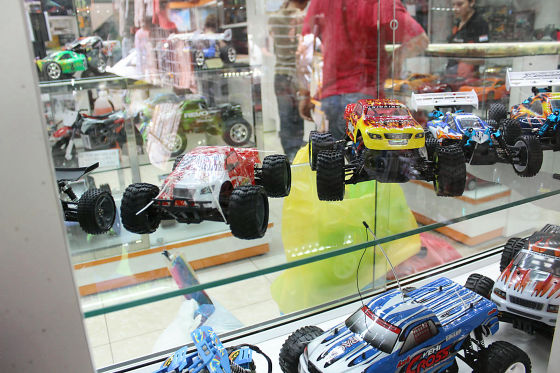 It might be for theft prevention, but the helmet surrounded by a cage seemed to be alive.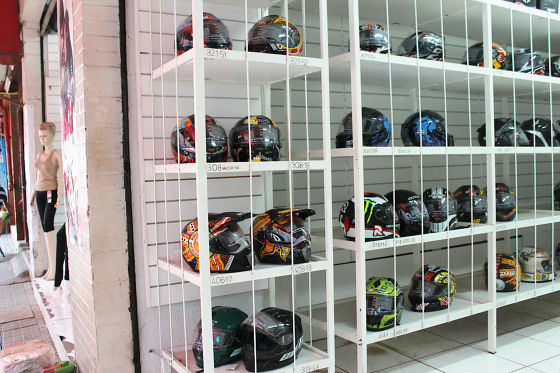 Discover boxed son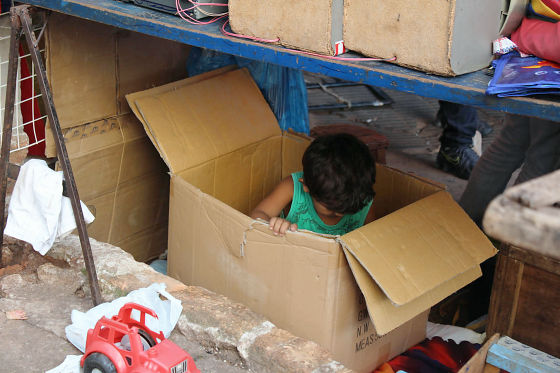 ◆ Large household appliance mass retailer
I wanted a compact digital camera with good image quality and a smartphone for music, so I looked around the shopping area. As a result of walking around a lot of times, avoid shops that did not seem to have price tags, we concluded that it would be better to search for a large store with a firm price. Small shops have few items and prices are not clear, so I felt it was hard to shop.

It looks like a big shop, but inside is a specialty store town.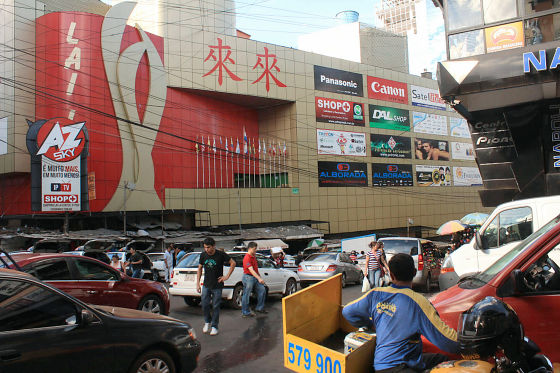 In a certain building, there are small shops densely like this.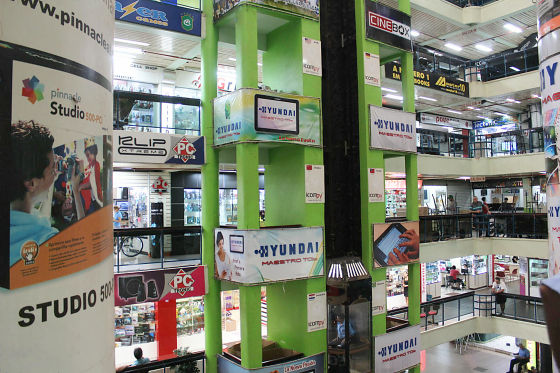 There were small shops lining up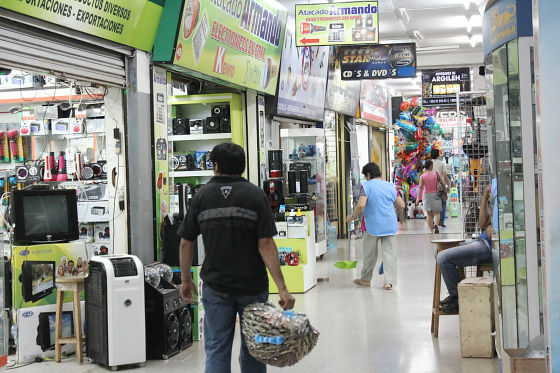 What I did shopping was "MEGA ELETRONICOS"A large-scale home electronics mass merchant shop. I advertised a lot of taxi's rear window, and this Ciudad del Este seemed to be something like a big store somewhat. There was a household appliance floor in a building like a department store, but MEGA ELETRONICOS has more items.

The location of the shop was also conspicuous from Ruta 7 on the main street.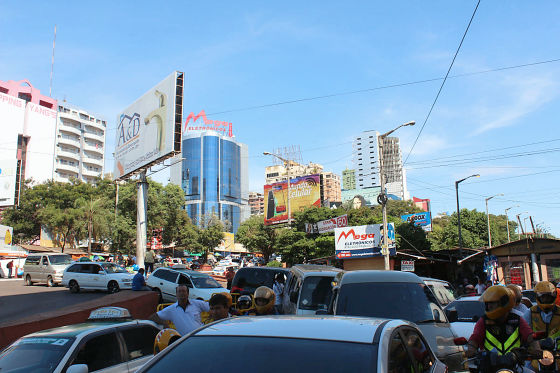 This is the entrance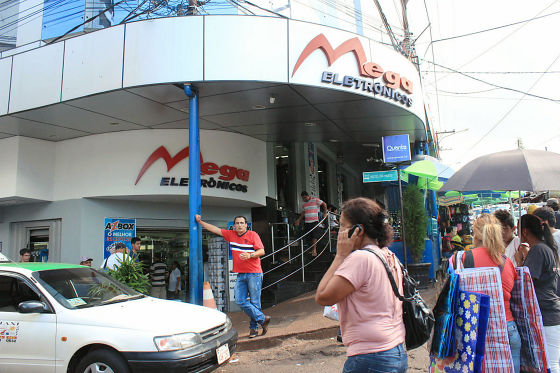 This MEGA ELETRONICOS can not touch products. There is no basket. Like Internet shopping, the salesperson was looking for products from the database. When you click on the item you can check not only the price, but also photos and specs. I managed to communicate in Spanish. Since there are many Brazilian customers, it seems likely to work in Portuguese, but what about English? Either way it is not difficult, so let's survive with the spirit somehow.

The first floor and the second floor are checked for the price as the goods are displayed in this way.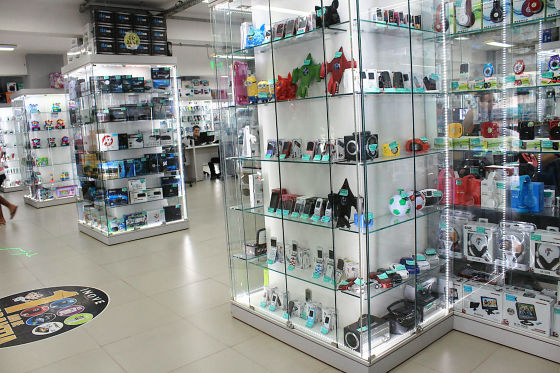 Display of Android smartphone and tablet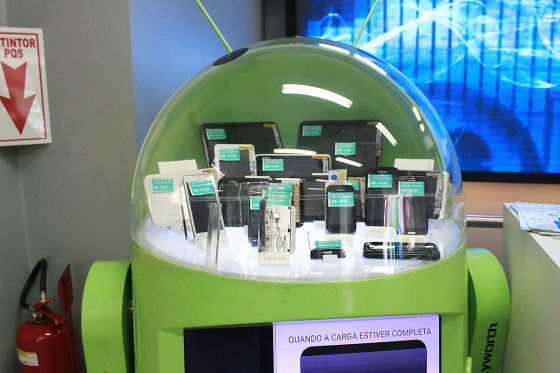 If you want the product to overlook the show window, consult your sales representative. Also, if you tell "I am looking for a 16 GB USB flash drive," it will find it on my PC. When all the items I want are printed out the details. At that time I was asked to display my identity card so I dealt with a copy of my passport. Take the printed paper to the accounting window with one hand. Paying here will push the paid stamp. Move to the 3rd floor, pass the details and the receipt of the payment to the counter, and if you receive the item picked up, the shopping ends.

Detail of the item and a receipt paid.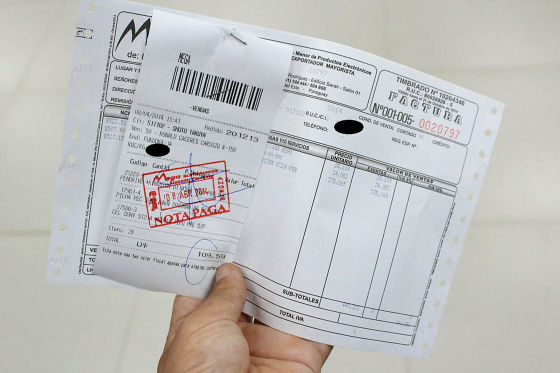 The window of goods delivery on the third floor. Smartphones will open the box so let's check if the accessories are included.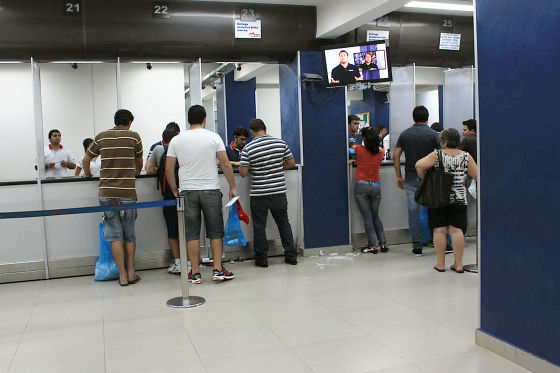 Then, the war loot you got is here. First of allSony XPERIA tipo, $ 95 (about 9717 yen). Though it is the third smartphone, I will destroy the original IDEOS and I will use music mainly here. There is no worry as to what to use and how to use a digital gadget.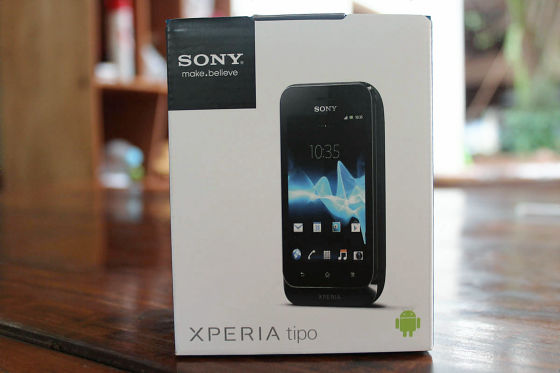 Sony's 4 AA rechargeable batteries cost $ 7.59 (about 776 yen).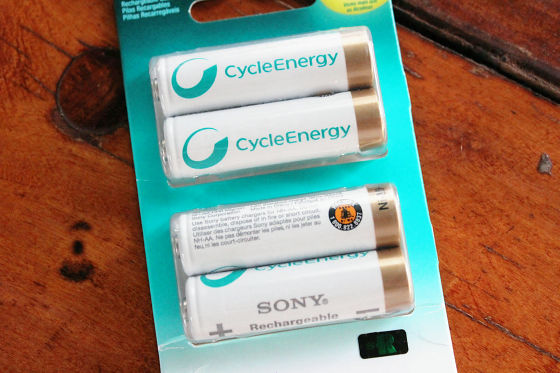 When examining the same model number at price .com, the lowest price was 980 yen (at the time of writing).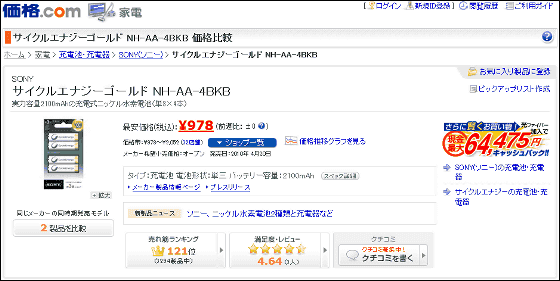 Because Kingston 's USB memory 16 GB was cheap at $ 7.00 (about 716 yen), I backed up my digital camera' s data and sent it to Japan.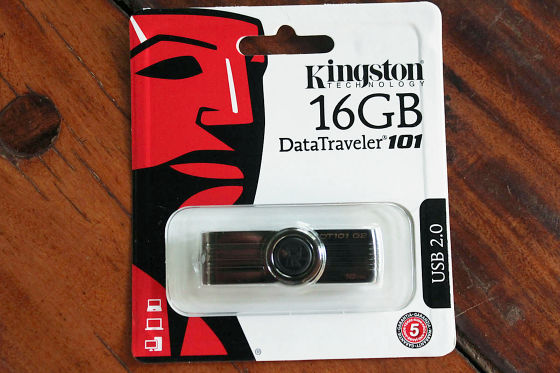 The lowest price was 900 yen range when examined by price .com.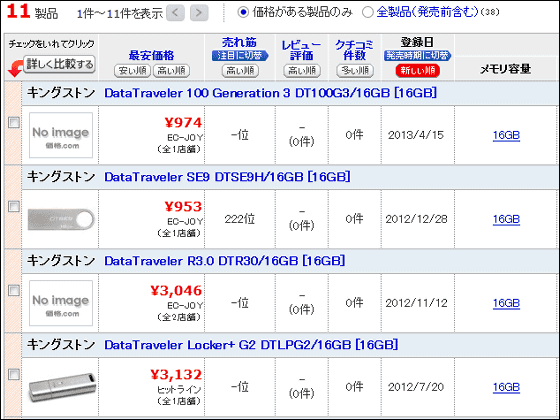 Compact digital cameras are sold in Japan from Sony's 40,000 yen "Cyber-shot DSC-RX 100I searched for almost no treatment, even at the store I found the only one was expensive as 650 dollars (about 65 thousand yen), so I gave up.

◆ Chinese goods grocery store
Another harvest of this shopping area was that there was a grocery store in China like a Japanese 100 yen shop. Even here is a price tag, and it is cheaper than Japan, even in South America and around the world, this price place will not be found so. I got a tension after a long absence.

Purchased a U-shaped lock of $ 4.99 (about 510 yen) in preparation for European driving this summer. The bicycle theft is more scary in developed countries.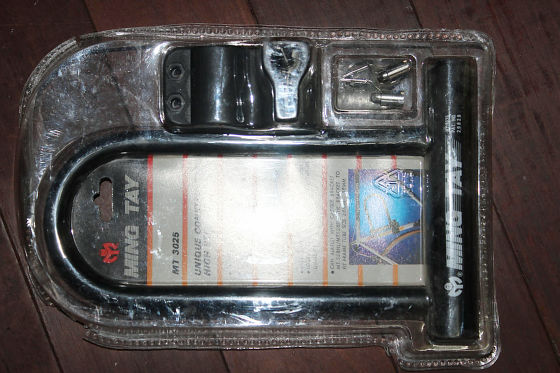 Impulse buying cloth bottle holder of interesting $ 2.40 (about 245 yen)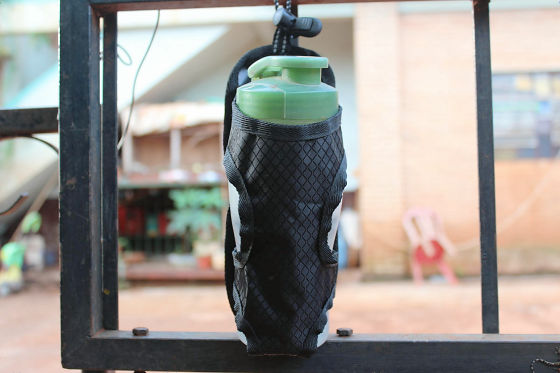 Because I often break, I buy an earphone all over the world, but I get a reasonable price for $ 2.00 (about 204 yen).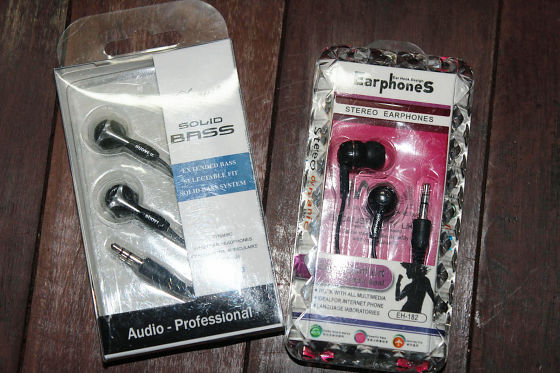 We also supplied 0.79 dollar (about 81 yen) of gum tape and expendable supplies to the binding band of $ 0.99 (about 101 yen). A plastic tape of $ 0.80 (about 82 yen) will be used to pack the bicycle at the airport.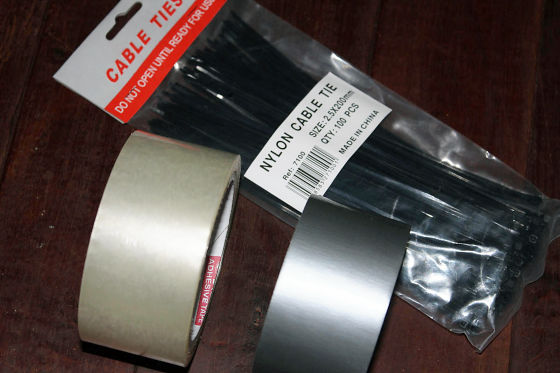 The vinyl case was also damaged, so it was renewed. A small case is $ 0.45 (about 43 yen) and a big case is 0.75 dollars (about 76 yen) and a good price.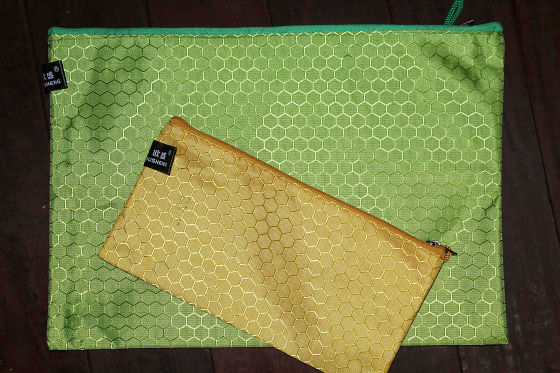 And, like this, I am scattered. I also looked for bicycle parts, but I could not find a good store. Besides, I was happy that there were something outdoor goods, but I also did not see it. I'm issuing a billboard for my own driving route "MONALISAI'm curious what the shop is like.

As much as Iguacu Falls, Ciudad del Este was also an exciting place.

(Sentence / picture:Takuya SAITO @ Chaliderman
Cycling around the world for a bicyclehttp://shuutak.com
Twitter@ Shuutak)