Coca-Cola holds a sweater contest that competes for "dasa-su"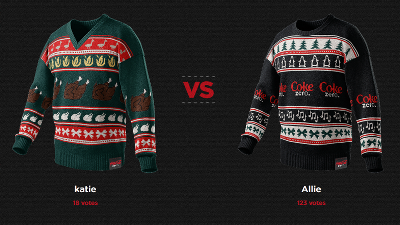 Speaking of sweater is a staple of winter clothes in winter, Coca-Cola holds a contest competing for "sweaty" design of sweaters. In the USA it will be Christmas seasonA party to gather together wearing a sweater and laugh at each other's style was done,FurthermoreUnusual sweater special storeThere are also backgrounds that wearing a sweaty sweater in the Christmas season has become a boom.

Coke Zero - Sweater Generator
https://www.sweatergenerator.com/

The site is composed of "SWEATER GENERATOR" which can actually make online sweaters, "LEADER BOARD" where you can see the sweaters made by applicants, "ABOUT SWEATER GENERATOR" explanation of the sweater generator.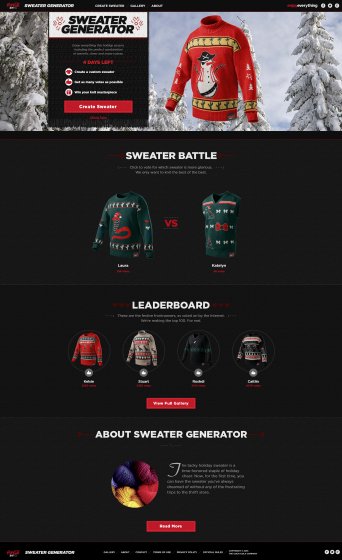 "SWEATER GENERATOR" can make your favorite sneakersNIKEiDLike, a generator that can make a sweater with custom detail.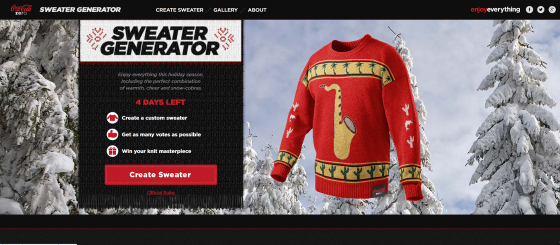 "SWEATER BATTLE" in which an unscrupulous sweater made by the applicant is randomly displayed.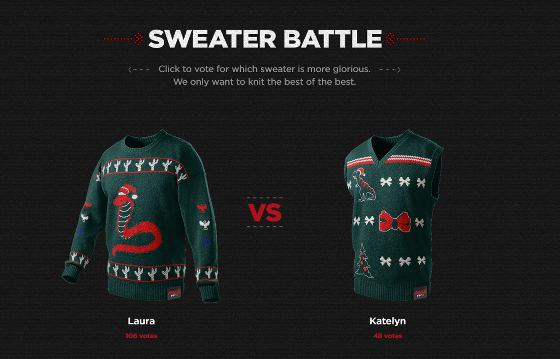 When you click "View Full Gallery" of LEADER BOARD ... ....



You can see the sweater of the applicant made with the sweater generator. Wearing any sweater and walking around the city, everything that seems to be ridiculed.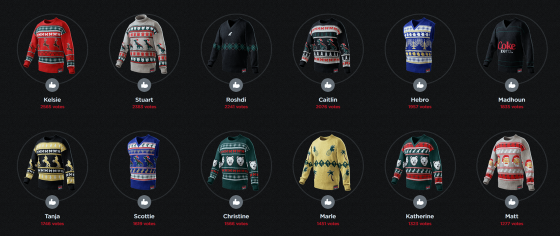 Actually using the sweater generator, I will make a sweater.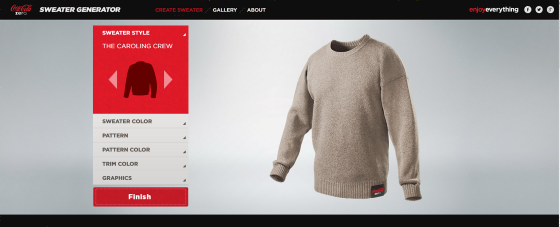 Click the "SWATER STYLE" part and select the sweater type. Orthodox neck sweater type and ... ...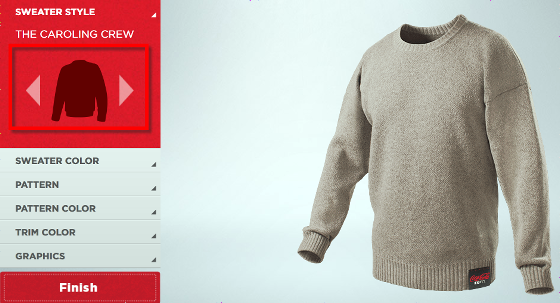 You can choose from 4 different types such as V-neck vest.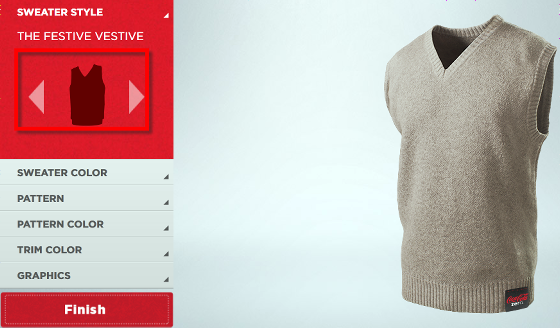 In "SWATER COLOR" you can choose the color from gray, black, blue, brown, green, red, skin color. This time I tried picking skin color.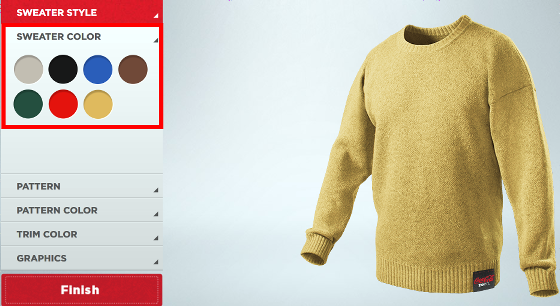 Next, select the pattern to put in the elbow part of the sweater. You can choose patterns to put in sleeves from 4 types such as "THE FUNKEY" and "ARGYLE".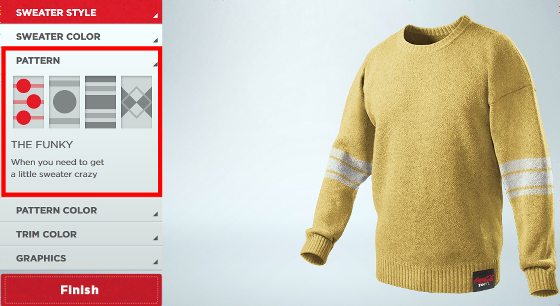 Further selectable color overlie the pattern from the 8 colors.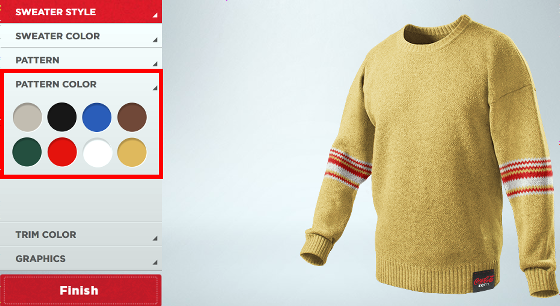 Up to two colors can be superimposed. At this point it is already awkward.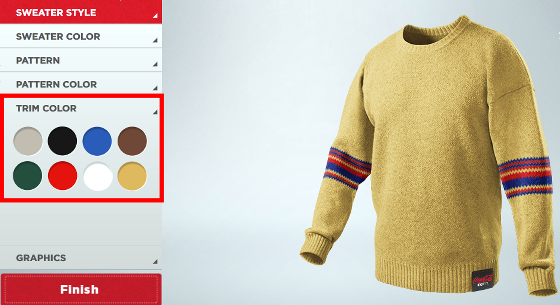 I will add additional embroidery to the sweater. Embroidery can be designed in six locations of the sweater.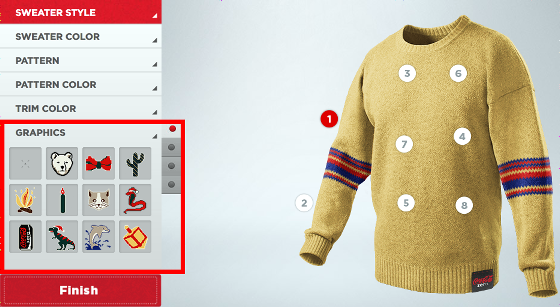 Embroidery such as white bear, cat, dinosaur, duck, ninja, note ... ...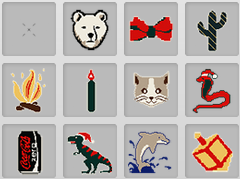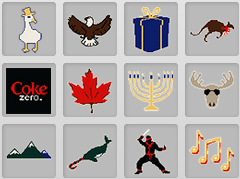 Embroidery where reindeer, Santa roast chicken, snow men and so on seem to be getting dasy are gathered.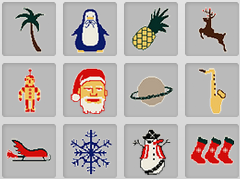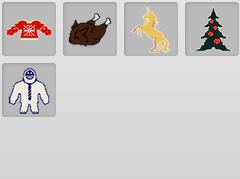 I tried picking embroidery as greedy. Designing like a punishment game, walking around the city no longer wearing this. If there is no problem with the designed embroidery, click "FINISH".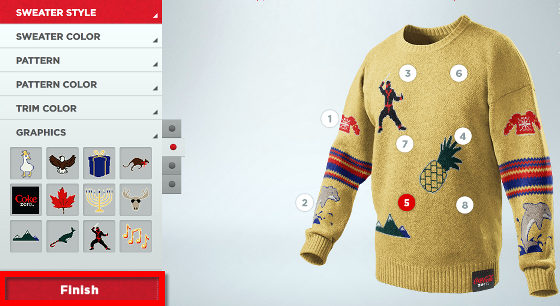 By clicking, you can choose from 10 types of sweater background. I chose the scenery of the snowy mountain this time. Although the atmosphere of the sweater's design and background is chaotic, it may be saying a good line in the sense that it competes for dasa. Once again press the "FINISH" button, the creation is completed.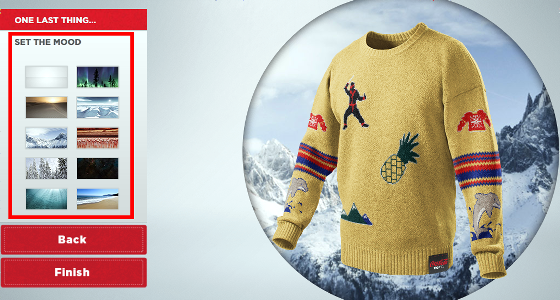 As the confirmation screen appears, if you are satisfied with the design you made, click "Submit".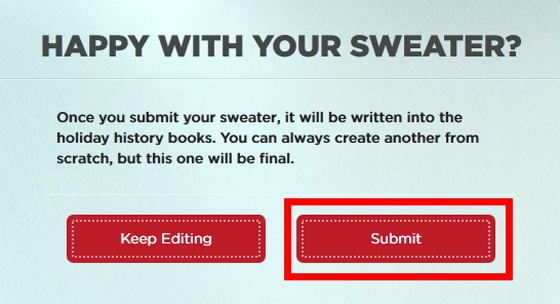 Even if you use Facebook and Twitter accounts, you can also enter. If you put it in the top 100 by voting, you will receive a sweater you made.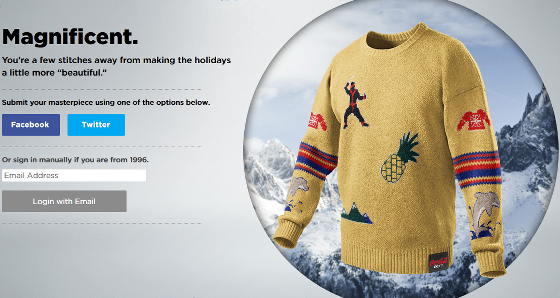 The deadline is December 1 (Sunday) of the American time. Only applicants in the United States are eligible to apply.