Sharp started sample shipment of 15.6-inch IGZO liquid crystal panel for 4K 2K notebook PC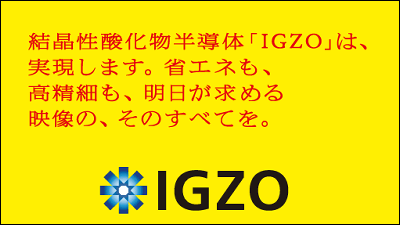 For notebook PCs realizing industry's highest pixel density in June 2013IGZOSharp started production of 3 types of liquid crystal panels (11.6 type / 14 type / 15.6 type), but sample shipment of 15.6-inch IGZO liquid crystal panel which realized 4K 2K (3840 × 2160) resolution for the first time in the world began in September It was done.

Sample shipment of 15.6-inch 4K 2K IGZO liquid crystal panel for notebook PC is started | News Release: Sharp
http://www.sharp.co.jp/corporate/news/130927-b.html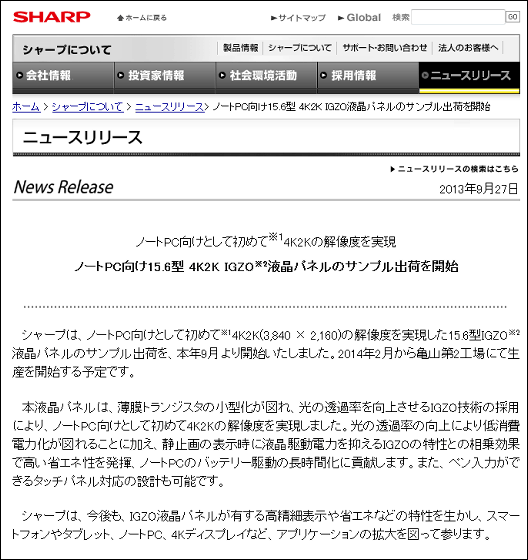 This liquid crystal panel can realize miniaturization of thin film transistor, and by adopting IGZO technology to improve light transmittance, it realizes 4K 2K resolution for the first time for notebook PC. In addition to being able to reduce power consumption by improving the light transmittance, it can achieve high energy saving by a synergistic effect with IGZO characteristic that suppresses liquid crystal drive power when displaying a still picture, to lengthen the battery driving time of notebook PC It will contribute to. It is also possible to design touch panels that can input pen.

The specifications of the liquid crystal panel are as follows.

Screen size: 15.6 type
Number of pixels: 3840 × 2160
Pixel density: 282 ppi
Use: Laptop

In addition, this panelCEATEC JAPAN 2013, And full-fledged production is scheduled to start in Kameyama No. 2 factory from February 2014.